When Is the Best Time
Katmai, located in Alaska, is an exceptional place to watch grizzlies close, sometimes even too close. Katmai is the bear country, so it does not come as a surprise that my friend Chris took the same path as a bear with his catch, and he had a close encounter. This is not an exception be prepared that this can always happen. Most importantly, do not run away; give the bear space, and remain calm. The first thing you get after your arrival is an introduction on how to behave in the "Bear Country".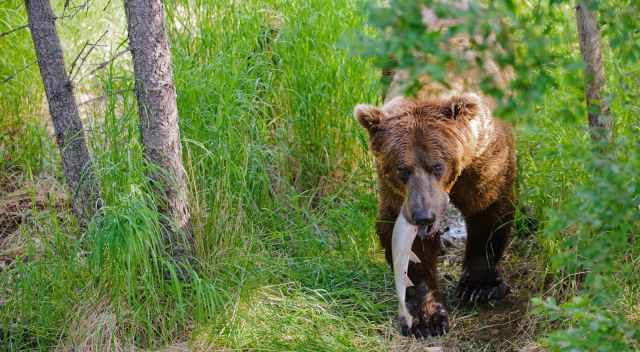 More than 2000 bears call the National Park their home. Brown bears are in the area from mid-spring until October. Usually, the salmon run takes place from the mid latest end of June until the end of July but can be August as well. The salmon run is not predictable. The sockeye salmon coming from the sea swim and jump upstream to spawn where they were born before they die. This is a spectacular event annually.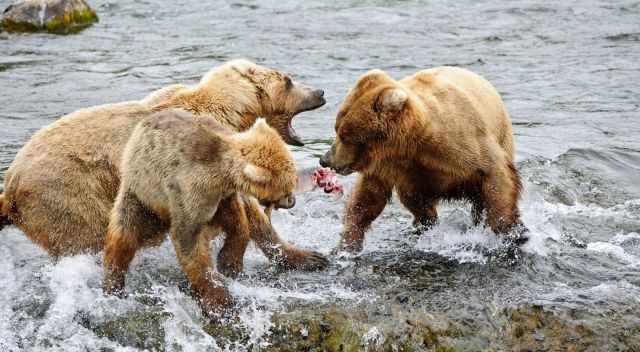 The best time to spot the highest concentration of brown bears catching red salmon at Brooks River and Falls are July and September, followed by June and August.
You may spot 20 to 50 bears during the salmon run session along the falls. Usually, less food is available in June and August at Brooks River. Nevertheless, you always may spot bears, just fewer. The bears wander around where most food is provided by nature. The largest and most dominant bears have the "right" to be around Brooks Falls.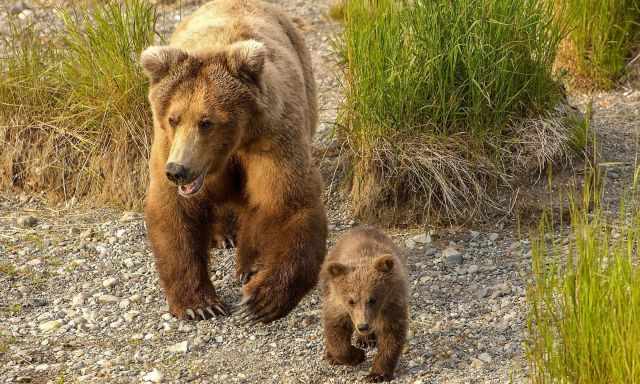 In 2021 the salmon returned later for spawning than usual, which caused stress for the bears who depend on high-energy food. Many bears did not catch as many fish as they usually do at this time of the year. Bears were more aggressive, with more fights where they typically tolerated each other. Also, a higher number of visitors stressed the bears. Please, if you visit Katmai, you need extra caution bears may be less tolerant. There were already human-bear contacts which are also unusual and have not been documented in the last years. These bears live in the wild and behave accordingly. 
This year 2022, is a better year regarding the salmon run; it was earlier than usual. However, the salmon appear in waves before they run consistently up the river.
Remain 50 yards away from bears all the time. Give way to the bears when they want to access the river and falls. The park rangers will give you advice.
Tourist Crowds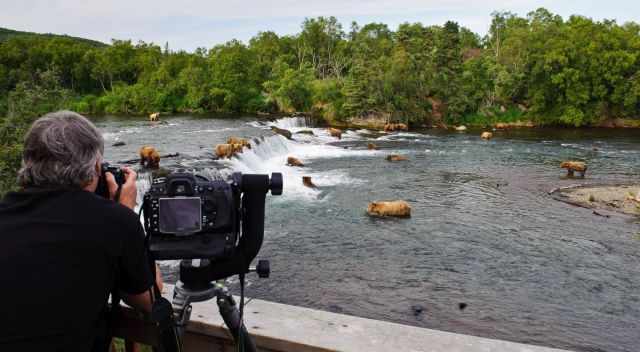 In July, expect crowded conditions at the viewing platforms. There is a limit of 40 people watching the bears for a maximum of one hour controlled by rangers, but if it is utterly busy, the time is limited to half an hour. September is much better with fewer tourists. Time of day suggestion: Stay overnight at the lodge or the campground. Then you can get to the platforms between 5 and 10 pm when the day visitors have already left, taking the plane back to Anchorage or another lodge. At that time of the day, the viewing platform is less crowded. Livecam: Brooks Falls Bears Livecam
Tip: Especially in July, you may wait two hours to access the platform for just half an hour of watching time. I recommend checking out the Riffles platform in the meantime.
Opening Hours Visitor Platforms
The Falls and Riffles Platform are open from 7 am until 10 pm. When day visitors have left Brooks Falls, it is quieter here.
| | |
| --- | --- |
| | Created By National Parks Enthusiasts. Best-Selling & Award-Winning National Parks Game: Winner Of The Mensa And Parent's Choice Award. Share the Joy of the National Parks: Share your memories, and dream about where you'll travel to next. |
Are There Bugs in Katmai?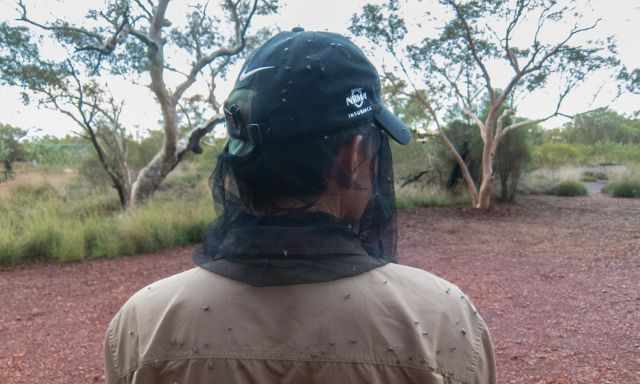 Katmai is all about bears, salmon, and fishing, but it's Alaska, a region which experiences lots of rain and, therefore, bugs, not only mosquitoes. That's the price you have to pay for this unique annual salmon run. Come prepared and carry a biodegradable, Deet-free insect repellent in your bag. Believe me this is almost as essential as a good camera and a mosquito net.
Photographer Tips for Katmai
If you wish to take excellent shots, you may think about which zoom camera lens is the best. At least a 200-400 mm zoom lens is recommended but better a 600 mm. There are not always plenty of bears at Brooks Falls instead further away. Tripods are not allowed in July, making it tricky with a 600 mm lens.
Distance Falls platform to middle Brooks Falls roughly 140 feet
Distance Falls platform to the far side of the Falls, roughly 280 feet
Distance from Riffles platform to Brooks falls roughly 400 feet
The Best Daytime at Katmai
The best daytime at the platform is mid to late afternoon, July after 4 pm on the rare occasion the sun is out, giving a special note. 
Weather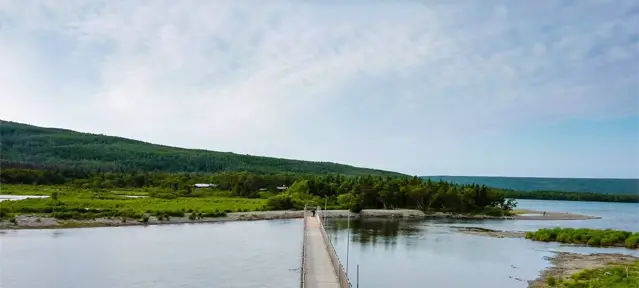 In late spring, summer and early fall, it's often rainy, and overcast. Especially in the summer months, the weather is unpredictable. Summer temperatures range from 30˚ to 80˚ Fahrenheit (-1˚ to 27˚ Celsius), so everything is possible. Only 20% of the days are clear and sunny in summer: the downside bugs are even worse. Winters are drier and very cold.
Monthly Bear Activity Overview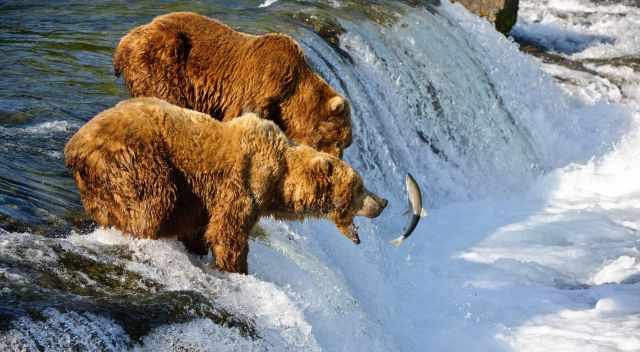 April to Early May (higher slopes) - Emerging from their hibernation and bear fightings.
 
Mid-May to mid-July - Mother and Cubs and mating season
 
End of June and July - Salmon Run - Bears gather around the falls. The grizzlies are feeding mainly on the nutrient-rich brain and eggs of the salmon. The leftovers are for other animals and fertilize the land. They are a key species for the entire ecosystem of the Katmai National Park. Bears are more aggressive.
 
In August, fewer bears because the salmon already passed Brooks Falls and reached the breeding grounds where they were born.
 
September is a feast for the bears again. The salmon dies after spawning/breeding and floating down the Brooks River. Now the bears feed more on the salmon. Bears are less aggressive. 
 
Mid-September to mid-October - Bears Resting.
 
Before November, bears are digging a den for hibernation
 
November until March - Bears hibernate because of the harsh winter conditions.
 
Up to four cubs are born in mid-winter from January to February.
Visitor Center
There is a Visitor Centre and Ranger at Brooks Camp open from June to mid-September. Another Visitor Center can be found at King Salmon Airport. You get a brief bear safety talk after arrival in Brooks. 
Katmai National Park from Homer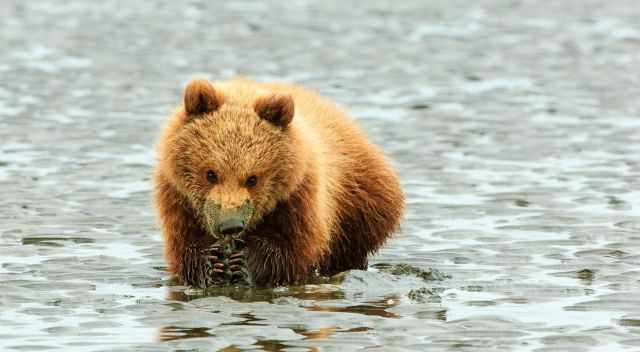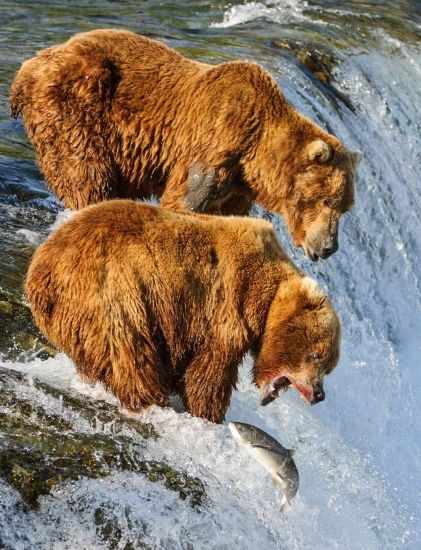 How to Get to Brooks Falls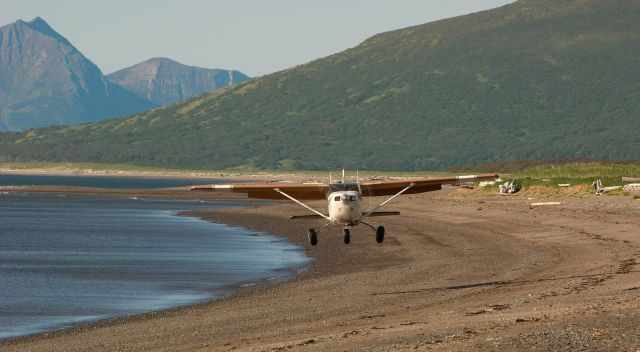 It is a little tricky to get here. Brooks Falls is situated in the remote wilderness. The nearest airport is King Salmon (AKN); commercial flights are offered. From here, you have to change into a floatplane or a water taxi to get to Brooks Falls, which takes 20-40 minutes depending on what you choose. 
There are two places to stay in Brooks Falls. The Brooks Falls Lodge and the campground. The lodge is a little pricey. The campground is around 9$ per night, but already fully booked end of January. Finally, Camp capacity at Brooks Falls is back to 100 %. 
Another opportunity and hassle-free are Alaska's Gold Creek Lodge next to the airport. They pick you up and offer day trips to Brooks Falls. However, you miss the best time for perfect shots in the evening.
| | |
| --- | --- |
| | Do NOT go without this map. It was created in cooperation with the National Park Service and others. This expertly researched map covers with unparalleled detail not only the entirety of Katmai National Park and Wilderness but also neighbouring areas. |
Location and Tips
Alaska, Katmai National Park, Brooks Falls
United States

Katmai has one of the highest densities of bears in the world, estimated at 2.200. The food search determines their life. Due to the long hibernation, they need to gain a lot of weight to survive. So the question is where to see these majestic creatures. They are spread in the entire Katmai National Park. Once protected for the volcanic devasted area in 1918, Katmai is nowadays most famous for brown bears and fishing. The bears are not only at the Brooks Falls; they can be found along the entire Brooks River.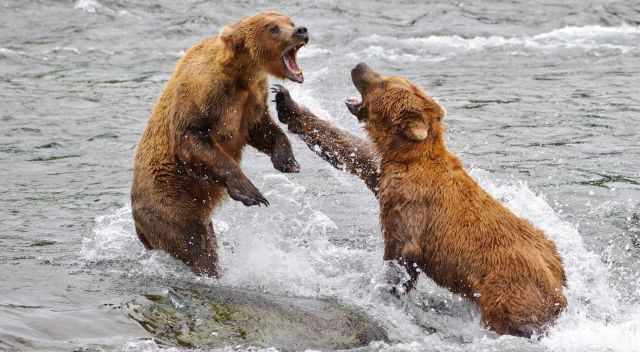 There are two more viewing platforms, one before and one after the falls. These outlooks are less crowded. It is relatively safe around Brooks Falls; however, it is their wild habitat. There is no guarantee! Safety first always!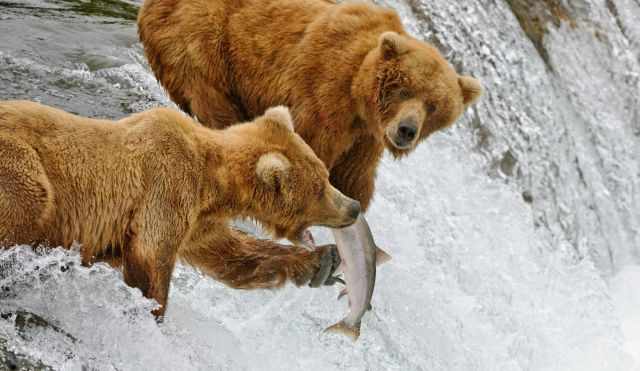 If you like to watch bears hunting for sockeye salmon at a waterfall, this is the best place of all. Getting to Mc Neill Falls is more complicated, and a permit is necessary.
Safety Advice for the Viewing Platforms - Wheelchair Accessibility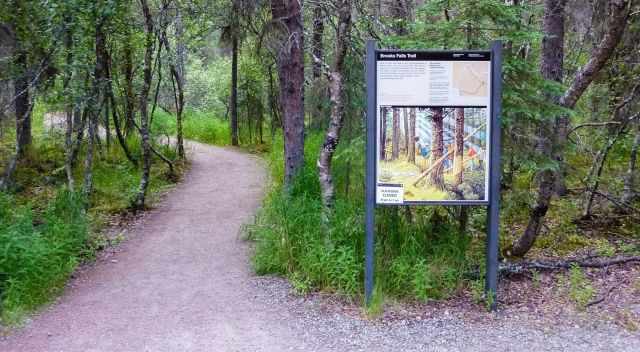 The viewing platforms are wheelchair accessible, especially the north and south at the river mouth close to the lodge. Shortly before the falls, the Brooks Falls and Riffles are not paved and therefore a bit muddy in poor weather conditions. There is one platform at the falls, one shortly before the falls and three at the mouth of Brooks River. The platforms are closed and not accessible for safety reasons from 10 pm to 7 am. It is more than one mile - two km to walk to Brooks Falls platforms. Walking Map from Brooks Falls Lodge to Riffles and Falls Platform Locus Pro Map
Stay on the trail to the viewing platform
Remain quiet
No use of a flashlight
Don't leave any trash
Please, don't smoke.
Only pure water is allowed to drink
Is Bear Spray in Katmai Necessary?
This is often discussed and most people say no. However, if you need bear spray to feel safer you usually get it for free when other people left it in one of the "free boxes"; one is at the campground in the gear cache and the other in the storage cache next to the Visitor Centre. If there isn't any available you can purchase a bear spray in the small store at Brooks Lodge. I have to confess when we travelled through "bear land" we carried a bear spray just in case.
The Salmon Migration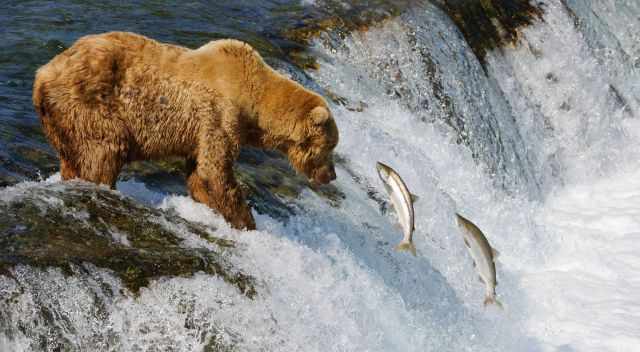 It is the salmon life circle. The salmon born in the upper river in freshwater migrates to the ocean when reaching maturity after one to two years. It is a long process adapted to freshwater first and then saltwater. They live and feed for years in the ocean before turning back for reproducing and spawning. When the urge to migrate back appears, they stop feeding, relying on their energy and fat. It is a demanding migration to get back to the spawning grounds. In the beginning, they appear in waves at the peak constantly. Depending on the salmon species, they are between one and six years old. The released salmon eggs hatch in mid-winter. 
The History of Katmai National Park 
One of the most significant volcanic eruptions happened in 1912 on the Alaskan Peninsula, and Mount Katmai collapsed, forming a 2000 feet deep caldera. There was 30 times more magma released than at the St. Helens eruption in 1980, caused by the eruption the amazing "Valley of Ten Thousand Smokes" got created. In 1918 it became the National Monument status to protect the entire area. It is still an active volcanic park remembering the power of mother nature. Katmai became a National Park status in 1980. There is a park ranger-led bus ride and hike to the Valley of Ten Thousand Smokes offered. The tour starts from Brooks Lodge.
These breathtaking Alaska Bear pictures are provided by my friend and photographer Chris.