When Is the Best Time
With 500 explosions each day and being one of the most accessible volcanos Mount Yasur in Vanuatu was on top of our bucket list. There is increasing activity from May onwards during the drier season due to colder night temperatures. For a better overview, I added a Table of Contents and below are, in addition, "Things to Do in Tanna". It is worth staying here for a couple of days.
Where is Mount Yasur Located?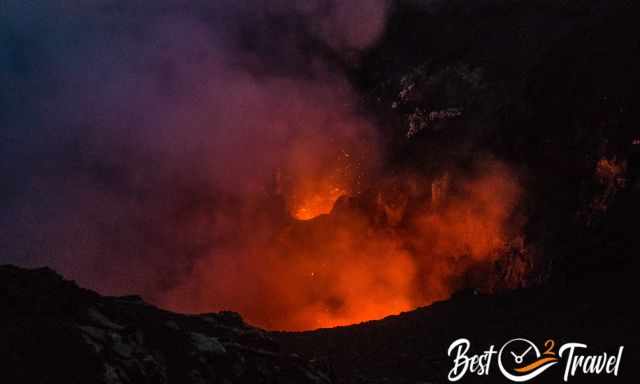 Mount Yasur is located in the east of Tanna Island. Tanna belongs to Vanuatu, a sovereign island nation of 83 islands in Oceania 2000 km east of Brisbane. Google Maps Location and Island Map at the airport.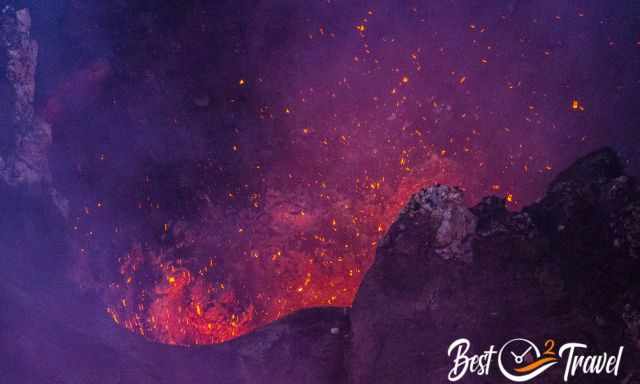 It is a long journey getting to Tanna the reason I recommend doing the volcano trip at least twice. The first evening when we experienced this untamable power of mother earth, we asked ourselves what we were doing here. The next evening we'd already known what to expect. We were much better prepared, and it was incredible.
Yasur Volcano Activity Level - Last Eruptions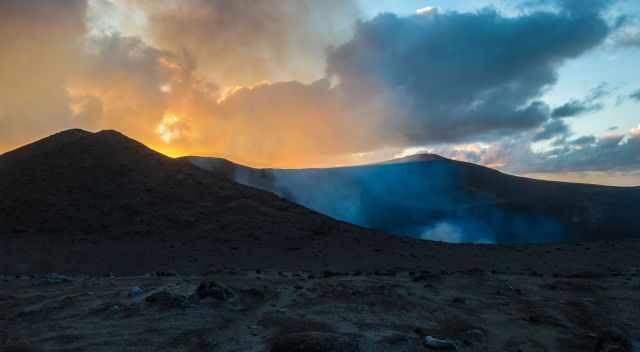 Mount Yasur is part of the "Pacific Rim of Fire" and one of the best accessible volcanos. The activity is monitored to protect the local people and tourists. Mount Yasur Volcano is a high-risk area. There is a permanent exclusion zone that is prohibited from entering. Volcano activity is scaled into five levels. Already level three is severe and dangerous. Since the end of 2015, the activity has been at level 2. There was a heavy eruption in January 2016, and in June 2018, an ash plume was up to 1.5 km / 5000 feet high. In November 2019, strong explosions occurred. So, Yasur is long overdue for the next heavy eruption. Be aware of the risk when visiting Tanna Island and Yasur Volcano.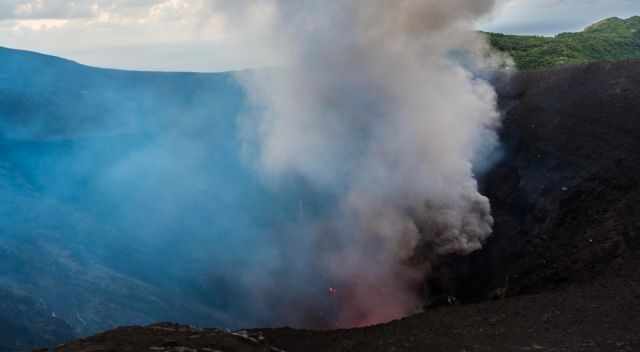 Level 1
It is a couple of years ago that this level occurred.
Level 2
This is a fascinating and thrilling level, but risky as well. It's not recommended to visit the volcano with kids for safety reasons. There is already a risk of getting hit by lava bombs. The fiery eruptions are getting stronger during the dry season and colder nights temps from May onwards. Colder temps increase activity. Nearby houses get shaken by some of the stronger eruptions, which are terrifying and loud, especially during the night. We experienced this each night. If you are at the rim of Yasur during such strong explosions, it can damage your ears and your hearing. One couple of our group went up early morning, and he had severe issues afterwards.
Level 3 and Level 4
Ash plumes may get thrown from the other side of the volcano to the huge ash plain where you pass the volcano by 4 WD Jeep. If this happens, the village, the eastern side, and the Yasur Volcano are not accessible to visitors.
Check the recent activity of Mount Yasur
Is Mount Yasur Safe to Visit?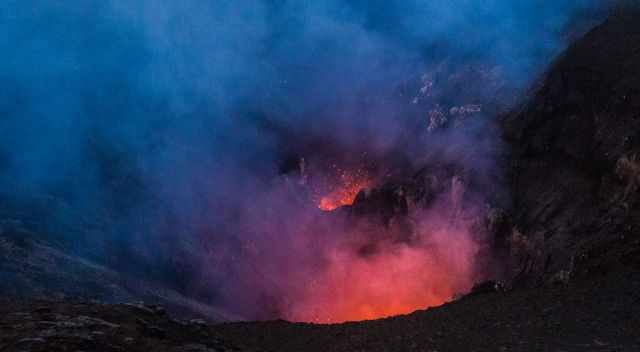 No, definitely not! It is an active volcano well monitored, but already level 2 is risky. The ash from daily eruptions heavily pollutes the air. I highly recommend a mask like the one you were wearing during Corona for your visit. Protect your ears with earplugs. Going to Yasur is a fantastic but risky adventure.
Guided Tour to the Crater Rim
First, the local tribe starts with a ceremony and dancing. Asking the chief for entrance to the volcano. The gift is a kava root. The women have unique Tannese face paintings.
After that, the visitors are separated into groups and led to one of the jeeps sitting in the trunk. It's roughly a 10 minutes drive and another ten walking to the crater rim.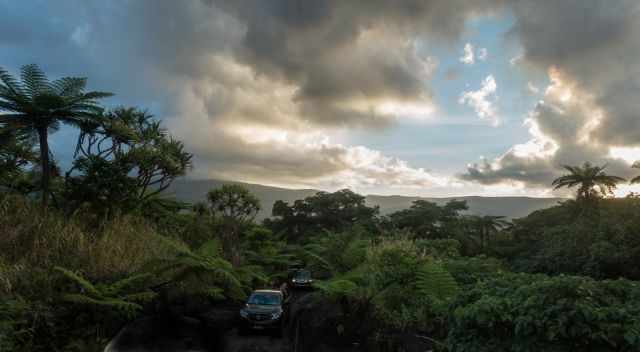 When you get close to the crater, you experience the first eruptions; the grumbles and groans, you get terrified and want to run away. Every few minutes (we came here in May at level 2), we saw erupting lava and fireworks from the three vents. Fascinating! We did the tour twice in the evening — the advantage for the second time was that we'd know what to experience. We were more fascinated and less scared. The first evening it was utterly windy. We got so much ash into our faces. On the second tour, we were better prepared; the Tradewind was not that strong from another direction, and it was even better to watch the spectacle. We were glad we did this adventure twice and couldn't get enough in the end!
Offered Tours for Mount Yasur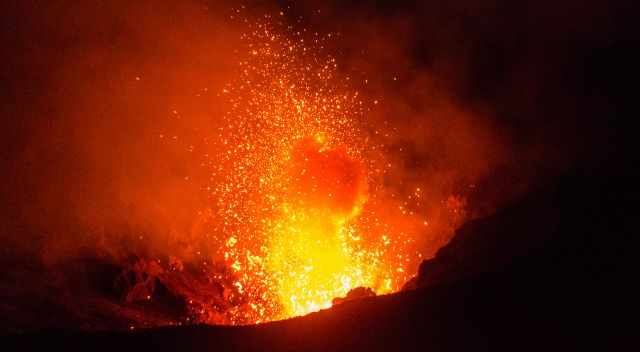 Day trips from Port Vila by Air Taxi Vanuatu - amazing view from the plane to the volcano.
The White Grass Hotel offers One-night excursions.
Fly to Tanna for a few; book the trip at your hotel or stay relatively close to Mount Yasur. We did, and I recommend this, but honestly, we were travelling for eight months and had plenty of time available. You may visit Vanuatu just once, and to be on the safe side for the most thrilling adventure and force of mother earth, stay at least two nights.
Visiting Time - Tours - Pro and Con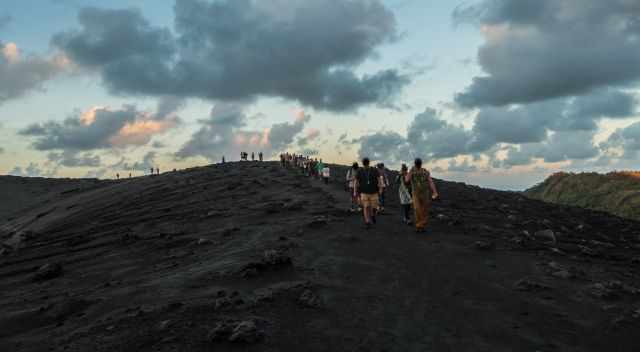 Tours to the crater rim are offered from dawn to dusk.
The morning tour starts very early in the darkness, around 4 am, without the ceremony. Pro: very few people come so early to experience the active volcano. You experience Yasur with its fiery lava in darkness and with daylight as well. Con: Showers occur quite often.
During the day, lots of day-trippers come here but still bearable. Pro: You can stay on one of the other islands as well. Con.: It's impressive but not as spectacular as during the evening. The glow is most breathtaking in pitch darkness.
The evening tour starts around 4 pm with a ceremony before you drive up to Mount Yasur. You arrive shortly before sunset; when it gets dark, it is just mind-blowing. Con.: It can get crowded between 40-80 people. You should experience at least one tour in the evening.
Entrance Fee and Tour Price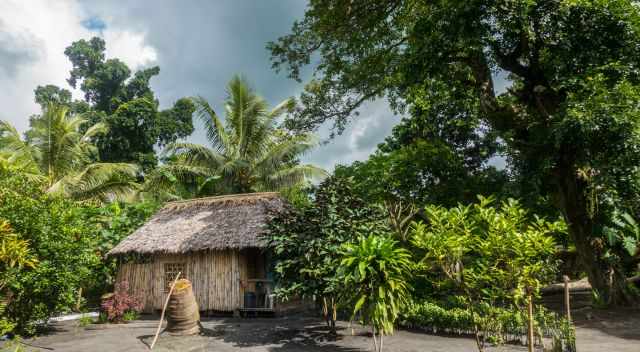 Tour almost 10.000 VT / 80 € / 125 AUD
Tour 6.500 VT / 54 € / 84 AUD
Tour for free just the Jeep transport 500 VT p.p.
Transport on Tanna Island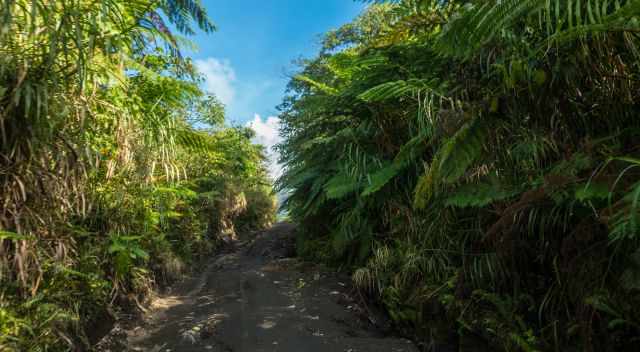 It doesn't matter where you stay; you always depend on a shuttle. On the western side, it's pretty easy just wait along the road for a cheaply shared taxi shuttle. Necessary are coins and small notes. On the eastern side, it's more expensive and more difficult. Some lodges assist you, and sometimes local people offer you a lift for free. We experienced all of it during our five days stay. Several times we decided to walk a couple of kilometres.
7 Facts for Mount Yasur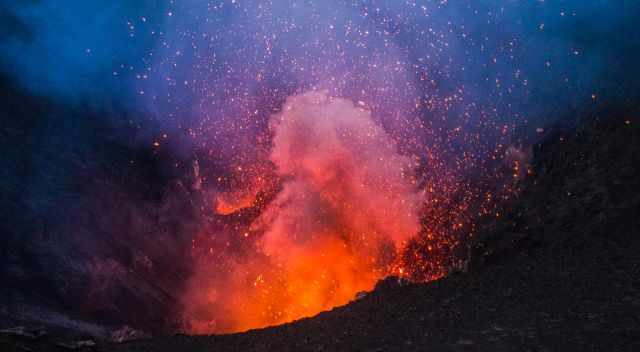 Mount Yasur Volcano has been an active volcano for more than 800 years.
Up to 500 eruptions daily mean more than 20 times each hour - day and night.
Mount Yasur is 361 m high, towering in the east of Tanna.
Yasur is one of the most accessible volcanos in the world.
Mount Yasur is a stratovolcano. A stratovolcano is steep and cone shaped like more than half of all volcanos on our planet.
Part of the Pacific Rim of Fire, where most of the volcanic eruptions and earthquakes occur.
Mount Yasur is a high-risk area. Although the volcano is monitored, safety can't be guaranteed.
Packing List Mount Yasur Tour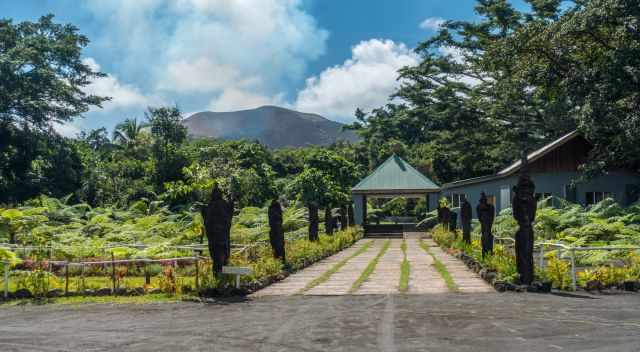 Long trousers and long sleeves but even better is a wind jacket; it's often windy at the crater rim (Protect your entire body from the ash).
Buff or hoody for your head
Safety glasses (after the first tour, all of us had little crumbs in our eyes until the next morning)
Mask or scarf (depending on the trade winds, you inhale sulfur gas and ash)
If you are having trouble with your ears, earplugs may be helpful; eruptions can be very loud.
Torch or headlight for the sunset and sunrise tour.
Insect repellent if not wearing long trousers and sleeves, mossies don't care about the poor air quality.
Packing List for a Short Stay on Tanna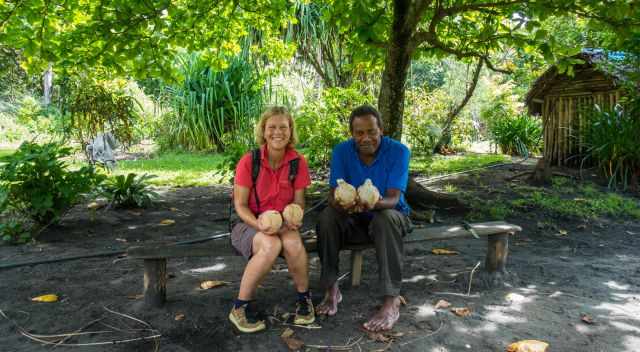 Most so-called lodges are on a primitive standard; we had mice, spiders, and cockroaches but slept well in our own sleeping bags.
Plenty of drinking water; our accommodation was running out of bottled water. We got to drink the rainwater only. Due to the massive ash in the air, it's not advisable to drink it. Yep, the residents drink this water.
Lack of food and snacks depending on the accommodation. You can't buy anything around the volcano or at the airport. Honestly, we were starving, but it was worth it.
A mosquito net protects you from pests as well, depending on the kind of "lodge" you choose.
Soap and towel if you booked a cheap hut!
Weather - Climate Tanna Island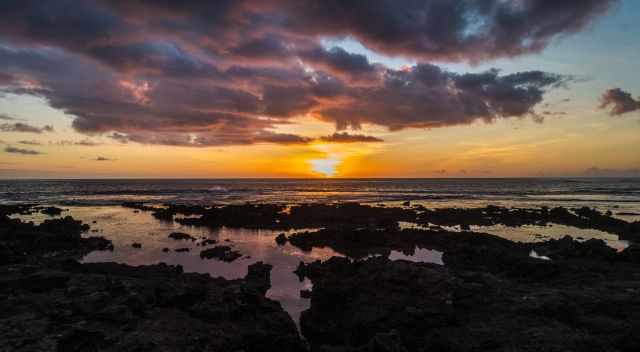 Usually, there is a dry and a wet season on Tanna Island, Vanuatu but Mount Yasur has its own microclimate. Rain occurs throughout the year due to the many eruptions and ash clouds. During the dry season, it often rains in the night or morning. The wet season lasts from November until April. Day temps are around 30°C, and nights are still pleasant, around 20°C. During the dry season, day temps range between the mid to high 20s, and night temps are colder on average, between 14°C to 18°C.
Accommodations Mount Yasur - Tanna
Close to the volcano are several guesthouses and lodges as well as in the distance on the hills. Check wisely which lodge you like to book in advance. These are the ones we can recommend since we'd been there. Ours was the worst we've ever been to, especially the food. We were starving most of the time. We'd chosen a lodge due to the perfect location just opposite the National Park entrance. A big mistake!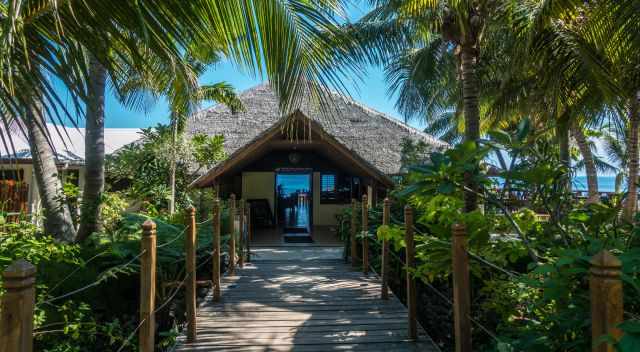 You'd like to witness this exhilarating force of mother nature? It is advisable to book your return flight, tour, and accommodation in advance. You have to stay here for at least one night.
If you prefer comfort and an amazing location at the beach on the western side of Tanna not far from Mount Yasur, the Friendly Beach is the perfect bungalow with an en-suite bathroom. This is our favourite now since we had this awful experience during our stay in the village opposite of the volcano.
 
If you are limited in time or don't want to miss common amenities, we can highly recommend the White Grass Ocean Resort and Spa.



We came here twice for lunch and snorkelling as well. The staff was super friendly, the food outstanding, and still affordable. They offer the Mount Yasur evening trip for their guests, diving, and plenty of other tours.


Top Tour Tips for Mount Yasur
Air Vanuatu is offering flights from Port Vila to Tanna; Whitegrass (TAH) and also from the island Santo; Luganville (SON).
Check out the available hotels and guesthouses on Tanna Island. Have in mind the very cheap ones are primitive. When we visited Tanna we had mice and cockroaches in our room. 
Location and Tips
Tanna Island, Mount Yasur
Vanuatu

The main tourist attraction of Vanuatu is Mount Yasur volcano 361 m high and easily accessible. Erupting for more than 800 years already up to 500 times each day. In the beginning, you get frightened of the noise at each explosion, but by the time, you get used to it and, in the end, addicted.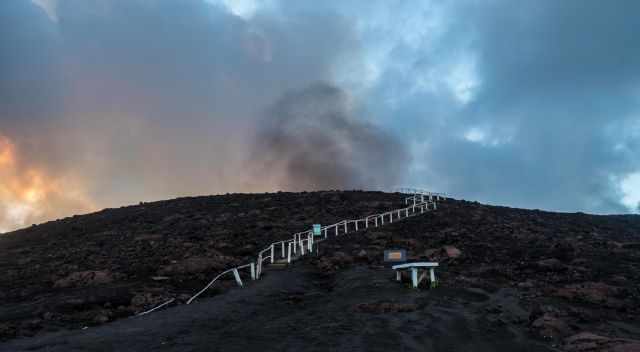 It is thrilling on top of the crater rim, witnessing the angry volcano and the fiery explosions. If you have any issues with your ears, protect them from loud explosions every few minutes. Tanna Island doesn't have the infrastructure you are used to. Most accommodations are cheap, basic and with a shared bathroom. A hot shower is rare. Although Tanna has its own coffee plantations, don't expect to get a good one only at the White Grass Hotel. The island has roughly 30.000 residents.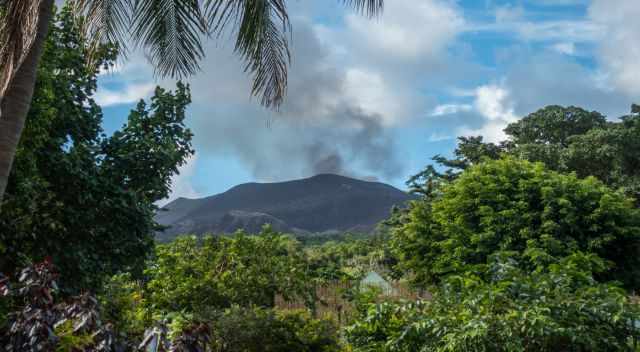 The National Park entrance of Mount Yasur is about a 1.5-hour drive from the White Grass Airport. Most accommodations close to the volcano require a fee of 2.500 p.p. for the pick-up. A self-organized transport is cheaper but may take a couple of hours, and you miss the opportunity to watch the spectacle already on your day of arrival. Rain showers are common throughout the year around the volcano. If it's not raining, don't think twice, just book the tour. The drive to the village next to the volcano is already spectacular. When you enter the gravel and bumpy road, the adventure begins.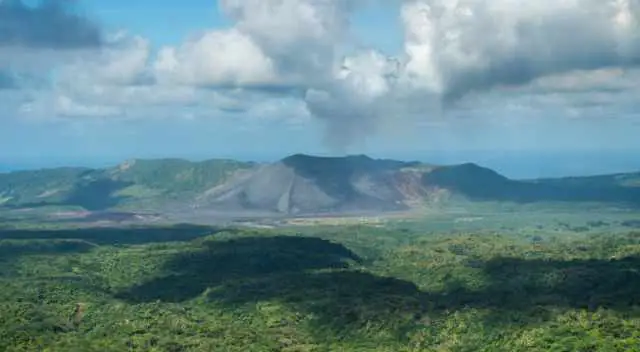 The view to Mount Yasur from far away is already promising. Due to the fertile volcanic soil, the lush vegetation and the ancient banyan trees are just beautiful. When you get closer to Mount Yasur, you drive above an ash plain which looks like a lunarscape. You could get to the crater rim from here, but that's dangerous and prohibited. Sometimes you can watch people ash boarding (volcano boarding).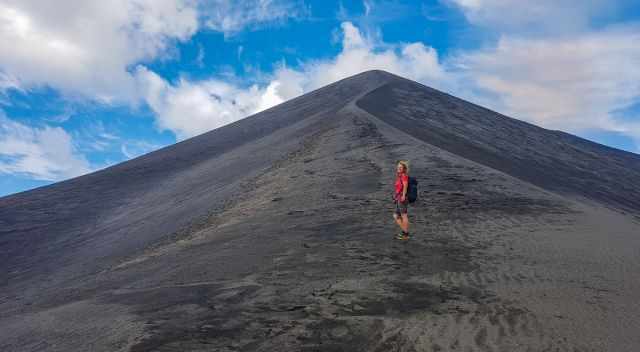 Things to Do on Tanna Island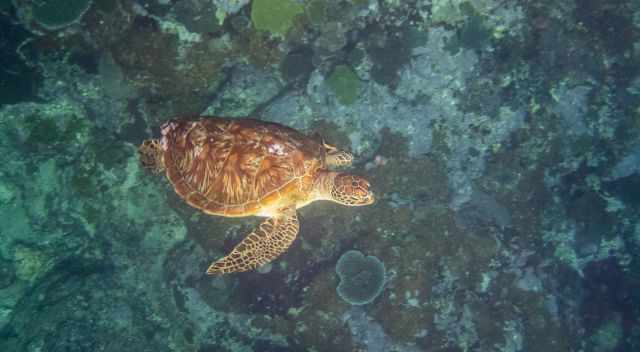 First of all, try to explore the island a little bit by yourself. Of course, the different communities like to participate in tourism, but there is much to discover on Tanna. For the famous Blue Cave, a guided boat tour is needed. The majority are low budget tourists, and these prices are not affordable. Several guesthouse owners told us about their difficulty to get their rooms rented nowadays. Already viewer low budget tourists visit the island nowadays. However, we would make the trip to Tanna immediately again. We experienced friendly and attentive local people but also the opposite. I try to give you an idea of what is offered and what you can do almost for free or at least cheaper.
Mount Yasur Volcano is expensive but worth doing at least once! However, the second visit is already cheaper and the third for free.
Port Resolution; Situated eight km east of the National Park entrance. There are beautiful white sandy beaches and simple but good seafood restaurants.
The giant banyan tree of incredible size. I assume this is the biggest banyan tree in the world. You can get there by feet. It's a 5 km walk from Lenakel through lush vegetation and villages. Ask local people before where to start but not along the way to the tree. They want to guide you for a high amount and bend your ears. Sorry to say this, and I understand people need an income, but it wasn't very pleasant. Getting there by a jeep, we got asked to pay 3000 VT p.p. Figure out the location with a navigation app 'cause wifi is limited on the island, and you will find the tree easily. When you reach the area, you can see the massive tree down to the left. Someone from the community will sit there and ask for 2000 VT p.p., roughly 32 € for two. We spent there an hour or so. We walked through and around the incredible massive tree. It was worth doing because we spent five days on the island. Afterwards, we walked back to our guesthouse close to Lenakel.
 

The biggest Banyan tree on Tanna and probably in the world

The underwater cave; located northwest on Tanna island. Accessible by boat only. There is a light beam through a 5-meter hole. You can swim into the cave at low tide and dive at high tide—price p.p. for the boat ride and the entrance roundabout 9.500 VT. 
The White Grass Hotel, Restaurant, and awesome snorkel spot; We came here for lunch several times, so delicious, and we enjoyed the beautiful scenery. Guests can leave their valuables at the reception and snorkel for free. At the back of the hotel is a boardwalk that leads you to the sea and a staircase. It's used for their boat trips and snorkelling as well. They have a long rope in the water for their guests, which helps to get back due to the current. The water is clear, and the corals are 10-15 m deep; the reason they didn't get destroyed by Cyclone Pam in 2015. Snorkel to the left if possible; at low tide. Low tide makes it easier to get back. Not very far away, you may spot turtles, although they escape as soon as they recognize you. We assume they get hunted.
 

Boardwalk at the White Grass Hotel to reach the sea despite the tide

Blue Hole One and Two are great for snorkelling; It's a stroll from the White Grass Hotel to the north. It's nice but not spectacular for snorkelling IMO. It isn't easy to get in and especially out with the sharp corals. Hideaway Island at Port Vila was the best spot of all in Vanuatu. 


Disclaimer: I am not responsible for any injury, death, or consequences of any actions taken based on the information provided here. This is just my experience! 
Do you want to obtain the usage right for my images? Contact me, but I will take action against picture theft.