When Is the Best Time
Railay Beach in Krabi is one of the most famous beaches therefore, it's almost impossible to avoid crowds.
Sweet spot months without the heavy crowds and a high chance of good weather during the wet season are May and October. Both months usually bring warm and sunny conditions with brief rain showers only; often in the afternoon or late evening. There is less humidity in October than during the previous months. However, keep in mind that it's already/still rainy season, and the weather can become unpredictable.
Dry Season (December-April) 
If you want almost perfect weather, visit between January and March: calm seas, clear blue sky, and moderate temperatures. Nevertheless, rain showers can occur throughout the year. And it is the overrun high season.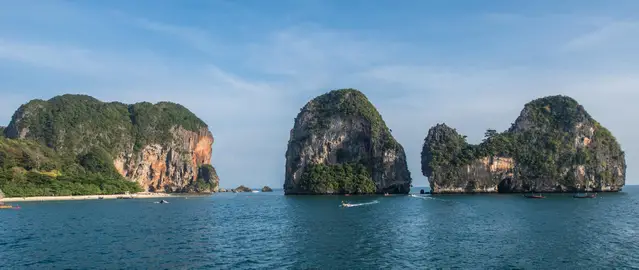 Ao Phra Nang Beach and Princess Cave next to Railay Beach
Rainy Season (May-November) 
Wet season with high humidity. The highest rainfall occurs in September. During the rainy season, everything can happen: Typical are days with 1-2 brief showers. You might even get two weeks of almost perfect dry weather or sometimes almost a week of straight rain. If you don't like crowds at all and can deal with unpredictable weather and rain, this is your season. Preferably not September, which is the wettest month. In the rainy season, no tourist crowds spoil the experience. It's also the green season when beautiful fauna comes to life.
Tourist Crowds
The high season starts in November/December and lasts until April. Expect massive crowds here and almost every else in Krabi. Accommodation rates start climbing in November. The only chance to avoid the crowds is either come early morning or, even better, spend two nights here. 
Accommodations at Railay
There are a number of accommodations around Railay. It's more convenient if you stay at Railay West or private transport is included. Our #1 choice is the Railay Village Resort, perfectly situated in the heart of Railay and offers privacy despite the busy location. Another excellent choice is the Rayavadee remote located offers a first-class service. A shuttle from the airport to the 5* hotel is organized by the resort.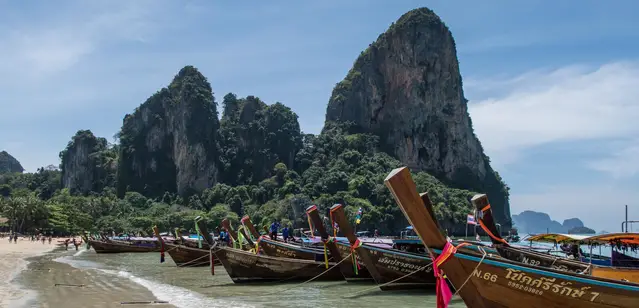 Railay Beach is full of longtail boats at midday
Tips for Boat Trips (during high season)
Longboats are operating from 8 am to 6 pm. daily. Go at a different time than most others. Either very early by taking the very first boat or book sunset trips. The beach starts to fill up quickly after 10 am, and midday is the worst; it's difficult to enjoy the beautiful scenery with so many other people. Another alternative is to go out on a diving or fishing boat. It's more expensive, but they are more comfortable and usually welcome non-divers as well as non-fishing passengers. They also take less travelled routes and visit less busy locations, which are excellent for snorkelling. We'd booked a sunset tour with included dinner on the vessel of our resort, the Aonang Fiore. We highly recommend a cruise along the coast to  Railay Beach, Poda Island, and Chicken Island.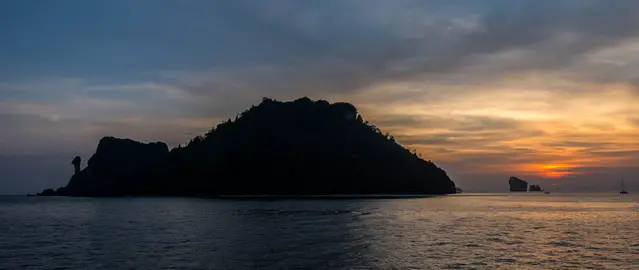 Chicken Island at the sunset cruise
Location and Tips
Rai Leh (Railei), Krabi
Thailand

It's a majestic scenery surrounded by limestone cliffs. The emerald green colour of the water is like nowhere else on earth. Railay is only accessible by boat, although a peninsula. There are four beaches that you can get to from Railay:  
Tonsai Beach




Tonsai to the left and Railay to the right



A boat ride to Tonsai is available but not as often as to Railay. There is a short 10-minute walk to the left to Tonsai if coming from Railay West. The small beach is beautiful and less overrun.
 
Railay West



Usually, you arrive by longtail boat on Railay West. Here you find beautifully situated hotels, shops, and restaurants. Kayaks can be rented for a couple of hours which is worth doing. The most important places are well-signposted. It's more comfortable to stay at Railay West with the famous golden sand beach and gorgeous sunsets.
 
Railay East



The east side is less busy and offers nice hotels as well. To get to East Railay, it's a 10 to 15 minutes walk on an uneven paved surface. It might be a bit difficult if carrying luggage. East Railay doesn't have any beach; it's just a rocky mud flat with mangroves.
 
Ao Phra Nang (Princess Bay)



This beach is set in breathtaking scenery and shouldn't be missed. You can get here either by longtail boat, on foot from Railay or by kayak from Railay, what we did. But avoid midday when speedboats and longtail boats drop off the day-trippers. It's popular for the "penis cave" which has a strong meaning for the Thai to increase fertility.




Ao Phra Nang Beach when the guided trips by speedboat arrived
5 Things To Do at Railay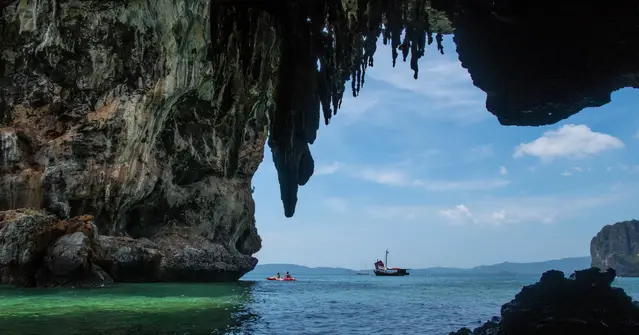 Rock climbing (There is a rock climbing shop at Tonsai)
Relaxing at the beach
Cave exploring (Diamond Cave and Phra Nang Cave) are both accessible by feet
Hiking; Explore the peninsula while hiking.
Kayaking; Rent a kayak at Railay West or Ao Phra Nang for outstanding shots.