When Is the Best Time
Jigokudani (means Hell Valley in Japanese) Monkey Park is open throughout the year, but its particularly photogenic when the area is covered in snow. So it's important to know when does it start snowing in the Snow Monkey Park?
Weather
The first snowfall cannot be predicted exactly but usually, it occurs by mid to late November. Although the first snowfall can be quite heavy, it will melt quickly due to the mild daytime temperatures. 

Starting mid-December until February you can expect that the park is covered in snow and the monkeys live up to their name. The snow also hides a lot of the man-made pipes and other structures. Best conditions for plenty of snow on the ground are January and February, but you need to may check the live webcam for the actual conditions.
Opening Hours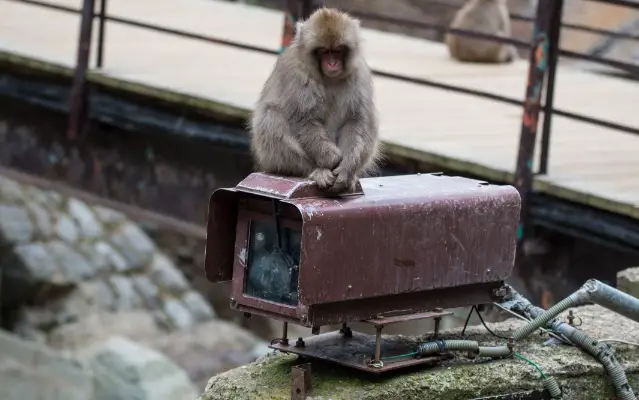 The Park is open daily from 8:30 to 17:00 (April to October) and in Winter 9:00 to 16:00 (November to March). Entrance fee is 800 yen ( 6 €) for adults and 400 yen for children in 2017. You can purchase an annual pass or if you are in a large group (more than 20) a group ticket.
Crowds
You can expect crowds all year round, and it can become very busy. Most people gather at the upper man-made pool where you can find the monkeys (Japanese Macaque) playing in hot water. To make the upper pool more attractive to the monkeys, the park wardens sometimes throw food into it. There are fewer people at the lower pool but also fewer monkeys. You pass it anyway; therefore, you should spend some time there as well. 

Tips for Photographers
You can photograph the most natural-looking pictures from the staircase at the upper pool, but it is challenging to take pictures without any other visitor on it. At the lower pool, the angle is different, but there is no higher position for an excellent shot.  
Where to Stay
If you want to stay close to the park we recommend the SENJUKAKU Hotel. The elegant property is well rated and perfectly located, surrounded by Japanese gardens with green pine forests, cherry trees, and Japanese maples. It is only a 15-minute drive away from the Park entrance, located in Kanbayashi Onsen, gateway to the Snow Monkey Park. It offers Japanese style rooms with a choice of bed or futon. Transfer and pick-up shuttles from Yudanaka Station is offered. 
As an alternative, you may choose the JINPYOKAKU Hotel. It is also close by and located just 2 km from the Snow Monkey Park. Although it offers only a view Japanese style rooms, the atmosphere is exclusive and complemented with a luxurious Japanese-style hot springs experience. Here you can enjoy an exquisite Japanese cuisine with fresh local ingredients. The hotel is one of the best-rated locations in Yamanouchi.
Location and Tips
Kanbayashi Onsen, Jigokudani
Japan

The park is located in the Yokoyu River valley, but the landscape is not as dramatic compared to other Jigokudani valleys in Japan. It was opened in 1964, and since then many thousands of people (tourists and local) have visited the park each year to observe the very special lifestyle of the Japanese Macaque in the hot springs.  You can find a small information center and gift shop with information at the park entrance.
The Japanese Macaque (Macaca fuscata) is native to northern Japan and is known as the most northern-living non-human primate, surviving cold winter temperatures down to -15 °C (5° F).  They have brown to grey fur, a red face and hands, and as many other monkeys; they often behave remarkably human-like. The monkeys live in larger social groups. Watching the monkeys play, take a leisurely onsen (Japanese for hot spring) - or even swim in the onsen - is a lot of fun.
How to Get There
Buses along the Yudanaka-Kanbayashi Line stop at "Kanbayashi Onsen" bus stop, while other buses stop at the "Snow Monkey Park" bus stop, a short walk away. We went there by car and parked at the closest parking space to the entrance. From Kanbayashi Onsen, it is a 25-45 minute walk to the monkey park. The walking trail is easy to walk around the year. If it's very icy, you can buy some shoe spikes at the entrance. There is an alternative approach which is a 10-15 minute walk from a paid parking lot just to the west of the monkey park. We didn't use this way, but we heard that the narrow road from Shibu Onsen to the parking lot is not served by public transportation and gets closed in winter.
Bus lines to Kanbayashi Onsen from
Yudanaka Station (10-15 minutes, 310 yen, 1-2 buses per hour)
Shibu Onsen (5-10 minutes, 190 yen, 1-2 buses per hour)
Nagano Station (40 minutes, 1400 yen, 4-10 buses per day)

Source: https://en.jigokudani-yaenkoen.co.jp/access
What to Wear
During the most interesting winter month, a large amount of snowfall is common and even blizzards may occur. Wear appropriate shoes and clothes to be protected from the cold. Although the snow gets removed from the roads and footpath it can stay slippery. We do recommend proper snow boots or to wear crampons. If don't own the right equipment or left it at home, don't worry the Snow Monkey Resorts Info & Gift Shop offers snow boot rentals in all sizes and crampons to buy.  In addition, you can rent a coat as an extra layer of insulation.
The park supplies very detailed access information how to get to the park and a brochure with all useful details.

These wonderful pictures are provided by my friend and photographer, Chris. Do you want to obtain the usage right for these images? Contact me, but we will take action against picture theft.