When Is the Best Time
The Etosha National Park is the main attraction of Namibia, with a quarter of a million visitors annually. The best time regarding the weather is the colder and dry season from May to September. The dry season is also the busiest time of the year, and reservations have to be made an entire year in advance.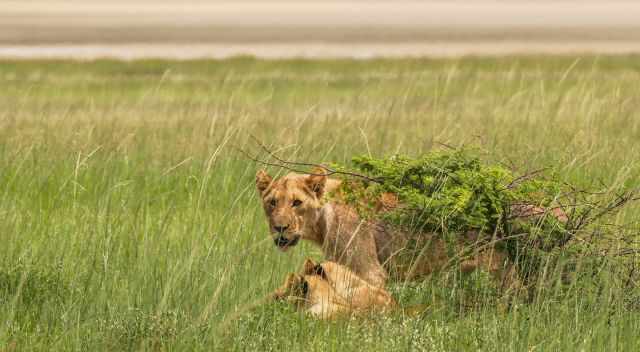 Friends of mine visited Namibia at the end of the rainy season. The pro; it wasn't busy, and the lush vegetation was beautiful. Four of the Big 5 exist in Etosha. Lions, elephants, and rhinos are frequently spotted, leopards are hiding pretty often, and buffalos don't occur. However, therefore you may spot the elusive black rhino. IMO the best place in the world for it.
Weather - Climate - Crowds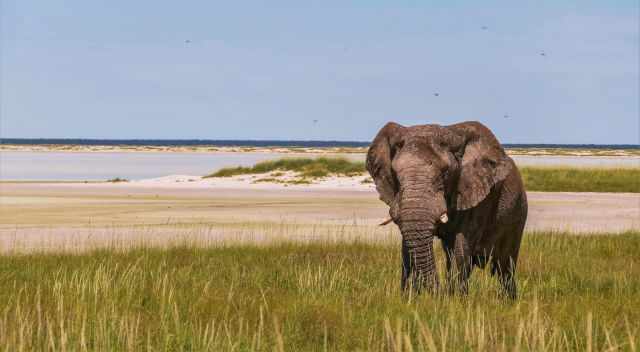 Dry Season (April-October)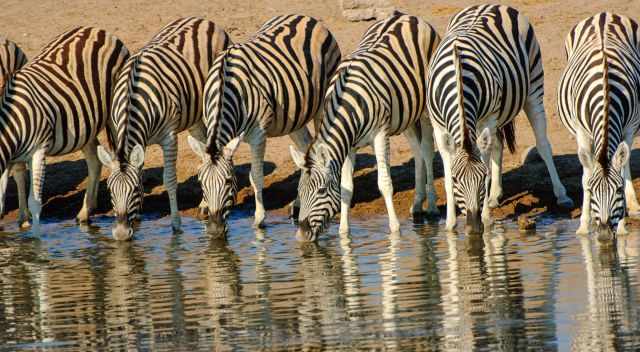 The dry season is outstanding for wildlife watching and photography because of the dry bush and the low grass. The visibility of game and predators is terrific. Decreasing rainfall in April but still hot, around 30°C/86°F. April is a transient month, therefore, less busy. May gets a little cooler below 30°C/86°F. June to August are the dry winter months. During the day, especially in the afternoon, temps are pleasant, around 25°C/77°F.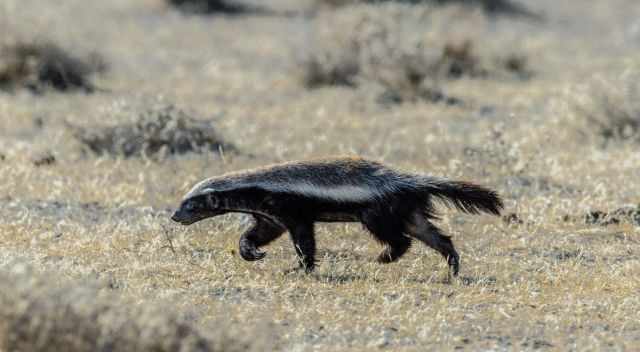 It is cold at night, and during the morning game drives, temps are below 10°C/50°F. Animals are easy to spot gathering at the waterholes. At the end of the dry season in September and October, the game is weaker and easy prey for lions, cheetahs, and hyenas.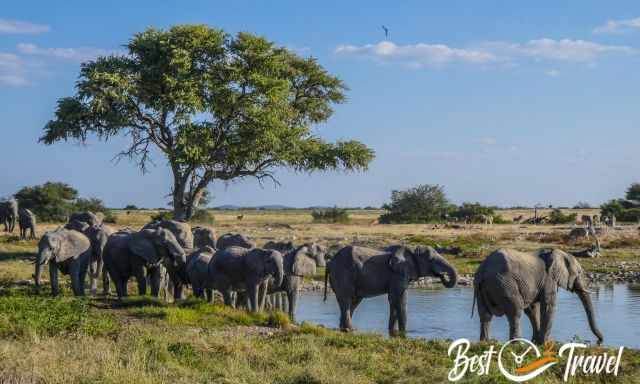 Already increasing temperatures in September above 30°C/86°F. However, early morning drives are still pleasant, with temps below 20°C/68°F. The dry season is also the peak season, crowded and pricy. Early accommodation bookings are advised.
Rainy Season (November-March)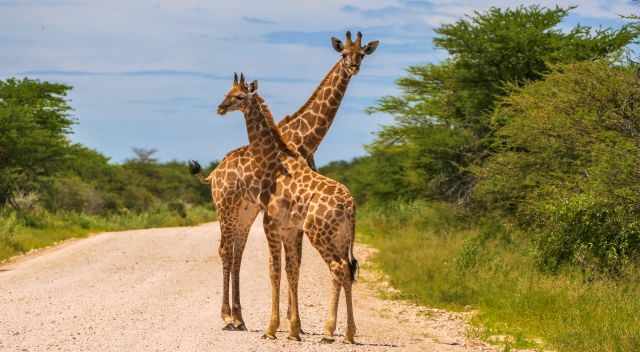 Increasing rainfall in November and December, but usually worth a visit. Most rainfall from January to March, usually in the afternoon often accompanied by thunderstorms. However, my friends visited Etosha in March, and it was quite ok; not crowded, and the lodges were much cheaper.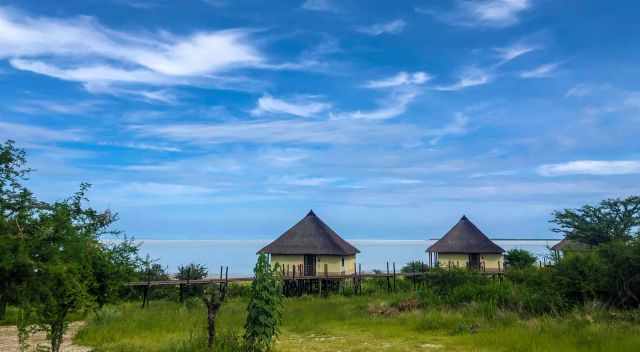 They took stunning pictures of the cloudy sky, but they told me it was hot; some days topped 35°C/95°F. The rainy season can be a little tricky. Flooded roads occur, and more driving is necessary to spot wildlife since the game isn't concentrated at the waterholes.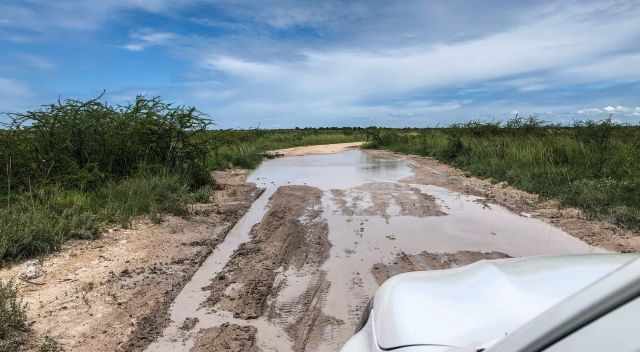 However, everything is turned into a lush green paradise. Mosquitos are an issue during this time of the year. The dry saline pans are most of the time a desert. The pans get occasionally flooded in very wet years by several rivers. The Etosha pan becomes a shallow lake of roughly 20cm in height.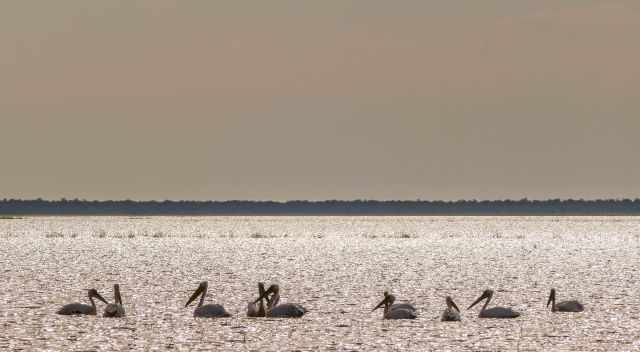 During these exceptional occasions, flamingos and pelicans breed at the Etosha Pan. Usually, the rainy season is an excellent time for bird watching with residents and migratory (one-third) birds alike. As you can see, lots of these pictures were taken during the rainy season.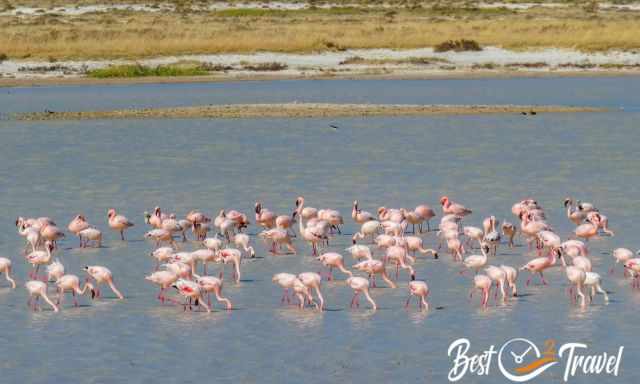 It is hot, and there can be torrential rain, but this season also has some advantages. If you can adjust to the heat, think about November, December, mid to end of March, or April. Many grazers like zebras and antelopes start calving because of the immense food availability. The game conditions are getting better at the beginning of the rainy season.
Hours of Sunlight
Sunrise is between 6 and 7 am - Sunset before 8 pm. Sunrise and Sunset times
Gate opening hours depend on sunrise and sunset. The gates and also the camp gates are open from sunrise until sunset. You have to leave Etosha in time or be in your camp at sunset, otherwise, you risk a fine. The reason for the closure at night is to avoid accidents with wildlife. 
There are roughly 12-13 hours of sunshine in the rainy season.
During the dry season, days are shorter; daylight hours are ranging from 11-12 hours. 
 
Malaria in Namibia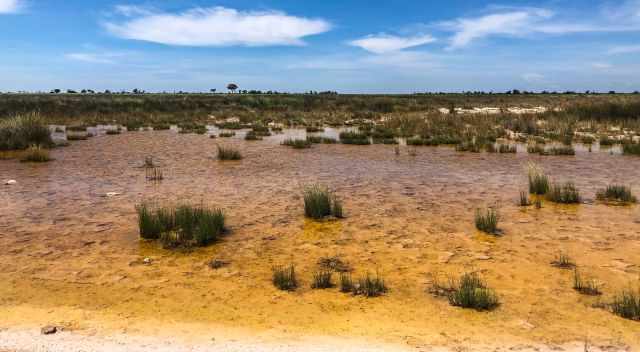 Malaria isn't a big issue in Namibia except for the Caprivi part of the Okavango Delta in the northeast. In general, the risk is the highest during the rainy season and at the beginning of the dry season roundabout until June. It is recommended to wear long sleeves, and long trousers to keep mosquitoes at bay. Ask your doctor if it is advisable to take antimalarial in the high-risk time or even in the dry season. What we always do is travelling with a stand-by medication in our luggage. 
7 Tips for Your Self-Guided Safari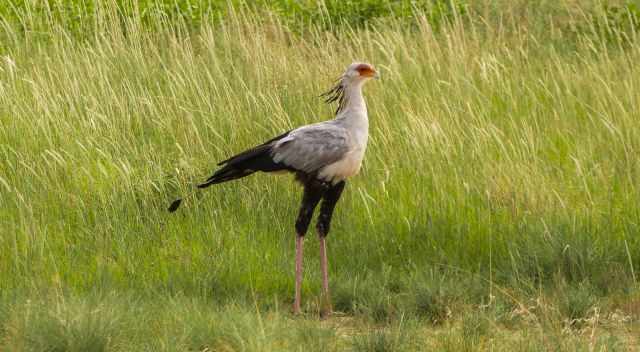 Start early morning and again in the afternoon when the carnivores are active and rest at midday. 
If you plan to drive through Etosha the entire day, take lunch with you and have a break at one of the view picnic spots or at one of the main camps.
Be patient and take your time at a waterhole you never know which game will appear suddenly.
Bring a binocular to see more details and, especially for bird watching.
Have your camera prepared next to you, or just enjoy.
Check the lion and leopard sightings in the office of the camps. Usually, lions stay at least two days nearby at their kill.
Speak with other park visitors and exchange your sightings you won't get disappointed. 
Location and Tips
Etosha National Parc
Namibia

Namibia is a "Young Nation" that gained independence from South Africa in 1990. Before, it was named  German South-West Africa, and it was a German colony until 1920.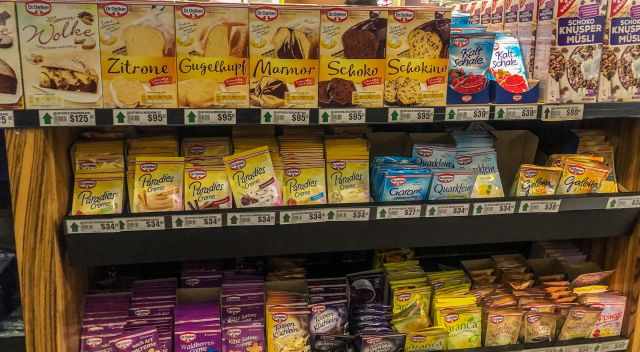 Etosha is located in the north of Namibia, 5 hours drive from Windhoek. It got National Park status already in 1967. Etosha means "great white place" in the language of the Ovambo tribe. The Etosha Salt Pan has almost a quarter of the National Park's size.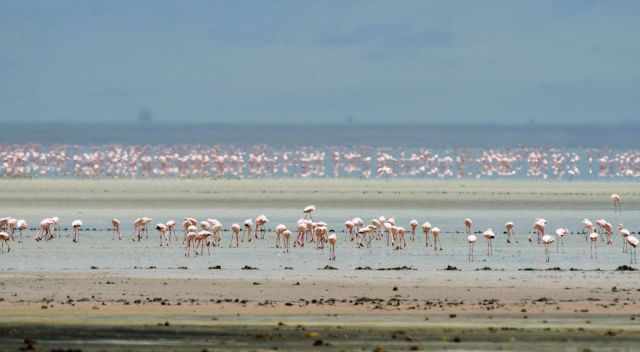 This salt pan is a vast breeding ground for more than one million flamingos during the rainy season. What happens in the rainy season the "great white place" becomes a great pink place.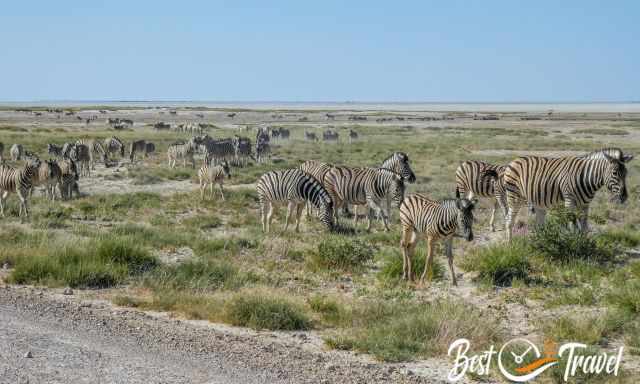 Self-driving safaris are one of the highlights of the park. Explore Etosha on more than 3.550 km of gravel roads.
Etosha National Park Map
Waterholes, Roads, Main Camps, Entrance Gates, and Distances
4 Etosha Gates - Waterholes - Highlights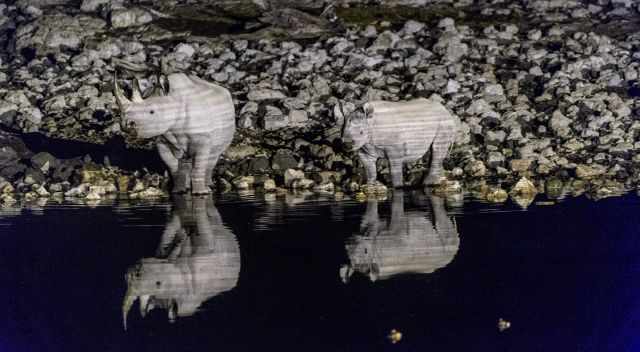 Black rhinos at Okaukuejo Waterhole in the night
There are four gates to access Etosha. Some waterholes are natural sources, while others are human-made.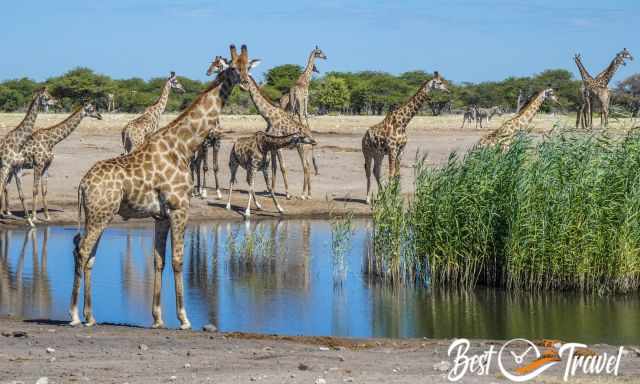 King Nehale Gate north-northeast
Highlights Stinkwater and Andoni Waterhole, the northernmost waterhole famous for spotting breeding crooned cranes.
Von Lindequist Gate in the east 
Namutoni Mani Camp and Waterhole. The waterhole is a natural source located behind the fort and main camp. Strong lights illuminate the waterhole at night. 6 km to the north is the Groot Okevi located; also a natural source often frequented by leopards, cheetahs, elephants, and herds of zebras. Dik-Dik Loop Drive near Namutoni, where lots of the lightweight Damara dik-dik antelopes occur. Another highlight at Namotoni is the Fisher's Pan, a paradise for birders, especially in the rainy season.
Anderson's Gate in the south
The Ombika Waterhole and the Okaukuejo Waterhole are popular for spotting black rhinos. Olifantsbad; as the name already indicates, huge herds of elephants, also lions, roan antelopes, and zebras are spotted. Best light in the afternoon. Gemsbokflakte; is popular with photographers because of the proximity to the waterhole to spot herds of elephants, lions, cheetahs, black rhinos, and of course, oryx antelopes. 
Galton Gate in the west
Open to the public since 2014. This area wasn't accessible for day visitors before. The Adamax salt pan Is the third-largest in Etosha. These pans are most of the time a dry saline desert. Another interesting waterhole is Olifantsrus, next to the new campground in Etosha.
Etosha Entrance Fee 2022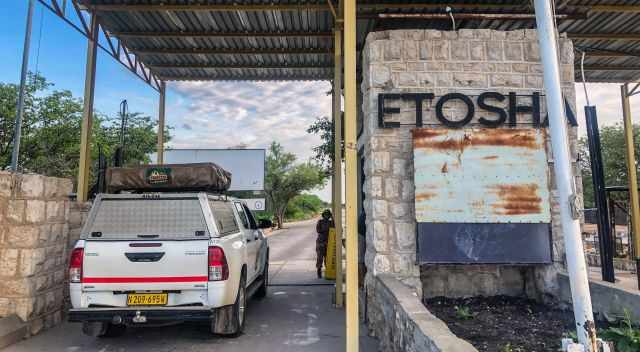 Foreign Visitors NAD 80
SADC Visitors NAD 60
Residents NAD 30
Free for children under 16 years
Facts About Etosha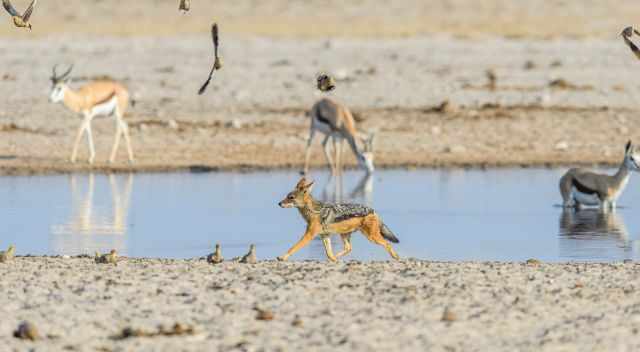 Distance from Windhoek roughly 400 km, a 4-5 hours drive
Nowadays estimated a quarter of a million visitors annually
Seize Etosha National Park 22.935 SqKm
Seize of Etosha Salt Pan 4.730 SqKm
Established in 1967 with a population of 500 elephants only.
Estimated 2.500 elephants live in Etosha now.
Estimated 600-800 lions are living in the park. 
3.550 km of gravel roads to explore Etosha
Etosha means "Great White Place."
According to the National Park administration, Etosha is home to 340 bird species.
Etosha vs Kruger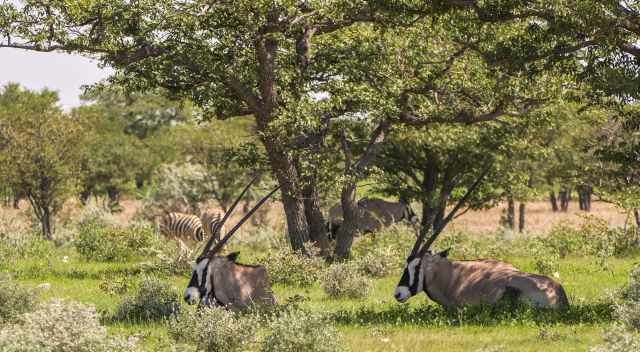 I can't say Etosha or Kruger are the better parks to visit. The vegetation is different, the carnivore density, and also the number of visitors each year. In the end, it depends on what else you would like to experience in Africa. I want to give you an idea of both parks with the following facts: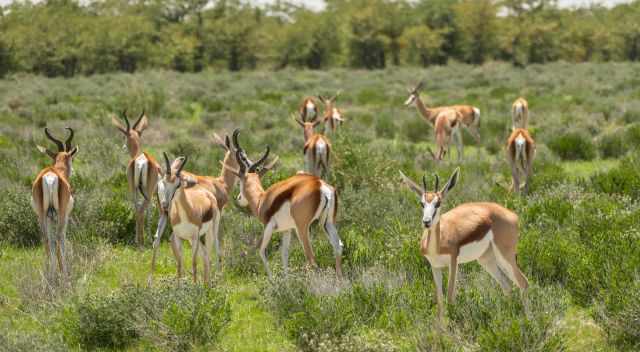 Etosha is less busy, with a quarter of annual visitors just 250.000 instead of one million. In Etosha, you don't end up in a line of 10 or 20 cars.
Etosha predator's density is smaller. Kruger has more of all and on top wild dogs, especially in the south. Leopards are easier to spot. Wild dogs were once extinct in Etosha, reintroduced, but not successful. 
It is estimated there are less than 50 cheetahs in Etosha. They can't compete with lions, and another reason is anthrax disease. Kruger has a view hundred cheetahs.
Etosha has more than 260 black rhinos, the highest number of all in Africa. The actual count is kept secret to protect them from poachers.
Etosha has 2.500 elephants, and Kruger has more than 13.000.
Etosha has 340 bird species and Kruger 500.
There are more guided walking tours in Kruger offered - also multi-day wilderness trails. You can stay in a basic and remote bush camp. We did this, and it was thrilling!
Etosha depends on the by-car-accessible waterholes. Usually, you spot more game; antelopes, zebras, and giraffes together at one water source in Etosha.
Do you like to know more about Kruger? Read my Kruger National Park Guide which includes a game viewing calendar. 
Facts of the Etosha Elephants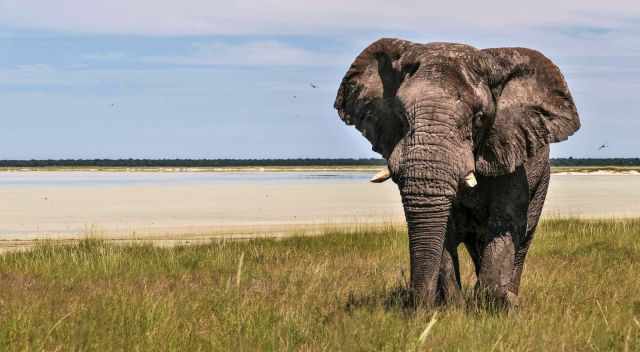 In 1954 there were just 26 elephants in Etosha. 
Human-made waterholes were dug to draw elephants from the farmland to the park, which was a success. 
In 1967 there were already 500 elephants in Etosha. 
Etosha's elephants are the highest, with 4 m.
Their ivory tusks are meagre because of hypomineralization. 
Unique is the elephant trunk with 50.000 muscles. This trunk enables the elephant to get even the smallest leaves from a tree.
These elephants weigh, on average, 6 tons.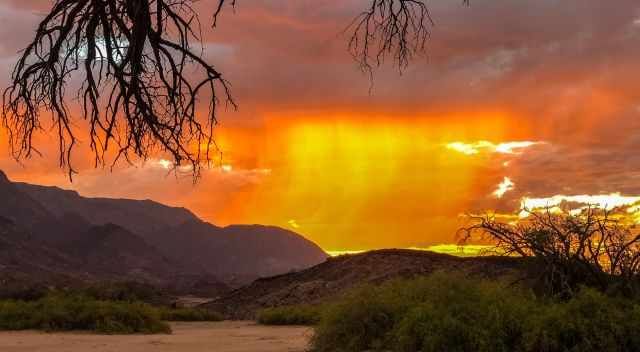 I recommend combining Etosha with Caprivi Strip, the Okavango Delta and Chobe in Botswana and also the Vic Falls in Zimbabwe. It is all located in the east and easy to access by rental jeep. Getting to Victoria Falls only is best by plane. The falls are located 1000 km to the east.
Thanks for these outstanding pictures from the dry season taken by my friends Chris, Rolf and Vera. The photos from the rainy season were provided by my wonderful friends Marc and Andrea from Switzerland. If you wish to use any of these pictures, contact me, but we will take action against picture theft!