When Is the Best Time
Watching the sunrise above the clouds was what I wanted to experience. Our entire trip on the island was focused on the weather forecast for Hehuan Mountain. In the end, we were successful watching a breathtaking sunrise.
The best months for a sunrise tour to the top of Mount Hehuan or Hehuanshan are during the driest time of the year from October until March. The sunlight has a little variation from summer to winter rising in June shortly after 5 and in January at around 6.40. Read my must-know tips below. 
Weather and Temperatures for Hehuanshan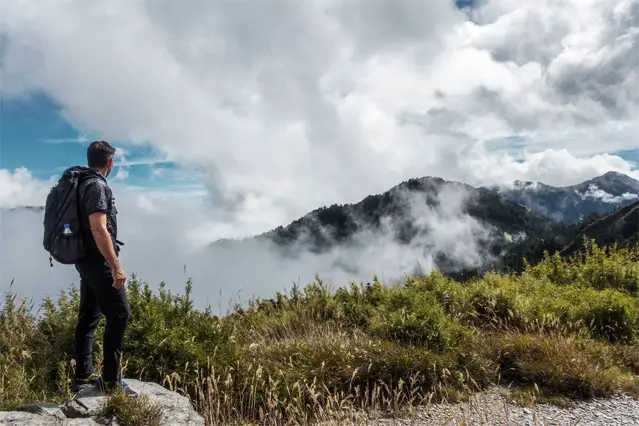 Mount Hehuan view around 10 a.m.  with pleasant weather
How is the weather at Mt. Hehuan during a certain month? How cold is it up there in the winter? How often does it rain in the summer? There is no weather station at Mount Hehuanshan. Most of the statistics on the internet are from another station somewhere at a lower elevation. The temperatures for Mount Hehuan at 3400 meters are lower. That's why I put official data plus information from the locals together for you. 
Colder Up There: It's 8-10 degrees Celsius colder at 3400 m at Hehuanshan compared to lower elevations in areas nearby. Example: When you check weather forecasts at the nearby Cingjing Farm (where you might stay), and it shows 16°C, it will be around 6°C at the top of Mount Hehuanshan. The difference is even higher from other towns/areas in deeper elevation.
Colder at Night: It's even colder during the night and in the mornings of: The night temperature roughly decreases by another 6 degrees. Keep that in mind, if you are out there very early in the morning when watching jaw-dropping sunrise.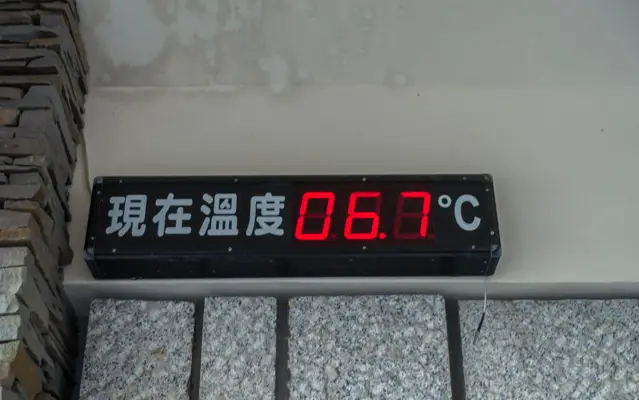 Sony Syue Lodge displays the temperature. This was after we returned between 6 and 7 am
General Taiwan Climate 
Subtropical with wet and humid summers. Snow is common during winter mostly in January and February, and it gets very busy here. 
Rainy Season – Summer (April-September)
In the summer months, you should definitely be prepared for rain at Mount Hehuanshan. It's possible to experience rainfall for 24 hours without a break during the wet season. Rain occurs between 15-19 days. The average day temperature ranges from 10-16°C in the shade which means pleasant during sunshine while it is hot in lower elevations. It is chilly at the night on average around 5°C.
Drier Season – Winter (October-March)
In the winter months, rain is a lot less likely. Snow is possible, especially between December and February. However, heavy snowfall is rare. In the winter of 2018, the heaviest snowfall was in early February and caused a 10 cm blanket of snow. The Taiwanese love snow as everybody does and it gets busy during this time of the year. Day temperatures are below 10°C nonetheless we felt comfortable during the day with sunshine. Even in the winter sunscreen is essential because of the high elevation. Temps drop to freezing in the night.
Forecast
It's highly recommended to check the weather forecast a few days in advance (up to 3-4 days) before you book your room at Syue Lodge up there. The problem: It's hard to find a reliable forecast for Mount Hehuanshan. Most cover only the counties and towns around it. Bookmark the following link as it's the only official and reliable forecast I know: Taiwan Central Weather Bureau - Hehuan Mountain East Peak
What to Wear 
For your Mt Hehuanshan winter visit you must bring warm clothes as it's one of the highest places you'll visit in Taiwan. A thick jacket, warm trousers, gloves as well as a hat and a scarf are highly recommended. From spring until fall you should bring sunscreen but I also took it in the wintertime. The great thing about a summer visit is the refreshing coolness at an elevation of 3000-3400 meters in comparison to the hot city temperatures. 
Consider Three Things If You Like to Watch a Sunrise Above the Clouds
1. Go on weekdays
2. Don't book your room far in advance. 
3. Travel to Taiwan during the driest months to increase the chance.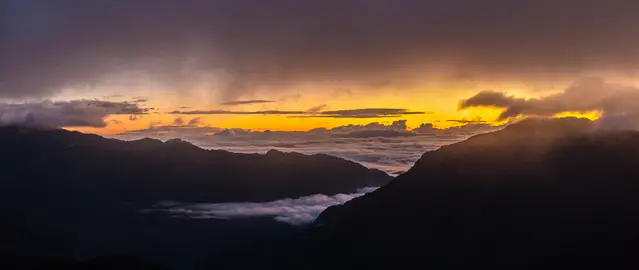 Do you like to know more? Read the following tips to be successful in watching the sunrise for a jaw-dropping moment in your life.
Watching the sunrise on Mount Hehuanshan is very popular in Taiwan. If possible go on weekdays, weekends are super busy and fully booked. Don't book the room far in advance. Check the weather forecast when travelling through Taiwan  Taiwan Weather
Pick a date when the forecast for the mountain range is good or even excellent. The receptionist told me often people are disappointed due to the bad weather. The whole week before our stay in November it was always foggy and rainy on Hehuanshan. 
Highlights/Information
Visitor centre opening hours: 8.30 until 4.30 pm but closed each month on the first and third Monday.
The whole area is famous for its beautiful Rhododendrons in April and May. That is an awesome season up there.
 
5 Must-Know Tips | Including Sunrise and Weather Forecast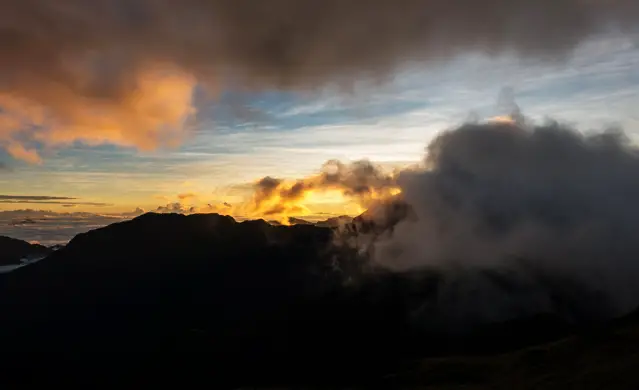 Sunrise view in November
Best Hotels in Cingjing Farm - Renai: Via booking.com with low price guarantee. Cingjing Farm (Google Maps Link) is the closest place. From there you drive 40 minutes to Mt. Hehuanshan. Some visitors arrange a tour to Mt Hehuanshan from their hotel there! You can also drive on your own.
Basic Info Song Syue Lodge: The highest hotel in Taiwan. Located at an elevation of 3150 meters on Mt Hehuanshan. It's hard to book a room there since it's difficult in English. However, you should only book there if you're sure about the weather (read below). Most visitors let their hotel where they stay before do the booking. That's the most successful way.
Sunrise vs Other Times: Experience the sunrise up there at Mt Hehuanshan is an outstanding experience. Like one visitor said after he returned: 'Now, my life is complete!' But still, any other time on the mountain besides sunrise is also amazing if the clouds are not rolling in. 
Watching the Sunrise: Most visitors watch the sunrise from the lodge only. I highly recommend to walk for at least 15 minutes on the trail for a much better experience (read more below about the trails). You don't have to walk the whole east trail to the peak, as it is challenging due to the high altitude. 
Weather Forecast Mt Hehuan: Check the weather forecast via this link. While visiting the peak in good weather is stunning, it's definitely a disappointment during bad weather. That's why I recommend to book the lodge (or hostel) just a couple of days before. 
 
Check out my complete Taiwan Guide - Must know destinations, sunrises, hikes, and tips
Location and Tips
Taroko, Wuling
Taiwan

Hehuanshan National Recreation Area is located in central Taiwan at the edge of Hualien and Nantou county situated on the Western boundary of Taroko National Park. Depending on the traffic and the road work constructions in Taroko it takes 2 ½ to 3 hours to get there. It's a scenic drive always up to 3150 m elevation.
Where to Stay and How to Make a Reservation Without Chinese Language Skills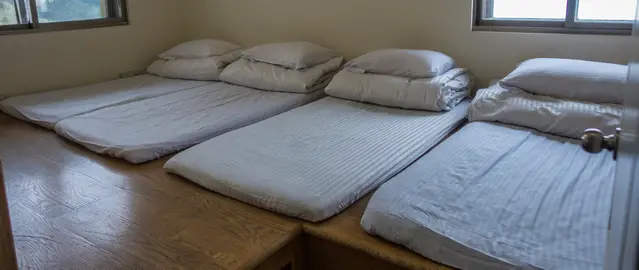 There is only one lodge; Songxue or Song Syue Lodge which offers luxury accommodations and is the highest hotel in Taiwan. The owner of the hotel also runs the hostel; Huaxue Lodge, which is just below the hotel five minutes walk away. If you stay in the hotel or hostel, dinner and breakfast are included. The hotel is comfier the reason that most people like to stay there.  Some people experience altitude sickness. The lodge provides oxygen in this case. The hostel is without heating and has wooden door rooms, four and more Japanese futons in one room. Anyhow, each bed has a heating blanket which is quite sufficient for the night. The facilities are clean and hot showers are available. When we came here in November, we were the only guests in the whole hostel. One night in the hostel, including dinner and breakfast buffet cost around 1.200 TWD (36€ p.p).
Decide if you like to book a room in the hotel or hostel. You can either give them a call, but not all of the employees speak English or book it online. The hotel website is in Chinese only.  Ask at your accommodation before or go to a visitor centre in one of the many National Parks or Recreational Areas and ask if they can assist you with the booking. First, they need to create an account for you before they can make the reservation. The passport number is requested, but you don't need to pay a deposit just the whole amount when you arrive preferred in cash. Some people mention on their website you could camp at the visitor centre, but this is not allowed and could be quite cold and wet.
Where Else to Stay
The best-rated (TripAdvisor 5 stars) and closest B&B to Mount Hehuanshan is 31 Minsu. It's a 40 km drive which may take 1.15 h. to Hehuanshan.
5 Hiking Trails Around Hehuan
Hehuanshan East Peak for the sunrise 3.421 m
The famous path is just 1.3 km long to the top, but due to the high elevation, it takes more than an hour much longer than expected to climb up the steep trail. The height difference is roughly 270 meters. The trailhead is located behind the Song Syue Lodge, but you can park your car at the lodge only if you stay there. Sunrise is around 6 am depending on the time of the year. The most spectacular time is before sunrise. If you like to watch the sunrise from the top of the east peak start 1 ½ hour before dawn. Anyhow, if you can't get up so early, walk just half of it for this incredible experience. Most visitors watch the sunrise just from their room or balcony. 
Hehuanshan main peak 3.417 m
It's a maximum of 2 hours walk in total on concrete. The advantage even in dense fog you can walk along the trail.
Mount Shihmen Peak 3.237 m The peak is easily accessible, and the trail is 750 m long, roughly ½ an hour always climbing up. It is also famous for the sunrise, and it takes less effort to get to the top as it is for Hehuanshan East Peak.
Cilai Mountain north peak 3.607, Cilai Mountain 3.560 to Kaluolou 3.413 m
A permit is necessary; otherwise, it can be fined up to TWD 30.000. There are cabins for overnight stays on the long and strenuous trail. The trailhead is at the hostel and looks very exciting. Some local hikers had a closer look, and so did we just for an hour. Especially this trail is rich in vegetation with trees and bushes growing in high altitudes such as different Rhododendron, Bamboo, Taiwan Fir and Coniferous like the widespread Chinese Hemlock.
Hehuanshan north peak 3.422 m and west peak 3.145 m
The trails start at the visitor centre and headquarter of Taroko National Park nearby.
Free entrance to the park.