When Is the Best Time
There are almost seven exceptional months to spot the bears in Hallo Bay in Alaska in the Katmai National Park. The Katmai National Park provides abundant food in different areas and seasons. Actually, Katmai was protected for the volcanic devasted area and became a National Park status in 1980. Nowadays, it is heaven for photographers and wildlife lovers from around the world. It is an affordable alternative for Brooks Falls.
The best time for an unforgettable visit to Hallo Bay is June followed by July, August, and September with excellent bear sightings. 
Bear Activity Overview for Katmai
April to early May - Awakening and Mating Season - Few Sightings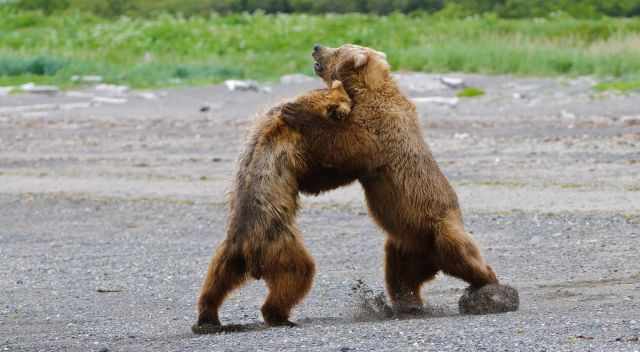 In spring, during the snowmelt, the bears wake up. They lost a lot of weight and immediately start to search for food. Their dens are usually on the upper slopes where it is still too cold for sedge grass, and goose tongue  Goose tongue is a grass growing in the salt marsh. It is also cooked eatable by humans.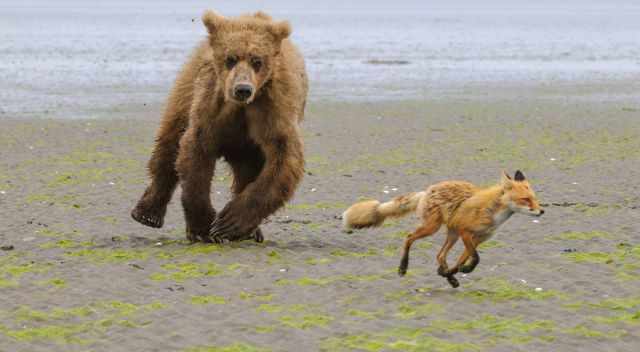 The bears wander around digging for routes and hunt whatever they get or grab the prey of smaller predators like the fox. Soon start the mating season, and the males start fighting, showing their dominance. 
Mid-May - July - Mother With Cubs - Great Sightings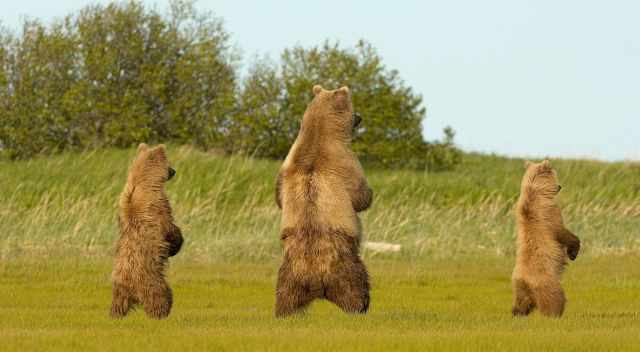 The mating season is getting to an end. The males are resting for a while from their aggressive and demanding fights to show their dominance. The meadows in Hallo Bay are grown with sedge grass in abundance. The tidal flats are full of mussels and clams. They are omnivorous, feeding on what they can get most important is a high energy food.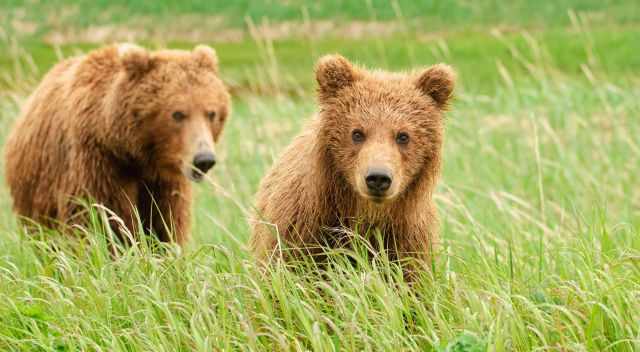 They feed on roots, grass, mussels, small mammals, and, most important, waiting for the salmon—first sightings of mothers and their cubs. The fur of the bears is still in good condition.
July - August - Salmon Run - Spectacular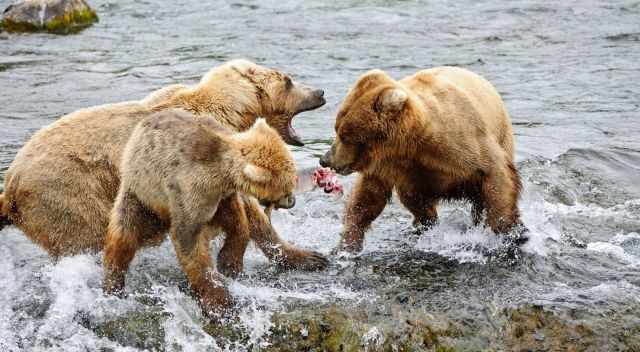 Bears are moving inland from the coast to the rivers waiting for the salmon. They are feeding mainly on the nutrient-rich brains and eggs of the salmon. The leftovers are for other animals, and on top, it fertilizes the land. They are a key species for the entire ecosystem of the Katmai National Park. As elsewhere, the most dominant bears are taking over the best fishing sites. The brown bears catch the salmon in the shallow gravel beds. At Hallo Bay doesn't occur any natural trap as it at Brooks Falls or McNeil Falls. The bears already start to prepare for hibernation. They are losing their old fur by rubbing for the new thick winter coat. Also, wolves are present during the salmon run.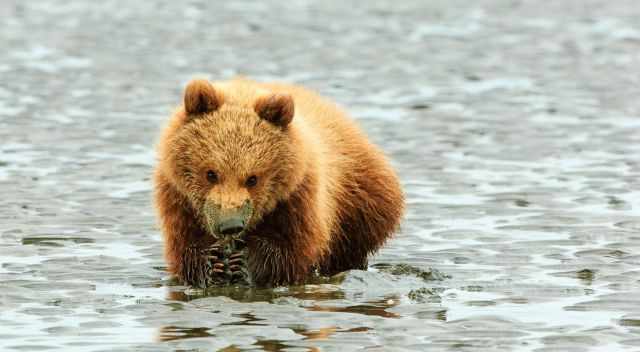 When the salmon passed to their spawning ground, bears move to other feeding grounds for mushrooms, berries, clams, all are important for their diet.
Mid-August - Mid-September - Salmon Run Continues - Great Time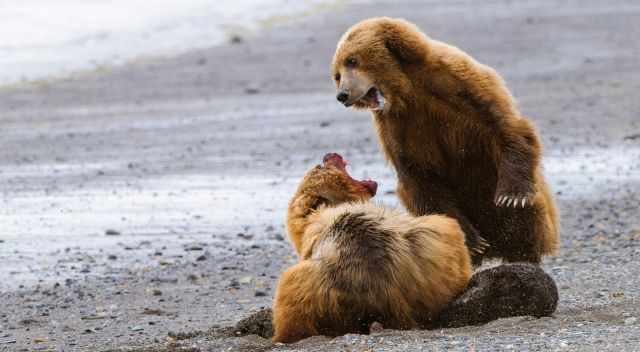 Now the Coho salmon starts the run for spawning. The chum salmon and the pink salmon also migrate back for spawning where they were once born. It seems like the grizzlies prefer the Coho salmon. This salmon species is fatter and heavier. The salmon run is not exactly predictable, but usually, it lasts until October. Their new fur for winter appears already. 
Mid-September - Mid-October - Bears at Rivers & Beaches - Great Time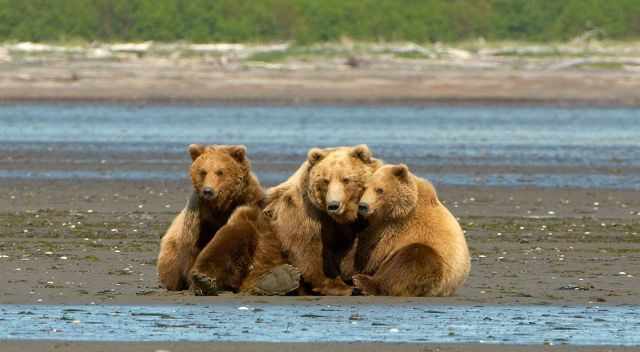 The brown bears start resting along the rivers and beaches. Fall is settling in, it is the colour season in all its glory, and days are shorter. The winter fur of the bears is complete. The first storms arrive. Bears feed on berries,  old salmon, and late-comers; Coho salmon swim upstream for spawning. The bear watching season is getting to an end. 
Mid-October - November - Preparing for Hibernation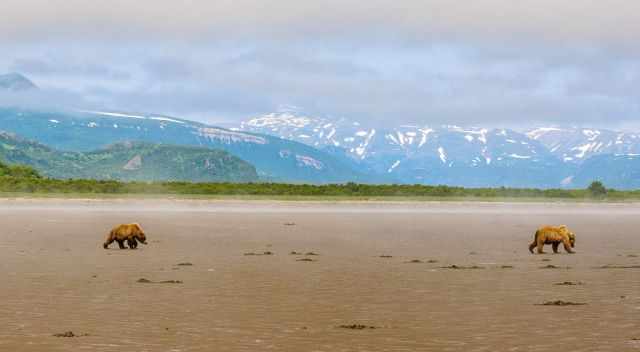 It's getting colder in Alaska; long-lasting winter storms are common now. It is time for the bears to dig their dens for the long hibernation in higher slopes. 
November - March - Hibernation
The bears hibernate for at least five months in their dens. However, in January and February, females give birth to their young ones. 
| | |
| --- | --- |
| | Created By National Parks Enthusiasts. Best-Selling & Award-Winning National Parks Game: Winner Of The Mensa And Parent's Choice Award. Share the Joy of the National Parks: Share your memories, and dream about where you'll travel to next. |
Are There Bugs in Katmai?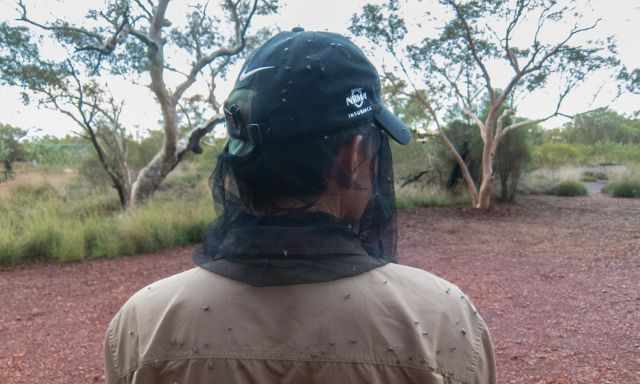 Katmai is all about bears, salmon, and fishing, but it's Alaska, a region which experiences lots of rain and, therefore, bugs, not only mosquitoes. That's the price you have to pay for this unique annual salmon run. Come prepared and carry a biodegradable, Deet-free insect repellent in your bag. Believe me this is almost as essential as a good camera.
Accommodations in Homer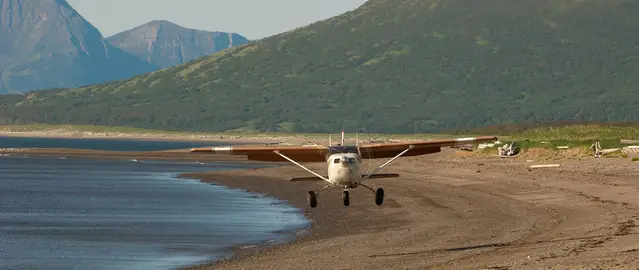 In former times there was a lodge in Katmai National Park. Nowadays, you can only stay in Homer. However, there are day trips offered from the airport to spot the bears in the different seasons. Homer is located just four hours - 220 miles drive south of Anchorage.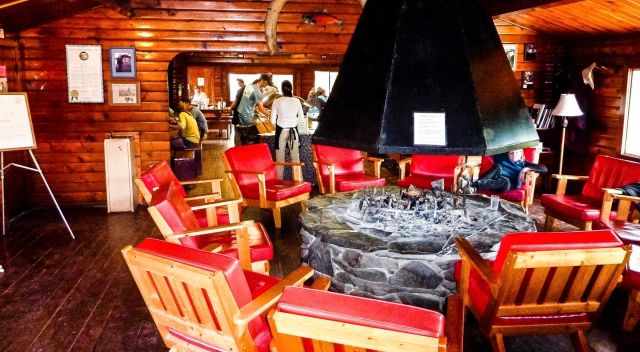 It is cold in Alaska; fireplaces or heating are essential
There is a huge variety of hotels in Homer where you can choose from. Homer is a little town with fewer than 6000 residents, so all hotels and the airport are close together.
Excellent Tours from Anchorage
Location and Tips
Alaska, Katmai National Park - Homer
United States

The Katmai National Park is a unique wilderness area giving you the opportunity to experience a breathtaking time. It is such a precious National Park that the Disney movie "Bears" from 2014 was taken here. 

During the main salmon run also wolves and foxes are present. All want to benefit from the abundance of salmon before the next harsh winter starts. 
Packing List - Essentials
Bugs (mossies, black flies, midges) are an issue or rather pest in Alaska only the wind. special clothing and insect repellent can give you relief. However, even DEET is not a 100% guarantee! It is worst on clear summer days.
I highly recommend a head net, long sleeves, and put your pant legs into your socks. Doesn't matter how it looks like if you don't want to get eaten up.
Be prepared for cold and windy days even in the summer warm clothes are necessary. Temps range from 8-16°C/47-63°F
Don't carry any food or other smelling goods in your backpack. It must be stored in bear containers for your safety.
Weather and Bear encounters can delay the arrival or departure, especially for Brooks Falls. 
I got these outstanding pictures and the Brooks Falls provided by my photographer friend Chris!