When Is the Best Time
Ningaloo Reef is most famous for swimming with whale sharks and manta rays. Since 2016 humpback whale tours are offered from Exmouth and Coral Bay. April, July, and late September are the busiest months because of the Australian holidays. Continue reading to figure out the best time and what to experience for your visit to Ningaloo.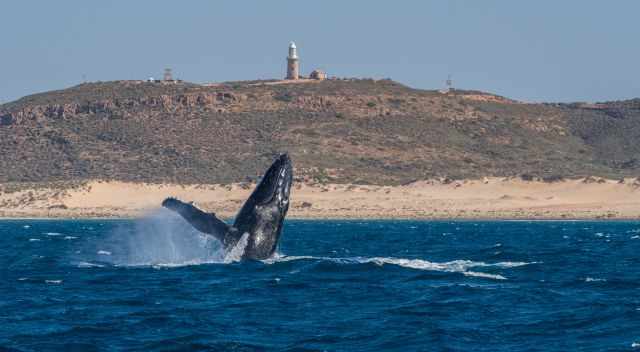 Seasons | Whale Sharks - Humpback Whales - Manta Rays
The more than 260 km long Ningaloo Reef is an excellent destination for whale sharks and humpback whale interactions. The season starts in late March and lasts until October. Have you always wanted to snorkel with a whale shark or humpback whale, seeing them close and passing by?
The best time to swim with whale sharks at Ningaloo Reef runs from April until July. Coming up close to humpbacks, even with a calf, August to October are the best months for interactions.
Good News; humpback whales are no longer a threatened species in Australia. They are making a miraculous comeback at the west and east coast almost to pre-whaling levels.
Whale Sharks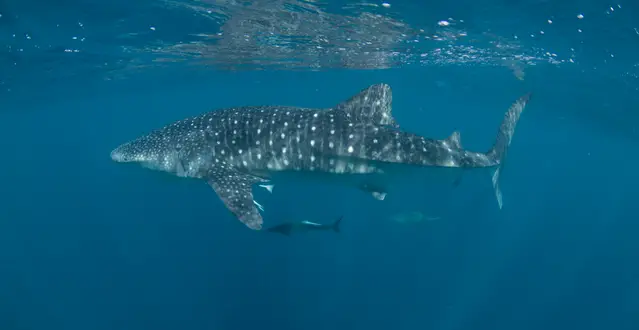 They arrive around mid-March depending on the full moon and stay for feeding until July and some until August. There are even sightings in September and October possible, but it's no longer guaranteed. The highest chance for interactions and swimming with whale sharks is from April to July. The whale sharks are annually close to the reef at this time of the year, and the water temperature is pleasant after the summer heat. The reason for the whale sharks coming to Ningaloo is the release of millions of eggs and sperm by the corals, which always happens roughly a  week after the full moon in March. Masses of krill are swarming to feed on the spawn that provides a feast for the whale sharks. 200 to 400 whale sharks, mostly juveniles, come for feeding in Ningaloo each year. Whereas 2019 was different, with very few sightings in August but again in October.
These are my recommended tours via GetYourGuide with 24 hours in the advance cancellation policy. Thx for booking via my website! With your support, I am able to provide all information first-hand. Tour prices are at no extra cost!
Humpback Whales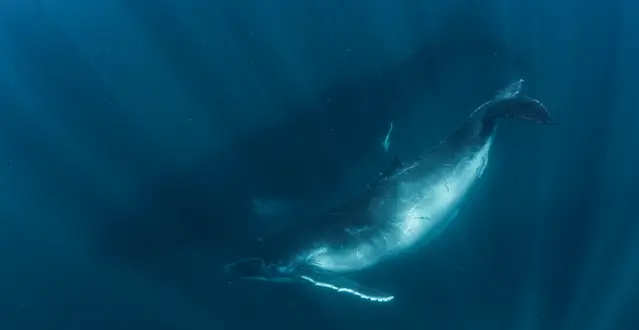 Tours are offered from August to October. One of the largest populations migrates from the feeding grounds in Antarctica to their calving grounds in the Kimberley region. Safety is always first, but if it is possible, you may experience a truly unique interaction with these magnificent whales. We booked the humpback tour for two days in September, and both days were exceptional. Words cannot describe these mind-blowing days out on the sea. These massive giant whales came up close, just below, and the baby watched us. One circled us twice; These were the best whale trips we ever did in our entire life. Humpbacks are peaceful, curious, and often coming up close. The water temperature was cold in the deep sea, below 20°C.
Usually, the best month is August, when you may spot whale sharks and humpbacks. However, 2019 was different at Ningaloo, and there were just two sightings of whale sharks in the first three weeks.
Manta Rays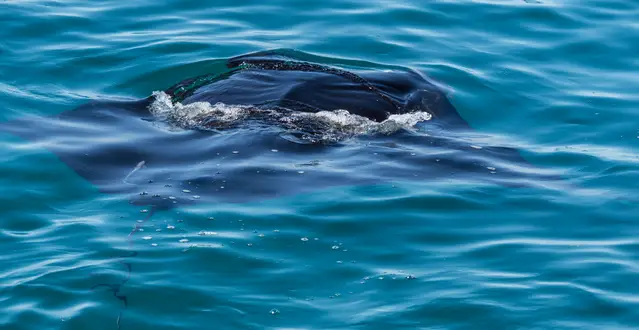 They are always present at the reef but in abundance from May to September. Only view tours are offered to swim with Manta Rays. Usually, Eco Tours are available in August and September to swim with whale sharks when they are still around. In addition, you get the chance to swim and snorkel with the rays. We spotted several close to our boat, and one was jumping next to the vessel.
Avoiding Crowds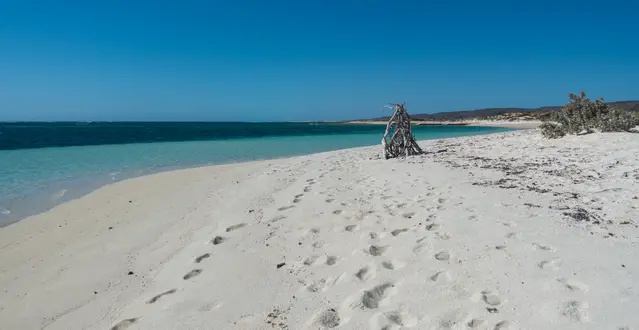 It's quiet in March and again in May and June. Try to avoid April, especially if you don't like masses of tourists. It gets busy again in July and becomes quieter at the end of July. Book the tours and accommodation far in advance if you plan to visit in April or July. Tours are usually fully booked for weeks. There are limited hotels in Exmouth and Coral Bay, and prices are highest during the peak season. Weekends are more crowded. August until mid-September is quieter until the spring break in late September.
Weather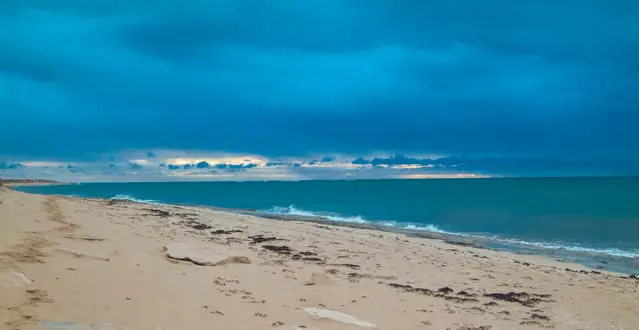 The region of Western Australia has a tropical-hot-desert climate. In autumn and winter, from April to September, there are pleasant temperatures around 25° C and cold night temps between 11 to 13°C on average. Warmer temperatures cause an average water temperature of about 22°C in the shallow sea. Overall after the "winter", the sea temp is chilly. A wetsuit is essential for snorkelling.  It's hot during the summer; expect a daily temp of 35 to 38°C, and the water temperature is around 26°C and higher. It doesn't rain much here; less than 30 days of precipitation with the highest chance for thunderstorms from January to April. Fewer clouds from August to December. Cyclones can occur and are more likely to happen from January to March. In March 2015, Ningaloo was hit by the severe cyclone Olwyn. At the end of April 2014, record-breaking heavy rainfall caused flash floods.
Top Accommodations and Camping in Exmouth and Coral Bay
Most visitors stay in Exmouth for two or three nights maximum, and this is pretty short for all the opportunities in the Cape Range National Park and Ningaloo Reef. We hiked through the Mandu Mandu Gorge and spotted a black-footed rock wallaby. Snorkelling at Oyster Stacks close to the shore shouldn't be missed. Therefore we recommend staying here at least four nights. Due to limited hotel opportunities in Exmouth, pre-booking is advisable. Usually, more than 90 % is booked in advance. Our top accommodations in Exmouth:
Mantarays Ningaloo Beach Resort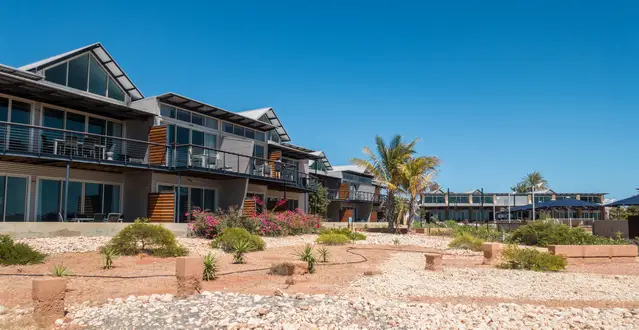 It's a lovely hotel with a sensational restaurant. Getting quality food in Exmouth is not easy, but this kitchen is outstanding. The staff is attentive, and on top, you have free access to the laundry facilities. The pool overlooks the ocean. You may even spot humpbacks from here or choose a room with an ocean view and enjoy the scenery from your balcony.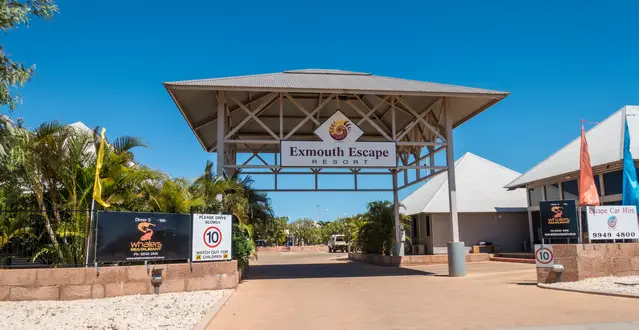 The Resort is located a 15 minutes stroll outside of the town centre. The spacious apartments are spotlessly clean and well-equipped, even with a washing machine. The large swimming pool is utterly amazing. The Whalers Restaurant is pretty famous for its sumptuous meals. If you don't stay here, make a reservation for dinner and call 9949 2416
 
Sal Salis - Our Pure Luxury Tip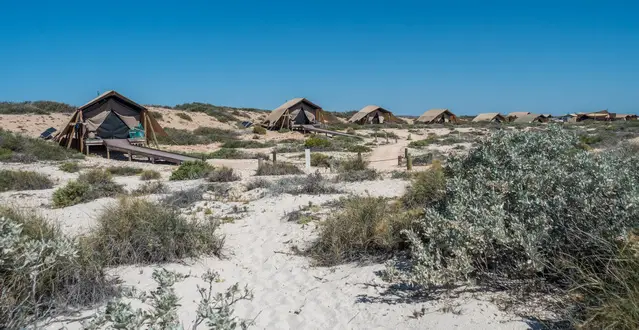 The exclusive eco safari tents are fantastically located next to the white sandy beach and the Ningaloo Reef. Enjoy kayaking and snorkelling directly in front of your tent. The outdoor dinner under the amazing night sky is top-notch. Kangaroos and wallabies are grazing around the tents in the evening. It's an hour away from Exmouth, located in the Cape Range National Park. Very view places in the world offer such an outstanding locations. The peak season is always fully booked many months in advance.
RAC Exmouth Cape Holiday Park - My Budget Tip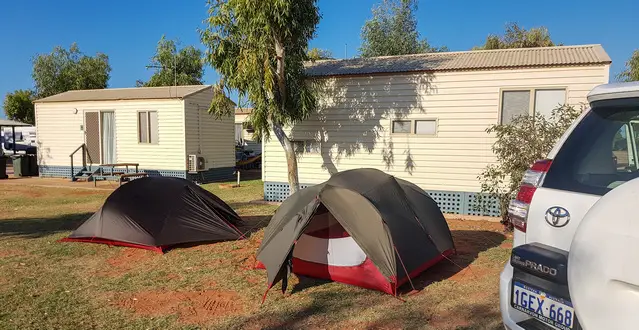 Our tents, otherwise we could not afford the snorkel trips.
For those looking for budget accommodation, the RAC offers cabins, double rooms, and dormitory rooms with shared bathrooms. The cabins are well equipped and clean. Many campervans come here, but the space for unpowered tent sites is poor. There are plenty of camp kitchens, facilities, and laundries around the huge Holiday Park. Yoga classes are offered next to the swimming pool. If you seek a quiet place for camping, the Manta Way and the Marlin Stretch are best. Map RAC Holiday Park
Location and Tips
Ningaloo Reef
Australia

We spent a couple of days in Exmouth swimming with whale sharks, snorkelling at Ningaloo, and exploring the Cape Range National Park. When we figured out humpback whale interactions, not just whale watching is offered here in Exmouth and Coral Bay now; we had to get here again two years later in September. There are very few places in the world where you can swim with these peaceful and curious whales. The advantage of the Ningaloo Reed; it's easy to get here, humpbacks are close to the shore, and tours are more affordable than anywhere else.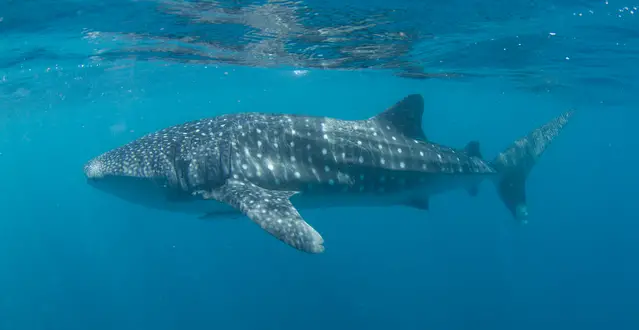 Usually, the guided interactions with whale sharks and humpbacks are fully booked for days or weeks in the peak season. We came here at the end of the rainy season; clouds and rain were predicted at the end of March. Luckily, it cleared up and became sunny. In September, the temps were pleasant in the daytime, but nights were still cold. The whale sharks and humpback whale tours are well organised and very professional. They use a spotter plane to find a whale shark/humpbacks to swim with. First, you get an introduction about the procedure on the vessel and the interactions. You have to follow the code of conduct; respect the distance, don't touch them, and don't make any noise.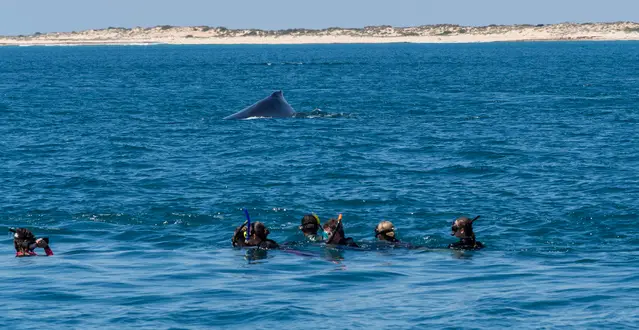 All people on board are split into two groups, eight for the whale sharks and seven for the humpbacks. The maximum number of swimmers on such a tour is 16 for the whale sharks and 14 for the humpbacks. After the summertime in March, April, and May, the sea temp is pleasant for snorkelling. During the humpback tour, you get a wetsuit borrowed which is well needed. We went into the sea several times on the whale shark and humpback tours, first at the reef to get familiar with the gear and then as often as possible with the whales (we always went five times in).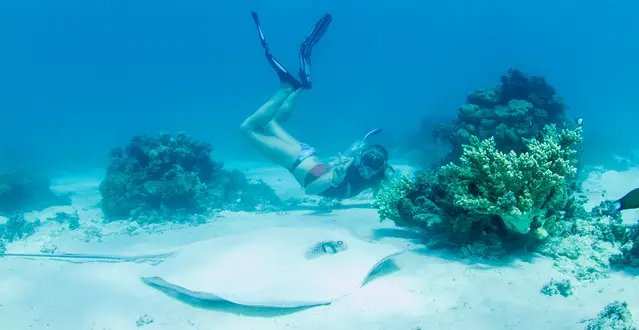 Afterwards, we were exhausted and full of joy about our moments with the whales. We were glad about the lunch and champagne provided after the interactions. The crew did a fantastic job that we can spot whale sharks and humpbacks at Ningaloo Reef. We are spoilt for the rest of our life. These were the best whale tours ever.
6 Facts About Whale Sharks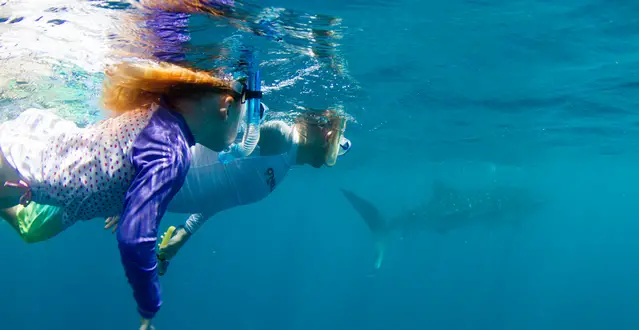 Whale sharks found in warm tropical oceans
They are the largest fish and a filter feeder like the basking shark, the second largest fish.
Reaching lengths of 12 meters and more. 
They can get more than 70 years old, some even up to 100. 
Whale sharks dive more than 1000 meters deep.
Mostly juvenile whale sharks with an average length of 5 meters are spotted at Ningaloo.
10 Facts About Humpback Whales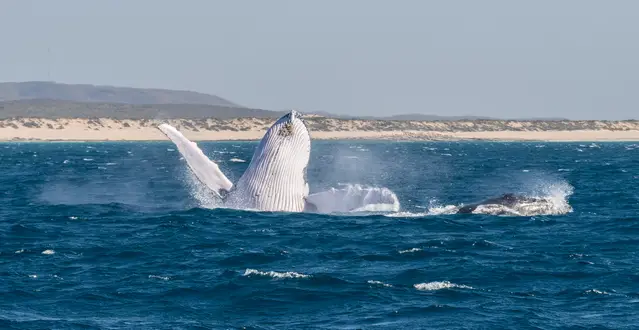 The average lifespan is around 50 years
Length of 14 up to 19 meters - 46 up to 68 feet
Weight 25-30 tons on average and up to 40 tons
Newborn calf weight one ton
Feeding on small fish like sardines and herrings, krill, plankton
Baleen whales are filter feeders
Famous for their whale song
Migration of up to 16.000 miles - 26.000 km
Migration from the poles; Antarctica and Alaska, to warmer water in the winter for feeding, mating, and breeding
Still not clear why humpbacks breach - they can be seen pretty often here at Ningaloo

Regarding the tours, an incredible experience is definitely: 3 Islands Whale Shark Dive - Ningaloo Reef (Thanks for providing some of these stunning photos!).