When Is the Best Time
Oyster Stacks is part of a sanctuary zone in the Ningaloo Marine Park and the best snorkel site in this area. It's a popular spot to snorkel self-guided. The pro is that you do not have to go far out; just a few steps, and you already discover the beauty of this reef. Oyster Stacks is located 60 km from Exmouth on the west side.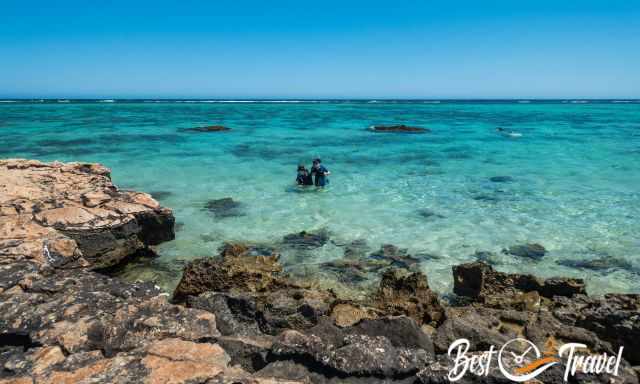 Snorkelling at Oyster Stacks during high tide only! It is too shallow at low tide. You can't avoid hitting the corals, which causes damage to these fragile colonial animals, and you may scratch your skin at the sharp corals.Please, never try to stay on corals.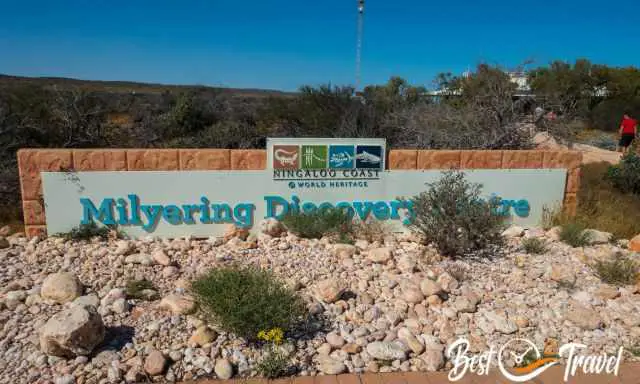 I will give you all information about Oyster Stacks, facts about Ningaloo, what to bring, where to stay or camp and I also added a map.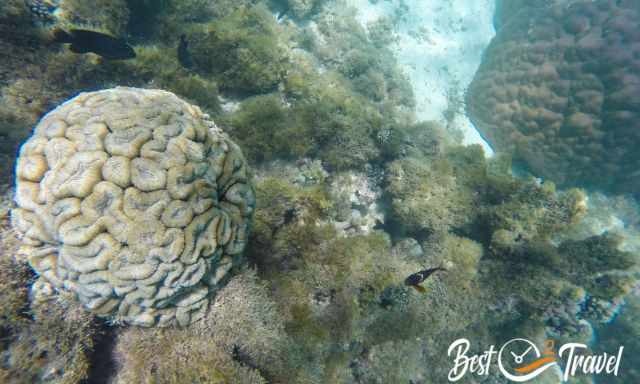 Before heading to this outstanding spot for snorkelling, check the tide times either at Milyering Visitor Centre or follow the link but get back to this article for more tips 😉. Tide Times Coral Bay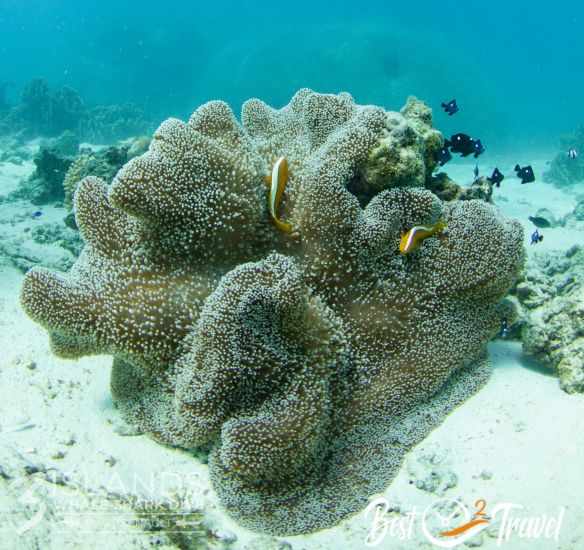 You have a short window only for your stay here, so plan properly. Be aware of stronger currents far more outside of the protected bay.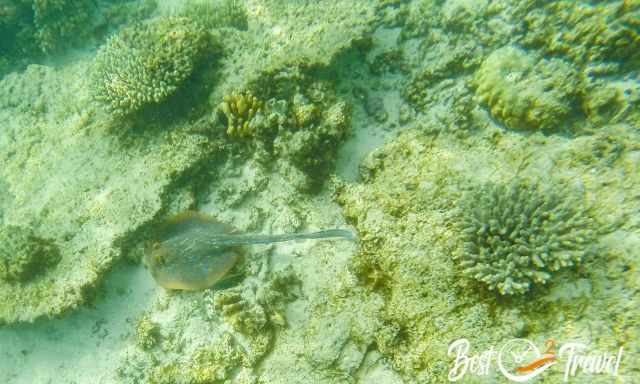 There is limited parking, therefore, most visitors have to park their vehicles on the shoulder. Parking Google Maps
Weather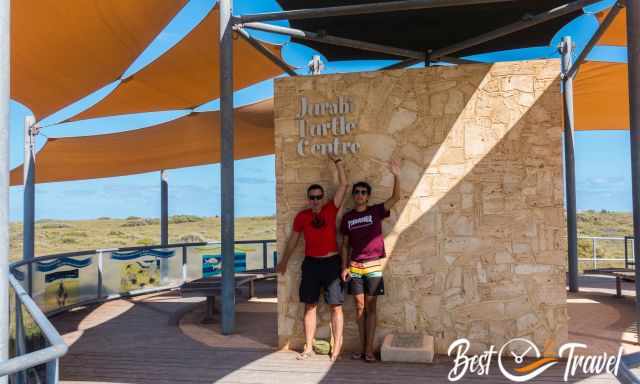 The region has a tropical-hot-desert climate. In autumn and winter, from April to September, pleasant temperatures around 25° C cause an average water temp of about 22°C. It's hot during summer with an average daily temp of 35°C and water temperature of around 26°C. It doesn't rain much here; less than 30 days of precipitation, with the highest chance for thunderstorms from January to April.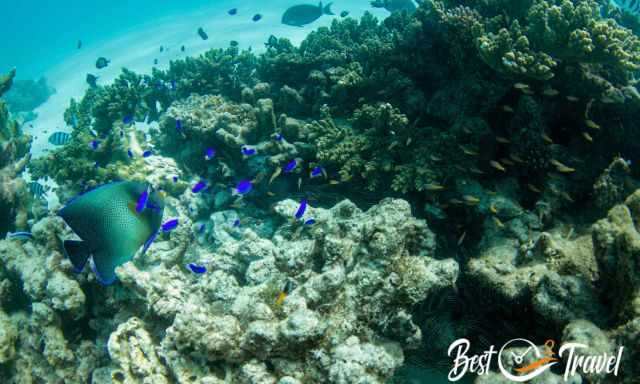 Fewer clouds from August to December. Cyclones can occur and are more likely to happen from January to March. In March 2015, Exmouth was hit by one and also flash floods can occur in this season.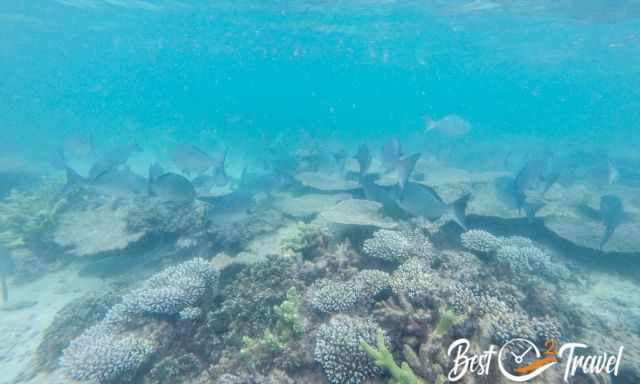 If it is very windy, the swell is stronger, and it may be more difficult for you if you are not experienced. Poor visibility during a strong swell.
Packing Checklist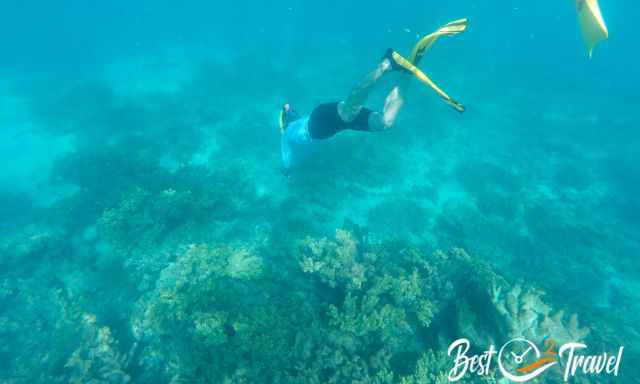 Plenty of water and beverages - there isn't a cafe or shop next to Oyster Stacks.
There is no shade, and the sun is intense. Protect your entire body, face and head. I highly recommend sunscreen with a high protection factor especially for the face.
Bring your snorkel equipment; fins, mask and snorkel. You will love this spot.
Protect your feet from the sharp corals.
Protect your back from the intense sun and wear a shirt for snorkelling. It may also protect you from sharp corals.
The wintertime is pleasant, but sea temperatures range between 25-21°C close to the shore. I recommend a wetsuit for snorkelling during this time of the year; despite my wetsuit, I was freezing a little bit.
Location and Tips
Exmouth
Australia

This is an excellent snorkel spot to see some of the more than 250 coral species which occur in Ningaloo Reef. Some corals provide a habitat for the famous clown fish. We visited this place several times, in summer and in winter. We loved it so much.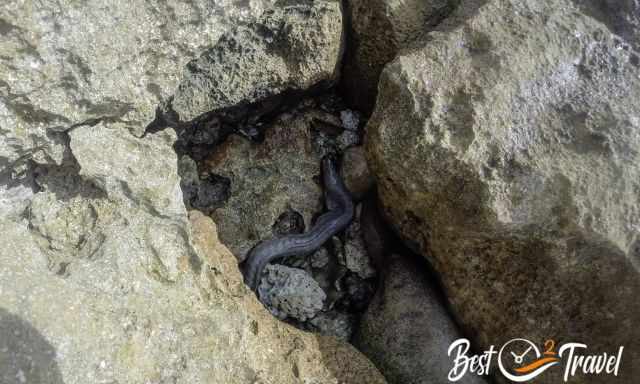 We saw a huge amount of different colourful fish species, green sea turtles, reef sharks and a moray eel.
7 Ningaloo Reef Facts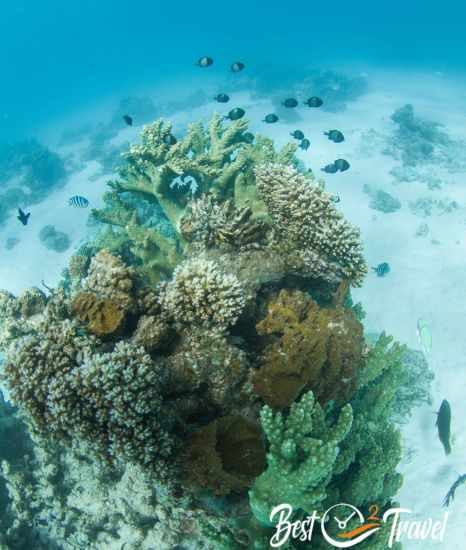 Ningaloo Reef is over 260 km long and located close to the shore.
Ningaloo is one of the most important nesting sites in the Indian Ocean for loggerheads, green sea turtles, and hawksbills.
There are an estimated 10.000 nests annually the reason it is likely to spot a turtle while snorkelling. 
There are more than 500 species of fish in Ningaloo. 
Near the shore are usually only reef sharks and sometimes wobbegongs or carper sharks.
White sharks occur but in the deeper sea.
The olive sea snakes occur in Ningaloo. It is a curious and venomous sea snake up to one meter long but not aggressive. They breathe air, therefore, coming to the surface.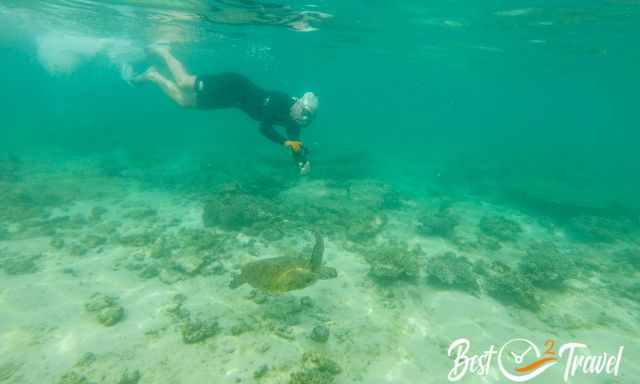 The rocks are sharp, so either wear fins or reef shoes. You can enter Oyster Stacks only over sharp and slippery rocks. Choose carefully where to access this fantastic spot. Oyster Stacks is not really suitable for small children. 
Map Cape Range and Oyster Stacks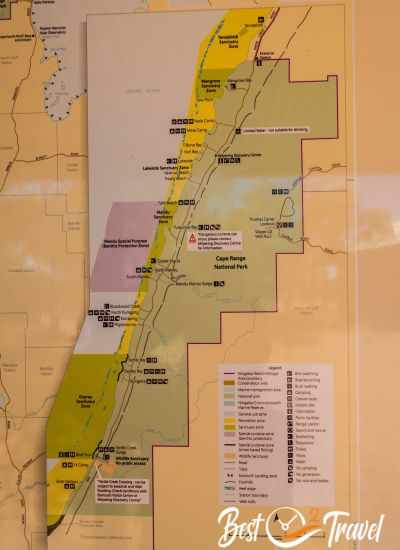 Other great spots are Mandu Mandu and Turquoise Bay which you can see on this map too.
Top Tip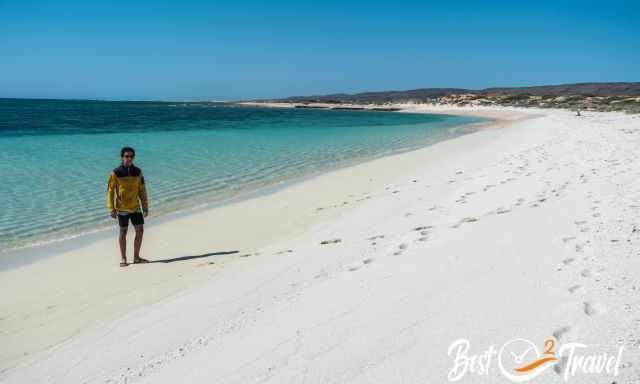 Don't come here in a rush just for the whale sharks. Ningaloo and the Cape Range National Park have so much more to offer. Hike through the Mando Mando Gorge, and maybe you will spot a black-footed wallaby as we did. One of the best-situated hotels next to Exmouth beach is the Mantarays Ningaloo Beach Resort or stay inside this beautiful park and enjoy pure luxury in the tents of Sal Salis.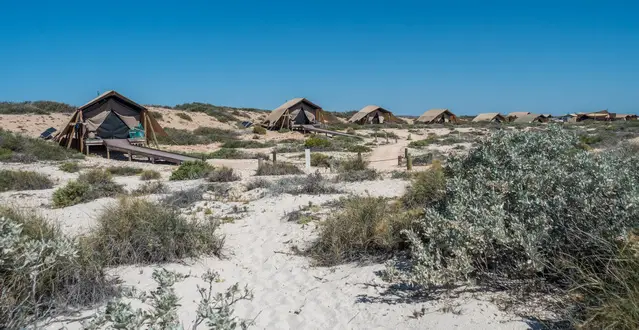 The exclusive eco safari tents are fantastically located next to the white sandy beach and the Ningaloo Reef. Enjoy kayaking and snorkelling directly in front of your tent. The outdoor dinner under the amazing night sky is top-notch. Kangaroos and wallabies are grazing around the tents in the evening. It's an hour away from Exmouth, located in the Cape Range National Park. Very view places in the world offer such an outstanding location. The peak season is always fully booked many months in advance.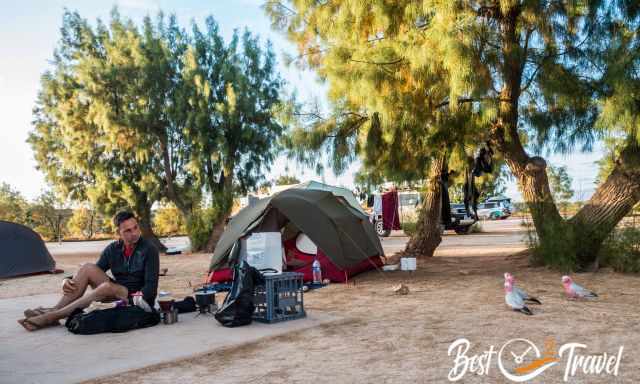 We travelled to Ningaloo for the first time in 2015 and again recently with our nephew; therefore. different quality of my pictures.
Do you want to obtain the usage right for my images? Contact me, but I will take action against picture theft.