When Is the Best Time
The whales come to Tonga for two reasons; first for mating and second for giving birth eleven months later. A large population of humpback whales gathers around Vava'u Islands in Tonga between July and October. These months are the best time for whale watching as well as the unique opportunity to swim with a humpback mother and her calf.
Are Humpback Whale Sightings Guaranteed?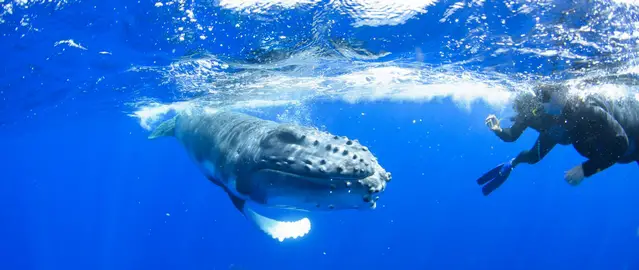 To be on the safe side book your visit between mid-July and the end of September. The high number of whales in this area at this time means, there are plenty of opportunities to see them and swim with them. It's also the 'dry season' with less precipitation, less wind, and usually a calmer sea. If you decide to go in October: Whales are starting to leave late September, but especially mothers and their calves are still around in October which can lead to fascinating encounters.
How Long to Stay?
It's recommended to spent several days even better an entire week there, to maximize your chances of sightings and to swim with the whales. The whale watching tours take place in the open water. Sightings can't be guaranteed and the swell can be pretty high. Consider on Sundays none is working.
Where to Stay on Vava'u Islands?
There are not plenty of accommodations on Tonga; Vava'u Islands available. The most excellent hotel is the Mystic Sands Hotel with crystal clear water in front. You can get your pick up by boat for the whale watching trip from their jetty. Another option close by is the Tongan Beach Resort with a tasty restaurant.
Location and Tips
Neiafu
Tonga

The southern Humpback Whales are migrating from their feeding grounds in Antarctica in the southern winter to the islands of Tonga for breeding and giving birth to their young one. Around Vava'u, you can look out for whales in the ocean; there are plenty around. Additionally, Tonga is one of the few places in the world where it is allowed to swim with whales. And this is fabulous. You can watch a mother and her calf from a few meter distance in a protected lagoon. This means queuing by boat until your group is allowed to get to the lagoon. This can take quite long. Or you swim with youngsters in the open ocean. Be prepared to swim in rough conditions; it is not a swimming pool or aquarium.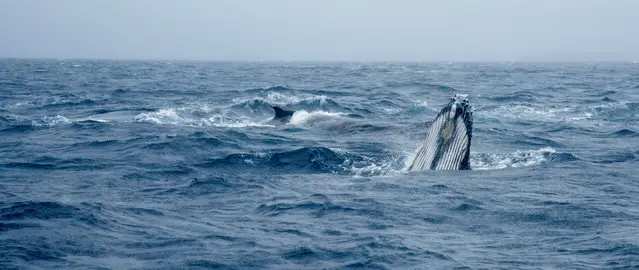 There are two spots in the Kingdom of Tonga to spot these majestic whales:
Vava'u
Ha'apai

Quick Notes What You May Experience
Safety first for the whales and you! The whales are given respect.
4 people at one time are allowed in the ocean.
The time in the water is fixed and monitored.
Snorkelling with a mother and her calf is absolutely stellar. They behave quite calm. Often calves are playful and curious, coming pretty close to the snorkelers.
If it's safe, you can even observe a head run; a female humpback with a couple of bulls in the back.
Males are more often aggressive during the mating season; showing their dominance.
Singing whales calling out for a female humpback.
Be prepared for a several meters high surf.
It frequently gets windy and cold on board. Bring a windproof jacket.
 
What Is the Price for Swimming with Humpback Whales?
I just want to give you an idea of what you have to expect roughly. It depends on the tour operator as well as the number of days you like to take part. The prices are in AUD. The price for one trip swimming with whales is round about $ 325 and 3+ days it's $ 300. In comparison to other locations, it's a good offer. 
 
Where Else Can I Swim with Humpback Whales?
There are a few places around the world. These are our top four:
The Islands of Tonga
Tahiti, Moorea from July to October/November
Dominican Republic - Silver Banks but on a cruise only; high priced. Tours from mid-January to mid-March
Australia - Ningaloo Reef migrating whales from August to October

The Vava'u Islands are having a few beaches in the south, but the beautiful ones are situated in the north. These beaches are difficult to reach, but it's easier by boat.
Reviewed by my friend and diver Leif
I've stayed there for 14 days and I'd recommend a minimum stay of a week. You need to keep in mind that Sundays means no business in Tonga; no diving, no snorkelling, no flights - no activities! I've chosen Beluga diving and I was really lucky; I spotted whales on each day I went out to snorkel  - in total 8 days. Beluga is offering a good service and they got out with three boats connected by radio and share their whale sightings. In addition, they have a small B&B on the hill; there are no five-star resorts on vava'u which is great.