When Is the Best Time
Anse Chastanet is a popular resort, beach, and spot for snorkelling. It offers spectacular views of the Petit and Gros Piton roughly 800m high/ 2.625 feet. Usually, I am fine with our tent in the bush, but this place is exceptional. The staff walked the extra mile for us. We even spotted hummingbirds in the lush garden. 
Weather and Crowds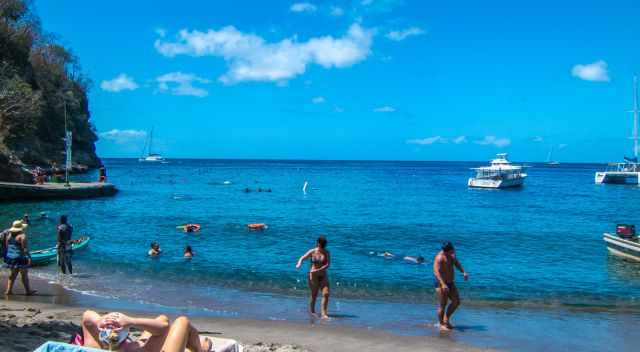 The best months to travel to the Caribbean are from December until May during the dry season. The driest months are from February to May. The day temperatures are constantly around 30 C°/ 86°F—most sunshine in March.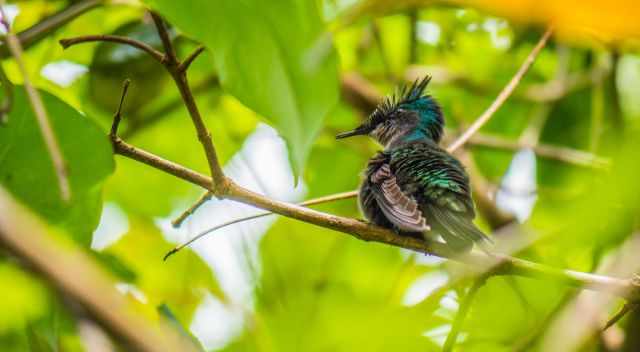 The rainy season lasts from June to November, with the possibility of hurricanes and flash floods. The wettest month is September. The minimum sea temperature is 27 C°/ 81°F. It's more crowded during the dry season, with holidaymakers from North America and Europe escaping the cold wintertime. Expect higher hotel rates and crowds from mid-December to March. Decreasing rates in April and May after Easter.
My personal Hotel Tip for St. Lucia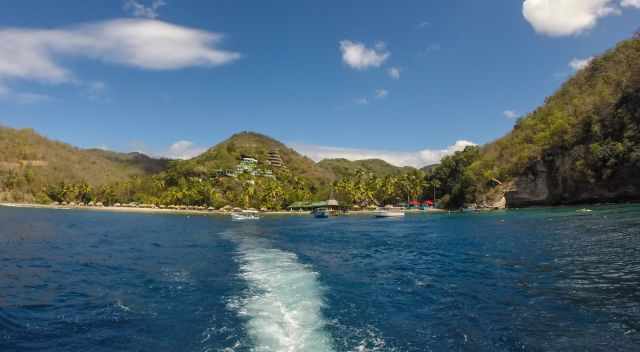 View to the resort and beach from the diving boat - the picture took my brother 
Location and Tips
Soufriere
St. Lucia

Anse Chastanet beach is one of the best diving and snorkelling spots in the Caribbean. Either you stay at the Anse Chastanet Hotel with its first-class location or take a taxi to this fantastic spot. The road conditions are terrible. I can't recommend taking a rental car to get there. Walking from Soufriere takes roughly an hour. The lunch at the hotel bar was delicious and reasonably priced. The place itself is incredibly beautiful for swimming and relaxing. Deck chairs and sunshades are available.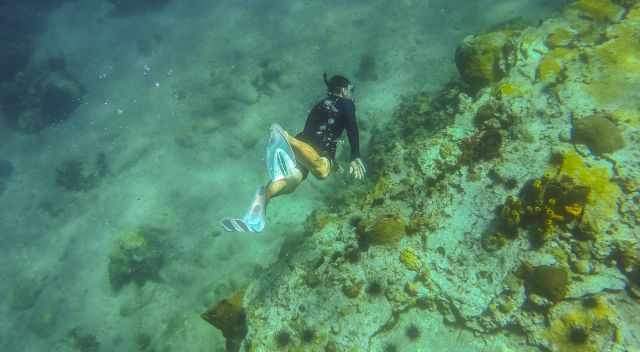 Several tour boats with snorkelers stop here during the day. It is less busy in the morning and afternoon. We spotted more fish in the morning than in the afternoon. The reef is roped to prevent ships from the shallow water. In the morning and afternoon, the beach and reef are peaceful. We spent a couple of days here; midday was pretty busy.
Scuba Diving
For diving, make your reservation a day before. For the first dive, the company insists on diving directly at Anse Chastanet Bay to check your experiences. For all other spots, they go by boat, which is worth doing. Even if only two divers booked a tour, it takes place. Another excellent spot for diving and snorkelling is in front of the Petit Piton. My brother went on a small group tour, and he loved it.
Another fantastic spot is Torraille Falls just 5 km awway.