When Is the Best Time
The Avenue de Baobab is stunning all day long and a widely popular attraction. However, sunset is the best and most popular time of the day. Truly magical due to Madagascar's location; sunset is easily predictable. In January sunset is around 6:30 pm and in June you can expect the light to disappear around 5:20 pm. If you want to see the Baobabs in bloom February and March are the right months. Along the dirt road RN8 connecting Morandava and Belon'i Tsiribihina you will find many Baobab trees (Adansonia grandidieri), but only a small part of just 250 m is known as the Baobab Alley due to its photogenic nature. The road leads from Morandava to the Andranomena Reserve or the Kirindy Forest. Photographers around the world visit Madagascar, and it became one of the most visited places in the country.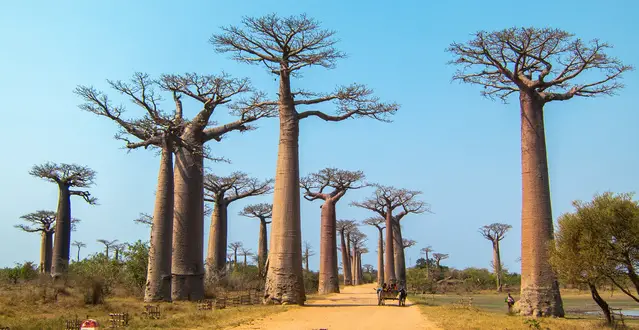 Weather
The dry season starts in April/May and lasts until October. The wet season means heavy downpours. It's possible that roads aren't accessible, especially in January. Even when the dry season begins in April/May, the roads are usually still recovering. June is the best month before the crowds arrive in summer. The annual day temp is always around 30°C while nights in the wintertime from May to September are below 20°C. Expect a high humidity of 70% and more. More weather details: Monthly Weather and Rainfall – Morondava Madagascar
Tourist Crowds
July/August is the peak season with most visitors. September and October are quieter and a great time to visit. Alternatively visit at the end of the rainy season late April, May or June, before it starts to get too busy.
Location and Tips
Morondava
Madagascar

The Avenue de Baobab consists of 20-25 baobab trees with a height of about 30 meters. There are more baobabs nearby and along the road. Although Baobabs are common in Africa, this species (Adansonia grandidieri sometimes called Grandidier's baobab) is endemic to Madagascar.  The trees are up to 800 years old. Originally the trees were not isolated - stood in the dense forest, but they were deforested for agriculture and charcoal. Most of the people don't have electricity and need charcoal to prepare a hot meal daily.  Luckily the 3.2 km² area was granted temporary protected status in July 2007. This is hopefully the first step toward making the Avenue de Baobab Madagascar's first Natural Monument.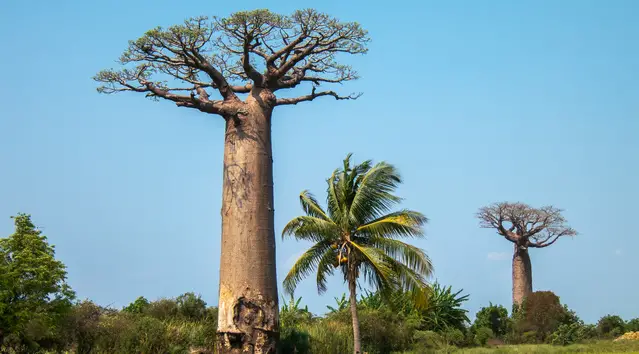 Either you stay in Morondava to be there in the evening for a breathtaking atmosphere or combine it with a visit to Kirindy. We organized a trip to Kirindy Forest and made a stop in the afternoon. Local people sell handmade products at their stalls. They are depending on this little income of tourism. There isn't any entrance fee requested.