When Is the Best Time
Bla Bheinn is a mountain on the Isle of Skye. Skye is famous for its outstanding landscape but for its misty weather as well. It does not happen often to experience good weather for hiking to the summit of the higher mountains. Usually, the best time for hiking regarding the weather is from mid-April to the end of May, however, if you are fortunate you can experience a great day throughout the year.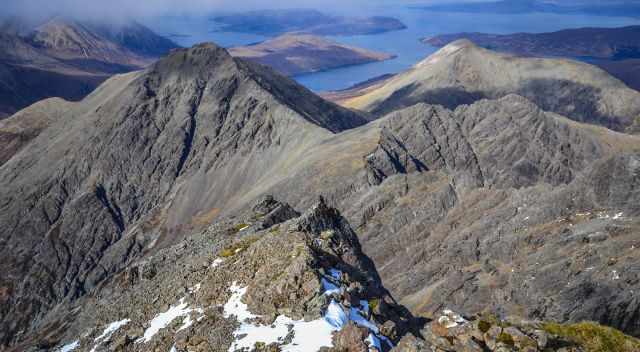 I visited Scotland already a couple of times and experienced improving weather after midday. Evenings are often calm on Skye. We waited here for two hours, getting an excellent view of the surrounding landscape. Always check the forecast before you go! 
Midges are an issue from June to September.
For detailed weather and crowds information check out my article from Stac Pollaidh one of the Assynt Hills. 
Guided Tours to the Most Beautiful Parts of Scotland
Location and Tips
Scotland, Isle of Skye
United Kingdom

Bla Bheinn is a magnificent mountain with stunning views. Although it looks very steep, the path up the hill is 99% walk and 1% easy scramble. The trailhead for the easiest way up is at the parking lot behind the bridge on the minor road B8083 from Broadford to Elgol. Approach to the col under the mountain by a repaired path. In the col, you have to turn right and look for steep zig-zags up the hill. They look very steep but are not very difficult to walk. Follow the path, and soon, you will get to a place with first views. Go slightly left and up, and after an easy scramble, you will get yourself on the final part of the way to the top. The very top is 928 meters high and is marked by a trig point. Bla Bheinn is one of the Munros. It is the only Munro standing apart from the famous Cuillin ridge.
More info about the trail
A short video with the view from the summit here on Youtube.