When Is the Best Time
Enjoy the dramatic scenery on the Isle of Skye and go for a hike. Since the place on Skye is easily accessible and the walk is without any difficulty, it can be done throughout the year. Sunsets are beautiful in this place and a must to watch. The best time regarding the weather with the lowest rainfall is usually between March and July. However, it is Scotland; you never know how the weather will be, but with proper clothing, it is breathtaking in all seasons.
Weather Skye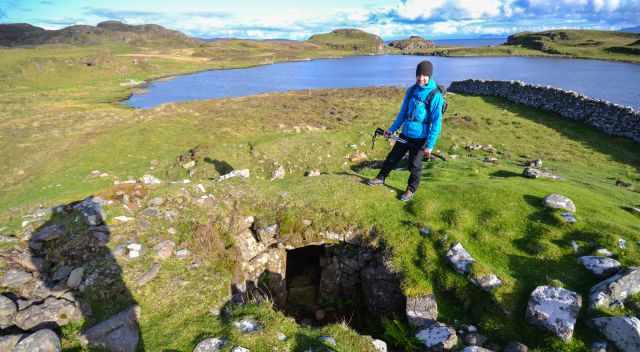 Skye has a mild climate influenced by the sea. It is rare to experience hot or freezing temperatures. Even in the summer, the average day temperature is below 20°C but can top 25°C, which I experienced during my visit in June. It can rain for days, but it also can be pleasant for a week. You never know, but this creates a specific atmosphere and vegetation on Skye. You never get bored here; after a shower, a beautiful rainbow may appear, ending in the sea. From April to October, temperatures range between 10-16°C during the day. Nights usually drop below 10°C. There is less precipitation from March to July. 
Guided Tours to the Most Beautiful Parts of Scotland
Location and Tips
Scotland, Glenbrittle
United Kingdom

Rubh' an Dunain is a peninsula on the Isle of Skye near the Glenbrittle village. It is easily accessible via good track. The peninsula itself can be very boggy (good walking boots are essential). On the edge of the peninsula lies a little loch and historic settlement. There is a tomb and a ruin of a Dun. This tomb was built by Vikings, who also built a ship canal from the loch to the sea. It was built probably 2nd or 3rd millennium BC.
You can see the Isle of Rum from the place, Loch Brittle and southern part of the Cuillin ridge. There are many sheeps on your way to the peninsula.
More information about this trail.