When Is the Best Time
Cochem Castle or Reichsburg, which means imperial castle, is located at River Moselle in proximity to Eltz Castle in Germany. The mediaeval Cochem Castle towers over the Moselle River valley and the town Cochem.
A very special anniversary is being celebrated at the Reichsburg in Cochem this year in 2023. June 1 marks the 200th birthday of Louis Fréderic Jacques Ravené, the reconstructor of Cochem Castle. Ravené, a steel trader from Berlin, came to the Moselle in 1868 and bought the medieval castle ruins high above the town,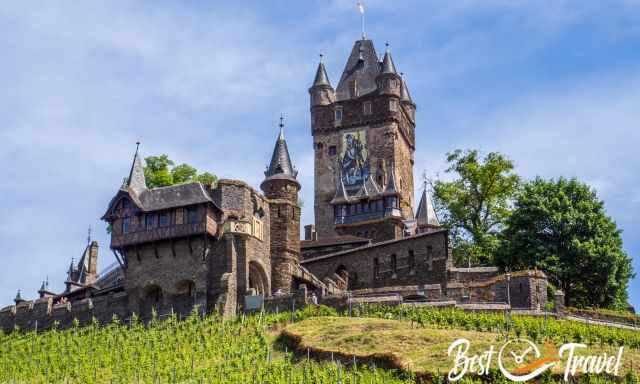 It is one of the very view castles which does not belong to a family instead, it belongs to the city council. That makes the difference because many different events are offered, and you are allowed to take pictures and footage inside Cochem Castle. They walk an extra mile for you.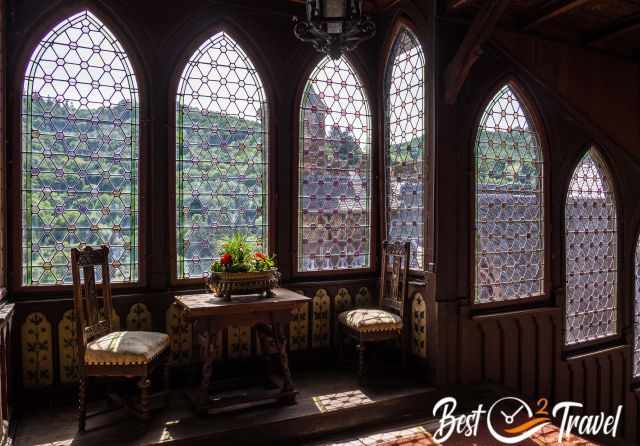 I will give you all information needed for an excellent visit, and you will find plenty of pictures in the text and below. We attended the knight's feast with friends in November 2022 photos of this delicious feast below.
Opening Hours and Tours Cochem Castle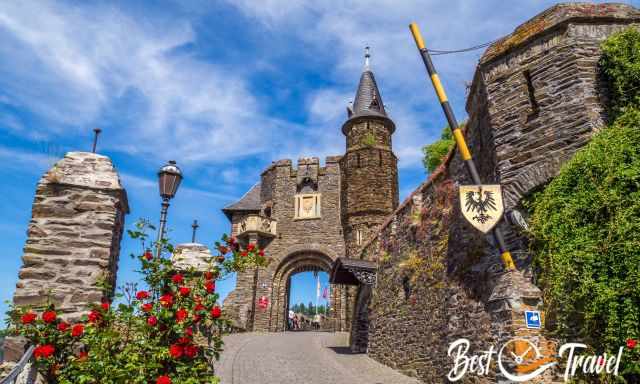 Open daily from 9 am until 5 pm.
Guided Tours are offered every 15 minutes
Duration of the guided tour is roughly 40 minutes
Guided Tours in English are available every hour from 11.30 am until 4.30 pm
Entrance Fee - Tickets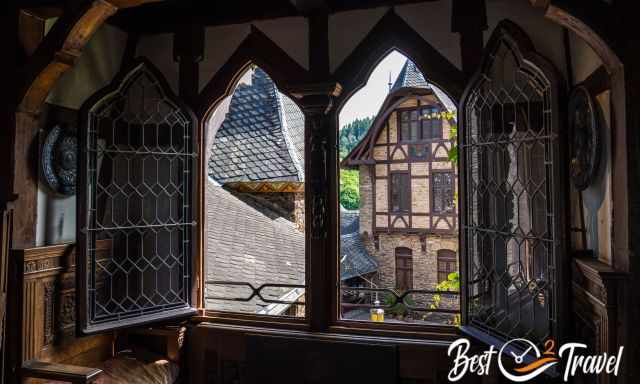 Tickets are available in the souvenir shop. The entrance fee is much cheaper than at privately owned castles, another pro to visiting Cochem Castle.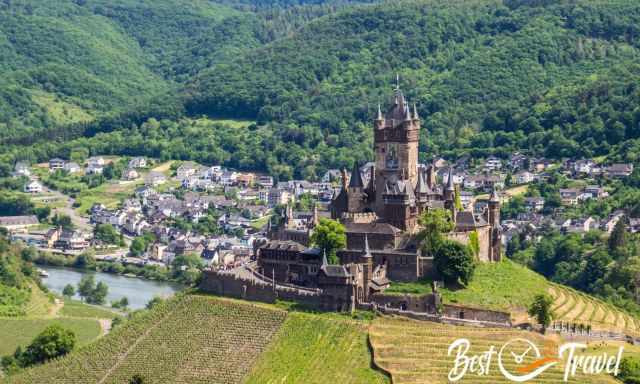 Adults 7€
Kids aged 6-17 pay half 3.50€
Family Card 18€
Private Tour 120€
How to Get to Cochem Castle?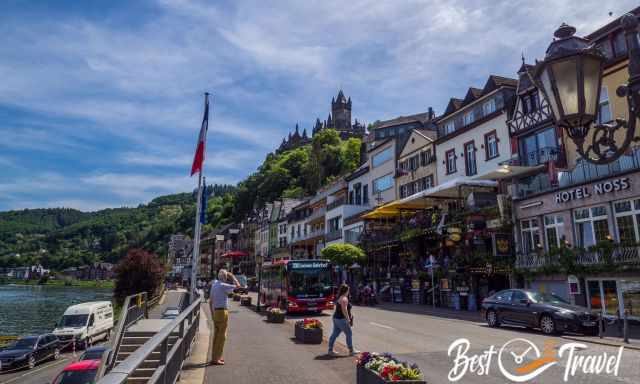 There isn't parking in front of the castle. You either have to walk between 15 to 30 minutes, depending on your car park or accommodation or take a shuttle bus uphill. The castle towers on a rock above the lovely town of Cochem.
Parking Cochem Castle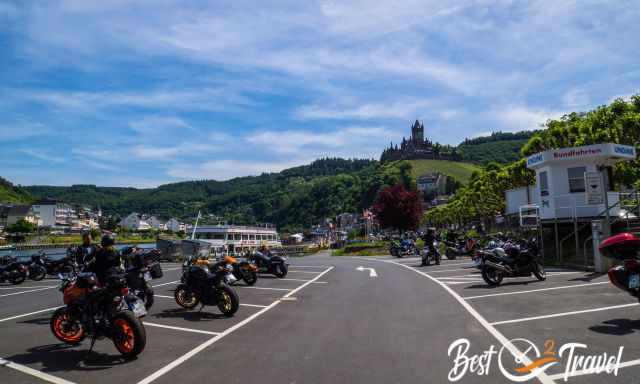 The castle is neither by car nor by bus accessible. You must park your vehicle in the town centre of Cochem, and from here, it is at least a 15 minutes walk uphill to the castle.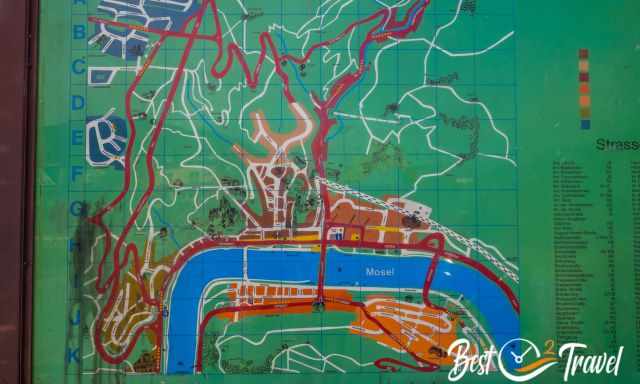 We were lucky and visited Reichsburg on a Sunday; therefore, we parked the car next to the school below the castle, just a 500 m - 5 minutes walk. Google Maps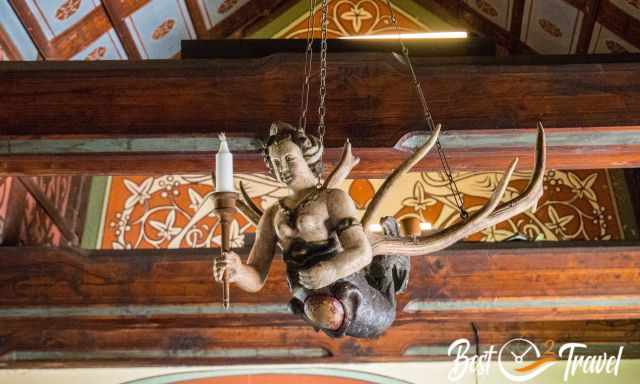 The mermaid represents a lucky charm. If a couple kisses each other under her, they get a wish granted. 
Shuttle Bus
There is a 6-minute shuttle bus ride available from May to October and Easter time from the bus station Endertplatz Google Maps Location. 
Operating time from 10 am until 6 pm.
Fee single ride 3,50 € and return ticket 6 €– children younger age 12 pay half the price.
Special Events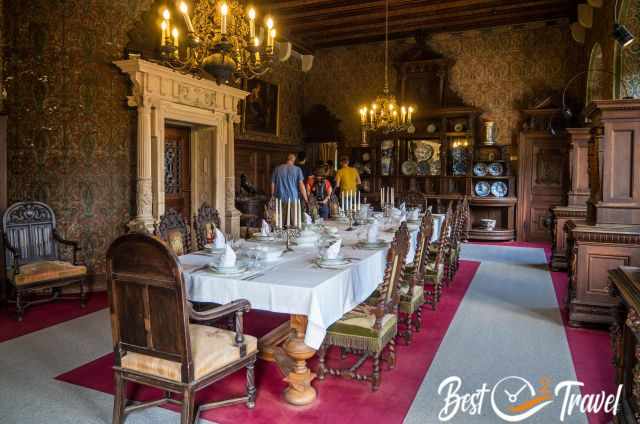 The dining room has a door to the left leading to the next room and one door to the right. The funny thing behind the right door is a wall it doesn't lead anywhere. Why was a door installed There? The Renaissance strives for symmetry, therefore, there is a door on the right and on the left, and there is also a chimney that was useless. 
Mediaeval Dinner – Gasterey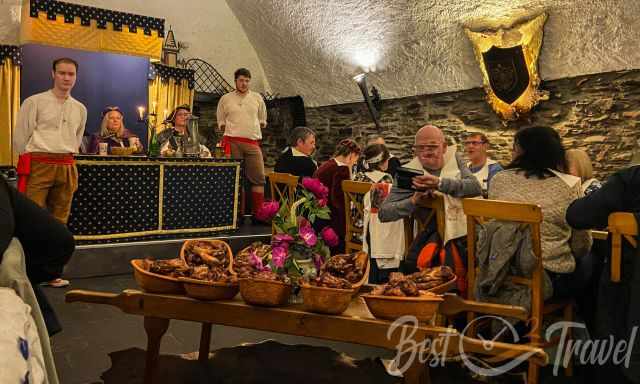 Rustic knight's banquets are offered on Fridays and Saturdays, called "Gasterey in the manner of the old knights". The popular knight's dinner takes four hours and offers a fantastic program.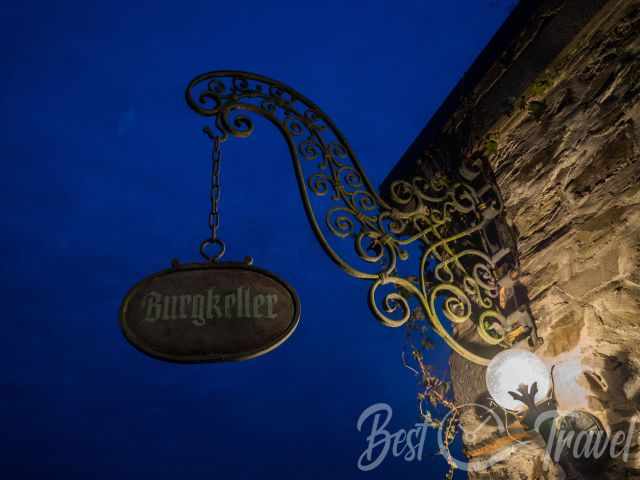 It starts with a castle tour, and afterwards, it continues with a rustic knight's feast in the castle cellar, where medieval customs, traditions, penalties and tortures are explained.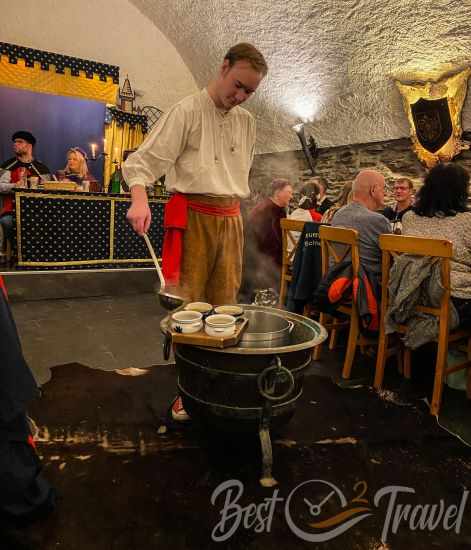 The evening is accompanied by mediaeval music. The highlight is the knights' games, followed by the knightly accolade. It sounded like a big, fun evening, and it was. We joined the knight's banquet with our friends and rarely laughed so much. One of our friends was knighted in the end.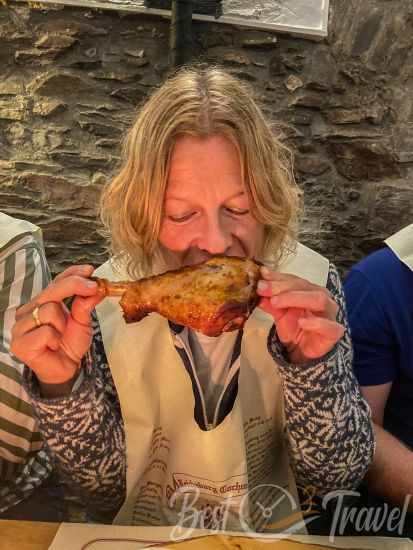 More information about the menu and Online Booking (no affiliate program - my recommendation, which I will try out soon)
The Servants' Tour Anno 1877
This is a colourful costume tour, with the main focus on life in the imperial summer residence. This unique tour is held from mid-March to the end of November, monthly every second and fourth Friday at 6:00 pm and second and fourth Saturday at 6.30 pm. Duration: approx. 1 hour Online Booking (no affiliate program – just my recommendation for a unique tour)
Weddings in Cochem Castle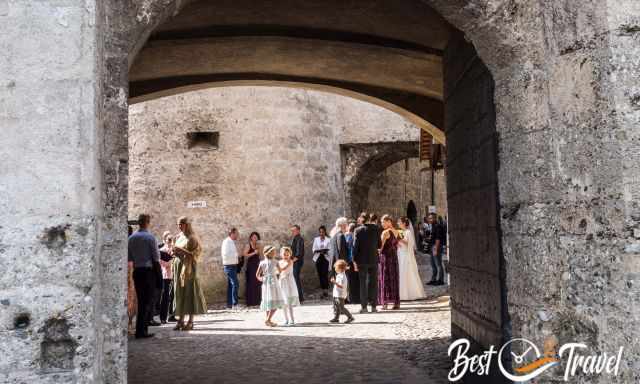 Everything is possible in this impressive castle. You can book your civil ceremony in the castle chapel from Easter until mid-November. Walk over the red carpet into the decorated chapel while a pianist accompanies your wedding ceremony on a more than 130 years old Bechstein grand piano. Fee is 450 € plus the register office fee. More information here
Weather Cochem Castle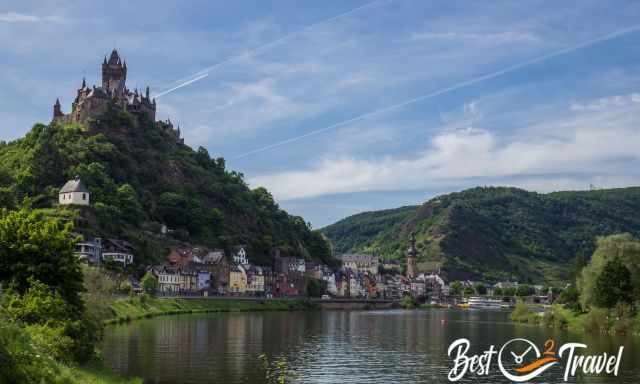 Due to the location in a valley and at River Moselle, the climate is mild and, therefore, famous for excellent wine and wineries. This is another good reason to visit this region. Precipitation occurs the entire year and is important for viticulture.
Spring (March-May)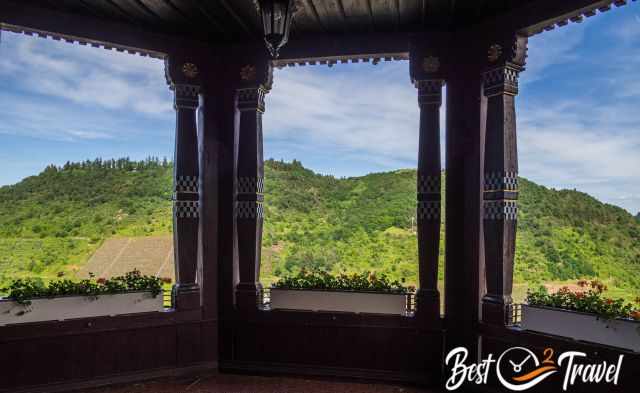 March is still cool with day temps around 10°C, April is lovely, and from mid-May onwards, it usually feels more like summer.
Summer (June-mid-September)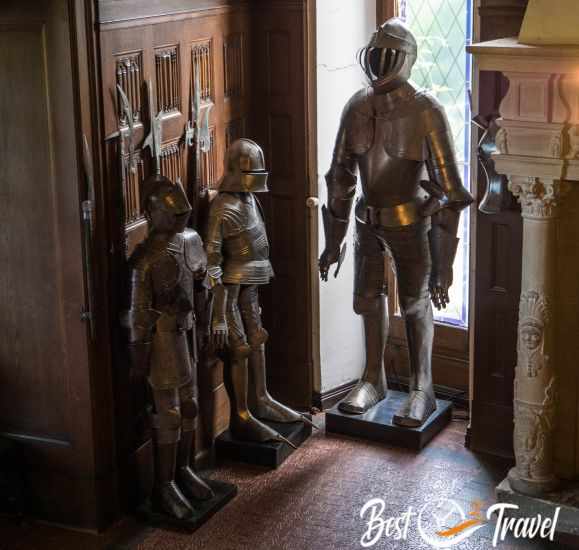 The summer is awesome with day temperatures between 25°-30°C however, it cools down at night due to the Moselle with temps around 15°C.
Autumn (mid-September-November)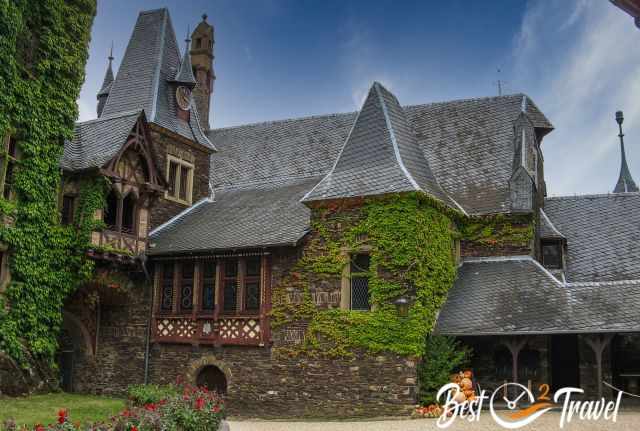 The fall foliage in the terraced vineyards is simply breathtaking, especially in October. November is frequently foggy and grey. It gets dark early when changing from daylight saving time to wintertime.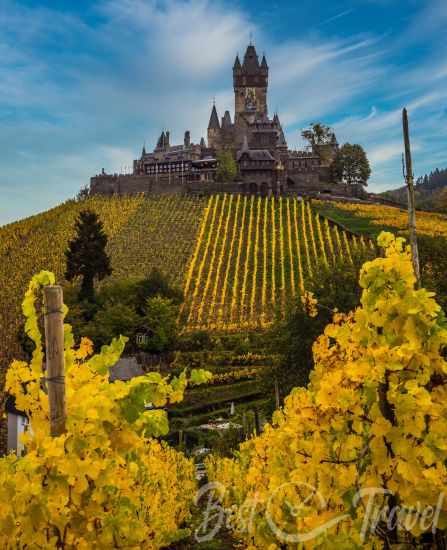 October temps are still pleasant, but in November, it drops below 10°C.
Winter (December-February)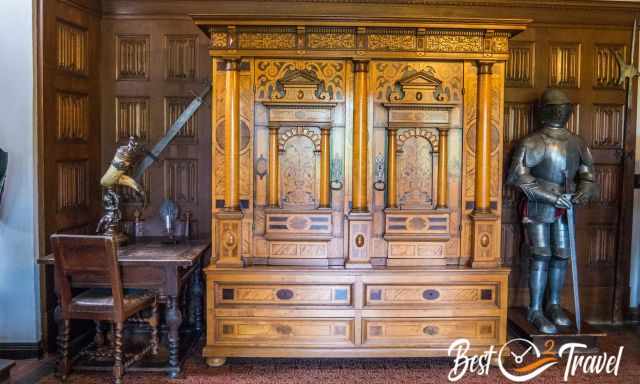 December is one of my most beloved months, with Christmas markets everywhere. On the second weekend of Advent, the Christmas market takes place at Cochem Castle. Although it is not so cold, the winter is uncomfortable, with temperatures around 5°C, it rarely freezes, and snow is uncommon.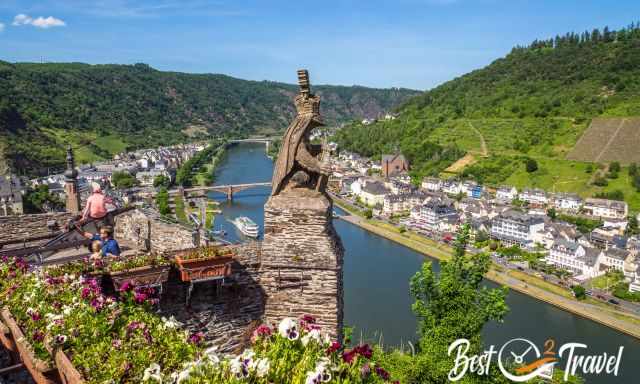 The best time to visit Cochem Castle is during the loveliest time of the year, from April until October and in December for the Christmas market. The castle is popular but not overrun, with estimated 250.000 visitors annually. 
My Personal Tips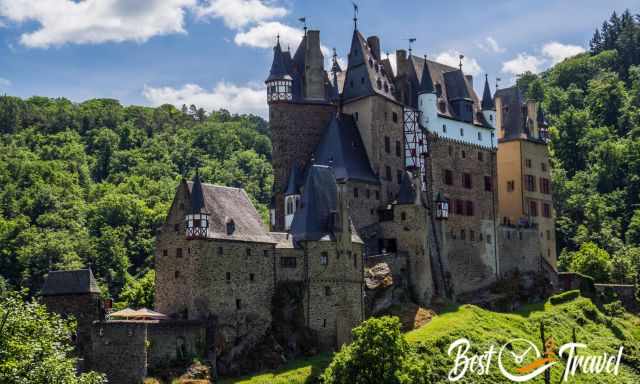 Enjoy a weekend at the River Moselle with excellent wine tasting and dinner. Hike through the vineyards in higher elevations with spectacular views of the Moselle and Cochem Castle. Another excellent destination just half an hour's drive is Eltz Castle, nestled at a stream in a forest.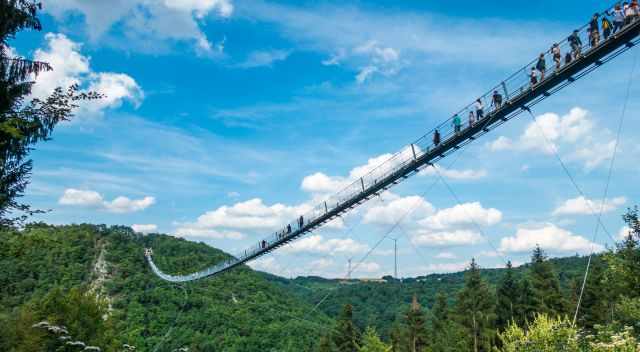 Are you seeking an adrenaline kick? How about hiking above a suspension bridge at 100 m height? Also, this attraction is just half an hour's drive and free entrance.
Location and Tips
River Moselle, Cochem
Germany

The first tourists came to the River and Valley Moselle in the 19th century, and English painters were thrilled by the unique landscape and motifs. Even today, the Moselle is trendy with castles and vineyards.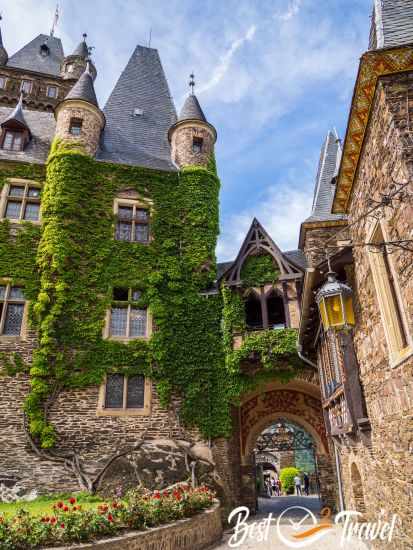 Cochem Castle is fascinating, and the guided tour gives you an excellent insight into former times. The tour takes you inside the castle through different rooms and the courtyard, and there are exciting stories told.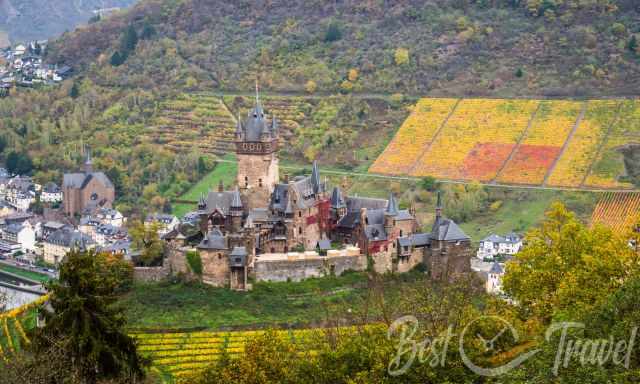 Are Dogs Allowed at Cochem Castle?
Yes, Cochem Castle is a family and dog-friendly attraction in the River Moselle Valley and dogs on leashes are allowed as the castle property.  
Hotel and Tour Tips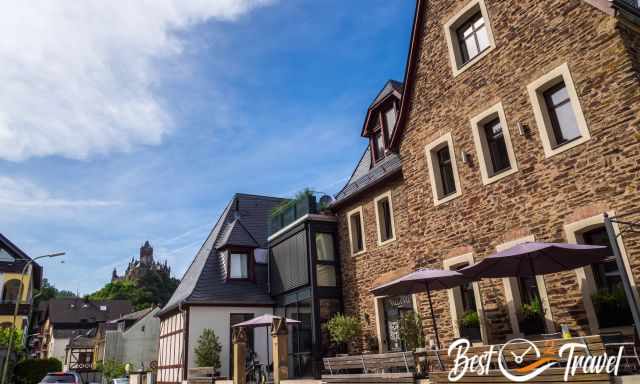 I highly recommend combining Cochem Castle with Eltz Castle and Geierlay Suspension Bridge. Either stay close to Eltz or Cochem Castle. I prefer Cochem because of its location next to the Moselle, with excellent hotels, restaurants, and wineries within walking distance.
Cochem Castle Restaurant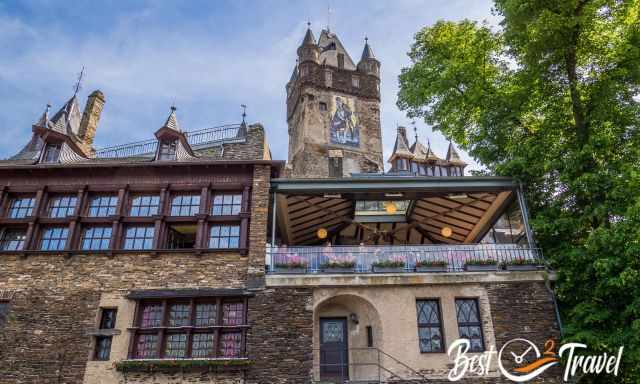 A castle pub is open daily from 10 am until 6 pm, offering great views, but I can't say anything about the food and desert quality.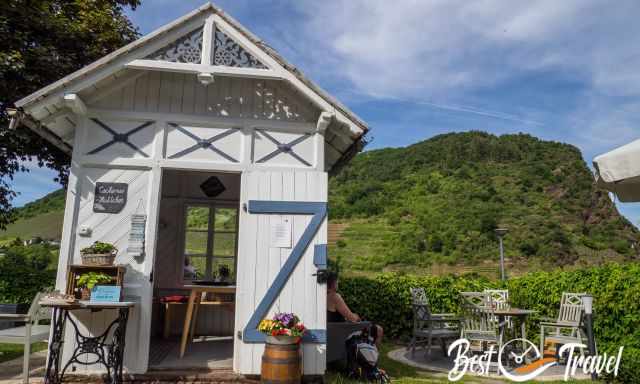 We went to a local wine garden with self-service for local food and a glass of wine which was very nice with attentive staff.
8 History Facts About Cochem Castle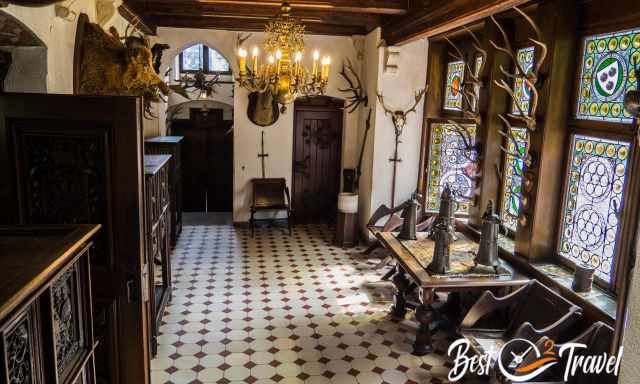 Reichsburg was initially built in 1000 and owned by the imperial counts. The castle served as a customs castle right next to the Moselle River to collect taxes because the Moselle was the main connection between France and Germany at that time.
In 1151 Cochem Castle became the status of an imperial castle. What is an imperial castle? This kind of castle is not privately owned by the king instead, it belongs to the royal estate. With the death of the respective king, the castle did not fall to his heirs like Eltz Castle but to his successor in office.
Cochem Castle was owned by the Electors of Trier and heavily damaged during the Palatine War of Succession (Sep.1688–Sep.1697); 1689 destroyed by French troops of Louis XIV.
In 1796 French Revolutionary troops occupied Cochem and the castle.
In 1815, Cochem was handed over to the Kingdom of Prussia by the agreement of the Congress of Vienna.
The castle was bought for 300 Prussian thalers, roughly 1000 Euro. It was lovingly renovated and rebuilt into the neo-Gothic style according to old plans from 1576 by the Berlin councillor of commerce, Louis Ravené, for his wife Elisabeth as a summer residence in the 19th century in 1868. But how life goes, she broke up with him before it was finished, and he passed away two years later. Thanks to his efforts, you can experience impressive interior designs, such as the knights' hall, dining room, hunting room, bower, etc.
In 1942, the Reichsburg became state property.
Reichsburg, or Cochem Castle, was bought by the town of Cochem for 664.000 DM in 1978. It looked like a bargain, but it turned out that the castle's maintenance is costly because the castle was built on an unstable slate rock. The entire rock was fixed with a steel ring recently.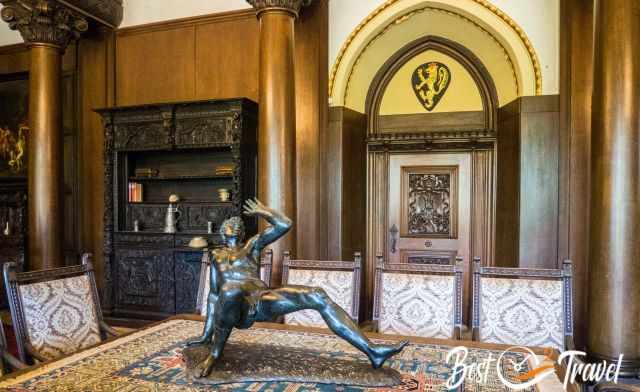 I travelled to Cochem several times and took all pictures. Please contact me if you wish to use any of my photos, but I will take action against picture theft.