When Is the Best Time
Geierlay is one of the most picturesque bridges and one of the longest suspension bridges in Germany, or "Haengebruecke". Inaugurated in October 2015, the bridge became a popular site with more than 300.000 visitors annually. At the end of 2022, two million visitors will have accessed this spectacular suspension bridge.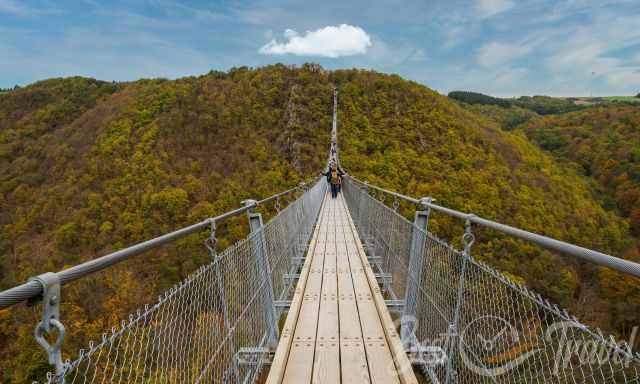 It's a half-day trip to the popular suspension bridge from the Hunsrück area, river Moselle, or Eltz Castle. Geierlay is an amazing experience not to be missed on your journey through Germany. 
Opening Hours Geierlay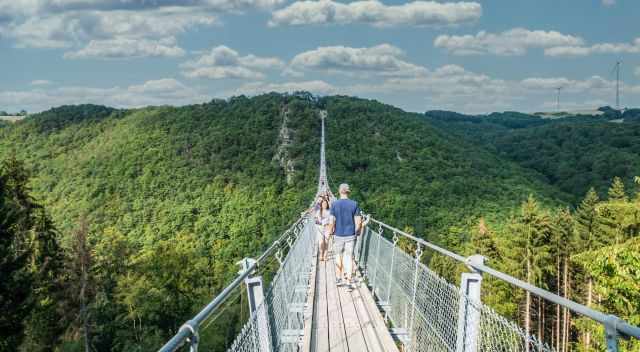 The bridge is open 24/7 except during extreme weather conditions.
The visitor terminal provides leaflets and maps in different languages, and restrooms are available.
It is open daily from 10 am to 4 pm from Easter to October.
November to Easter, open from Thursdays to Sundays from 10.30 am to 3 pm
 Make sure to read my 5 Must-Know Tips and where to park your vehicle below.
Avoiding Crowds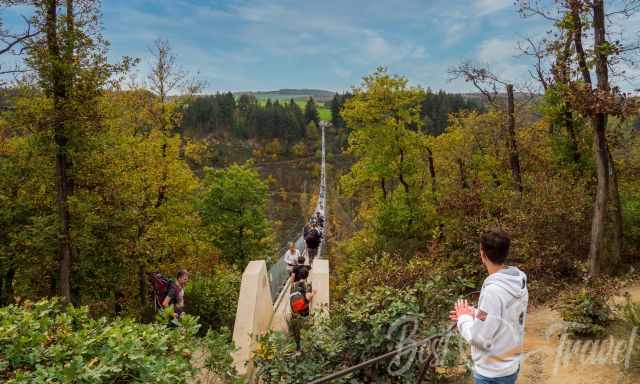 It's heavily crowded during the summer, and weekends are the worst, especially on sunny days. In autumn, the views are just spectacular with the fall foliage. To avoid the crowds, visit the bridge early morning (around 10 am or earlier) or later in the evening in the summer (after 7 pm) - There only are a few visitors in winter.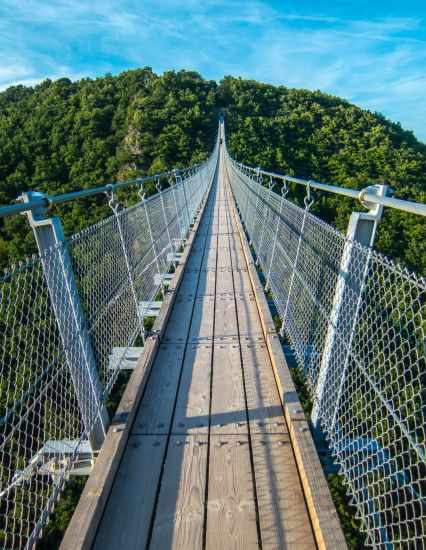 Nevertheless, if you do not have any fear of heights, it is a great walk above the Geierlay suspension bridge also during busy days.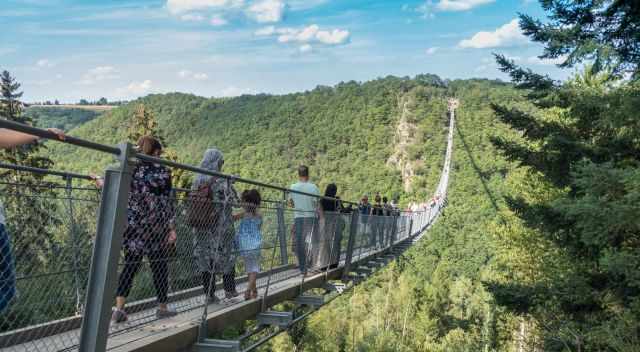 Tip: Arrive early at the bridge to avoid waiting for access! Being there at around 10 am is usually sufficient, and you can enter the bridge immediately.
Tip for Photographers 
The sunlight is best in the evening from Mörsdorf for an awesome sunset. The sunrise is stunning from the other side of the bridge coming from Sosberg. 
5 Must-Know Tips and Facts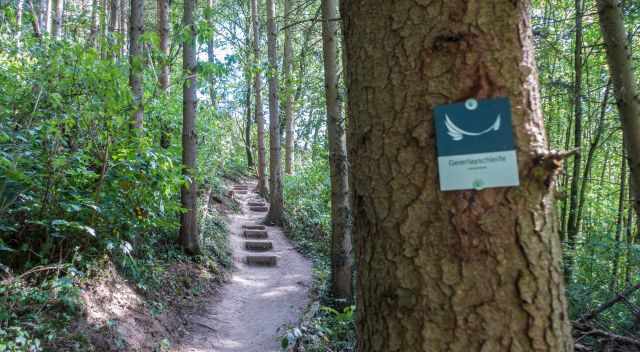 Always Open: 
The bridge is never closed and always accessible. You can visit it year-round at any time. Even at midnight if you like. Visiting in winter? Yes, definitely worth the trip! It's a lot quieter, and if you're lucky, you'll have an awesome view when the landscape is peaceful and quiet, covered with snow.
Two Sides: From Mörsdorf and Sosberg
You can visit the bridge from Mörsdorf (Google Maps) or via the other side from Sosberg (Google Maps); both are villages. Most people visit via Mörsdorf as it has larger parking areas (P1 - P4, see 'Parking' below) and some facilities. It's also more touristy. Sosberg is quieter and provides since lately two parking lots. You cannot park directly at the bridge, regardless of the side! The easy walks from P1-P4 in Mörsdorf or Sosberg parking lot are 1.9 and 3.0 km long.

The view from the Sosberg side in fall.

Free Entrance:
Visiting the bridge itself is free. There is no entry fee. However, you have to pay for parking. Depending on your time and the parking lot, it's quite expensive nowadays, but there is also one for free. More about the parking fees are below. 
Be Early: Most important!!
On weekends and during the summer peak season, you can easily avoid heavy crowds by arriving early. Being at any of the parking lots between 9:00 and 9:30 am is usually the best time. Walking from there to the bridge takes about half an hour (depending on where you parked). That way, you arrive at the bridge around 10 am without the crowds. It's starting to get very busy around midday. Later, the crowds start to dissipate the later it gets.
Stay One Night: If you are a (hobby) photographer and want to take the most stunning pictures, you have to stay the night: Arrive at Mörsdorf or Sosberg in the evening, then walk to the bridge right before sunset. Take amazing pictures. The next morning get up early and be there at sunrise. Now you can take stunning sunrise photos and often even some with fog in the morning or late afternoon in autumn. Another big advantage is that you have the bridge for yourself during these times! 

We spent a weekend in Cochem at Moselle and enjoyed the Medieval Dinner at Cochem Castle.

Cochem is a great alternative for staying overnight: It has amazing scenery, mesmerizing castles, and excellent vineyards next to the river Mosel. Nearby Accommodations - Cochem
Parking in Mörsdorf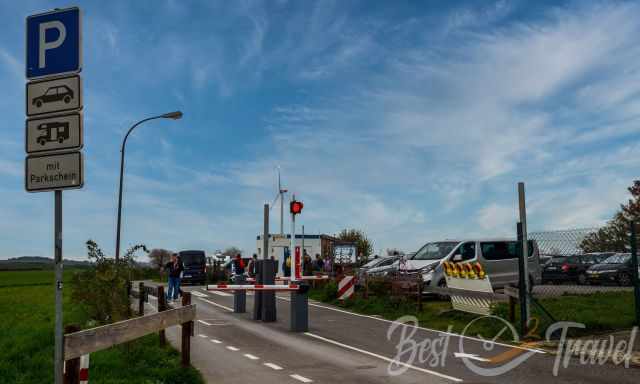 There are four huge parking areas. The closer the parking lots, the more expensive it is. Map - all 4 available parking lots
Parking 1 at the Information Centre and Cafe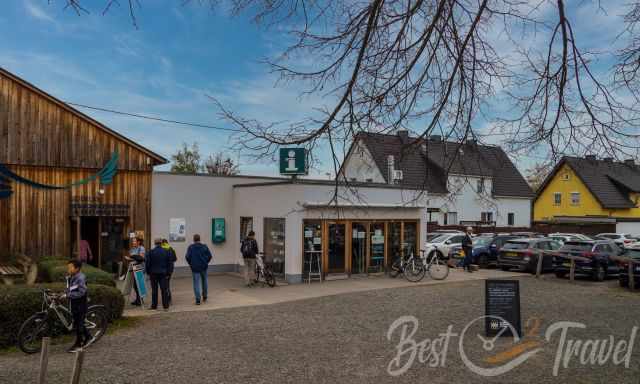 This is the closest parking to get to the suspension bridge but also the smallest. Next to the information boards is a lovely cafe.
Parking Information Centre Google Maps
Parking 2 - Cars and Vans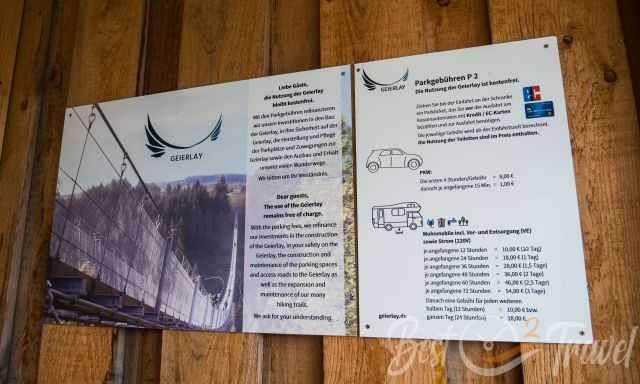 This parking lot has limited space, and a light indicates if there is any parking available. Restrooms are at the beginning. Campervans are permitted to stay overnight even power is available!! Picture for detailed fees.
Parking fee: First four hours 8 € - each additional 15 minutes 1 €
Parking 3 - Cars and Motorbikes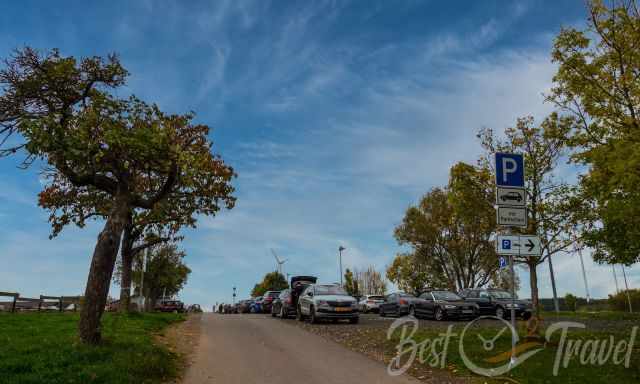 This parking is located at the sports field. It has plenty of space, and it takes roughly half an hour to get to the Geierlay bridge from here. This is the one we chose, and it is not far from parking #2. Lockers for helmets and clothes are available at parking #3.
Parking fee: First four hours 6 € - each additional hour 2 €
Parking 4
Parking is free of charge but the furthest away. Parking 3 is one kilometre closer to the bridge than 4. The parking lot is more like a field, and depending on the weather, it is quite muddy. 
Parking free of charge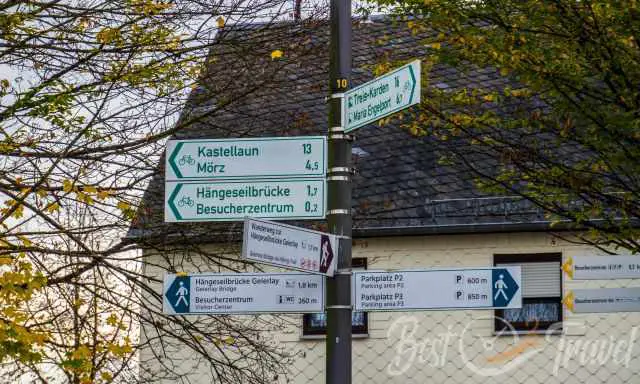 Parking #2 and #3 are perfect if you like to walk through the forest with lots of shade to the suspension bridge instead of the main paved track along with the fields. It's a 2 km walk from the visitor centre and roughly 2.5 from parking No 2 to the bridge. Parking 4 is the only one without toilets and is quite far, roughly 3.8 km from the bridge.
Parking Electric Car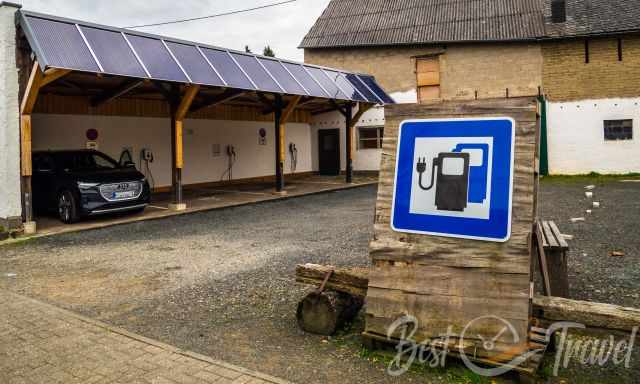 Parking in Sosberg - Tip for People with Disabilities or Buggy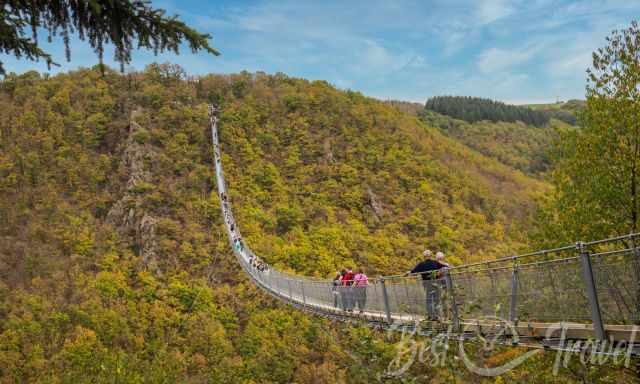 Sosberg is quieter than Mörsdorf, and there are two parking lots, #1 Sosberg Parking & Brückencafe Google Maps, and #2, the new one, which is even closer, is still not visible on Google. It's a 2 km walk from parking lot #1 to the bridge. The walk is easy as you stay on a path without any elevation. It starts to fill up around 11 am in the peak season. The parking fee in Sosberg is 2 EUR for 4 hours. 3 EUR for 6 hours and 4 EUR for 8 hours. There is a cafe at the parking lot, which opens at 12 pm. They offer beverages and snacks. Besides the cafe, there is another lovely place to enjoy wine and the scenery. No other facilities and no restrooms here at the Sosberg parking.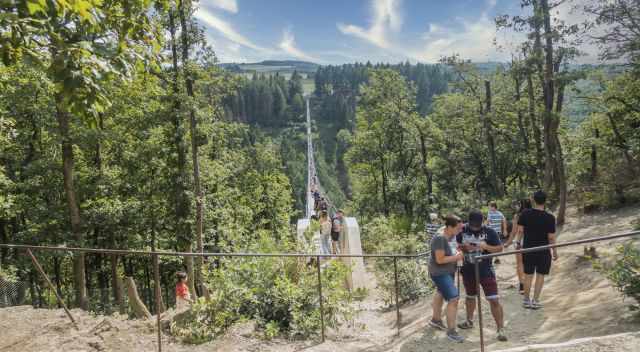 Unfortunately, the bridge is not really accessible in a wheelchair, just 85 cm wide, but if you wish to have a closer look at the bridge, you have to start in Sosberg. However, shortly before the bridge, the path turns into gravel, and a helping hand is needed. This path is shorter and less steep. I spoke to an elderly man in a wheelchair, and he and his daughter mentioned it is doable.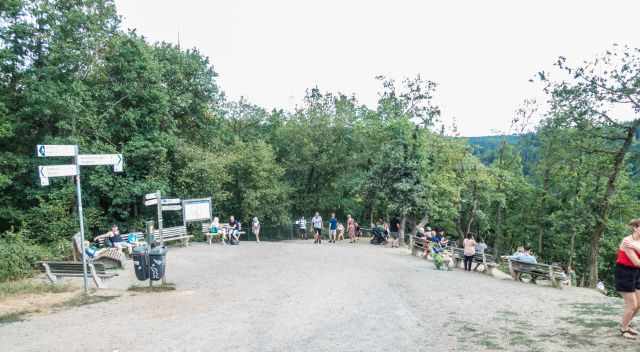 If you have any mobility issues or come with small children, it's quite a distance of about 2.5 km one way to the bridge. The car park at the visitor centre is 2 km away and usually full. The footpath to the bridge is wheelchair and stroller friendly except for the last 150 meters or so. The last restrooms are at the visitor centre and Parking P2! The fee for the restroom at P2 is 0.70 €.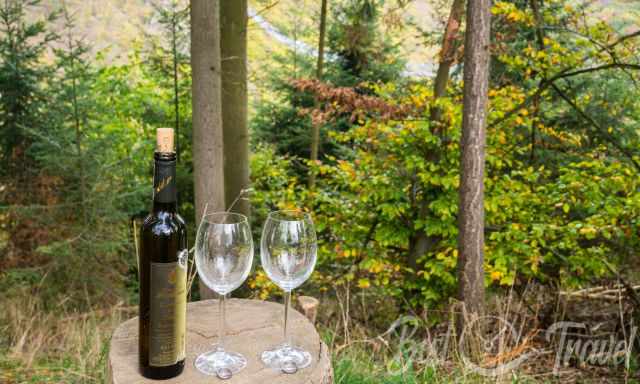 Are Dogs permitted on Geierlay?
Yes, you can bring your dog on a leash to the suspension bridge, but avoid midday at the busiest time. We saw several dogs, but all looked a bit frightened with so many people coming from either side. 
You can even push your bike across the bridge.
Food and Beverages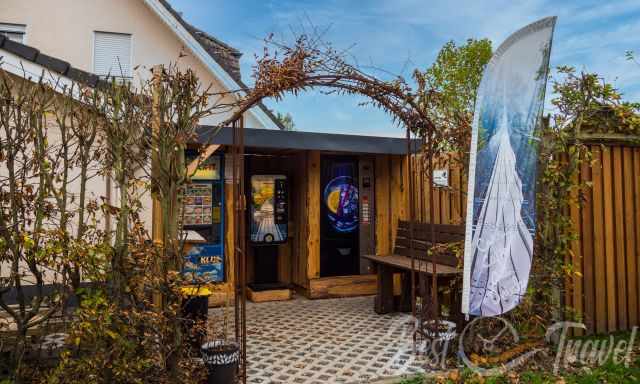 The visitor centre in Mörsdorf provides an information terminal, a restaurant with a beer garden, and public facilities. During the summer months and especially at weekends, there are also some food and beverage stalls and ice cream.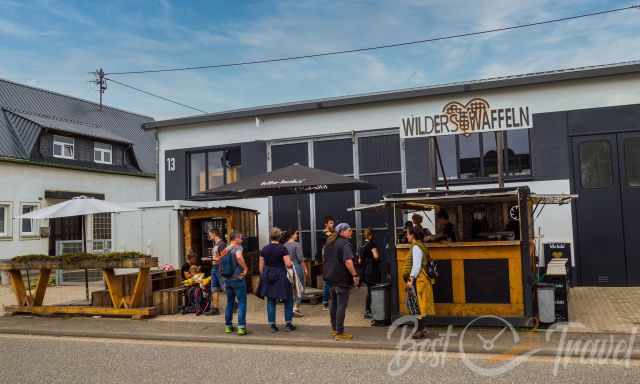 Vendor machines are available in Mörsdorf. Bring plenty of water and a snack for the rest of the year.
Top Tips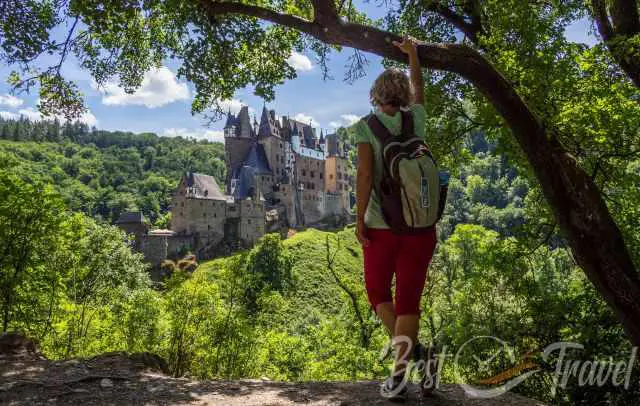 Eltz Castle is one of the most beautiful castles in Germany and is just half an hour's drive away from the Geierlay Bridge. Even if you are limited in time and can't explore the castle itself, it is already worth the drive to walk to some viewpoints to admire the 865 years old castle.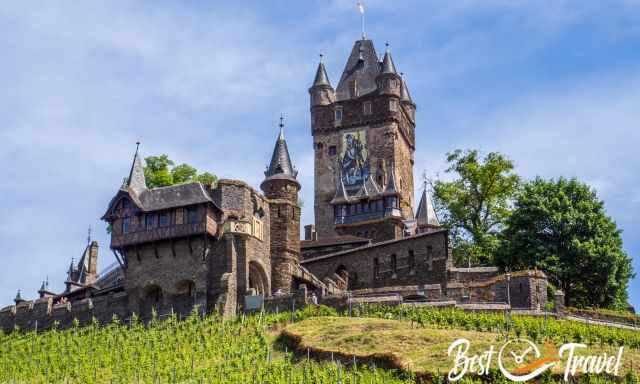 Another stunning castle at Moselle River is Cochem Castle. The guided tours and medieval dinners are outstanding.
Contact me if you wish to use any of my photos, but I will take action against picture theft.
Weather Geierlay-Hunsrück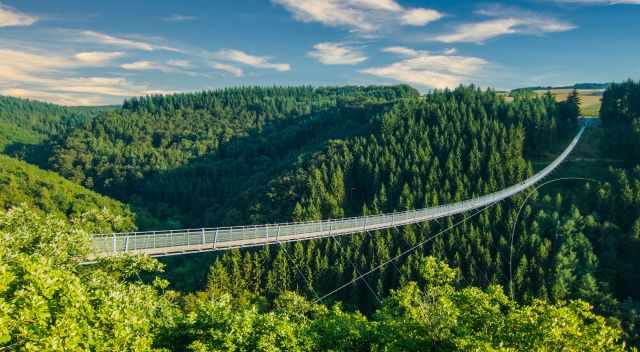 There is a high amount of precipitation, more than 1000 mm, throughout the year. However, due to the rainfall, lush and dense vegetation occur excellent for hiking and cooling in the summer. A proverb says, "Where wine is growing, the sun is shining". The region is popular for excellent wine located close to river Moselle. I will give you an overview of the average weather pattern for each season.
Spring (March-May)
The spring is the driest season and a lovely time for hiking Geierlay and the Hunsrück area. March and April are still colder due to the higher elevation of 340 m above sea level. Temperatures range between 9-13°C during the day, and nights drop almost to freezing. May is lovely, and temps can rise to 20°C during the day. Nevertheless, night temps are below 10°C.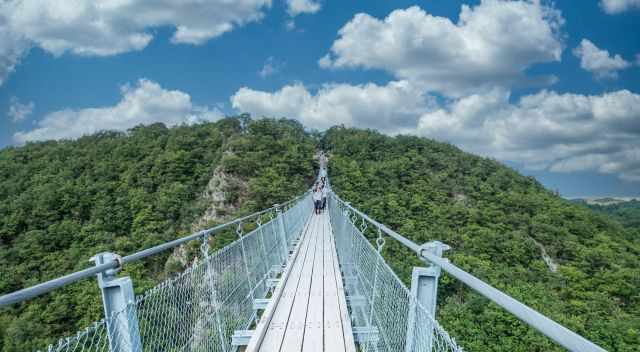 Summer (June-August)
Also, the summer is relatively dry. Day temps in the shade are around 23°C but can easily reach 30°C. It is never too hot at night with temps around 13-15°C. If you visit in the summer, pack swim clothes into your car, and you may pass by a river or lake.
Autumn (September-November)
September is as pleasant as May, not too hot and still sunny. In October, the temps drop significantly to 13°C during midday, and nights are below 10°C. Increasing precipitation in November and temps are cold at 7°C while nights are almost freezing.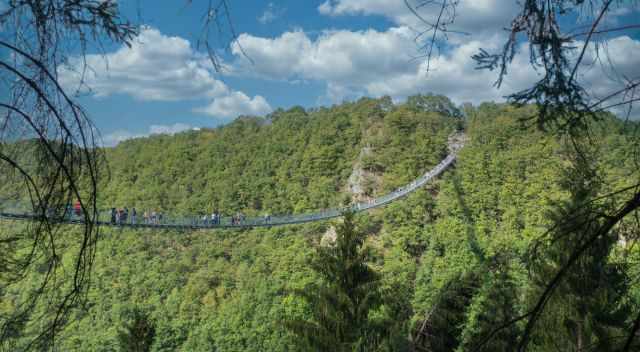 Winter (December-February)
Most precipitation is in the winter. It usually snowed throughout this season in former times, but nowadays, less snow occurs. Nevertheless, blue skies also appear in the winter. Day temps are, on average, above 0°C and below during the night. The trail to Geierlay is exposed, and you may feel colder than it is due to the wind. Wear proper shoes, a beanie, and a warm jacket.
Location and Tips
Mörsdorf
Germany

Geierlay is the second-longest suspension bridge in Germany, 360 meters long at a height of 100 meters. Free access to the bridge 24/7 except for extreme weather conditions. The bridge was opened to the public on October 3rd 2015. The construction began in May 2015, and it was completed in a record of 130 days.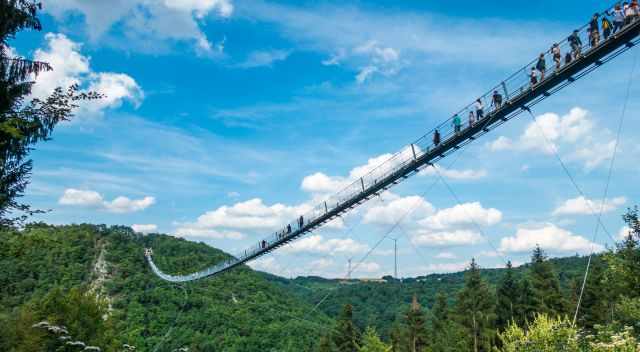 The suspension bridge is located in the heart of the Hunsrueck area. It's truly a unique experience to walk from Mörsdorf above the valley floor to Sosberg. The bridge is an attraction for people without a fear of heights and is suitable for all ages. It's not swinging that much, just a little if it's bustling. The view of this fascinating bridge is impressive from all sides, the bottom of the valley, from either side or in front of it.
Geierlay Suspension Bridge 7 Facts
Inaugurated on October third 2015
Hitting 2 million visitors end of 2022
Length 360 m
Wide 85 cm/2.79 ft
Height 100 m above the valley
The bridge can carry up to 50 tons of load, which is about 600 visitors.
The bridge can withstand wind gusts of up to 200 km/h.
Geierlayschleife - Loop Trail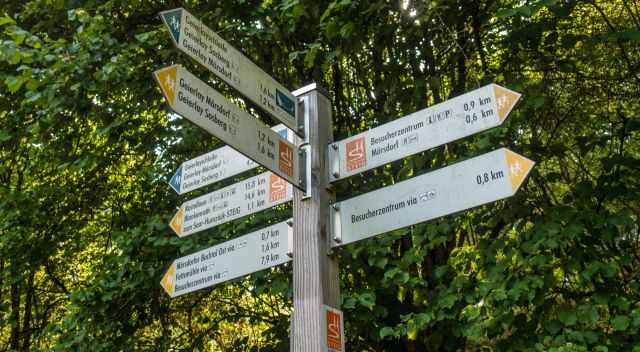 The Geierlay Loop Trail leads through a beautiful landscape and forest and is 6.4 km long. To enjoy the tranquillity on this walk, enter the bridge in the morning. Proper trainers or hiking boots are recommended. The loop looks like an eight and takes roughly 2 hours. The hike can be done from both suspension bridge entrances. Picture Hiking Map
Hiking in the Hunsrueck Area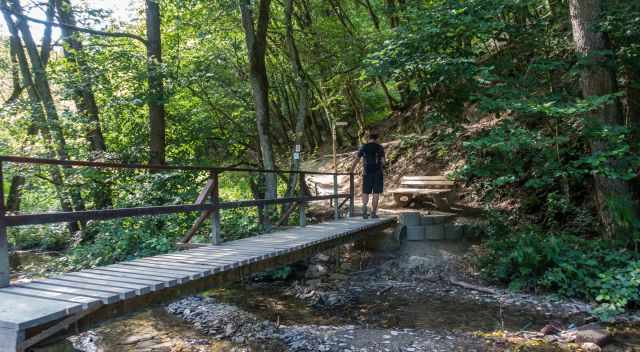 Nearby is the Saar-Hunsrueck-Steig, a 410 km long premium hiking trail. 
 
Layensteig

This hike is called Layensteig, a 14 km loop trail that takes about 4-5 hours.
 
Baybach Ravine 

Baybachklamm - Baybach Ravine is a 10.5 km long loop trail and our favourite one. Along the trail is a beautifully located hotel and restaurant, the Schmausemühle.
 
Best Accommodations; 

Stay in one of the Guest-Houses close to the bridge and other awesome hiking trails. I recommend exploring more of this outstanding landscape and river Moselle for at least one night. Guest-Houses in Gonderhausen and Emmelshausen via booking.com.