When Is the Best Time
The falls and cave are accessible throughout the year though the water level is crucial to enter the trail. During spring, the Genesee River level is frequently too high, summer, and fall is the best time to visit this exceptional place in Rochester, NY. Winter is spectacular to see the icy waterfall and icicles. Crampons are essential if you plan to head down in winter. The falls are located close to the Canadian border and experience quite a lot of snow.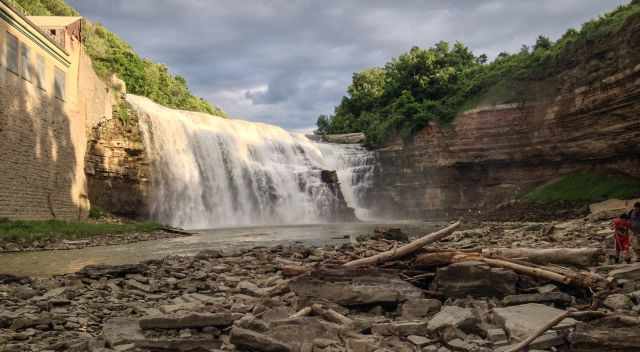 Keep always in mind that the Genesee River level can rise rapidly when the dam at Middle Falls opens up. There is a warning system installed to let you know when the level is rising. If you are already in the gorge, you may need a couple of minutes to get out. So safety first!
Parking is limited, and the river is also popular for fishing.
Location and Tips
Rochester, NY
United States

You pass by these truly beautiful falls and park when travelling to Niagara Falls. Lower Falls Park and Maple Wood park stretch along the river for roughly 1,5 miles/2.5 km. There are the High- Middle- and Lower Falls along the Genesee River in Rochester. You can already see the 110 feet/33,5 m high falls tumbling down and also the bridge from the park. For the cave itself, you have to hike to the base of the falls. It is challenging to get down to the river and cave, but worth the effort. Hiking poles are helpful for the steep descent and ascent. When you reach the bottom, walk in the right direction falls. The cave is located shortly before to the right.
Due to the mist, some parts and especially the cave, are slippery. The view out of the cave to the river and bridge is just spectacular. The story behind this human-made cave is interesting. The cave was developed during the prohibition and used to transport alcohol to the streets above Rochester.  
The river and cave are not accessible during a high water level.
Melissa created this wonderful place. Her Airbnb host gave her the recommendation for this local insider tip off the beaten path.