When Is the Best Time
Peggy's Point Lighthouse is the most famous Nova Scotia icon, just an hour drive south of Halifax. It is the top tourist attraction of Nova Scotia, with at least 700.000 visitors annually. It is busy throughout the year with tour buses and day-trippers visiting by car. The worst time of the year is the summer, in July and August. There is limited parking close to the lighthouse, but there are three easy ways to beat the crowds even in the peak months:
3 Tips for Visiting Peggys Cove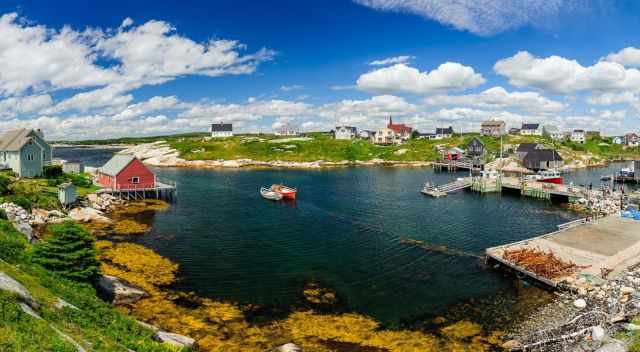 Come Early
Be there in the morning as early as possible. At least before 9 am. Experiencing the sunrise is amazing anyway.
Stay Late 
Don't leave before or right after sunset. Just stay! Most visitors leave when the sun goes down, but the place gets even prettier. Check sunrise and sunset times here: Halifax Canada | Sunrise - Sunset
Come Weekdays
The residents and tourists love this picturesque lighthouse; therefore, weekends are busier than weekdays.
You like to know how busy Peggy's Point is or how the weather looks like? Check out the webcam.
Weather Peggys Cove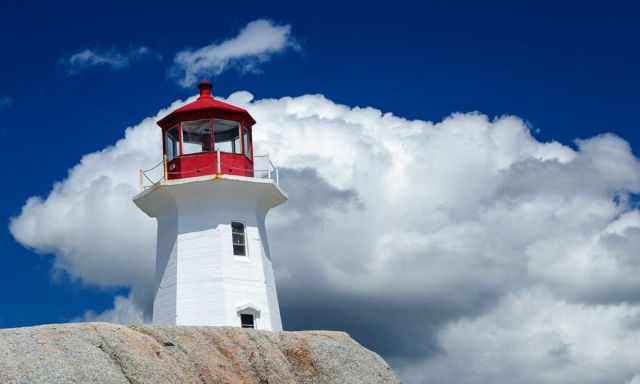 It is a mild climate due to its location at the Atlantic Ocean. It's changeable weather experiencing everything in one day. Rain, showers, and fog frequently occur at the coast of Nova Scotia. Forget about using an umbrella; the wind will blow it to pieces. Therefore, bring a wind-and rainproof jacket. Many locals say August -October are the best months regarding the weather. 
The best time to visit Peggy's Cove regarding weather, sunshine hours, and crowds are April - June and September - October. Avoid the busy summer holiday months.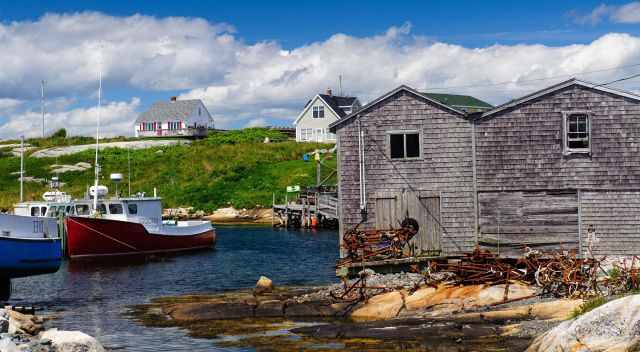 Heavy rainfall can occur in early spring. April is still cold on average 10°C during the day. It starts to warm up in May to already 16°C. June to September are pleasant with day temperatures in the mid-20's°C. Strong southern air masses causing them to rise to the mid-30's°C. October is still nice temperatures drop to 15°C. The wintertime can bring cloud cover and almost freezing day temperatures. Night temps drop significantly; minus 10°C are common.
| | |
| --- | --- |
| | Get to know the best of Atlantic Canada with Moon's local insight, expert tips, and unique experiences. If you want to catch a glimpse of the world's rarest whales, hike through lush forests, or wander around quaint historic towns, this is the right travel guide for you. |
Location and Tips
Nova Scotia, Peggys Cove / Halifax
Canada

Peggys Point is one of over 160 historic lighthouses in Nova Scotia, but definitely the most visited one. The original lighthouse was built in 1868, and it was a working post office until 2009. The tower is 50 feet/15 m high. The lighthouse stands exposed on granite rocks. You can walk on rocks around Peggys Point, but wear proper shoes for it. Watch the unpredictable swell when walking around. Each year people are swept off by huge waves. Bring a wind jacket for your visit.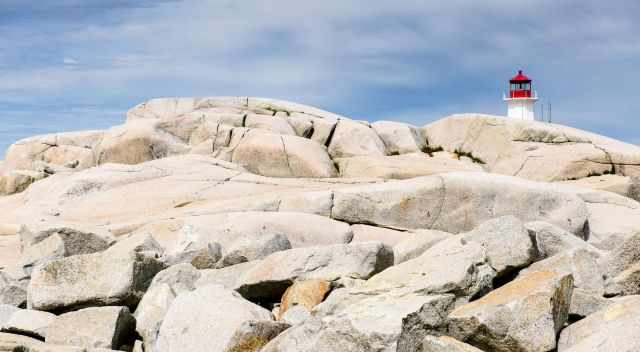 When you visit this lovely coast, you are set back in time with all the small houses nestled in the cove. Here are photo opportunities in abundance. Looking for presents? You definitely find some in the local craft and souvenir shops. 
Best to get to this historic and scenic lighthouse before the crowds arrive. We arrived at 9 a.m. and thoroughly enjoyed finding a parking spot, jumping around on the rocks, taking many pictures, and enjoying the beautiful scenery and food! Try the delicious lobster rolls.
There was a multi-million dollar upgrade for new sidewalks, a viewing platform, and restrooms in 2021. However, the road leading to the lighthouse can get flooded. So, please, drive carefully when heading there.
Parking at Peggys Cove
Parking is a bit of a hassle—limited parking at the lighthouse. There is an overflow next to the visitor centre, but this fills up quickly during midday, weekends, and peak season. It is 500 meters walk from the overflow parking to the stunning lighthouse.
These wonderful pictures are provided by my photographer friend Chris. We visited the area before digital photography was introduced.