When Is the Best Time
Boston, the capital of Massachusetts, is a vibrant city with many activities. One of the most popular Must-Do is whale watching from Boston Harbour. Boston and the entire New England are some of the best places to spot whales in the US—the reason for an almost 100 % guarantee of sightings in the nearby Stellwagen Bank National Marine Sanctuary.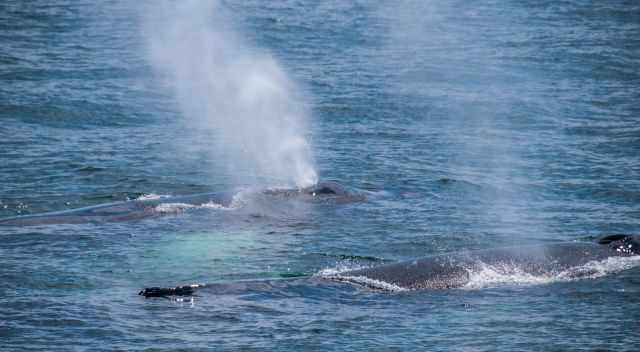 Although the season runs from late March to November, the best time for a whale-watching tour is from May to October. It is almost guaranteed to spot humpbacks, occasionally finbacks, and frequently dolphins. 
I will give you all details of what you may spot each month, the conditions, how to prepare in my 8 Tips section for an awesome day out in the sea and fascinating facts about the different whales you can spot.
Best Boston Whale Watching Tour
The duration of the whale-watching tours depends on the weather, wind, and sightings. It usually takes 3.5-4 hours. The vessel is a high-speed catamaran which makes this a comfortable journey until you reach Stellwagen Bank, 25 miles east of Boston. A marine biologist will answer all your questions and share his/her knowledge about the cetaceans on your tour. Watching whales up close, perhaps breaching, is always a fascinating experience. More than one million people go on a whale watching trip from Boston, the reason the trips are likely to be sold out days in advance.
The boats depart from One Long Wharf, Boston, MA 02110 Google Maps Link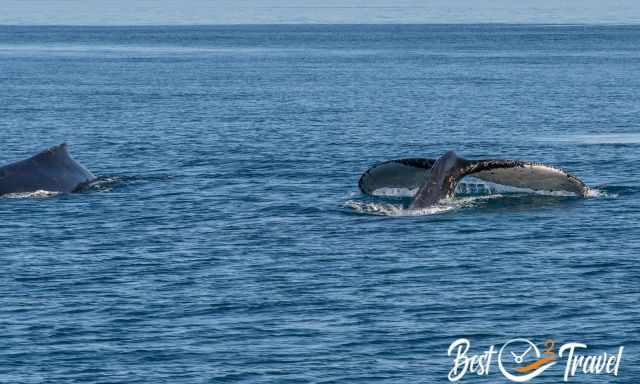 Thanks to this huge, more than 800 square miles protected area, you spot humpbacks, finback whales, dolphins, and so much more in abundance. Humpback whales migrate to the sanctuary close to Boston, Massachusetts, in spring and back in autumn. Finbacks are mostly found in deep waters 20 km distance from the coast. They occur at Stellwagen throughout the year.
Best Day Time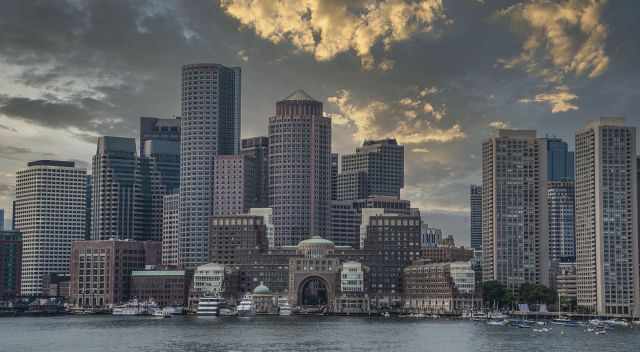 Usually, the sea is calmer in the morning and a bit choppy in the afternoon; however, exceptions occur—waves build up by the wind. Therefore, if seasickness is an issue for you, book the first-morning tour. These tours are usually less busy than others during the day. 
Boston Whale-Watching Season and Weather
April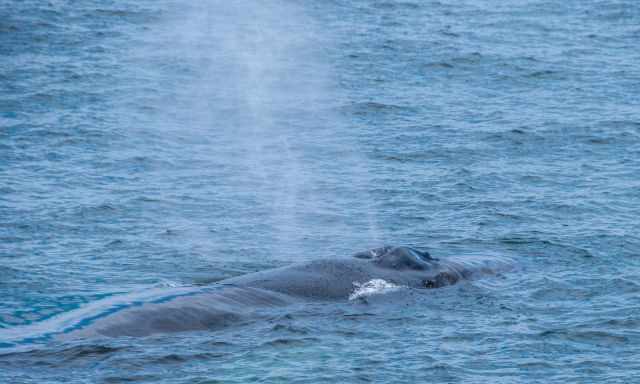 The whale-watching season starts already at the end of March. However, this is not the time I recommend. April improves a little with more humpbacks, finbacks, and white-sided dolphin sightings. On all those whale-watching tours, you frequently spot different dolphin species, and sometimes rare sightings occur, like orcas, blue whales (the naturalist told Markus one in 30 years only), sperm whales, sunfish or a basking shark.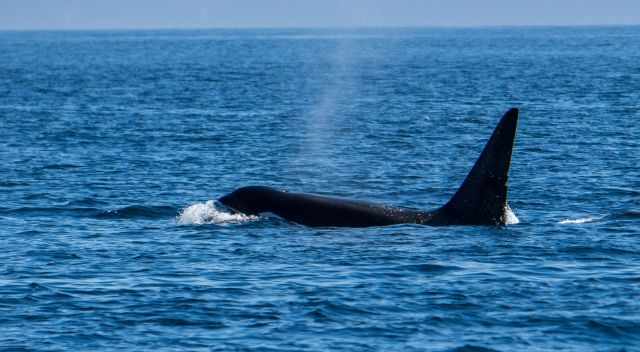 Pilot whales appear later in the season. Minke whales and harbour porpoises are often mentioned for specific months, but honestly, these cetaceans are shy, and usually, you don't see much of them from my own experience. I will give you an idea of what you may see on such whale-watching trips.
This is my recommended Whale Watching Tour for Boston via GetYourGuide. Tour prices are at no extra cost! Thx for booking via my website! With your support, I am able to provide all information first-hand.
May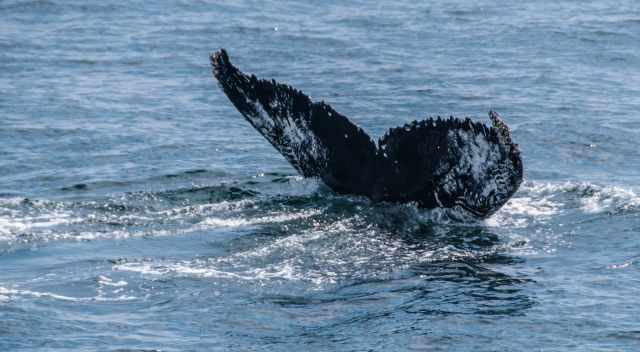 Finally, temps increase and reach 68°F/20°C during the day. The first humpbacks, especially mothers and their newborn calves arrive in the Stellwagen Sanctuary. Fin whale sightings often increase in small groups. Wind and a rainproof jacket are well needed on the boat. 
June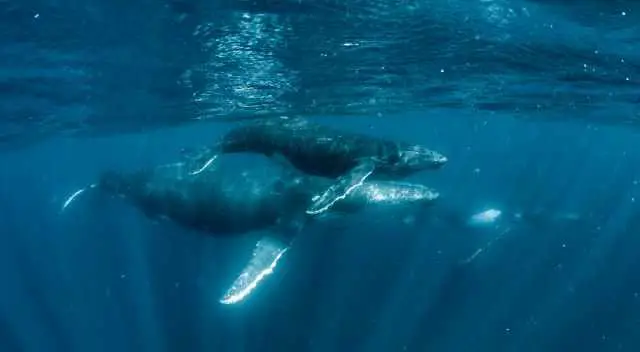 Summer arrived with average temperatures of 77°F/25°C; however, don't underestimate the wind on board the whale-watching boat. The chance to spot humpbacks is almost guaranteed. Also, finback sightings occur, but they have a high travel speed.
July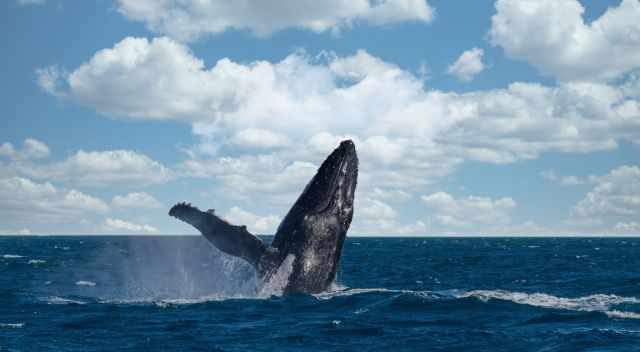 Decreasing precipitation and warm temperatures above 80°F/27°C. This is one of the very best months to see a huge number of humpbacks. However, keep in mind the summer is the busiest time of the year, and advanced bookings are recommended to avoid disappointment. To spot breaching humpbacks with their entire body is always fascinating.
This is my recommended Whale Watching Tour for Boston via GetYourGuide. Tour prices are at no extra cost! Thx for booking via my website! With your support, I am able to provide all information first-hand.
August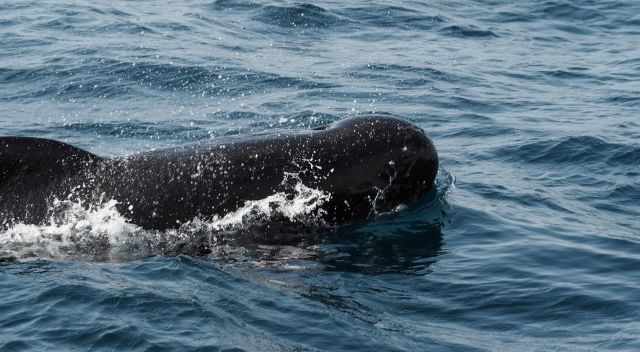 August is also a lovely summer month with excellent humpback sightings, occasional finback, and the first rare pilot whale sightings. The pilot whales are night-active, resting on the surface during the day, increasing the chance of a sighting. This is a super busy month book your whale-watching trip in advance!
September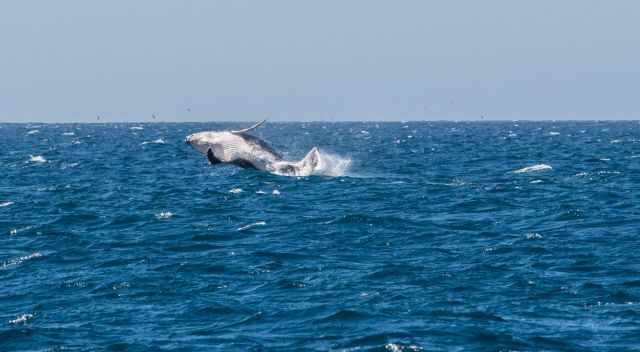 Autumn will arrive soon. Temperatures have dropped already, being slightly above 72°F/22°C. This is still a great month for humpbacks, occasional finbacks and pilot whales. 
October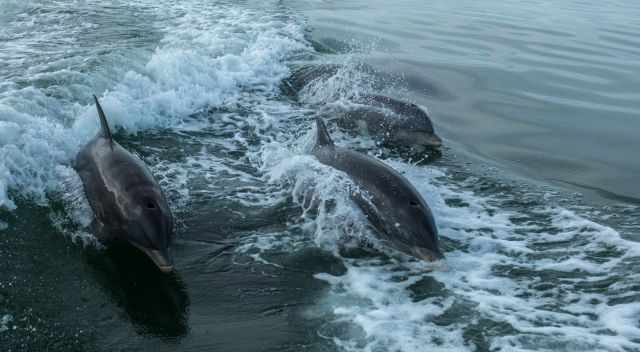 Autumn arrived temps are below 64°F/18°C, and precipitation increases slightly. It is still a good time to spot whales on a trip, but fewer. Humpbacks start to migrate, leaving Stellwagen Bank. Finbacks can be found in New England throughout the year, with occasional sightings until November.
No Tours Are Offered From November to March!
Must-Do Activity in Boston
Learn the highlights and where American History started on this cruise in Boston. Enjoy the outstanding views from the boat, the sea breezes, and listen to stories from former times.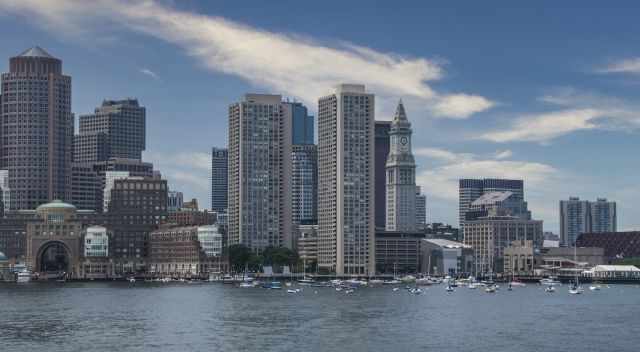 My recommended tour via GetYourGuide with 24 hours advance cancellation policy. Thx for booking via my website! With your support, I am able to provide all information first-hand. Tour prices are at no extra cost!
Location and Tips
Boston, Massachusetts
United States

The entire whale-watching cruise from Boston is an experience. It starts with an excellent view of the Boston skyline; you pass by historic lighthouses and the Boston Harbor Islands State Park with your catamaran.
The Geology of Stellwagen Bank National Marine Sanctuary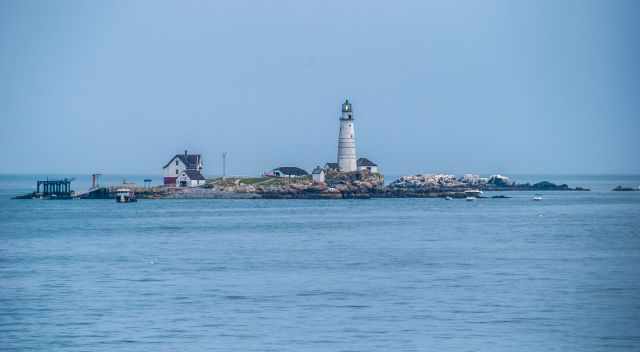 What makes this sanctuary so special? 
Stellwagen Bank is an underwater plateau stretching 19 miles. It is much deeper around the plateau. This causes deep water currents to rise upwards, containing nutrition and minerals. This attracts all kinds of fish species, even blue and yellow-fin tuna, codfish and sharks. Because of its importance for marine life, it became a National Marine Sanctuary protected zone in 1992.
8 Top Tips for Whale Watching from Boston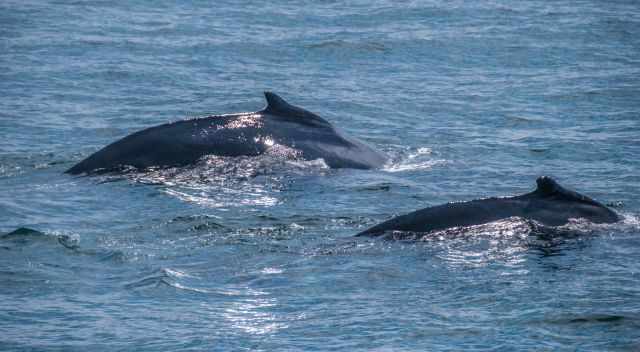 Go in the morning to experience a calmer sea, especially if you suffer from seasickness.
If you like to get the first-morning tour, staying close to the harbour in Downtown Boston is most convenient. The Boston Harbor Hotel is perfectly located next to Long One Wharf, where the trips depart.
If you suffer from seasickness, don't go underdeck. Stay outside, scan the ocean, and breathe deep. Most important, don't skip breakfast. The acid in your stomach worsens the seasickness without a proper and healthy breakfast.
Throughout the whale season is an additional jacket also needed in summer! Stay warm - don't get cold, which can easily happen while standing. It is at least 10 degrees colder out on the sea.
Always carry a bottle of water; don't get dehydrated. And it would be a pity if you line up to buy a bottle while a humpback is breaching.
Sun protection; hat, sunglasses, sunscreen, the sun is even more intense on the sea.
Comfortable shoes with good traction are best for a moving vessel.
A camera with an excellent lens for awesome memories.
| | |
| --- | --- |
| | If you want to know more details about whales, I recommend the Handbook of Whales, Dolphins, and Porpoises of the World. It is the most comprehensive and up-to-date guide to these mammals. I personally love the facts about behaviour, life history, and conservation. |
13 Finback Whale Facts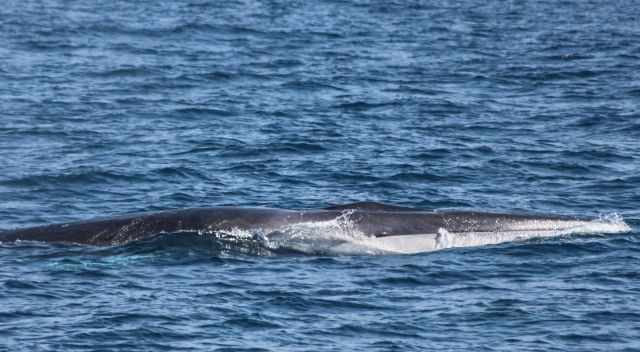 Finbacks are mostly found in deep offshore waters, diving deep up to 1.500 feet / 450 m for approximately 15 minutes. 
They are common east of Cape Cod and east of Boston and Cape Ann.
Finbacks have a high travel speed, one of the fasted cetaceans at least 25 mph/40 kmh.
Their main diet is fish; herring and mackerel, crustaceans, and squid - filtering mouthfuls of water.
This baleen whale species migrates in groups.
Lifespan of 80-90 years.
Weight at least 40 tons.
Finbacks are the second-largest animal after the blue whale. The average size ranges from 22-26 m /72-85 feet. Females are slightly larger.
Females get one calf after 11-12 months. Calves are born in warmer waters in tropical and subtropical waters, measuring 21 feet/ 6.5 m and weighing already more than one ton.
They are still endangered because of commercial whaling until 1977. The number of finbacks was significantly reduced until whaling got prohibited.
Finbacks have two blowholes in the middle with a 5-meter high blow. 
They can dive deep up to 450 meters for approximately 15 minutes. 
As already mentioned, finbacks are shy and fast, therefore, difficult to spot.
11 Humpback Whale Facts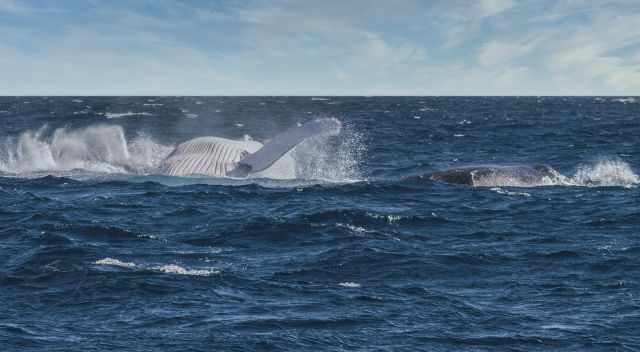 Average lifespan 45-50 years
Length of 14 up to 19 meters - 46 up to 68 feet
Weight 25-30 tons on average max. 40 tons
They can dive up to 200 meters / 656 feet, being underwater on average for 15 minutes.
Newborn calf weight one ton
Feeding on small fish like sardines, herrings, mackerel, krill, plankton
Humpbacks are baleen whales that are filter feeders.
They are famous for their whale song, especially during the mating season in tropical waters.
The humpbacks at Stellwagen migrate to the Caribbean roughly 1.500 miles / 2.400 km in the winter to mate and give birth.
Humpbacks are playful. but it is still not clear why humpbacks breach.
Spotting humpbacks at Stellwagen is almost guaranteed at least 90 %.
Markus and I took all these pictures. Contact me if you wish to use any, but we take action against picture theft! Why do I write this here? Hundreds of my pictures are used worldwide without any credit, nor did they get my permission. I don't mind giving permission, but I want to get asked for it and to be mentioned.