When Is the Best Time
Spotting a Cassowary in the Daintree or the Wet Tropics is undoubtedly on everybody's bucket list during a visit to the rainforests in Queensland. We spotted twelve Cassowaries in ten days: one in the Daintree, all others around Etty Bay, and one on Etty Beach.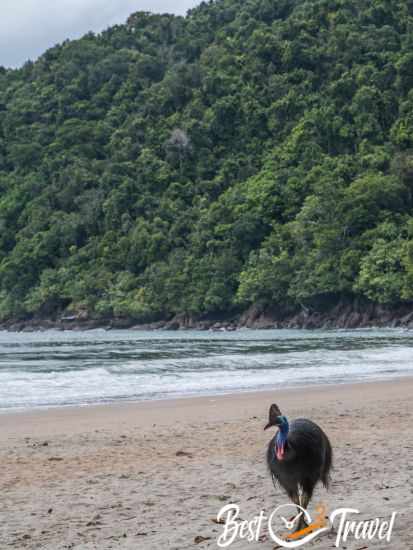 Most people came to Etty Bay and Beach with high expectations and left disappointed. You see plenty of pictures on social media: a Cassowary walking on the beach, but if you want to see them, you must know when and where. I will give you all the essential details and 9 tips to increase your chance of spotting them.
Don't miss out on our YouTube Short about the Daintree and the Cassowaries, and subscribe to our channel. That would help us a lot. THX!
9 Tips for Seeing a Cassowary in the Rainforest and at Etty Bay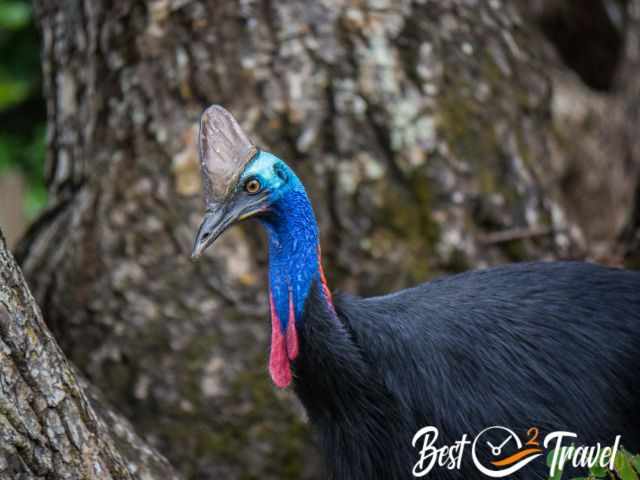 1. Bring plenty of time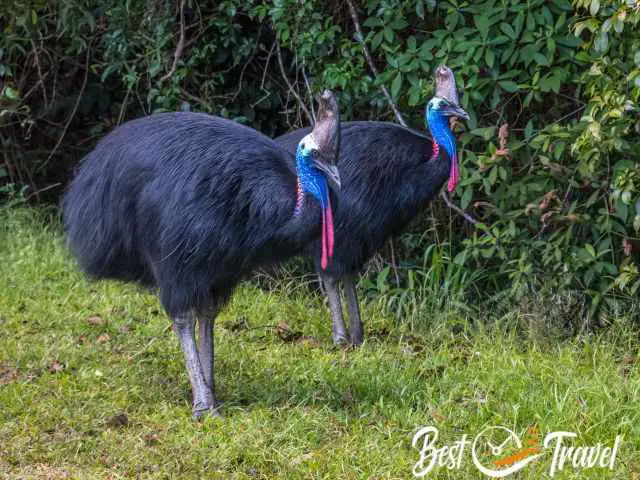 You must be at Etty Bay and Beach around sunrise as long as it is not too hot. Passing by at midday hoping to spot one and continue your journey will leave you disappointed. I won't say you never see any around noon, but this is rare.
2. Get up early - The best time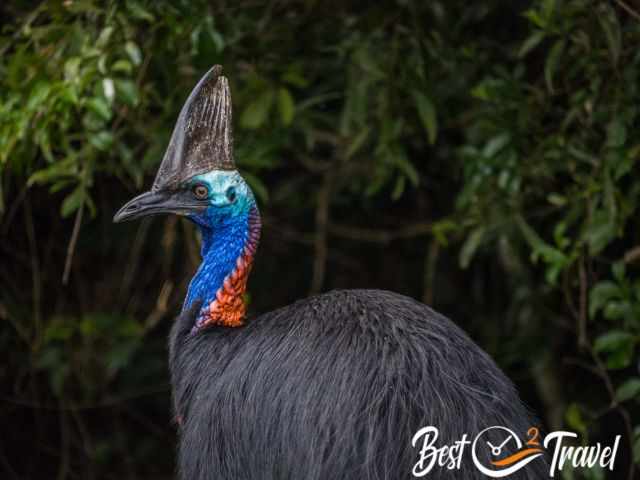 The best time to spot a Cassowary is early morning, shortly after sunrise. Get up at dawn and walk along the beach and the rainforest at Etty. As long as it is not too hot, in the winter before 9 a.m., take your vehicle and drive slowly back on Etty Bay Road along the rainforest until you get to the highest point. Shortly after, the rainforest ends on the left side, and you can turn around. We spotted a couple here each morning, always before 8 a.m.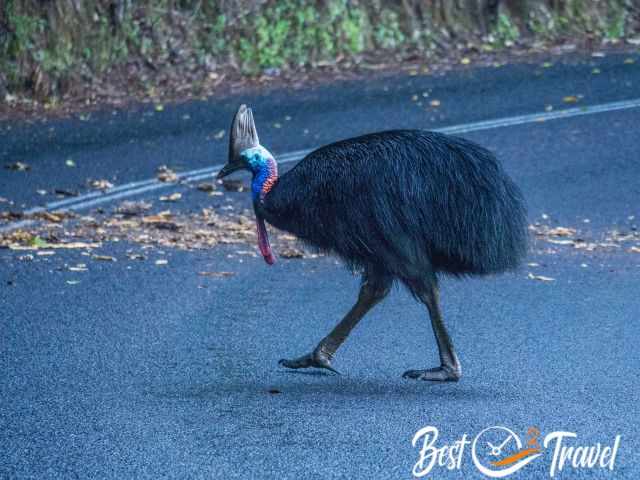 We spotted several Cassowaries on Etty Bay Road, where the Conservation Park beginns early morning Google Maps Location 
3. Try it again late in the afternoon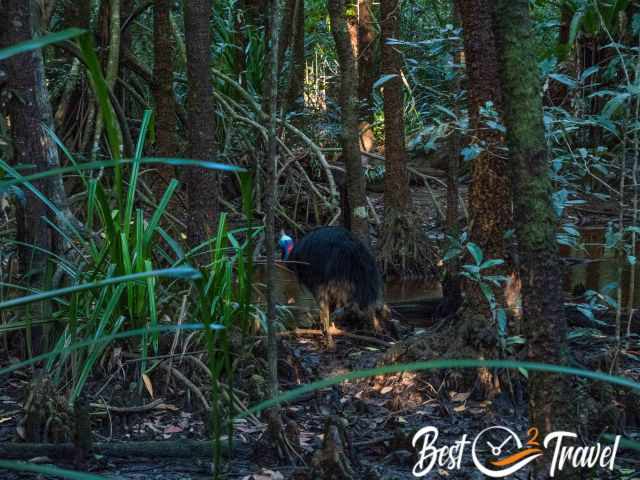 Late in the afternoon, when temperatures decrease, you also have a higher chance of spotting a Cassowary seeking fruits. We spotted one on a walk in the Daintree National Park late afternoon.
4. Temperatures and rainfall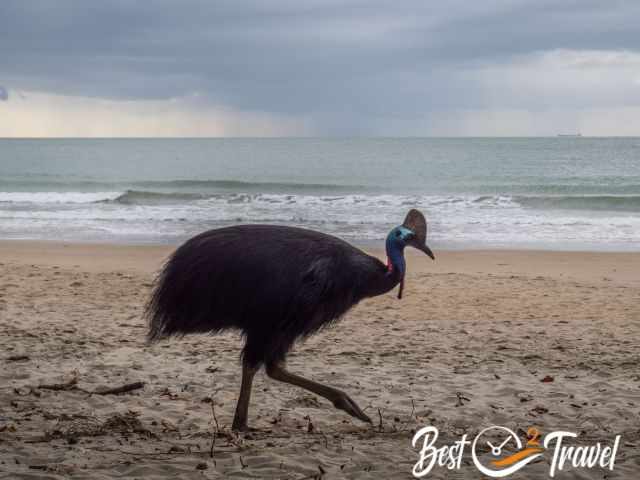 Your chance to spot Cassowaries increases during cooler temperatures and drizzle. On a hot sunny day, you rarely spot one because they are in the lush rainforest seeking shelter. 
5. Safari Feeling – Low light conditions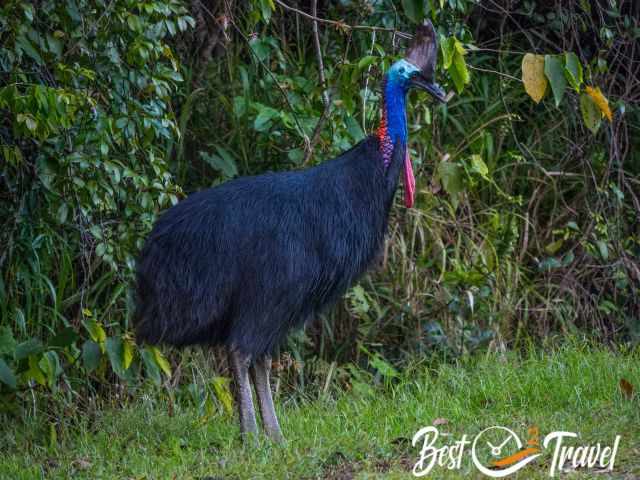 Seeking for Cassowaries is a bit like going on a safari. You exactly must consider the same rules: go early or late in the afternoon, be quiet, drive slowly and watch the Cassowaries from a distance. Particular caution is required when a Cassowary is raising his chicks. They are more aggressive during this time of the year, especially at the beginning, around December to February, the hot summer months.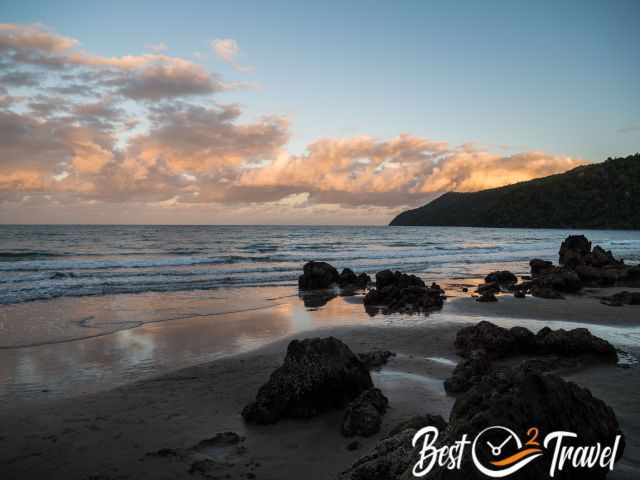 I highly recommend a Zoom Camera, not only your mobile. We took most pictures with our Olympus OM-D E-M10 Mark IV – Lens Panasonic Lumix G Vario 100-300 mm. A good camera guarantees that you can give the bird the space it needs, safety for you, and you get excellent shots. However, consider the low light conditions and prepare your camera in advance.
6. Early morning and late afternoon – Mossie time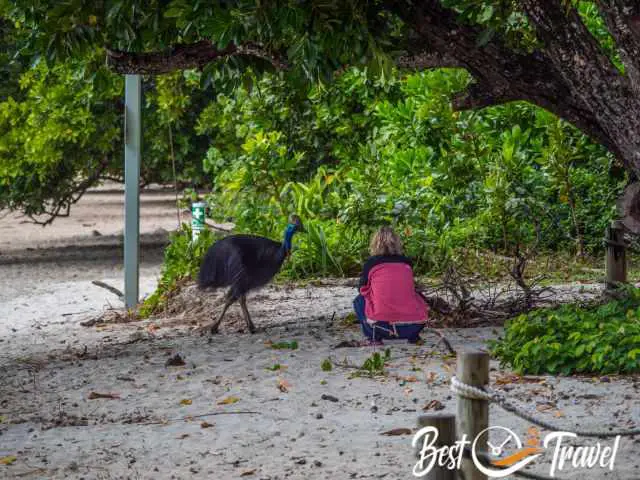 Be aware of the mosquitoes during these times. Either wear anti-insect clothing like Craghoppers and/or take insect repellent. The mossies were a pest early morning in the car when we opened the windows and watched the Cassowary couple.
7. Sightings because of habitat loss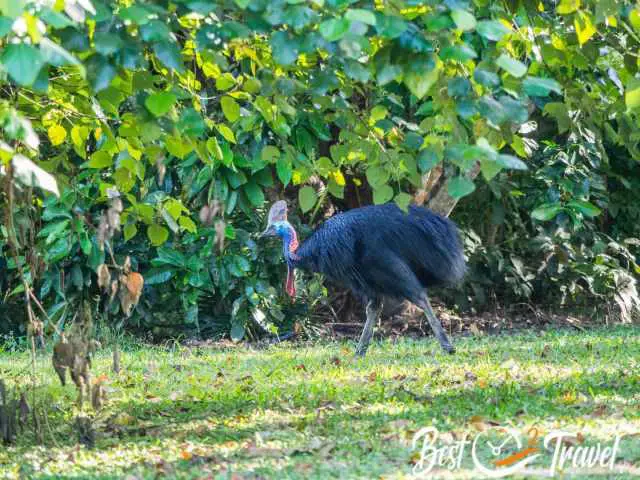 We spotted one Cassowary in the Daintree on a walk in the late afternoon. The Daintree is fragmented, but much more has been logged around Etty Bay. An estimated 1,200 Southern Cassowaries are only left because of habitat loss. The loss of tropical rainforest habitat for sugar cane - bananas - tea plantations, and private properties, to say it bluntly, for profit is the reason for the alarmingly low number.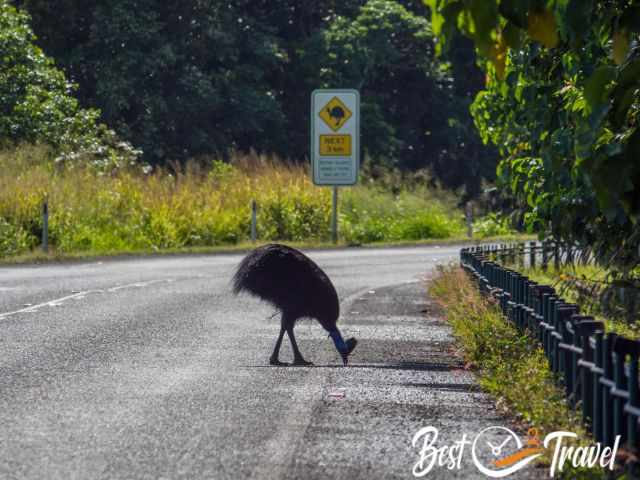 We saw a desperate Cassowary walking along a sugar cane plantation. Crossing the road was dangerous, with high-speed trucks full of loads. But when the flightless bird reached the other side, it was forced to walk along a fence again on the road until the Cassowary could escape into the forest.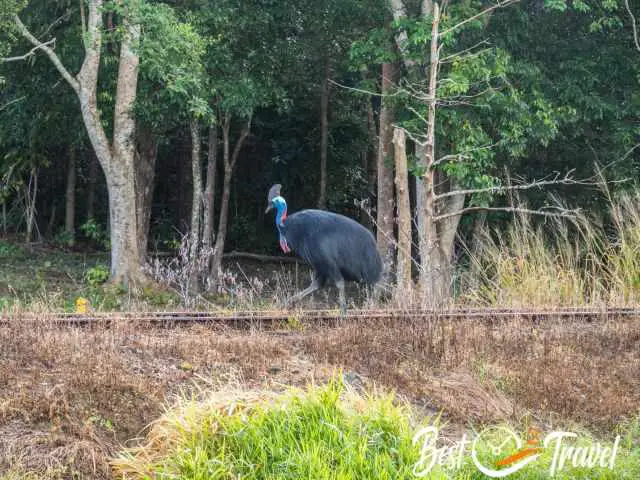 Another was walking a long way from nothing above a grass field until it finally reached the rainforest again and immediately stretched his neck to get fruit from a tree. It is magical to see a Cassowary in the rainforest, but seeing so many near the road is concerning. We must be aware that we will lose this unique bird if more rainforests are destroyed.
8. Sightings along roads between rainforests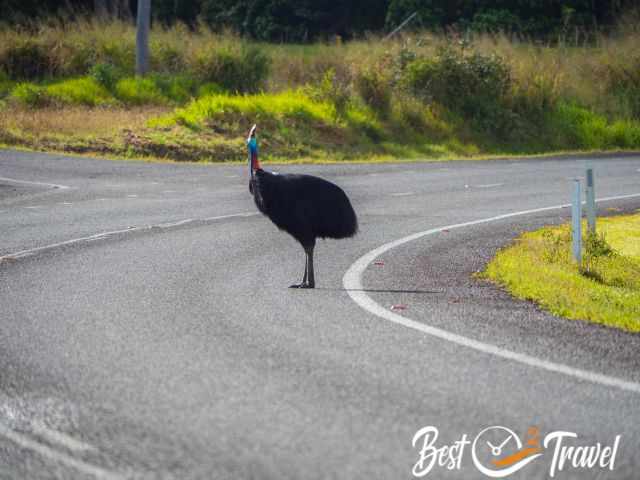 We tried out the Mourilyan Harbour Road. When coming from Etty Bay just turn left until you reach the harbour. What we witnessed here made us sad. Much of the land was cleared, and three Cassowaries were seeking food.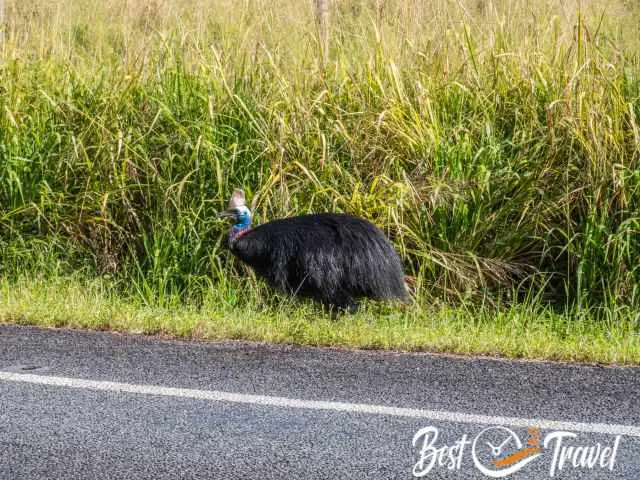 Trucks drove too fast to brake in time. We spotted more dead kangaroos than alive up in the north of Queensland.
9. Be CassoWARY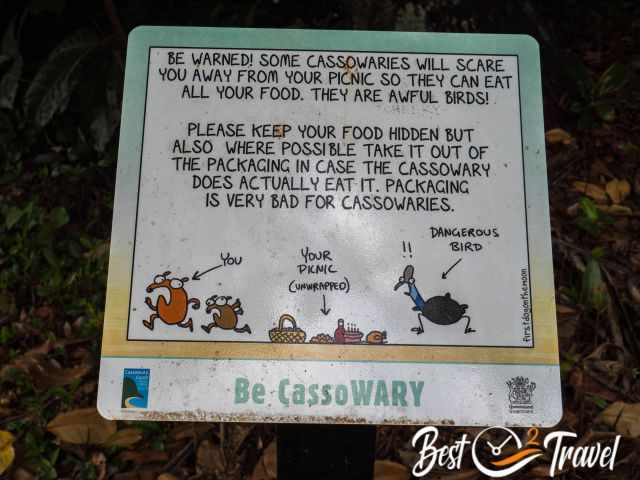 Help to protect Cassowaries and follow the simple rules. 
Never get too close to Cassowaries – watch them from a distance.
Never approach the Cassowary chicks. The male's job is raising the chicks, on average four chicks, and males will defend their young ones. If a Cassowary gets aggressive, you are in danger. They are able to harm you with their strong beak or kick you. However, attacks are rare and usually caused by wrong behaviour.

The left food attracted the bird. I had carefully thrown some branches at him and he gave up.

Don't leave food unattended on the table; remove all food scraps and crumbs. Never feed a Cassowary. If they get used to human food, it will cause their dead!
Reduce your speed when Cassowary signs are along the road. It is recommended not to stop the vehicle when a Cassowary appears along the road, but honestly, of course, you will stop if it is your first sighting. You must not get too close and block the Cassowary's path, scare it, and do not obstruct traffic if a car passes from in front or behind.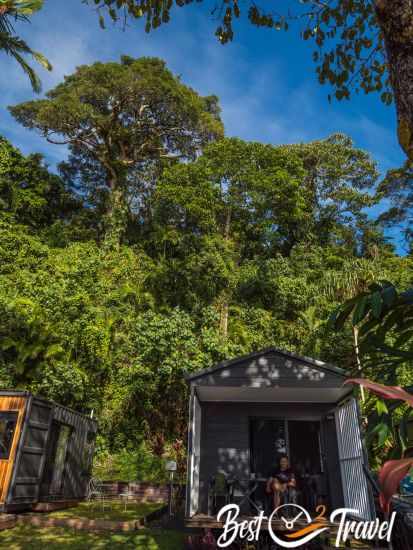 To be on the safe side to see a Cassowary, we decided to stay for three nights in the Etty Bay caravan park. You can camp here with your van or tent or book one of the cabins. They offer two-person and family cabins. I recommend the family cabin for more space and practical reasons. These cabins are equipped with a lockable net that protects you from mosquitoes. You can leave the door open in the night.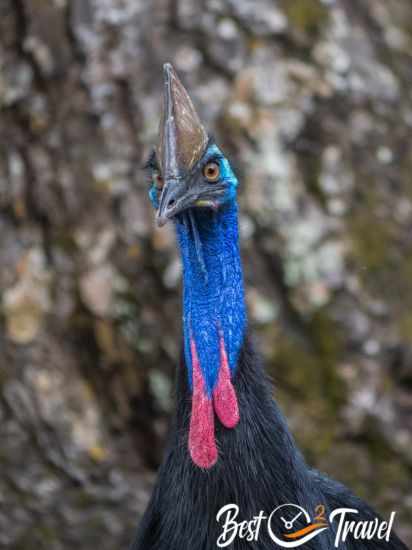 I did not intend to write this article and did not mean to criticize. On the first day, we thought, what luck we had to see three Cassowaries. The next day on the Mourilyan Harbour Road, we realized why we could see these birds here. Nevertheless, I wish you a magical moment at Etty Bay.
Location and Tips
Queensland, Etty Bay
Australia

The beach at Etty Bay is already a beautiful place and worth a stop. Stay here at least one night, and with a little luck you may spot a Cassowary.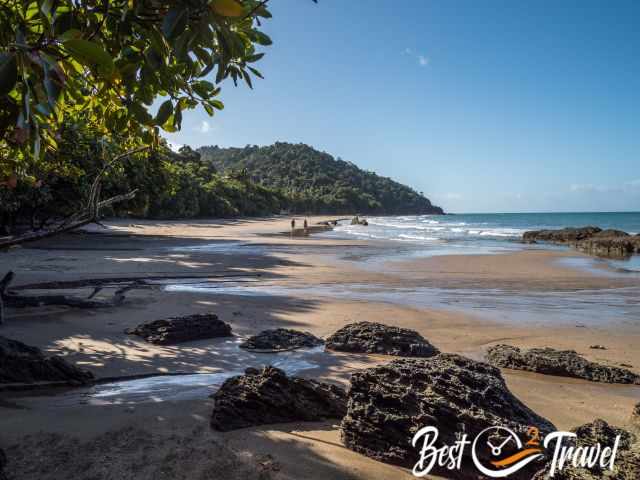 Safe travels, and be careful when driving in darkness. Animals are dazzled by the light of vehicles, stop and are killed.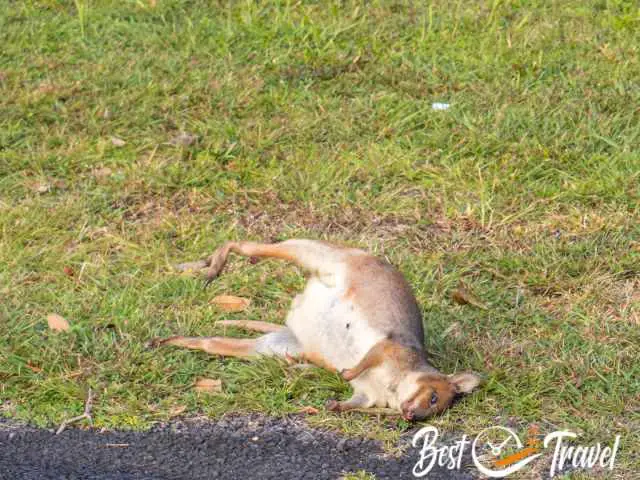 I hope these tips will help you to observe Cassowaries during your vacation. If you like my article and tips all from my own experience, it will help me a lot if you share it with family and friends and on social media. All pictures were taken by me and my husband, Markus.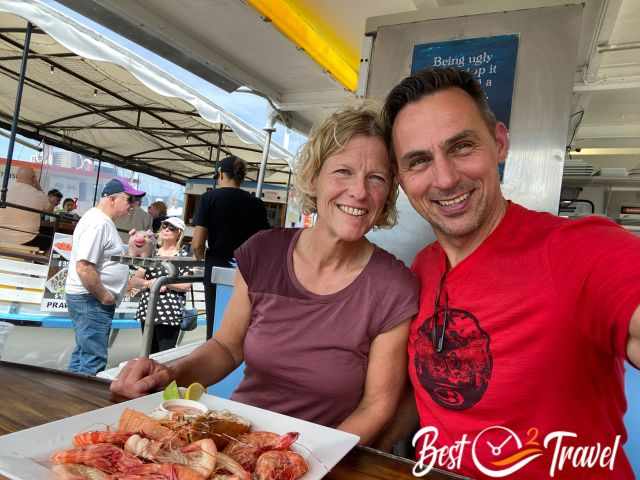 If you wish to use any of my photos, contact me, but I will take action against picture theft. Why do I write this here? Hundreds of my pictures are used worldwide without any credit, nor did they get my permission. I don't mind giving permission, but I want to get asked for it and to be mentioned. The World Wide Web has changed a lot, and rewriting honest travel content is the new business for many fake travel websites. Do you wish to know more about this topic and how to unmask such websites quickly? Read my article "The Truth About Fake Travel Websites and Picture Theft." 
Does honest travel content from real experiences have a future? I don't know any longer.