When Is the Best Time
Moreton Island is a popular and beautiful paradise just 40 km from mainland Brisbane. The locals call it their own "Great Barrier Reef". Moreton Island is also called Gheebulum Kunungai today. This awesome island is a year-round destination, although the winter provides more stable weather. Usually, you arrive with the Micat ferry at Mulgumpin (Moreton Island) - Vehicle Ferry Landing.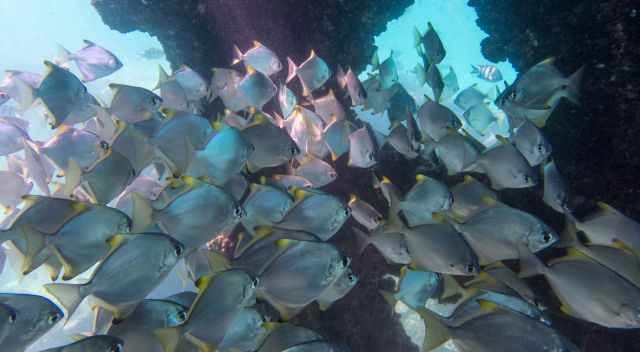 Some visitors come by 4 WD and many on foot, which works excellent for snorkelling at the Tangalooma Wrecks. Moreton is occasionally a little busy. To find out the quieter time, more things to do, and camping in Moreton, read my detailed guide and have a blast on this beautiful island.
Peak Season - Avoiding Crowds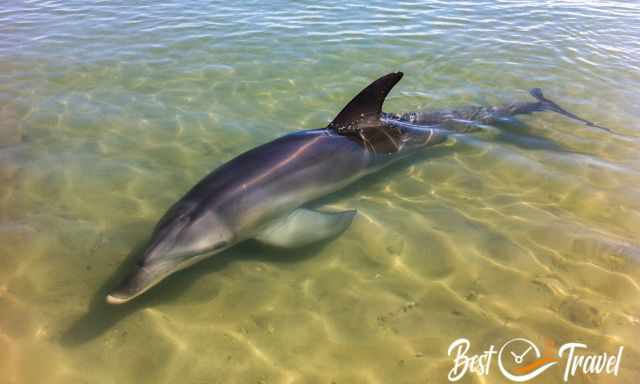 The entire island is super busy on long weekends, Christmas Holidays from mid-December to late January, Easter Holidays, and for the Spring Holidays around mid-September for more than two weeks.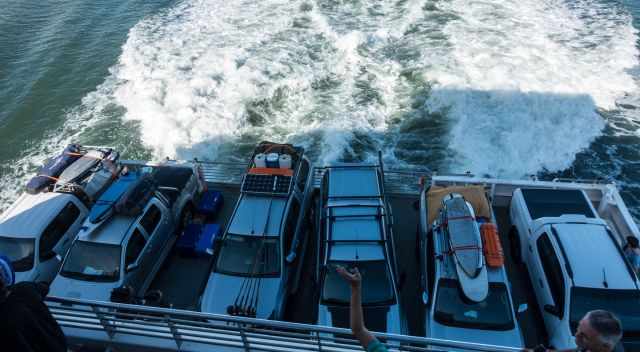 If travelling by 4WD, advanced ferry booking of up to six months is recommended by walk-in for at least two weeks.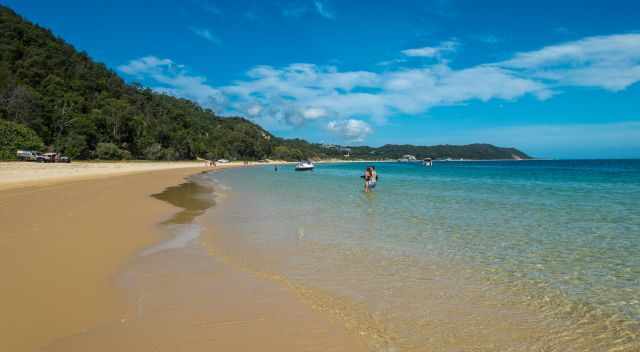 Before booking the ferry, check the campground availability first. Also, many day-trippers come by ferry to Tangalooma or Bulwer, and cruise ships bring day-trippers as well.
Weather and Crowds (Season Details)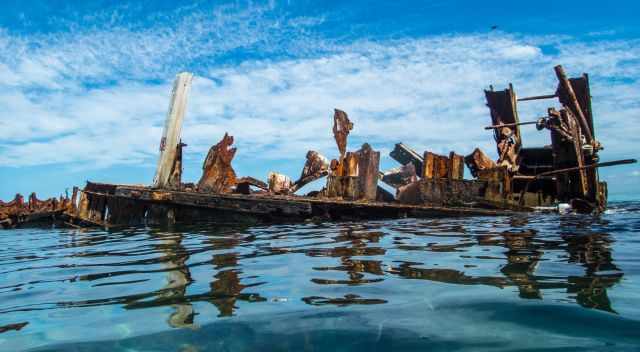 Brisbane experiences a rainy season from November to March during the hot summer. Thunderstorms are likely to happen, and cyclones are rare. April to October are drier, but showers can occur throughout the year. 
Spring (September-October)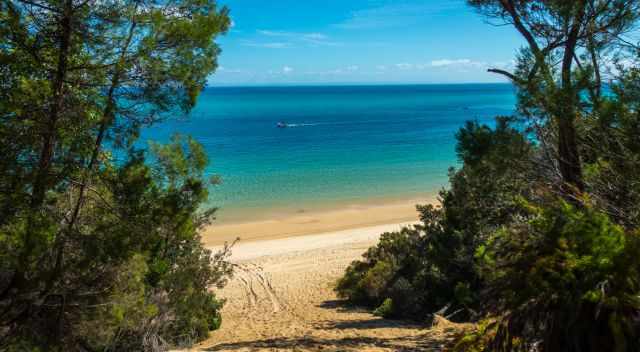 Pleasant day temps are on average above 25°C and night temps are refreshing cool below 20°C. Usually, not very busy except for the spring holidays around mid-September for more than two weeks. From October onwards, the sea starts to warm up and rain increases.
Summer (November-March)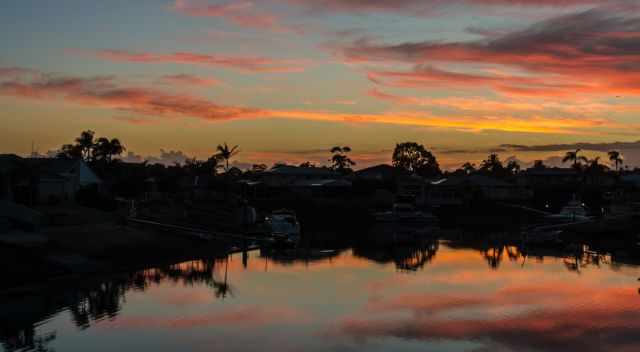 Day temps are, on average, around 30°C and night temps around 20°C. The Christmas Summer Holiday starts mid-December and lasts until late January. This is the most crowded time of all. If possible, avoid these weeks on Moreton. Often the weather is fine, but thunderstorms can happen quite frequently. The water temperature is pleasantly warm at around 25°C.
Autumn (April-May)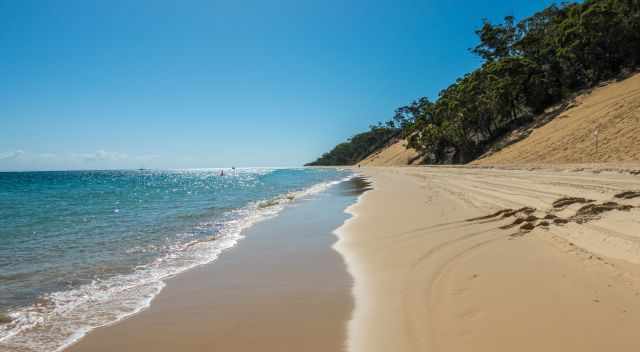 Pleasant temps in April and May. These are the quieter months in Moreton, especially during the week, except for the Easter Holidays, which last two weeks. Campgrounds are not fully booked. The water temperatures are slightly cooler than in summer but still nice.
Winter (June-August)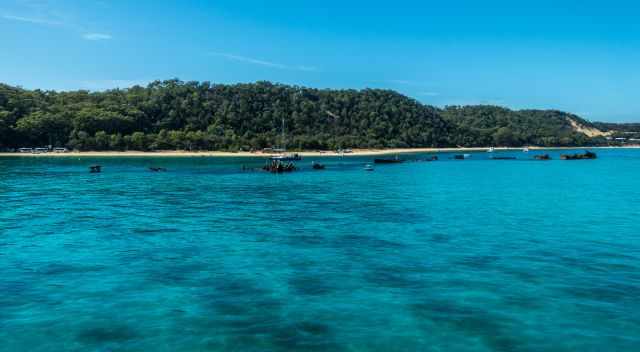 Pleasant day temps on average around 20°C but chilly nights with 10°C and below. So, bring a warm sleeping bag for camping. These months are the driest. Usually, Moreton is quieter at this time of the year except for two weeks of holidays end of June/ beginning of July. The water temp is cooler, almost 20°C. If you like to snorkel, bring a wetsuit or a shorty.
Helpful Links
Where to Stay in Moreton?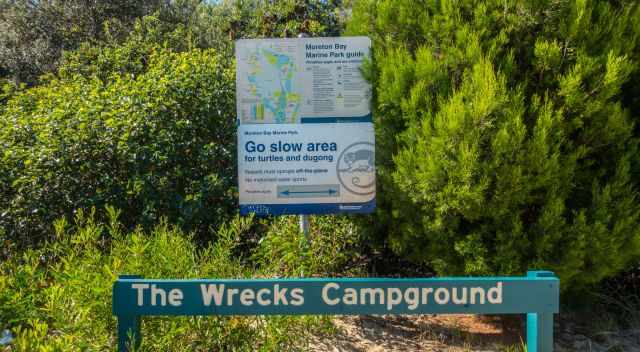 Camping
If coming by 4x4, you have lots of opportunities to choose from, like one of the five campgrounds with facilities or one of the basic ones on the island. Pre-booking is required.
If you visit the island on foot, take the ferry to Tangalooma and pitch your tent next to the jetty. It's just a short walk to the 21 beautifully located campsites. Online booking for the camping permit is essential. Therefore internet access is provided at the information board. Advanced booking is recommended during weekends and holidays. A spontaneous stay is possible but not guaranteed. Showers and long drop pits are available.
Bulwer and the Comboyuro Campground are known to be very family-friendly. The Castaways Café, Resort, and Store has a good selection of groceries for a long-term stay. They also offer beautiful cabins. It takes roughly two hours to walk from Tangalooma to Bulwer.
The Blue Lagoon is a beach campground and also an excellent spot with a refreshing lagoon within walking distance on the eastern side. You can park your car next to your tent or trailer. Facilities are provided.
Ben-Ewa north of The Wrecks reached by 4x4. It's a popular spot for families due to the sheltered bay waters. The campground offers shady sites and protection from stronger winds.
North Point Campground can be reached by 4x4 only. The grassy sites, some provide shade, are closely located to the surf beach. You can't park your vehicle next to the tent for a short distance only.
 
Queensland National Parks Campsite Booking 
Accommodations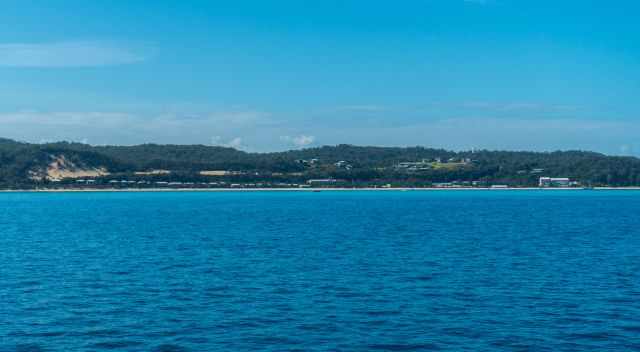 Another option for those who don't want to miss a comfy bed book is one of the view accommodations in Tangalooma on Moreton Island. 
Marine Life Highlights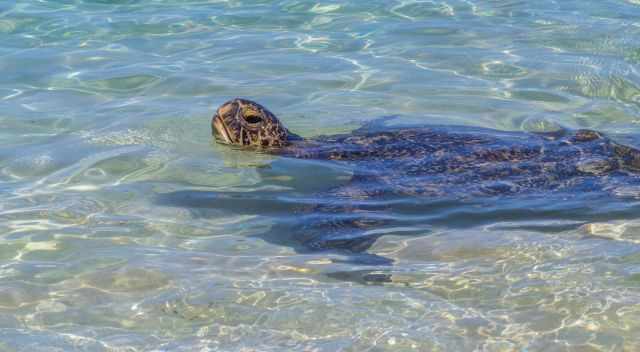 Whale watching at Cape Moreton during their migration from June to November. Book a tour to experience these amazing giants in the ocean.
Dolphins, dugongs, turtles, and sharks can be spotted throughout the year around the entire island on a snorkel tour.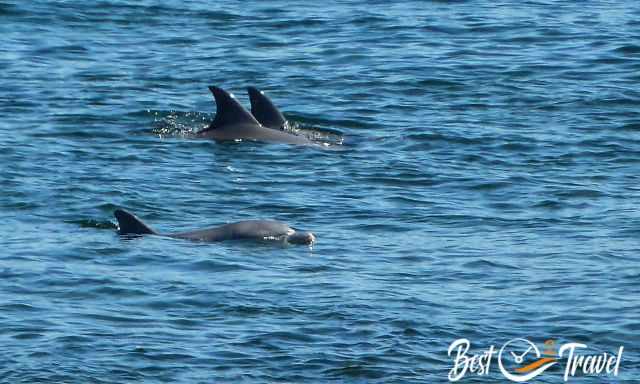 Top Tours for Moreton Island
You can't see it all in one day. Moreton has too much to offer and is too big. You get to see much more on a guided tour to the island than independently without a jeep. Thx for booking via my website! With your support, I am able to provide all information first-hand. Tour prices are at no extra cost!
Location and Tips
Queensland, Brisbane
Australia

Moreton Island is 37 km/23 mi long, and 10 km/6.2 mi is the widest point. The National Park offers unspoiled stretches of white sandy beaches and crystal-clear water roughly 40 km offshore of Brisbane. The Brisbane residents love their island with its proximity. They spend lots of time around Moreton by jet-ski, boat or 4WD.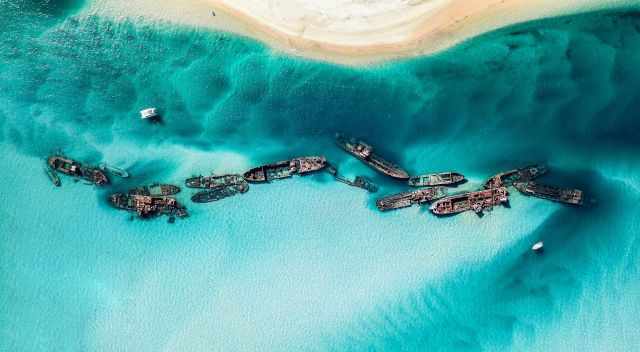 The western side offers calm waters where the wrecks are located, and the eastern side has great surf.
How to Get to Moreton Island?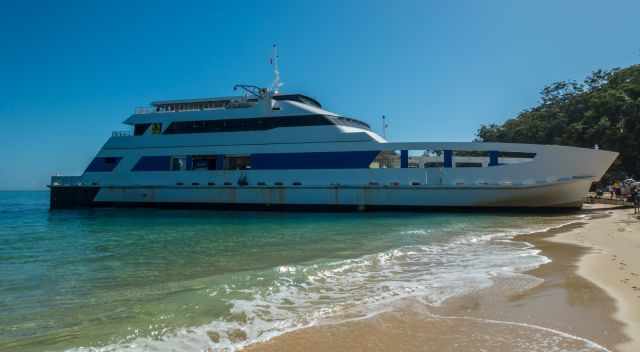 Micat Ferry from Port of Brisbane; Howard Smith Drive It's a 90 minutes ride by Micat ferry to Tangalooma Jetty. If taking the Micat park your car either on their property for a small fee or park the car outside on the Howard Smith Drive on grass marked with white lines. The ferry service operates on demand; during the peak season up to five times but in the low season just once a day but not on Wednesdays. Booking Micat Ferry 
 
There was another option from Redcliffe, Scarborough Jetty to Bulwer, but this service is not any longer offered at the moment; day trips to the wrecks and back only.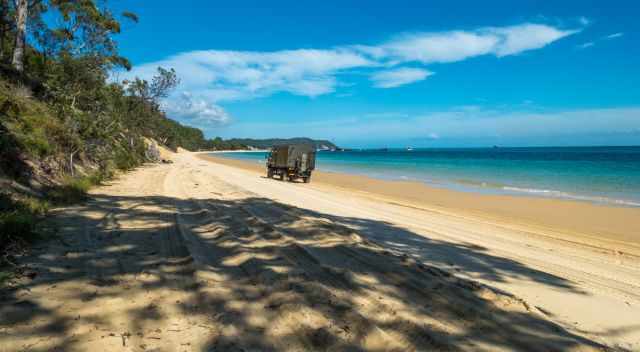 If you like to explore the island by car, a higher clearance 4WD is essential to drive along the sandy tracks. Occasionally, some beaches are inaccessible during very high tides. For a long-term stay, bring your own petrol. A permit for your car is required before entering Moreton. Vehicle access permit for Moreton 
Things to Do and Highlights on Moreton Island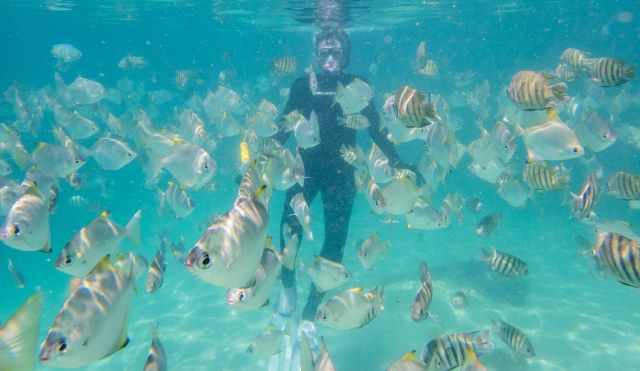 Snorkelling between and around the 15 Tangalooma Wrecks and the beach is awesome. Bring your snorkel equipment or rent it at your accommodation. Be aware of the currents in the open sea when leaving the safe wreck area. The currents run parallel to the shoreline. Don't swim against it; let yourself float with the currents and swim back to the beach when it gets less strong. The wrecks were sunk at Moreton Bay in 1963 for a safe anchorage of the boats. Coincidently a human-made reef with colourful fish in abundance got created. Sea turtles can be spotted here, as well. Residents try to get more wrecks placed at Moreton.
Diving; Flinders Reef, north of Moreton Island, is an excellent spot for diving.
Climb to the top of one of the many dunes for a breathtaking view or to the top of Mount Tempest, the highest coastal dune, and enjoy the scenic 360° view.
Take a bath in the marvellous Champagne Pools at North Point. Volcanic rock and sandstone form a breakwater for the heavy surf.
The Blue Lagoon is an excellent camping spot and a cool, refreshing lake.
Surfing on the eastern side with strong surf.
Sandboarding or sand tobogganing; reach a speed of up to 60 km/h on one of the many dunes.
Hiking, there are plenty of short and half-day walks to explore the island.
Fishing is popular either on the island or deep-sea fishing from a boat.  
Dolphin feeding at Tangalooma Resort during sunset. They also offer a guided snorkel trip to the Tangalooma shipwrecks by boat.
Packing List for Moreton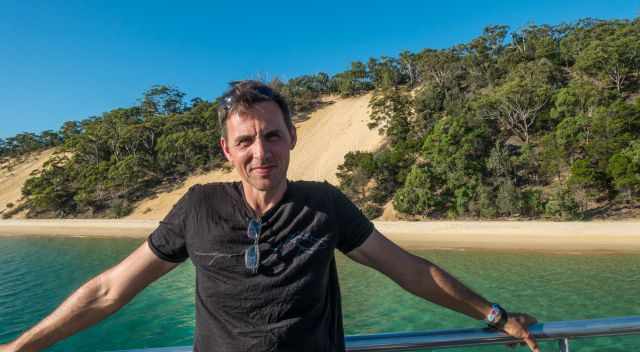 Sun protection and sunscreen don't matter in which season you go. The sun is powerful.
Everything for a great beach day!
Snorkel gear is essential. Don't miss out on this exceptional marine life around Moreton.
Be self-sufficient; there is just one store at Bulwer; bring a picnic, snacks and plenty of water. 
Dogs are almost not permitted on Moreton Island. You can bring your dog to "The Wrecks" campground only. 98% of Moreton belongs to the National Park, where pets are prohibited.