When Is the Best Time
The best time to access the famous and popular Figure 8 Pools safely is around low tide only! The tide and swell must have a low level without strong wind to enjoy the amazing pools. Don't go during high tide, high swell or strong wind. Many people got injured by sudden waves just for a perfect selfie.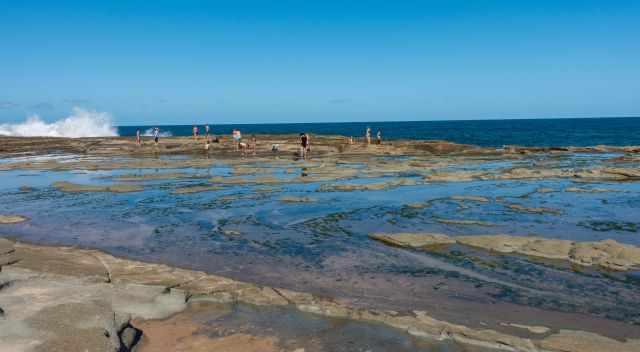 Safety First! A young international student got washed off the rocks in late February 2019. Nine people died in the Royal National Park along the coast since 2016. Don't come here during high tide. Check the National Park Alerts first and the wave status. Two young men got hit by an extreme wave and one drowned.
Tide Times, Swell and Safety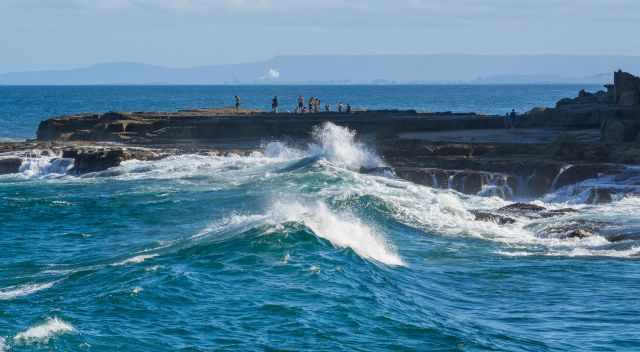 Again, it's only safe to be at Figure 8 pools during low tide, low swell and without strong wind or storm! What you should know:
What does low tide mean? Please, enter the Figure 8 pools only during a low water level. Due to park opening times (read below), you can only be there during one of the two low tide periods on a single day. Plan your visit accordingly: Garie Beach Tide Times and Heights.
When to arrive at Figure 8 Pools? Plan to be at Figure 8 Pools about 1-2 hours before the lowest tide time. Example: Low Tide at 3 p.m. means you should arrive between 1 and 2 p.m. You need to take into account the drive from the park entrance to the parking lot (about 20 minutes) and the hike from the parking area to Figure 8 Pools (another 1 ½ hours or less). 
Is it always safe during low tide? No definitely not!! Keep in mind, that even at low tide, it can be dangerous during critical ocean conditions when big waves reach the rock shelf. Check the official Figure 8 Pools Risk Forecast. When it's set to 'Extreme', don't go. You'll find the same information at the visitor centre when entering the park. We came to Sydney a couple of times. Finally, at our third attempt, the conditions were ok. However, we still were cautious and didn't get too close to the end of the rock plateau.  Disclaimer: I am not responsible for any injury, death, or consequences of any actions taken based on the information provided here. This is just my experience! As you can see in the picture above the waves were powerful even on a fine day. 
Opening Times (Royal National Park)
You can only get to Figure 8 Pools when the park is open, of course. The opening times are from 7 a.m. to 8.30 p.m (Visitor Centre from 8.30 am to 4.30 pm daily. The only closure is on Christmas Day). However, the park can be closed at times because of severe weather conditions or fire danger. Also, plan your way back: You have to hike back to your car and after that, drive back to the entrance/exit. That's a total time of about two hours. If you stay too long and get back too late, you might be stuck in the park. They always close the gates at 8:30 p.m. 
Getting to Figure 8 Pools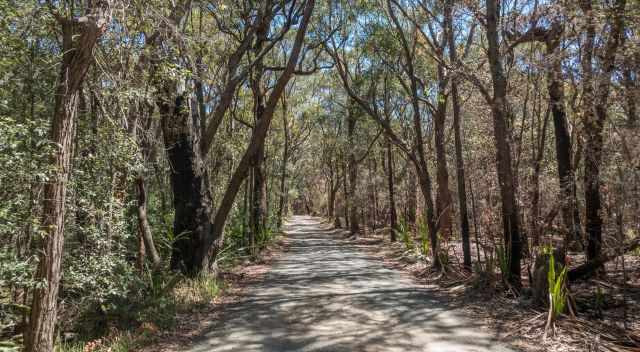 To get to the Garrawarra Farm car park it's a long drive through the park on sealed roads, only 1.5 km is gravel. Space is limited, and you are not allowed to park the car somewhere else. The entrance fee is 12 $ per car if you don't have a multi or annual park pass for NSW. The gate closes at 8.30 pm and opens at 7:00 am. The hike to Figure 8 takes a maximum of 1½ hours, and the trail is 3.5 km long one way. No worries the trail is well marked, and there is no need for a map.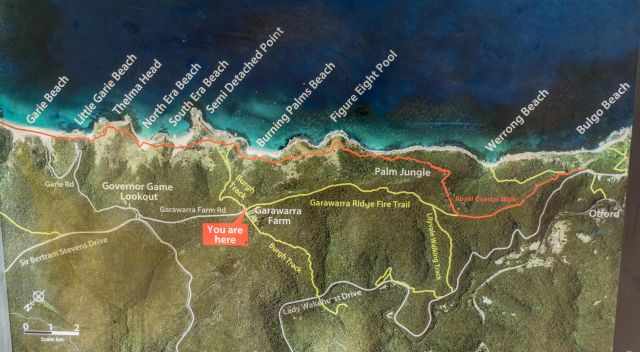 Figure Eight Pools and Royal National Park Beaches Map
Avoiding the Crowds
The park is usually super busy during the summer holidays (mid-December to January) and weekends are even worse. There is a lot of traffic, and the car parks fill up soon. Come early in the peak season; the car parks get closed when they are full. Traffic jams occur pretty often at this crazy time of the year from midday onwards.
Weather
The area around Sydney experiences hot summers with average daytime temps of almost 30°C and mild winters with an average daytime temp of about 20°C. There isn't a wet or dry season, but droughts happen more often nowadays. Rain can occur throughout the year with more precipitation from January to June with its peak in March.
Highlights/Information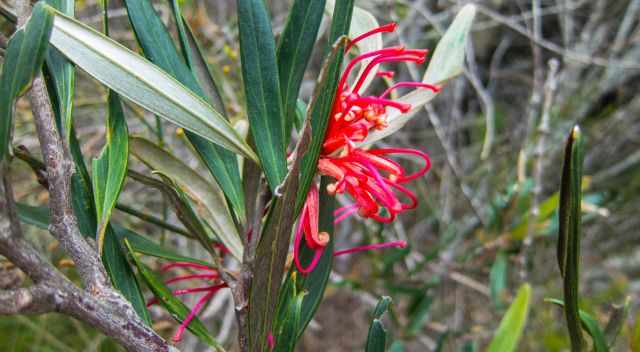 From May to November you may spot whales along the coast.
The Visitor Center at Audley is open daily from 8.30 am to 4.30 pm.
From July to November, more than 700 different plants are in bloom on the plateau.
 
Location and Tips
Sydney
Australia

The Figure Eight Pools are part of the Royal National Park the second oldest National Park in the world after Yellowstone. The park was established in 1879 by NSW Premier Sir John Robertson. The park is the traditional country of the Dharawal. Not only the Figure Eight Pools are worth a visit, but the entire park is also. 
It was our third attempt when we could finally hike to Figure Eight Pools. Before the weather or swell conditions were too bad for a visit. We arrived 2 ½ hours before low tide at the car park. It's a stunning walk through the forest, along with a boardwalk until we reached Burning Palms cabins and beach. The cottages were built between the 1920s and 1940s on privately owned land. The cabins became part of the park in 1966. They are still without electricity, and there isn't any access by car.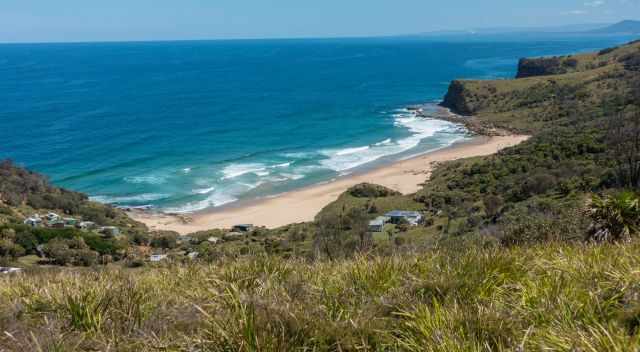 Burning Palms Beach
After passing the beach, you walk and climb over rocks for about half an hour. Some rocks can be slippery. Keep the distance to the cliffs because rockfall can happen always.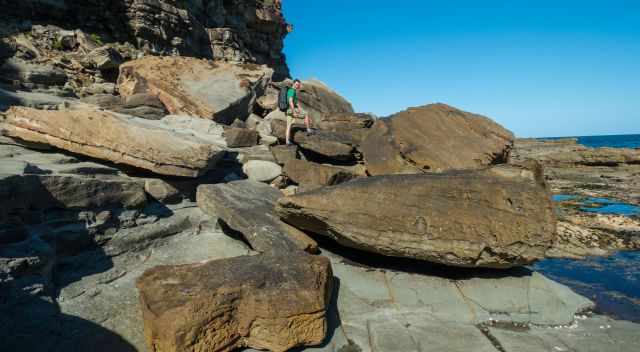 Figure Eight Coastal Track
Watch the sea and waves first if you can already continue walking. You can't miss the pools on an exposed rock platform; it's always busy. Please don't turn your back to the sea; it's treacherous as huge waves can flood the rock shelf and pools seconds later.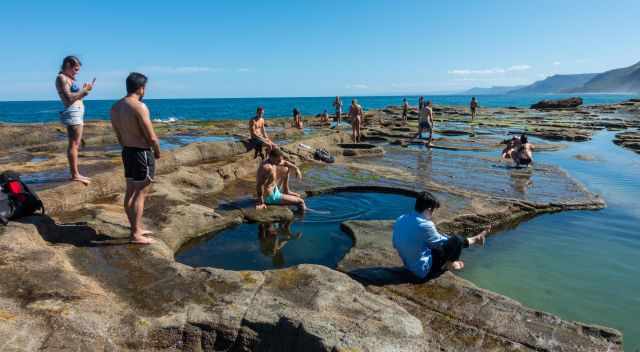 We visited the natural rock pools on November 17 on a weekday. Low tide was in the evening, and only 30 to 40 people were around the pools. Some of them were queuing for a bath and perfect selfie at the most popular pool in the shape of an eight. In our opinion, it's a great spot, and the hike to the coastal rock shelf is spectacular but not worth to risk your life! On the way back to our rental car, we spotted a swamp wallaby which is common inside the park.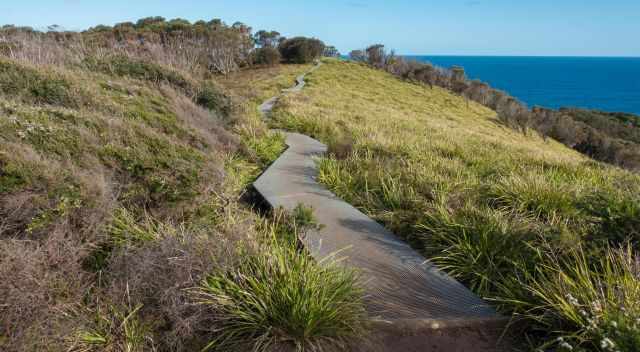 Packing List
Proper shoes don't take flip flops; you have to climb over rocks and snakes occur in the park!
Hat and sunscreen; the sun is boiling and strong during summer
Enough water to drink; because there isn't any place to fill up the bottle or buy one
Picnic or snack; this marvellous trip takes at least 4-5 hours, and you can't buy anything here
Bath clothes and towel
Hiking
The Royal National Park is a hikers dream providing more than 150 km of hiking trails.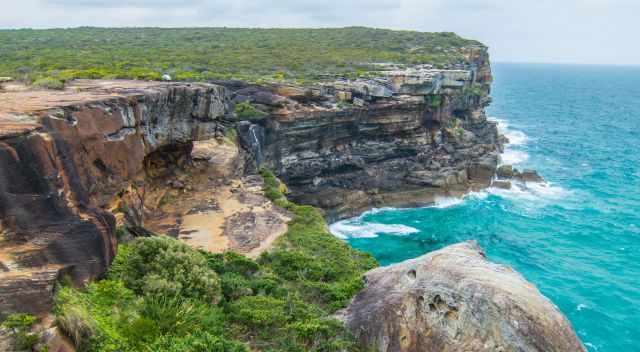 The most popular hike is the epic two days 26 km long coastal walk. The walk offers spectacular views, nature, beaches, and spots for swimming.  Booking is essential for the North Era Campground for the two days hike. It can be done in one, but it's not a loop trail.
The Palm Jungle Loop trail also starts at the Garrawarra Farm car park. The trail is 10 km long and takes around 5 hours. If you prefer to do a longer hike combine this one with the Figure Eight, it's just a short detour.
From the Garrawarra Farm car park, you can get to North Era 2.3 km one way and to Garie Beach 3.7 km one way.
The Wedding Cake Rock is a popular fragile rock formation which is fenced now for safety reasons. The trail starts at Bundeena in the north, and it takes maximum an hour to get there. If you are into hiking, continue to Marley Head.
Camping
Bonnie Vale Campground offers 74 campsites with all needed comfort located at the north end of the park. It has showers, toilets, BBQ, picnic tables and drinking water. The campground is very popular bookings within 12 months in advance are possible. Here the gates are locked from 8 pm to 7 am. Bonnie Vale Campground Booking