When Is the Best Time
The penguins at St Kilda pier are present year-round. Most of them come from the sea after sunset. It's an awesome experience to watch them waddle in throughout the evening after their hunt for fish at sea. It is cute how they walk and jump to their burrows between the rocks and making noise. To spot as many as possible, you need to visit at the right time of day and during the right season.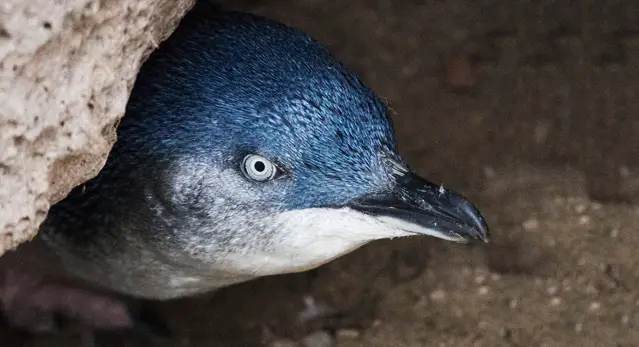 New blue shimmering plumage in autumn
Thanks to my Melburnian friend Rik, I already spotted them a couple of times. He always gives me tons of tips and advice—the reason I had to write this article. I want you to get the same insights for an unforgettable experience. 
Time of Day | When to See the Penguins)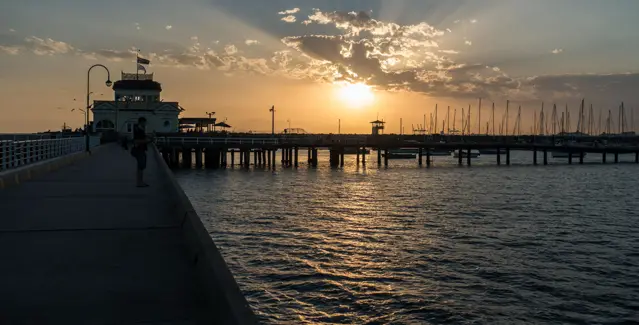 Every day after sunset, the penguins come ashore from the sea to their nests at St Kilda Breakwater. You can spot them waddling to their rock homes after sunset. 9-12 hours later, they get back to the sea before sunrise. The pier is open 24 hours. To spot them, be there any time after sunset. Check sunset (and sunrise times) here: Sunrise/Sunset Melbourne (select the month and then press 'Go'). The best time after sundown in terms of sightings is usually about 30 minutes after sunset. However, keep in mind that it gets crowded around sunset as everyone wants to see these cute guys.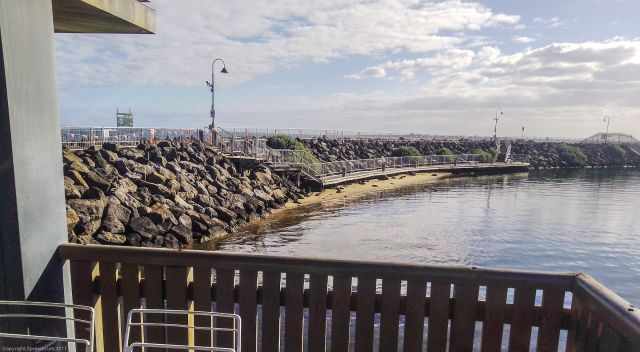 My tips for a memorable visit: 
Visit Twice: If your schedule allows, visit St Kilda twice: Once in the late afternoon and again at or after sunset. Especially in the summer, it's very likely to spot some penguins already in the late afternoon. Visiting before sundown has a huge advantage; you can view and photograph them during daylight. However, it's highly recommended to watch the big groups waddling in after sunset as well but never guaranteed.
Visit at Night / Before Sunrise: If you want to experience a tranquil visit, we suggest two times: Around 11 p.m. or in the very early morning, two hours before sunrise. Particularly before sunrise, you won't see other groups of visitors and can check out the penguins in solitude. After 11 p.m., it's usually quiet as well, except for Friday or Saturday nights. The downside when visiting in the night is the darkness. That means you'd need a very good (expensive) low light camera and a fast lens for taking photos (using flash is not allowed, it hurts and scares the penguins!)
 
Update May 2021: Due to COVID 19, only free ranger-led tours are available to watch the penguins. Advanced booking is essential if you want to visit St. Kilda Pier. 50 visitors are allowed for each session. There's a fence just behind the kiosk/restaurant, and you can't get through. Book either at evenbrite or scan the code (last picture at the end of the article). Just three tours are available each evening duration one hour at 6pm /6.30pm /7pm.
There are building works going on at St. Kilda Beach to upgrade the old storm drain. Not so pretty now, but they are going to build a nice jetty over the top.
My Top Tour Tips for Melbourne

View from the Shrine of Remembrance in the Royal Botanical Garden
Melbourne is a fascinating city the second most popular one in Australia and worth spending a couple of days in. I like the vibrant city life, the parks, and the lovely residents. 
Penguin Seasons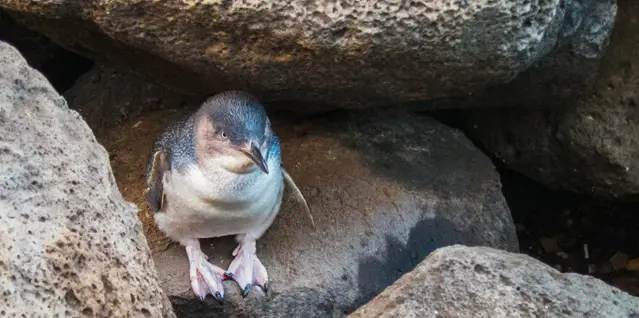 Penguin with dark blue-grey plumage before moulting
Penguins at St Kilda can be spotted throughout the year. However, there are significantly fewer penguins in the late spring and winter months of May, June and July. As soon as the weather gets colder in May/June, they are off on their winter jaunt. Most of the penguins are out at sea for a few weeks, feeding up with fish, getting ready for breeding later. Depending on various factors, the colony at St Kilda starts to grow each year again in August/September. Usually, you can spot plenty of penguins between October/November until March/April. Depending on the month, they build nests, lay eggs, raising chicks or moulting (see below). During the moulting period, usually in January/February, you'll also spot slightly fewer penguins. They are out in the sea to gain weight for weeks. During the moulting season, penguins can't swim and stay on land. If you are interested in seeing the little ones: The peak number of chicks is in November and December.
Penguins Cycle
 
Penguin with new blue shimmering plumage after moulting in autumn
Moulting
It lasts for roughly three weeks. Some penguins are still out in the sea, some moult already. Old feathers fall out, and new plumage grows in shimmering blue. This usually happens between February and April. Penguins are sitting on a rock or in their burrow not going to the sea. If penguins get white feathers, they will die soon; the reason is the stressful moulting.
 
Feeding Up 
Most penguins are out at sea a couple of weeks between May and July to feed up before breeding in spring. They eat as much fish as possible to gain weight. It's believed that anchovies and pilchards are St Kilda penguins' favourite food. In case you wonder where they sleep during this time: Penguins can nap while they're in the water.
 
Nest Building, Egg Laying & Breeding
Some start building their nests between the rocks already early in June or July. They lay eggs a month later, but most in August/September until November. If they lay their eggs too late, the chicks may not survive. When the penguins start moulting, they can't feed their chicks any longer.
 
Chick Raising
After 33-37 days of breeding, the chicks are raised from the earliest in August until the latest in March, although February is already rare. The parent's main duty is hunting for fish and returning to their nest each day to feed the chicks. At 7-11 weeks, the chicks are ready to leave the colony and go to the sea. They are out in the sea minimum for a year, often several years, before heading back to the colony if they survived.
My 3 Tips for Melbourne
Staying at a nearby hotel also means you avoid the traffic, which is horrible during rush hour. Parking fees around are pretty high.
Stay Close to St. Kilda




Crest on Park



I assume you are not only in Melbourne to spot the penguins. Therefore, spend a couple of days here within walking distance to the city centre and the penguins. I recommend at least three nights. When we visited Melbourne for the fourth time in September to show our nephew the penguins, we spotted just two. They were hiding behind a rock. He missed this wonderful experience because we were leaving the next day. The Crest on Park is an excellent hotel. You only walk 10 minutes until you reach St. Kilda Pier. Also close to shops, restaurants and just 20 minutes from the city centre. Trams run right in front of the hotel. Everything is very modern and super clean (opened in 2016). The staff is extremely helpful, rooms and beds are very comfy, it's quiet, and parking in front of. Highly recommended! More hotels after my third tip.

The Beach Boxes of Brighton Beach



Brighton Beach, nowadays one of the coolest places to be in Melbourne. Wedding pictures are taking here. Residents start to sell their colourful beach boxes since one was sold at an auction. Have a closer look at the blue box number 15 with seagulls on it. It was sold for $340.000 in November 2019. That was a new record, and it is just a question of time that the next gets sold.

Are you traveling by car? Then watch the sunset at the famous beach boxes on Brighton Beach (Google Maps Location). During the day it's overrun by tourists, but in the evening it's a relaxed and picturesque place which is a must-do when visiting Melbourne. Afterwards, head back to the penguins. It's a ten minutes drive from St. Kilda. First, pay your parking fee at the ticket machine. Fines are exorbitant high in Melbourne. Once we got a high fine in the city centre. During summer the beach is patrolled by lifeguards. It's a fabulous beach for swimming. The view of the skyline of Melbourne is another good reason to come here.          

It's a touristic spot. Tour buses, especially with visitors from Japan, come to the beach during the day. Come in the morning or even better in the evening. Enjoy the sunset and the atmosphere with very few other visitors.
How to get to Brighton Beach? Take the Sandringham Line from Flinders Station, which takes roughly 20 minutes. From the station, it's just a 500 m walk to the colourful bathing boxes.

Cake Shops Acland Street



Be close to the beach, lush parks, and gardens as well as the cake and restaurant paradise along Fitzroy and Acland Streets. Hungry after watching the penguins coming home to their burrows? In walking distance, just 15 minutes – 1 km are several famous cake shops with a long tradition on Acland Street. (Google Maps Location) Opening times; usually from 8 am to 10 pm. The more than 85 years old Monarch Cakes Shop makes a chocolate "Kugelhopf" with an old recipe dating back to the beginning. It is a popular cake from central Europe. Our favourite one is the apple crumble from Le Bon Cake Shop so far.
My Top Tip to Stay in the Heart of Melbourne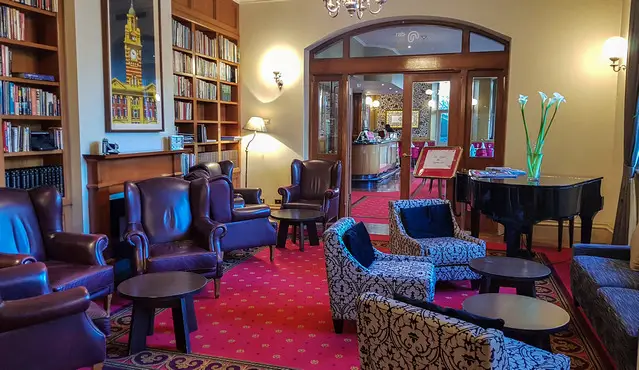 Quest Grand Hotel Melbourne (fairly close)
This is my top tip if you want to stay in the real heart of Melbourne. You could walk to St. Kilda, although this takes over an hour. With public transports in less than 30 minutes Google Maps.  Friends spent here an entire week. They told me the location can't be beaten! The accommodation is amazing, the staff accommodating and comfortable, spotless rooms. You can walk almost everywhere from here! It is Heritage listed and was formerly the Victorian Railways Administrative Offices built in 1893. In 1997 after a total renovation it was transformed into the impressive 5-star Grand Hotel and Grand Central Apartments.
My Top Tip for Melbourne Surroundings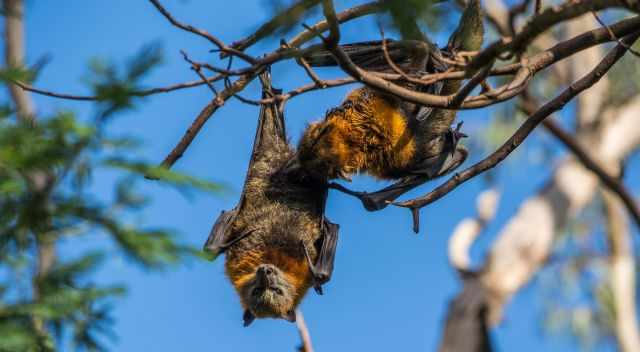 Don't miss out on the fascinating flying foxes at Yarra Bend.
Location and Tips
Melbourne
Australia

St. Kilda breakwater became a Fairy Penguin colony in the 1970s. The rock breakwater was built for the Olympic Games in 1956. Now it is home to roughly 1.400 penguins, and the wild colony is still growing.
Most of the St. Kilda pier is fenced to protect the penguins; only a small part is accessible. Unfortunately, in March 2016, some were brutally attacked and left dead by young people. Please, stay on the wooden platform and keep a distance from them. Volunteers and rangers are at St. Kilda each night to protect the penguins and to answer all visitor questions.
Protect the Penguins

Picture was taken without flashlight just a red torch
No flash photography
No other flashlight, no smartphone light, red light only
No selfie sticks near the rocks
Do not get too close to, touch or feed the penguins
No yelling, music or loud noise
No dogs
No littering
No walking on the rocks
St Kilda Facts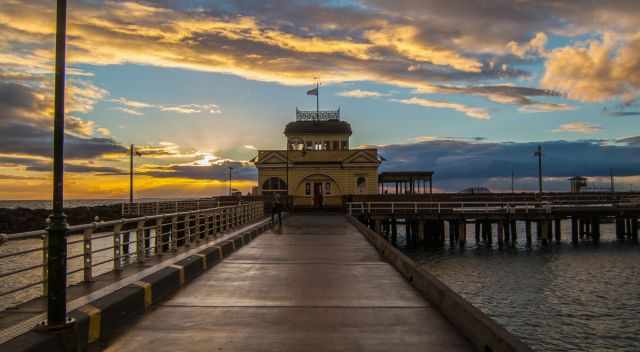 St. Kilda Pier at sunset
No entrance fee
Open 24 hours year-round. Stay as long as you like.
There are St Kilda Earthcare volunteers who will manage crowds and answer questions.
St Kilda is one of only two penguin colonies on our planet located on a human-made structure.
For the penguins, St Kilda breakwater is a substitute for an island, where they normally nest.
Donate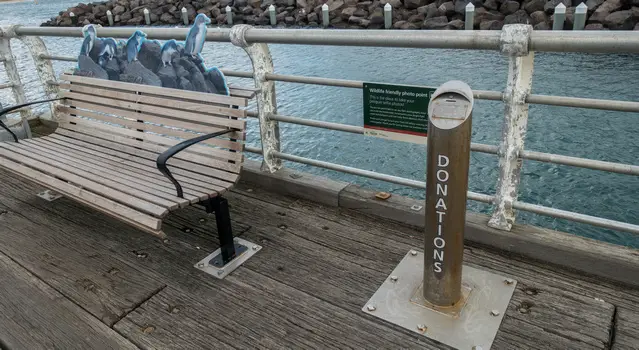 Earthcare of St Kilda was formed as a group of volunteers to protect this unique penguin colony. It would be a tremendous help to donate to the upkeep of the penguin team of St Kilda. The bank details are Earthcare of St Kilda Inc. BSB 633108 Account number 101369809. Alternatively, there is a donation pole on the left-hand side of the pier. It's opposite the far end of the kiosk.
Changes to Protect the Vulnerable Penguins (Fence)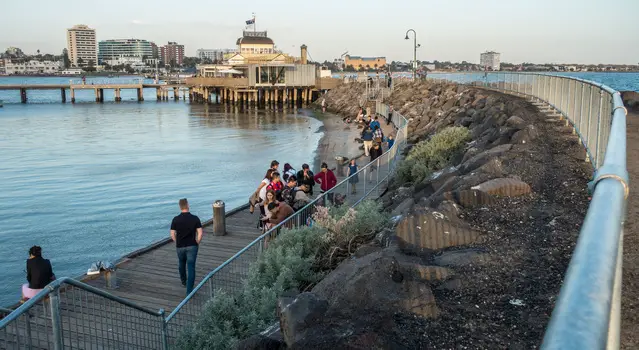 Due to the repeated disturbance of the little penguins, the public viewing area is fenced since July 2017. You are still able to watch them, but please don't touch them, don't' try to put your camera into a burrow. Please let these penguins live in their natural habitat. If they get always disturbed, they will disappear one day.
8 Fairy Penguin Facts
Maximum size 40 cm and weight one kg.
They live on average 6-7 years.
Typically diving between 10-30 meters to catch small fish, squid, or krill.
Some return year-round to their burrow, but most of them stay at sea in autumn and winter. 
In the breeding season, the parents share the 33-37 days' period of egg incubation.
After hatching, the parents leave their chick unguarded to catch fish during the day.
When the chicks are about 5 weeks old, they wait outside the burrow to get fed at night.
Another 2-3 weeks later, they will leave the nest and their parents forever to move to the sea.