When Is the Best Time
Brighton's beach or bathing boxes are truly an iconic place and a Must if visiting Melbourne. It is a great place to hang out with the family, walk your dog, go swimming in the summer, or simply enjoy the view of the Melbourne skyline. The 82 Brighton Beach Boxes are no longer a hidden gem but instead an Instagram spot nowadays.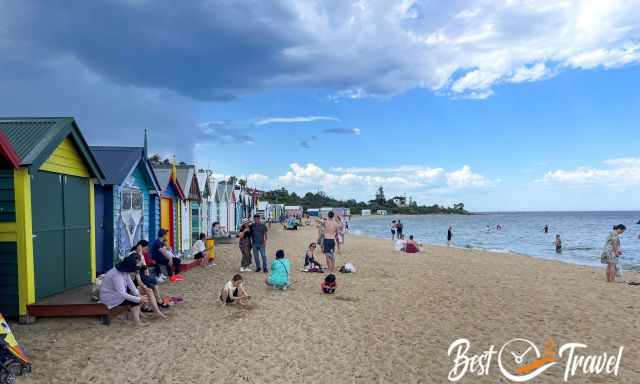 The beach and the picturesque bathing boxes are frequently busy, but you can still enjoy the tranquillity of this incredible beach at specific times.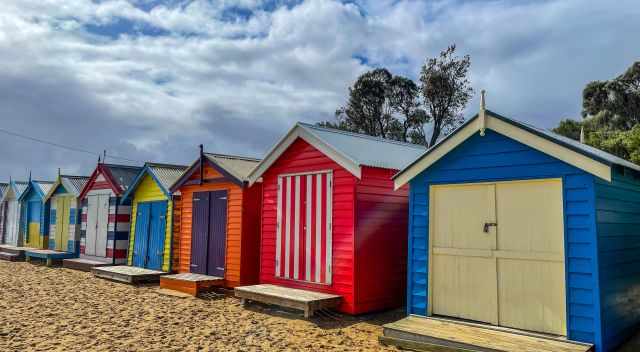 Do you plan to visit Brighton Beach Boxes? The former official car park, restrooms, (Google Maps Location) and entrance are completely fenced off due to the building work for the new Dendy Street Beach Life Saving Pavilion, an upgrade for parking and the public toilets and also a cafe will be built all until mid-2023. It'll be a beautiful futuristic building which integrates well into the surrounding with estimated costs of $ 13 million. However, life savers continue their work for the public!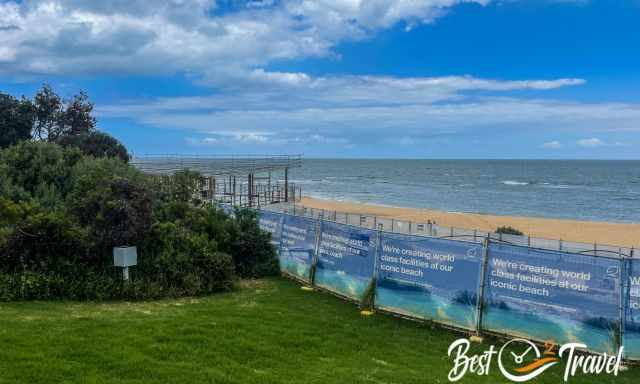 Where to park instead can be found in the parking topic. My friend Rik lives around the corner and provides all information and pictures first-hand continuously also, for upcoming future works to protect Brighton and the iconic Beach Boxes from erosion and heavy wind events planned for 2025. More information below, or use my Table of Contents and jump to the topic immediately.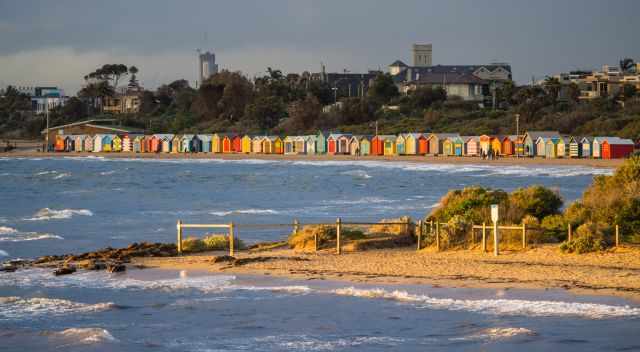 The best time for your visit is the low season, from April/May to October and in the peak season, from November to March, in the morning or late afternoon to evening during the week to avoid the crowds. If you simply want to take a bath here and enjoy the atmosphere come during the day but keep in mind it, is a bit challenging to find parking.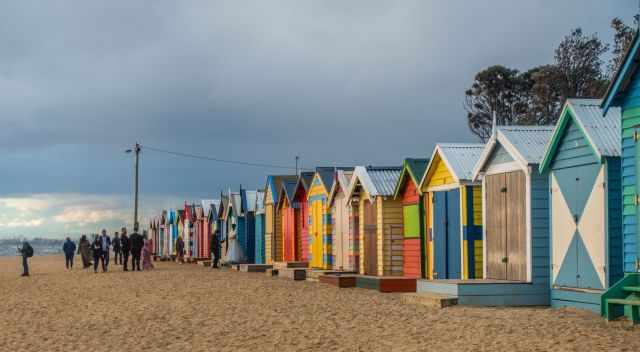 During the day, it's busy with visitors from all over the world and especially from Asia, but it's a relaxed and stunning place in the evening. This touristy spot is crowded at weekends with locals and tourists alike.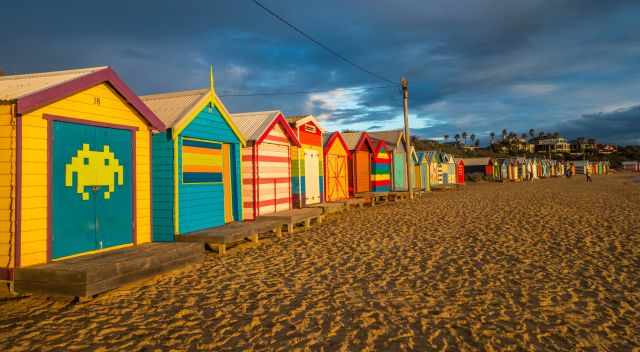 Brighton Beach is a famous stop for tour buses during the day. I highly recommend a visit in the morning or, even better, in the late afternoon, or evening. Enjoy the golden hour for your perfect shots.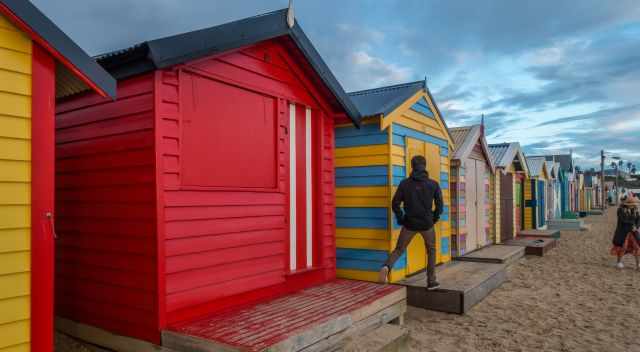 The Beach Huts make a colourful scene at sunset. It's a magical atmosphere here when most visitors have left the beach already. Are you travelling by car? Then watch the sunset at the famous beach huts on Brighton Beach.
During summer, the beach is patrolled by lifeguards. It's a fabulous beach for swimming. The view of the skyline of Melbourne is another excellent reason to come here. The area here is prohibited for boats, so a lot safer for swimming. Don't miss out on the annual swim even in the summer; more below.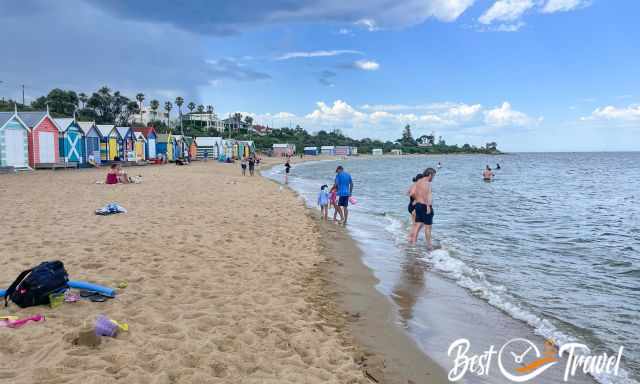 The sea is clean and clear, and I recommend a shorty for swimming. The summer sea temps are around 20°C, and in the winter, from June to August, a lot colder ranging from 10-12°C. Have an eye on the weather forecast for a smashing time at Brighton Beach. 
How to Get to Brighton Beach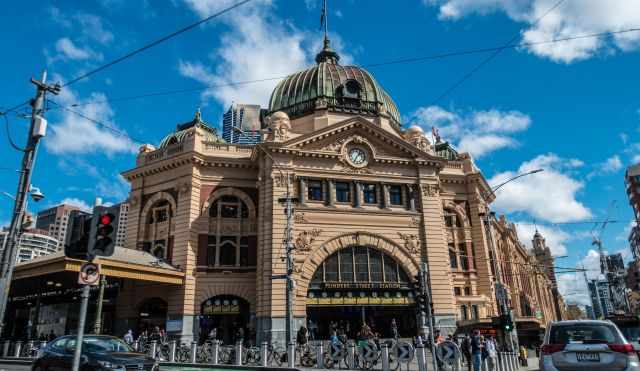 Take the Sandringham Line from Flinders Station, which takes roughly 20 minutes. From the station, it's just a 500 m walk to the colourful beach boxes. 
It is an eight km drive by car south of the St. Kilda Penguins, and there is plenty of parking. Google Maps Route St. Kilda to Brighton Beach Boxes
Parking Brighton Beach Boxes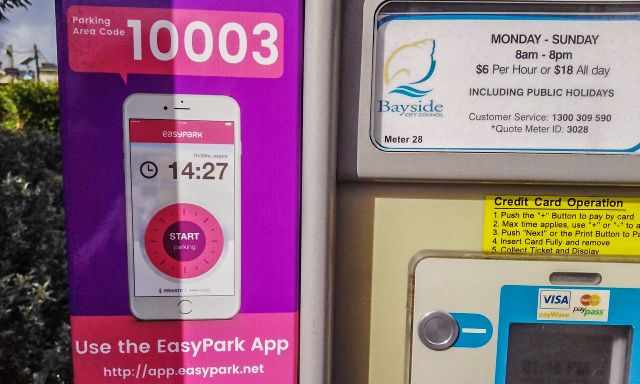 There are roughly just 30 slots for parking which makes it hard to find a space in summer during the day. Don't even think about shoulder parking. Fines are exorbitant high in Melbourne and all of Australia. I know it well we once got a high fine in the city centre. If you are lucky to find a parking lot, get your ticket from the ticket machine and display it on your dash. 
Parking Fee for one hour: $6 and the entire day: $18 until 8 pm. However, entry to the beach is free. 
There are public toilets at the parking and the end of the beach huts. However, think twice if you want to use them.
Update Parking January 2023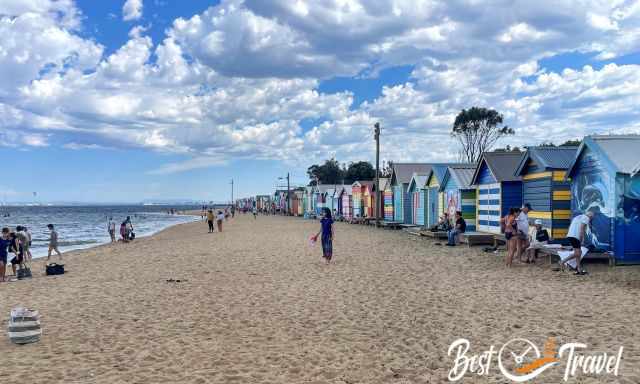 These are the two recommended parking areas which are a 15 minutes walk from the entrance, both having restrooms.
to the South of the beach boxes: Green Point car park, 950 m walk along the beach (Google Maps)
to the North of the beach boxers: Middle Brighton Baths, 850 m walk (Google Maps facilities next to the parking)
There are limited parking spaces in the residential area available, but they are full on busy days.
Annual Swim Event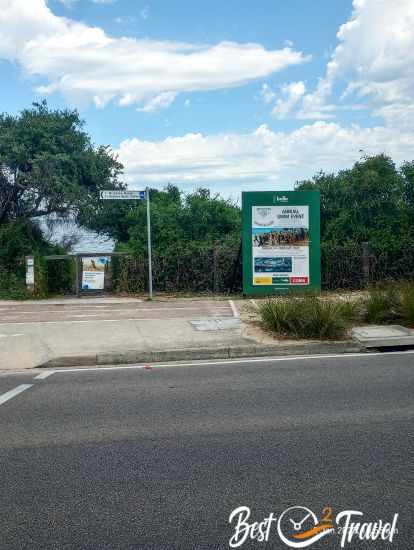 In January and February, there are open ocean & bay swims for all ages all over Victoria. Most of them are 1.2 km long. The one at Brighton beach Boxes takes part on February 5, 2023. Do you like to know more or be part of it? More information and registration link
Weather Brighton Beach
Spring (September-November)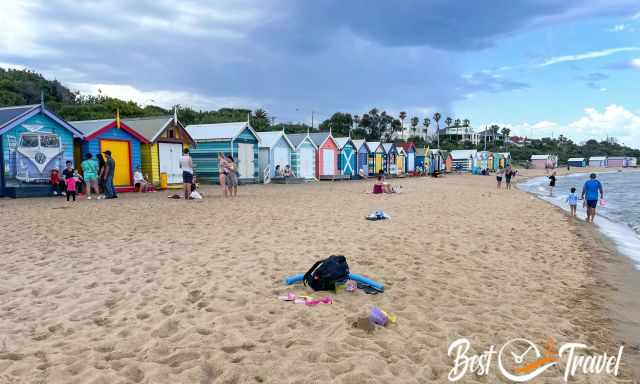 Spring is a lovely season, although too cold for a bath. Day temps are in the low to mid-20s but drop significantly in the evening until 10°C at night. Especially in September, you can experience wintery weather. Rain decreases, and it gets drier in November. Pack a warm jacket into your bag to be on the safe side.
Summer (December-February)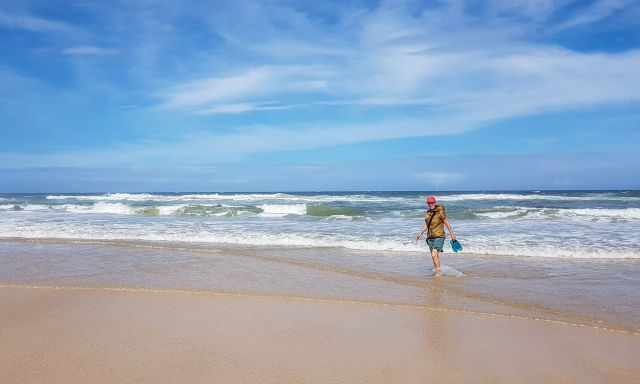 The summer is the peak season along the coast of Victoria, like elsewhere. Day temperatures range from 24-27°C on average and frequently climb to the mid-30s. Nights are fresh and cool, around 15°C. Brighton experiences more than 250 hours of sunshine each summer month. However, the sea is cold, IMO the average maximum temp from January to March is 17°C. The summer is the driest time of the year though showers occur.
Autumn (March-May)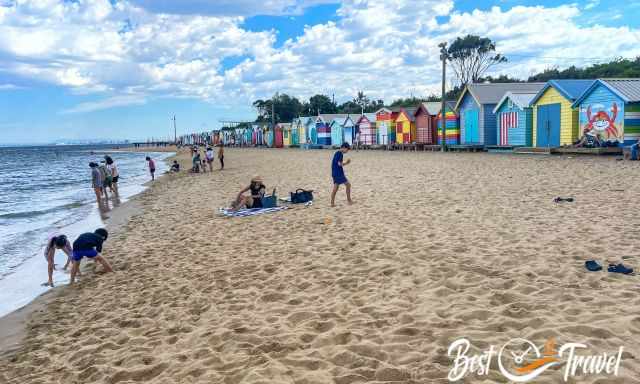 March and April are pleasant months with temps above 20°C and occasionally in the high 20s. May is still nice but definitely not any longer a beach month with 17°C on average. In March, night temps are fine, around 15°C but drop to 10°C in May. Rainfall is increasing in May, and a downpour can occur, but also lovely days. Summarized, during fall, late heat waves but also early cold snaps occur the closer you get to winter.
Winter (June-August)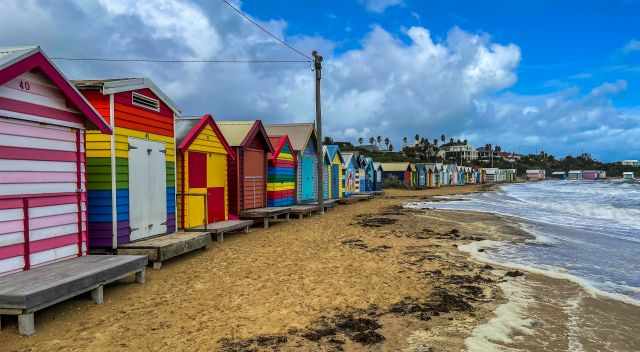 It is colder and sometimes foggy, however, day temps are usually around 15°C but can drop below 10°C from time to time. Nights are chilly ranging between 9-5°C. Nevertheless, the sea impacts the climate, and temps do not drop to freezing. The weather is a bit patchy, and rain occurs more often, sometimes in downpours, but the next day can already be sunny and lovely again. Pack a wider variety of clothes for all weather patterns to be prepared.
| | |
| --- | --- |
| | If you are looking to explore more, I recommend the Lonely Planet Melbourne City Map. It is the most comprehensive guidebook to the city, covering the top sights and most authentic off-beat experiences. It comes in an easy-fold format and includes an extensive street and site index. |
Location and Tips
Melbourne, Brighton Beach
Australia

Brighton Beach, nowadays one of the coolest places to be in Melbourne. Wedding pictures are taken here. Residents started to sell their colourful, brightly painted beach boxes since one was sold at an auction.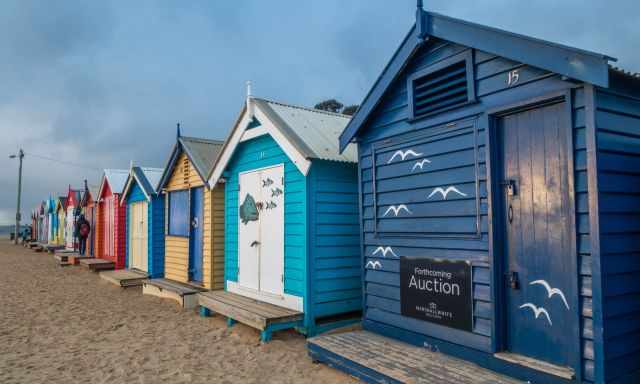 Have a closer look at the blue box number 15 with seagulls on it. It was sold for $340.000 in November 2019. That was a new record, and it is just a question of time before the next one gets sold. These beach boxes at the water's edge are privately owned, initially built for women to get dressed already 160 years ago. The first mentioned bathing boxes date back to 1862.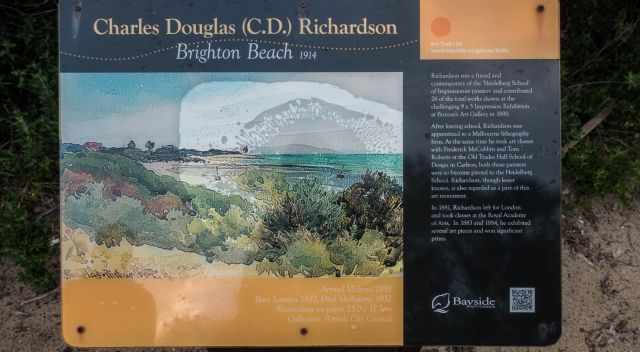 They are simply a shed, utterly basic and don't have much in common with the ones in the UK. In the UK, these huts are often used for vacations, but these are rather small. All are the same size. They neither have electricity nor running water. Even the decoration of the bathing boxes has strict guidelines. It is not allowed to rent or sublet a beach box as accommodation or to sleep in it.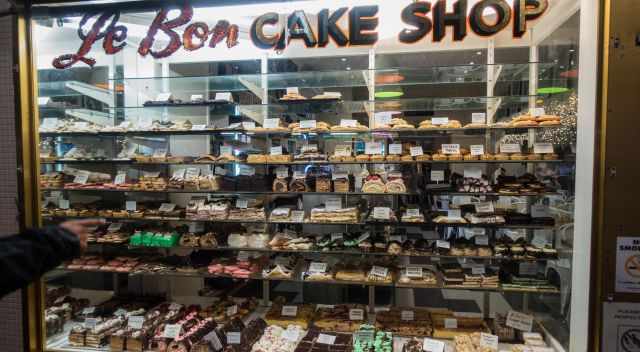 There isn't any food or beverages available nearby. It is an excellent spot for a picnic and if you wish to stay longer bring water, snacks or cake from one of the famous bakeries in Acland Street. There is sometimes a food truck, but you can't count on it. 
My Beach Huts Recommendation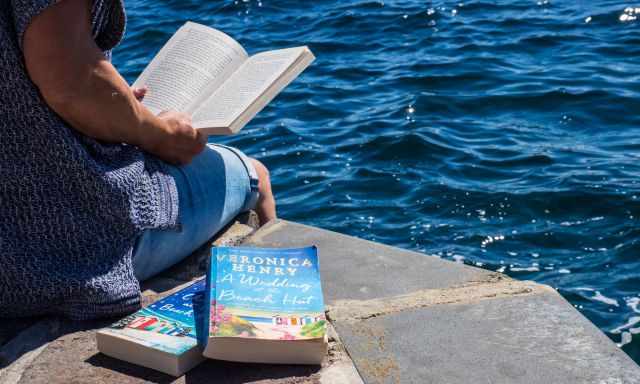 I do not remember what was first these books or the Brighton Beach Boxes but for sure I am fascinated by these small beach huts and the stories told by Veronica Henry.
Bayside Coastal Art Trail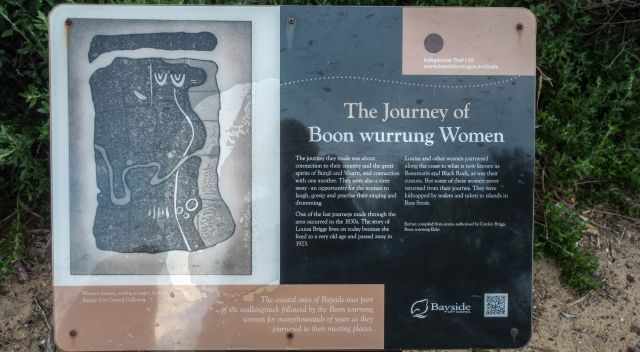 You wish to learn a bit about the history and art of Melbourne and Australia, then consider hiking the Bayside Coastal Art Trail. 
This 17 km long trail starts in Brighton and ends in Beaumaris. The track leads along the coast, beaches, and clifftops. There are more than 90 information boards about the Bayside artists, indigenous, history, and environment. What an exciting hike along the coast.
Leaflets plus map about the four different topics:
Afterwards, visit the popular St. Kilda Penguins. It's a ten minutes drive from Brighton to St. Kilda.
These are my recommended tours via GetYourGuide with 24 hours advance cancellation policy. Thx for booking via my website! With your support, I am able to provide all information first-hand. Tour prices are at no extra cost!
Our wonderful Melburnian friend Rik had shown us the Brighton Beach Boxes. He also provided some of these pictures. Contact me if you wish to use any of our pictures, but we will take action against picture theft!