When Is the Best Time
The Rainbow Falls, located at Station Beach close to the Great Ocean Walk, is easy to reach on a half-day hike. The fall is more of a spring-fed trickle that can be seen throughout the year. Depending on the high tide level, it may be difficult to get close. Therefore it's safest if you consider the tides.
High tide can be quite dangerous with the surf. The best sunlight for a good shot is during the afternoon for the rainbow-coloured waterfall. Tide times
| | |
| --- | --- |
| | Whether you want to snap photos of Sydney's Harbour Bridge, drive the Great Ocean Road, snorkel the Great Barrier Reef, or explore the rugged Outback, I can highly recommend the 3rd edition of Fodor's Essential Australia guidebook. It is packed with maps, carefully curated recommendations, and everything else you need to simplify your trip-planning process and make the most of your time. |
Weather Great Ocean Road
The Southern Ocean has a strong influence on the climate. It keeps the winter warmer and the summer cooler. During summer, the sun is intense, but it is not too hot; there is always a fresh breeze, and temps are above 20°C. Take precautions and use sunscreen. Lots of precipitation throughout the year in the Great Otway National Park. Warmer and "drier" conditions from November to April, however, rain can always occur. Winter is the wettest and coldest season; rains every second day. Day temps in winter are around 12°C, and nights are chilly, around 8°C, pretty cold for camping.  
Don't miss out on my entire Great Ocean Road Guide - 3 Days Itinerary - Top Tips - Where to Stay.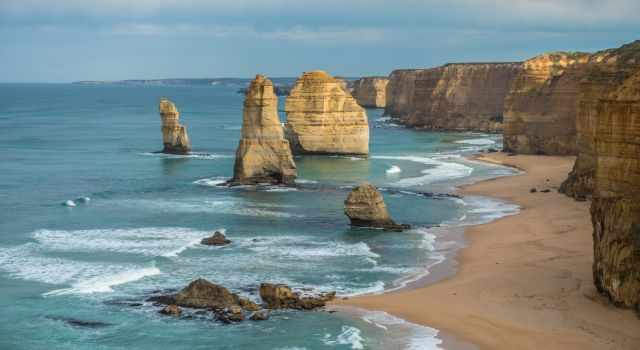 Great Ocean Road Small Group Tours
You can explore the Great Ocean Road by rental car or let other people do the work for you. There are excellent tours offered. 
Location and Tips
Station Beach, Great Ocean Walk
Australia

The return walk to the Rainbow Falls is eight km long and takes roughly 3 hours. You get to the falls either from the Cape Otway Lighthouse or Bimbi Park. From the campground, it is a 45 minutes walk one way through dunes to Station Beach  After the boardwalk at the beach, turn left towards Rainbow Falls. Soak in the wonderful setting of the little waterfall next to the powerful sea. It is called Rainbow due to the intense colours from algae on the rock. We spent a couple of hours here, waiting that the tide turned, enjoyed the terrific waves, and I had a dip in the sea. However, it is not safe for swimming, and the beach is not patrolled; strong currents occur here!!