When Is the Best Time
Koalas are in abundance in the Great Otway National Park. They are often spotted along Lighthouse Road. Another good spot is along the Great Ocean Road. Koalas start being active from the afternoon onwards. During the day, you may see them resting on a branch in the tree.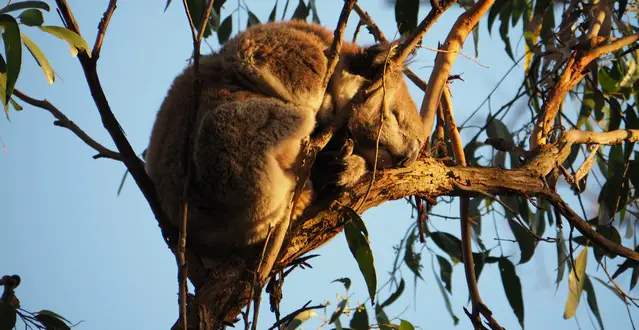 However, they sleep around 20 hours each day. To increase your chance of an unforgettable sighting, stay at least one night in the National Park or along the Great Ocean Road. 
A koala bear sighting at Cape Otway is almost guaranteed if you stay here. If you just pass by, you may spot one or two with a little luck. We spent several nights in the Otway National Park to observe koala bears and for hiking. We spotted them sleeping each morning and feeding on the eucalyptus tree leaves from late afternoon onwards.
We also saw hundreds of kangaroos grazing and two males boxing in the afternoon. Many day-trippers visit the Great Otway. Their chance of seeing koalas feeding and moving is less high. Most of the tourists had already left Cape Otway when these cute furballs woke up. There is much to explore in this area, like the Maits Rest, Rainbow Waterfall or Wreck Beach.
Where to Spot These Cute Koalas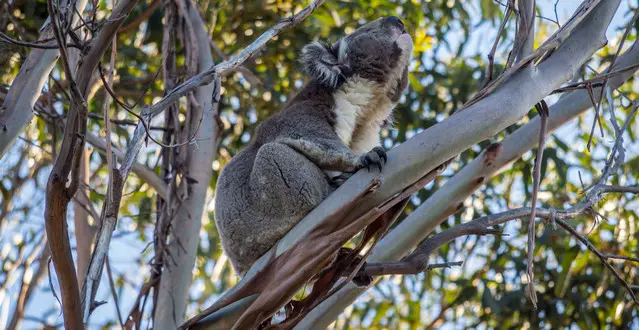 As already mentioned, along the lighthouse road, we always spotted koala bears; sometimes plenty of and sometimes just one. (Google Maps Link)
Another spot along the Great Ocean Road is the Kennett River. We already spotted one when driving along the Great Ocean Road and more on the Kennett River Nature Walk. During midday, the koala bear was resting on the way back we saw several feeding on leaves at dusk. There are mosquitoes around; take precautions. (Google Maps Link)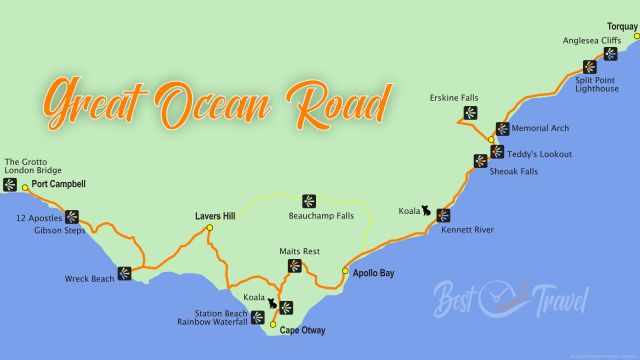 Where to Stay in the Cape Otway National Park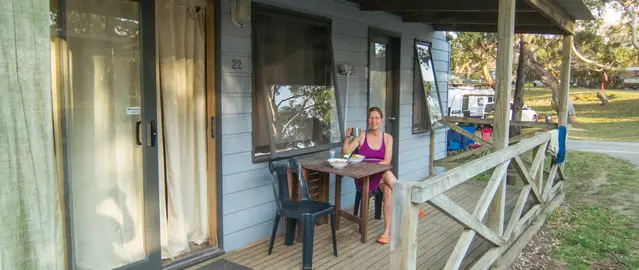 Bimbi Park - Standard Cabin with shared bathroom
There are only a few opportunities to choose from if you plan to stay in the Cape Otway National Park. Check out the link for the few types of accommodations via booking.com in the Otway. We'd chosen a Standard Cabin with a shared bathroom at Bimbi Park all others were fully booked already.
Don't miss out on my entire Great Ocean Road Guide - 3 Days Itinerary - Top Tips - Where to Stay - Season Guide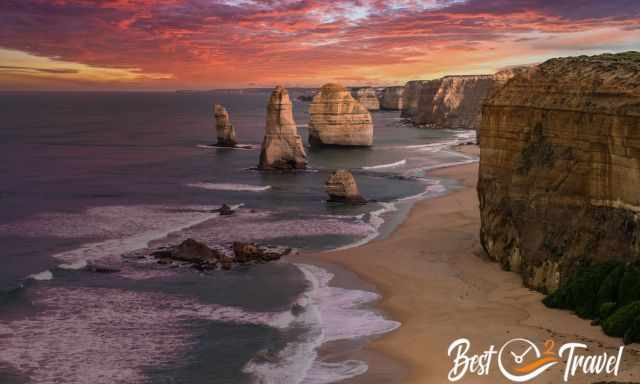 These are my recommended tours via GetYourGuide with 24 hours advance cancellation policy. Thx for booking via my website! With your support, I am able to provide all information first-hand. Tour prices are at no extra cost!
Location and Tips
Otway National Park
Australia

If you wish to spot koala bears in their natural environment, the Cape Otway National Park is such an exceptional place.
9 Facts About the Koalas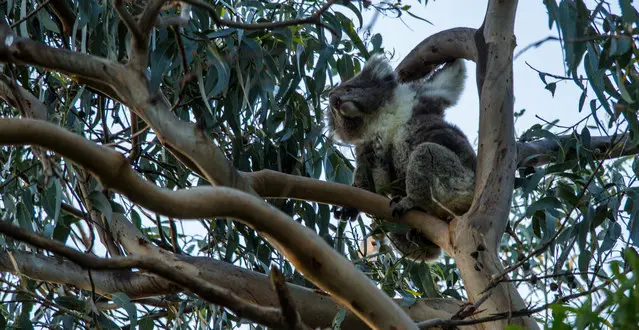 The koalas in Victoria weigh much more, up to 14 kg than their relatives further north.
They get roughly 15 years old in the wild.
These cute guys have a porch and are closely related to wombats.
Koala's preferred diet is eucalyptus which has a high water content but few nutrients. The reason is that they only drink water occasionally.
They sleep on average 20 hours a day because digesting eucalyptus leaves takes their energy.
Feeding on 2.5 pounds of leaves each day. 
The koala baby is called a cub.
The cub stays up to 8 months in the porch but starts leaving it at about 56 months.
They are listed as vulnerable due to habitat loss. They are protected but not their food and eucalyptus trees. 
Do you want to obtain the usage right for my images? Contact me, but I will take action against picture theft.