When Is the Best Time
Tin Can Bay is a lovely town 1 ½ south of Hervey Bay. We got this place recommended to watch humpback dolphins in the wild. All residents are focused and care about the dolphins in this bay. The harbour has strict rules to preserve these rare and almost threatened dolphin species.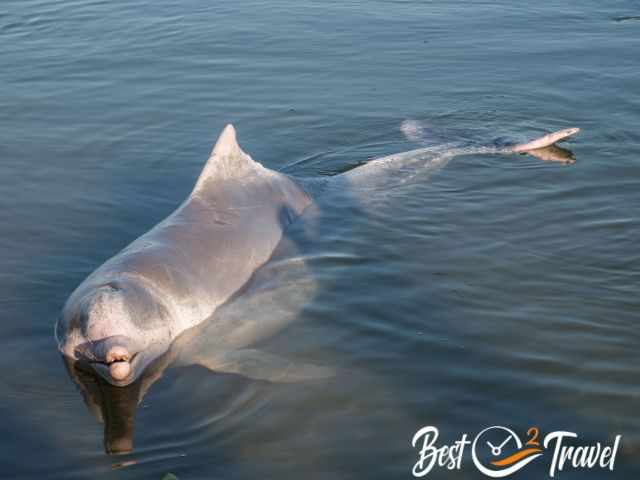 The volunteers of Tin Can Bay do a fantastic job of protecting the humpback dolphins and providing a unique experience to visitors. When we heard dolphins get fed here, we immediately thought no way, nothing for us, but they let the dolphins wild. More about the story and why they appear here below.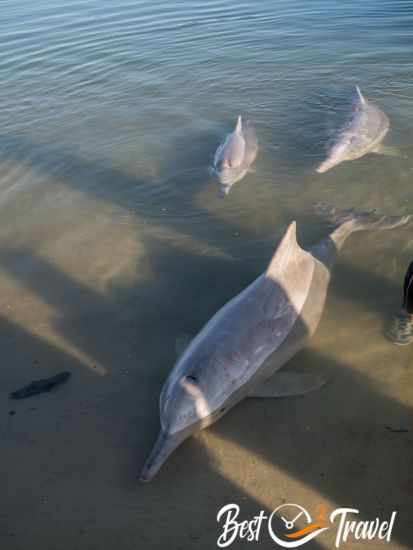 It is not a zoo; petting or swimming with them is prohibited and highly fined. The dolphins' well-being comes first.
When are the dolphins fed? When is the best time to see dolphins?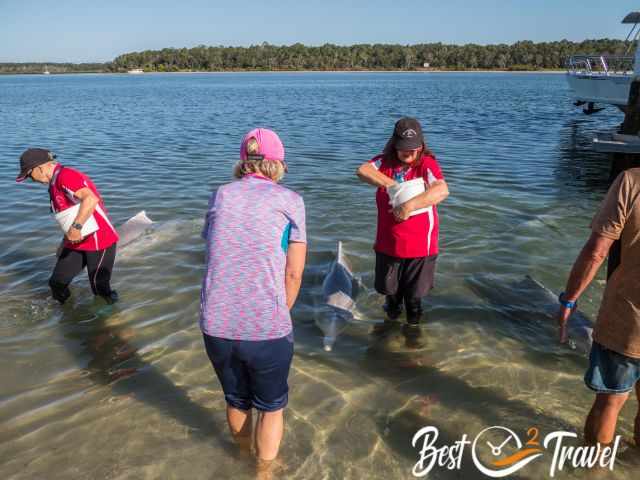 The dolphins, a pod of max. eight get fed each morning at 8 a.m. However, we arrived at 7 a.m., and the Barnacles Café and beach at Snapper Creek were already busy.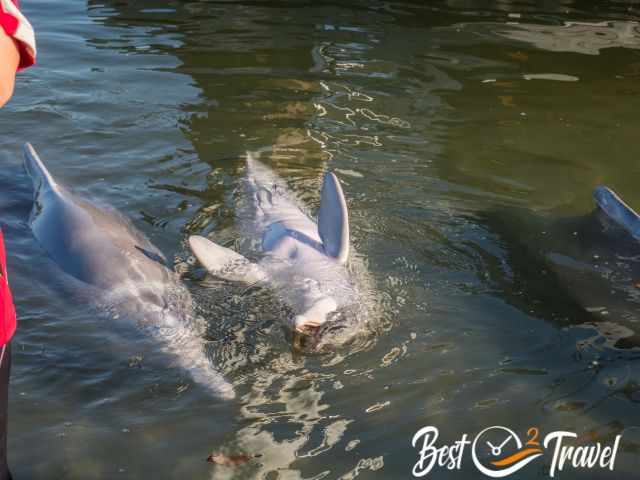 The best time to arrive is at the latest at 7 am.  You get close to the humpback dolphins during the introduction. This may be the closest you ever get to dolphins in the wild in your life. After the introduction, only in small groups, everybody is permitted to give them a fish, but the fingers get cleaned before.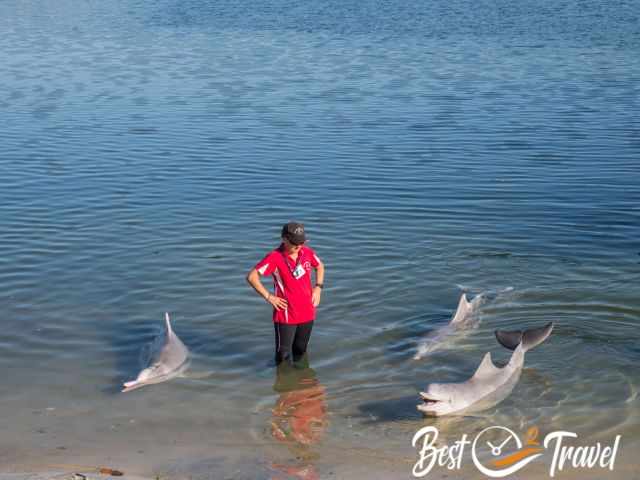 Nevertheless, if it is too busy, you may not be able to feed them. I highly recommend to arrive at 7 am. Depending on the dolphin's weight, they only feed a max. of 3 kg.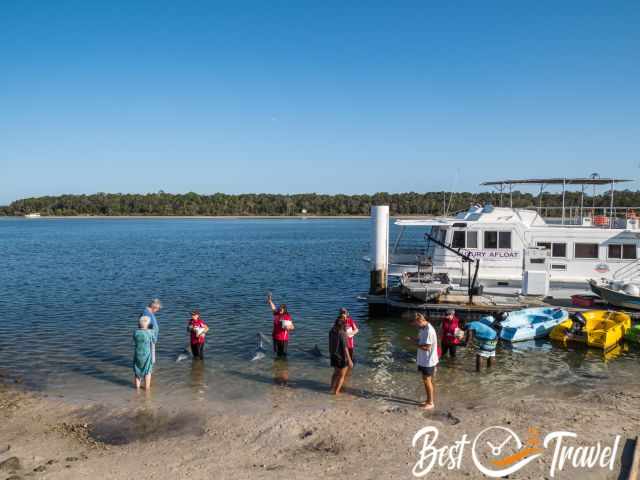 Another thing which matters to watch them up close is the tide. The best time that dolphins show up is around low tide when they can beach on the sand. During high tide, they sometimes do not appear. Low Tide Tin Can Bay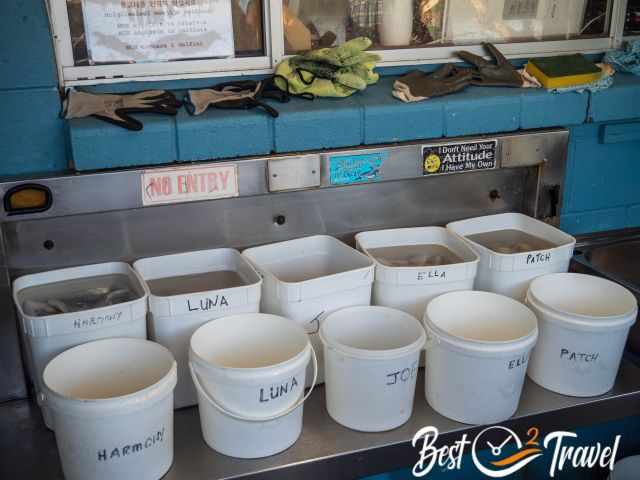 Usually, they come each morning, but there is never a guarantee; it is Mother Nature, and it can happen that none of them may show up.
Feeding fee for dolphins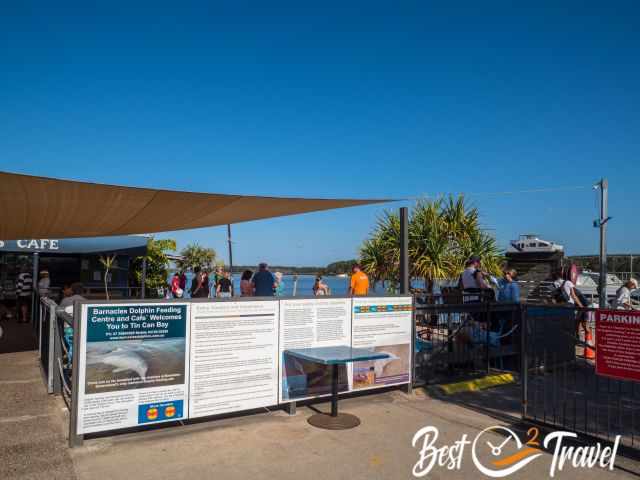 Entrance and feeding fee for adults $ 10 – children are free
The fish is bought from this fee and everything around which is necessary for this unique experience.
Why do dolphins come to Tin Can?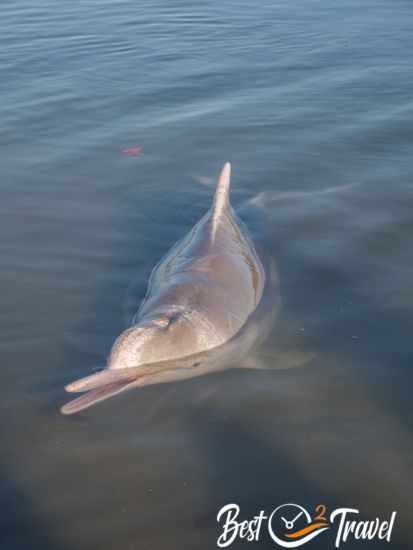 This story goes back to the 1950s when an injured dolphin beached beside the Barnacles Café. The residents took care of and fed him until his wounds had healed.
For generations, the members of this pod have shown up at Tin Can to get an extra meal. Although roughly a thousand humpback dolphins occur in the bay, only this family comes to the morning feeding. It looks like this is a well-kept secret in this pod. They also visit this spot when seeking help when they are injured.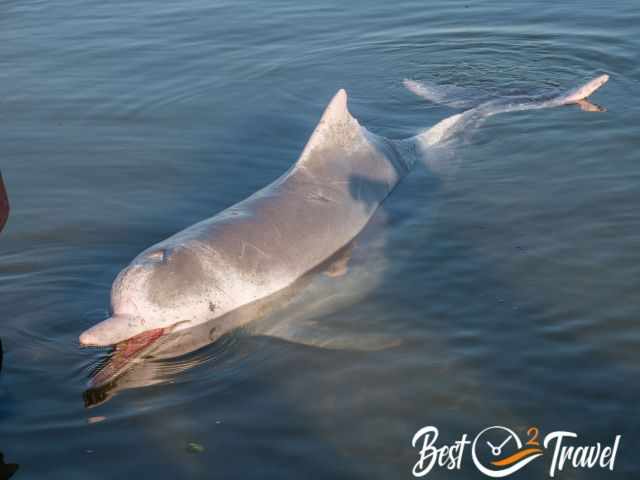 However, the adults usually need around 15 kg of fish a day but get fed a maximum of 3 kg depending on their weight. So, this morning's feeding is actually just their starter. The volunteers and government care about them, and the young ones do not get any fish provided.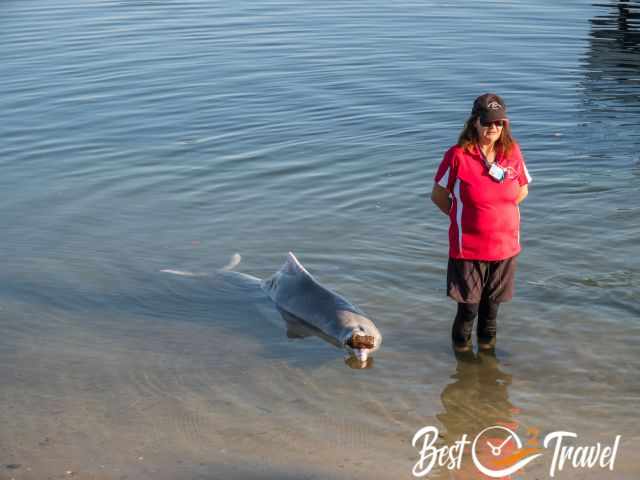 They first must learn to catch fish by themselves. As you can see in my pictures, there is a young one in the back of his mom who didn't get any fish.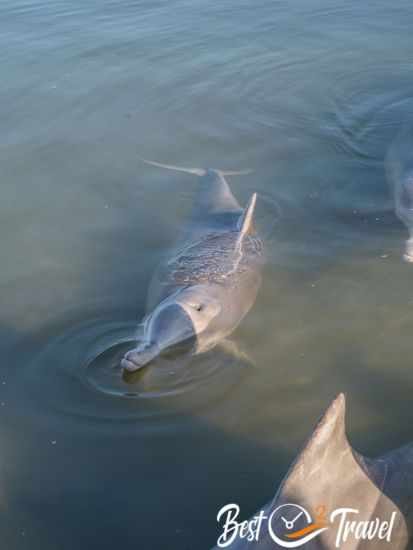 When the feeding is over, the volunteers show them the empty buckets and a minute later, they all disappear to hunt more fish.
Is it worth visiting Tin Can and its dolphins?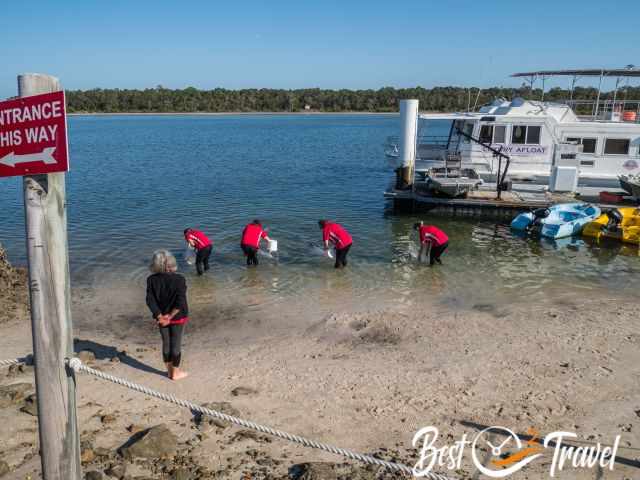 Yes, it is a unique and rare experience; even my husband Markus was totally amazed by giving the dolphin Ella a fish as a morning starter. These dolphins live in the wild and they decide how much they like to interact with you. During our visit four adult dolphins Ella, Luna, Harmony, Patch and a young one appeared at the Barnacles Cafe.
10 Facts about the humpback dolphins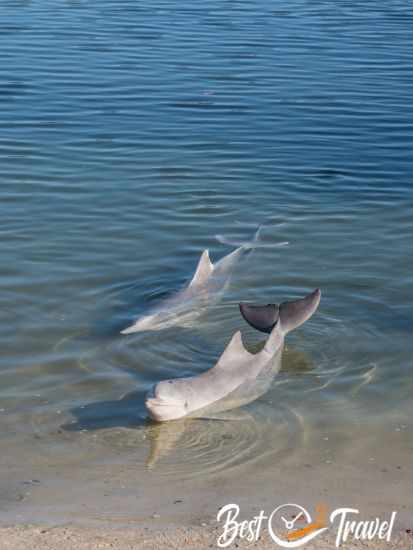 They have a slightly longer beak than other dolphins.
Adults develop a light pinkish colour from the crustaceous they feed on over the years.
They can get 40 years old in the wild.
Length on average 2,60 m and one meter when born.
A newborn weighs 12-14 kg, and an adult up to 200 kg
They are mainly found in shallow waters in coastal areas and estuaries.
Adults feed an average of 15 kg daily.
They have marks on their bodies from fights and shark attacks.
These small dolphin pods are residents; they do not migrate.
Dolphins only rest with half of the brain, and the other half is awake. They do not breathe automatically like we do.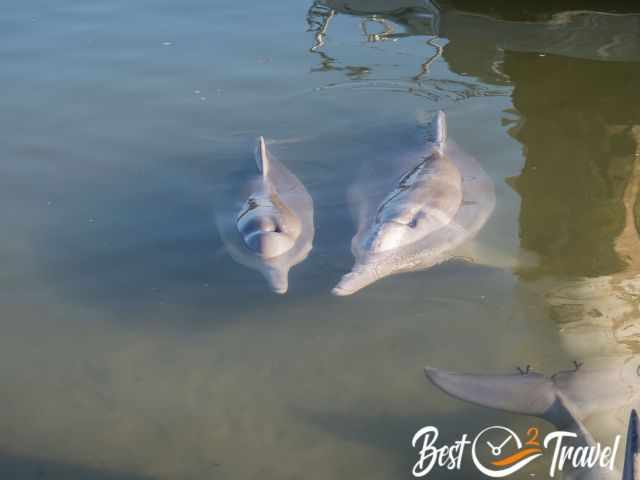 Location and Tips
Tin Can Bay, Queensland
Australia

It is all about dolphins in Tin Can Bay and strict rules are in place if dolphins are present in the bay.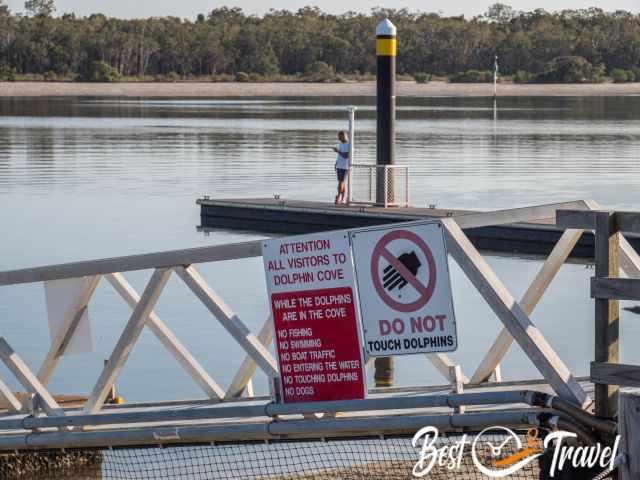 What else to do in Tin Can?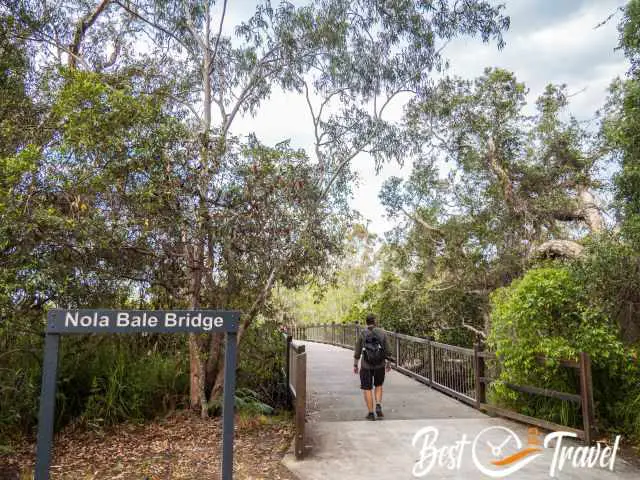 There is a four-kilometre-long Foreshore Birdwalk along the mangroves and diverse vegetation explained on information panels. The residents walked and ran along this path and were all super friendly. The entire path is paved and equipped with boardwalks; therefore also wheelchair accessible.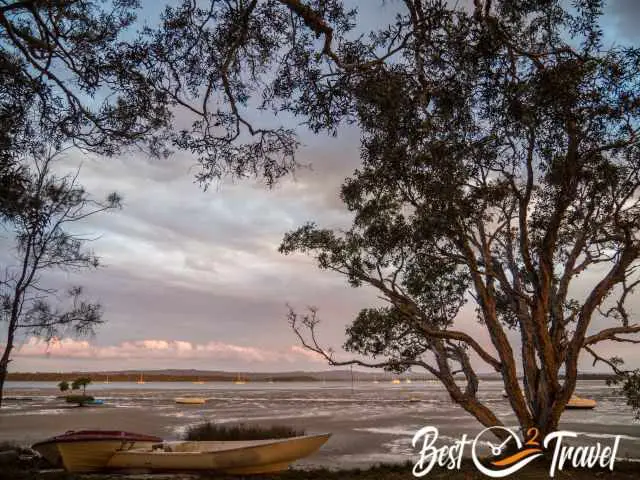 The sunset was amazing during our stay, but we figured out the best spot too late. Attached is a Google Maps link to watch the sunset in Tin Can, recommended by a local.
Where to stay in Tin Can?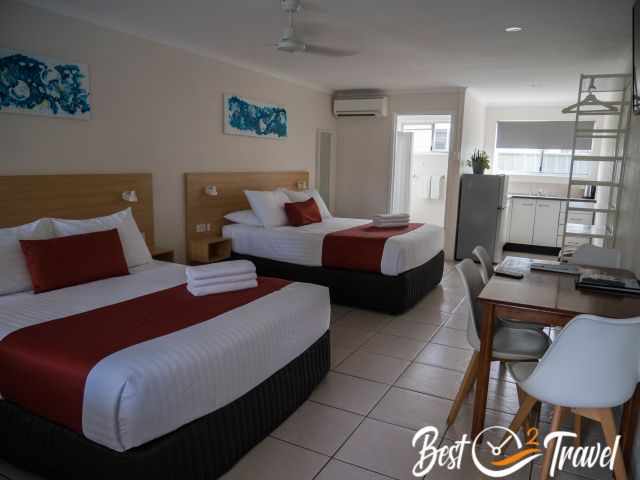 We couldn't wish for better. We chose the Tin Can Bay Motel with huge and comfy beds, a BBQ area and garden and attentive staff. The rooms also have a kitchenette well equipped. It was super quiet here and just a six minutes drive to the dolphins in the morning.