When Is the Best Time
The manatees migrate to Crystal River, Florida during wintertime because they get stressed by the cold gulf if the temperature goes below 68°F / 20°C. Although they look like to be prepared for cold temperatures. Their bodies have not much fat for insulation. The springs have a constant temp of 74°F/23°C. The reason that they gather around the springs. During high tide, they move to the Three Sisters Springs, and at low tide, they gather outside in the channel at Idiot's Delight I and II.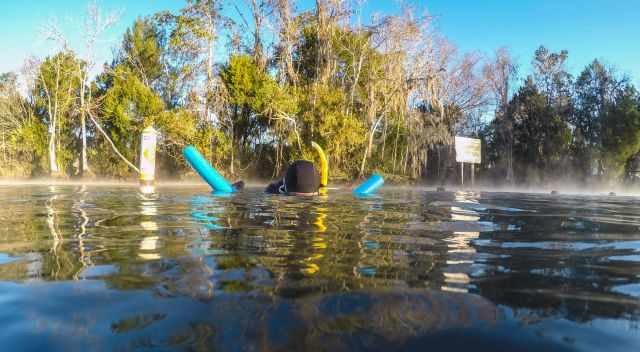 Well needed aqua noodle if swimming with manatees in deep water
The best months for swimming with manatees in Florida is from mid-November to late March. They gather in huge numbers at the springs only in the wintertime only when the sea temperature is too cold for them to survive. The springs have a constant temperature of 20°C/68°F which they need to survive.
While manatees can be found in large numbers from mid-November until mid-March, exceptions are possible. In 2018, for example, they already left the springs in mid-February due to an unusual high day temperature. On the other hand, in one year they stayed until April, even early May. To be on the safe side stick to the mentioned months above. It is an unforgettable experience when a manatee comes close and gives you a kiss or even hugs you. That was incredible. 
Manatee Season
Mid-November-March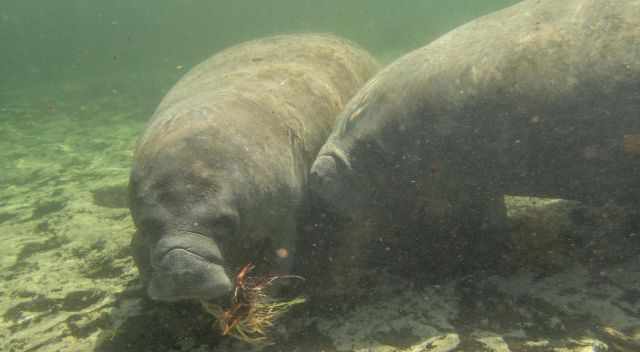 This is the time to spot Manatees and swim with them. The total population in Crystal River can reach up to 800 manatees in the winter. That's why so many visitors come in the winter months. Be prepared for competing with the best tour spots with hundreds of others. That's why it's important to book in advance. 
April-October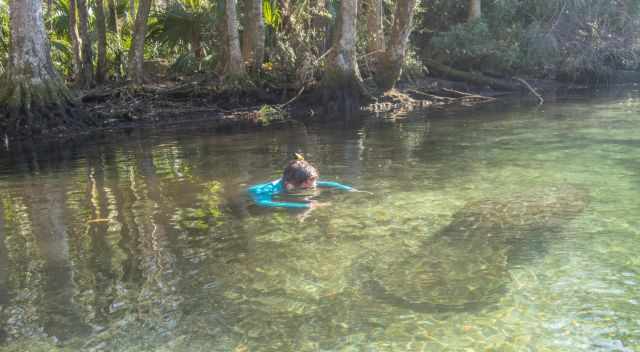 From spring until the fall, you won't see large numbers of Manatees in Florida, as they migrated to the ocean. That's why the manatee population ranges between 60-90 only in the Crystal River area outside of the winter months. That also means, there are still some manatee residents, and there is a chance that you might spot one or two. It's still a nice overall experience as it's much quieter of course with very few other visitors. Now you are allowed to swim by yourself at Chrystal River Springs.
 

Best Time of Day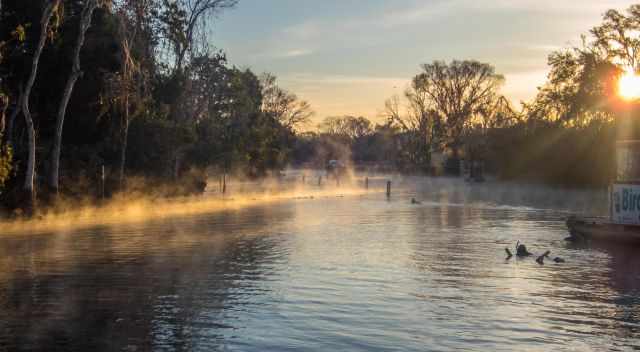 It is almost impossible to avoid crowds while swimming with the manatees. Even in the early morning expect 30 to 40 people in the water. The Three Sisters Springs, however, are tranquil when they open the gate early in the morning and the manatees are most active during that time of day. That means early morning bookings are necessary for the best experience, regardless of other visitors. Do you just want to spot the manatees without swimming? Also get there early in the morning, as this is the time when the manatees are active. During the day and in the afternoon they rest and gather together. However, it is impressive, too when hundreds of manatees stick together at the springs and in the small channels.

Weather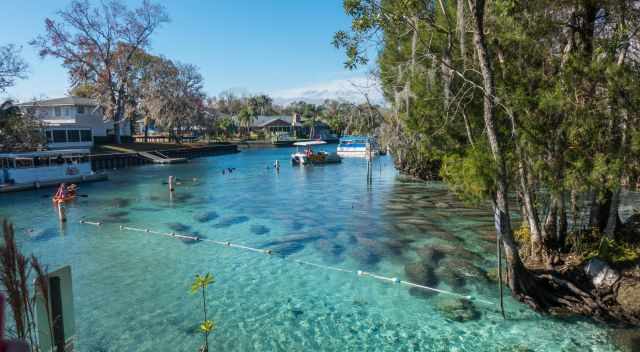 During the peak season of the manatees, it can be pretty chilly in the morning. On average it's roughly 50°F / 10°C cold in the early morning. We experienced 28°F / -2°C which happens rarely. It was pretty cold when we got out of the water. Day temps are usually between 58°F / 15°C and 70°F / 21°C. Precipitation occurs year-round with its peak in the summer months. It's quite hot and muggy in the summer and temps are around 90°F / 32°C.
How Long to Stay
Regardless if you plan to swim with manatees or just want to spot them, I highly recommend staying here for a couple of days. Visit the Three Sisters Spring, have a look at one of the many other springs like the Rainbow Springs and enjoy the manatee encounter. Actually, we planned camping in the Rainbow Springs State Park. Due to the cold night temps of 32°F, we booked a room at the Hampton Inn Crystal River instead last minute. It was just a 5 minutes drive to our manatee tour the next morning. We loved the great breakfast each day.
Location and Tips
Florida, Crystal River
United States

Many years ago, I saw a picture with hundreds of manatees close together. When we decided to leave our jobs to explore a little bit of our wonderful earth, I had known it's time to watch these fascinating animals related to elephants. It is usually guaranteed to watch them during winter at Crystal River National Wildlife Refuge, established in 1983 to protect the West Indian Manatees. This refuge preserves the last undeveloped habitat in Kings Bay. Kings Spring is the largest natural spring in the bay and the main source of the Crystal River. The spring is located in Citrus County, which is quite busy during the wintertime due to the vast number of manatees in King's Bay. It's the largest gathering of manatees in the world during the winter months. Everybody wants to get nose to nose with a manatee. You definitely spot them in high numbers inside and outside of the springs.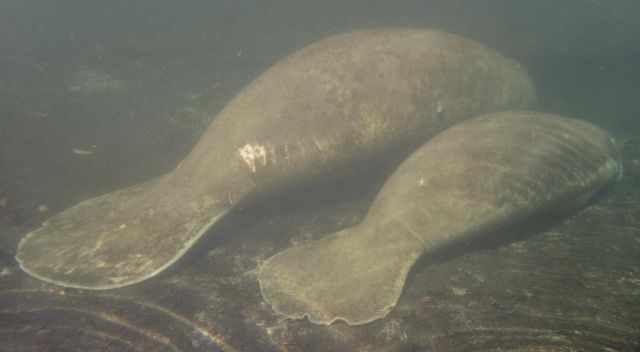 The manatees spend the majority of their time resting around the springs. They are motionless while resting during the day. 
The Three Sisters Springs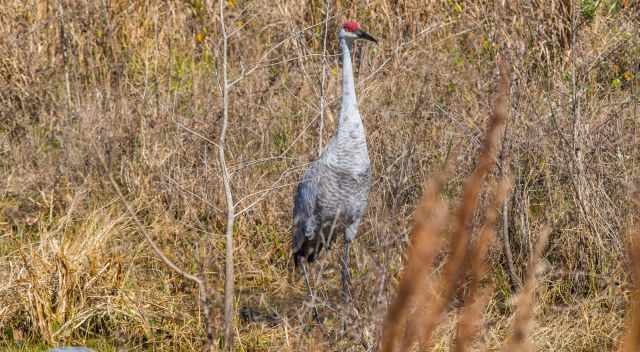 It's the perfect location to observe manatees along the boardwalk. Volunteers answer all questions and offer guided walking and birding trails. Birding is utterly outstanding around the springs, the reason we came here for a second visit. 
Parking: You either have to park your car one mile away at the Three Sisters Springs Center and take a trolley that departs every 30 minutes to get there, or park your car nearby and walk by feet. For your navigation system, enter 123 NW U.S. 19, Crystal River, FL 34428, following the Google Maps Link.
Opening Hours:  The Three Sisters Spring is open daily from 8.30 am to 4.30 pm
Entrance Fee: Summer (April to November 14) $ 7.50, Winter (November 15 to March 31) $ 15
Swimming and kayaking are allowed during the summer. Anyhow, there isn't any access through the refuge. You'd have to come by boat or kayak to get into it. You may spot a manatee, but there are very few view around in summer.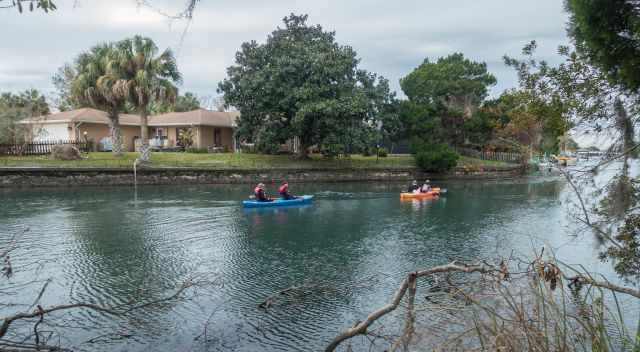 If you don't like to swim in the river in winter, you can go on a kayak tour to get a closer look. There are plenty of tour operators around Crystal River to swim or kayak with the manatees and dive into the cavern at Kings Spring. However, you can also spot them in huge numbers from the boardwalk. 

7 Must-Know Tips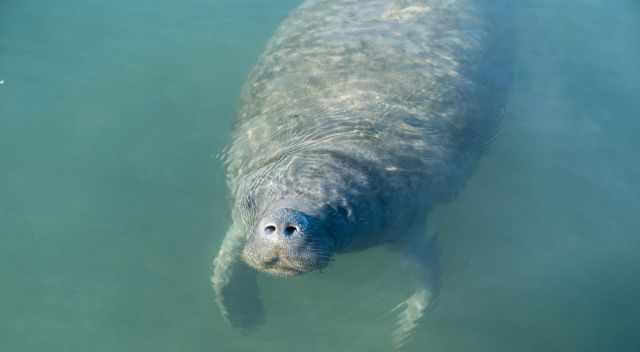 A curious manatee came up close to our tour boat.
Try to book a morning tour as you'll experience the most manatee activity then.
You get a wetsuit borrowed because of the cold outside temperature. I have to confess this was not enough for us. Luckily we had additional neoprene protection with a hoody in our bag. IMO this was utterly necessary to stay a little longer in the water. 
Manatees are usually curious; however, let the manatee decide if it likes to interact with you. Leave your hand still in the water, and they may come, roll over to get pet at their belly. The skin is not soft, more like a grater and warm. 
Manatees are heavy and push you easily underwater by accident. Therefore you get an aqua noddle to stay safe during the guided trip. If your tour leads to shallow water where you can stay, it is less challenging. However, I was surrounded by three manatees playing and got hit on my second trip. Afterwards, I always stood in the shallow water, although these cute guys prodded me to get back. I always left my hand in the water, and the three came to get pet again.
Some tour companies offer pictures on a USB stick, a CD or online afterwards. Check the quality of the pics before you decide to buy them. Due to the many people and manatees in the water, visibility and clarity, pictures are sometimes not as good as you may expect.
Book a second trip and enjoy the marvellous experience even more. After we'd known what to expect and how to behave, we were more relaxed. These interactions were even better.
Do I recommend swimming with manatees? Yes, absolutely, the manatees don't get disturbed if you follow the rules. You get an introduction first. However, you are not in the zoo; interactions are not predictable. 

9 West Indian Manatee Facts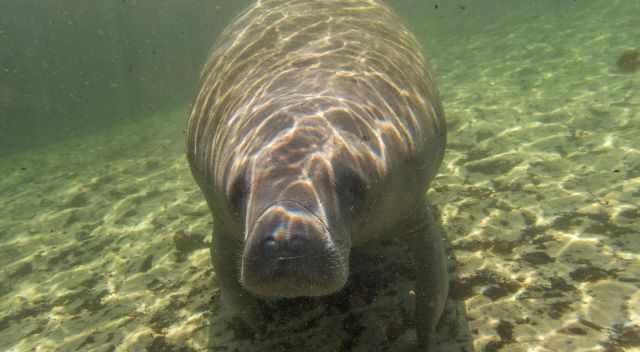 The manatees migrate from Kings Bay and the Gulf of Mexico to the different springs during winter to survive.
They need a water temp above 68°F; otherwise, manatees get stressed by the cold and can die. The temperature at Crystal River is around 72°F/22°C.
These gentle giants move slowly but can reach up to 15 mph.
Their skin is covered with barnacles in the gulf during summer and algae in the springs in winter.
They are an aquatic relative of the elephant.
Manatees breathe every 2 – 4 minutes, resting only every 20 minutes.
A newborn calf is already 3-4 feet long, and an adult in average 10 feet.
The weight is on average 1000 pounds but can be even higher.
Actually, a manatee could get up to 60 years old, but in the wild, often less than 30 years.
 
These amazing giants don't have any natural enemies, but humans cause the biggest threats.
They get injured by boats
Disturbed by humans
Loss their habitat
(It was planned to use the land around the springs for building houses and bottle the spring water. Thanks to all backers who prevented these plans!!).

Other Activities
Kayaking
Birding
Scalloping from July to mid-September
Swimming in the Rainbow Springs
Are you wondering about the different water quality of my pictures? We went on two separate tours at different springs. One spring was the main at Three Sisters with lots of activities by a huge number of manatees the reason for the poor visibility. However, here we spotted the biggest of it all. We went to a smaller spring at the other tour with fewer manatees and younger ones; therefore, we had better visibility in the water.