When Is the Best Time
The Everglades is all about water in many dimensions. I provide helpful tips about the best time, boat tours you shouldn't miss, the five most fascinating boardwalks, and where to spot alligators, manatees, and birds. The Everglades National Park has existed for more than 75 years already.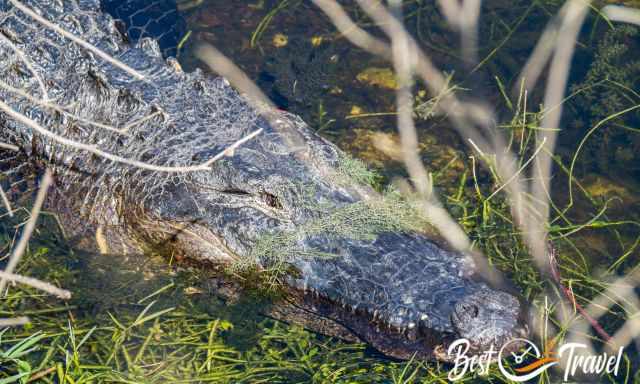 I try to answer all questions you may have about the exceptional Greater Everglades along the Tamiami Trail. You can visit the Everglades without a tour, therefore, my guide became bigger than planned. It is so much you should know before you visit the Everglades, so check out my "Table of Content" below.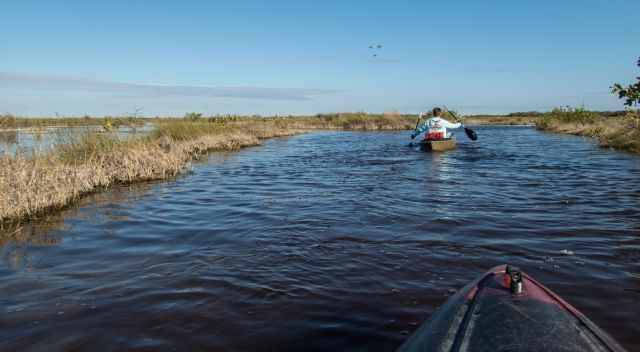 Glades is an old English word for an open grassy place. The native Americans, the "Pa-hay-okee", called it "grassy waters". Often described as a swamp, but it is a vast, slowly moving river. Almost eight million residents depend on this river for their water supply.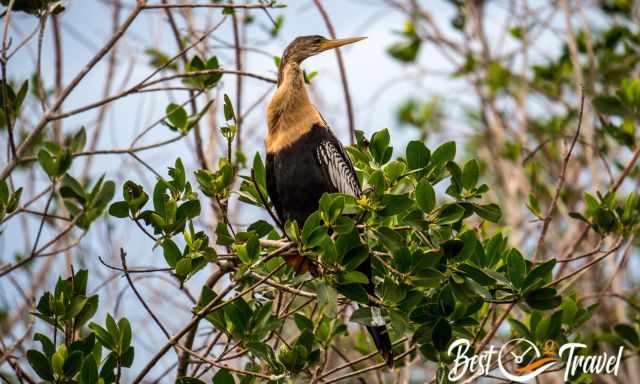 The Everglades is a unique ecosystem of tall grass, branching waterways, swampy land, mangroves, hammocks, and rich wildlife, all merging into one National Park. This 1.5 million acre huge National Park is located in the south of Florida, and the Everglades became the first National Park for its biological value in 1947.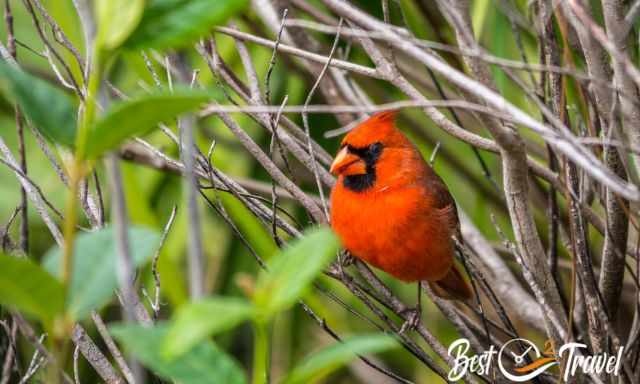 There are three entrances to enter the Everglades and four Visitor Centres. With more than one million visitors each year, mainly in the dry winter, some parts of the park get pretty busy.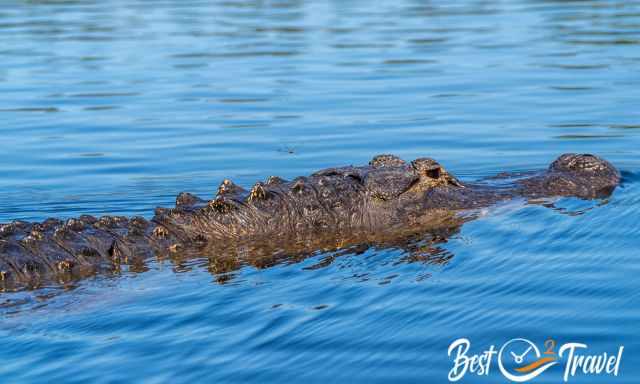 The best time to visit Florida and the Everglades, with fantastic weather and fewer mosquitoes, is from December to April, which is also the busiest time. It is the dry and colder winter season though showers occur. Day temperatures are pleasant with lower humidity. Wildlife viewing and especially birding are excellent.
Seasons and Weather
Winter - Dry Season (December-April) – Peak Season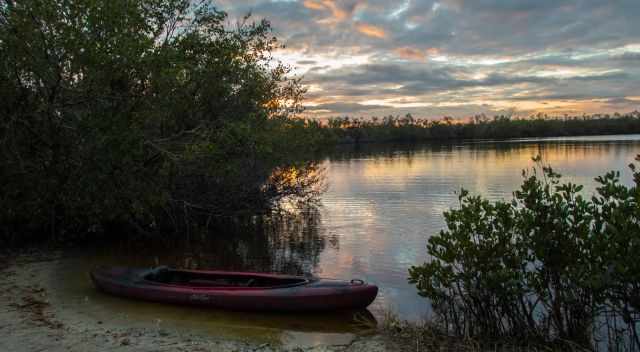 Cooler and pleasant temperatures below 30°C/86°F, lower humidity, clear sky and, in addition, a lower water level. Night temperatures range on average between 17-14°C/62-57°F; occasionally, temperatures are near freezing. Animals gather around the water holes: fewer mosquitoes and biting flies. Florida has a subtropical climate. However, if the state gets hit by a strong cold front, almost freezing temperatures can occur at night.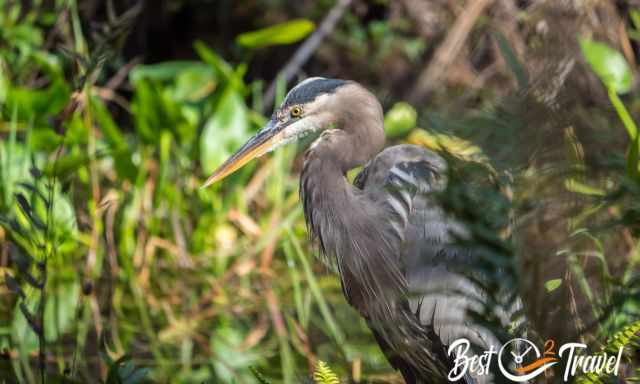 Birding is excellent in the winter, with migratory and domestic birds especially wading birds, attracting predators. January, February, and March offer the best opportunities to watch wildlife during the height of the dry season. Usually, April is the mating time for alligators. Their ritual can last from 3-17 days. They may swim or lay together on a bank for days. Due to low water levels, some mangrove channels are impassable by canoe or kayak from February to May. Quick showers occur, bringing a small amount of rain only.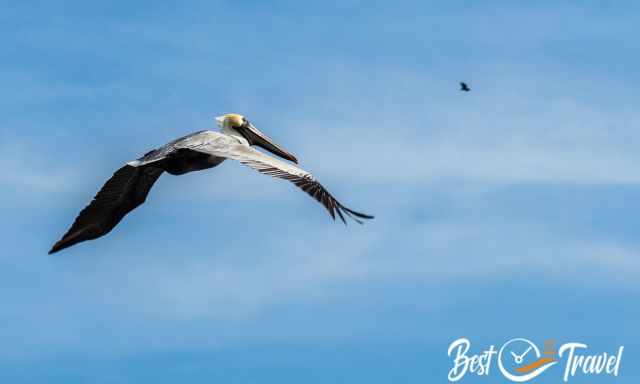 Tip: The winter has fewer daylight hours, December 10.5 hours only therefore, I recommend checking out the sunrise and sunset before your visit.
Summer - Wet Season (May-November) - Low Season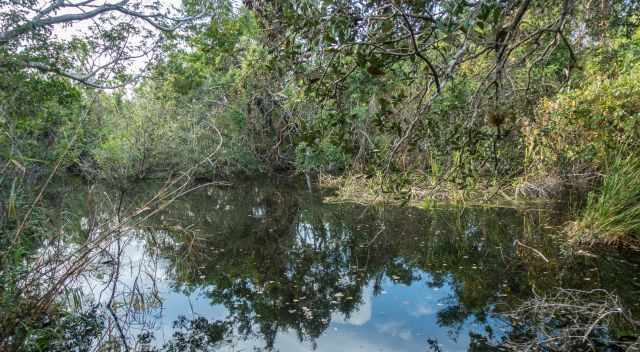 South Florida has a tropical climate; temperatures are above 91°F/33°C, high humidity, and torrential rain and thunderstorms occur. The Everglades is located in one of the most active hurricane areas. You can find damages in the entire Everglades from past hurricanes. However, rain plays a vital role in the Everglades.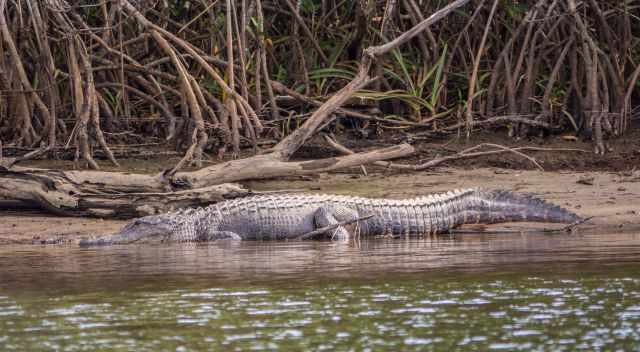 The prairie gets filled up with water. August is the height of the hot and wet summer. During the entire summer, some campgrounds in the Everglades are closed due to high flooding risks, and mosquitoes are an issue often; you even don't want to leave your car or house. 
Camping in the Everglades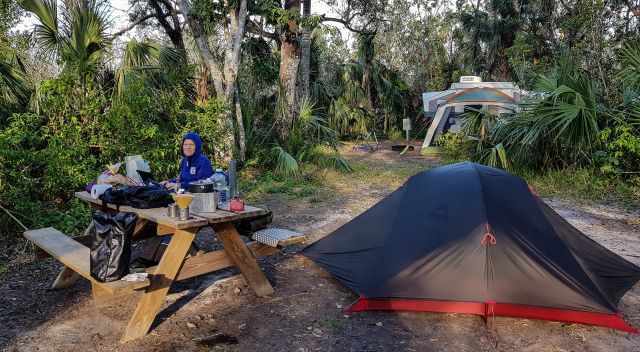 Long Pine Key Campground: 
Seven miles from the park's main entrance located offers drinking water, restrooms, dump stations, picnic tables, and grills for tents and trailers.
Flamingo Campground: 
It offers drinking water, restrooms, showers, picnic tables, grills, hookups, and dump stations. Some sites are available by reservation only, and others are first-come-first-served. Registration is at the Flamingo Marina Store. Reservations are highly recommended during the peak season in the winter, from November 20 to April 15. No reservations are needed during the off-season between April 16 - November 19. During the summer wet season, parts of the campgrounds are closed due to flooding. Mosquitoes are an issue here!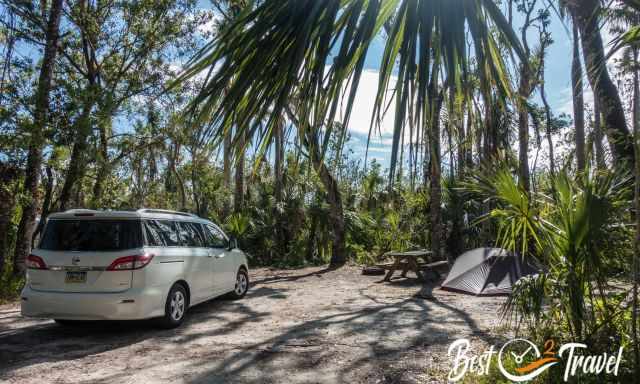 Backcountry Camping - What is a Chickee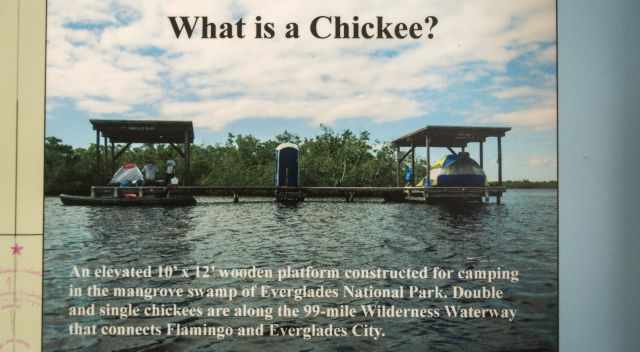 Entrances and Visitor Centers Opening Hours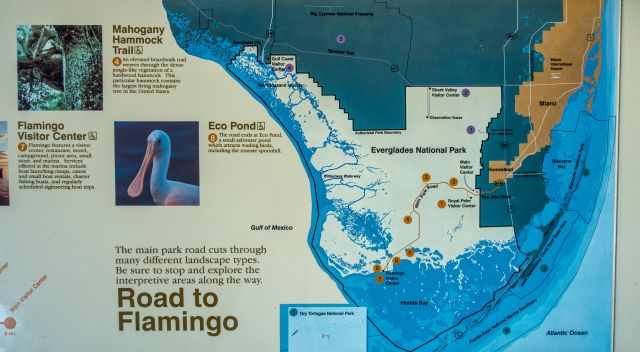 There are three entrances from different directions to the Everglades. 
The main entrance leads to Royal Palm and Flamingo, south of the Everglades. Open 24/7
Shark Valley is the entrance in the north, close to Miami. Open 8:30 am - 6 pm - No access after 6; the gate is closed!
The Tamiami Trail leads from the west, from Naples to Everglades City and the Everglades. Open 24/7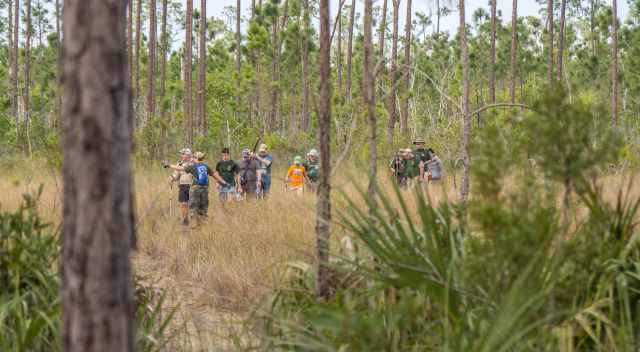 Gulf Coast Visitor Center (Google Maps)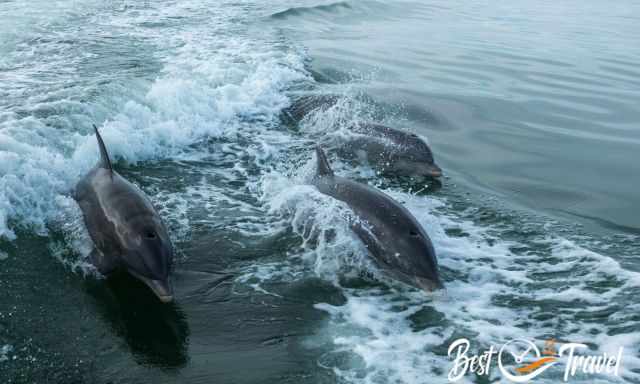 9:00 am - 4:30 pm (Mid-April through Mid-November)
8:00 am - 5:00 pm (Mid-November through Mid-April)
Shark Valley Visitor Center; Miami (Google Maps)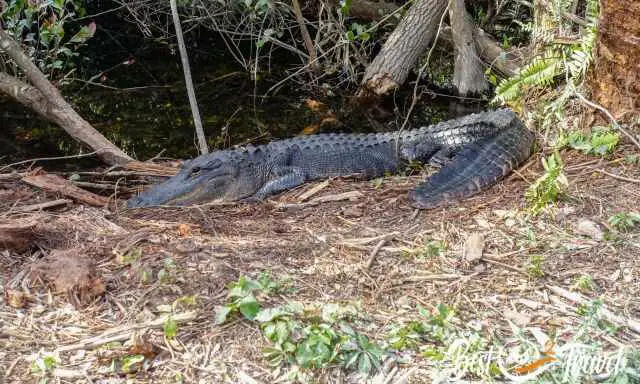 9:00 am - 5:00 pm
Entrance Gate: 8:30AM - 6:00PM
Shark Valley Visitor Center offers educational displays, a park video and informational brochures. Books, postcards, and other souvenirs are available in the gift store.
Ernest F. Coe Visitor Center, Homestead (Google Maps)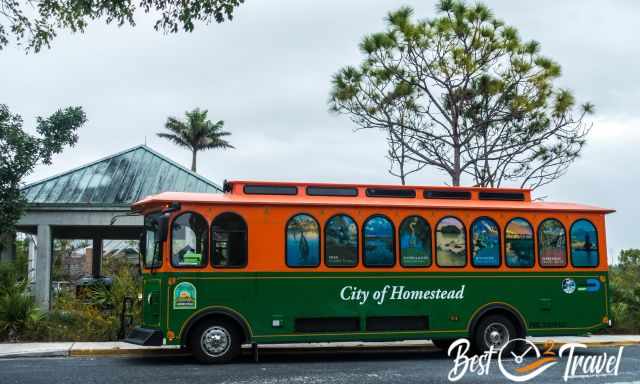 8:00 am - 5:00 pm (Mid-December through Mid-April)
9:00 am - 5:00 pm (Mid-April through Mid-December)
Books, films, postcards, and insect repellents are purchased in the bookstore. A series of popular walking trails begin only a short drive from the visitor centre. Restrooms are available.
Flamingo Visitor Center, Homestead (Google Maps)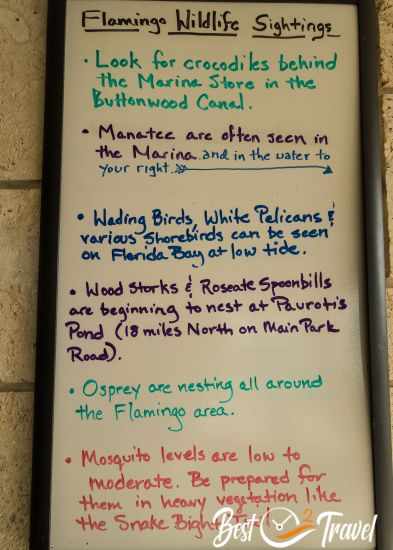 8:00 am - 4:30 pm (mid-November through mid-April).
No regular hours off-season (mid-April through mid-November)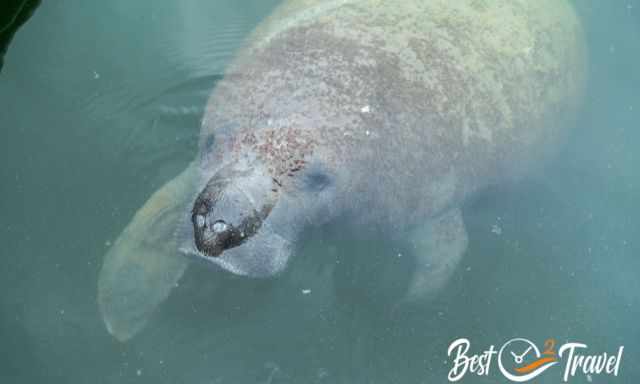 Flamingo is the gateway to Florida Bay. The Flamingo Visitor Center offers educational displays, brochures, and backcountry permits.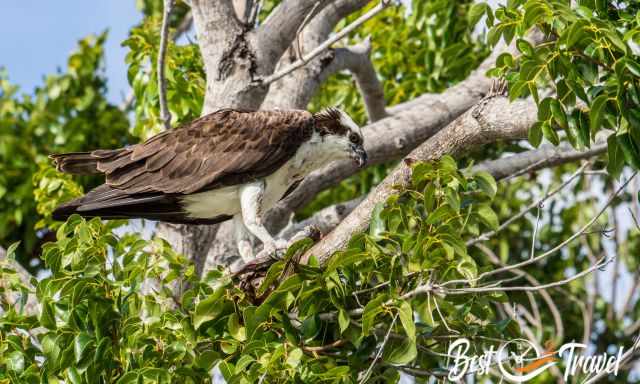 Campground facilities, a public boat ramp, a marina store, and other hiking and canoeing trails are located near the visitor centre. However, it got it by two hurricanes in 2005 and again by Irma in 2017. The reason is that some services are no longer available.
Royal Palm Visitor Information Station (Google Maps)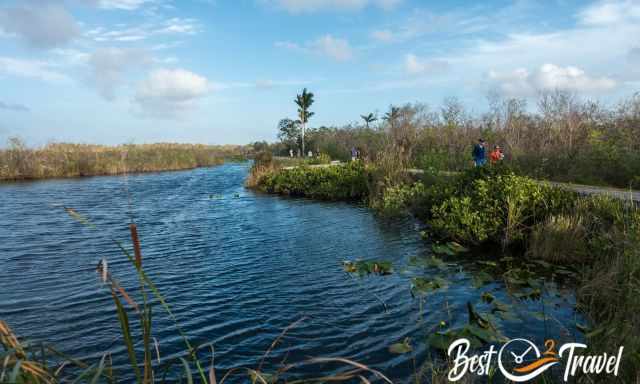 The Royal Palm area was the first protected part and is the heart of the Everglades. The famous Anhinga Trail boardwalk and the Gumbo Limbo Trail start here.
Entrance Fee for Everglades National Park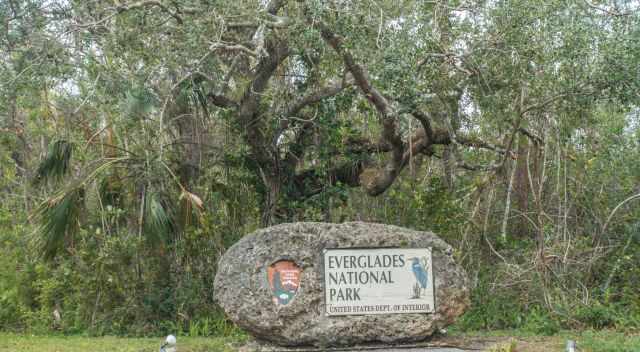 An individual pass for one week costs $15, which is not expensive for this unique National Park. I highly recommend purchasing your Everglades National Park ticket online and saving time.
Free Entrance Days at the Everglades
January 17, 2022: Martin Luther King, Jr Day
April 16, 2022: First Day of National Park Week / National Junior Ranger Day ·
August 4, 2022: Great American Outdoors Act Commemoration
September 24, 2022: National Public Lands Day
November 11, 2022: Veterans Day
How Long to Spend in the Everglades National Park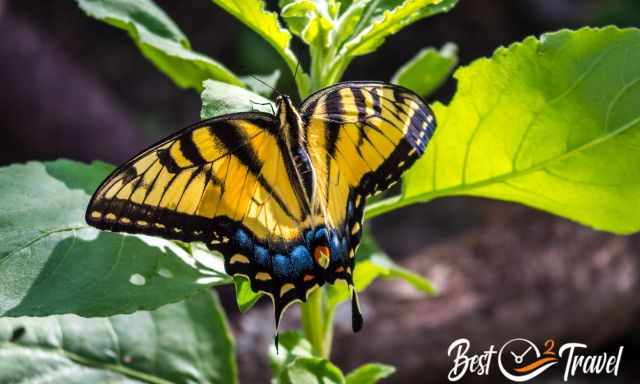 If you plan to visit the Everglades only, two days are already sufficient, but if you like to get an impression of the Greater Everglades of the Everglades a century ago, I recommend an entire week at least five days. You do not get bored or disappointed it is the opposite. The Everglades are exciting, but honestly, we spotted most of the wildlife and birds in the smaller reserves, which are part of this ecosystem.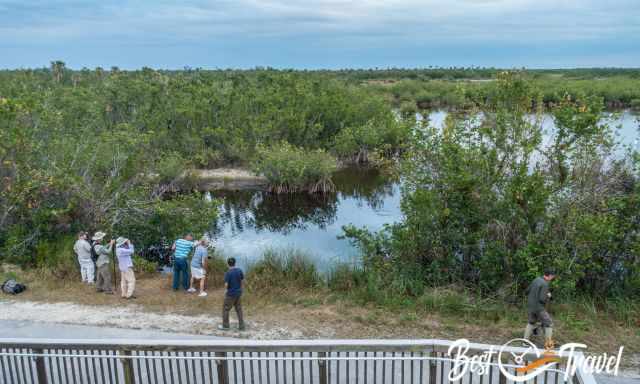 My favourite spots are Fakahatchee Strand Preserve and Big Cypress, and if you are into birding, don't miss out on the 10 Thousand Islands. It is incredible how many different bird species we spotted in one afternoon.
The Future of the Everglades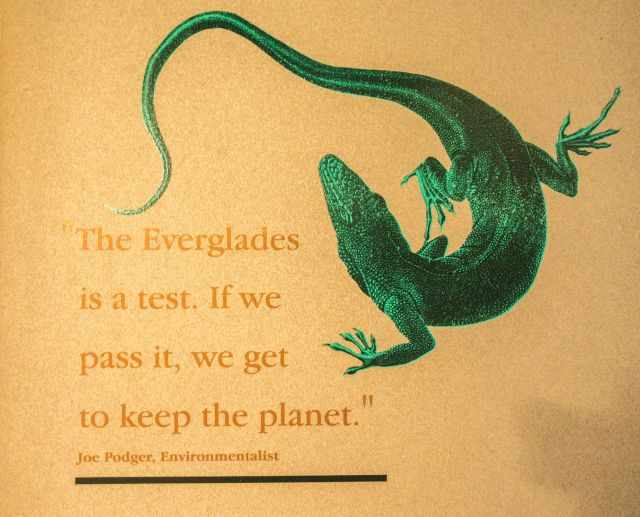 Restoring the Everglades is a massive project, but the importance of this entire ecosystem also for residents in this area has finally been recognized. Parts of the US HW 41, the old Tamiami Trail, were removed, three miles of new bridges and seven miles of improved roads were built. Now the fresh water can flow south to the Shark River Slough, the main corridor for the Everglades. Water distribution, quality and quantity have top priority, and all reserves benefit from it. Channels for the south. east, and west are under construction.
Packing List for the Everglades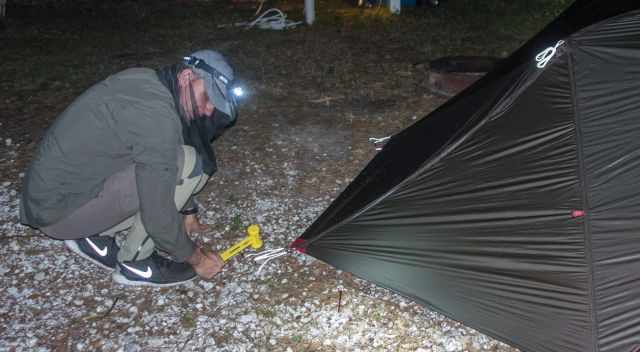 Some areas have few mosquitoes; others have masses. I got more than 50 bites around my ankles on our arrival at the campground in the evening in the winter! My trouser was too short and my socks too thin. We camped on different sites in the Greater Everglades, and none was mosquito-free in January.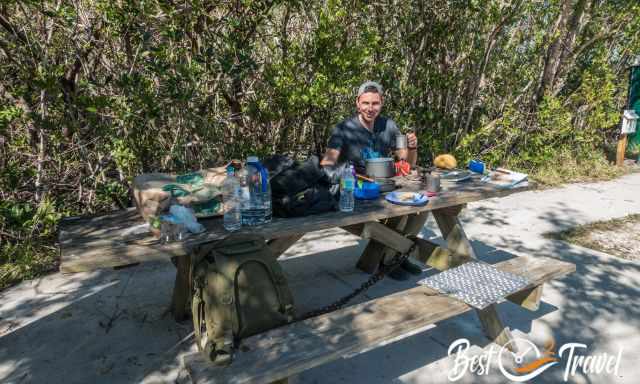 Insect repellent (Deet-Free) is essential for the entire year, especially around Flamingo and Collier Seminole!
Long pants throughout the year or much repellent during the day but sometimes impossible!
Long-sleeved shirt instead of repellent
Headcover for the sun plus mosquito head net on top to protect your face and neck; this is a life safer even in the winter at dusk and for some areas of the park.
If you plan to camp, bring a headlight for the night
Binocular for birding; usually, you can spot birds in the distance only
I always use sunscreen for the face also in the winter. It is a small bottle but lasts extremely long.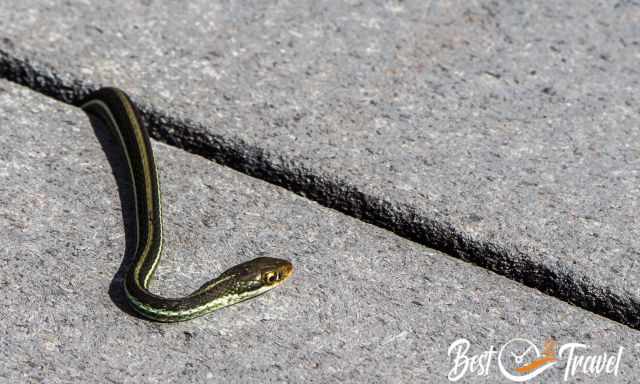 Location and Tips
Florida, Miami
United States

The Everglades consist of a freshwater river and the saltwater of the Gulf of Mexico. This creates a unique ecosystem for a huge variety of animals and birds. Most water comes from the rain. Before 1880 the Everglades were connected with Lake Okeechobee. Due to draining for farming and urban development, only 50 % of the original Everglades remained.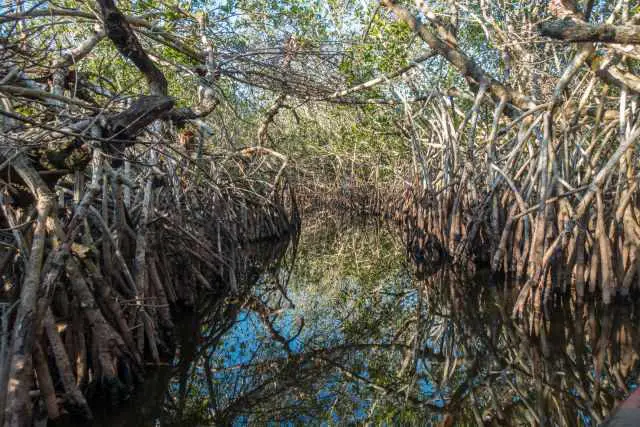 The Greater Everglades Ecosystem is an 18.000 square mile of a unique landscape formed by the Everglades National Park, many preserves and nature reserves like Big Cypress National Preserve, Fakahatchee Strand State Preserve, the pristine Ten Thousand Islands, Collier-Seminole State Park, and others. These nature parks are similar and as impressive as the Everglades but less visited and known.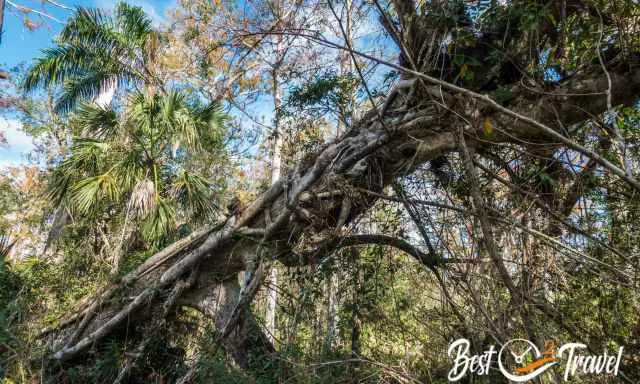 What makes the difference between these parks? Unfortunately, they don't have the same status, and they are not as protected as a national park as the Everglades itself. A broader spectrum of use is allowed in a national preserve, which means oil and gas exploration and production are possible. These nature parks and the Everglades are a treasure trove of quiet beauty and wonders of this water system.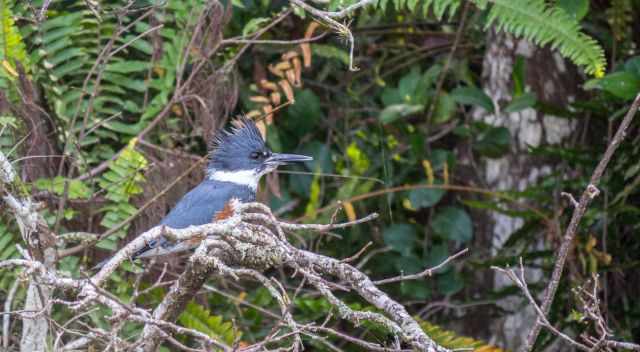 We spent seven days in this area; each day was spectacular, with lots of wildlife sightings and bird spotting. By car is just a fraction of the Greater Everglades accessible. Therefore, to experience the park, you have to walk, take a kayak, or a boat.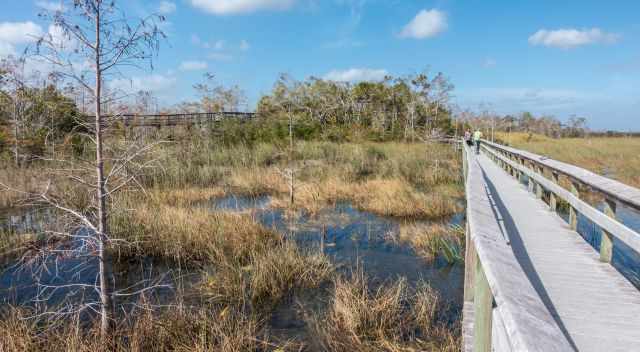 With patience and luck, you spot many wading birds at Ten Thousand Islands and, of course, alligators in the Everglades, along the Big Cypress Drive, in Fakahatchee, and in other parks. More than one million alligators call Florida their home.
7 Travel Tips for the Greater Everglades
Alligators are pretty close

Drive along the scenic Tamiami Trail on HW 41. It's an awesome road trip with alligators along the road. We spent three nights on the Collier Seminole Campground.

Roseate Spoonbills in the wetlands hunted for their wings and feathers in the early 1800s

Visit the Ten Thousand Islands in the afternoon for bird watching. You won't be disappointed. This 35 thousand acres huge refuge is home to masses of wading birds. It was established in 1996 to protect this unique estuarine ecosystem. Several trails and an observation tower give a closer look at this birding paradise.

Ibis searching for food

For me, one of the most beautiful parks in entire Florida is the Fakahatchee Strand Preserve. Walk on one of the hiking trails in the preserve, explore nature along the short boardwalk, or book a guided tour. The Fakahatchee Strand is 20 miles long, 3-5 miles wide and the major drainage slough of the Big Cypress Swamp, the biggest strand in Florida.

A native royal palm over 100 ft tall.

Even more, it is the largest subtropical strand swamp in the world. This preserve has the largest population of native royal palms, also the largest concentration and variety of orchids in North America. We even got a glimpse of a black bear running away.

Trees in the Big Cypress wetlands

Spend at least half a day at the Big Cypress Nature Preserve. Make a stop at the Visitor Center, drive along the 94 the Long Road Big Cypress, and walk the different short nature trails and boardwalks. The giant cypress trees can survive while standing in water.

We saw dozens of alligators during our four-day visit.

They often form dense clusters called cypress dom. The trees deep in the soil of the centre grow taller than the ones standing on dryer ground. If you ever wanted to see alligators, there are heaps of them.

Take a guided boat tour from Everglades City. During the ride along the channels and residential houses, we already saw alligators and pelicans; when we reached the Gulf Coast, a school of dolphins accompanied us. Depending on where your hotel or campground is located there is also a tour available from Marco Island.

Canoe tour in the Greater Everglades

Book a canoe or kayak tour and paddle through the mangrove channels and the wide-open slough. Enjoy the quiet beauty and mystic atmosphere from the canoe. This canoe tour was my highlight in the Greater Everglades Park.

Hike on the Royal Palm Hammock Nature Trail Boardwalk in the Collier Seminole State Park. This 0.9 mi / 1.5 km long trail is exceptional with a thick canopy of royal palm hammocks and other trees, which are more common to see in the Caribbean. The boardwalk ends at a platform with fantastic views of the salt marsh and nesting birds.
Activities – 9 Things to Do in the Everglades
Airboat Tour

Airboats in the Everglades Tour by GYG with no extra cost.

Airboat rides are the only opportunity to get into the shallow waters to experience the wildlife and unique landscape. Rides are allowed outside the National Park only.
Boating from Miami

The inland and coastal waterways are a great way to experience the remote areas of the Greater Everglades. You either need good navigation skills for it or book a guided day trip from Miami. The tour we booked led through the channels, an island and into the heart of the Everglades; two boat rides and lunch included. 
Canoeing

Josh, our excellent guide with an immense knowledge of the vegetation - Tour GYG

Gliding silently is one of the best opportunities to experience the real beauty of the Greater Everglades. Canoe renting is available at Flamingo and Everglades City. The winter months are the best time for this activity. 

The Everglades are marvellous for bird watching.

Some of the most popular canoe trips are Mud Lake, a 6.8-mile-long loop, Nine Mile Pond, a 5.2-mile loop, Noble Hammock loop is 2 miles long or Turner River near Everglades City, which is 11 miles long one way. A two days canoe trip is the West Lake Canoe Trail. It takes 8.1 miles to the Alligator Creek campsite and another 8.7 miles to Flamingo. 

Anhinga bird - also a popular trail is named after this bird

Even a 99-mile wilderness waterway exists connecting Flamingo to Everglades City, which takes 7-10 days. You spend the night in your tent on a chickee. These wooden platforms are along the canoe trail providing a dry and safe opportunity for camping. Maps for canoe trips are provided at the end of the article. However, if you are not familiar with the area, we recommend a guided tour. We booked a half-day trip from sunrise to midday, definitely a highlight because of our excellent guide Joshua Lewis. We spotted a racoon in the mangroves, lots of birds, alligators, and the atmosphere along the waterways was incredible. 
Kayaking

There is a rental station for kayaks at Flamingo. Single and double kayaks are for rental for two and four hours. Prices may vary during the winter and summer seasons.
Hiking

There are lots of interpretive boardwalk trails within the park and also some longer day hikes. However, keep in mind that most of the park is rather wet than dry. The most popular tracks are the Long Pine Key Trail, Rowdy Bend Trail, Christian Point Trail, or Coastal Prairie Trail. Continue reading for our 5 best boardwalk hikes. 
Slogging

Guided slogging tour with an Everglades ranger

Slogging is off-trail hiking in wet areas. It is permitted in the entire Everglades park. Usually, snakes and alligators are more scared than you, but I have to confess this wasn't the right activity for us. Rangers also lead this activity. Ask at one of the information centres for the next guided tour. 
Biking

Shark Valley is great to explore by bike, also the Snake Bight Trail is close to Flamingo. Another one is the Long Pine Key Nature Trail which is 6.1 miles long one-way. Hikers and bikers share this trail. At some parks, rental bikes are available, but you better bring your own.
Birding

Birding is one of the most rewarding activities in the park. Masses of wading birds are nesting in Florida's wetlands and especially at 10 Thousand Islands. 

The watch tower in 10.000 Islands - A birders paradise

Fishing

The Everglades are popular for freshwater and saltwater fishing. The Everglades are home to nearly 300 different freshwater fish species. You can charter a boat at Flamingo. Nevertheless, first, check out the park's regulations for fishing. A license for both saltwater and freshwater fishing is required. It is recommended to eat just one bass per week because of its high mercury content. Pregnant women and children shouldn't eat any!
5 Top Boardwalk Hikes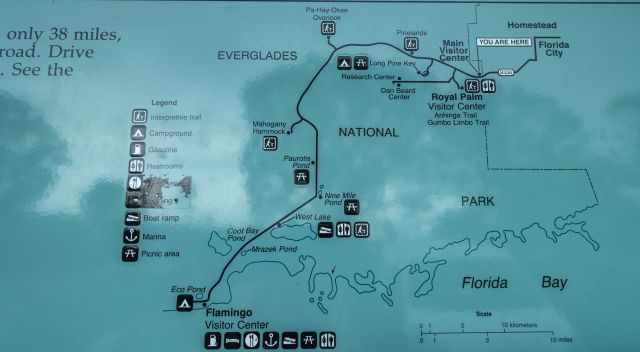 Often people ask if it is worth visiting the Everglades. Yes, even if you have just one day available. To get a glimpse of nature's beauty, walk some of our recommended interpretative trails, and you will get overwhelmed. I am sure you will agree it is utterly worth visiting the Everglades. These trails are not strenuous or long, all are well-maintained and even wheelchair accessible, showing how outstanding and important the Greater Everglades are.
11 Facts About the Florida Alligators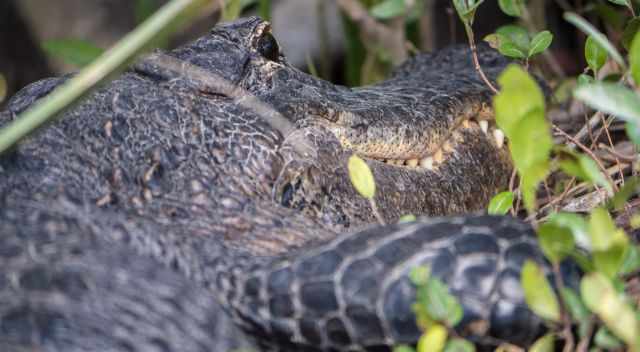 More than one million alligators call Florida their home
Growing 6 - 10 inches per year
A male alligator can reach 14 feet in length but on average 8-10 feet
Reaching maturity after 6 - 7 years
They can live without food for long periods by slowing their metabolism, feeding whatever is available, including turtles and birds, roughly 15-20 times per year.
April is the mating time - Some males mate with several females
It is the female's job to build the nest and to protect the hatchlings
Females lay 30-50 eggs
Late August, September the hatchlings emerge
Newly hatched baby gators are 9-10 inches long
Only 20% of the newborn will reach adulthood
 
Alligator - Keeper of the Swamp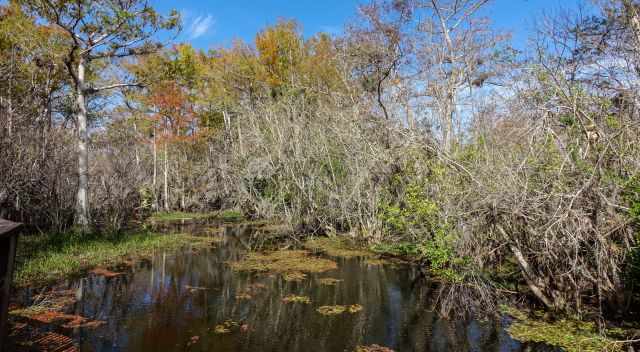 Gator holes are ponds often created by alligators that play an essential role in the dry season. Fish, birds, frogs, snakes, turtles, and mammals all concentrate in and around these holes. Prey is available when needed, but alligators don't often feed; therefore, they share this vital habitat.
Is Swimming Safe in the Everglades?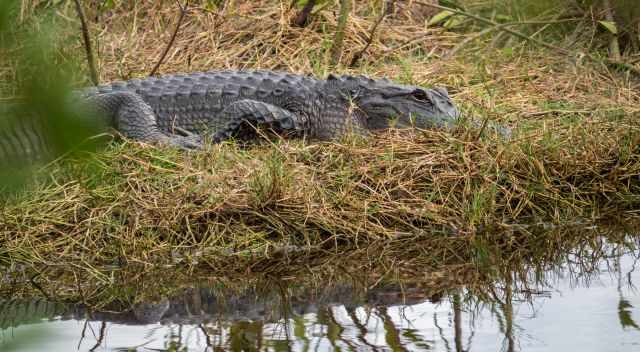 Swimming is definitely not safe and only in marked areas. Don't swim at night or dusk when alligators may be present. Don't let your pet swim in areas where large alligators may be around. I have to confess we didn't swim anywhere. We spotted plenty of alligators on our trip.
Wildlife in the Everglades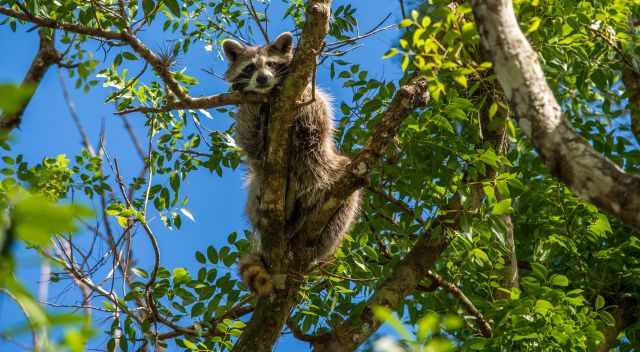 American crocodiles: grey to green colour, teeth of upper and lower jaws are visible. Flamingo is home to the rare American crocodile.
American Alligator: black in colour, only teeth of the upper jaw visible.
Black Bears; over 3000 bears are living in the Greater Everglades.
Florida Panther is highly endangered and rarely seen moving at night. Roughly 100 exist here in the Greater Everglades.
Bobcats; are widespread, but usually, it is more likely to spot their tracks in the mud.
Racoons; are widespread, often seen in the mangroves or around campgrounds.
White-tailed deer, the same species as in the east of the US. These deers are smaller because they don't need an extra layer of fat for the winter.
West Indian Manatees can be spotted in the Flamingo Marina close to the Flamingo Visitor Center.
Birds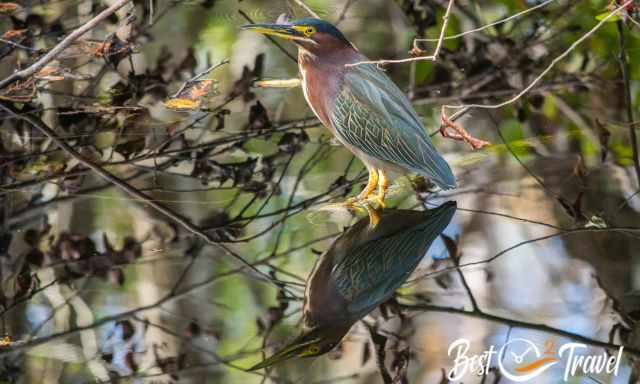 The Greater Everglades is a haven for bird watchers. However, you mainly spot birds of prey and wading birds. These birds wade through shallow water or along the water's edge, searching for frogs, fish, and insects. All of them have different feeding techniques. 
Roseate spoonbills are breeding between November and February. Only a few hundred occur in the south of Florida.
Wood Storks, the more than 3 feet tall stork, is the only breeding stork in the US. It prefers tropical and subtropical habitats because it inhabits the Greater Everglades. 
Caribbean Flamingos were here in abundance during the 1800s, with flocks of over 1000 birds. Nowadays, they are rare to spot due to overhunting locally and in the Caribbean.
Osprey; You find plenty of nests around the Flamingo Visitor Center area. They nest high above the grounds.
White Pelicans; thousands of white pelicans winter in Florida Bay. They are often spotted in front of the Flamingo Visitor Center.
Black Vultures are often seen in larger groups in the swamps.
Owls; different species of owls occur in the Everglades. They are night active. You may spot a roosting owl high in a tree during the day.
 
The Greater Everglades Landscape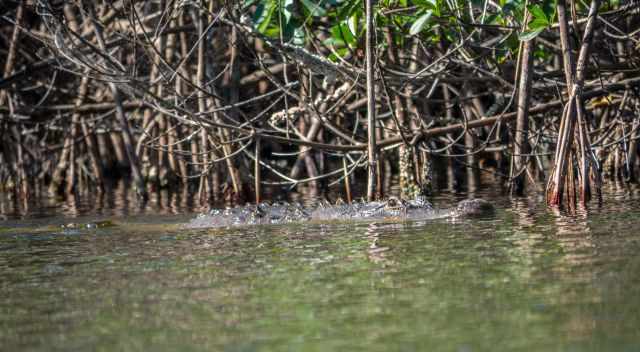 The mangroves in the Everglades are under threat due to the rising sea level. They form coastal channels, waterways, and islands. They protect the coast from heavy storms, and the roots are a habitat for many aquatic species, the nursery for young fishes. Three different types of mangroves exist.
The red ones are evidence of saltwater.
The black mangroves are at a slightly higher elevation where saltwater and freshwater mix up. 
White mangroves are found landward also in a mix of saltwater and freshwater.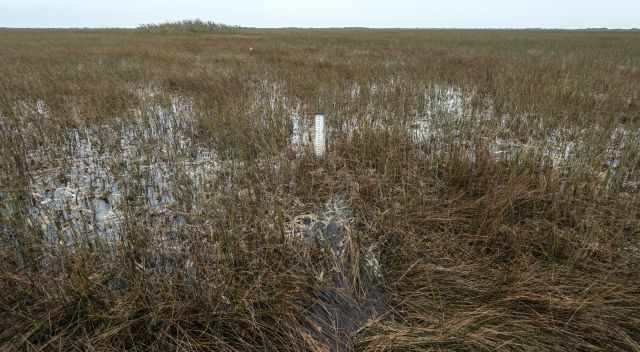 The prairie is a wide-open slough that fills up with freshwater during the wet summer months and heavy storms with seawater. The prairie is salt-tolerant.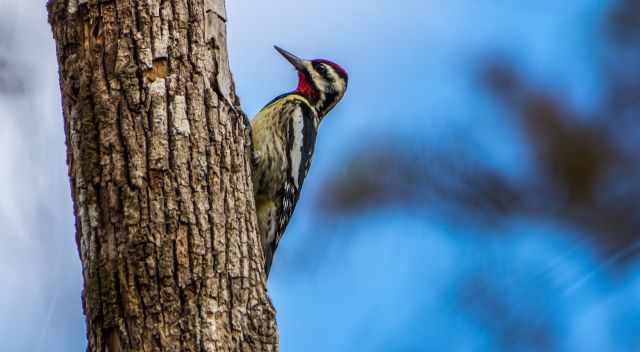 The biggest islands are hardwood hammocks laying on higher and dryer ground which usually don't get flooded. They are rich in plant and animal life. Often woodpeckers are found on the trees.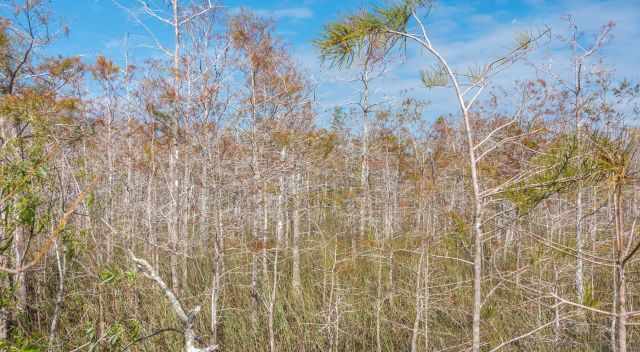 In the winter, the bald-cypress trees look bare and lifeless. These conifers shed their needles, becoming green again when the wet season starts. This is their way of coping with the seasonal drought. 
Please get in touch with me if you wish to use any of my photos, but I will take action against picture theft.