When Is the Best Time
Mindo in Ecuador is the hotspot for birdwatchers from around the world. Mindo is exceptional, breathtaking, a Must-Visit place and the capital city for birding with more than 500 different species. However, with estimated 200.000 visitors annually, it is still not overrun more an insider tip.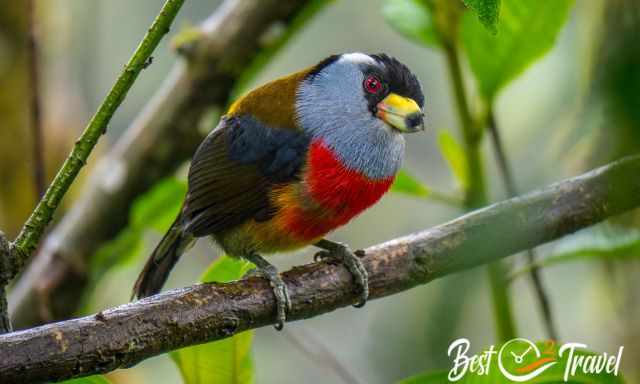 We spent three nights here and spotted more birds than ever in our life. If you travel to Quito, don't miss out on this unique place for birding. The area of Mindo is either privately owned or protected in the Mindo Nambillo Ecological Reserve. The residents of Mindo treasure and protect the valuable cloud forests and their inhabitants the birds.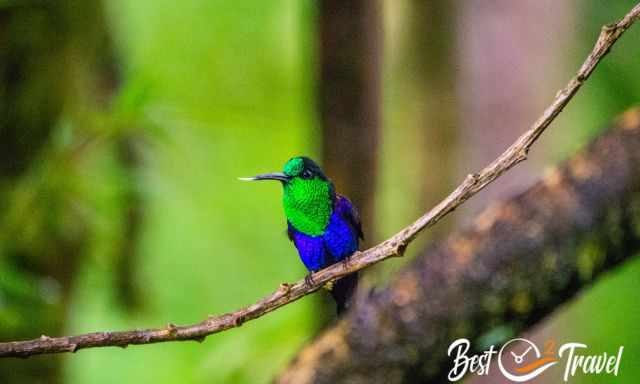 Get to know the ultimate time, which tours you should not miss in the area, where to stay, and how to get there. Scroll down to see all the fantastic pictures - all taken by us.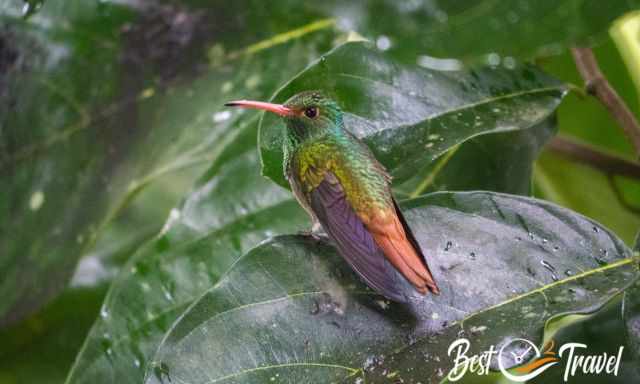 The best time for birding in Mindo is during the rainy season. The best months are December to April, while the birds are more abundant (migratory birds) and active. Due to the high food supply, birds start mating and nesting.
Dry Season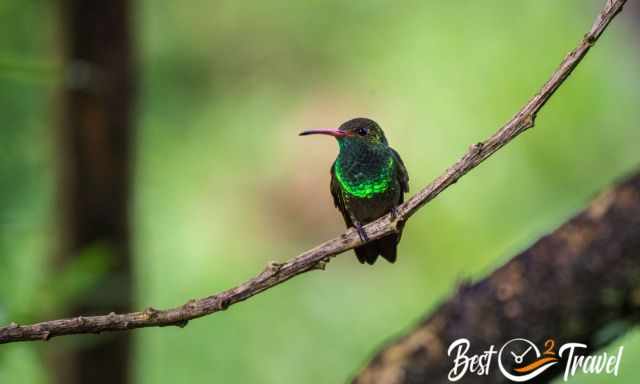 The dry season is pretty short, from June until the beginning of October. The driest months are June to August but expect precipitation even during the driest months.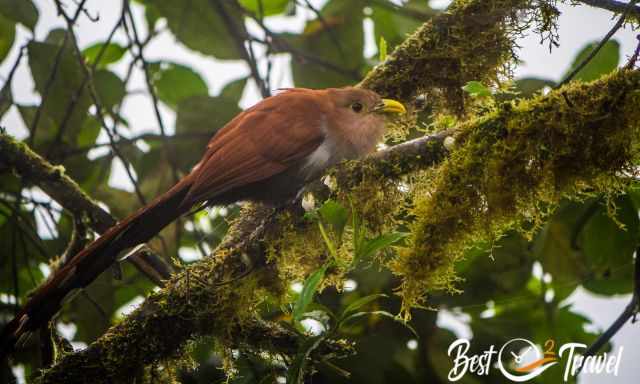 Due to the proximity to the equator, the sunrise and sunset don't change much. It's always roughly around 6 in the morning and evening. Night temperatures are around 15°C/59°F and below due to the high elevation. Day temperatures are, on average, about 20°C/ 68°F and can climb up to 25°C. There is high humidity throughout the year.
Rainy Season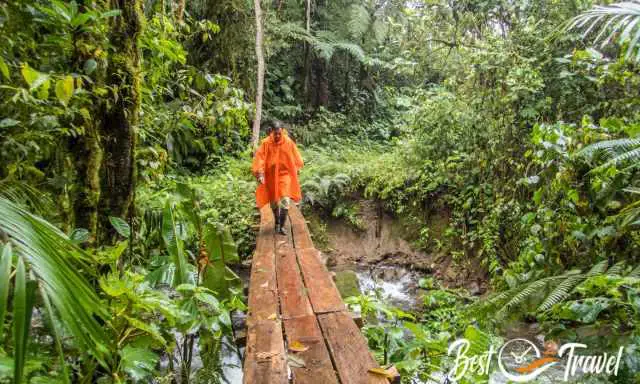 The rainy season is the birdwatching season, and it already starts in October and lasts until mid-May or even June. Generally, it pours down from the afternoon until the next morning, but it also can rain the entire day. The average annual rainfall of 2.500 mm is pretty high. 
Mosquitos in Mindo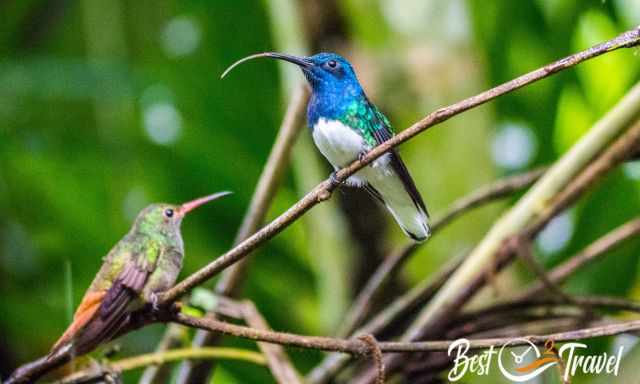 Usually, the rainy season is the mozzie season, but due to the location at a high elevation, mosquitoes do not occur, and therefore malaria is not an issue here which is a big advantage for birding in Mindo.
Avoiding Crowds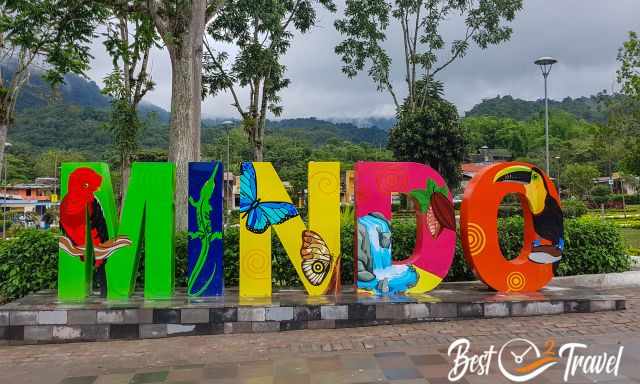 Mindo is a popular weekend escape for people from vibrant Quito. Avoid weekends and public holidays like Carnival and Easter. The rest of the time, it isn't too busy here.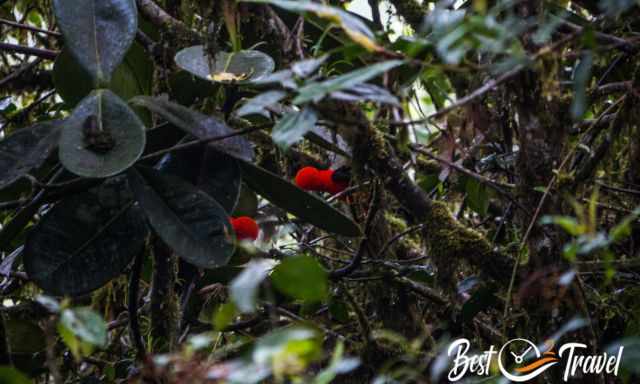 Recommend Tours
To be on the safe side if travelling alone, I highly recommend a guided tour by GetYourGuide either for a long day trip or for two days. Usually, most birds can be spotted in the early morning and evening therefore, I prefer to stay overnight. 
Thx for booking via my website! With your support, I am able to provide all information first-hand. Tour prices are at no extra cost!
Location and Tips
Quito
Ecuador

Mindo is a small town on the western slopes of volcano Pichincha at roughly 1200 to 1300 m/ around 4000 ft altitude. It has about 3000 inhabitants and is packed with hostels and lodges. Some offer a birdwatching area where birds get attracted to bananas and hummingbird feeders. Already here, you can spot plenty of colourful birds.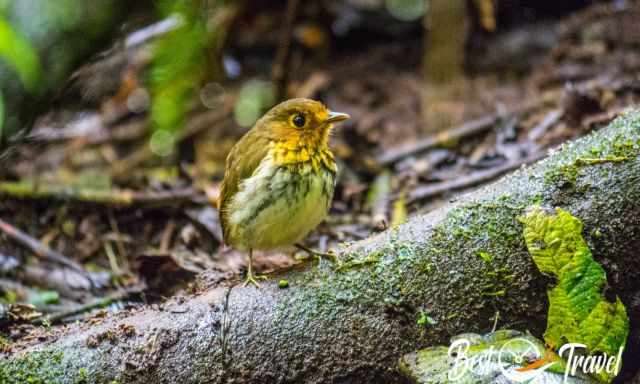 Mindo is famous for birdwatchers from all over the world. The Andean cloud forest elevations range from 900 to 2.500 m/ 3000-8000 ft above sea level, and different birds can be spotted depending on the elevation.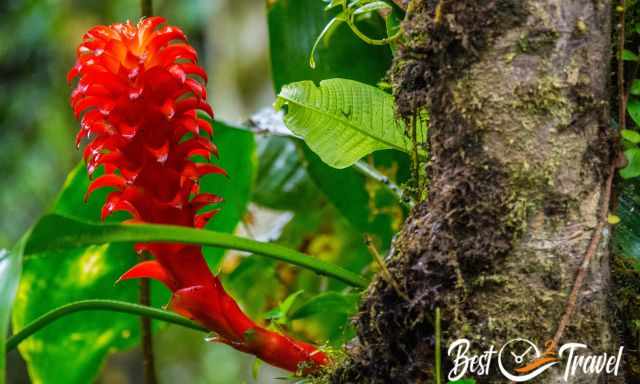 The region is a biodiversity hotspot and has international importance for birds and orchids, bromeliads, and epiphytes. It is part of the Choco Andean rainforest corridor, a project to protect the forests from the constant threat of logging and mining.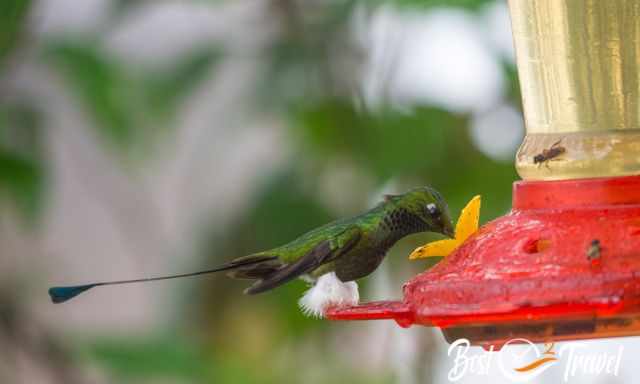 There is an entrance fee almost everywhere for hiking and birdwatching and also quite often for a guide. The advantage is due to the fee, more reserves were developed, and areas got protected by the locals.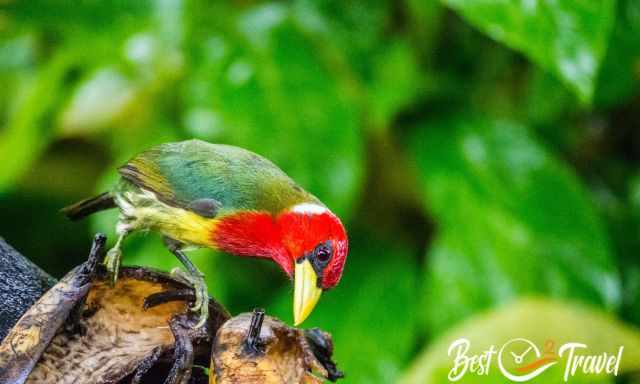 Although mining companies try to buy land here in the region, the residents fight back and need your support. The locals need an income, and the entrance fees are reasonable compared to prices in Europe or North America.
Guided Birdwatching and Cloud Forest Trips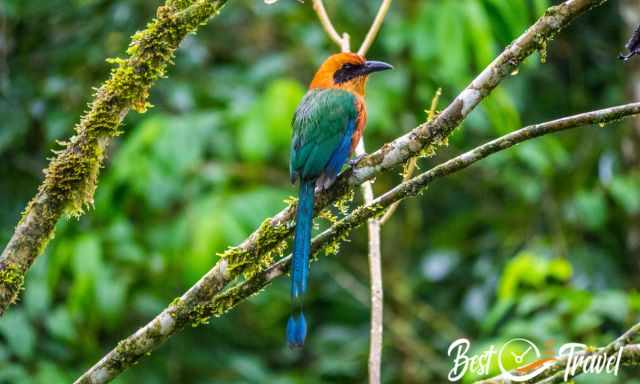 Several operators in the town of Mindo offer guided tours. These are the ones you shouldn't miss: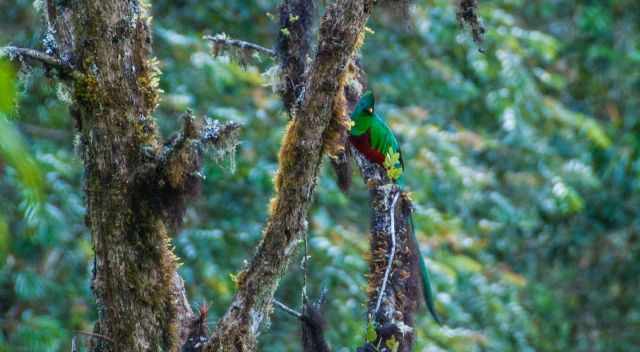 To spot the famous Andean cock-of-the-rock, the Quetzal, Crimson-rumped Toucanet, different Antpitta species, the Toucan Barbet, hummingbirds with a long tail; the Violet-tailed Sylph and the Booted tacket-tail, you must book a guided tour in the Angel Paz Reserve (no affiliate link, just my tip) or stay in the Bellavista Cloud Forest Reserve.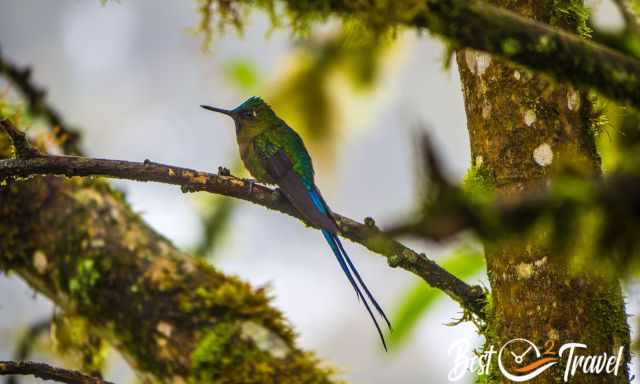 Both areas are located at a higher altitude, the reason for utterly different bird species, most of them rare to spot.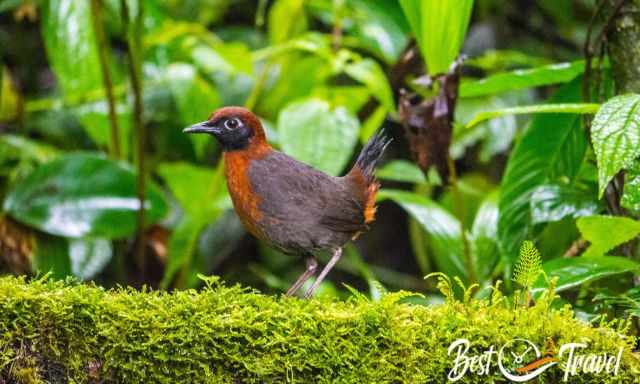 Tip: Often, you only get the Cock-of-the-rock tour offered, which lasts a maximum of 2 hours and is fantastic, however, try to ask for the Antpittas and breakfast afterwards at the owner's lodge.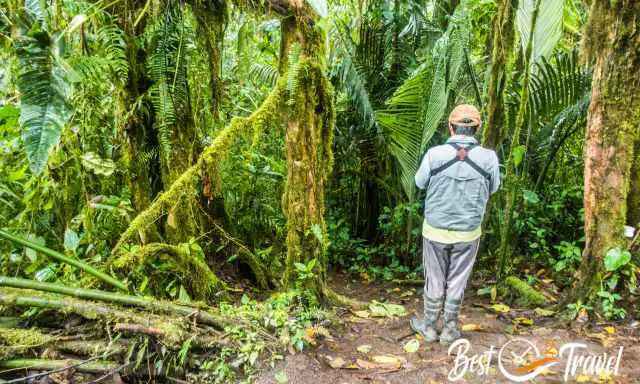 This tour lasted almost 6 hours and was one of the best birdwatching trips ever. You get your breakfast or, better early lunch outside with hummingbirds, tanagers, and many other birds around you. Food simply becomes a secondary matter here.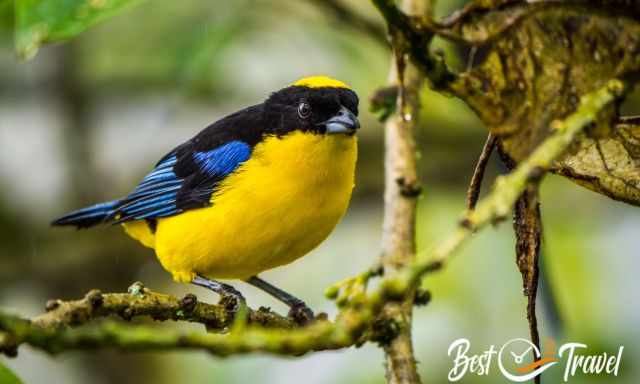 To experience the natural beauty of a cloud forest without any crowds, contact Luis of the Rio Bravo Reserve. It is located after Nambillo at the very end of the gravel road, and he is one of the owners.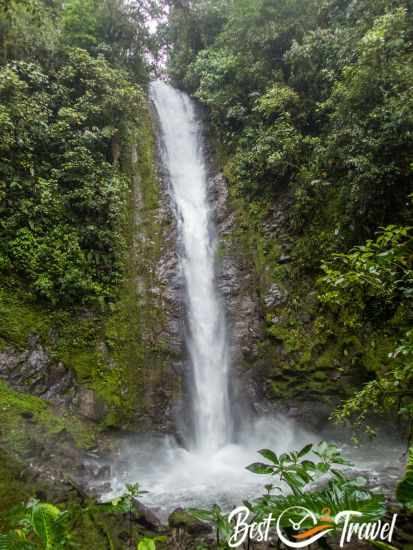 His uncle bought the forest with beautiful waterfalls in the '80s, a famous boxer from Uruguay. Luis guides you inside the reserve and prepares one of the best natural lemonades for you. There is even a possibility of camping if you request it in advance. You get there best by taxi, and it's roughly 9 km, always uphill from the river to the reserve gate.
Where to Stay in Mindo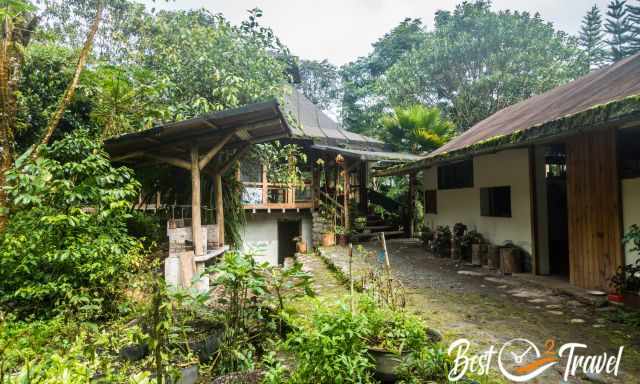 There are plenty of accommodations in Mindo. We got the La Roulotte recommended from our hostel in Quito. We had an excellent stay and felt utterly safe here in one of the gipsy wagons.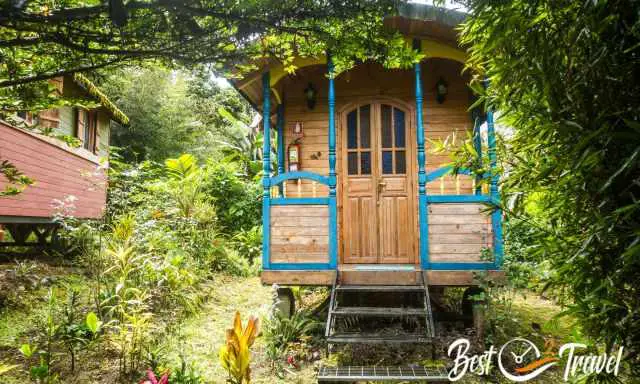 Low Budget; La Roulotte; is run by Ignacio, an attentive and lovely staff and a fantastic chef from Switzerland. The accommodations are six gipsy wagons similar to cabins with two big bunk beds, a bath, and an oven.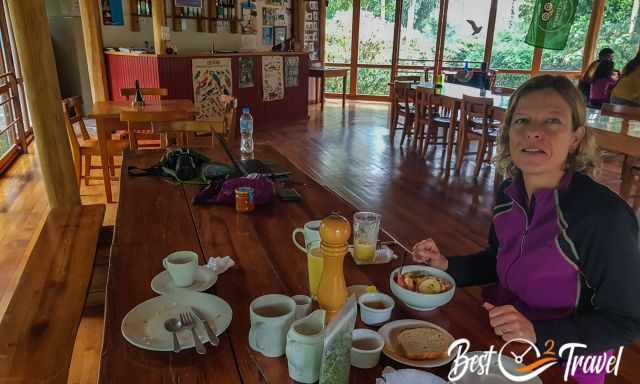 After a hike through the lush cloud forest in the rain, we got our clothes dried with the oven. They contacted Luis for us for an awesome cloud forest walk.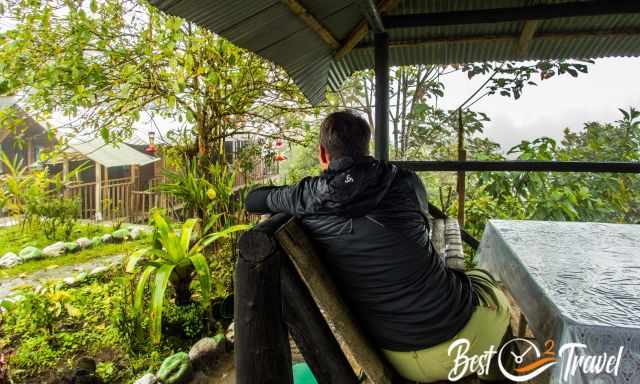 Bellavista Cloud Forest Reserve; The ultimate lodge for bird watching, which has been run by a Columbian-British couple since 1991. The lodge is located inside the reserve at a higher altitude. Their guides are experienced and super friendly (one guide is a woman with immense knowledge, a charming person), comfortable rooms, delicious meals, and the guides speak different languages. Of course, 
How to Get to Mindo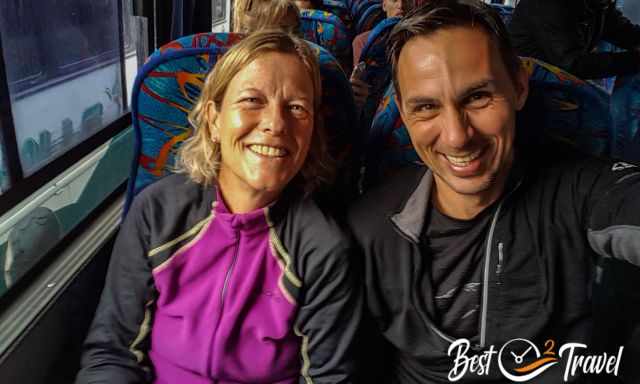 You can get there by taxi from Quito, which is much faster and more convenient, but prices increased due to gas shortage in 2022 - fee about $80 one way.
Book a two-day guided tour and spend a night in Mindo by GetYourGuide, which is the safest option. Birds are more active and frequently spotted in the evening and morning.
Or take the bus, which we did. The bus is the cheapest option but watch your luggage. The drive to Mindo takes about 2 hours by bus. The busses from the company Flor de Valle frequently depart from Terrestre Norte, station La Ofelia daily. Ask for the exact dates in your hostel or hotel. You can't get a round-trip ticket. When leaving Mindo, arrive early to get your return ticket before they are sold out, and you have to wait for the next bus. Each ticket has a seat number. Try to sit on the right side to Mindo, that's more scenic and back to Quito on the left. The bus ticket price is roughly $5.
Attention: Carry all your valuables and your luggage, best a backpack with you. One guest's jacket got "lost" on the way back to Quito. We left most of our luggage in Quito and travelled with a backpack which we put between our legs. Not comfortable, but nothing got lost.
Is it Worth Going to Mindo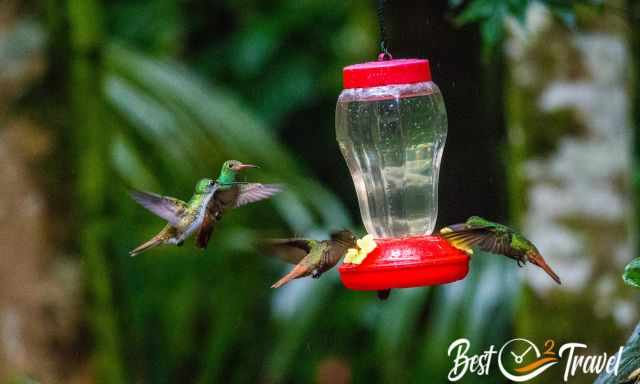 It is a paradise for bird watching even if you travel low budget. Yes, Mindo is definitely a reason to travel to Ecuador. Some guided tours are more expensive, but these are the ones where you spot the rare Andean cock-of-the-rock or the Antpittas as we did.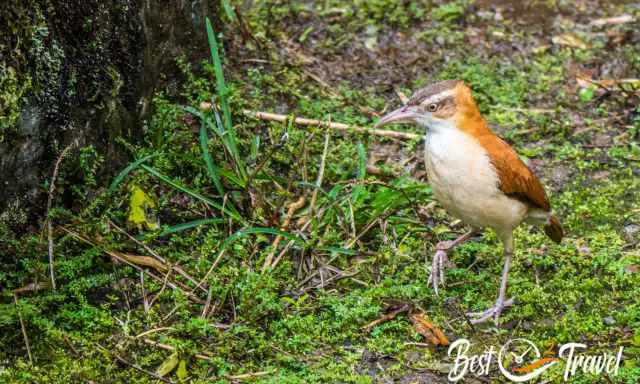 Markus and I took all these pictures during our trip through Ecuador, and I have many more. Please get in touch with me if you wish to use any of our pictures, but I will take action against picture theft.
Why Are Hummingbirds Colourful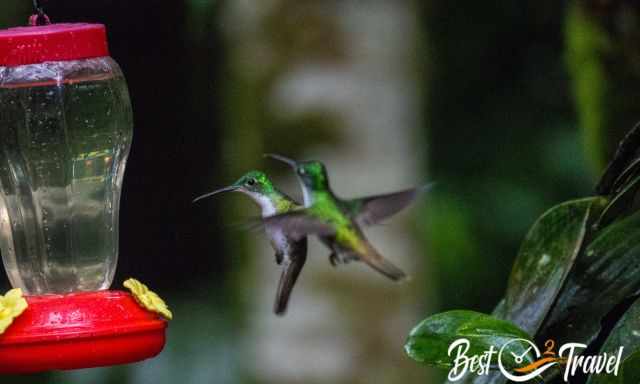 There is a good reason for their dazzling colours. Hummingbirds have an excellent colour vision to find bright, colourful flowers with nectar. But most important male hummingbirds are extremely colourful to attract females for mating. Males perform their acrobatic flights, which takes a lot of energy from them, but it is given her clues about his health and fitness.
Please get in touch with me if you wish to use any of my photos, but I will take action against picture theft!