When Is the Best Time
Galapagos! A once in a lifetime destination. Pristine nature with endemic flora and fauna found nowhere else on earth. We came here with high expectations and experienced more than we could imagine. Each day got topped by the next day. There are plenty of boat and cruise options, but travelling independently from island to island also works. Check out my Table of Contents below after the detailed seasons for Galapagos.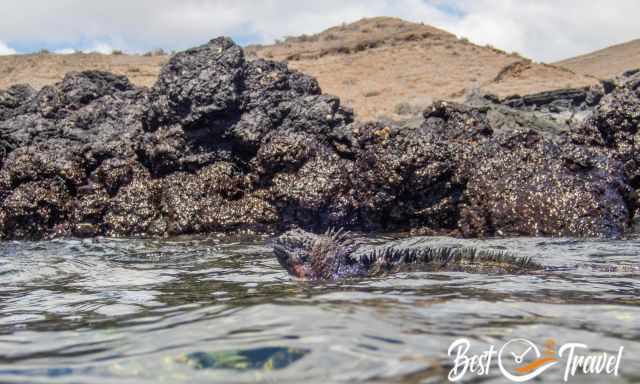 I Will Answer All Questions in My Galapagos Guide
Best Time to Visit
How to Get to Galapagos?
How Much Does it Cost? Sweet Spot Months
How Long to Stay?
Highlights for Each Island
Where to Stay?
Which Animals to See?
You almost can't explore the islands on your own only with a naturalist guide or a cruise. It is possible to plan your trip by yourself if you are not focused on experiencing a special kind of wildlife or marine life. However, most islands offer unlimited access to one or two awesome places for locals and visitors alike. I try to give you all the needed information for your Galapagos Adventure from another perspective.
Galapagos Weather - Best Time (Seasons)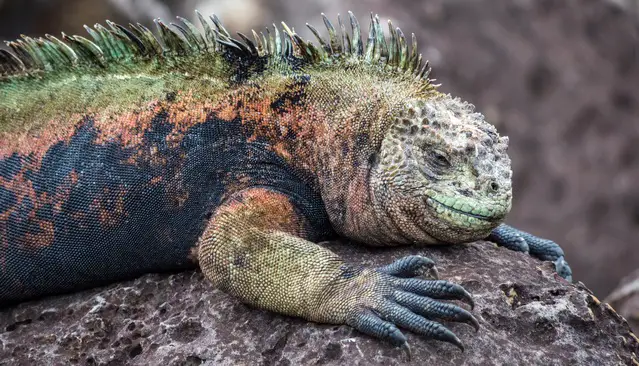 The islands have a cool microclimate, although located in the tropics. The annual rainfall is, on average, around 500 mm depending on the elevation. The weather is influenced by the Humboldt current, different ocean currents, El Nino in the rainy season, and La Nina in the dry season. El Nino occurs every 5 to 7 years and causes a high amount of precipitation, a warmer ocean temp around 30°C/86°F and even higher. Many marine mammals, reptiles, and birds die when the real El Nino occurs. The last El Nino happened in 2016. La Nina has a strong effect on the temperature; the air and ocean temps are much colder, it causes a drought. Usually, most precipitation occurs during March.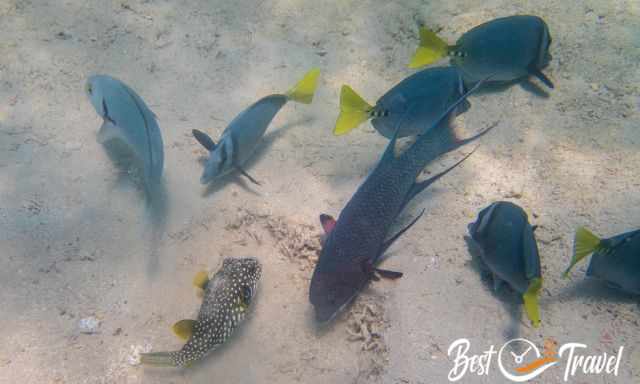 The best time to visit Galapagos for snorkelling, blue skies, and a calm sea is the rainy and warmer season from December to May. For diving, it is the dry and colder season from June to November. The colder Humboldt current provides a nutrient-rich sea that attracts sharks and whales.
Rainy Season (December-May) - Snorkel Season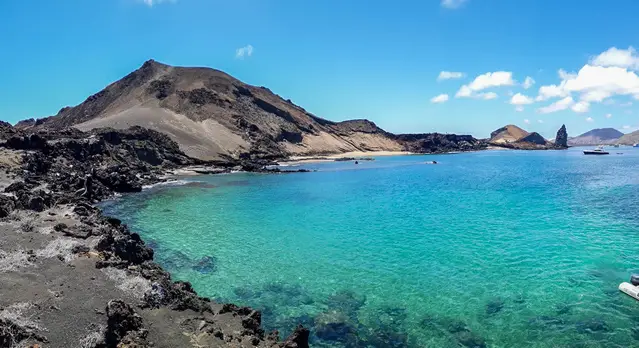 Bartolome Island and Pinacle Rock

December through May is the rainy season; however, often sunny and warm, expect afternoon showers. The sea is calm with good visibility, and the sea temperature ranges between 21-26°C/70°F-79°F. Due to the warmer ocean temps, it's a great time for snorkelling. However, we've seen lots of divers as well. Sea lions mate in the rainy season, and you might see newborn seal pups around March and April. Also, turtles and iguanas mate and nest during this time of the year. Due to the higher amount of precipitation, the islands are in full bloom from February to April. Continue reading to figure out the best snorkel spots and island tours. 
Dry Season (June-November) - Diving Season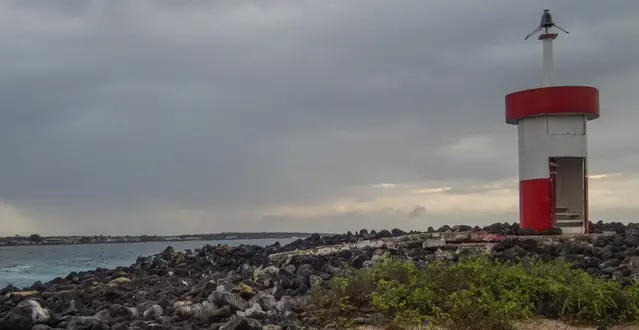 Faro Punta Carola on San Cristobal

Usually, the sky is overcast in the dry season. Colder temperatures on the islands and in the sea occur due to the Humboldt current. The current brings cold water to the islands from June to November. The sea is nutrient-rich, which attracts a huge variety of fish, therefore sharks, seabirds like the albatross, and penguins. Wales and dolphins arrive when there is enough fish available. It's mostly cloudy with a higher surf. During August and September, the sea is very rough. The sea temperature varies between 18°C and 24°C / 64°F until 75°CF.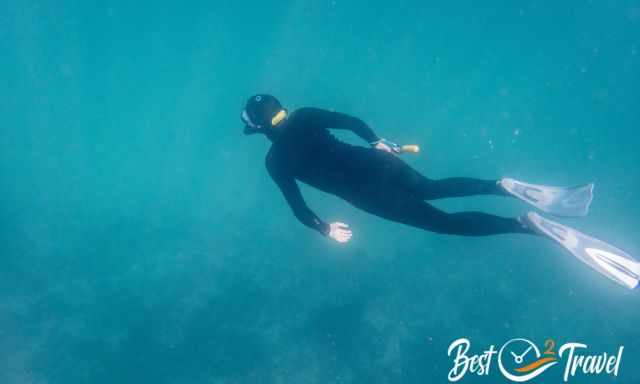 From September to November, the Galapagos Islands are an outstanding place to spot different shark species the reason that divers prefer this season. You can find schools of hammerhead at Darwin & Wolf Island. Hammerhead sharks occur throughout the year at Leon Dormido (Kicker Rock). It is easy to get to Leon Dormido by guided boat tour from San Cristobal. More penguins can be spotted on rocks and swimming in the colder season. However, although it is the dry season on lower levels and the coast, there are rain drizzles in the highlands. The tortoises migrate to higher elevations for lush vegetation.
Peak Season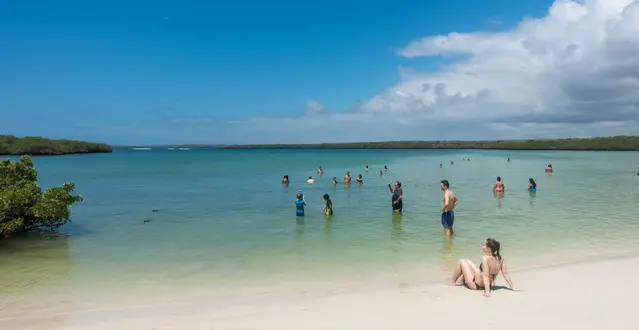 Tortuga Beach - Santa Cruz main island
The number of visitors is limited to the Galapagos Islands National Park. The islands are very busy around Easter, from May to early September, and again for the Christmas holidays from mid-December until mid-January. Booking far in advance is advisable before coming here so as not to mess up your trip. Tours are fully booked, and the sky is the limit for hotels and guest houses.  
Low Season - Galapagos on a Budget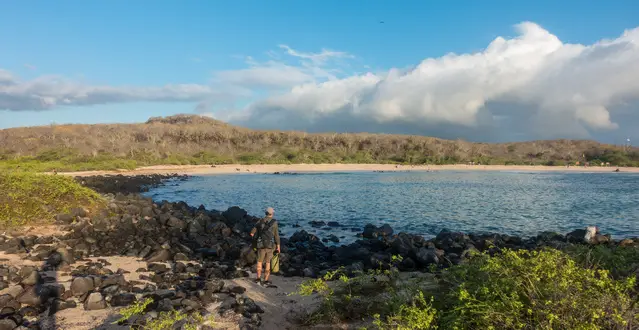 Although it is always said you have to book far in advance for Galapagos, that's not true! There is a low season where you get last-minute prices for different offered tours and cruises for diving, snorkelling, and on land. These months are November and mid-January to the end of February. Mid-September and October are also no longer super busy. You don't need to book accommodations and tours far in advance in these specific months. Fly to one of the main islands; Santa Cruz (airport on Isla Baltra) or San Cristobal. The local people are attentive and appreciate having tourists on their islands. Stay in one of the many guest houses or hotels and book your excursions just one or two days before.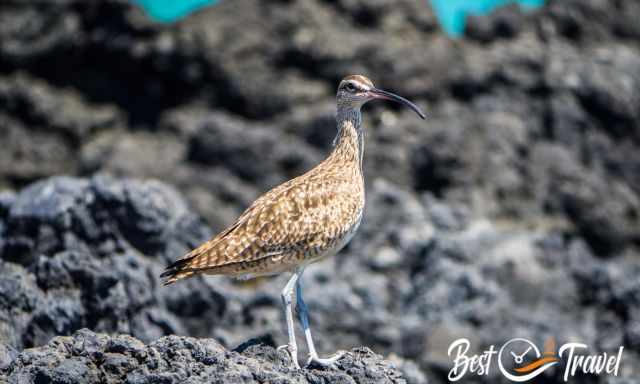 Galapagos on a budget is possible, and we experienced it in February. I spoke to several tour guides, and all agreed you do not need an expensive cruise to see the beauty of these unique islands.
Some underwater pictures are provided by our wonderful friend and diver, Leif.
Do you want to obtain the usage right for my images? Contact me, but we will take action against picture theft.
Hotel Tips & Tours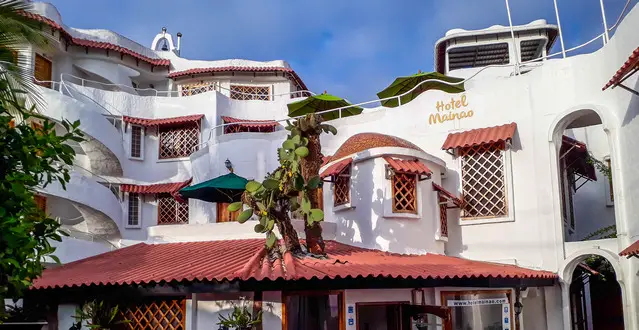 Besides others, we chose the Mainao Hotel on Santa Cruz as our home base. If that one is not available, use bookig.com (they have a price guarantee!) to look for a nice one on Santa Cruz: Santa Cruz Hotel Deals  - Galapagos  The staff was super friendly at Mainao. The rooms are spacious; also, family rooms are available. We appreciated huge windows could be opened to let fresh air in during the night. Tea and coffee are available 24/7. The Mainao is utterly quietly located within walking distance to the Malecon. There isn't an elevator, but we loved to walk the stairs up, watching the impressive architecture a bit like Gaudi. Next to the hotel is an affordable laundry. We were travelling for quite a long time, and we were glad about it. Also, one of the must-see fish-markets is located close to the Mainao. If you arrive via San Cristobal, browse the hotels with the best reviews here (via booking.com): San Cristobal Hotels. I have more accommodation tips in the main text below for the other Galapagos islands. 
Location and Tips
Galapagos
Ecuador

Galapagos is the most outstanding destination for diving, snorkelling, birding, and wildlife watching on our planet. The uninhabited islands were declared a National Park in 1959 and as the first World Heritage Site in 1978. It became a Marine Reserve in 1998. The spoken languages are English and Spanish. Communication is very easy on the islands, and locals will assist you where ever needed.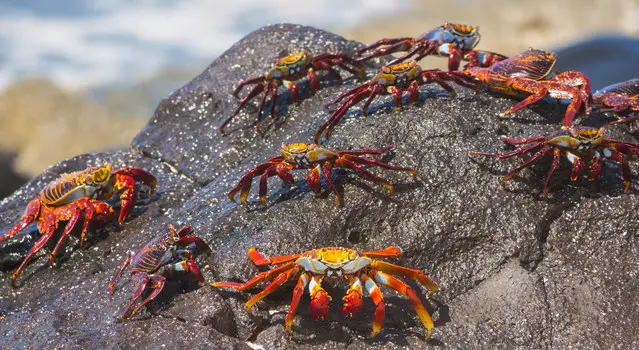 Sally-lightfoot crabs

Charles Darwin, famous for his theory of evolution, arrived on the Galapagos Islands for the first time in 1835. San Cristobal's exhibition is dedicated to Charles Darwin and explains the different currents and their influence on such rich biodiversity. 
How to Get to Galapagos?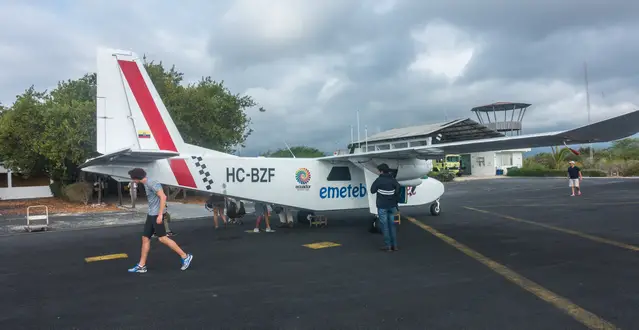 Airport on Isabela
You need to fly to Quito first. Stay close to the airport; otherwise, it's a far journey to Quito city centre. The Wyndham Hotel is located next to the Mariscal Sucre Airport. Other hotels and guesthouses nearby (Bookmark the Link for your future booking). Consider if you prefer to stay in the Quito city centre, you need to take a taxi for around $30 for each ride. Safe taxis are the ones with a yellow/orange sign. Take a flight to Galapagos the next day either to the Galapagos Islands' main airport to Baltra, a small island located north of Santa Cruz or to San Cristobal. Avianca, Tame, and Lan serve the Galapagos Islands from Quito and Guayaquil in the south. Book your return flights in advance the same for San Cristobal flights to Isabel, especially for the peak season. Usually, flights from Quito take roughly 3 h, with a short stop at Guayaquil. Prices vary a lot, depending on the season.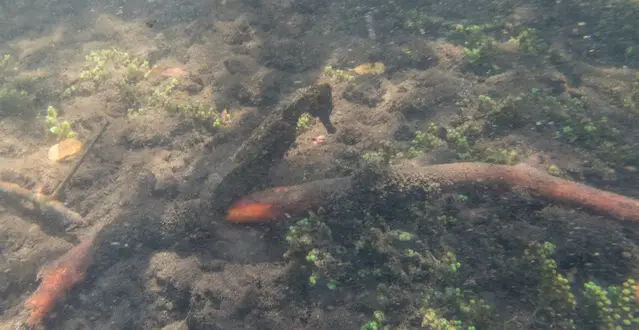 Sea horse during the Los Tuneles excursion
The biggest islands which are easier to reach are San Cristobal, Santa Cruz, and Isabel. If you'd never been here before, you may experience already the most stunning and breath-taking pristine nature on these three islands and in the ocean as well. Each island offers places around the main village/town of awesome nature, which can be explored by yourselves. However, it's a very well protected National Park, and most of it has to be visited guided. This makes the difference. The animals and marine creatures are not scared. We never experienced turtles, big fish, etc., in such a high number very close. The different offered tours are limited and likely to be sold out far in advance during the peak season. However, it doesn't matter which tour you book; all of them are spectacular.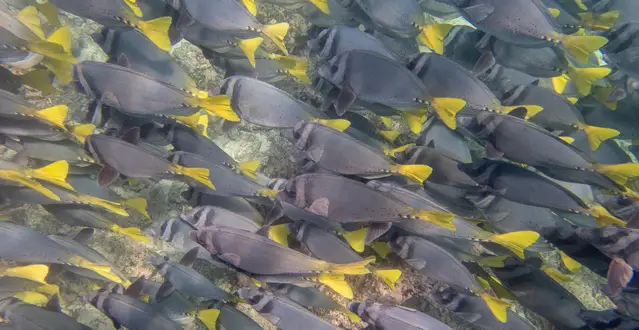 Yellow-tailed surgeonfish at Plaza Sur
How Much Time to Spend on a Cruise and the Galapagos Islands?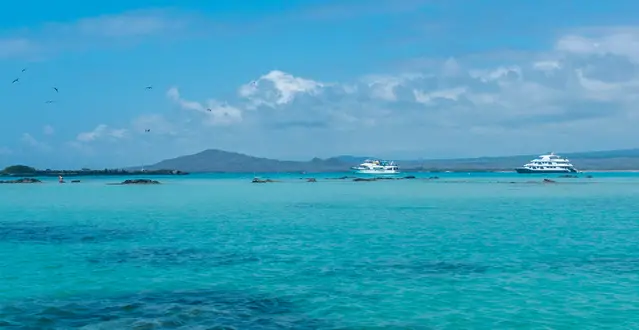 First of all, it depends on your preferences. Of course, a cruise along these outstanding islands is a once-in-a-lifetime experience. Usually, you can't visit all of these islands on one cruise. Depending on the National Park permits, the offered cruises are separated into sections. Some visitors take a cruise for a couple of days, while others stay here for weeks. Each island is different; every day is extraordinary and unforgettable. Stay at least a week, better two, to explore several islands. To get the most out of your stay, book a cruise and spend a couple of days on Galapagos. We travelled independently and spent eight days here, which was too short, in our opinion.
Are the Galapagos Islands Safe for Traveling?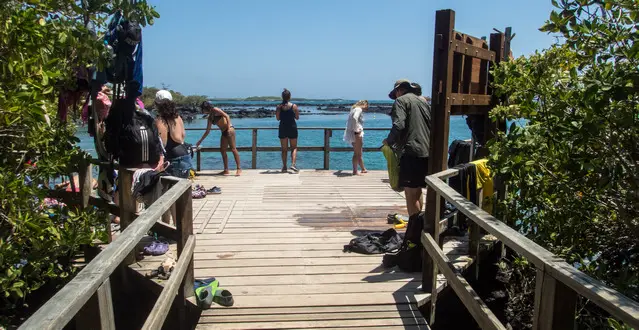 We always left our valuables at Concha de Perla, where tourists and locals are alike.

What we experienced was that they are utterly safe, not like anywhere else in Ecuador or especially in Quito. Most of the 40 thousand residents depend on tourism on their islands. They don't earn much from cruise ship tourism. English is commonly spoken, and all the people we met were friendly and attentive. However, watch your valuables or leave them in the hotel safe. We always left our passports and credit cards in the hotel or guesthouse.
How Much Does a Vacation on Galapagos Cost?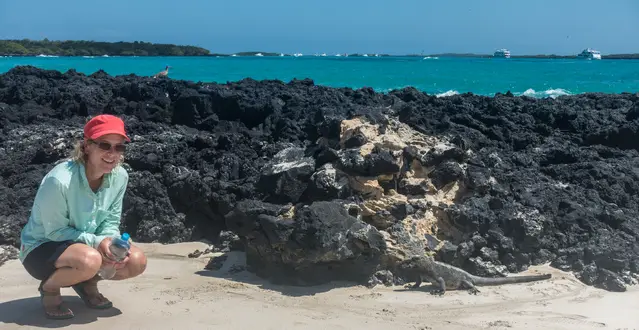 Do you see the iguana next to me?
The used currency is USD. The following list should give you an idea of how much to calculate for each day during the low season: 
National Park fee for the entire time doesn't matter how long you stay on Galapagos - $100 per adult and $50 per child paid cash at Quito airport before departure. (Prices 2022)
Fee for San Cristobal $20
Fee for Isabela $25
Hostel expenses are a maximum of $50 per night. There are cheaper rates for basic accommodations available and luxury hotels as well.
The local restaurants offer quality meals at affordable prices for breakfast, lunch, and dinner. Food and beverages for one day, depending on where you like to eat, roughly a maximum of $30 per person if eating out twice daily. We often went out for breakfast and dinner; lunch was included in our guided boat trips. Some hostels included breakfast and most of the hotels.
Calculate for a half-day tour roughly $50 – full day between $ 80-120. The big difference makes the gas used for the boat. Nearby destinations are cheaper; a guided boat tour to Bartolome, for example, is pretty expensive, around $120 due to the far distance but definitely worth it.
Boat transfer from Isabela to Santa Cruz $ 25, duration roughly 2 hours.
The Main Galapagos Islands
San Cristobal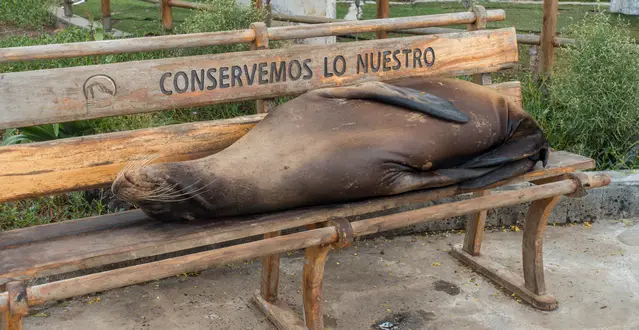 This was the island where we started our Galapagos adventure. It's the oldest Galapagos Island and the second most populated with approx. 6 thousand residents. The airport and the main village; are in Puerto Baquerizo Moreno (Link Google Maps). When you arrive, private taxi drivers are already waiting for guests. It's a cooperative of taxi drivers which you will find in the entire village. The price for a ride is just a small amount of $2-3. In Puerto Baquerizo Moreno, you can walk independently to explore the National Park's beaches and interpretation centre. There are several restaurants along the Malecon and also two dive centres. They offer snorkel and dive trips together.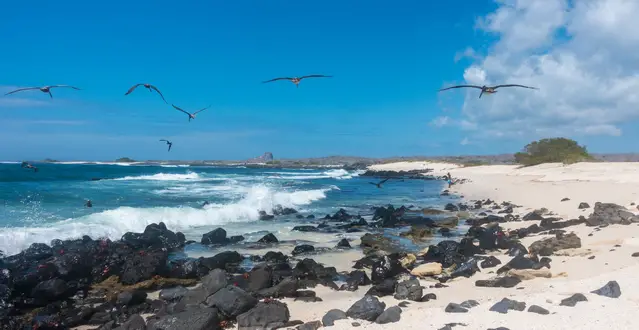 Playa El Manglecito - San Cristobal
What to Do and How Long to Stay on San Cristobal?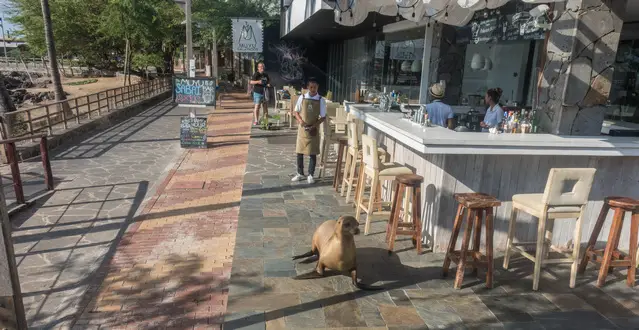 Malecon - Puerto Baquerizo Moreno
Sea lions are everywhere, not only at the beach. Restaurants and cafes are fenced to be protected from the curious and hungry sea lions.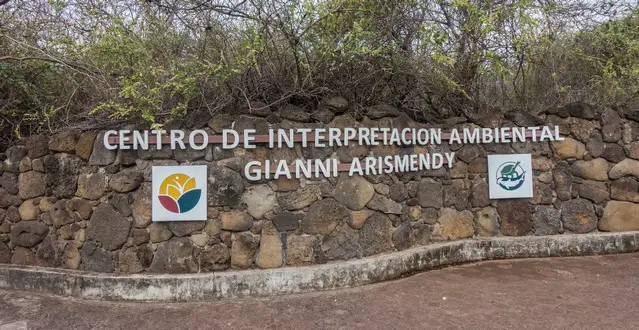 Explore the exhibition in the interpretation centre. It's a modern information centre about the history and the importance of the islands. Open from 8 am to 5 pm. Walk along the cobbled paths and enjoy the amazing views and vegetation. You may spot some of the famous Darwin finches and other bird species as well. (Google Maps)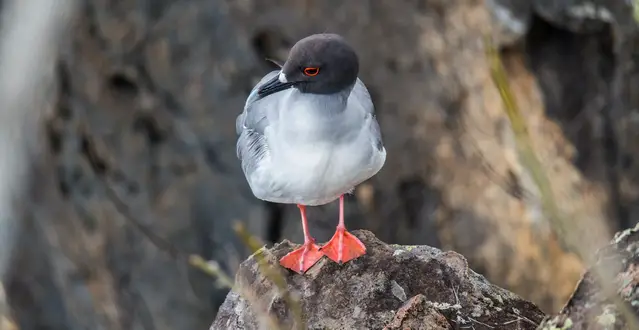 Swallow-tailed gull
Enjoy the awesome view at Mirador Cerro Tijeretas (frigate bird hill) and look for the swallowtail gulls. They are nocturnal and often around. (Google Maps)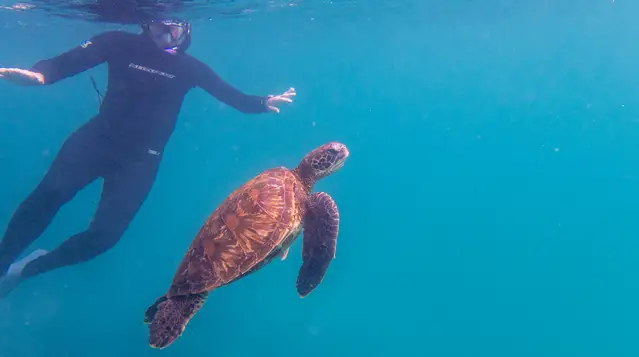 Bring your snorkel equipment and look for turtles in the protected bay Muelle Tijeretas. (Google Maps) Snorkelling is advised during calm sea only. It takes roughly half an hour to get here from the main village.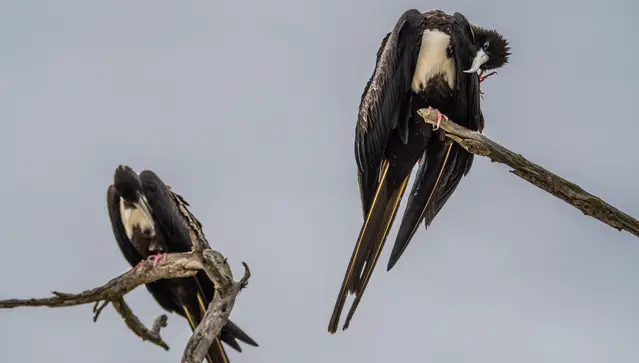 Bring a binocular or a good zoom camera to spot frigate birds, blue boobies, to mention just a view.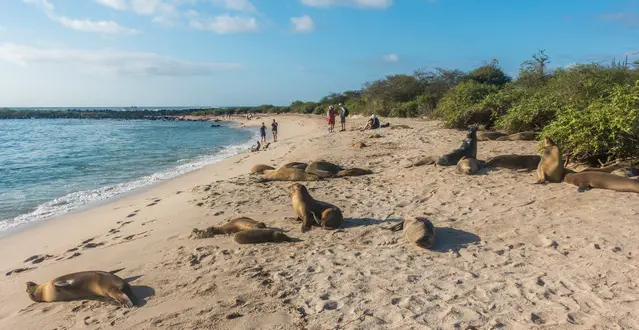 Walk to Faro and Punta Carola; the beach is full of sea lions and puppies. You may spot frigate birds as well. (Google Maps)
Highland bike tours and kayak tours are offered in the village.
Or take a taxi to El Junco Lagoon, 10 km on a gravel road. The trail leads up on steep steps to the slope of a volcano. The freshwater lake is popular to spot frigate birds taking a bath. Spend at least three nights on San Cristobal.
 
Offered Guided Boat Tours
Book your trip on the day of arrival at one of the dive centres. Explore the area around the village and the National Park exhibition independently. It's absolutely worth visiting San Cristobal.
Leon Dormido (Google Maps)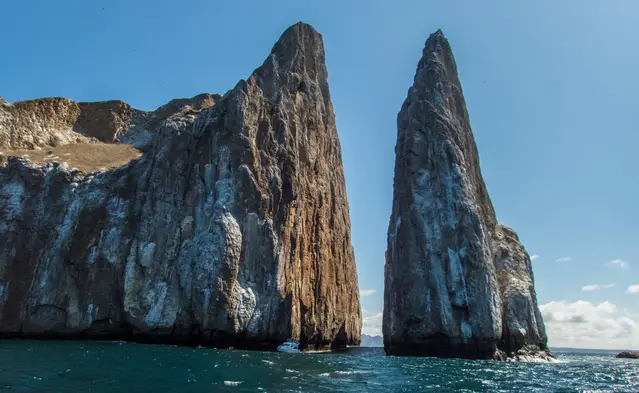 Leon Dormido often called Kicker Rock, but the residents but the locals speak about Leon Dormido only. It is an excellent spot for snorkelling and diving, famous for fire corals, rays, and hammer sharks. It takes about an hour to get here by boat. On the way back, the vessel stops twice; first, at a secluded beach and second at one for relaxing and swimming. It was like being in the Caribbean with crystal clear turquoise water and a white sandy beach.
Punta Pitt (Google Maps)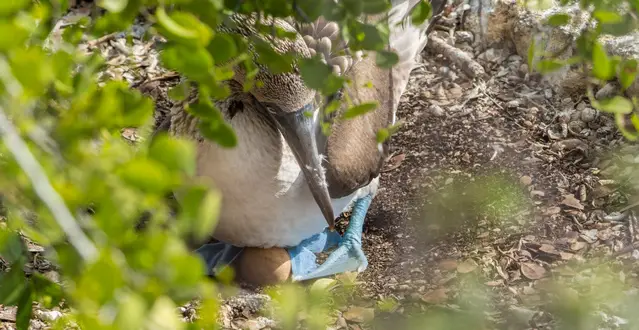 360° - boat trip around the entire island with a short snorkel stop at Leon Dormido. The reason for this boat trip is Punta Pitt, famous for spotting a colony of blue and red-footed boobies. Red-footed boobies are rare to see - blue are common.
Accommodations San Cristobal - Puerto Baquerizo Moreno
There is a huge variety of hotels and hostels available in Puerto Baquerizo. Some hostels are much better rated than the hotels. Check them out before you arrive and make an advanced booking. As soon as you get to San Cristobal, enjoy the breathtaking surroundings. Have a look at the dive shops and book one of the offered boat trips. Hotels and Hostels in Puerto Baquerizo Moreno (Bookmark the link to get the best available prices).
Isabela Island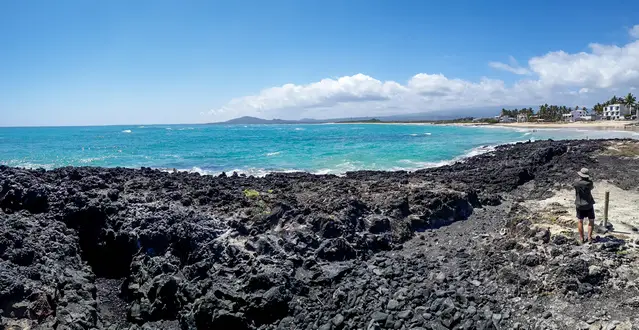 This island is easy to reach either by plane from San Cristobal or by boat from Santa Cruz. It is the largest Galapagos Island with roughly 2000 residents only. Isabela is one of the younger islands with a chain of six volcanos; several are still active. Volcan Wolf is the highest one at 1.707 m on the Galapagos islands. You arrive in the main town, Puerto Villamil. The small boat harbour is nearby.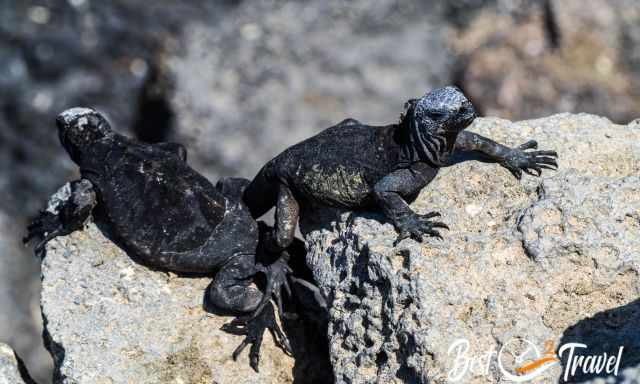 For the airport, you need to arrange a pick up from your accommodation. It's a small airport without any taxis waiting in front. Puerto Villamil is far less developed than Puerto Baquerizo Moreno on San Cristobal or Puerto Ayora on Santa Cruz. This makes the difference; it's a quiet retreat with lovely little restaurants and bars.
What to Do and How Long to Stay on Isabela?
Concha de Perla - Pearl Shell (Google Maps)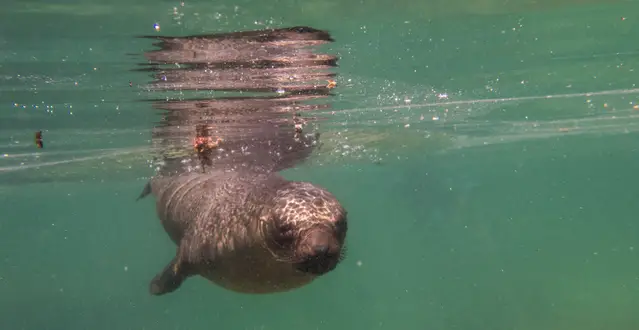 Visit Concha de Perla for snorkelling twice, once at low tide to explore the lagoon and again at high tide if snorkelling during high tide is aware of the strong current. At high tide, turtles frequent the bay more often. You may spot iguanas swimming during low tide, and sea lions are having fun while playing with you. The lagoon is a little busy in the afternoon when the children come here after school.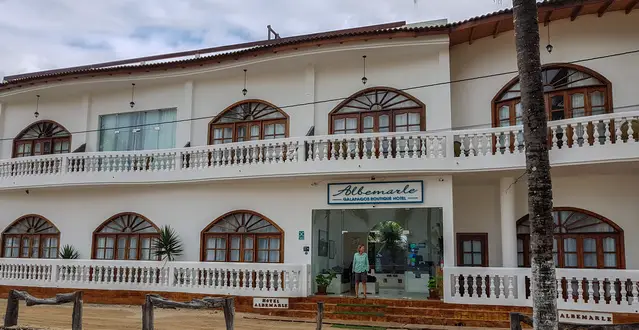 The beaches on Isabela are like paradise. We had an awesome view from our balcony at the Albermarle Hotel. You can walk along the beach several kilometres from here. We had the best stay with included breakfast in the hotel on our entire journey on the Galapagos Islands.
Giant Tortoise Breeding Center (Google Maps)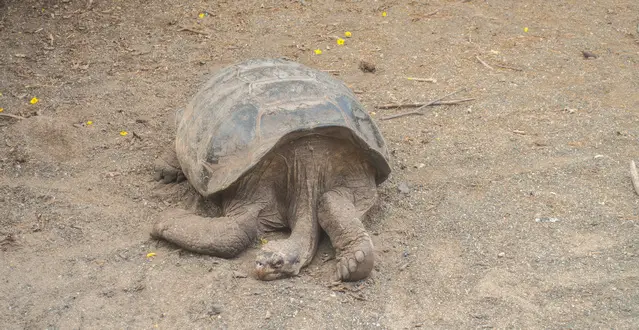 Some of the turtles have long neck, which is unusual but essential to reach their food. It's a 20 minutes walk, but you should plan extra time. You pass the Villamil Lagoon on a wooden boardwalk where pink flamingos filter the water with their long beaks. 
Los Tuneles (Google Maps)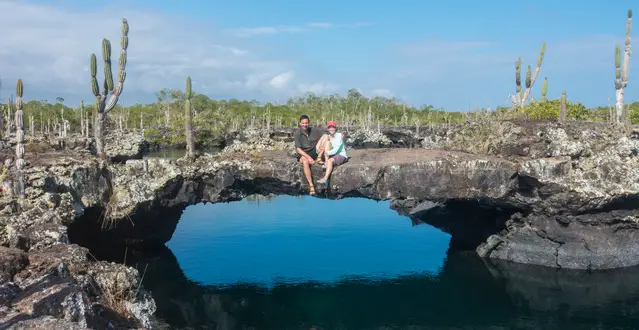 Don't miss the exceptional Los Tuneles excursion, a 30 minutes boat ride to mangroves where we got a seahorse shown in the shallow water. We spotted several male turtles trying to breed with a female from the boat, went snorkelling, dived through the tunnels, spotted resting white tip reef sharks, and at the end of the tour, we stopped at Los Tuneles with breeding blue-footed boobies. There is a special kind of cactus growing one meter in 100 years.
Las Tintoreras (Google Maps)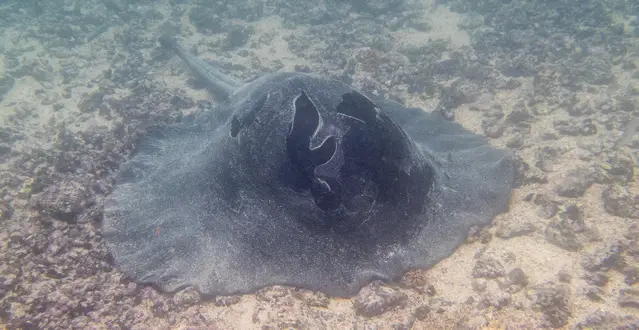 Another excellent snorkelling spot is the Las Tintoreras, just a 5 minutes boat ride to a lagoon for $ 25. The trip duration is three hours and takes part during low tide when the ocean life stays inside the lagoon. When we left the harbour, we spotted penguins on a rock. The first stop was at the islet Las Tintoreras where you may spot white-tip reef sharks in a channel and iguanas as well. Then the boat brought us to a lagoon full of green sea turtles, rays, huge fish. There were so many turtles in there due to a cleaning station that we had to make sure not to touch them. The visibility was excellent.
Take a horse to the summit of the Serra Negra with an enormous crater at 1124 m elevation. Hike from here to Volcano Chico, the last eruption in 2005. Your accommodation can organize excursions for you. It may cost roughly $50. Check the alerts first. We skipped this tour because some parts and the summit were closed. Bring a rain jacket; the volcano is often covered in clouds.
Visit the Wall of Tears if you have a day to spare. Prisoners built the 100 m long wall with lava rocks in the penal colony between 1944 and 1959.
Spend at least three nights, better four on Isabela. We loved the relaxed atmosphere and the slower pace on Isabela.
Santa Cruz, the Main Island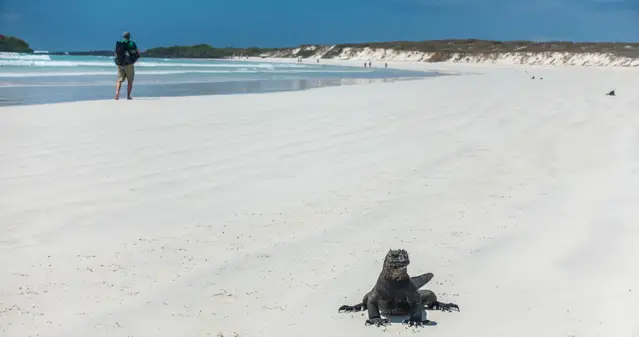 Tortuga Bay - plenty of marine iguanas 
Puerto Ayora is the main town and tourist hub of the Galapagos Islands. It's the most populated island with roughly 12.000 residents. Most tourists arrive on the little island Baltra in the north. From here, boats are waiting to ferry you the short distance to Santa Cruz for a small amount. Busses are already at the jetty to bring the tourists to the south to Puerto Ayora. There are lots of boat excursions and inland tours offered, all with a naturalist guide. Cruises around the island can be booked here as well. Especially during the low season, last-minute cruises are on sale. The main street is the Avenida Charles Darwin leading until the Charles Darwin Research Centre. You find excellent restaurants, souvenir shops, agencies for tour booking and cruises, hotels, and more along this street. The other main road, the Santa Cruz Highway, leads from Puerto Ayora to the highlands and the north's ferry terminal. 
What to Do and How Long to Stay in Santa Cruz?
First of all, I like to answer how long you can stay on this island. It's the main tourist destination, the reason that more excursions are offered, and self-guided options exist. I recommend at least a week, but you won't get bored with the many provided boat tours even for two weeks. There is so much to explore in Santa Cruz that we couldn't do all of it. Continue reading to get an idea of the many opportunities.
Boat Tours and Highlights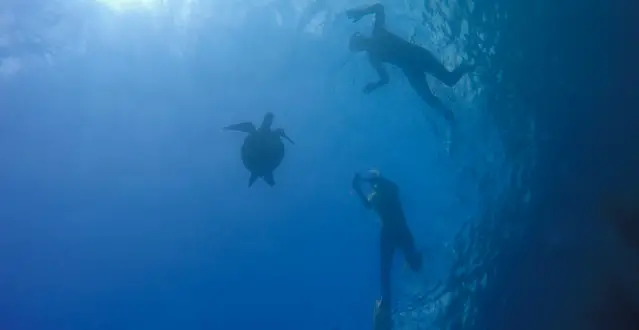 That's Markus and me; our tour guide took the picture.
Snorkeling 
Tours are offered to three different islands for experienced snorkelers only; Daphne, Pinzon, and Santa Fe. Usually, the tours combine a visit on one of the islands plus 30-45 minutes of snorkeling. At these specific tours, you get the opportunity to snorkel longer at two different locations instead of a visit on land. However, bring a wetsuit even in the warmer season the water temp can be chilly due to the currents.
Bartolome Island (Link Google Maps)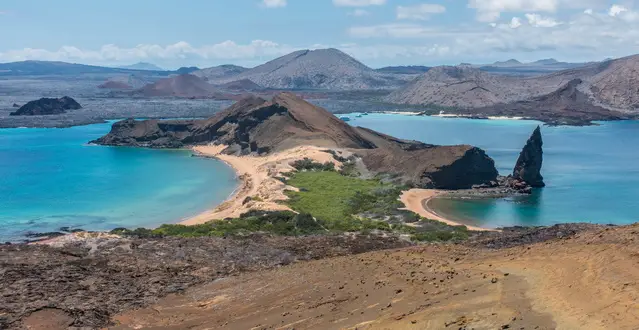 Utterly a must although a long strenuous boat ride from the north of Santa Cruz. Bartolome is located in the east of Santiago. The picturesque Pinnacle Rock is an excellent place for snorkeling and diving, where you may spot Galapagos penguins, sharks, rays. The hike to the summit starts at the humanmade jetty up on a boardwalk and on wooden steps to protect the fragile moonscape. The view from the top is spectacular.
Santa Fe (Google Maps)

Located southeast of Puerto Ayora. An awesome location to spot land iguanas and playful sea lions, stingrays, spotted eagle rays, and white-tip reef sharks.
Plaza Sur (Google Maps)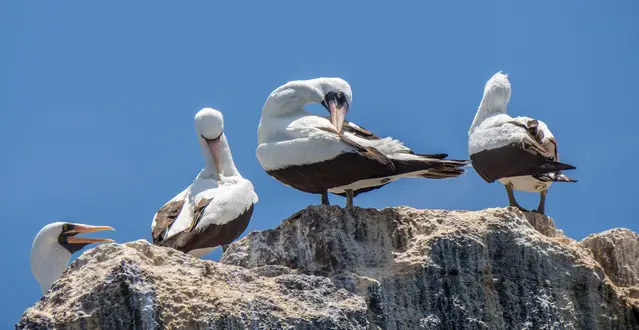 Nazca or Masked Boobies
There are two tiny islands Plaza Norte and Plaza Sur. The bigger one, the south island is open to visitors. It's an outstanding island to spot land iguanas, different species of birds like boobies, red-billed tropicbirds, frigatebirds, noddy terns, pelicans, and more. Diving and snorkeling at these islands are outstanding. Hammerheads, Galapagos sharks, and even whale sharks, occur during the warm and wet season (January-May).
Seymour Norte (Google Maps)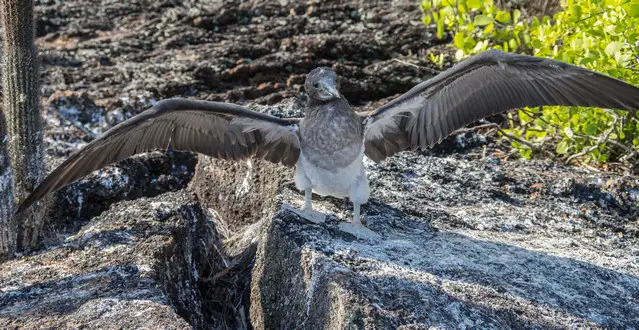 Blue-footed booby juvenile
The little island is located directly north of Baltra. It's a birders paradise to spot blue-footed booby colonies and frigate birds. Marine and land iguana call this island their home as well. The Seymour Channel is an excellent spot for diving and snorkeling. All marine life occurs here; hammerhead sharks, Galapagos sharks, black- and white tip reef sharks, sea lions, turtles, rays, barracudas. An utterly amazing spot not to be missed.
Pinzon Island (Google Maps)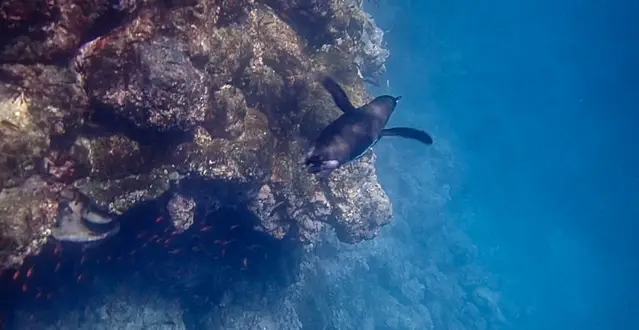 Day trips are offered, but few only. It takes almost two hours to get here but utterly worth it. It is not allowed to disembark on the island but diving and snorkelling around. There is a high chance to spot swimming penguins, playful sea lions around, turtles, rays, and sharks frequent the sea here.
Daphne Mayor and Minor Island (Google Maps)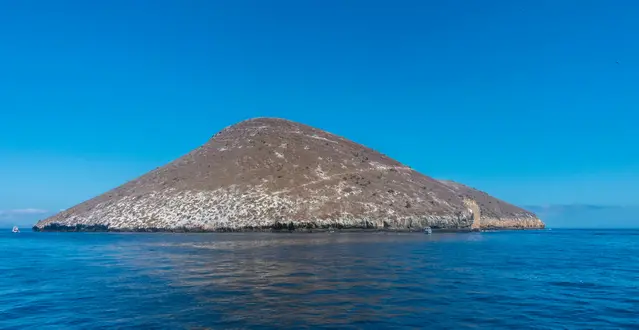 Birds, Birds, Birds, especially Darwin finches, blue-footed boobies, tropicbirds, and frigate birds are on Daphne Mayor, but it is prohibited to access the island. Daphne Minor is an excellent diving spot for large schools of sardines getting hunted by sharks, sea lions, and boobies.
Floreana (Google Maps)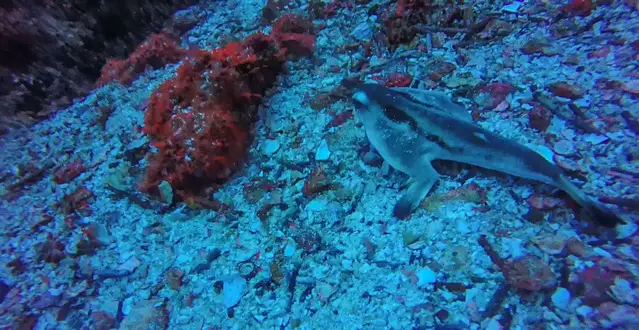 Endemic red-lipped batfish
It's a quiet and unspoiled island with very few tourists. You can stay on the island; boats depart from Puerto Ayora. It's lovely for snorkeling with lots of turtles around but excellent for diving. There are several spots around Floreana that are popular to see the endemic red-lipped batfish.
Black Turtle Cove – Caleta Tortuga Negra (Google Maps) 
The mangrove cove is accessible with a panga (dinghy) only. Located in the north close to Baltra. It's great for snorkeling to spot black- and white tip reef sharks, turtles, rays, even hammerhead shark babies can occur here. You may also watch pelicans and blue-footed boobies.
Boat excursions to Tintorera and Los Tuneles at Isabela Island are also offered.
Trips on Santa Cruz Island
Fish Markets (Google Maps)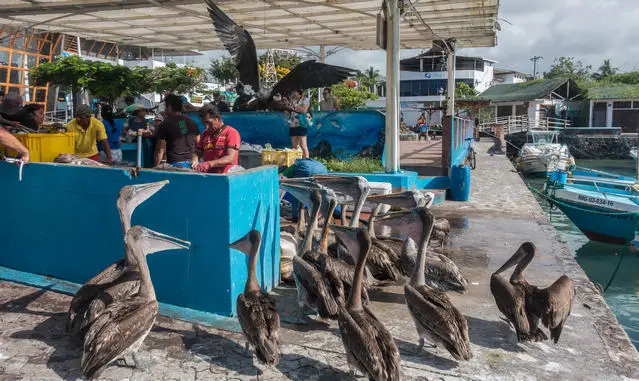 Visit one of these fish markets in the morning. We had one relatively close to our hotel. Watch the hungry pelicans and frigate birds trying to catch some leftovers.
Tortuga Bay - Bahia Tortuga (Google Maps)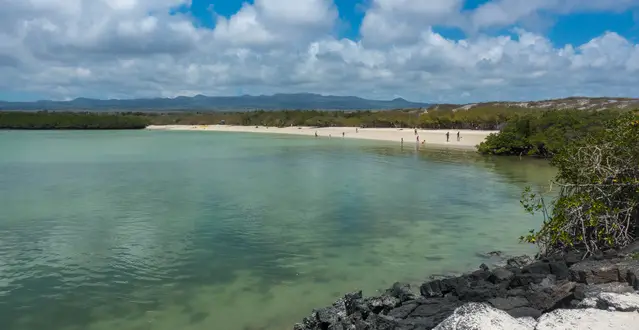 Opened from 6 am to 5 pm. The entrance is fenced, and you need to register at the ranger station. The trail leads along huge opuntias and is roughly 4 km long one way. It took us 1.5 hours to get here with lots of photos stops, especially for marine iguanas. The Tortuga Bay's white sandy beach is utterly amazing, with marine iguanas coming back from the sea. Turtles lay their eggs during the night in the warm wet season. The nesting sides are marked; keep out here. For snorkeling, you walk around the bay to a protected lagoon. The access is easy during low tide, and trees provide shade. During high tide, it may be challenging to reach the beach and, most are flooded. Lots of green turtles are in the lagoon during low tide. However, the visibility is poor; I bumped almost into a huge turtle. The water here is very salty. You can either walk to get here or take a water taxi from Puerto Ayora. We walked all the way to the bay, which was worth doing and took the boat back for $10 p.p. The service is offered every hour or so. The skipper walks around the beach and lets the people know when the water taxi departs.
El Garrapatero (Google Maps)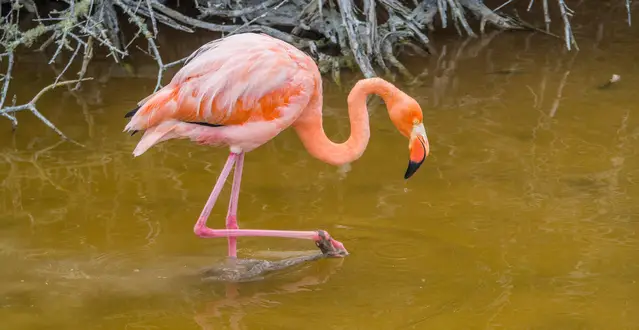 A picturesque beach which is nice for swimming and snorkeling 20 km northeast of Puerto Ayora. In the freshwater lagoon behind, you may spot shorebirds and flamingos.
Bahia Bay Tour combined with Las Grietas (Google Maps)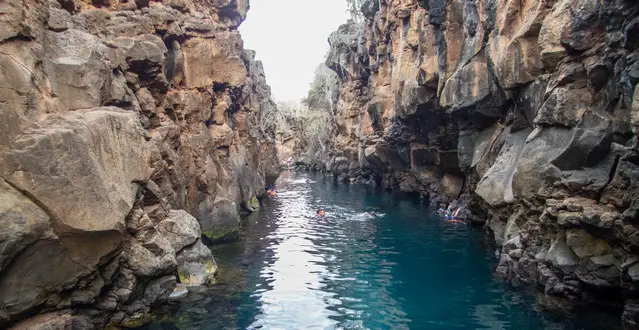 It's a half-day tour for roughly $ 35-40, starting in Puerto Ayora in a small boat. Already from the boat, we spotted boobies and frigate birds. We visited a beach, Playa de Los Perros, with marine iguanas breeding grounds (closed during this season in April/May), went snorkeling with many big turtles around, and to Las Grietas for snorkeling. The saltwater canyon's connection to the sea is a small crack, but massive fish is in there. Larvae got into the canyon, and the huge parrotfishes can't escape now. You get to Las Grietas also by water taxi for around $1 each way or walk to it. It's popular with tourists and locals alike, therefore, crowded during weekends.
Charles Darwin Research (Google Maps)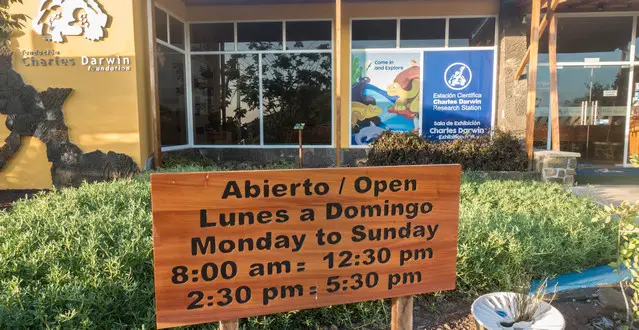 It's a short walk from Puerto Ayora to get here. Detailed information about the geology, conservation efforts, climate, Galapagos nature are exhibited. Beyond is the tortoise rearing station. Turtle eggs from the wild are incubated here. The little tortoises are leaving the station, getting back to their home islands after around five to six years when they are no longer eatable by their predators. Free entry
Playa de la Estacion (Google Maps)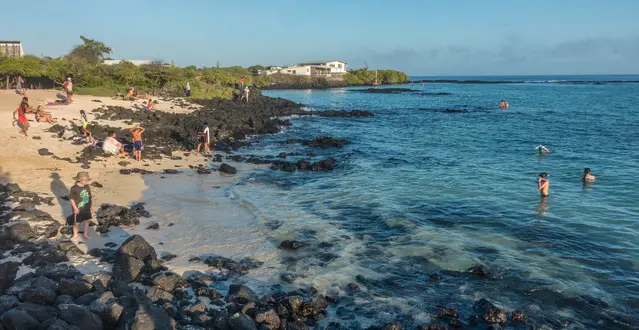 It's a beautiful beach and bay located next to the Charles Darwin Research Center. It's a perfect place to start your vacation. Practice snorkeling in crystal-clear water and bring your swimming shoes; there are lots of rocks. Tourists and locals visit the beach.
El Chato Reserve (Google Maps)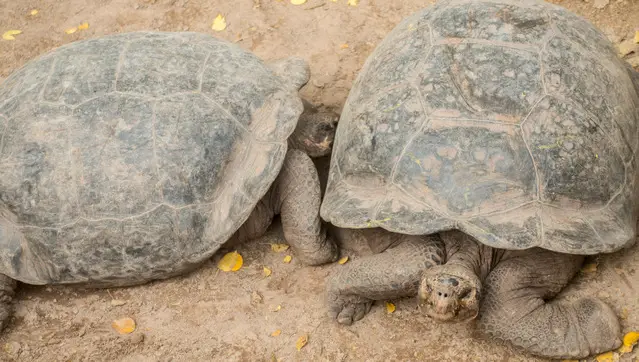 Close to the Lava Tunnels is the tortoise reserve located. It's the best place on the entire islands to spot these giant tortoises in their natural habitat without any fence. And tortoises are everywhere in beautiful nature. A track leads to the wild reserve. Have a closer look at the treetops short-eared owls that occur here. The staff is super kind and helpful. There is a café offering beverages, and clean restrooms are available. How to get to El Chato and the Lava Tunnels; organize a taxi. You may need an hour for the reserve and roughly 20 minutes for the tunnel. Walkthrough the entire lava tube. Usually, the taxi driver picks you up at the end. Small entrance fee
Lava Tunnels (Google Maps) 
Most people combine the El Chato Reserve and the lava tubes. A staircase leads into the tunnel and also on the other side out. It's pretty hot, humid, and muddy inside the tunnels. Bring a bottle of water. The tunnel is illuminated, however, in case, bring a torch. In the end, you need to crawl, but you don't get too dirty; a wooden board on the ground makes it easy. Free entry
The Highland, Cerro Crocker (Google Maps) and Los Gemelos (Google Maps) of Santa Cruz
The name says it all; you get to a higher elevation. It's an impressive contrast to the rest of the Galapagos. Experience the lush vegetation, spot many bird species, and hike to the highest point of Santa Cruz to Cerro Crocker at 864 m elevation. The highlands are often covered in clouds or fog. The lush vegetation looks like being in a rainforest. Trees are covered with lichens and mosses. Orchids and ferns can be seen on the muddy trail to Los Gemelos. The endemic scalesia tree exists here as well. These trees can grow between 1 to 15 meters, depending on the species. They occur in humid areas of the Galapagos. Los Gemelos are two large collapsed craters on each side of the road. Cerro Crocker is almost a day hike. It takes about 8 km to the summit, roughly 2.5 hours. The trail starts in the little village of Bellavista. Free entry, but a taxi or guide is needed.