Trekking is pure freedom: enjoy nature far away from civilization and simply kick back and unplug for a weekend or weeks. However, the love of freedom doesn't mean skipping the shower and body care for us.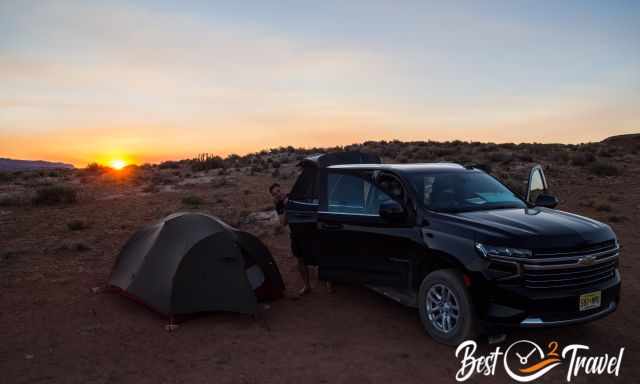 After a strenuous hike, a shower is very welcome, and our last trip to the US was a lesson for us with the global water shortage. How does it work with body care and hygiene without a bathroom? We like to share our experiences with you.
Environmental Friendly Soap and Shampoo in Nature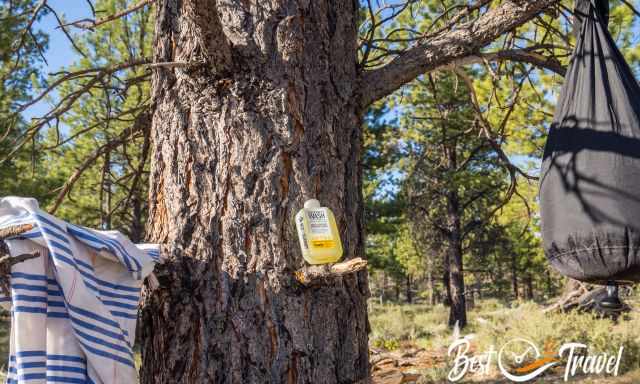 Using rivers and lakes is the best way to freshen up on a trekking tour far away from civilization. But what if you are travelling in the desert? Our last trip led through the high desert in Escalante in Utah in the US, which meant we had to be economical with our available water. We did some research to find an environment-friendly soap and figured out that two litres are plenty of water for a shower if soap is available.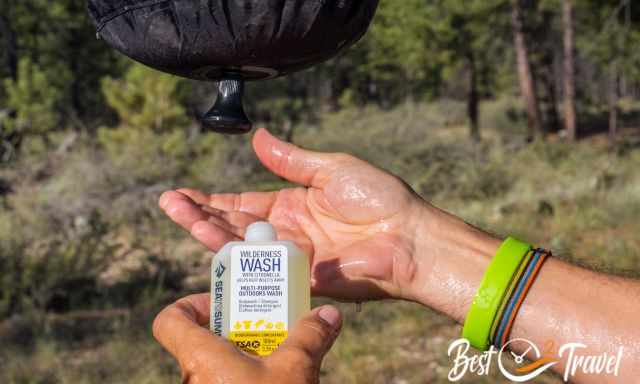 We chose the Sea to Summit Wilderness Wash with Citronella, which was sufficient. The liquid soap comes in a small bottle, is fragrance-free, biodegradable, and keeps insects away. We used it for the body as well as for our pots and pans, and it worked great.
Taking a Shower in the Wild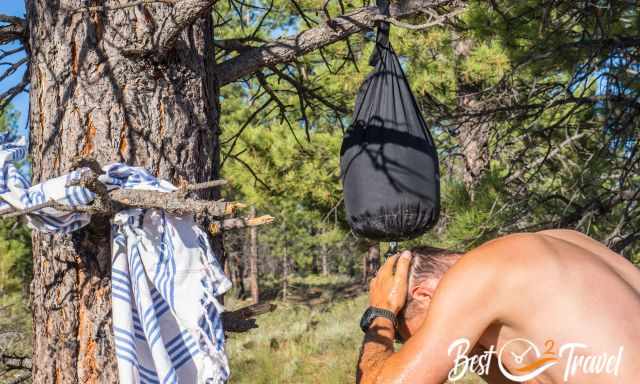 An outdoor shower in the wild is unforgettable and a special type of freedom. We found two perfect solutions for taking a shower at remote spots. We use the first solution when travelling abroad by plane and the second on our VW California Beach journeys.
1 Packable Shower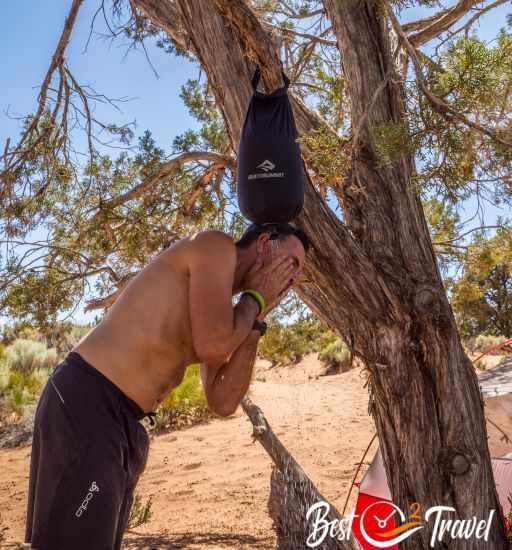 You can build a wild shower with simple tools. All you need is water and a waterproof container. Packing bags or large plastic bottles are well suited. We prefer the pocket shower from Sea to Summit for our portable shower. It can be stowed away in a small case, and you can hang the shower almost anywhere with the attached D-Rings. The showerhead operates with an on/off twist mechanism to adjust the water flow. If you put the pocket shower in the sun for a while, the water gets heated up because of the black fabric, and you are able to enjoy a warm shower.
2 Immersion Pump Shower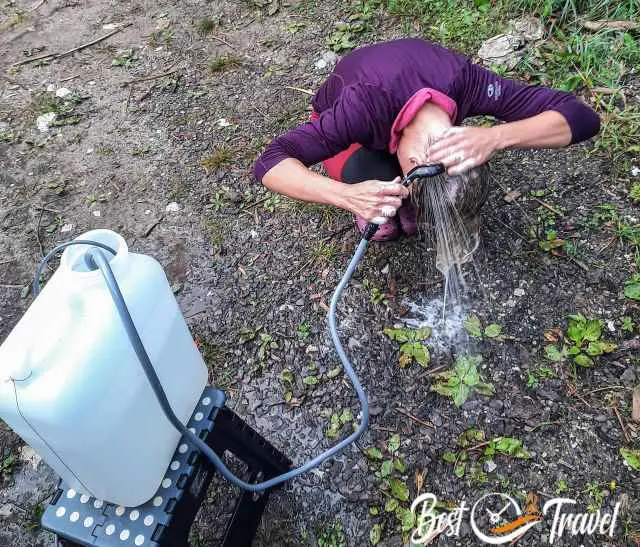 When we travel with our camper van, we usually carry 20 litres/ 5 gallons water canister. A small camping shower with an immersion pump powered by the 12v from the van provides us with a shower almost everywhere. Although Europe is densely populated, we always find lonely and quiet areas.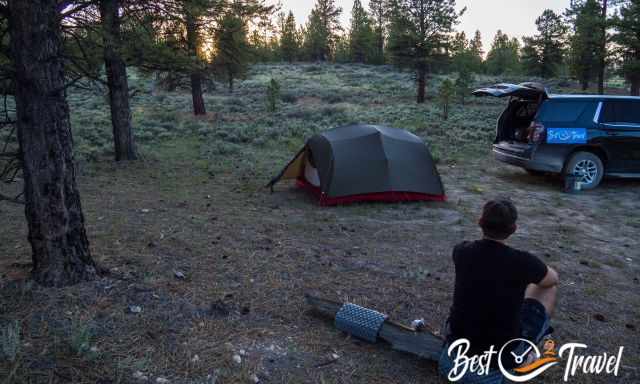 We learned with both options during our last journeys to shower ourselves with a minimum amount of water. We have retained this at home in today's situation with water scarcity and drought, of course not two litres, but we shower shorter with a reduced stream. We have to rethink our behaviours for future generations!
Outdoor Shaving Kit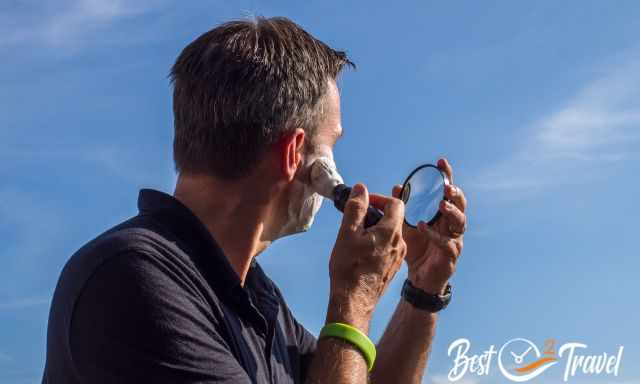 Usually, shaving outdoors is not on top of the priority list during an outdoor adventure, but it depends on how long you travel without a hotel room and civilization. From time to time, I need this refreshing feeling, and Micha is glad when I shave the scratchy beard stubbles away.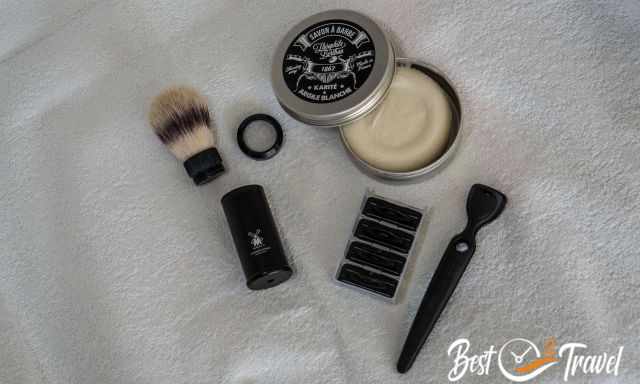 Having the right tools with you is essential. It starts with a proper but lightweight shaving brush which can be stored safely. The only company which offers such a shaving brush is MÜHLE, a famous German company. In combination with small shaving soap, my favourite is the sandalwood scent. Shave soaps produce a rich, creamy lather and fragrance with a brush that is thicker than cream and lasts longer. The metal box I use to store the soap is from a French shaving soap company.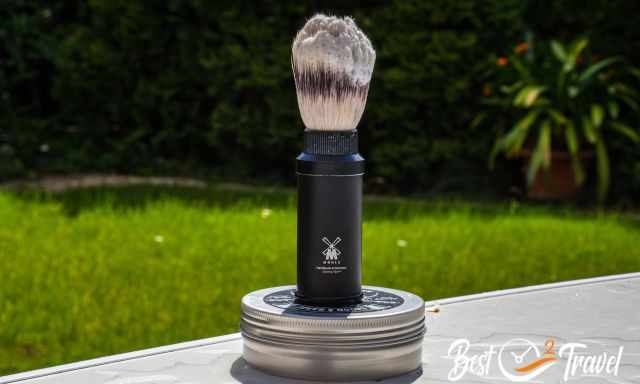 The advantage of this outdoor shaving kit is that it is lightweight and lasts long, so it is perfect for your future journeys.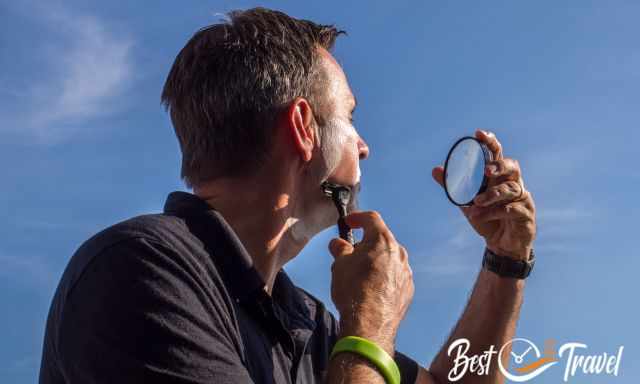 As a long-time user of Gillette Razors, I recently switched to Boldking, a European online razor brand startup based in the Netherlands. Having a small unbreakable shaving mirror with me is essential too. Now it's on you to get hot water for a proper shave. For me, that's the easiest way for a great shaving experience because hot water softens my hair shaft and follicles, but it's up to you if you go for hot or cold water. However, sometimes shaving is well needed.