When Is the Best Time
What castle is the Disney Castle based on? You immediately know the answer when staying in front of Neuschwanstein. Neuschwanstein is one of the most visited castles in the whole of Europe, estimated 1.5 million visitors each year. Summer is the worst time, with up to 8.000 tourists daily. However, even during the busiest time of the year, you can find your magic moment here.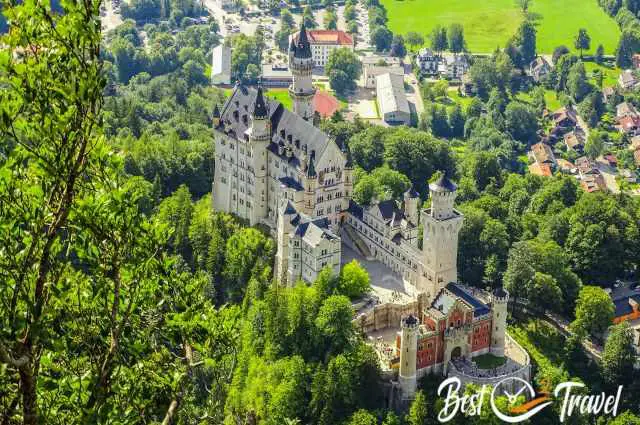 Read my detailed when-to-visit facts with updates and new pictures from 2023; finally, Marienbrücke - Mary's Bridge is open again - how to get to the best viewpoints and all about the history of the fairy-tale King Ludwig II of Bavaria.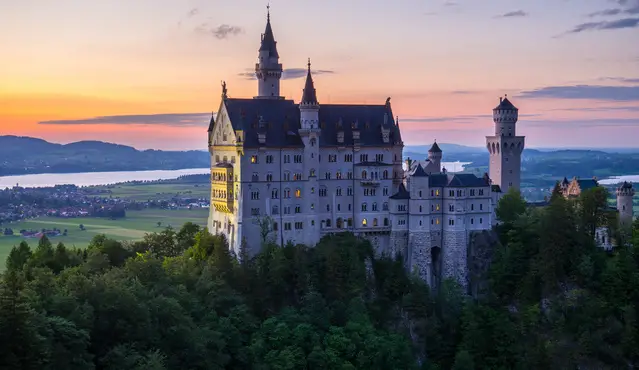 Neuschwanstein Castle and Hohenschwangau Castle are open.
If you want to visit Neuschwanstein inside, booking your ticket at least a month in advance is recommended. Just a group of ten visitors are allowed on each tour through the castle. The alternative is to book a guided tour.
Plan at least half an hour to line up to take the bus or even the horse carriage.
Updates Neuschwanstein August, 2023
Closed Marienbrücke Reopened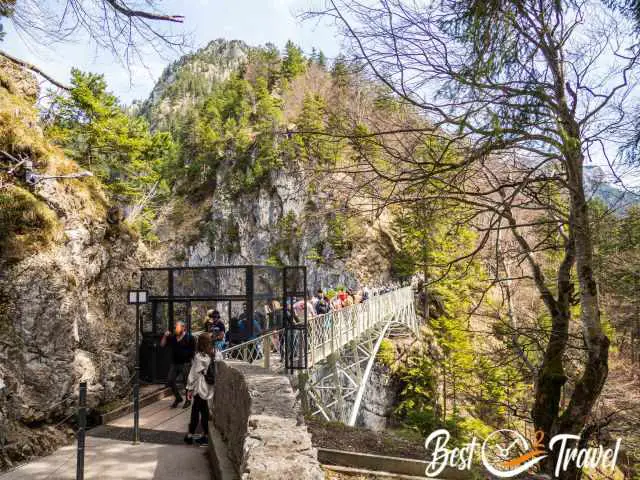 Good News: Regarding Marienbrücke: The restoration works were finished in August 2022, and finally, Mary's Bridge is safe and accessible for visitors after more than a year of closure.
Apartment of King Ludwig II Reopened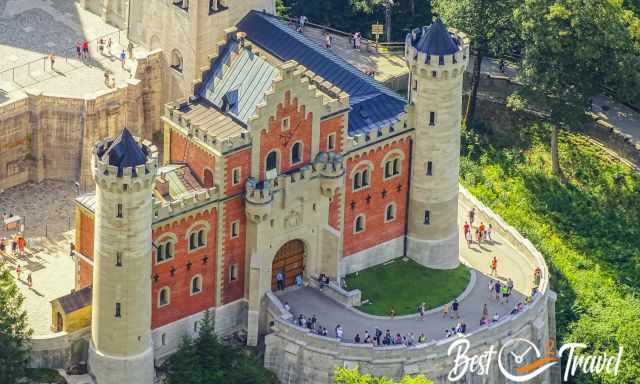 The castle is under construction until 2024. This impacts your visit. 
So far, the restoration work has also taken place in the presence of visitors. The royal apartment of Ludwig is too narrow and therefore was closed. The dressing room, living room, grotto and bedroom of King Ludwig II are finally accessible to visitors again. 
A dark layer of dust and polish was carefully removed from the wood and bed with a toothbrush, brush and solvent. More than a dozen restorers worked in the royal apartment to remove dust and dirt from the last 150 years, seal windows or repair wall paintings. The restoration work in the King's Apartment was completed in the summer of 2023, when the peak season began.
It is estimated that the five-year restoration will cost 20 million euros, the largest in the castle's history, and should be completed in 2024.
Pöllat Gorge Closed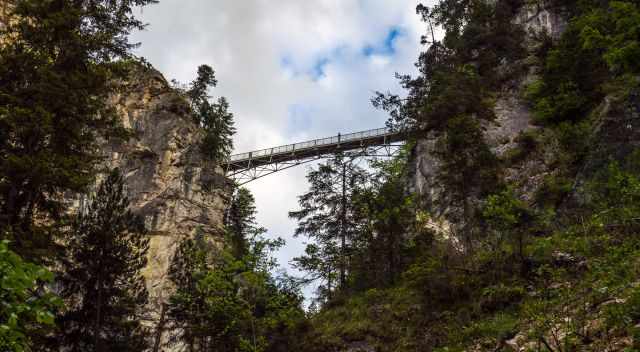 Bad News: The Pöllat Gorge has closed again after a costly renovation. The future of the gorge is currently unclear. Rockslides are a major concern. However, read my tip below on how to get spectacular views of Neuschwanstein and the best alternative for this gorge view - my tip is viewpoint number 3.
Does Neuschwanstein Become a UNESCO World Heritage Site?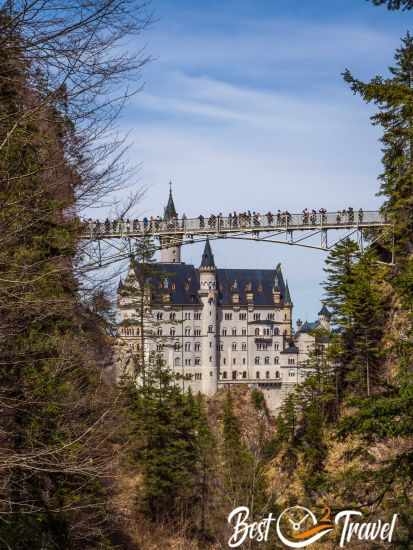 Will Neuschwanstein Castle be awarded a UNESCO World Heritage Site? This was an exciting question because the local community wondered whether they wanted this title. There was a vote held on Sunday, June 18, and the majority, 56% in total, supported it. This means that Germany can submit the planned candidacy at the beginning of 2024. Now it remains exciting whether UNESCO will select Neuschwanstein and the other castles of Ludwig II.
Personally, I see this as an opportunity and a well-deserved award. 
Tour Recommendations for Castle Neuschwanstein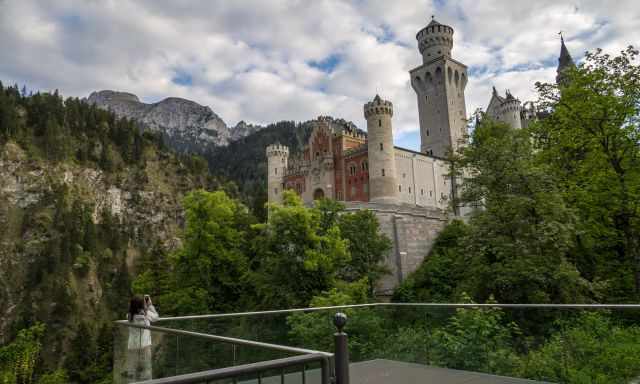 These are my recommended tours via GetYourGuide.Thx for booking via my website! With your support, I am able to provide all information first-hand. Tour prices are at no extra cost!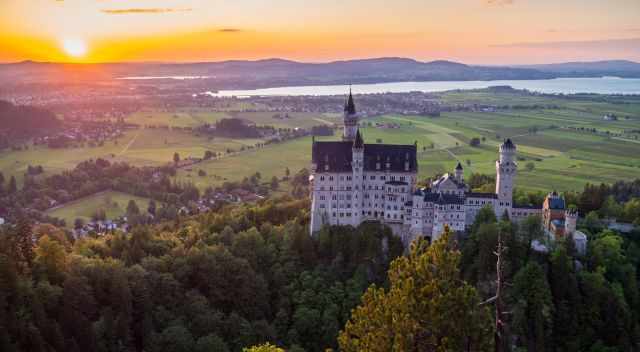 The best time to visit Neuschwanstein is during spring and autumn. It is busy but not utterly overrun except at midday, and the temperatures are pleasant. Either visit in the early morning and book the first guided tour or in the evening. During winter, the bridge for the best view is closed.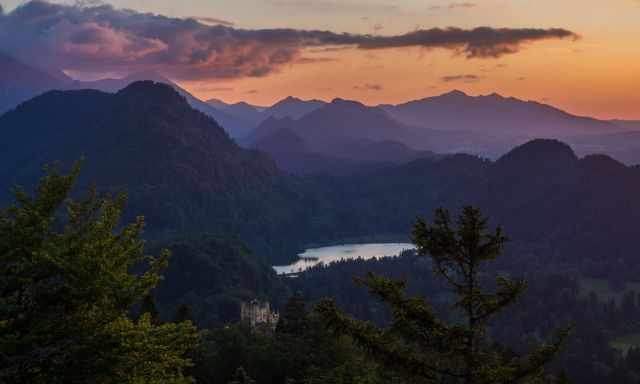 Experience this magical place in tranquillity and watch the spectacular sunset. Tip: If you want to watch the sunset bring a torch or headlight for the walk back in the night. Sunset times for Munich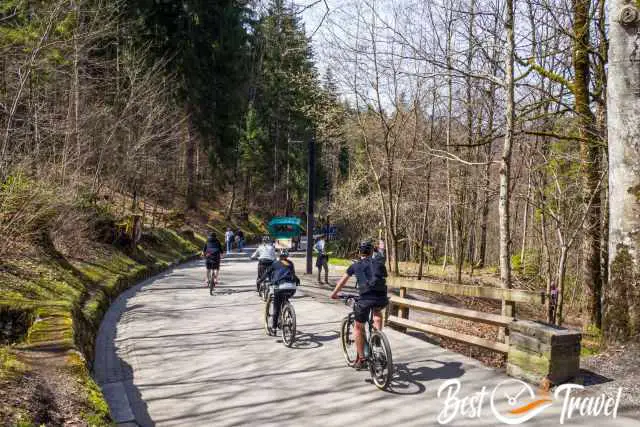 Top Tip: If possible, bring a bike or rent an e-bike. Some hotels even rent a bike to their guests (tip below), and visiting the area by bike is becoming more popular.  It is a steep upslope ride but fast and great fun for the way back to your hotel, car, or campervan.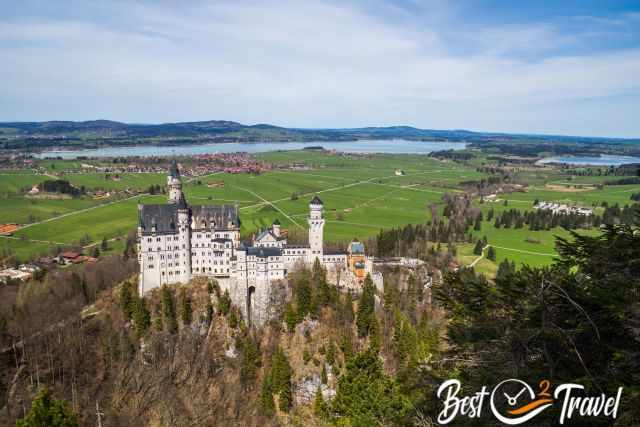 3 Best Viewpoints of Neuschwanstein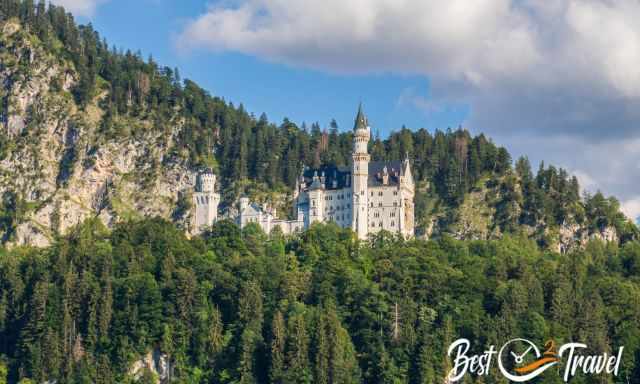 1 Marienbrücke - Mary's Bridge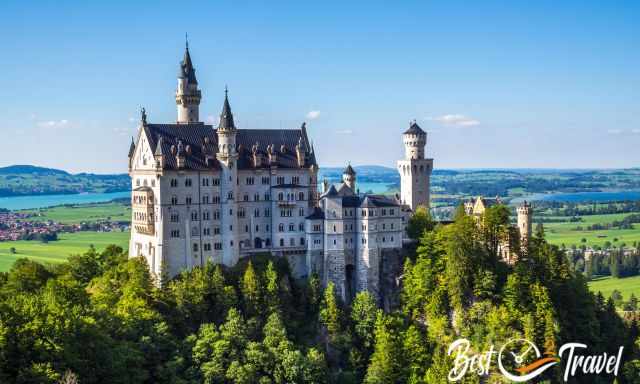 One of the best and most popular spots to see Neuschwanstein is from Marienbrücke (Mary's Bridge). Getting here is easy either on foot, roughly 45 minutes for the 2.7 km long walk or taking the shuttle bus and walking 10-15 minutes on a paved path to the bridge. This is even possible with a stroller or wheelchair with a little help. Hiking Map by Locus Map App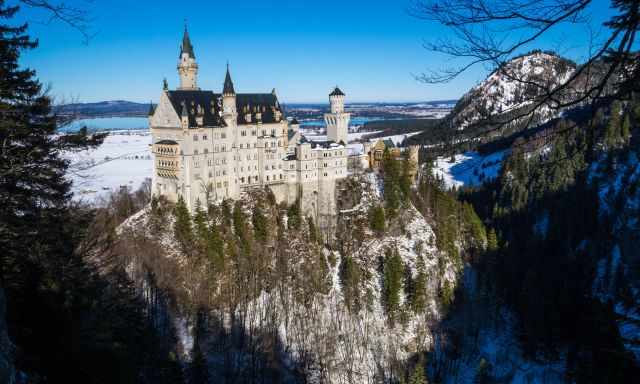 The shortest option to the first viewpoint is a 1.3 km long trail on the summer route by Locus Map App and takes half an hour with an elevation gain of roughly 200 m. This track is suitable for hikers with proper hiking shoes because it's a steep and narrow trail.
2 Lookout After Marienbrücke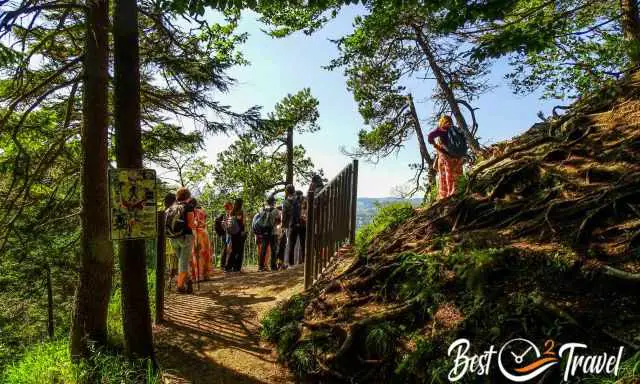 Getting to this viewpoint is an easy stroll of less than ten minutes and a wooden fence secures the spot. You cross the bridge, continue walking through the forest, and turn left uphill. It's a moderately short walk that offers great views and, best of all, is not crowded.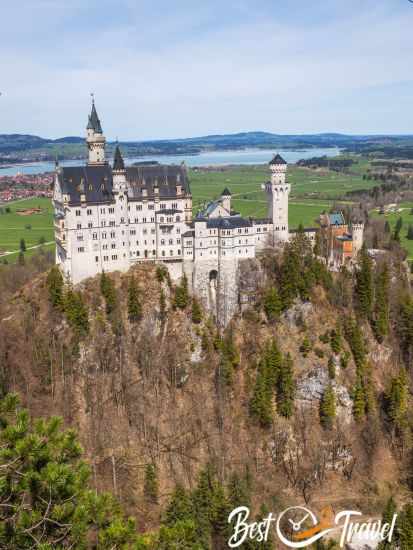 Most people return after Marienbrücke. Locus Map Viewpoint Hike - 250 m from Mary's Bridge - Marienbrücke
3 Viewpoint Below Marienbrücke - Mary's Bridge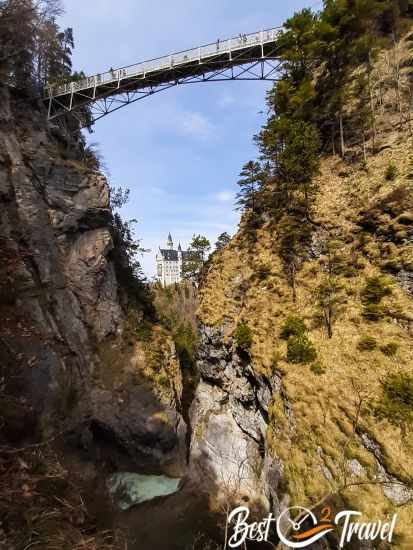 This is a short detour hike of 700 m return which we do after Marienbrücke during the day. This viewpoint is still a hidden gem, and you are able to avoid crowds. Even during busy weekends, only a handful of people hike to this spot.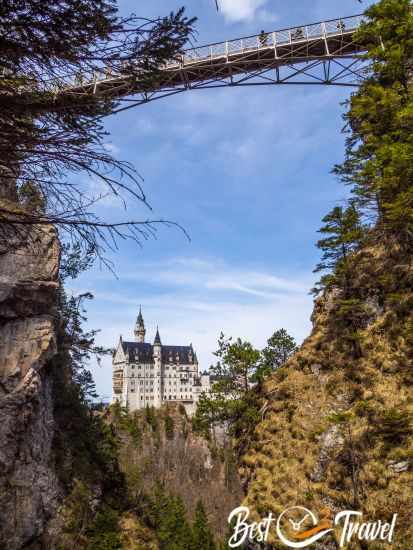 It is a little steep, and I recommend shoes with good traction, not sneakers, and you get rewarded with a breathtaking view of the gorge. This is a great alternative because Pöllat Gorge remains closed. From Marienbrück to this Neuschwanstein viewpoint Hiking Map by Locus Map App
My Tip for a 2 or 3 Days Visit
Do you plan to stay at Hohenschwangau for a few days for hiking? Take the cable car to Tegelberg Mountain and hike from there to Neuschwanstein Castle.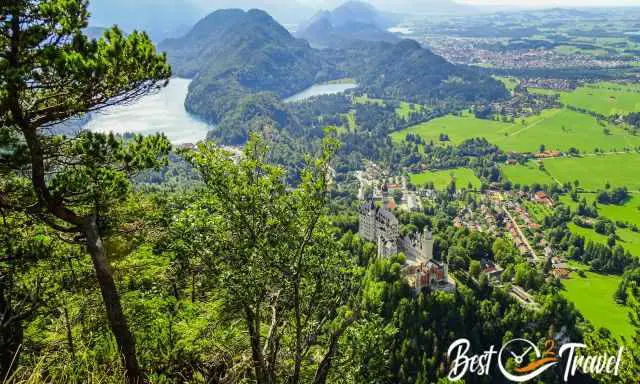 It is the best photo spot of all where I took sunset pictures. However, if you like to do so, bring a torch for the way back and enjoy the magical atmosphere from the bridge. 
Locus Map Hike from Tegelberg Mountain to Neuschwanstein and back to the cable car parking - 8 km long hike.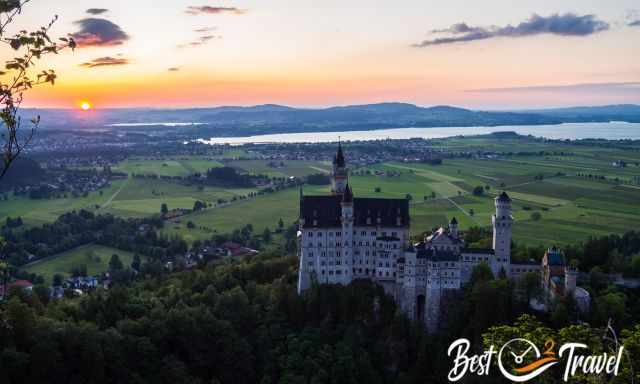 Hiking Map  for more details about the area around Neuschwanstein.
9 Things to Do at Neuschwanstein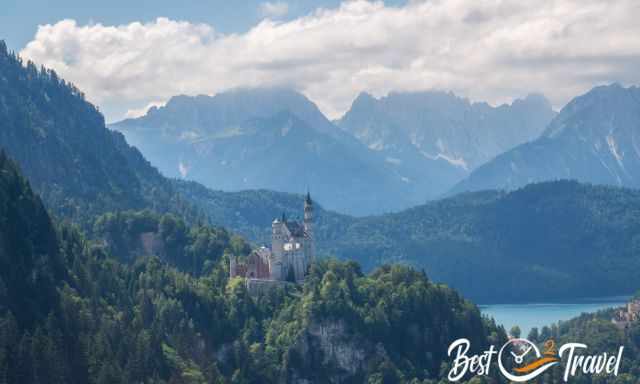 After more than three years of living in this area, I want to show you where the locals go swimming, which event you shouldn't miss, and what else to do. Check out my new guide for the 9 Things to Do at Neuschwanstein written for you.
Do You Stay in Munich? Don't Miss Out on My Munich by Bike Guide - One Day Itinerary.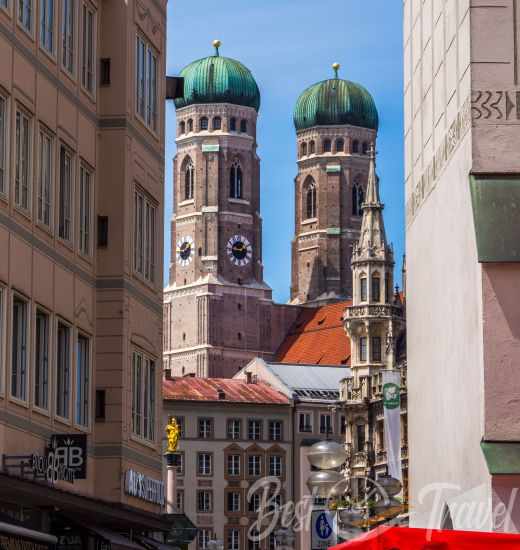 Do you like to know why there are so many historic buildings in Munich and why the city is not full of skyscrapers? And why is the Octoberfest held in September? Check out my additional Munich by a local guide.
Crowds and Weather by Seasons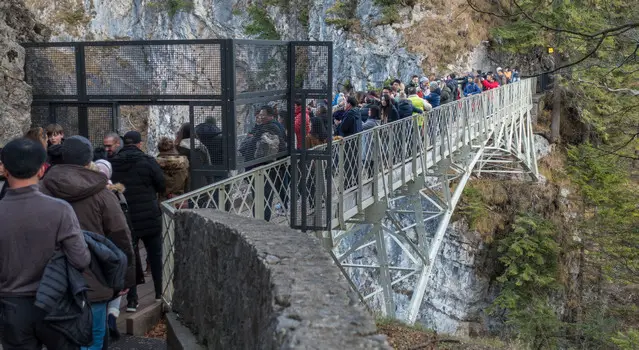 Neuschwanstein Castle is one of the most visited places in Germany. You should be well prepared for an outstanding experience, especially during the peak season. Weekends are always busier with German, Austrian, and Italian visitors as well. The famous castle is located close to the Austrian border and the Ammergau Alps. The mountains have a huge impact on the climate. The summer is wetter than the winter. The village Schwangau on the bottom of the hill of Neuschwanstein is located at an elevation of 800 meters. That's why the long and icy winter and cooler summer months exist.
Spring (April-mid-June)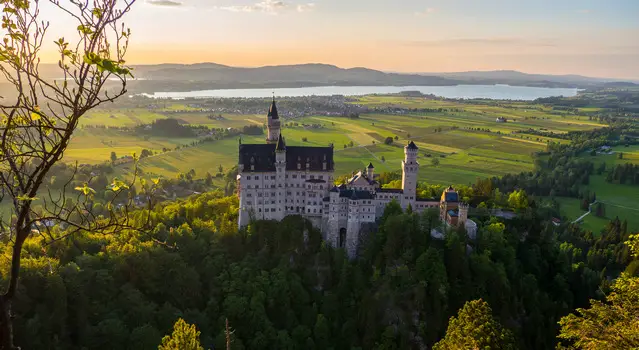 View from the Tegelberg Massif.
April can be sunny and warm, with temps around 20°C, but snow occurs as well, like in 2021 and 2023, even at the end of the month. May and June reach temps up to 26°C. If it's overcast or rainy, temps are frequently below 10°C. Precipitation occurs almost every second day due to the proximity to the mountains.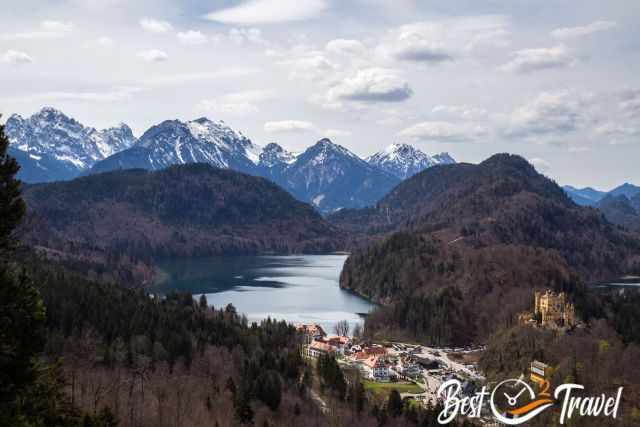 However, the weather changes quickly; it often clears up and gets warm again after a heavy shower. During the night and in the early morning, expect 0-5°C.
Summer (mid-June-mid-September)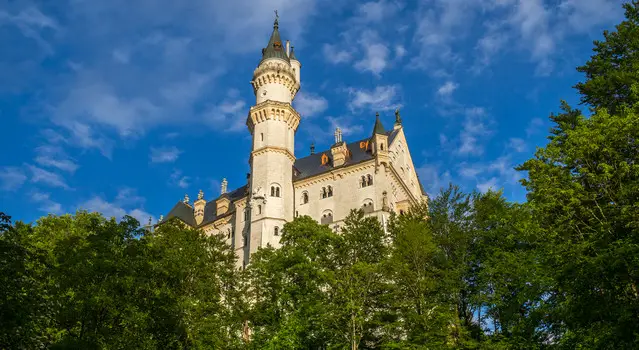 The summer is a lovely time in the mountains. Temps can reach 30°C on a sunny day, but the mean daily temp is around 20°C. This time of the year is the wettest. Rain occurs every second day. Nevertheless, it doesn't rain for days often. Instead, it's also sunny or partly cloudy. Due to the location, it cools down at night, and temps drop on average to 10°C. The castle is a popular must-see site when visiting Munich.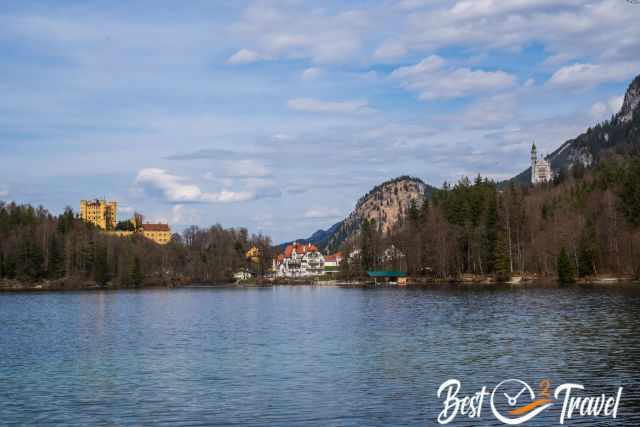 The worst time of the year is from July to September. Tickets are often already sold out before lunchtime. Make a ticket reservation in advance; otherwise, you leave Schwangau with disappointment. However, the surroundings are magical in the evening when most visitors left the area.
Autumn (mid-September-October)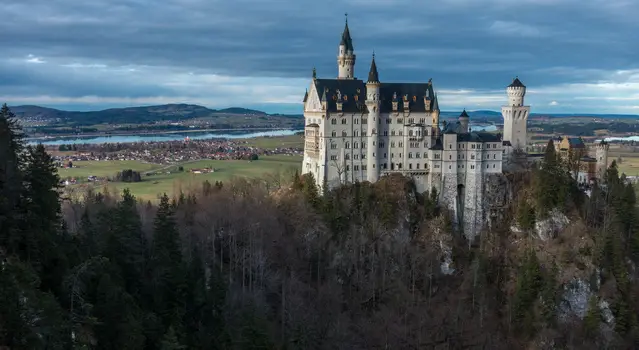 Decreasing precipitation in autumn. It's my favourite time of the year. The crowds thin out, the temps are still pleasant, and the fall foliage is spectacular. If it is sunny, temps are often above 20°C at midday. On overcast or rainy days, it's colder temperatures range from 10°-15°C.
Winter (November-March)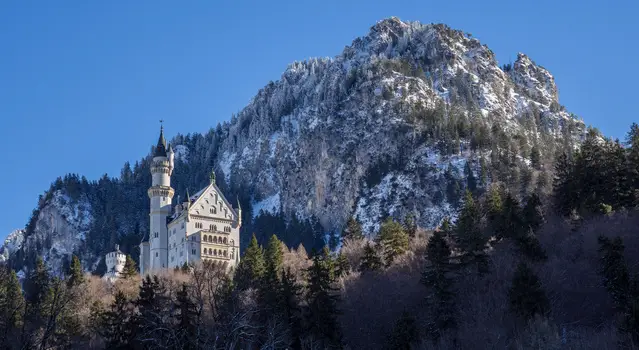 November is often cold and grey, making it less busy here. As soon as it starts snowing, it looks fantastic. December is a popular month for Munich for the Christmas Markets and so for the castle. December to February are the driest months of the year. Instead of rain, there is usually snow. March and November are slightly warmer, while December to February temps are around 3°C.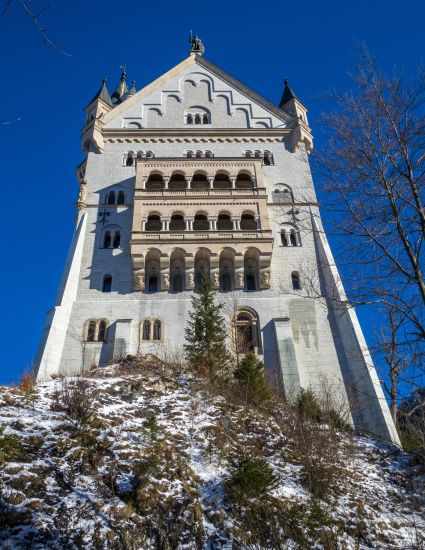 I am not fond of the cold winter; however, days are often crisp and clear, offering a fantastic dark blue sky. Nights are freezing at least -10°C. Unfortunately, the popular Marienbrücke, the bridge with an excellent view of Neuschwanstein, is closed during snow and ice.
Opening Hours - Closures Neuschwanstein and Hohenschwangau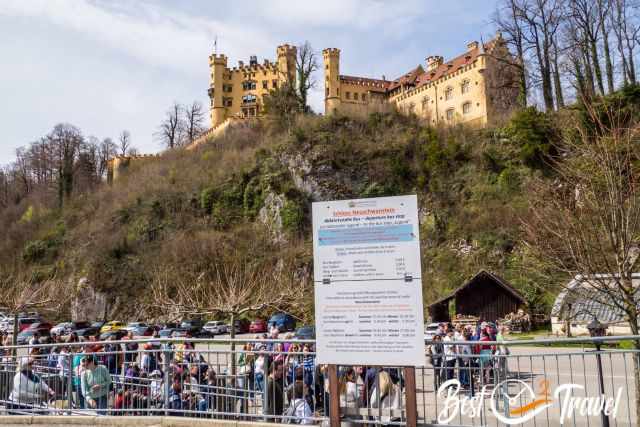 Daily opened except 1. January and 24 / 25 / 31 December
April to 15. Oct 9 am-6 pm
16. Oct to March 10 am-4 pm
Ticket Center Hours - Neuschwanstein and Hohenschwangau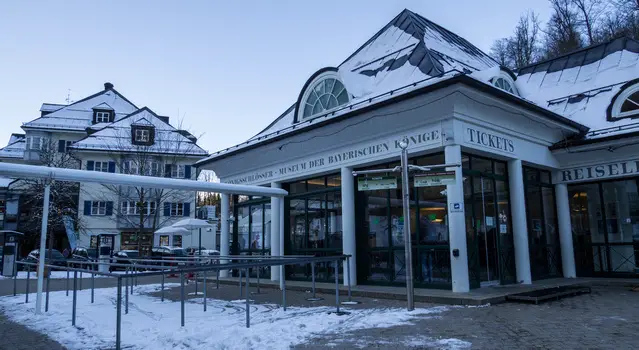 Attention: To enter the castles, you must buy or pick up your reserved tickets first! You can't get into the castle for free, but there is no ticket needed for the viewpoint and Mary's Bridge - Marienbrücke. 
April to Sep 7.30 am until 5 pm

Oct to March 8.30 am until 3 pm Exception, if Easter holidays are in March, already longer opening hours at the end of March.
Bus Shuttle Hours to the Castle and Return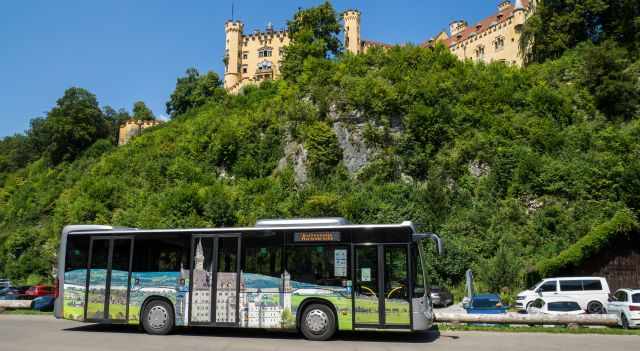 Summer First drive up to the castle and Marienbrücke, the famous bridge for a fantastic view, at 8 am and last at 5.30 pm. Last transport down at 6.45 pm
Winter First shuttle uphill at 9 am and last at 3.30 pm. The last shuttle back is at 5 pm.
Not during snow and ice. However, horse-drawn carriages are always available.
Opening Months Pöllatschlucht - Gorge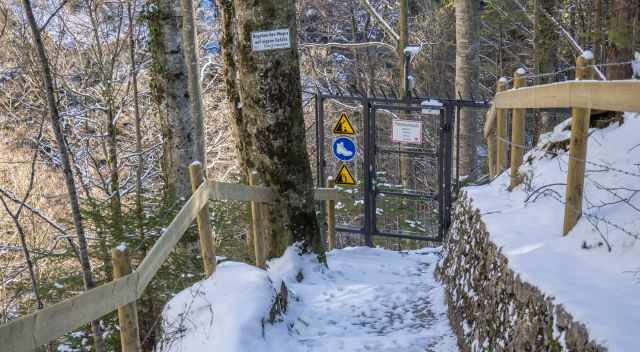 Depending on the conditions of the gorge after the winter, the iron track is open and accessible between late April and June. At the start of the winter, the gorge gets closed; usually, at the beginning latest, mid-November. Since the reopening in May 2019, there have been gates at the beginning and end of the gorge. These gates close automatically in bad weather conditions.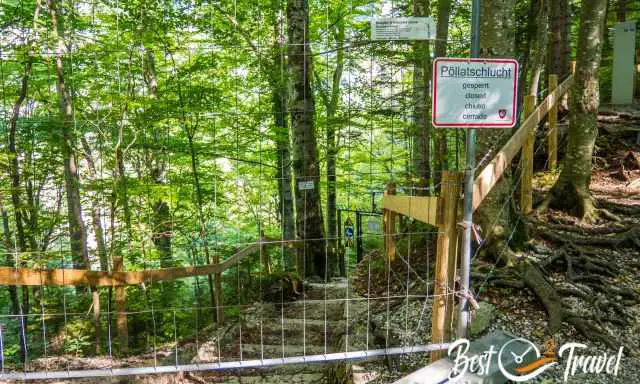 When the gorge - Pöllatschlucht, is open, you can walk around the hill on which Neuschwanstein is situated. Currently closed after expensive renovation for an undefined time because of hazardous rockslides. The future of the gorge is currently unclear. 
More information for Neuschwanstein, fees, and parking is below.
| | |
| --- | --- |
| | Fodor's Essential Germany guidebook is highly recommended if you wish to explore more. It is packed with maps, carefully curated recommendations, and everything else you need to simplify your trip-planning process and make the most of your time. |
Three Top Hotels All Facing Neuschwanstein
You can't stay in Neuschwanstein Castle; however, excellent hotels nearby offer fantastic views. These are my top three hotels, all within walking distance of Neuschwanstein, Hohenschwangau Castle, and Lake Alpsee. Spend at least a night and watch the awesome sunset or sunrise at Neuschwanstein. It's a tranquil atmosphere when the day-trippers leave the village in the evening and before they arrive in the morning. We have already watched the sunset multiple times; always mesmerizing.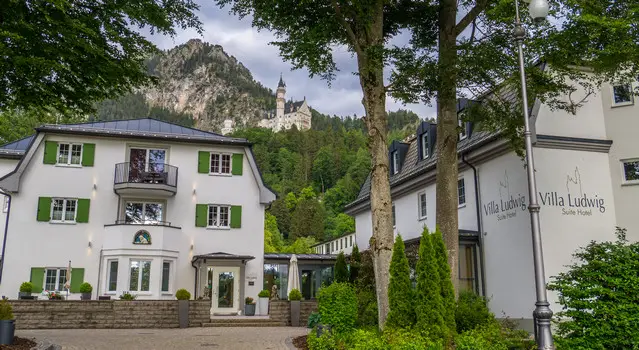 Although a 4-star hotel, it feels like being in a real 5-star. Amiable staff awaits you. Rooms are spacious with a beautiful interior and a Nespresso coffee machine: delicious breakfast, huge parking garage fee of 8€, and bike rental. Although close to all amenities, it is quiet here. You can get your castle tickets at check-in. Request your tickets for Neuschwanstein at your hotel booking. Ask for a room with a castle view.
Ameron Neuschwanstein Alpsee Resort & Spa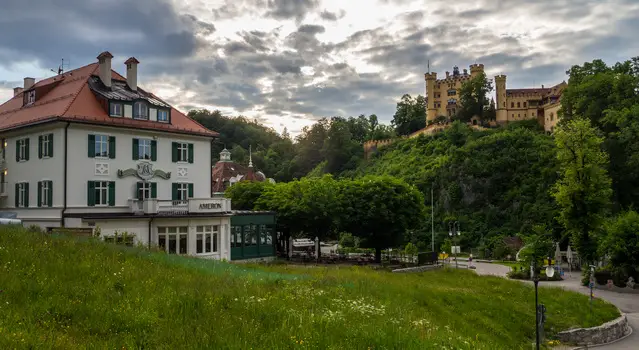 The 4-star resort is located next to Lake Alpsee, facing both castles. The Spa has a fantastic lake and mountain view, and it is quiet in the evening. Rooms are comfortable, breakfast is outstanding, and super friendly staff. Parking is available for 12€ each day. The sunny terrace facing Lake Alpsee is a fantastic place to enjoy the scenery.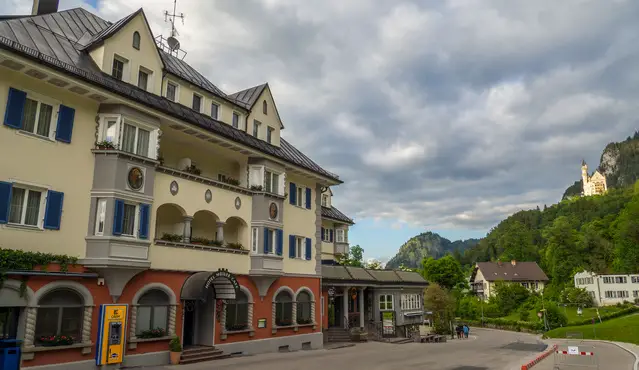 This hotel is located opposite Ameron. The horse carriage departs from the entrance very convenient to get to the castle. Free onsite parking is available. It's quiet at night though there is some hustle and bustle during the day. The restaurant of Hotel Müllers offers a delicious dinner and a great breakfast. They also provide a ticket service for guided tours through the castles. Request the ticket service already when booking.
Location and Tips
Bavaria, Neuschwanstein Schwangau
Germany

Neuschwanstein is 65 meters high and located on a huge rock formation 956 meters above sea level. Initially, it was called New Hohenschwangau Castle, but it got renamed after Ludwigs' death into Neuschwanstein. From the car park, get to the ticket centre first for your guided tour ticket. It is roughly a 5-minute walk to the centre.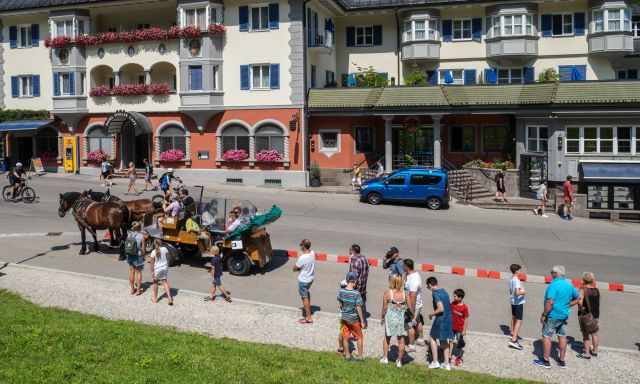 There are lots of gift shops and restaurants around. Snacks, ice, and beverages are also available. Depending on your fitness level, you may need another 25 minutes to the castle entrance. This paved road is steep and a little strenuous. A bus shuttle and horse carriage are offered for a small amount.
Entrances and Fees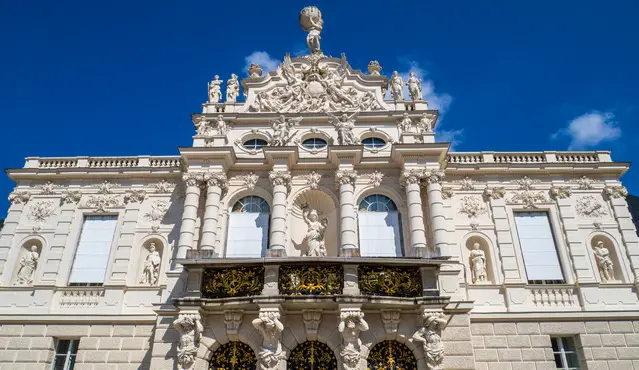 Linderhof
Neuschwanstein 13€
Under 18 free Neuschwanstein entrance, not for school groups
Both castles Neuschwanstein and Hohenschwangau, on the same day 25€
Castles of the King ticket for Neuschwanstein, Linderhof, and Herrenchiemsee 26€
Bus shuttle one way 1,50 € adults and children 0,50 € not during snow and ice
Horse-drawn carriages are available for the transport return ticket 3,50 € also in the winter season.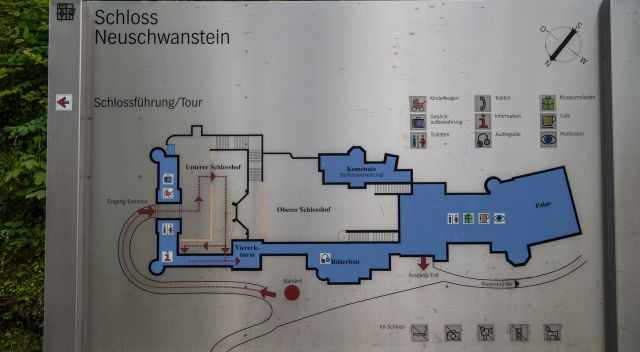 Heavy bags are not allowed in the castle during the guided tours. It is also prohibited to take pictures or footage the reason I don't have any photos from inside, only this map from outside the castle entrance. 
Parking Fee for Neuschwanstein Castle 2023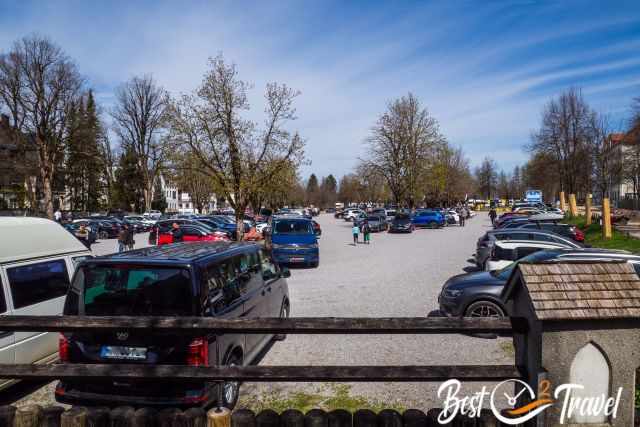 All parking fees for a maximum of 8 hours. More details are in my photo from April 2023
Cars: 10 € 
Camper: 13,00 €
Motorbike: 3€
Museum of the Bavarian Kings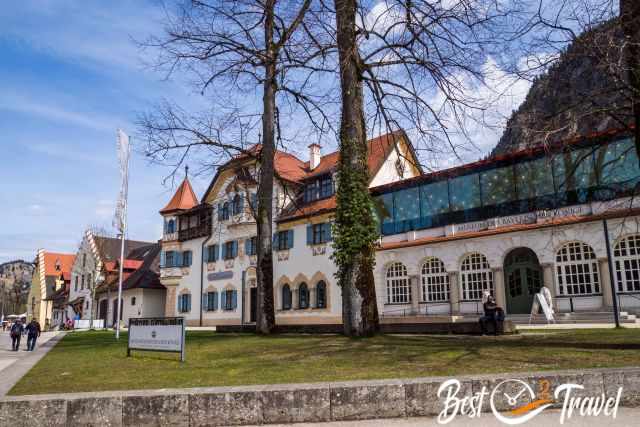 For those who wish to learn more about the history of the Royal Bavarian family, I recommend the Museum of the Bavarian Kings at the far end of the road shortly before Lake Alpsee. It is a great exhibition with personal items of the Wittelsbach family, Ludwig II, and paintings and pictures. It is less busy and often overlooked, although quite interesting if you still have time available.
Open from 9 am - 5 pm
Entrance fee 11 € for adults - under 18 free entrance
3 Hikes Around Neuschwanstein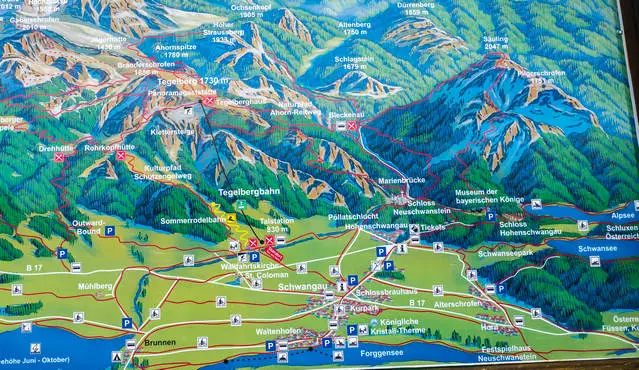 Pöllat Gorge Hike - Still closed



Start your hike from your parking and follow the signs to "Pöllatschlucht". The gorge is 600 m long, and the entire circular trail is 3.8 km. Hike the well-maintained trail clockwise to enjoy the spectacular scenery in the gorge with plenty of waterfalls and cascades. At the end of the gorge is the 30 m high Pöllat waterfall. From here you have an amazing view of the famous Bridge of Mary 90 m above. There was a big rockslide in 2014, and the gorge was closed for five years. For your safety, the new iron track gets automatically closed in bad weather conditions. There are gates at the beginning of the gorge and at the end of the stone staircase, which climbs steeply up and leads out. The gorge is open from late spring until November. When you leave the gorge, turn left to the bridge and have a look down into the canyon and to the waterfall. Now walk the way through the forest back to your car to Schwangau.
Alpsee - Lake Hike



You can either walk up on the paved road or a forest trail open in summer. This circular trail leads from the car park to Neuschwanstein Castle. Have a closer look at Neuschwanstein and walk along the castle, then continue to the famous "Marienbrücke" Bridge of Mary. The way back to Alpsee is not marked. However, instead of walking to the right downhill, continue to the left parallel to Lake Alpsee.
 

Our favourite App is Locus Map for hiking.

Almost at the end of the lake, the trail leads down to a swimming area. Carry a towel and swim clothes in your bag back. Enjoy a refreshing bath in Lake Alpsee during the summer. From here, stroll along the beautiful lake with fantastic views of the castles. The entire walk to Neuschwanstein Castle, the bridge, and the lake takes roughly 2.5 hours.
Tegelberg Summit Hike




To the left Tegelberg Mountain and cable car station on top - to the right Neuschwanstein



This day hike starts at the cable car parking of Tegelberg Mountain. Walk along the Pöllat stream and through the gorge to Neuschwanstein, cross the Bridge of Mary, and follow the signs to the summit of Tegelberg. The hiking trail starts at 800 m elevation and climbs up to 1.700 m. Now the track leads in serpentines uphill with spectacular views to Neuschwanstein Castle. If you are into hiking, you can climb Tegelberg peak at 1.567 m elevation and the Branderschrofen at 1.881 m elevation. I like that you can take the cable car back to your car. However, before you head back, enjoy a typical Bavaria meal on the mountain hut.

The price for the cable car one-way for adults: 15€/ youth, students and retirees: 14€, children: 6-15 years 6€. There are two via ferrata at Tegelberg Mountain, one with medium difficulty and one for experienced climbers only.
 
Facts and History of Neuschwanstein Castle and King Ludwig II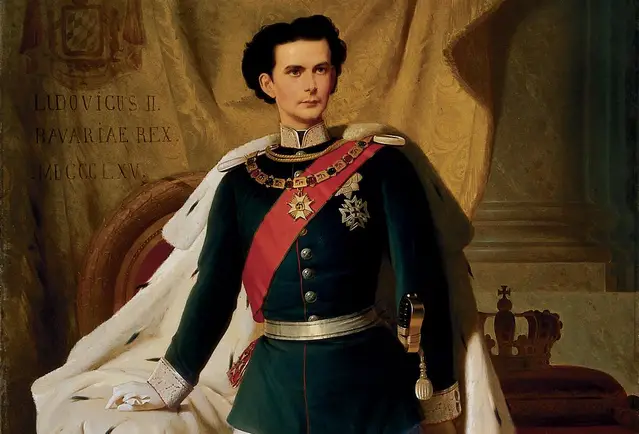 It's unbelievable, but the castle is just 135 years old. The start of the construction work was in 1868 and took more than 20 years.
King Ludwig II grew up in the Hohenschwangau Castle, next to the hill where Neuschwanstein is today. His father died early in 1864 when Ludwig was 18. Immediately he had to accede to the throne without any experience to govern.
Before he built Neuschwanstein, he had already gained experience. His first structure was the 80 meters long winter garden on the top of the Residence in 1867. After Ludwig's mysterious death, the winter garden was stripped down. The maintenance costs were too high, and the humidity was an issue for the entire Residence in Munich.
He was very young when the construction work for his fairy-tale castle began. The summit of the huge rock was blasted with dynamite in 1869. So, the base of the stone became 4.300 sqm big. His father was enthusiastic about technique, and so was Ludwig. It was challenging to build the castle on an exposed hill, but the technique of the industrial time was helpful to succeed.
It was an exertion to get all the needed material for the castle to the top of the rock. The reason that all materials got transported by a precursor of a steam locomotive. Due to his interest in new technologies, he supported inventions that were necessary for this huge project.
Some facts on how much was needed to build this castle annually: 
200-300 bricklayers, stonemasons, carpenters
465 to of marble
1500 to of sandstone
400.000 bricks
The building construction got interrupted during snow and storm only.
Converted into Euros 20 Million were spent after 5 years.
The gatehouse was built first and became his chosen home to supervise the construction. It is presumed he spent the happiest time of his life here.
After 11 years of building time, the shell construction, the king's apartment and the servants, and the kitchen were finished.
In 1883 the famous "Sängersaal" - hall for vocalists – was finally finished. Ludwig became inspired by the Wartburg in Eisenach in 1867 on how to create and design the hall. The entire castle is like a film set. To save on expenses, some parts were built from cardboard.
Because of the Austro-Prussian and Franco-Prussian Wars, Bavaria lost its independent kingdom in 1870. He was a king without power and had a throne room without a throne.
He needed a vast amount of money; loans were taken for the expensive palaces. Neuschwanstein was not the only one he let build. Other famous palaces are the castle Linderhof nearby and the "New Castle of Herrenchiemsee". It is located on an island in Lake Chiemsee, where he let constructed a palace in 1878 in honour of King Ludwig XIV. However, he was a visionary for exceptional romantic architecture but was born in the wrong era.
Neuschwanstein was a modern palace. He has already let installed central heating and the first Bavarian telephone system in his office.
However, he felt responsible for his workers. All of them had health insurance, including sick pay. He was an eccentric and lonely monarch but a romantic genius as well. It is assumed that he was gay, the reason that he was never married.
In the end, Ludwig became bankrupt; his palace was incomplete; just 20 of the planned 200 rooms were finished. He lost his joy of living. The ministers doubted his mental condition, tried to dethrone Ludwig, and detained Ludwig in his palace.
They declared him insane and brought him to Lake Starnberg, south of Munich, on the 10. June 1886. Three days later, his body was floating in the lake. His psychiatrist Bernhard von Gudden was also found dead. Pieces of evidence have shown that Ludwig did not murder his psychiatrist and committed suicide by drowning. Instead, Ludwig was shot in his back with two bullets. His doctor witnessed the crime and got murdered, too.
Already a few weeks later, Neuschwanstein was opened to the public. In 1892 the castle was completed but in a simple form, having 6000 sqm of living space.
Ludwig was the last real king, and Neuschwanstein was the mirror of his soul. Today he is also called the fairy-tale king.
The maintenance of Neuschwanstein Castle is costly; built on a 150-m-long rock. It gets renovated for four years in and outside until 2022 for roughly 20 million Euros.
Who We Are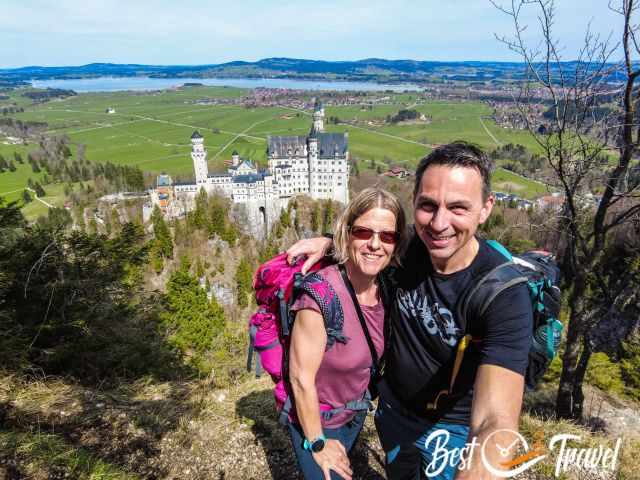 We have lived in this area for more than three already. Neuschwanstein Castle is truly magical, and we got addicted to it during all seasons. We visit this castle each season. Our favourite time is the quiet evening hours with the jaw-dropping sunset or the early morning. Taking pictures inside the castle is prohibited, so I have none. I took all photos of Neuschwanstein. 
We have been married for almost 25 years, and we love discovering hidden gems around the globe. I am passionate about sharing some of the most beautiful places in the world with you, but I still can't live from my work, and we have regular jobs, too.
It is a tough business nowadays because fake travel websites rewrite content without effort and expense. Want to know more about these schemes, picture theft, and how to unmask them? Check out "The Truth  About Fake Travel Websites and Picture Theft"
Do you like my Neuschwanstein Guide? Please share it with your friends and on social media, subscribe to our  YouTube Channel. And soon, we will publish our new Neuschwanstein Video with footage from the last years.
Do You Like to Support Me - It's easy; use the Paypal Button below 😍
Do you want to obtain the usage right for my images? Contact me, but we will take action against picture theft.