When Is the Best Time
The Viktualienmarkt or Victuals is my favourite place to shop for fresh delicatessen, cheese, ham, bread, seasonal veggies and fruits and excellent wine. Drink a glass of wine or a "Maß Bier" which is one litre of beer, and enjoy the vibrant market. The open-air market is located in the heart of Munich, a five-minute walk from Marienplatz and the tram/subway station. Google Maps Location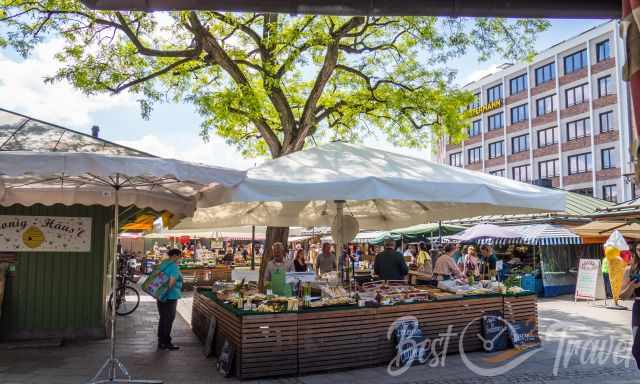 There is plenty of food to buy, smell, and try and take tons of pictures. Due to the location, some prices are higher; however, you get the best quality, excellent "Leberkäs' Semmeln" and this vibrant and energetic atmosphere. It is really worth coming here for a couple of hours and experiencing this all by yourself.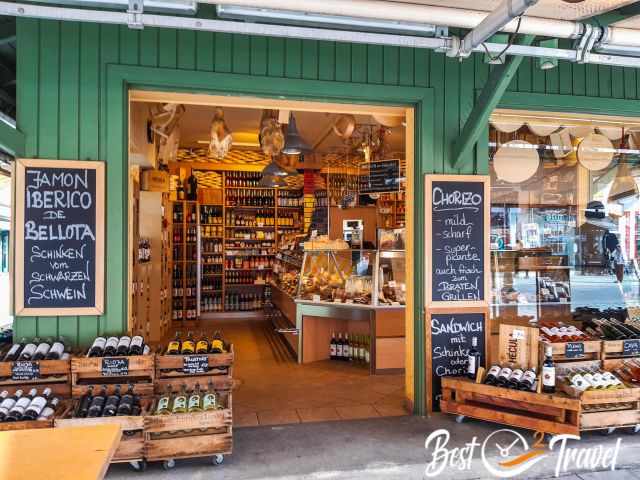 Munich has been my "hometown" for three years already, and I continuously update what is new and what has changed in the past months. Not all stalls have survived the tough time during Corona, some have disappeared, but there are now new ones in 2023—one of these stands I present to you here below.
What is "Leberkäse"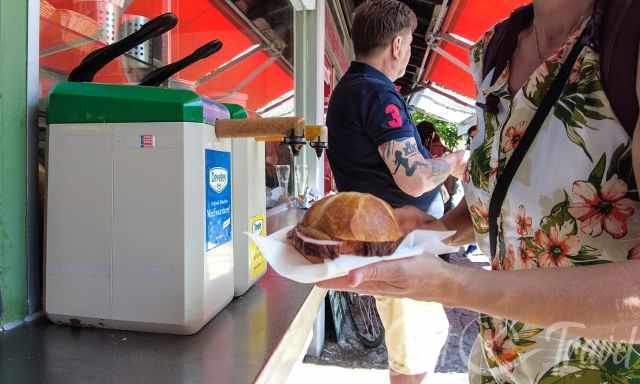 The "Leberkäse" is made of minced pork or beef mixed with bacon, potato starch, water, onions, and lots of spices baked in the oven in a pie tin similar to meatloaf. It was prepared out of pork or veal liver in former times, where the name originates from.
When to Visit Viktualienmarkt?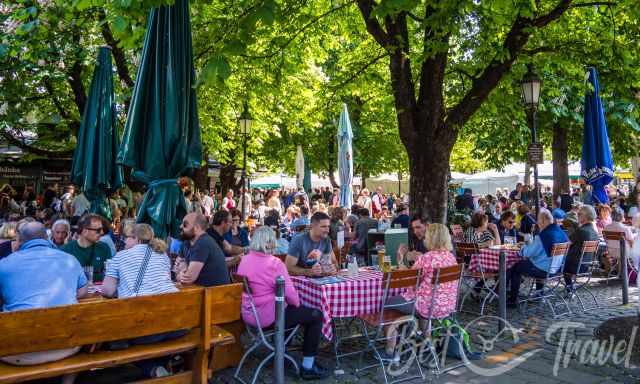 To experience the typical flair and mixture of people, I recommend visiting the market not before midday from Thursday to Saturday. Lots of stalls are closed on Mondays. If you just wish to buy groceries, it is the opposite; come in the morning before the tourists arrive.
Opening Hours
Officially open from 8 am until 8 pm from Monday to Saturday 
Closed on Sundays
Many shops already open at 7 am
Some stalls stay closed or open later on Mondays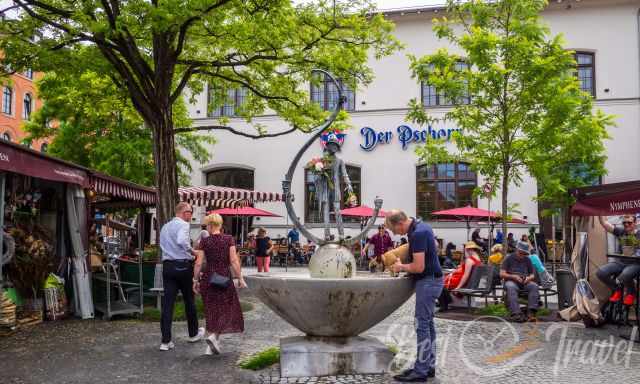 Four fountains are spread on the Viktualienmarkt, great for washing your hands, filling up your bottle, or letting your dog drink. 
Traditional Bavarian Food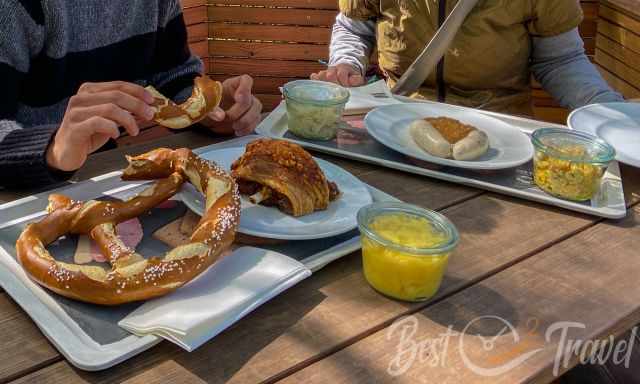 If you visit Bavaria, you almost can't "escape" the delicious food. It is heaven for meat-eaters, and vegetarians can find a wide variety, but vegan is a bit tricky here. However, I added one vegetarian and vegan shop offering a small but delicious menu.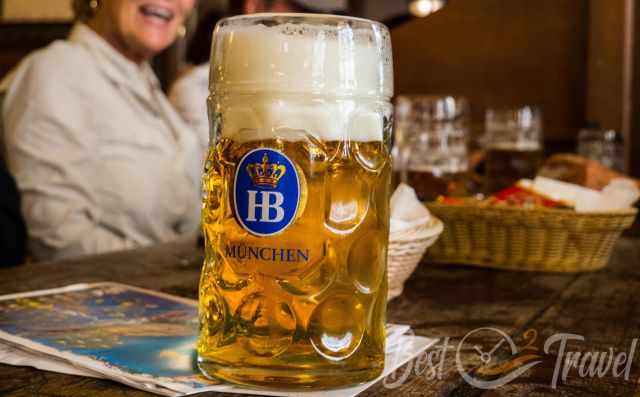 Another good reason to come to Munich is the beer which is part of the Bavarian culture.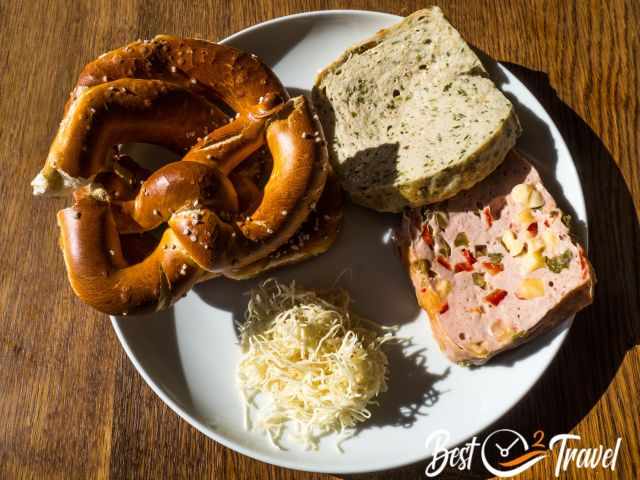 The most famous bread is "Brezel" pretzel; you get them everywhere. To the right is a Pizza Leberkäse, and the other one is Weißwurst Leberkäse, made like the typical white sausage.
Another speciality with "Kren" is Tafelspitz with Meerrettichcreme: this is thinly sliced beef meat and a sauce made with cream and horseradish.
These are my recommended tours via GetYourGuide with 24 hours in the advance cancellation policy. Thx for booking via my website! With your support, I am able to provide all information first-hand. Tour prices are at no extra cost!
Don't Miss Out on My Munich by Bike Guide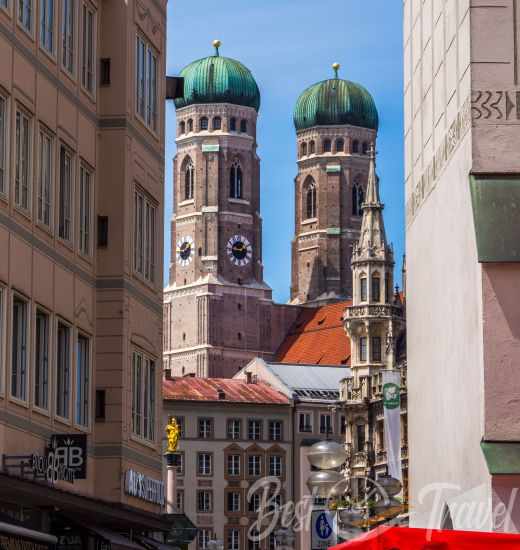 Location and Tips
Bavaria, Munich
Germany

The open-air farmers market has a more than 200 years old tradition; initially a farmer's and herb market and now a meeting place for people from around the world. You can hear so many different languages, and if you order a "Mass Beer" which is one litre of beer in one of the beer gardens in the shade of chestnut trees, you easily mix up with other tourists and locals.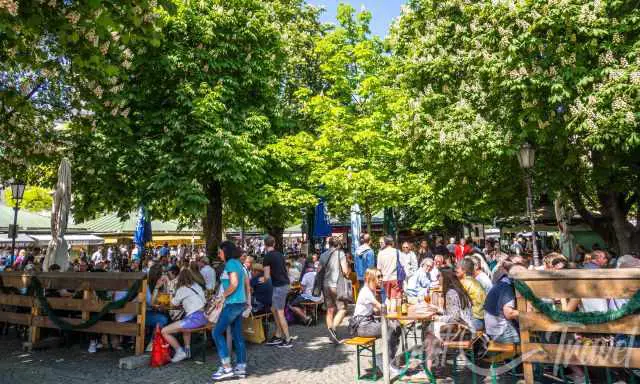 Except for early morning, it is crowded here, but that makes the difference watching people and having a chat. It is truly a tourist magnet and a Must-Visit place in the heart of Munich.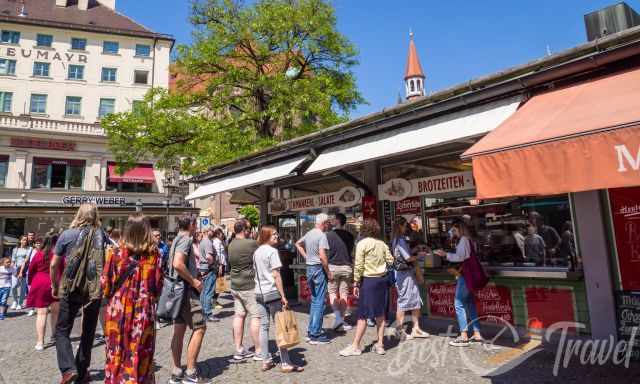 More than a hundred merchants offer their goods, some shops sell snacks and meals also for vegetarians and vegans, take a vitamin power and drink a fresh juice. Most of the vendors speak English, and credit cards are widely accepted.
The Traditional Maypole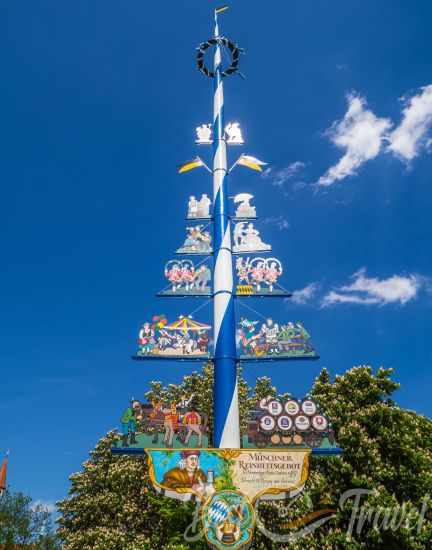 A 35 m high maypole made from spruce is in the middle of the market. It is quite an effort to create this traditional tree for the first of May. It gets logged many months before. The bark and branches have to be removed, and afterwards, the trunk has to dry for three months before it is painted white in April. The first of May is always a big festivity when the maypole has been put up since 1962 also in Munich.
What Can You Buy at Viktualienmarkt?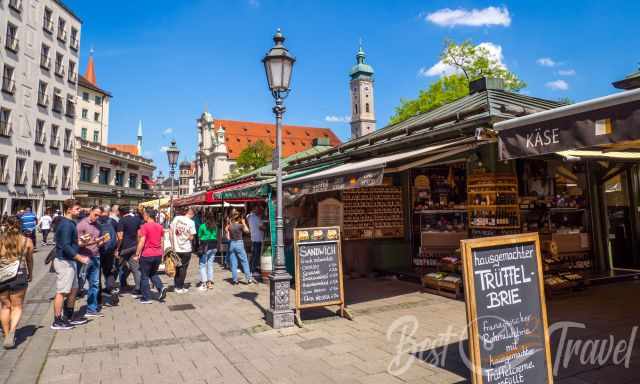 Two hundred years ago, the market covered the daily needs of food today, you can find here not only local products but also delicacies from all over the world, exotic fruits, fish, beautiful flowers etc.
Fruits and Veggies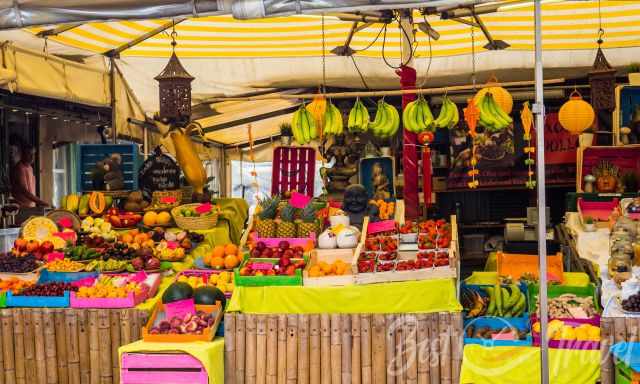 Seasonal fresh and exotic fruits and vegetables are available at several stalls. May and June are my favourite months for strawberries and asparagus.
Local and European Cheese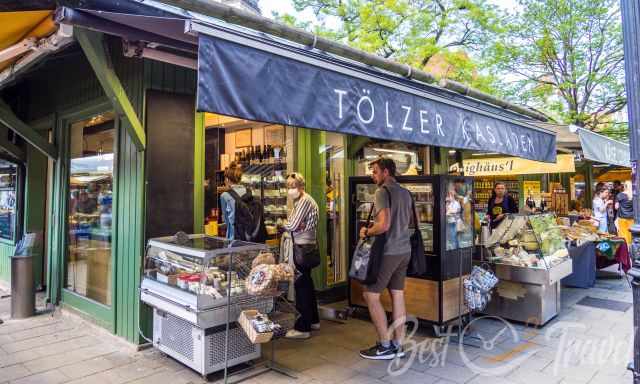 There are ten stalls offering dairy goods, mainly from the nearby Alps but Europe as well. This mentioned small stall provides some of the most delicious cheeses! The staff is always extremely polite and happy to explain exactly where the cheese comes from! I love the old Emmentaler from Switzerland and "Wiesenblumenkäse" a cheese with meadow flowers at the rind.
Butcher Shops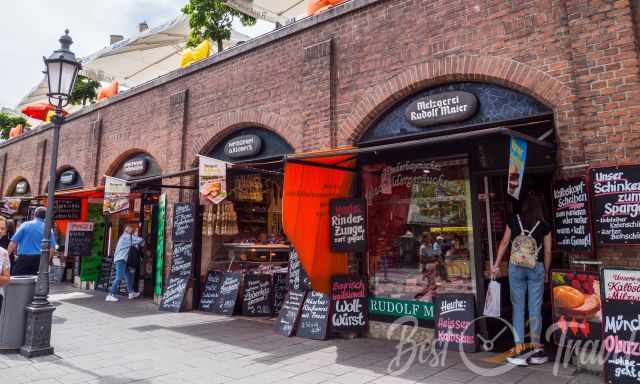 Meat and ham are already offered for 700 years here in Munich. In former times the stalls were situated on the outskirts due to the terrible smells and scraps without any cooling.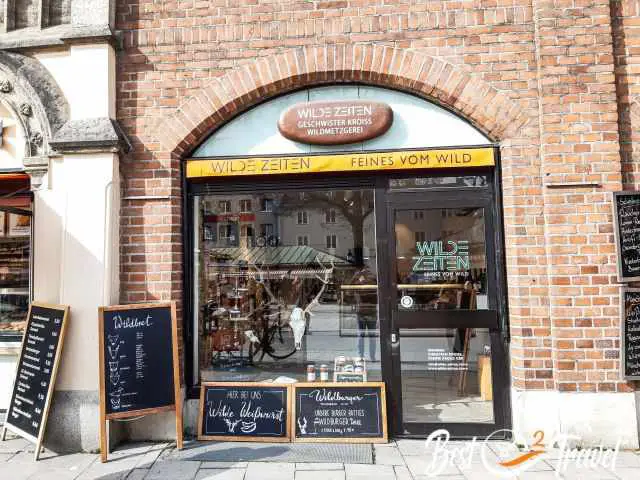 One of the butchers disappeared. This new shop was long overdue on the market as game meat is increasingly popular in Germany.
Munich Soup Kitchen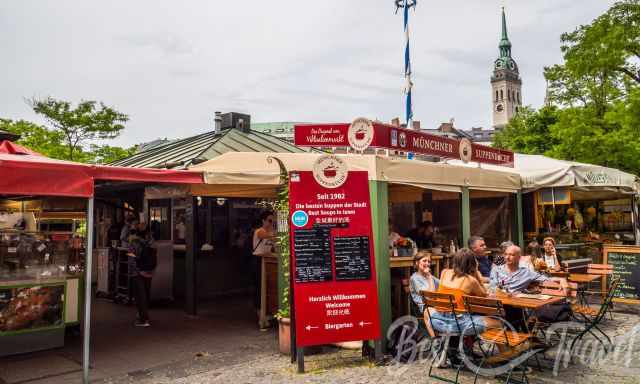 They offer a large selection of delicious soups served in a bowl for vegetarians and also with meat for reasonable prices. Therefore, you usually have to wait a couple of minutes. It is ideal for a quick lunch; the only issue it is hard to decide what to choose.
Mushrooms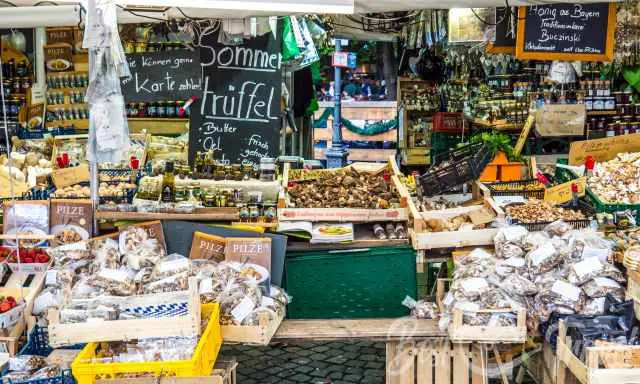 You get all kinds of mushrooms fresh, mainly in autumn, but they also sell dried porcini mushrooms, truffles, herbs, spices, oil, etc.
Greek Style Spreads and Olives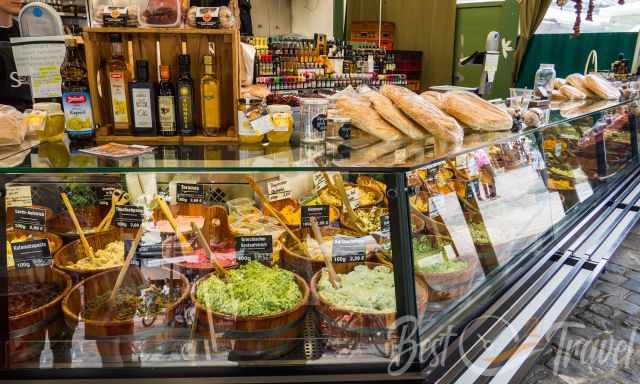 They offer a wide selection of antipasti, olives, fresh pasta, olive oils, etc. of excellent quality in addition buy pita bread and enjoy the tasty spreads.
Juice Bar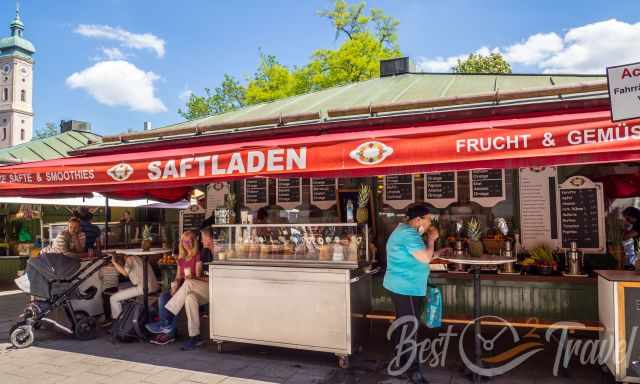 Do you need some energy and vitamins? The freshly squeezed fruit and vegetable juices are healthy, tasty, and despite the location, reasonable priced. Of course, several stalls offer fresh juices; this is the one I know best.
Seafood From Around the World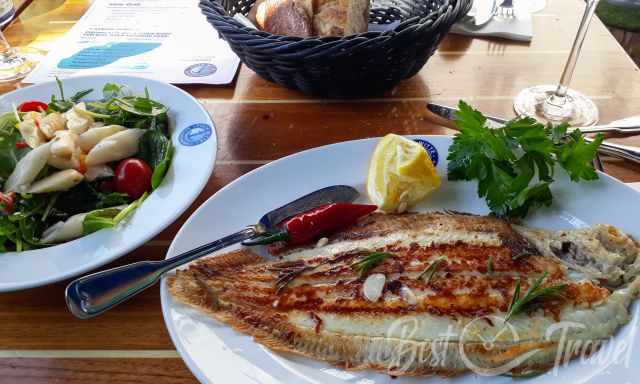 There are four seafood shops and restaurants where you get the freshest fish and clams. All shops are close together, offering indoor and outdoor seating, but I highly recommend making a reservation. It is a bit overpriced, but the quality was excellent when I ate here. 
Typical Bavarian Bakeries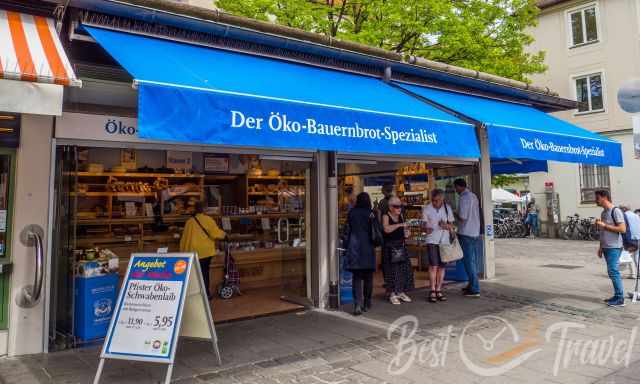 There are ten different bakeries more than I had known to sell giant pretzels, bread, cakes, and cookies. The mentioned Hofpfisterei was once the emperor's bakery; under the Wittelsbach Duke Ludwig IV from 1328-1346, Emperor Ludwig called the Bavarian. What makes the difference here is the traditional maintained way of baking in the stone oven and the pure natural sourdough, which makes the bread so digestible. This is just my opinion, also Fritz bakery and many more provide excellent quality.
Organic Food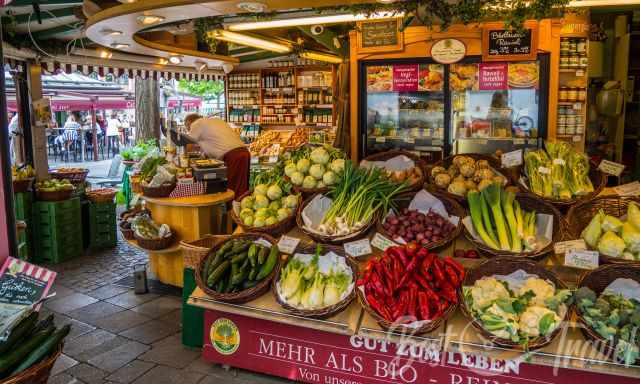 You get an excellent grocery quality on the entire Viktualienmarkt. For those who prefer organic products, "Lebe Gesund" "Live Healthy" has a vast variety of veggies, fruits, and lots of homemade products. 
Fresh Flowers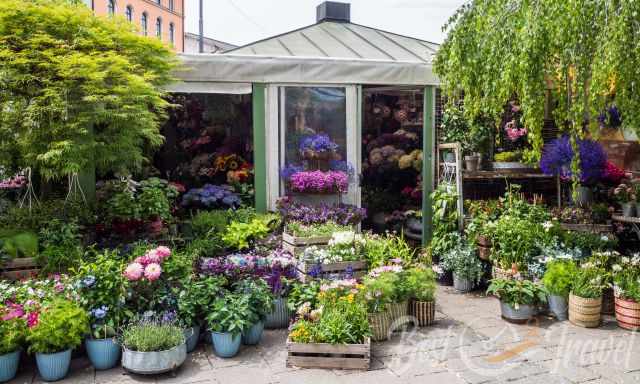 Several flower and plant shops offer seasonal and exotic fresh flowers providing green and colourful spots between the other stalls at Victuals Market. Flowers bought here last definitely longer.
Honey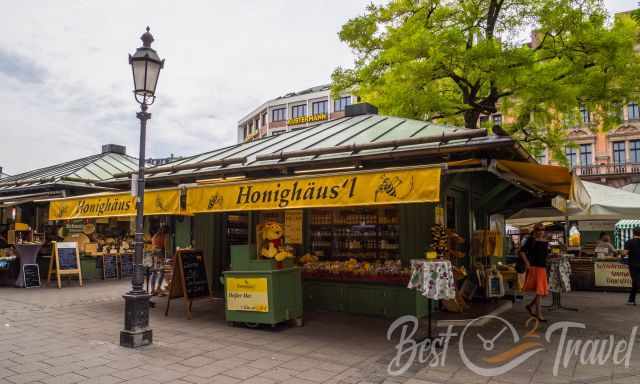 If you love honey, this is the right place. In addition to the different types of honey, you can also get care products as well as honey wine, sweets and much more.
Souveniers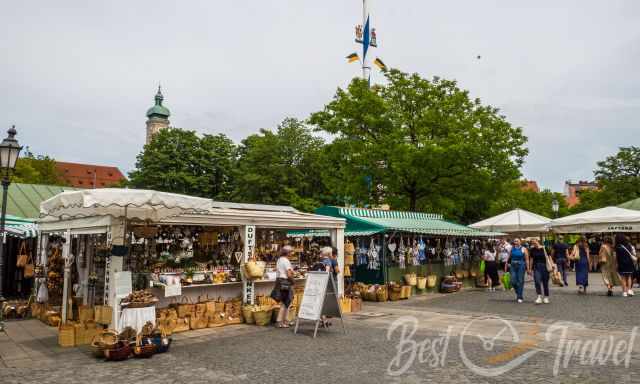 Are you looking for some presents to bring back home? There are plenty of crafts and souvenir stalls spread on the Victuals Market.
Why Is It Called Viktualienmarkt?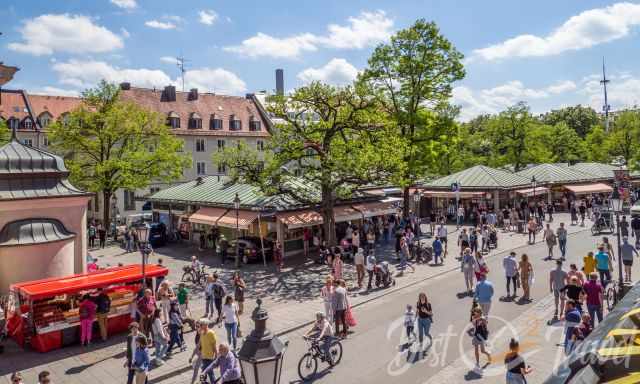 The name originates from the Latin word Viktualien for groceries or victuals.
History of the Viktualienmarkt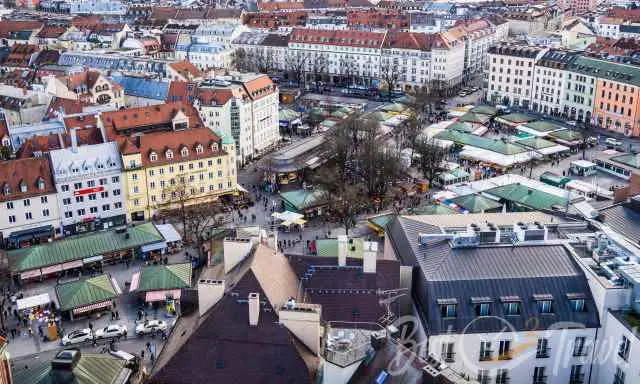 Originally the farmer's and herb market was situated at Marienplatz in former times called Schrannenplatz until the beginning of the 19th century. What once was a small farmer's market is now a huge market and meeting point with almost 19.000 sqm. The Victual Market already had this size at the end of the 19th century; the market had to move to the present square of 200 meters distance.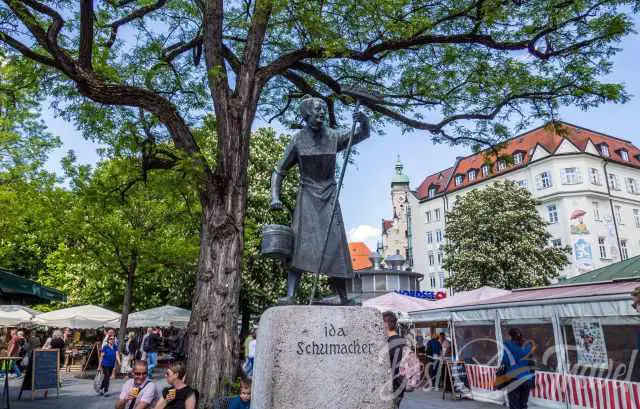 Schrannenhalle, a huge market hall, was built next to the city wall in 1852, which is the "Großmarkthalle" today. During WW 2, Viktualienmarkt got severely damaged, and there were considerations to demolish and relocate the market to build large apartment buildings and company buildings instead.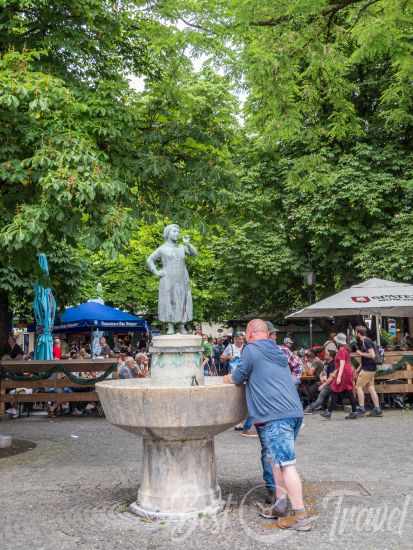 A big thanks to the city council for rebuilding the infrastructure and market. In the end, it was more expensive than expected, but a piece of Munich's history has been preserved, as it is so often the case in this city. This makes Munich unique to me.
This article gives an overview of the existing stalls on the Viktualienmarkt, but I can't list all 140 shops here. Of course, the quality of most of the shops at the market is top-notch. The listed stalls above are my favourite ones; these are not paid ads.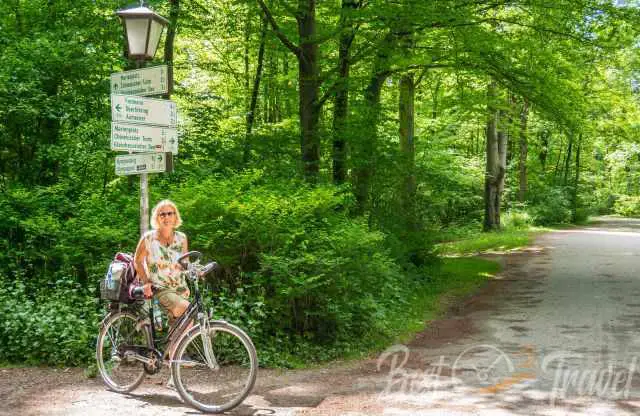 Is there anything else you would like to know about the Victuals? Send me a message, and I will add the information to my Viktualienmarkt article: micha at besttime2travel.com.
Do you want to obtain the usage right for my images? Contact me, but I will take action against picture theft.