When Is the Best Time
When visiting Munich, you step back in time and start diving deep into history. I promise the English Garden and Munich's old town will catch you with lots of historic buildings without any skyscrapers. I continuously update this guide with information and pictures - May 2023.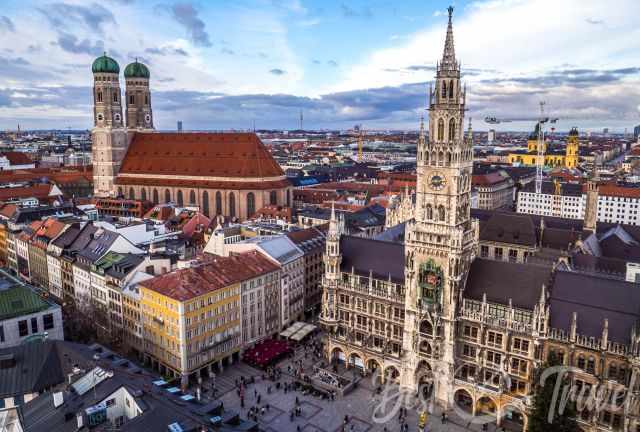 Munich is waiting for you to be explored in the best possible way; by bike. The best time to do so is from spring to autumn – from May until October. April can already be pleasant and sunny but cold and rainy too.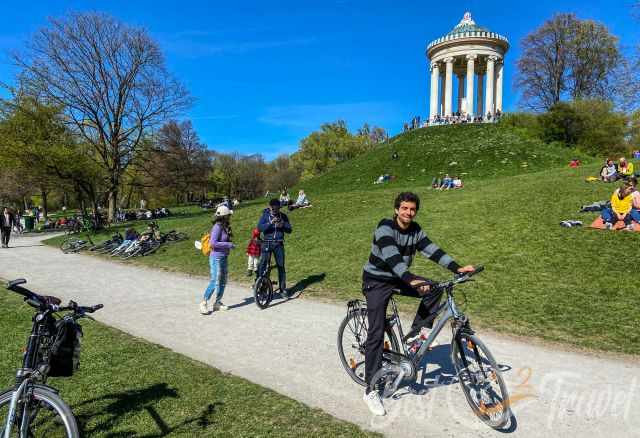 Exploring Munich by bike makes the difference. You are fast; you can stop whenever you want, you don't stick in traffic jams, you do not wait for the underground and parking is not an issue and does not cost a fortune.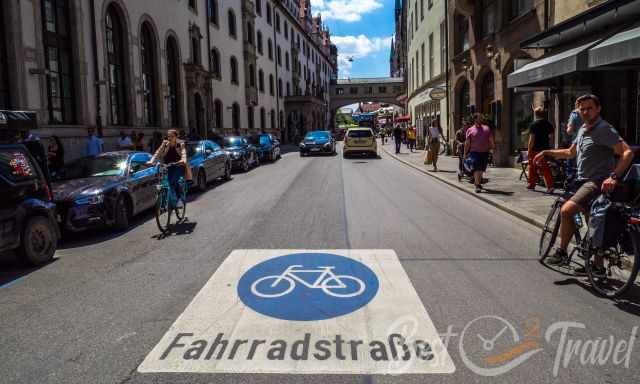 Munich is a bike-friendly city, and bikes have the right of way in many streets in the city centre and the old town. There are a lot of bike rental stations, or you can book a guided bicycle tour. The routes to all points of interest, like the Chinese Tower in the English Garden, the New Town Hall, and the museums, are excellently marked.
Bicycles are not allowed in the pedestrian zone. However, there are a number of places where you can put your bike. If you have a rental bike, return it and get a new one later.
What to Wear for Munich?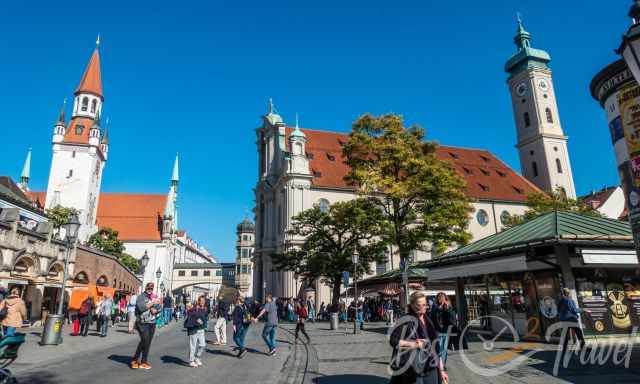 You see casual, luxurious, and traditional clothing in Munich. Most importantly, it should be comfortable if you wish to go on a sightseeing trip through Munich.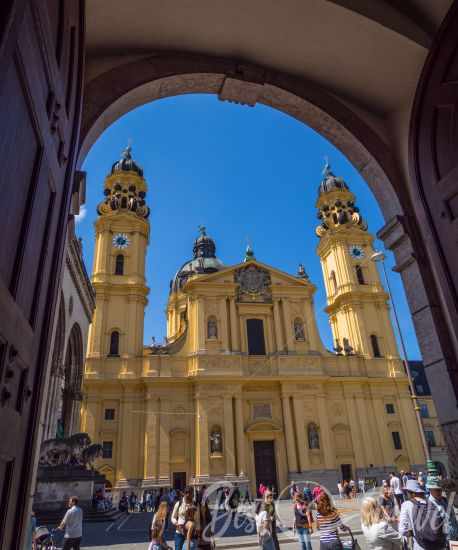 When we moved to Bavaria, I learnt my lesson in the first winter. The winter is fantastic with snow and crystal blue skies, but it is freezing, and the winter lasts much longer, definitely from November to March. It feels like having only two seasons: warm and pleasant or cold.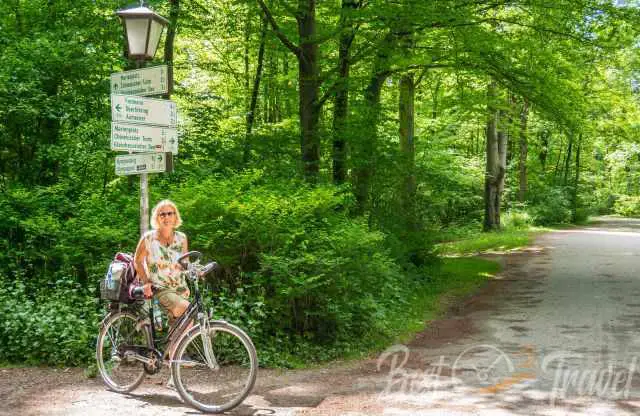 There is nothing in between. Even in the summer, temps usually drop below 20°C after sunset due to higher elevations. A jacket is needed for the evening.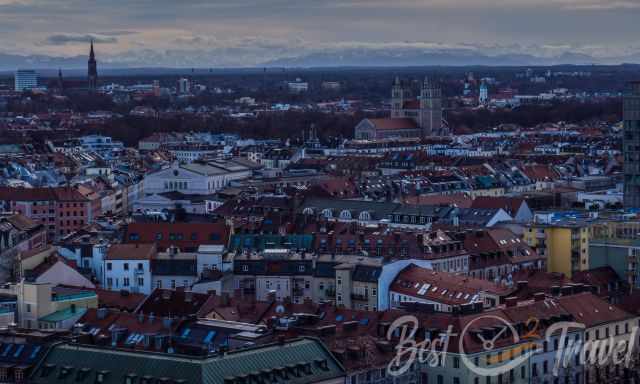 We have a weather pattern called "Fön", like hairdryer, which means the Alps influence the weather and it is much warmer than usual, with temps in the high 20s°C, which occurs more often in spring and autumn. During these days you can see the mountains from Munich city centre like the Himalayas. They appear much bigger and closer than they are in reality.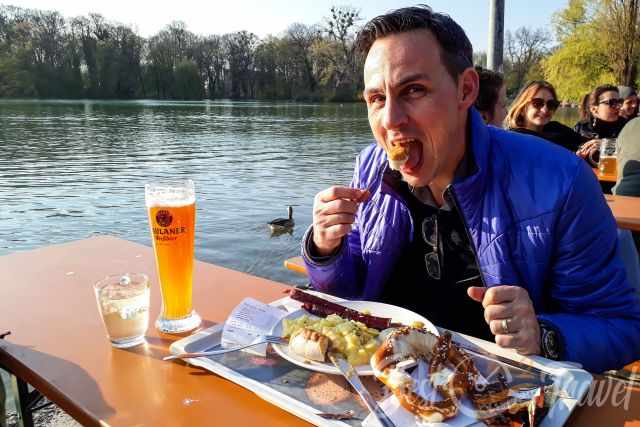 Would you like to see all the sights, but is this bike route too much for you? No worries, there are many ways to get around in the beautiful city centre of Munich.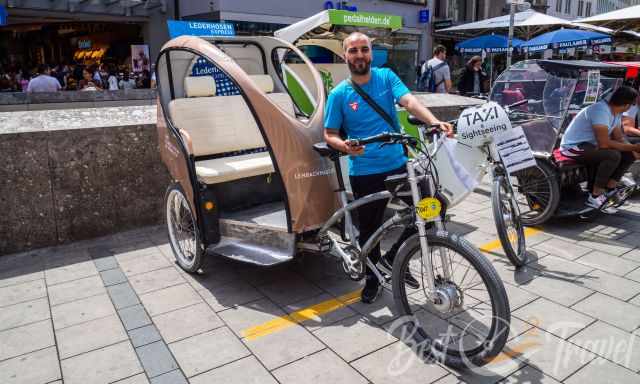 Oktoberfest – Munich Beer Festival 
Finally, after the last two strange Corona years, the Oktoberfest is back in Munich. Due to the weather, it is not held in October; instead, already in September, from Saturday 17 until the beginning of October Monday 3, a bank holiday called the "Day of German Unity".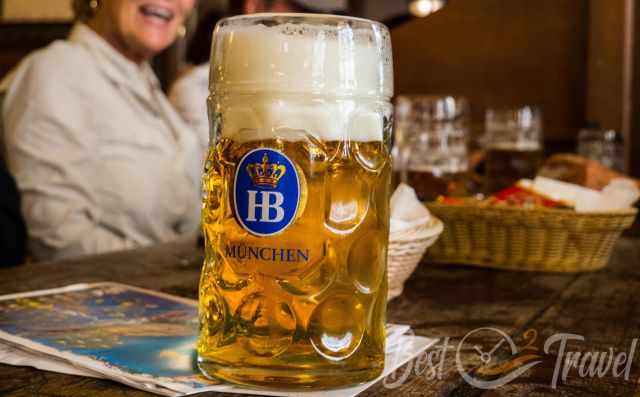 The Oktoberfest has a long tradition; 2022 is the 187th already. It is also called "Wiesn" which means meadows 'cause this is the location "Theresienwiese". If you wish to visit Oktoberfest, plan accordingly; it is the biggest attraction in Germany, with more than 6 million visitors in 17 days.
These are my recommended tours via GetYourGuide.Thx for booking via my website! With your support, I am able to provide all information first-hand. Tour prices are at no extra cost!
Location and Tips
Bavaria, Munich, Old Town
Germany

I have been living near Munich for more than three years already, and I like to show you my hometown in the best possible way. Usually, I prefer to climb a mountain or be in the woods, but Munich is unique with its ancient buildings, food vendors, and excellent coffee. I love this city; therefore, I developed a route for you to the most beautiful sights of Munich, which you can see by bike and on foot all in one day.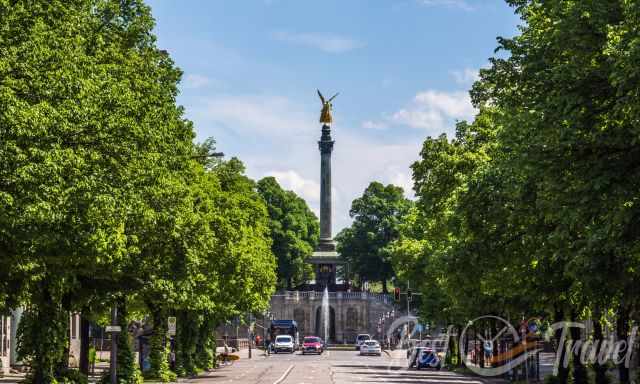 Our nephew from Portugal studies here, and we frequently take the bikes to the English Garden to experience the mixture of people and the vibrant life.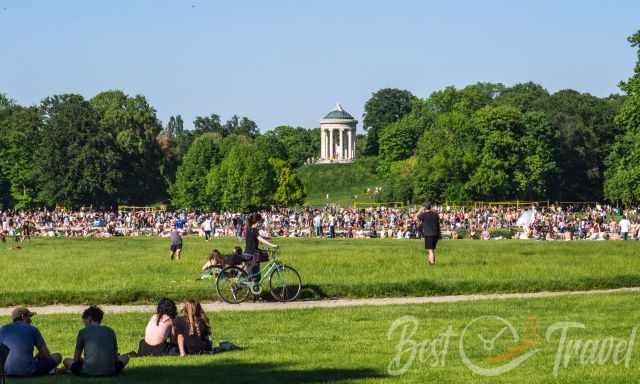 He was fascinated and mentioned in the end, "The English Garden is bigger than Lisbon city". I love this specific park, and it's my starting point in my "One Day Itinerary".
17 Remarkable Sights in Munich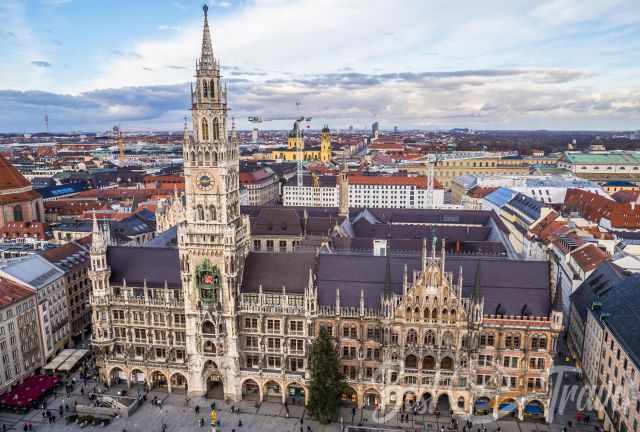 Take a water bottle for your exploration, but a snack is not needed. My tour includes several outstanding shops and beer gardens – I promise this will be a spoiling day with the culinary delights of Bavaria. 
1 English Garden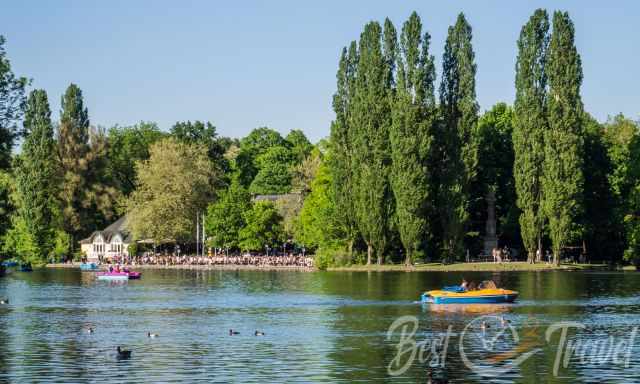 A trip to Munich is only complete if you visit the English Garden. This garden is one of the biggest city parks in the world, with a size of 375 hectares. Although five million people visit the park annually, it is never too crowded thanks to its huge size. We always rent a bike or bring our own ones for "Englischer Garten", which is 5 km long and provides 78 km of walking and biking paths.
Kleinhesseloher See – Lake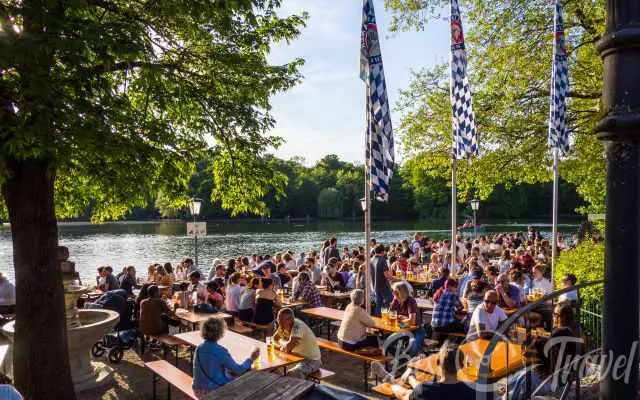 This is my favourite beer garden here; sitting in the sun, enjoying the scenery, drinking a beer or wine spritzer and having a typical Bavarian dish. The lake is human-made and developed at the beginning of the 19th century, home to ducks and gooses. Rent a boat and get a different perspective of this beautiful lake and garden.
Chinesischer Turm – Chinese Tower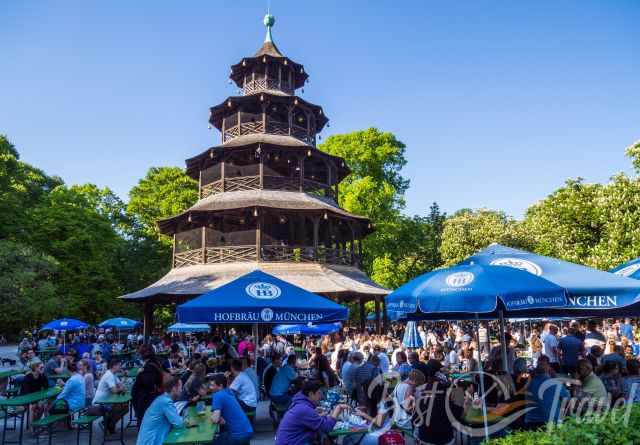 The 25 m high Chinese Tower is situated in the southern part, the busier part of the English Garden. The Tower made of wood built at the end of the 18th century was actually a watchtower but burnt down during WW 2. Today's Tower is a reconstruction and has been closed to the public since the 70s for safety reasons.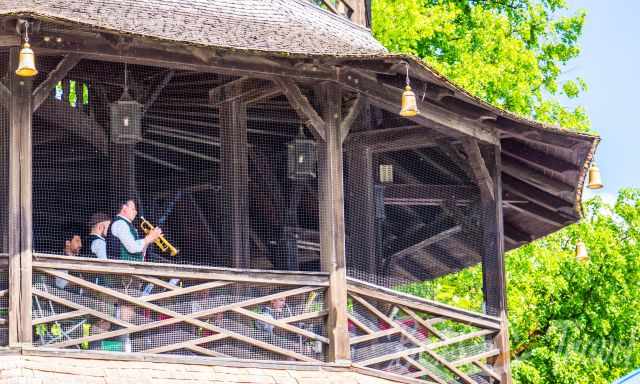 During weekends and in summer, a brass band entertains the visitors with the typical Bavarian Music.
One of the biggest self-service beer gardens provides space for up to 8000 visitors. It is definitely busier and noisier here. My favourite food is the deserts, apricot cake and apple strudel with vanilla sauce worth making a stop.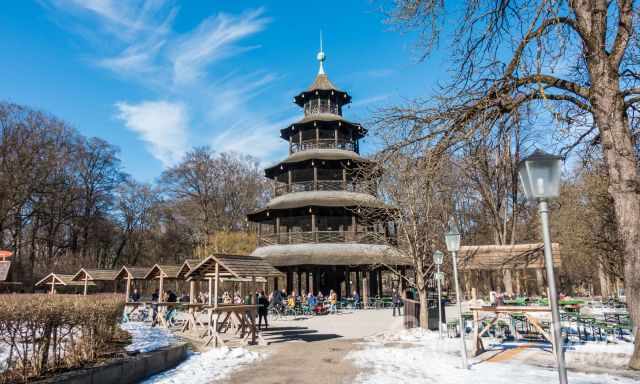 In winter, a huge and lovely Christmas Market can be found at Chinesischer Turm. Why is it called Chinese Tower? It is its appearance looks like a pagoda.
Monopteros Viewpoint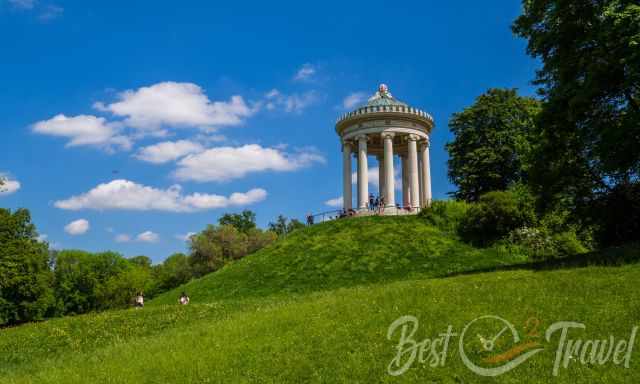 This is another iconic landmark where people chill, enjoy the sun or play volleyball. It is a lively place full of young people, many students from nearby universities. You get panoramic views from the hill also already to Munich city centre. Bring beverages and a snack if you like to have a break; there is no shop or beer garden here. Leo von Klenze built this Greek-style temple in 1837 for no reason, no story behind it.
Eisbachwelle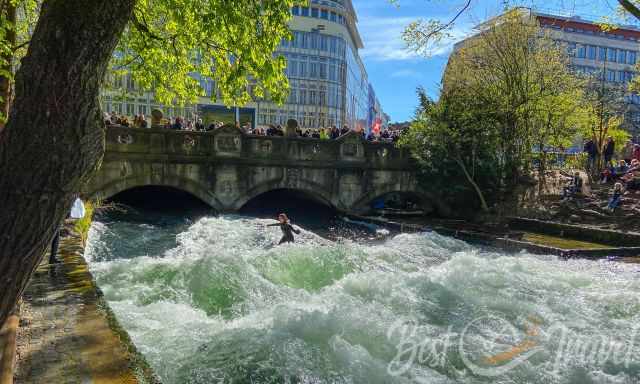 Nowadays, a very popular tourist and photographer spot at the southern end of the English Garden to watch surfers riding waves on the creek called Eisbach. I love this place and the energy here. This part of the creek is famous for being the most constant, biggest, and best river wave globally in the middle of a big city. However, it is only for experienced surfers and not without risks. Some surfers wear helmets because of the concrete rocks in the water. More soon in my additional article.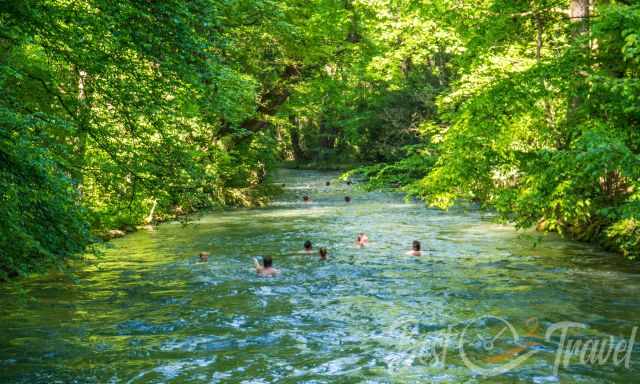 Swimming in the Eisbach Creek is prohibited, but people jump into the fast-flowing river on sunny days after two years of lockdowns and a minimum of freedom and fun. Nevertheless, it is a fast-flowing river, and people have drowned here already.
2 Friendensengel – Angel of Peace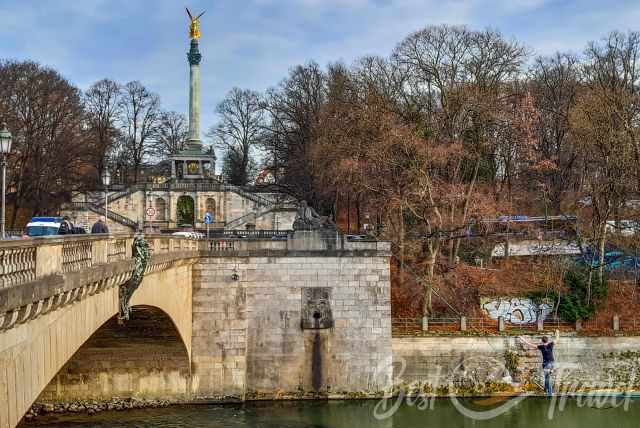 It is less than one km/ half a mile to the 38 m high Friedensengel in Bogenhausen. The 6 m/ 20 feet tall Angel of Peace is a monument of gratitude for 25 years of peace after the war against France and was inaugurated in 1899. The angel of peace is watching Munich. It is a great historic place with its beautiful fountain and the surrounding gardens. Peace is more important than ever!
3 Residenz and Hofgarten (Garden)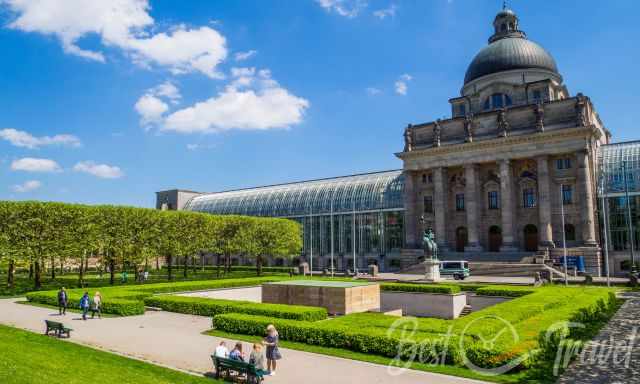 Residenz is the prime minister's office in the Bavarian State in Germany. The central dome was the Royal Bavarian Army Museum before WW 2.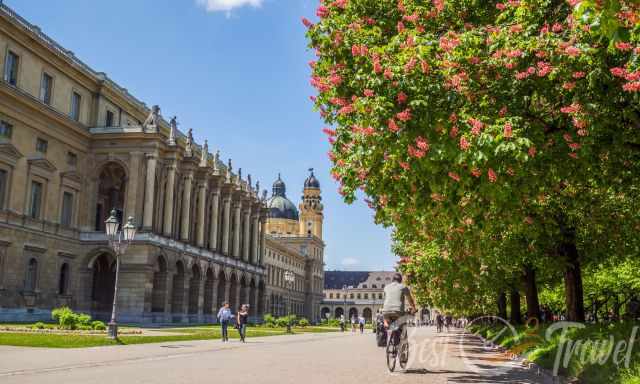 Much of the building got destroyed, and the right and left sides were newly built from 1989 until 1993.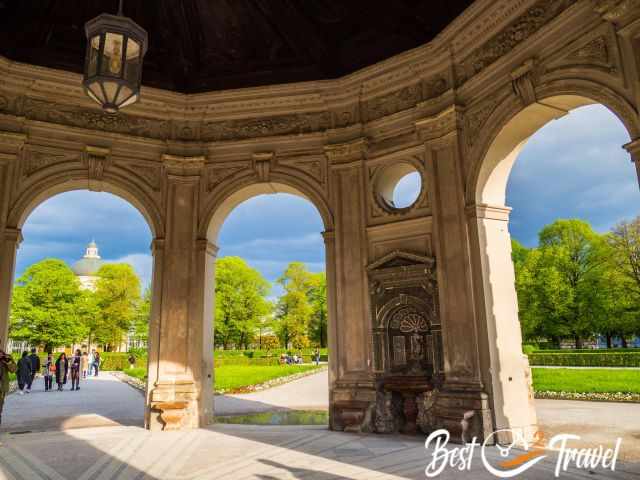 There are two monuments in front of the building; one is a memorial for all Munich victims of both world wars, and the other is a statue of Otto I. He became the first Duke of Bavaria in the 12th century. 
4 Hofbräuhaus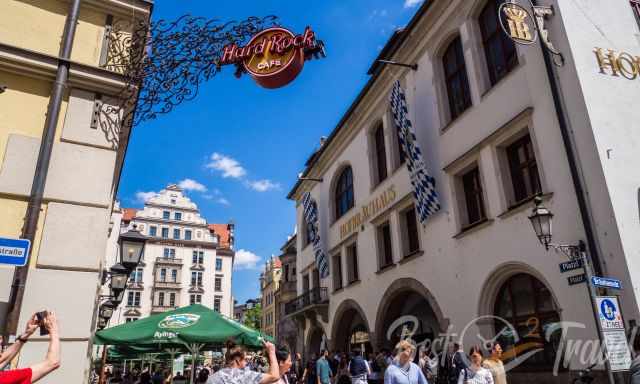 Either try a mug of beer in the English garden, at the Viktualienmarkt or in the historical famous pub "Hofbräuhaus". The brewery was built in 1589 to supply the Wittelsbacher Hof, a castle of an aristocratic family in the centre of Munich.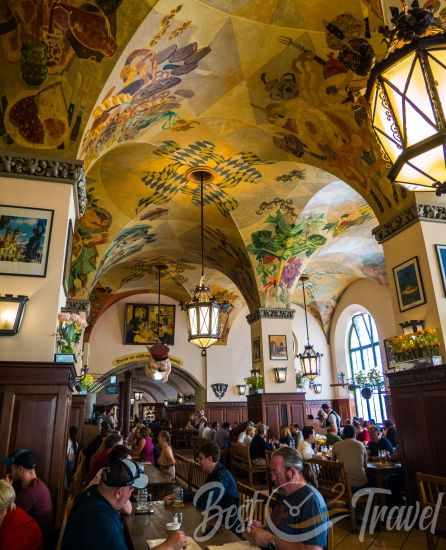 It is definitely an experience and fun "Gaudi" sitting in the vast pub with hundreds of people, tourists and locals alike and enjoying one of their delicious dishes like pork belly. They serve excellent food here, especially for meat-eaters.
Opening Hours 11 am Monday to Friday - 10.30 am weekends open till night 12 am
These are my recommended tours via GetYourGuide with 24 hours advance cancellation policy. Thx for booking via my website! With your support, I am able to provide all information first-hand. Tour prices are at no extra cost!
5 Altes Rathaus – Old Townhall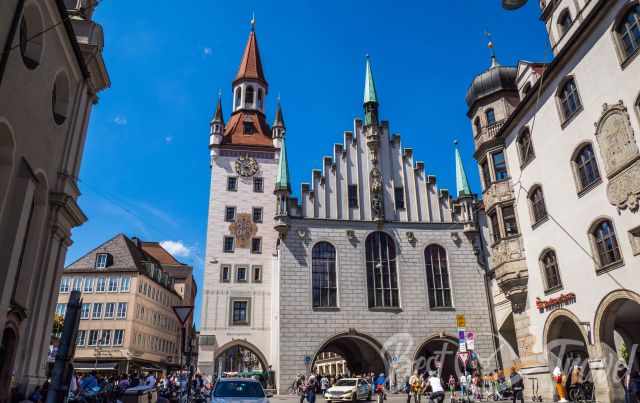 The old town hall is located at the beginning of Marienplatz, and it looks more modern than the new town hall just a stone's throw away. The old town hall tower became a toy museum; other rooms are still used for festivities. It is an impressive building initially built in the 14th century but struck by lightning and burnt down in 1460. It has a late gothic design which got reconstructed after WW 2.
6 Neues Rathaus and Glockenspiel– New Town Hall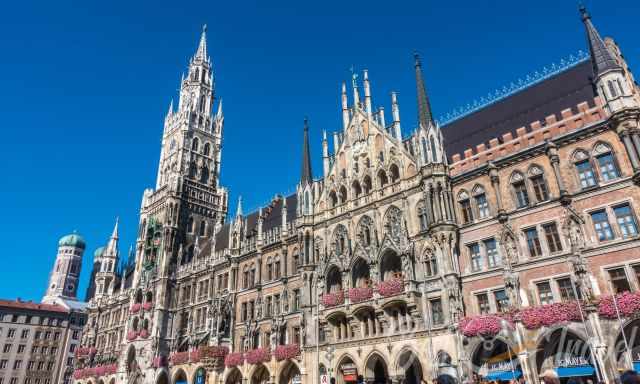 The New Townhall dominates Marienplatz with its famous "Glockenspiel" in the heart of Munich. It is one of the Must-Visit places with its awe-inspiring architecture. It was built by Georg von Hauberrisser from 1867 until 1908. This huge Neo-Gothic-style town hall stretches the length of the entire Marienplatz with more than 400 rooms.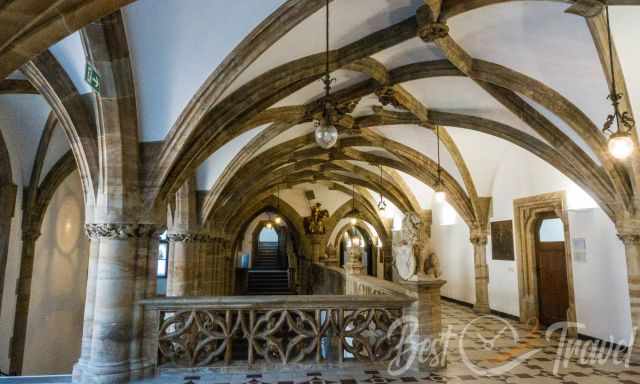 Some rooms are accessible, and you can climb the 85 m/ 279 feet high clocktower by two elevators for an incredible view of Munich.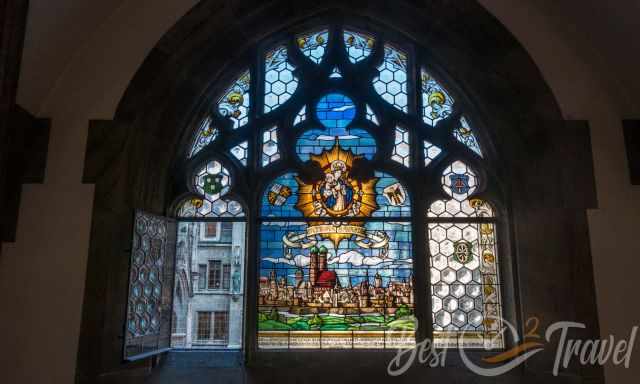 The facade of the town hall is richly decorated with Gothic features and statures of the Wittelsbach dynasty. In front of the new town hall, the information centre is situated to the right where you get tickets for the elevator. 
Law Library in the Town Hall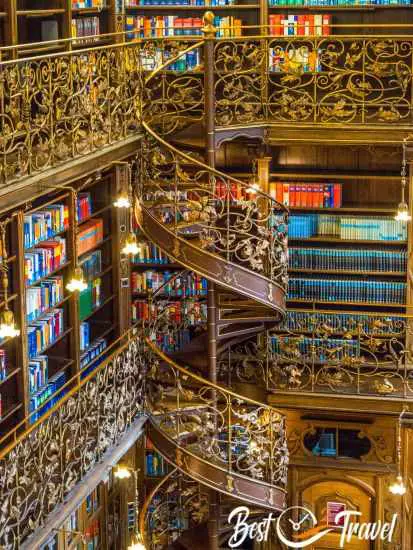 Inside the New Townhall is a "Harry Potter" like library opened in 1906 and reflects the Munich Art Nouveau style. The law library is only accessible to lawyers during the day. For visitors - tourists only in a short time frame of ten minutes from 4.30 pm to 4.40 pm.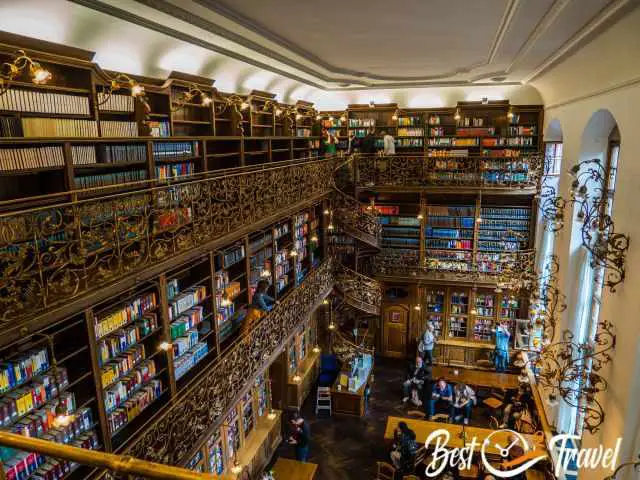 Come a little earlier so you get a chance to look inside. Once a year, there is an open day on a Saturday from 10 am- 4 pm in May. We were very lucky to admire the beautiful library with plenty of time.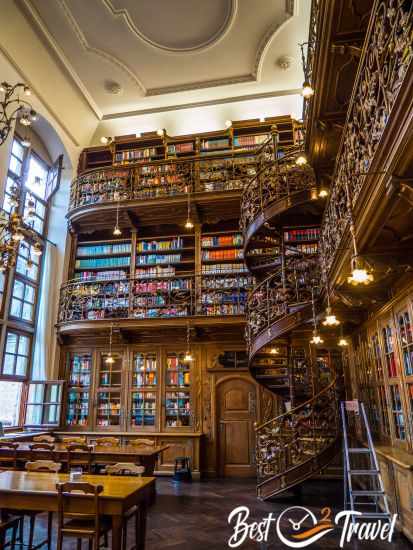 You can perfectly combine this place with the Carillon - Glockenspiel at 5 pm. Location Marienplatz 8, Room 366-367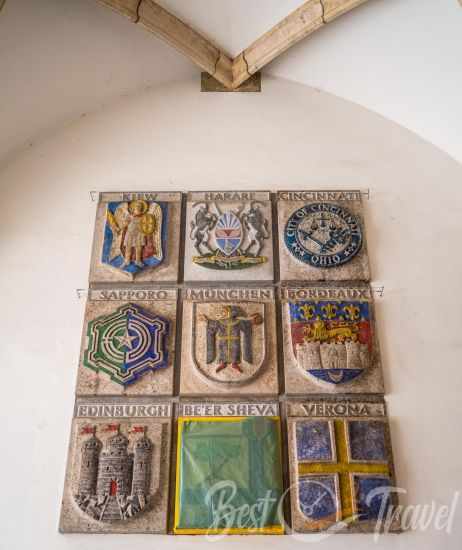 New Townhall Tower Opening Hours: 10 am – 8 pm, Monday to Friday
Saturdays 10 am until 4.30 pm and Sundays 10 am until 2.30 pm
Entrance Fee 6 €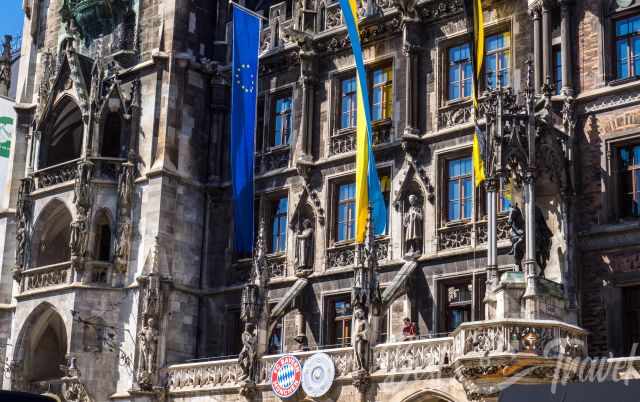 The soccer club FC Bayern München is a regular guest celebrating the championship on this balcony. 
Glockenspiel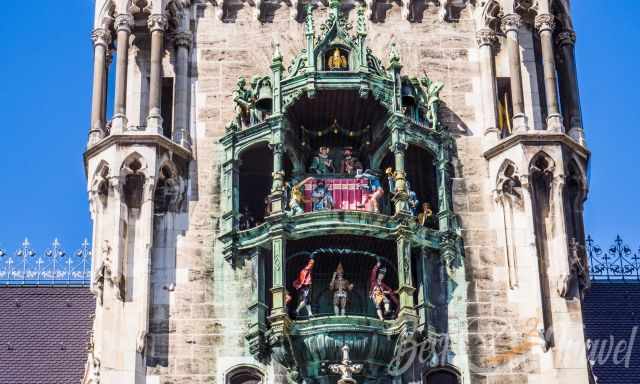 Plan your trip accordingly to avoid missing out on the Glockenspiel performance. When Marienplatz fills up with tourists, you know soon the attraction starts. When I came here for the first time, I wondered when suddenly Marienplatz became crowded from all sites. The various music tells stories of the mediaeval time. It takes roughly five minutes, and it is fun to watch the Glockenspiel and the thousand people around you taking pictures with their mobiles. The music is changed monthly, and they have five roles, always with four different pieces of music to choose from. Two different events are demonstrated by 32 life-size wooden figures supported by the 43 bells.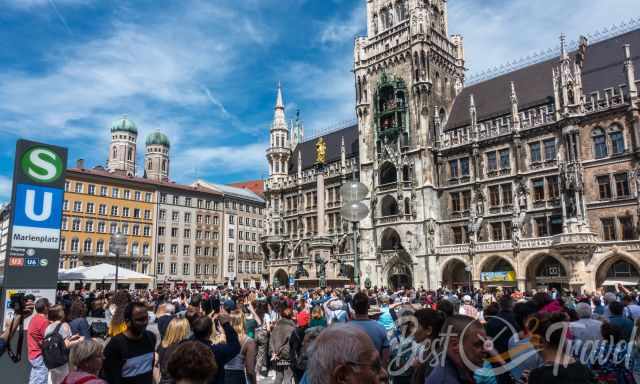 The upper scene: The wedding of Duke Wilhelm V from 1568
The lower scene: The Schäffler Dance is a traditional, more than 500 years old dance invented during the plague to cheer up the people.
When: During the busier season from March until October, three times a day; 11 am – 12 pm – 5 pm
In winter at 11 am and 12 pm
Attention: Take care of your valuables while watching this famous event. 
7 Marienplatz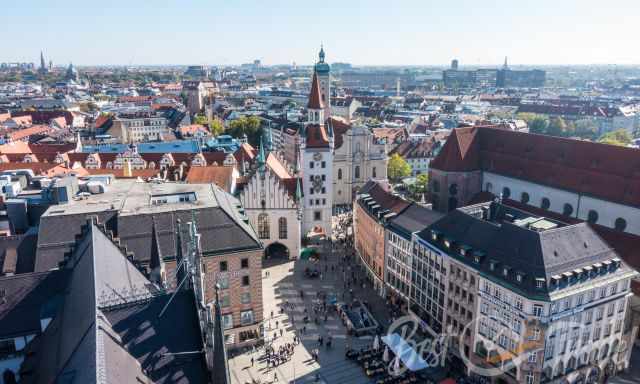 Marienplatz has been Munich's main square since 1158. The whole square of the historic heart of Munich is charming, and it is a bustling atmosphere with people from all over the world. There are countless shops, cafes, restaurants, and the Christmas Market in winter. The subway station is situated here, and you get easily around. 
8 Peterskirche or Alter Peter - St. Peter's Church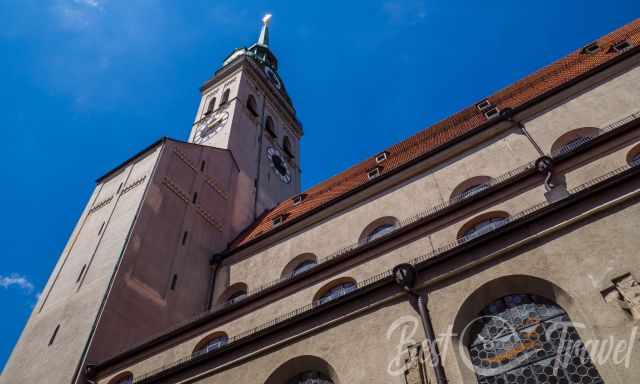 Sankt Peter is the oldest Parish church from Munich first mentioned in 1225. The church is called "Alter Peter" or "Old Peter" by the residents of Munich. You have to be in shape to climb the more than 300 steps up to the bell tower of Peterskirche – St. Peter's Church.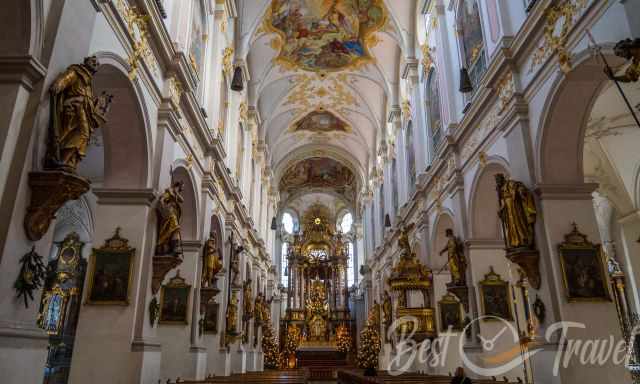 It is worth paying the entrance fee of 5€ per adult and 3€ per child. For me the best view of all to Munich old town and Marienplatz. However, I only recommend this lookout if you are neither claustrophobic nor suffer from vertigo because of the height of 56 m/184 feet. It a narrow, steep climb to the top of the watchtower, and there is no elevator.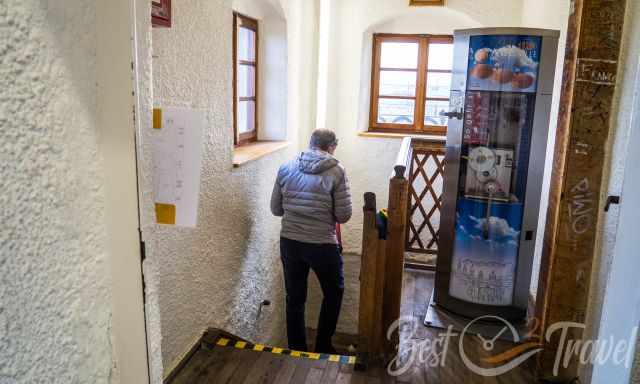 Opening Hours: 7.30 am – 7 pm
Church Service at 10 am and 6 pm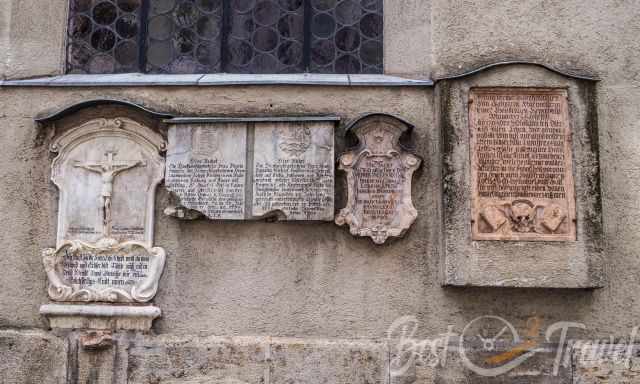 9 Vees Café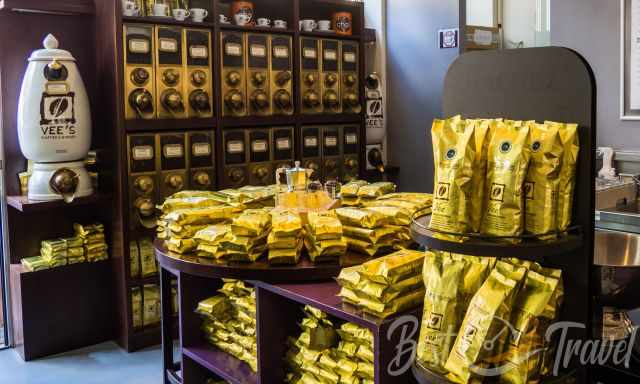 Now it is time for the next break and a top-quality coffee or cappuccino, for us, the best on this planet. They serve a glass of water in addition to the coffee as it should be done. This authentic Cafe and brand invented "grand cru" coffee to perfection already in 1999. These beans and coffee have almost no acidity.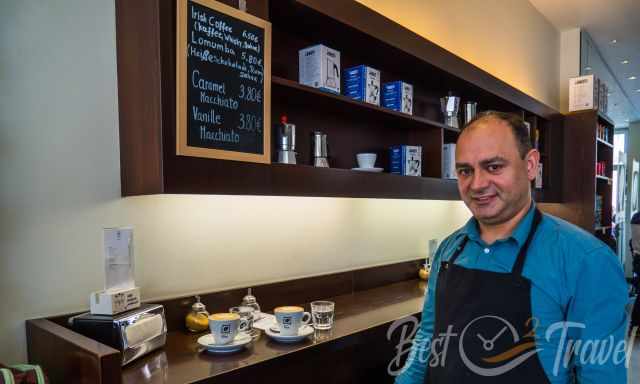 And the fresh coffee or cappuccino is reasonably priced despite the location. On top, you always get the coffee served with a smile. I bet you will take some beans back home as we usually do.
10 Street Musicians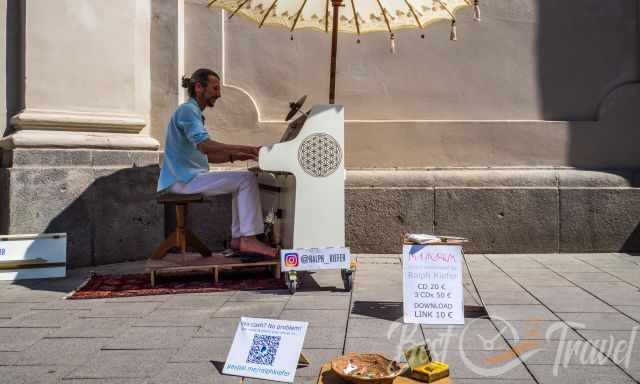 Before you access the Viktualienmarkt, you pass by the Heilig Geist Church on the left. Usually, street musicians entertain the market visitors and create a wonderful atmosphere. I love to come here to listen to the music of Ralph Kiefer, my favourite musician. Subscribe to Ralph on Youtube if you like his exceptional music, and make a stop here during your visit!
11 Viktualienmarkt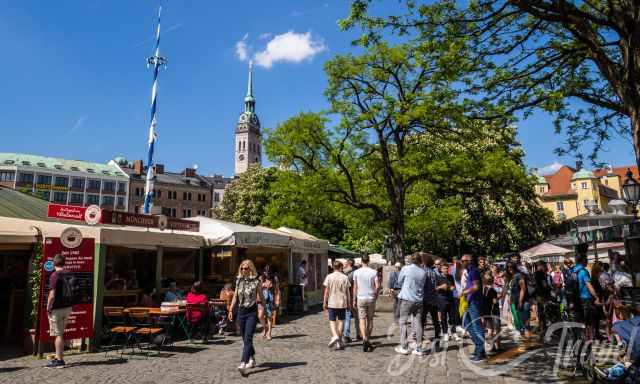 The Viktualienmarkt was a farmer's market initially and is nowadays a famous sight and foodie market for tourists and locals alike. You get local products, delicatessen from around the world, flowers, fish, souvenirs, and beer gardens are here as well. More details about the history and the different shops on the Victuals Market can be found in my additional article.
12 Asamkirche – Asam Church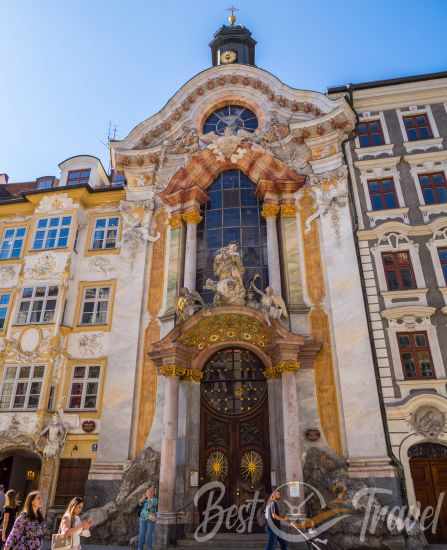 The Asam Church, also named St.-Johann-Nepomuk, is a masterpiece of late baroque architecture hidden in Munich's pedestrian zone built by the brothers Egid Quirin and Cosmas Damina Asam from 1733 to 1746. Initially, it was their private church; nowadays open to the public.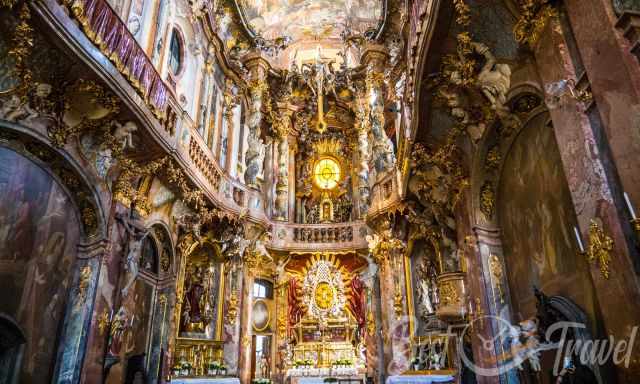 It is just 8 meters wide and 22 m long and awe-inspiring. There are thousands of incredible details, and you can literally spend hours here. Enjoy this haven of tranquillity. This church is one of the top five sights of Munich IMO. 
13 Sendlinger Tor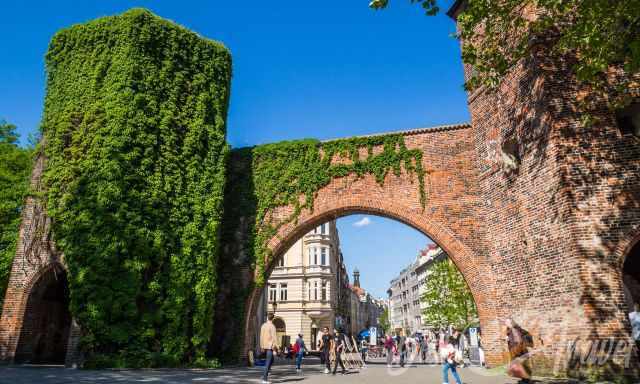 The Sendlinger Tor is located in the south in the Hackenviertel and is part of Munich's historic old town. This archway is one of three remaining medieval city gates of Munich's old town, dating back to the 14th century. The central tower of Sendlinger Tor and Karls Tor got destroyed and not replaced. This area is currently not that nice because of the vast construction work for the new subway station in the heart of Munich until the end of 2022. 
14 Frauenkirche - Cathedral Church of Our Lady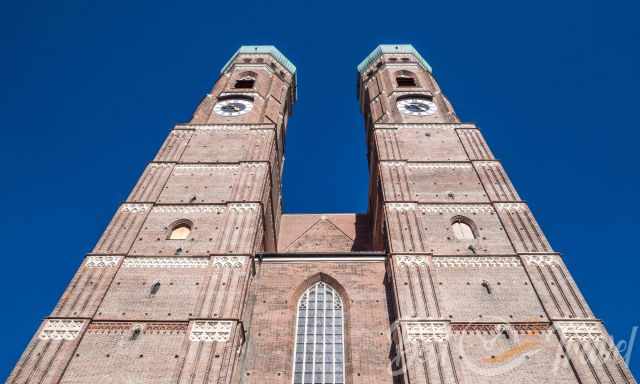 This church is an iconic landmark in the heart of Munich. A chapel in the 13th century is today one of the tallest buildings in Munich, with a height of 98 m/ 322 feet. Only four buildings in Munich overtower the church. According to a referendum by the citizens of Munich in 2004, new buildings are not allowed to exceed 100 m/ 328 feet.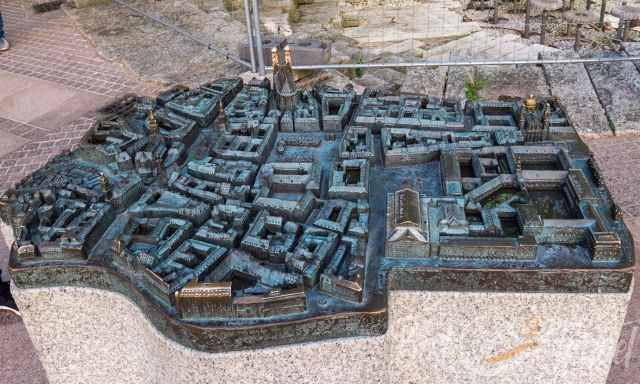 You can get to the top by elevator for another view of Munich. The south bell tower was closed for ten years and reopened recently, and the north bell tower is not open to the public.
Opening Hours 10 am until 5 pm - Sundays 11.30 am
Elevator Fee: 7,50 Euro adults - 5.50 for children over 7 years
15 St. Michaels Kirche - Church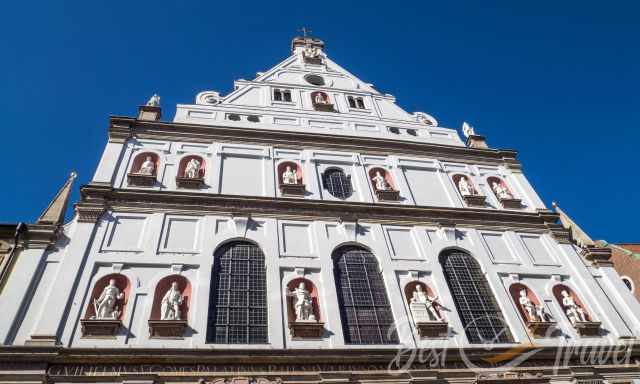 The Jesuit Church situated in the pedestrian zone is Germany's first Renaissance church. Fifteen statues of former rulers adorn the front facade of this church. King Ludwig II the constructor of Neuschwanstein Castle, rests in the crypt of St. Michaels. 
Opening Hours 7.30 am until 7 pm
Sundays 10 am until 10 pm
12.30 Atempause - Midday Meditation for 15 minutes
16 Karlstor and Karlsplatz - Stachus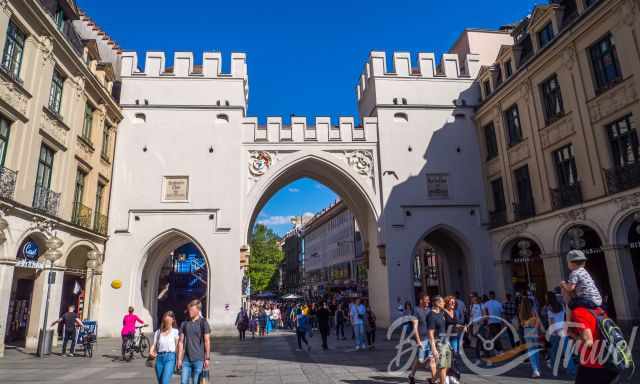 This gate is the western boundary of Munich's busy pedestrian zone. It was also built in the 14th century as the second part of Munich's city fortification. The gate was often reconstructed and renamed in 1791 in honour of the Bavarian Elector Karl-Theodor. But he wasn't popular with the residents, and they kept the old name for the square, "Stachus". Therefore, Karlsplatz is mainly called Stachus.
17 Isartor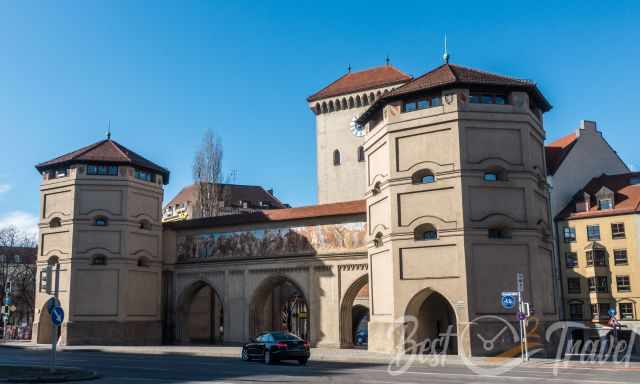 The Isartor is a detour of 1.6 km/ one mile to get to from Viktualienmarkt, but for me, it is the most exciting gate of the remaining three, and the story behind it has to be mentioned. The Isartor is the last remaining medieval city gate with a central tower.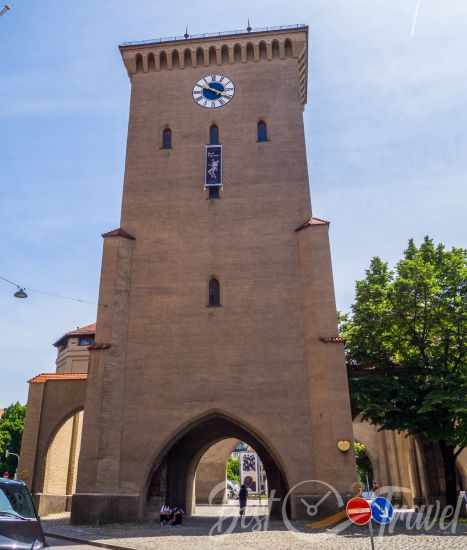 It was built from 1285 until 1347 by Ludwig the Bavarian during the city expansion. The gate was severely damaged during WW 2 but rebuilt in facsimile in the early 1970s. 
Humorously Detail of Isartor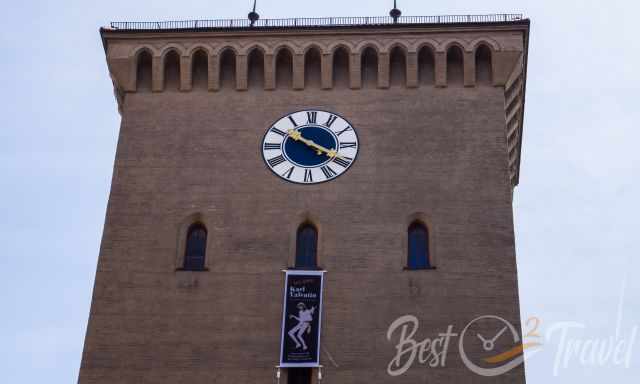 The clock in the main tower turns counterclockwise, and the numerals are also reversed. Why? First, in memory of the comedian Carl Valentin, and second the clocks go differently in Bavaria 😉. It means Bavaria is different from the rest of Germany, which is true.
Do you want to obtain the usage right for my images? Contact me, but I will take action against picture theft.