When Is the Best Time
We have been living in this area for almost three years. When we grab our hiking backpacks to soak up the beauty of Neuschwanstein and the Allgäu, we totally unplug and recharge our batteries during the weekends or in the evening in the summer. The setting of Neuschwanstein Castle is simply unique.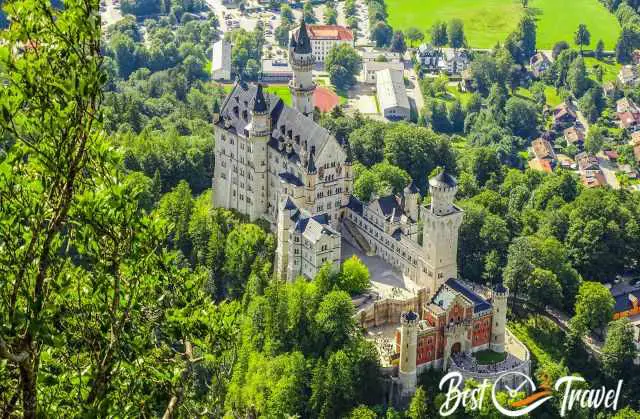 I want you to get to know Neuschwanstein Castle, the surrounding mountains, and Lake Forggensee from a different perspective. Experience the Allgäu like a local. Kick back, unplug, and explore this stunning region.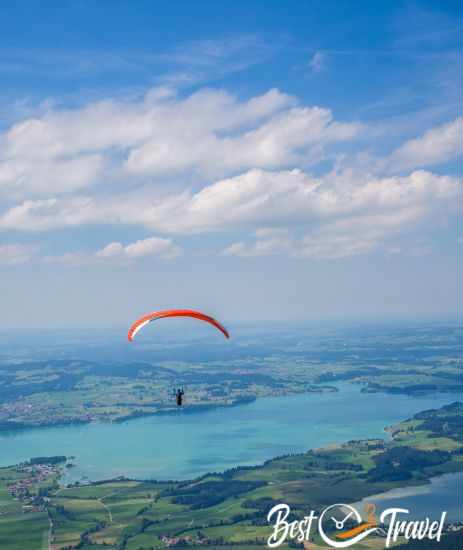 You can find nine outstanding places and things to do not only for hikers and climbers but also for families and children. I bet these pictures make you want to immediately hit the trail and swim afterwards.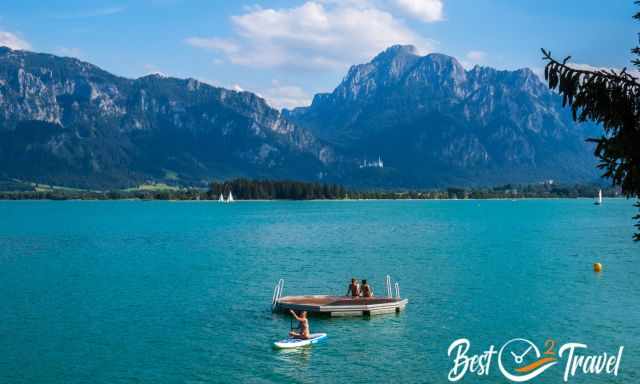 There is so much more to see and do than Neuschwanstein Castle. I love the magic of Neuschwanstein, and I must confess I never get tired of this view. I definitely understand that Disney got inspired by Neuschwanstein for his Cinderella Castle. King Ludwig II of Bavaria was a genius and far ahead of his time.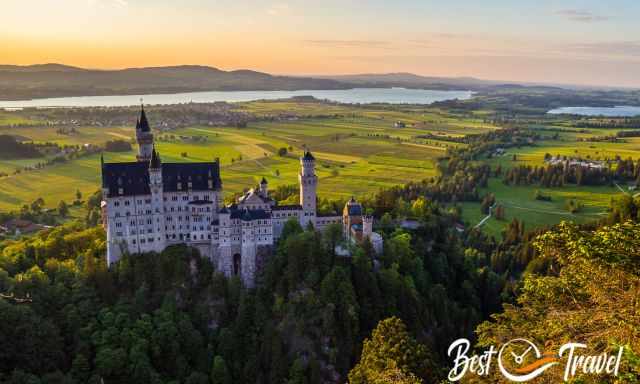 This guide and tips are written for the most lovely time of the year, from the end of April until mid-October. Of course, it is busy here in the summer, but Zugspitze, the highest mountain in Germany, and Garmisch Partenkirchen are worse.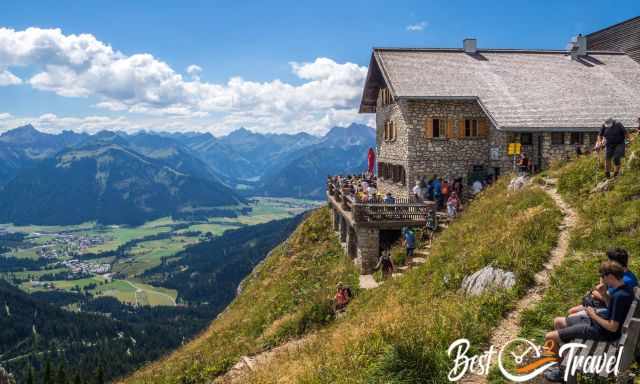 In the Allgäu, it is rare to stick in a traffic jam as you do in Garmisch for an hour and more prolonged. We are going to these places to escape the crowds in the summer, and I hope you will like them as much as we do.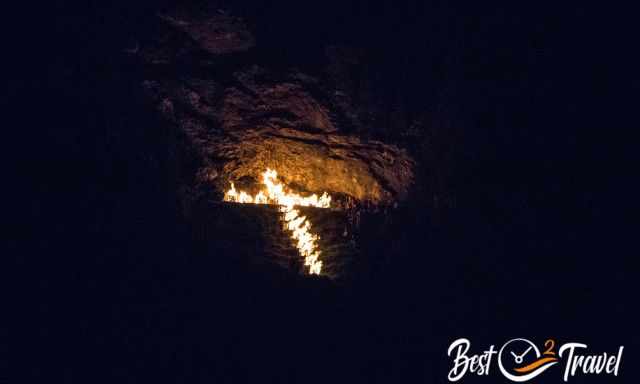 Real traditions are still alive in the mountains. In honour of King Ludwig II, the municipality of Oberammergau organizes a unique commemoration. Be part of this unique event.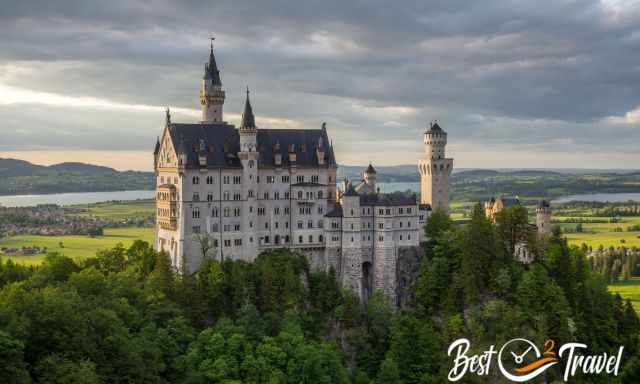 Do you wish to know more about the weather in this area around Neuschwanstein? Check out my additional article about Neuschwanstein Castle and learn about the long wintertime here in the south of Bavaria and the best time to visit.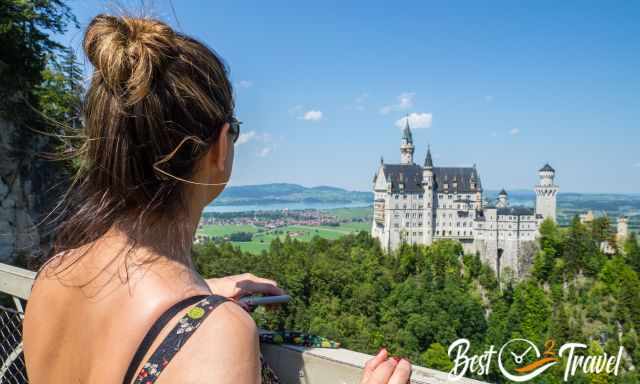 Below you can find my Table of Contents for the 9 Things to Do Around Neuschwanstein. 
Three Top Hotels All Facing Neuschwanstein
You can't stay in Neuschwanstein Castle; however, excellent hotels nearby offer fantastic views. These are my top three hotels, all within walking distance of Neuschwanstein, Hohenschwangau Castle, and Lake Alpsee. Spend at least a night and watch the awesome sunset or sunrise at Neuschwanstein. It's a tranquil atmosphere when the day-trippers leave the village in the evening and before they arrive in the morning. We have already watched the sunset multiple times; always mesmerizing.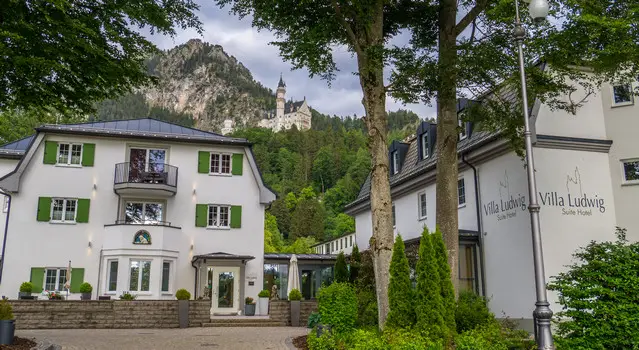 Although a 4-star hotel, it feels like being in a real 5-star. Amiable staff awaits you. Rooms are spacious with a beautiful interior and a Nespresso coffee machine: delicious breakfast, huge parking garage fee of 8€, and bike rental. Although close to all amenities, it is quiet here. You can get your castle tickets at check-in. Request your tickets for Neuschwanstein at your hotel booking. Ask for a room with a castle view.
Ameron Neuschwanstein Alpsee Resort & Spa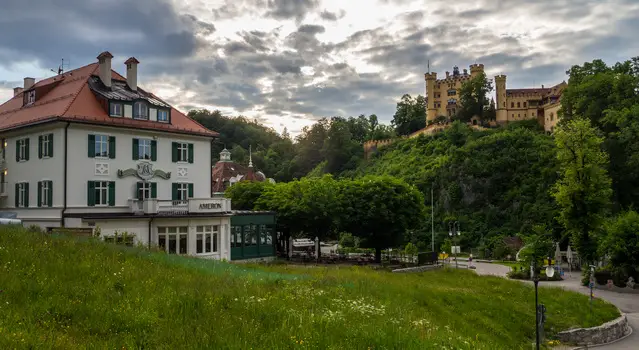 The 4-star resort is located next to Lake Alpsee, facing both castles. The Spa has a fantastic lake and mountain view, and it is quiet in the evening. Rooms are comfortable, breakfast is outstanding, and super friendly staff. Parking is available for 12€ each day. The sunny terrace facing Lake Alpsee is a fantastic place to enjoy the scenery.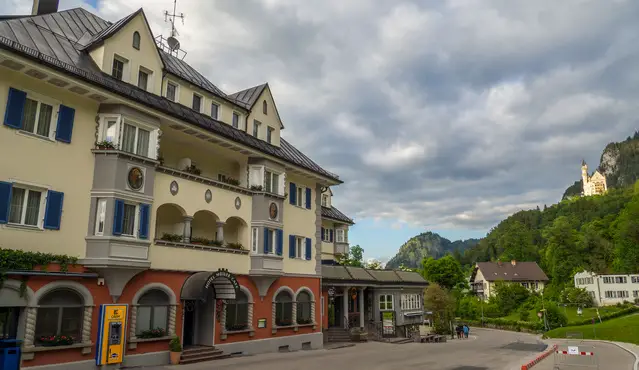 This hotel is located opposite Ameron. The horse carriage departs from the entrance very convenient to get to the castle. Free onsite parking is available. It's quiet at night though there is some hustle and bustle during the day. The restaurant of Hotel Müllers offers a delicious dinner and a great breakfast. They also provide a ticket service for guided tours through the castles. Request the ticket service already when booking.
Camping and Guesthouse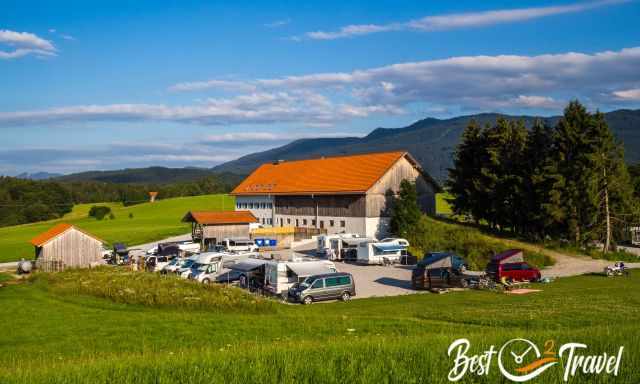 Parking your campervan in the nature-protected area can cause trouble and a fee of 220 €. Most campgrounds are fully booked months in advance, but we found a wonderful place to stay with our van. The lovely owners renovated the entire farmhouse. It combines the old charm with modern conveniences. They offer guest rooms with a giant breakfast but also a place to stay with your van with electricity during the night for a fair price. Even if they are full, they try their best to offer you a place for the night. Google Maps Location and Contact Brandstatthof (this is not an affiliate link, my recommendation for these lovely owners to walk an extra mile for you!)
Location and Tips
Bavaria, Füssen, Allgäu
Germany

My nine tips are for outdoor enthusiasts, hikers, families, kids, and elderly people. We showed my father these charming places, and he regretted not moving here when he was younger. Consider whether you want to visit Neuschwanstein in a rush or bring a little more time and explore the beautiful surrounding. 
9 Things to Do at Neuschwanstein Castle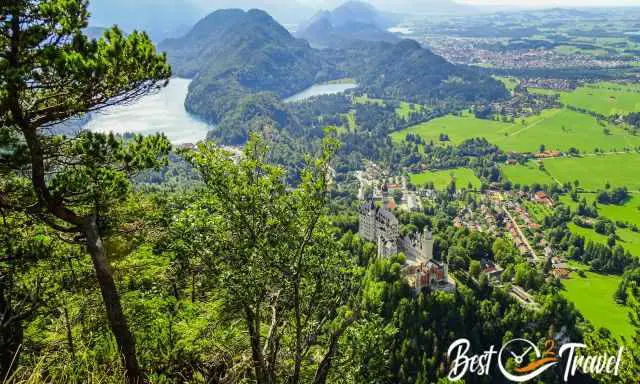 1 Hike to the Viewpoints of Neuschwanstein Castle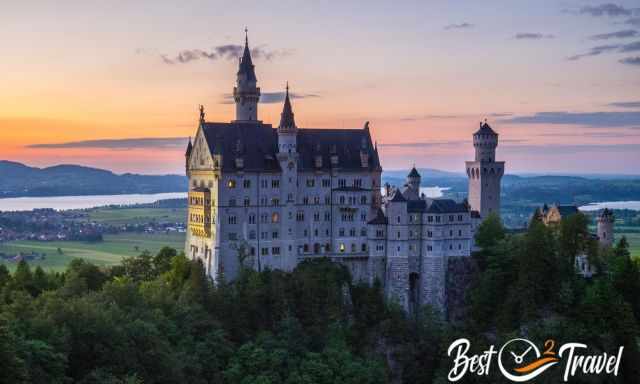 The view from Marienbrücke (bridge) is spectacular, but if you wish to escape the crowds, hike another 250 m to the first viewpoint on the Tegelberg Massiv or continue another 600 m to the second lookout or one kilometre from the bridge for drone-like views, which we do a couple of times annually to watch the sunset.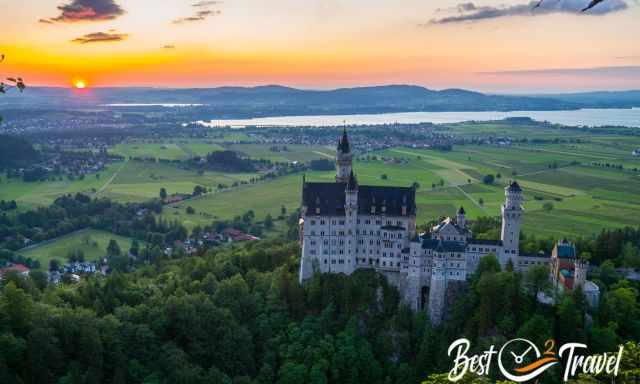 One of my favourite places in the world to see the sunset, but essential for this viewpoints are proper shoes with traction and no fear of heights. It is a steep climb to these spots. Locus Map hike to three lookouts from the bridge. Disclaimer: I am not responsible for any injuries.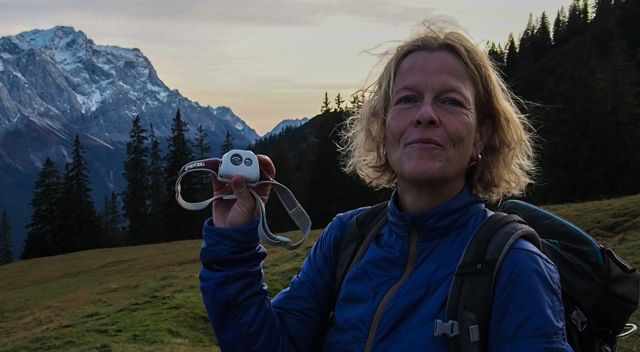 It is just a recommendation for excellent views, but please don't go in trainers and not without any water and a headlamp if you wish to watch the sunset. Good preparation is vital in the mountains. More viewpoints are in my detailed Neuschwanstein Guide.
2 Take the Cable Car to Tegelberg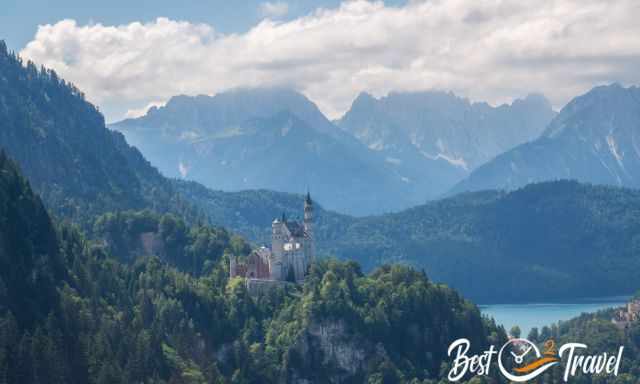 Try to stay on the right side when taking the cable car up, and you will see Neuschwanstein and lake Alpsee from an entirely different perspective.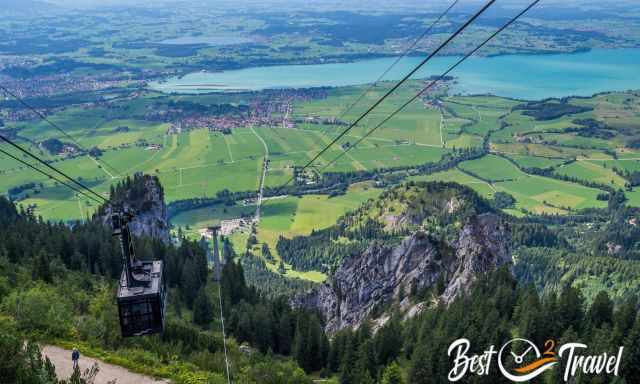 The view from Tegelberg to Lake Forggensee and Bannwaldsee is unforgettable. I did this with my 80 years old father this summer, and he loved it. It is a breathtaking landscape, and you can watch the many paragliders here on windy days.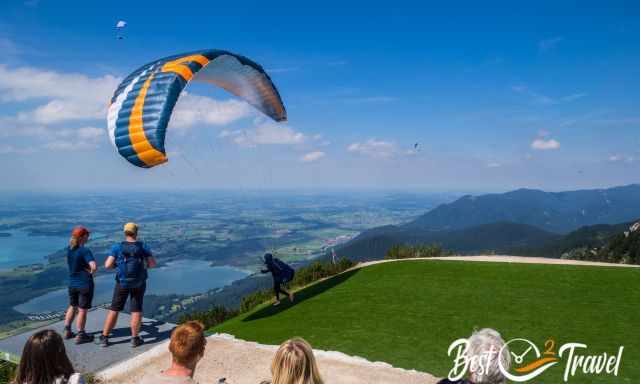 Tegelberg is famous for it; the first paragliders flew off as early as 1948, and the first hang-gliders in winter 1973/74. There is an exhibition about this kind of sport in the cable car station.
3 Climb the Brandnerschrofen Mountain from Tegelberg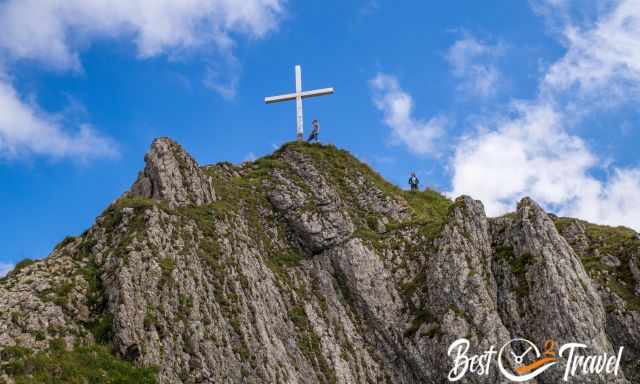 It takes roughly half an hour to get to the summit for the one km/0,6-mile hike. The shoulder is easy to reach the summit is an alpine track, steep and exposed and secured with a metal rope.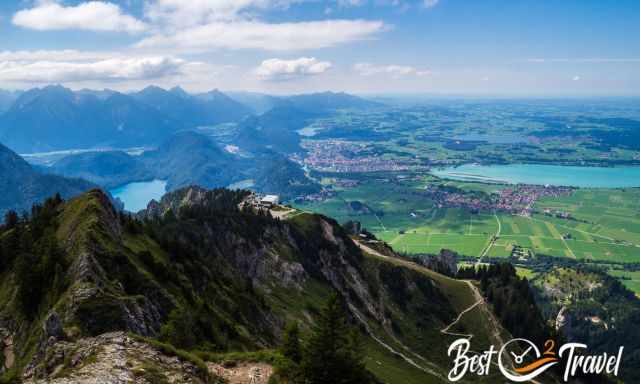 The views from here are spectacular, but if you have any fear of heights, I recommend walking until the shoulder of Brandnerschrofen but not to the peak. I climbed the peak with my brother while my father enjoyed an excellent Bavarian beer at the Alm, the mountain hut, the former hunting lodge of King Ludwig II.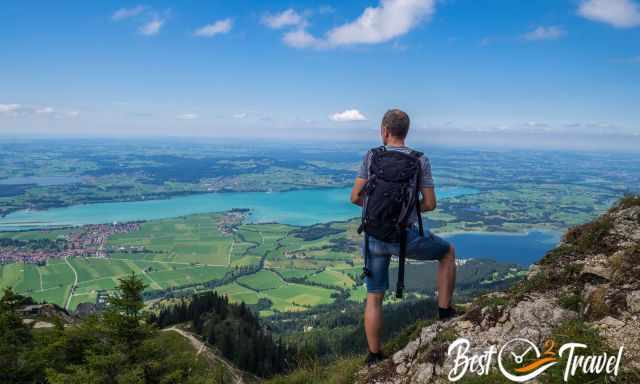 This trip took us four hours. While my father and I took the cable car to get back to the car park, my brother hiked to Marienbrücke.
4 Hike to Marienbrücke the Bridge at Neuschwanstein from Tegelberg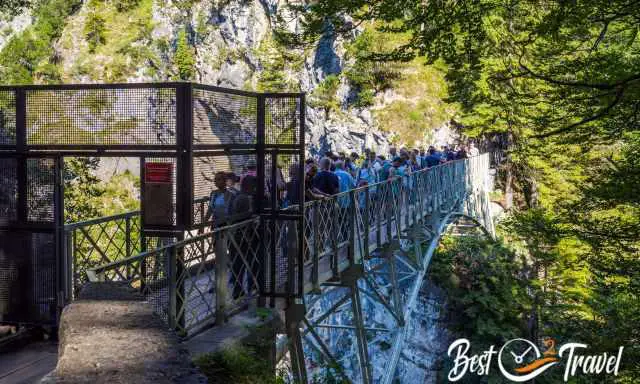 You can either walk up from Neuschwanstein Castle to Tegelberg and take the cable car down or do what my brother did.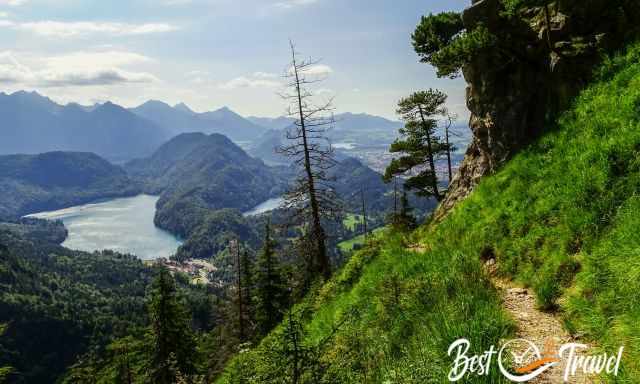 I recommended him to hike from Tegelberg to Marienbrücke for the best views of Neuschwanstein Castle, and we met at Marienbrücke. It took him 1 1/2 hours to get here. If hiking the trail vice versa, add one hour because the elevation gain is more than 800 m.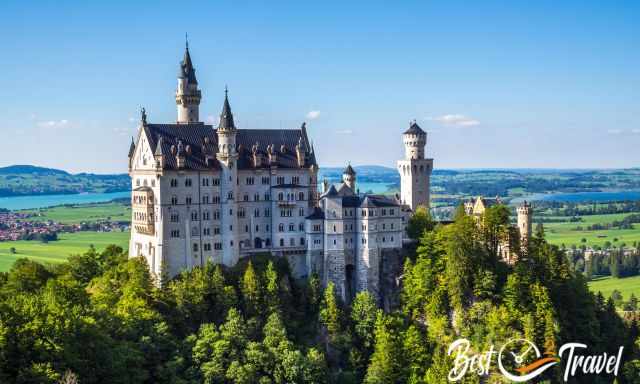 Getting to Marienbrücke for the once-in-a-lifetime view, you can either hike for roughly 45 minutes or take the shuttle bus. If you take the shuttle bus, it takes 10-15 minutes, depending on your age and fitness level, because it is a bit steep from the shuttle bus station on a paved path to the bridge. Thanks to the shuttle bus, almost all visitors can get here also with a wheelchair or stroller, as well as my elderly father. 
5 Climb a Via Ferrata at Tegelberg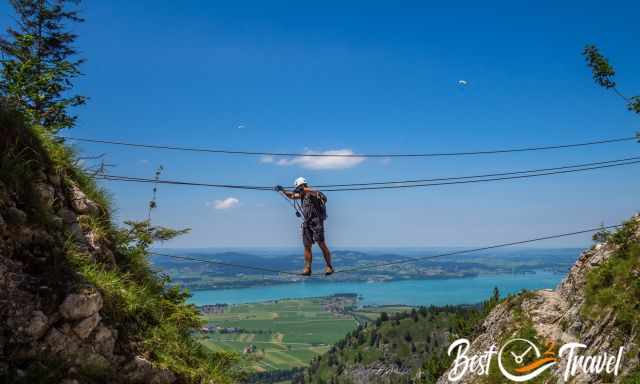 There are three different routes of difficulties in climbing Tegelberg. Bring your climbing gear, harness, helmet, gloves, and shoes with stiff soles if you wish to do so. 
| | |
| --- | --- |
| | We bought our La Sportiva climbing shoes years ago, and we still use these ones only. They are stiff and perfect when climbing a wall at a via Ferrata. They are also excellent for rocky alpine paths here in the mountains. |
The Yellow Route/ Gelbe Wand - Difficulty A: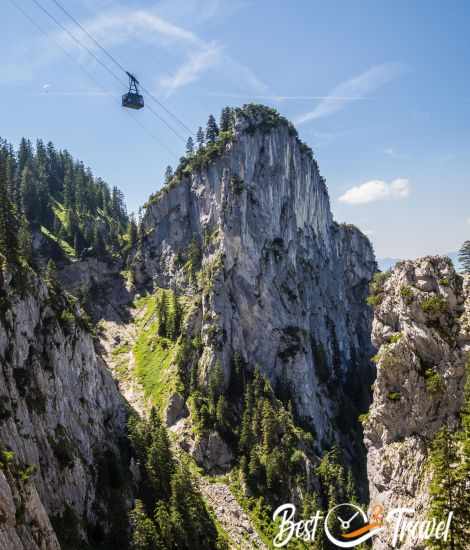 It is a steep hike and via ferrata education trail. Beside the track are sections where you can try out your gear, but it is not needed for the normal route to the peak. Metal ropes are along the steeper sections providing safety. 
The Red Route/ Tegelberg Klettersteig - Difficulty C: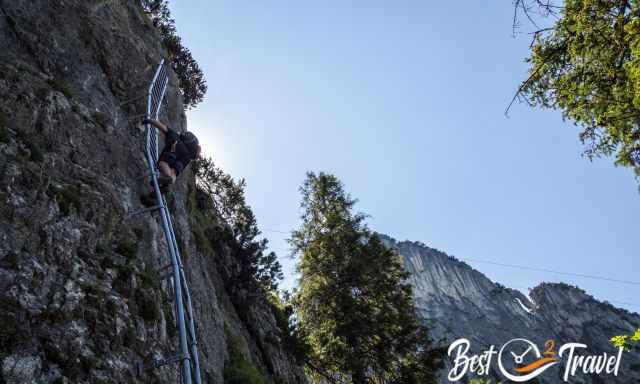 This is a popular via ferrata and some of the rocks are slippery from the many climbers. Experiences and the right gear are essential for this challenging route. 
The Blue Route/ Fingersteig - Difficulty D: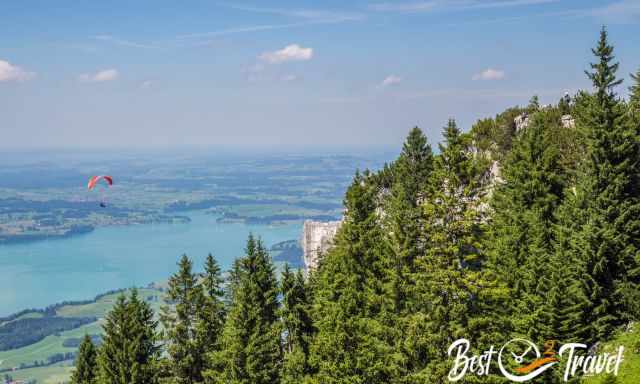 This route we haven't climbed so far. It is a tricky route with a rock overhang a the end of the via ferrata where much arm power is needed.  
Climbing Map for all three routes in high resolution.
6 Paragliding Tandem Flight from Tegelberg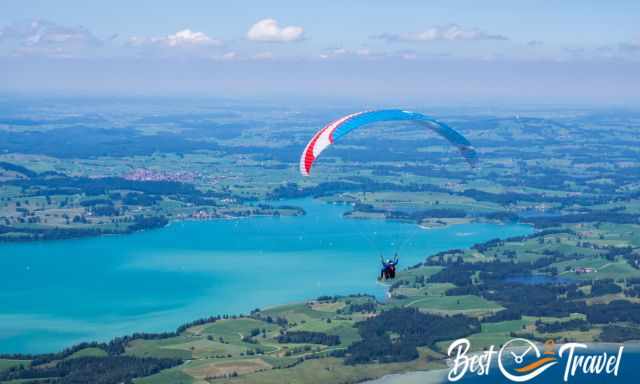 It looks pretty awesome flying above this breathtaking landscape; the idyllic lakes, the mountains of the Allgäu and Neuschwanstein Castle. This is a top-notch location to try your first paragliding tandem flight.
7 Summer Alpine Coaster at Tegelberg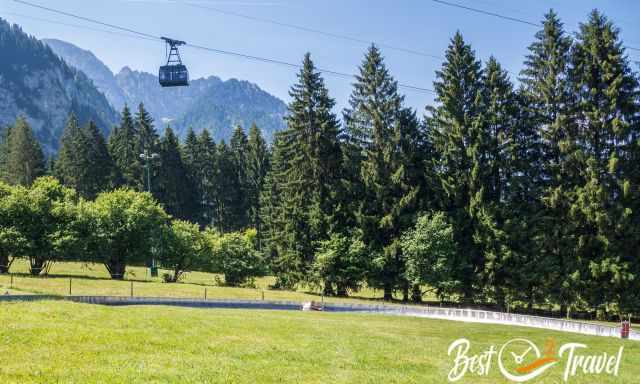 The summer toboggan run is nestled in this wonderful scenery and is great fun for children and adults. There is also a large playground with a Kneipp basin, kiosk, and free restrooms. Parking is available.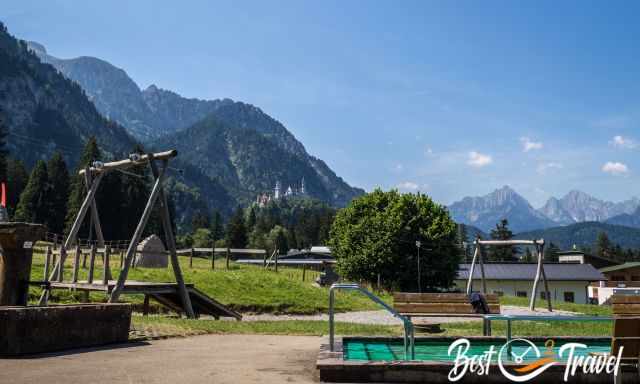 Usually, you only have to queue at midday during the summer holidays in August. Please note tickets and parking with card payment only! Ticket prices are fair IMO for such a location: 6 rides for 21€, and small children are free.
Open from 10 am - 5 pm in the summer.
8 Swimming in Lake Forggensee with Views of Neuschwanstein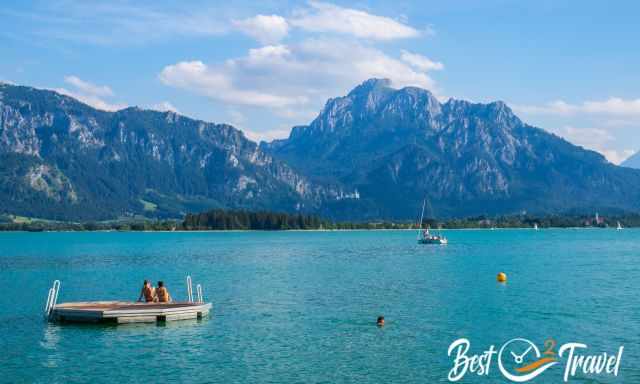 It took us three years to find the best place to swim in the emerald Lake Forggensee next to a campground. The lake is an artificial dam that was flooded for the first time in 1954. The melted water from the winter is collected here. Only from 1.6. to 15.10. the lake is totally filled.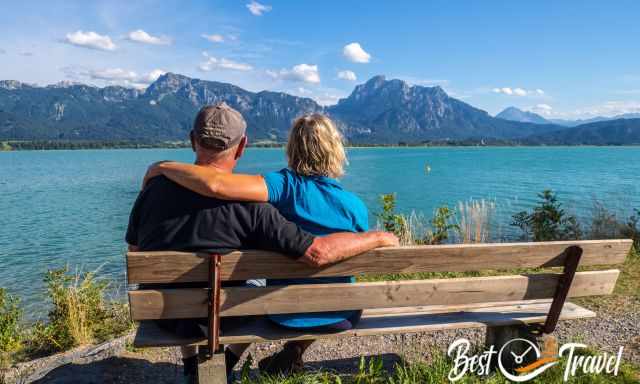 After that, the water is continuously drained for the downstream hydroelectric power plants. In winter, one looks for the lake in vain and finds only a grey moonscape. Do you like to know the location? Maybe you will find us at this place next summer. We are here a couple of times a year. Parking Google Maps It is a 400 m walk on a wide path along the lake to get to this swimming spot. Soak in the beauty and the magic of Lake Forggensee, Neuschwanstein Castle, and the Bavarian Alps.
9 To Be on Fire With King Ludwig II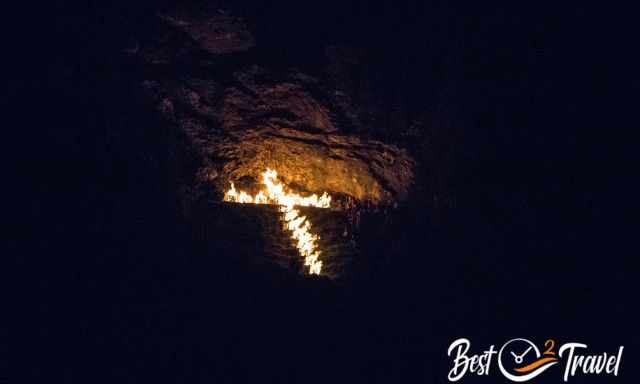 Tradition and loyalty to the king are very important in Oberammergau. Every year on the eve of King Ludwig's birthday, August 24, Ludwig fires blaze on the mountain peaks of the Ammergau Alps.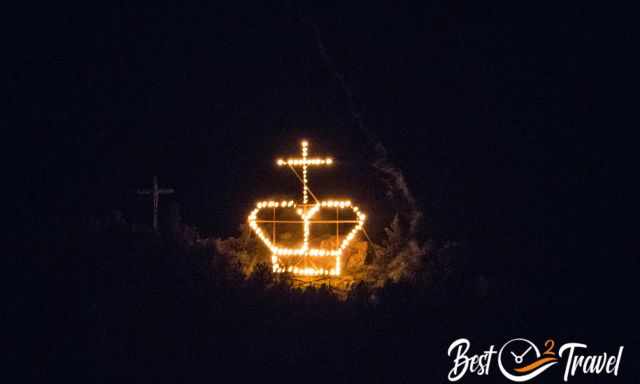 A burning royal crown is erected on the prominent Kofel. Weeks and months in advance, many villagers are busy preparing the huge cross on Oberammergau's local mountain. About 100 dedicated men are literally on fire for their king. Only they are allowed to climb up the mountains to prepare and light the fires with scarves soaked in petroleum.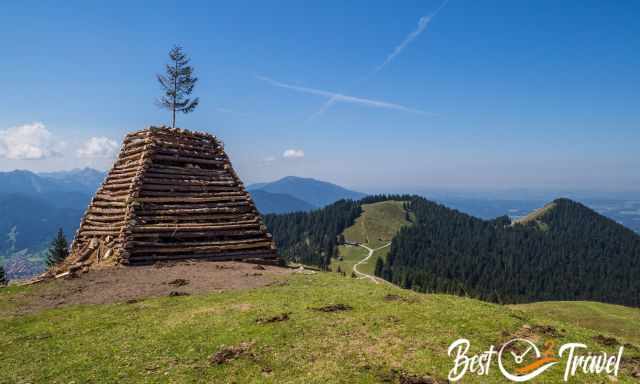 Annually, on Corpus Christi, the wood is cut and laid out to dry. On the Kofel summit, at an altitude of 1.342 m, a 14-meter king's crown is created. On the opposite slope of the Aufacker, a huge, artistically curved "L" and a Roman "II" are formed from torches - for "King Ludwig the Second".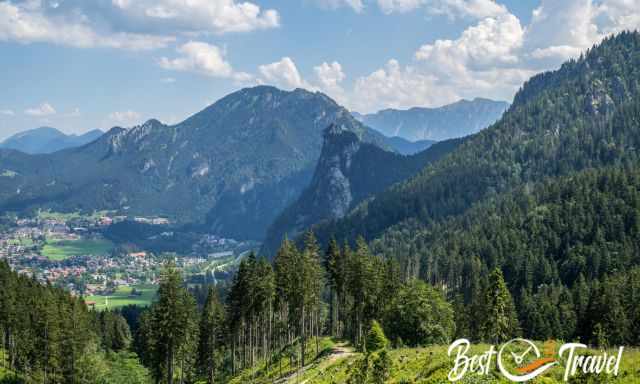 When the fire makers hike up the mountains, their distant voices can be heard in the valley. Now and then, gunshots and yodels resound between mountains and valleys. It's a unique atmosphere, and thousands of locals and visitors watch the spectacle from Oberammergau. At 9 pm, shots announce the start of this once-in-a-lifetime event.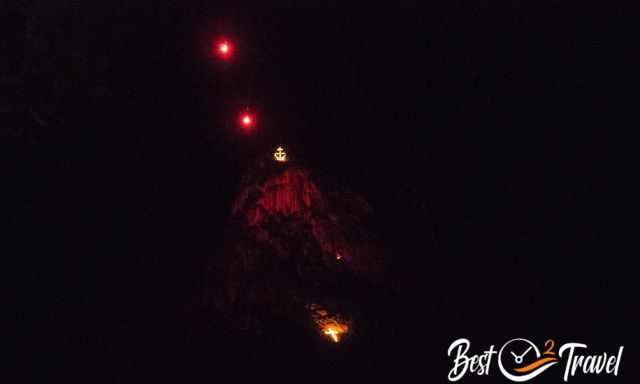 The fires are lit up on four mountains; the central peak Kofel, on the opposite Laber and Aufacker and behind these mountains on Hörnle. We already plan to watch the spectacle again next year but this time from the summit of one of these mountains.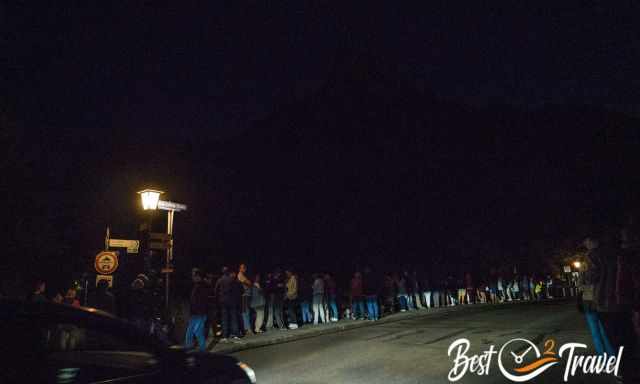 First of all, this event is an authentic tradition not made for tourists, but this is what I loved most. You can feel the passion and the unique atmosphere, which is why we are coming again next year. 
Who We Are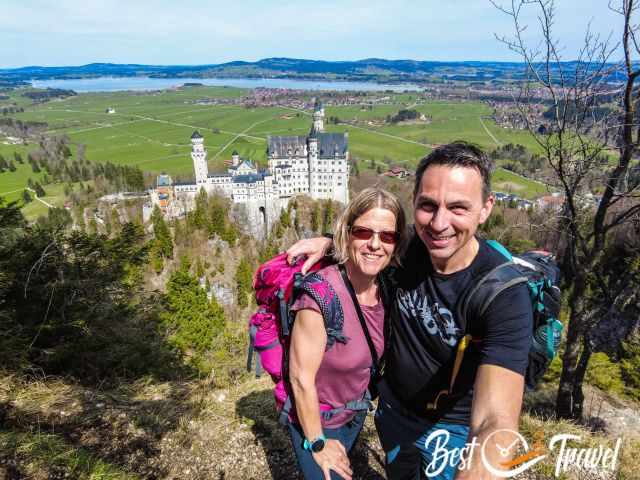 We have lived in this area for more than three already. Neuschwanstein Castle is truly magical, and we got addicted to it during all seasons. We visit this castle each season. Our favourite time is the quiet evening hours with the jaw-dropping sunset or the early morning. Taking pictures inside the castle is prohibited, so I have none. I took all photos of Neuschwanstein. 
We have been married for almost 25 years, and we love discovering hidden gems around the globe. I am passionate about sharing some of the most beautiful places in the world with you, but I still can't live from my work, and we have regular jobs, too.
It is a tough business nowadays because fake travel websites rewrite content without effort and expense. Want to know more about these schemes, picture theft, and how to unmask them? Check out "The Truth  About Fake Travel Websites and Picture Theft"
Do you like my Neuschwanstein Guide? Please share it with your friends and on social media, subscribe to our  YouTube Channel. And soon, we will publish our new Neuschwanstein Video with footage from the last years.
Do You Like to Support Me - It's easy; use the Paypal Button below 😍
I took all these pictures, and I have plenty more. Please contact me if you wish to use any of my photos, but I will take action against picture theft.