When Is the Best Time
The idea for this pedestrian suspension bridge was already born in 2003 to connect Ehrenberg Castle and Fort Claudia in Austria, but it took more than ten years to realise the project.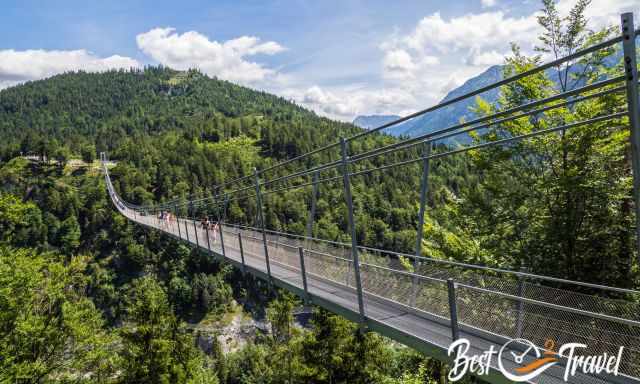 The Highline 179 is close to Reutte in Tyrol, shortly after the German and Bavarian border and is an excellent day trip if visiting Munich or Neuschwanstein Castle – more below.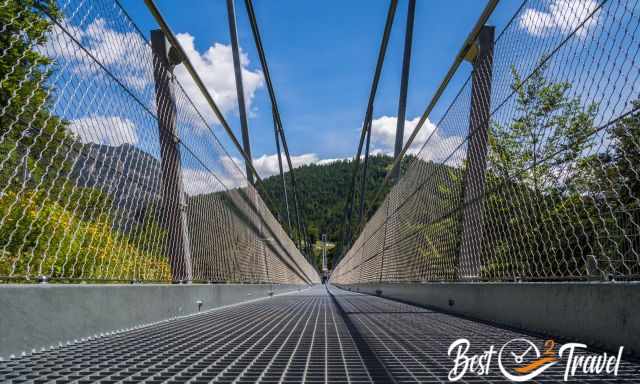 This tourist attraction is not for the faint-hearted. If you fear heights, think twice because Highline 179 is the wobbliest I have ever accessed.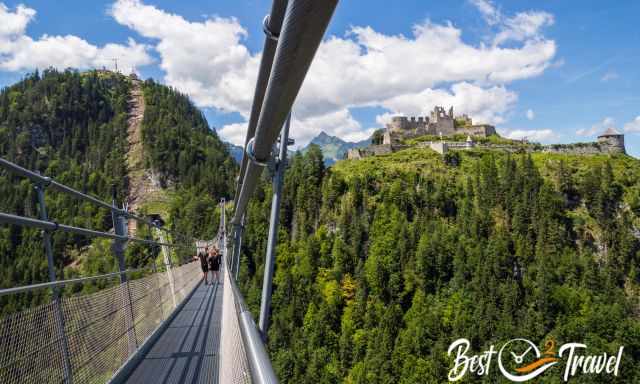 Even I had my issues initially and was glad when I left it, and it is even worse on windy days and when the bridge is crowded. I could handle it much better on the way back, knowing what to expect.
How to Get to Highline 179?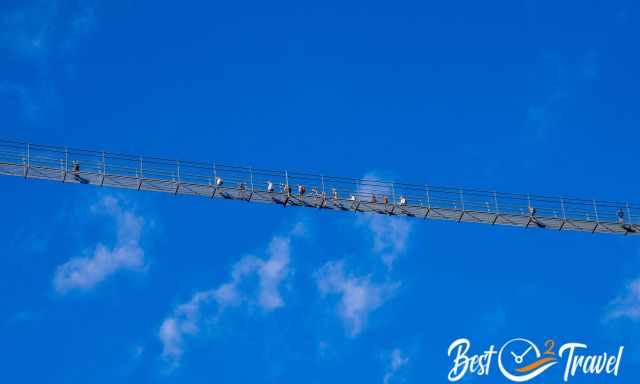 Highline 179 is easy to reach because it is above the federal road B179 "Fernpassstraße" 12 km from the Bavarian border but is not situated in Bavaria, Germany, as often said. It is already Austria Tyrol. There are three parking lots; from here, it is a 20 minutes walk or a 2 1/2 minute inclined lift or elevator ride to Highline 179.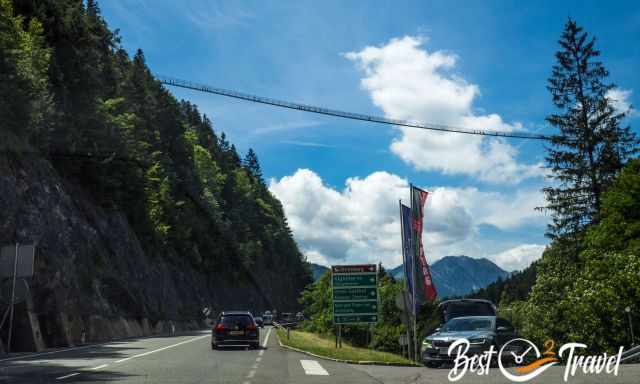 We frequently passed by the bridge on "Fernpass" road B 179 on our route to Italy for years until we finally checked out the Tibetan-style suspension bridge.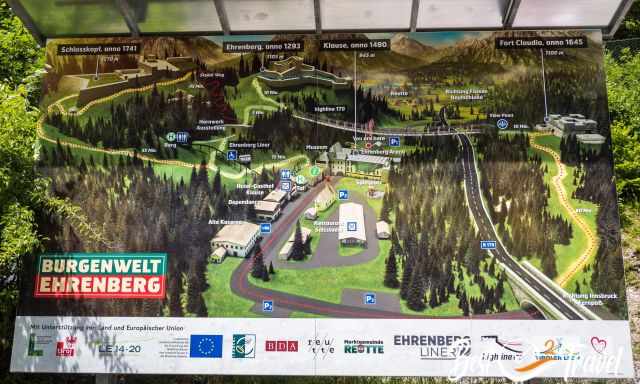 We were surprised how much you are able to explore about the history of the Via Claudia, the "salt route", Ehrenberg Castle, Fort Claudia, and the swinging bridge itself.
Do I Need a Vignette for Highline 179 in Austria?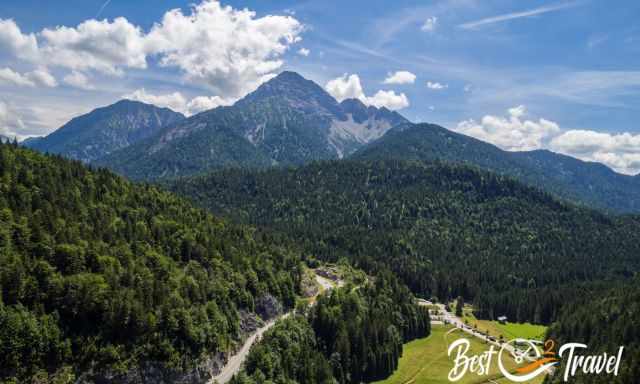 No, you don't need an extra ticket if coming from Germany on Fernpasstraße 179. It is a distance of 12 km on a toll fee-free road.
Parking Highline 179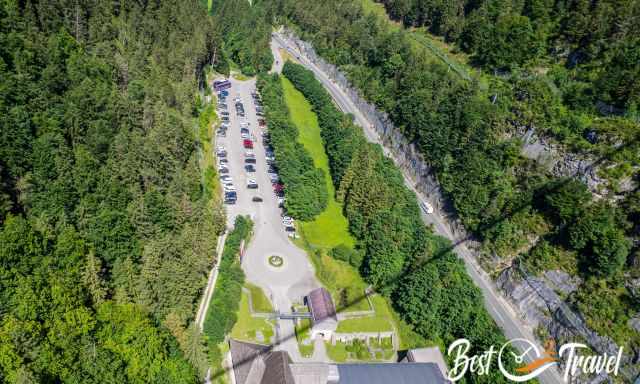 There are three vast parking lots; one before the suspension bridge, one under the bridge at the elevator and an overflow parking after Highline 179. Get your ticket from the machine by card or cash and display the ticket behind the front window. The parking fee is 5 Euro for the entire day.
Where Does the Name Come From?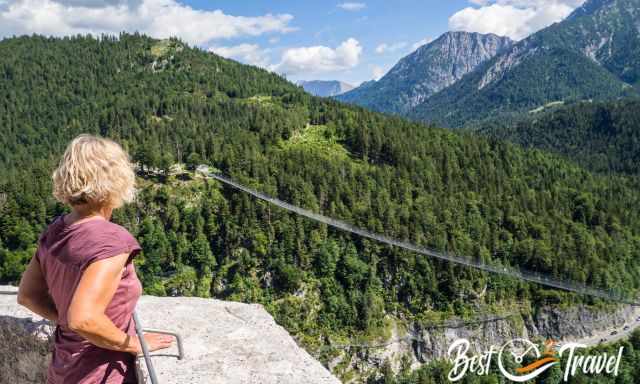 The walking suspension bridge leads above federal road B 179 and is named after it.
Opening Hours Highline 179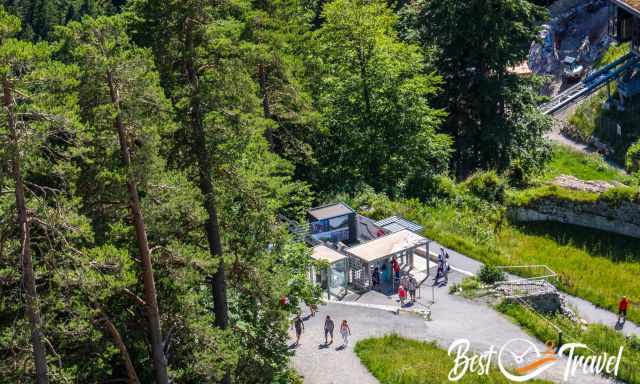 The suspension bridge is open from 8 am until 10 pm throughout the year but closure during ice, heavy snowfall, or strong wind. You can purchase the ticket in the shop or the ticket machine after hours.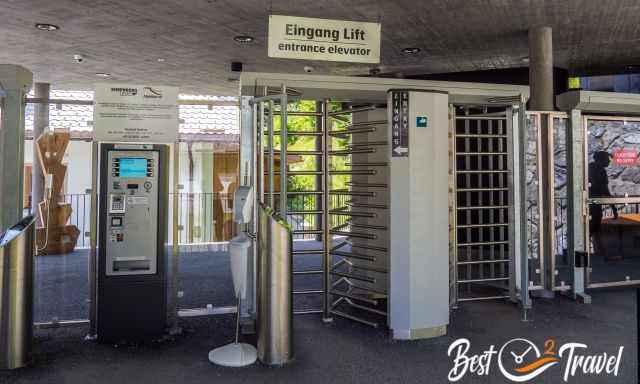 All are fully automated, the ticket machine, the elevator, and the entrance gate to Highline 179. There isn't any staff needed therefore extended long hours.
Ticket Shop and Information Centre Hours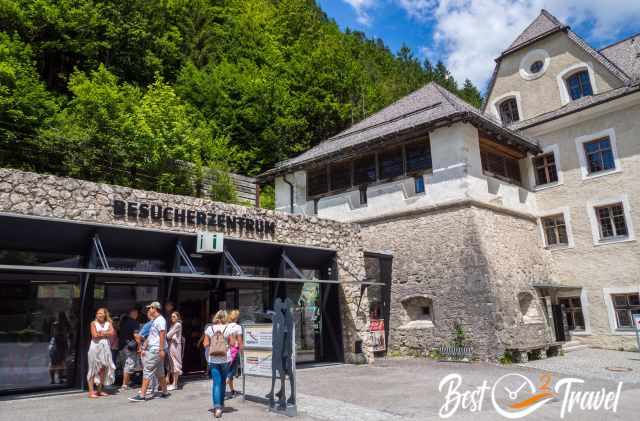 May-November 10 am until 6 pm

December-April 10 am-4 pm
Tickets can also be purchased outside the shop e at the ticket machine but not online.
Entrance Fee Highline179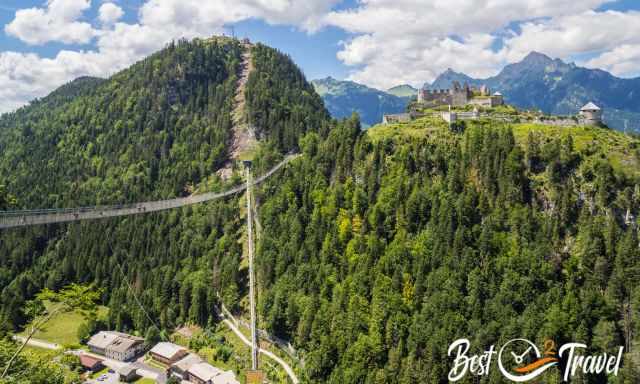 The fee is not fully clear to visitors if you come after shop hours; there are two different prices.
Ticket Price adult 8€ children 5€ (age 4-14)

Ticket Price included elevator 15€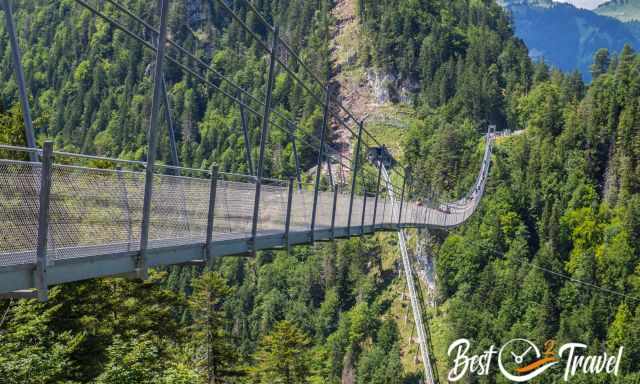 What makes this bridge so special is the fact that people with disabilities can also visit Highline 179. You can either walk 20 minutes up to the entrance at Castle Ehrenberg or take the special construction elevator.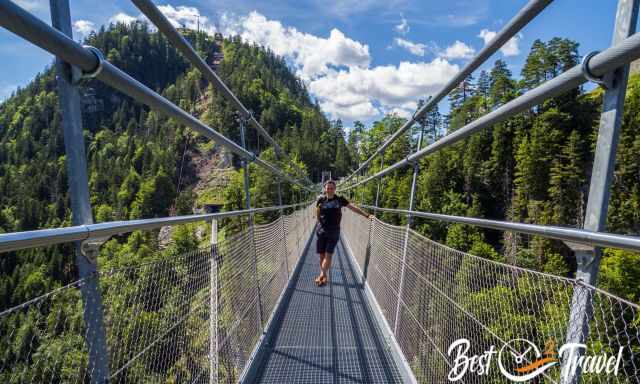 You are able to access the bridge with your tickets once from each entrance, which means you are allowed to leave the bridge once to visit Fort Claudia or Castle Ehrenberg and the exhibition depending on which side you enter first.
Elevator to Highline179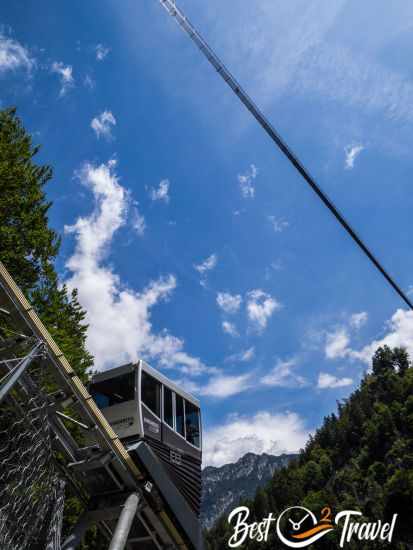 This elevator is an interesting, inclined lift which is fully automated with a unique mechanism that lets the elevator stay horizontal while gaining an elevation of 110 m. The ride length is 261 m and takes 2 ½ mi—capacity of 50 people but that sound pretty high and tight to me.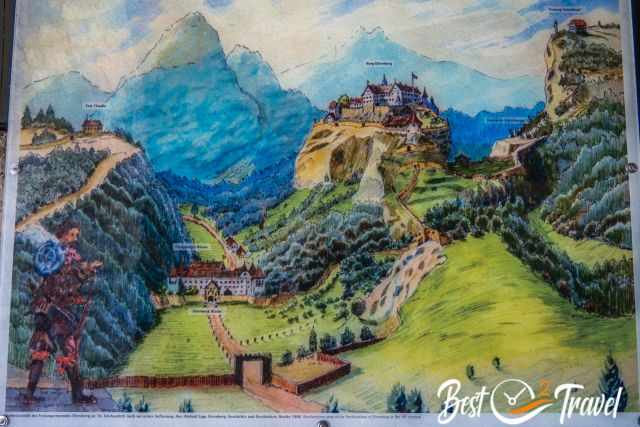 There are already construction works to extend the inclined lift to the top of "Schlosskopf" and its fortress.
Facilities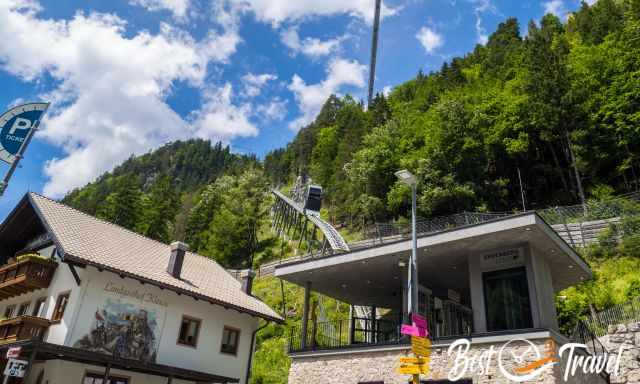 There are restrooms at the elevator, but a fee of one Euro is requested. Honestly, it is not clear to me why a fee exists. The entrance fee to the bridge should cover a restroom visit. Guess what happens? People leave their trash in nature. This could be done better! In the Western part of Germany is a suspension bridge called "Geierlay" which doesn't require an entrance fee, therefore, a small amount for the toilets, which is fair IMO.
How to Avoid the Crowds?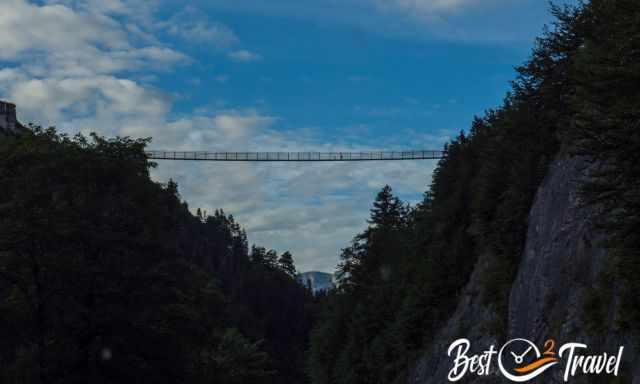 Weekends and the summer holidays are the busiest time of the year. The morning and evening are quiet, but the suspension bridge is in the shade in the evening. The wintertime is beautiful, and except for the Christmas holidays, the Highline 179 is not too crowded.
Neuschwanstein Castle and Highline 179 in One Day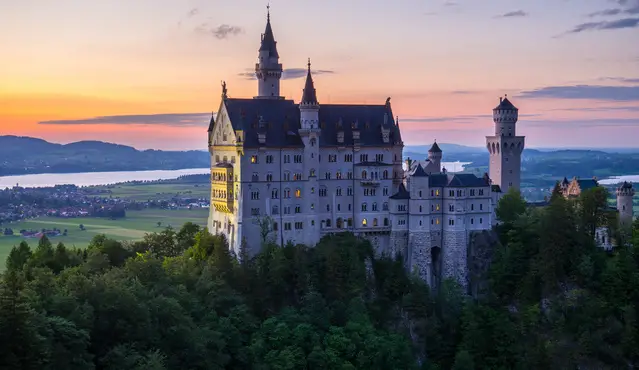 Highline 179 and Neuschwanstein Castle can be easily combined in one day. Both attractions are located in proximity less than half an hour's drive 22 km. 
Dog Friendly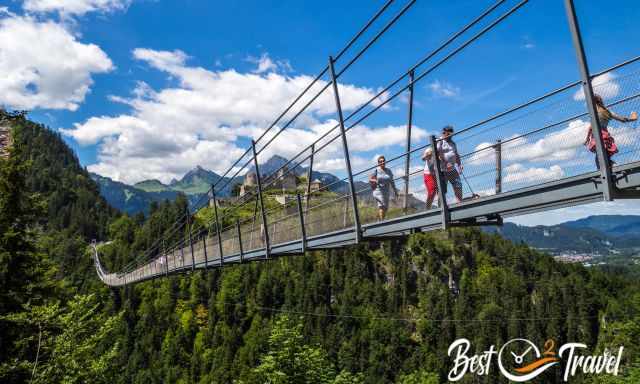 Dogs on one meter-long lash are allowed on Highline 179, and it looked like they handled the wobbly bridge much better than some visitors. 
Highline 179 Hike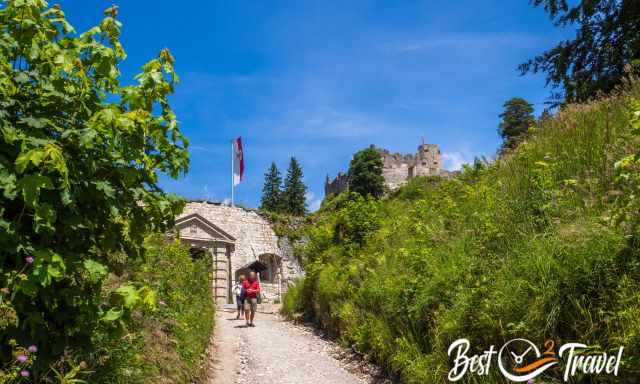 It is most convenient and shorter to access Highline 179 from the Castle Ehrenberg side. It takes 20-25 minutes on a steep and well-maintained path to get to the entry gate of the bridge.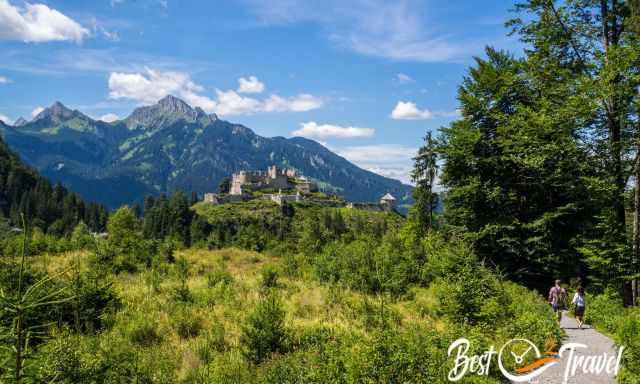 If you wish to access Highline 179 from the Fort Claudia side, it takes about 50 minutes to get to the bridge.
7 Facts for Highline 179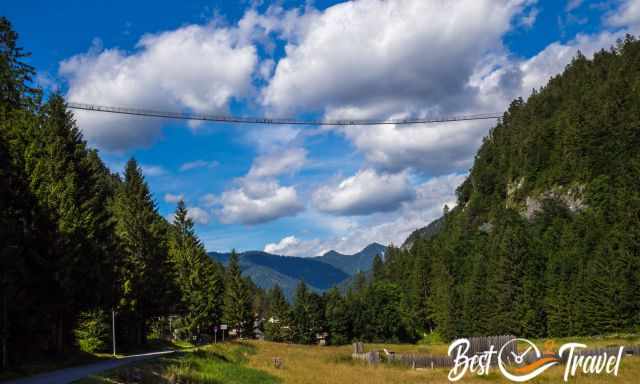 Inaugurated on November 22, 2014
Construction time 198 days – from May 7 until – November 21
Length 406 m
Height 114 m
Wide- footway 1.20 m/ 3.4 ft
Dead load 70 tons
Max. Capacity 500 people
The History of Castle Burg Ehrenberg and Via Claudia Augusta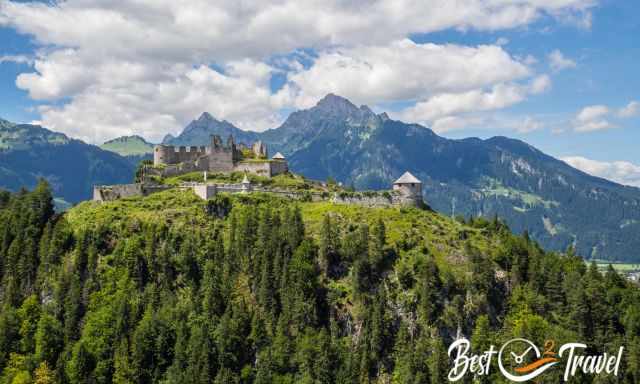 The first construction of Ehrenberg Castle was already in 1290 and finished five years later. The complex was extended for military defences for several hundred years.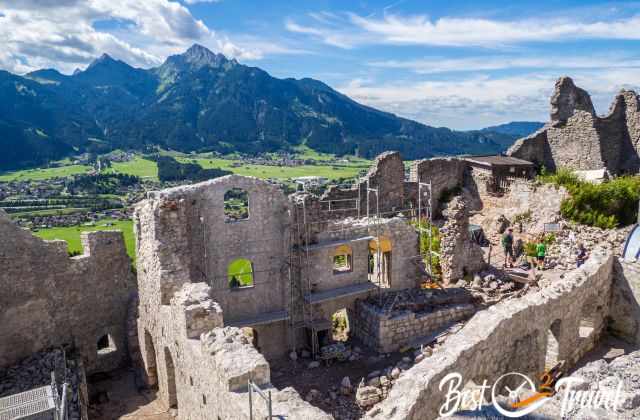 It was auctioned in 1782, the entire equipment got lost, and the castle fell into disrepair. There are restoration works until 2025.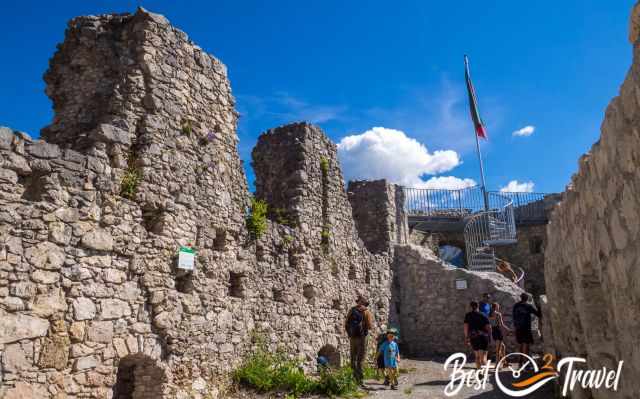 Ehrenberg Castle and fortifications were built at the trade route Via Claudia to collect taxes for trading goods like spices, fabrics, fruits, wine, and salt. Salt became the "white gold", and from the 15th to the 19th centuries, 5-8.000 tons of salt were transported in barrels annually from the saline in Hall close to Innsbruck.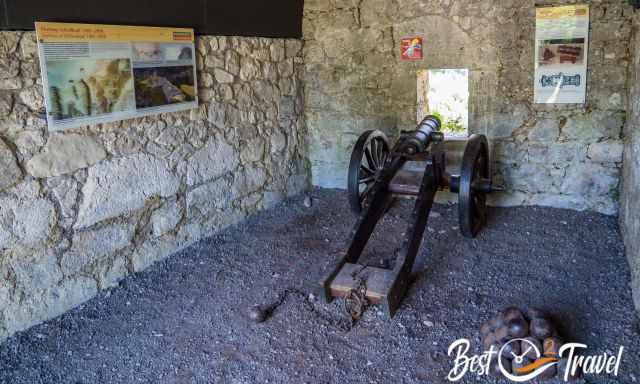 The Via Claudia is more than 700 km long and leads from Adria, Italy, to Austria and Tyrol to Bavaria.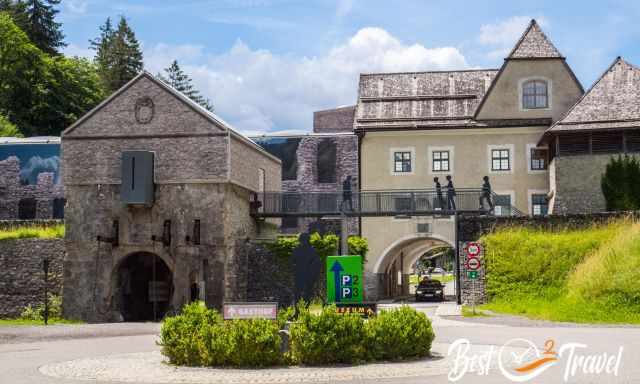 The high revenues from the taxes and tolls were a threat, and military defence along the route was essential.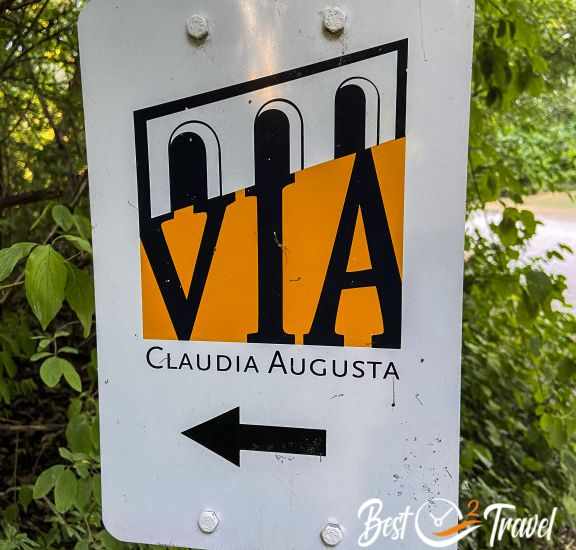 Nowadays, this main trade route is a popular bicycle route over the Alps; its highest elevation is 1.500 m. Along the entire way were castles and fortifications built during these times.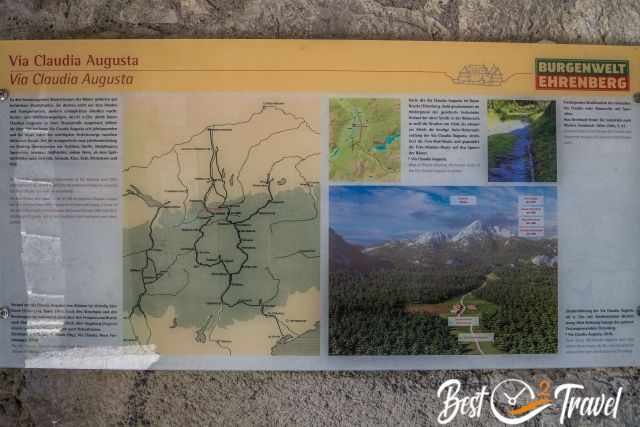 Do you wish to know more about the fascinating history of Castle Ehrenberg? Bring plenty of time and enjoy the excellent outdoor exhibition at the castle.
Weather by Seasons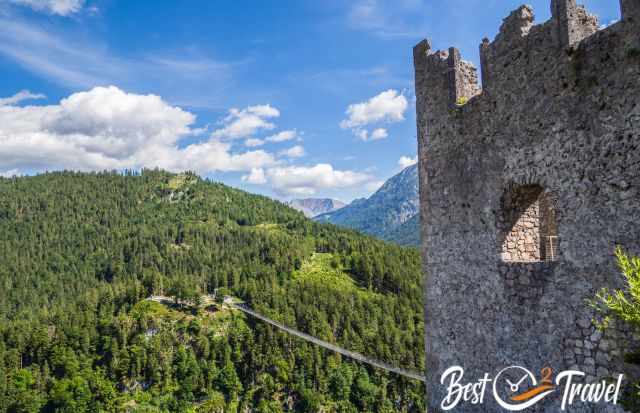 The nearby city of Reutte in Austria is located at 853 m elevation, which greatly impacts the temperatures. The winter takes much longer, from November until March, and usually, the summer isn't too hot, but exceptions occur like this in July 2022.
Highline 179 in Spring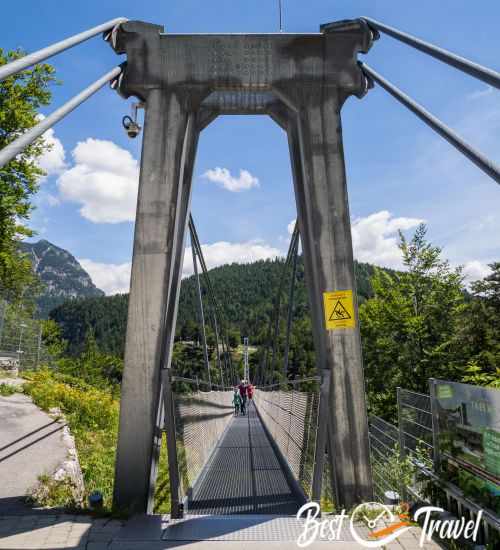 April is a bet, the end of winter or already the beginning of spring. It can be sunny and warm with day temps about 20°C/68°F in the sun – 10°C/ 50°F in the shade or overcast and colder. Nights are still freezing in April, and the morning is cold. May is definitely an excellent month for Highline 179, with rising day temperatures reaching almost 20°C/68°F. Night and morning temperatures are still chilly, around 5°C/ 41°F.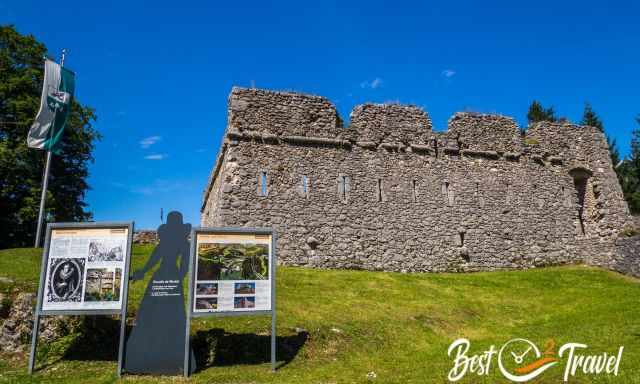 When we moved here, I learnt my lesson: never go without a light-down jacket in spring. Rain frequently occurs due to the mountainous location. Nevertheless, the weather is changeable, and it may clear up soon, and the hot sun will appear again.
Highline 179 in Summer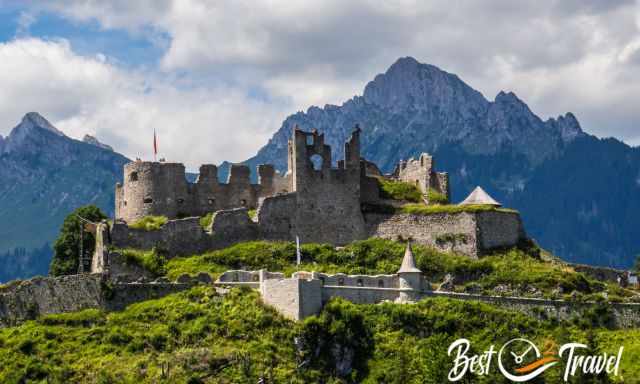 The summer starts roughly mid-June and lasts until mid-September. It is a lovely time, and usually, temps range between 25-30°C. What I like here in the mountains is the temperatures dropping below 20°C frequently to 15°C excellent for a good night. We visited the bridge in summer, explored the castles and afterwards went swimming in the Heiterwanger Lake, a five-minute drive from Highline 179.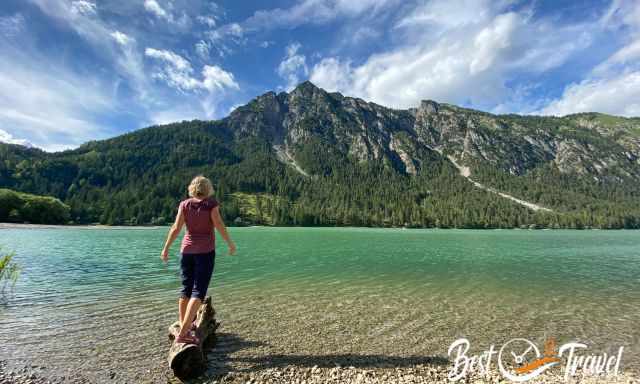 Something else I love here in the mountains in Bavaria and Austria is that you are allowed to swim in almost all lakes without an entrance fee; only a parking fee has to be paid. Due to the higher temperatures, thunderstorms with hail and heavy rainfall occur but usually only for an hour or two in the late afternoon or night.
Highline 179 in Autumn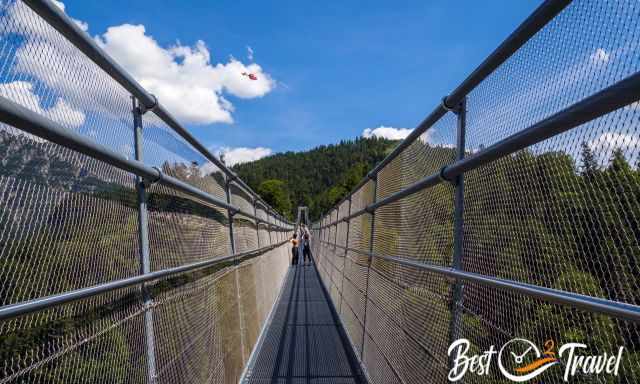 Fall starts roughly mid-September and the fall foliage peaks in mid-October. October experiences less precipitation, and the colourful trees are beautiful. It is fall, day temps decrease to roughly 15°C during the day, and nights are cold below 10°C.
Highline 179 in Winter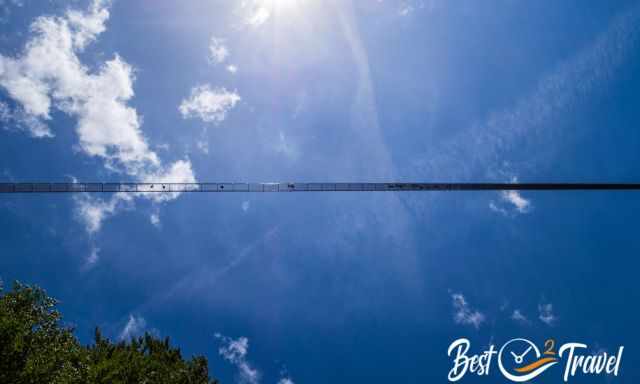 Because of the high elevation, the winter starts already in November and lasts until March. November is frequently cold and grey. It is a beautiful season when the surrounding mountains and castles are covered in snow. It is a golden rule here in the alp valleys if you wish to experience snow; January and February are the safest months. Days can be pretty nice with a crisp, clear blue sky but cold because of the wind. Night temps usually drop to minus degrees/ below 30 °F. During the day, temps range between 7°C/ 45°F in March and November and 2°C/ 36°F from December to February. Usually, the winter experiences less precipitation than the summer.
Where to Eat - What to Pack?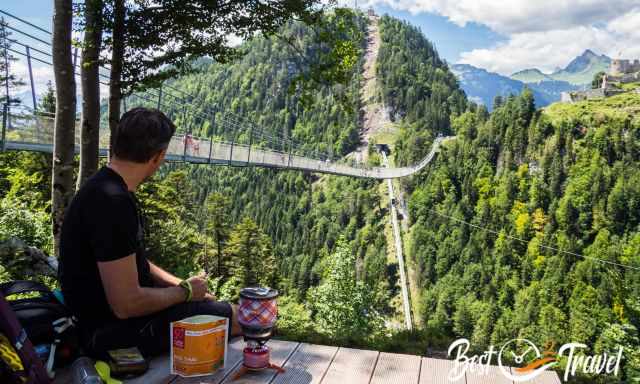 Usually, I add a tip on where to have lunch, but there is only a restaurant below the bridge. Around the bridge, castles, and fortress is nothing, even not a kiosk just a machine offering beverages. Carry water and a snack in your backpack. We spent hours around Highline 179, and for such a case, we are always happy to have our gas-powered water cooker (jet boil) with us to heat water for our dehydrated meal. We had an excellent break and enjoyed the views of the bridge, Ehrenberg Castle and the mountains. 
Location and Tips
Reutte, Tyrol
Austria

Highline 179 was inaugurated in November 2014 and became the longest Tibet-style suspension bridge in the world by Guinness World Records.
Do you want to obtain the usage right for my images? Contact me, but I will take action against picture theft.