When Is the Best Time
Braies Lake is probably one of the most beautiful lakes on our planet and a Must-Visit if travelling to Italy. Mother nature has created spectacular scenery with the emerald-green lake and the dolomite peaks in the background; absolutely gorgeous. The reflections of the mountains in Lago die Braies are magical on a calm day. It looks like being in Canada in the Rocky Mountains, but this is the north of Italy, the outstanding Dolomites, a hikers and climbers paradise.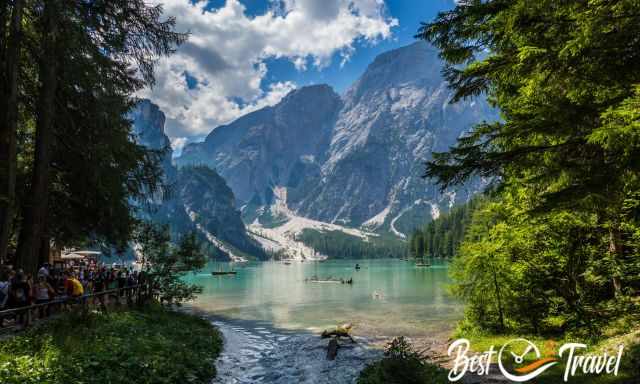 I'll give you all information for an exceptional visit to Lago die Braies. The best hikes at Pragser Wildsee and which mountain hike you shouldn't miss, also where to stay or camp to experience the Braies Lake in solitude without the crowds.
Did you know Lago di Braies is a popular place for marriage proposals? It is truly a romantic place and the perfect location.
The Best Daytime or How to Avoid the Crowds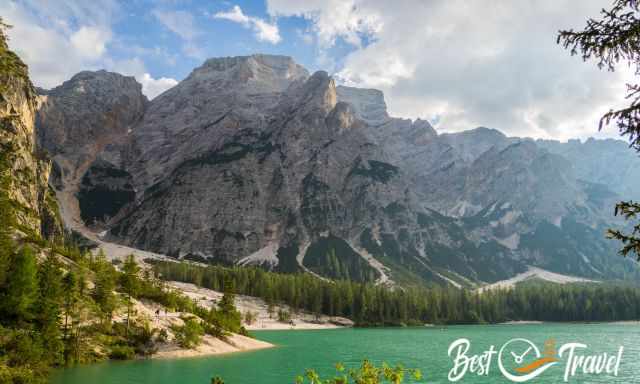 Lago di Braies is one of the most popular spots in the Dolomites for sure because of its beauty and easy to access. If you do not stay next to Braies Lake, you should try to arrive early morning or late afternoon. The parking lots fill up quickly, and the access road closes from 9.30 am to 4 pm. You still get to Pragser Wildsee, but you must park your vehicle roughly 7 km away to take the shuttle bus.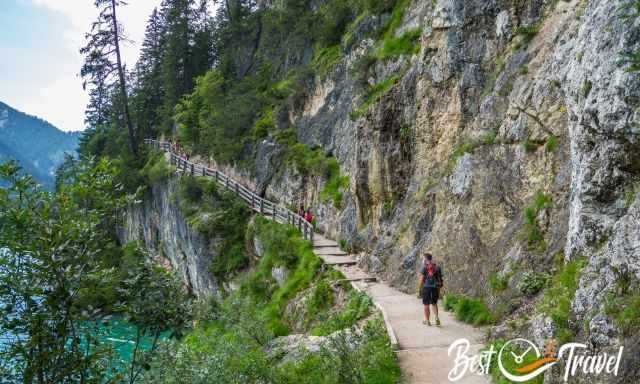 The best daytime is either early morning before thousands of tourists in their vehicles and tour buses arrive or late afternoon when the crowds thin out. It is super busy here in the summer.
Best Time to Visit Lago di Braies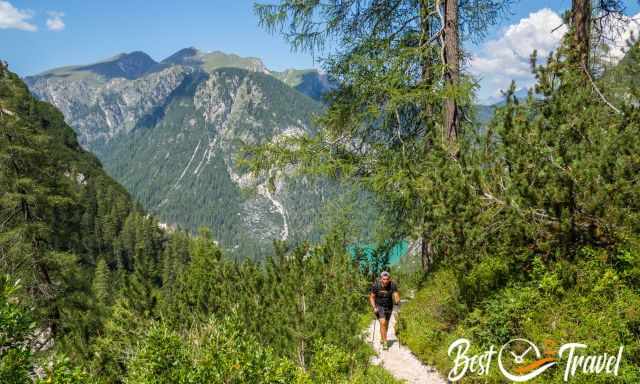 Regarding the weather and crowds, the best time to visit Lago di Braies is May, June, and September until mid-October.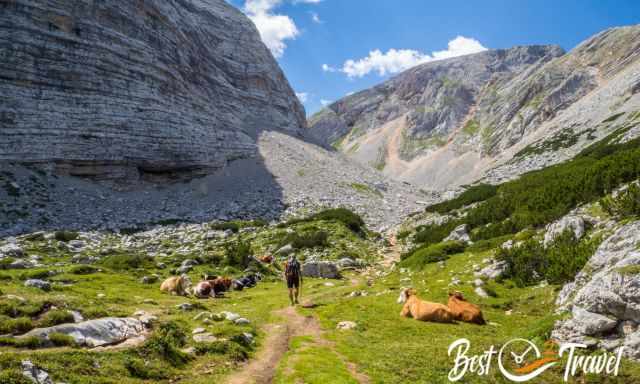 However, the crowds thin out as soon as you go on a longer hike and leave the lake. Lake Braies is situated in front of the breathtaking Seekofel or Italian Croda del Becco. The mountain is 2.818 m high, and it is an exceptional trail. An alternative is a hike until Refugio Biella or Seekofel Hütte at the bottom of Seekofel on the other side of the mountain, nestled in a magnificent landscape. More about these hikes are below.
| | |
| --- | --- |
| | The KOMPASS hiking map is an excellent companion for your next adventure in the Dolomites. It comes with a free app and is perfect for planning your hiking tour. The precise cartography shows all accessible hiking trails including classification. Information such as swimming pools, via ferratas, children's playgrounds, huts, and much more are also included in the map. |
Photographer Tip
Pragser Wildsee is truly a breathtaking place, and the sunlight is perfect shortly after sunrise and in the afternoon for the most famous shot.
Weather and Crowds Lago di Braies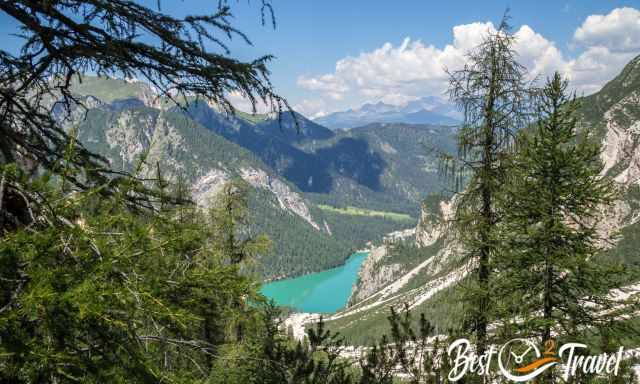 Pragser Wildsee is located on 1.500 m elevation, almost 5000 ft, the reason for a short summer and long winter. 
Spring (April-mid-June)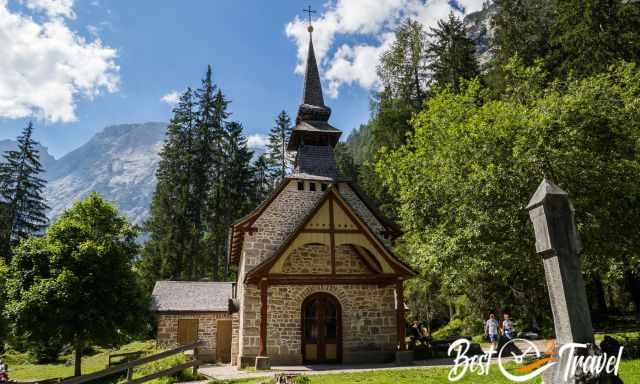 April is a bet; average day temperatures are still below 10°C. May is pleasant, reaching 15°C in the shade and frequently 20-25°C in the sun and June is a lovely month with almost 20°C. However, the closer it gets to the summer, the higher the chance of a shower or rainy day.
Summer (mid-June-August)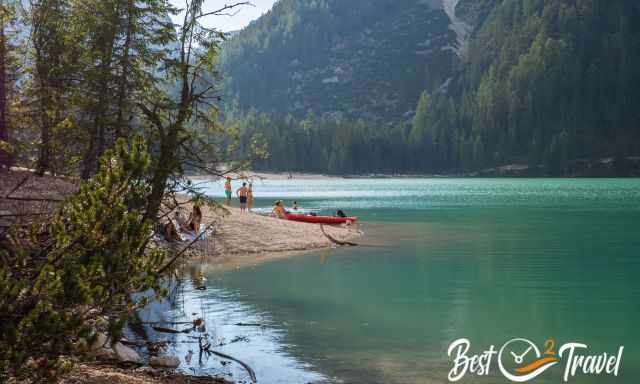 The summer experiences hot days that top 30°C in the sun but are usually not too hot because of the high elevation. You are in the mountains; the dolomites, even in the summer temps drop below 10°C at night. You always need a fleece or jacket for the evening and in case of changing weather. Summer is the wettest time of the year, and heavy thunderstorms occur late afternoon and night. It is the super busy season and weekends are even worse on sunny days. The parking lots are fully booked in advance, and the parking fee is much higher. If possible, don't go in July or August!
Fall (mid-September-October)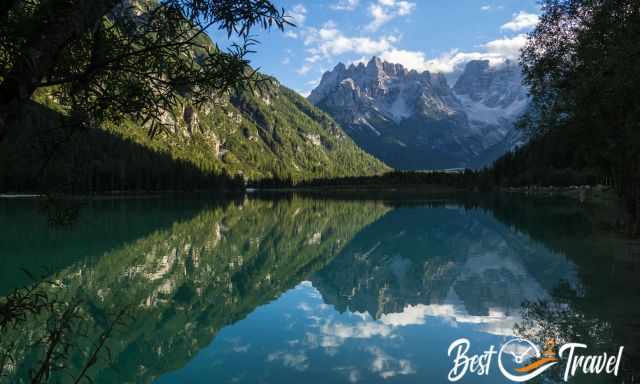 Day temps range between 15-10°C, and nights are chilly. Decreasing rainfall and clear days occur more often. The fall foliage around the lake is spectacular. 
Winter (November-March)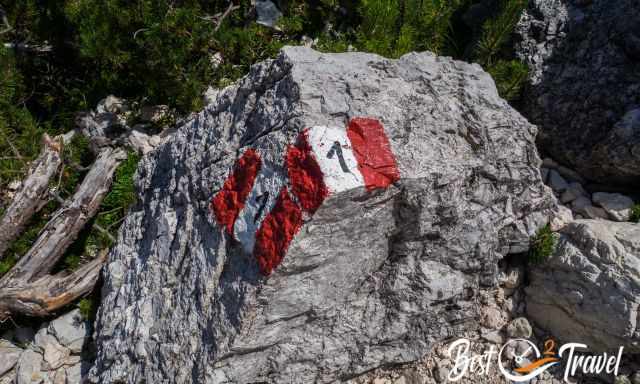 Since I live in the mountains, I learnt my lesson that winter is crisp and cold and warm clothes are essential. However, it is stunning to experience a blue sky, snow-covered mountains, and Lago di Braies frozen. Day temps are around freezing, and nights are far below down to -10°C. The winter is the quietest time of the year.
Lago di Braies Hotels and Camping Recommendation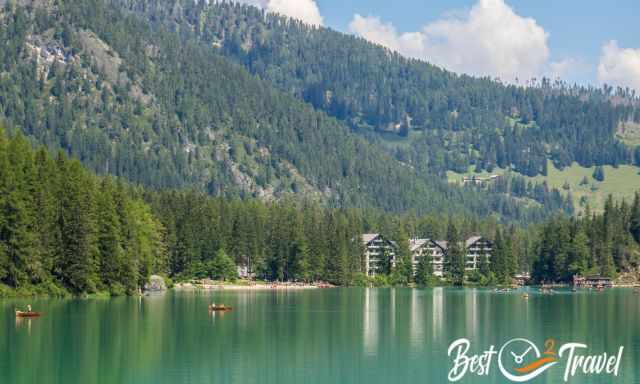 There are two prime spots for the night either Hotel Pragser Wildsee with spectacular views of Lake Braies or come with your camper in the evening and park the entire night and day at parking number 3 except for summer when it is almost impossible to get a space. These are the best options to watch the sunset and sunrise without the crowds.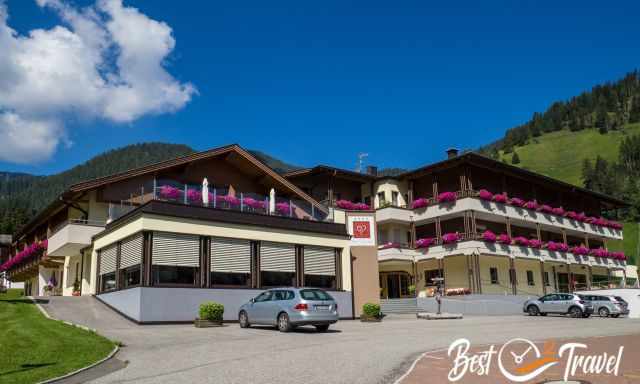 Alternatively, you can stay in one of the nearby hotels like Hotel Trenker, just 2 km from Lago di Braies and you do not depend on the shuttle in the summer.
| | |
| --- | --- |
| | If you have a passion for Via Ferratas this is the Guidebook for you. Besides excellent equipment, good planning and assessing your capabilities are essential. The Guidebook covers routes in the Italian Dolomites with advice on choosing the best base. It includes comprehensive route descriptions for 75 graded routes with maps, topos, and stunning photography. Volume 2 is available too. |
Location and Tips
Pragser Wildsee, Dolomites
Italy

Lake Braies is an awesome spot for outdoor enthusiasts and families, offering tracks for all fitness levels in beautiful nature. I bet the pictures make you want to immediately hit the trail.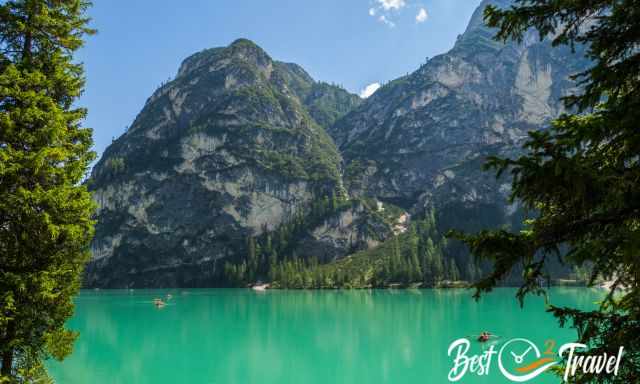 Lago di Braies belongs to the Fanes-Sennes-Braies Nature Park, which was founded in 1980. The park has an area of about 257 square kilometres and is considered the third largest nature park in South Tyrol. It belongs to the northern Dolomites and is a UNESCO World Natural Heritage Side.
How to Get to Lago di Braies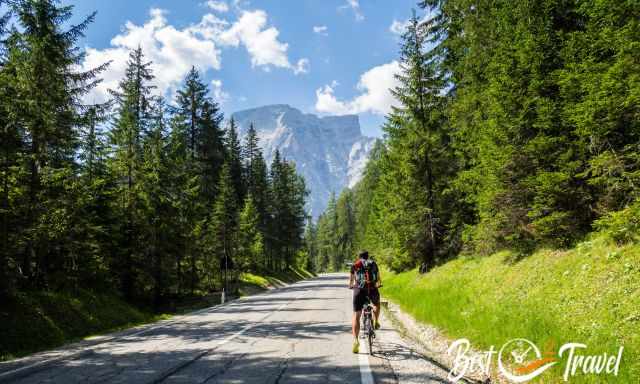 You get to Lake Braies by car and in the peak season from the 7 km away parking also by shuttle bus.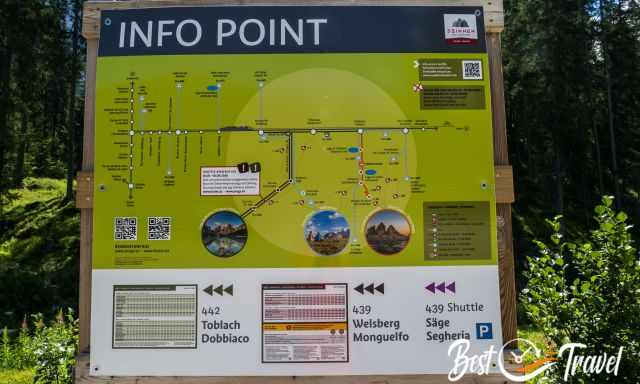 Public transport is available on Line 439 from Welsberg Station to the surrounding villages, the main village Schmieden to Lago di Braies which is a 20 minutes journey. The bus runs every half an hour, roughly between 9 am and 6 pm. More on this timetable
Parking Lago di Braies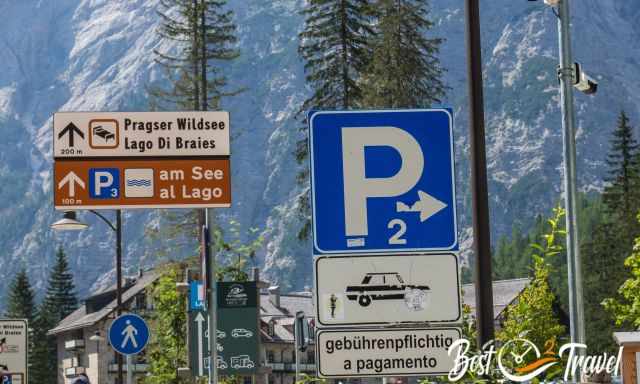 Number 2/3/4 are close to the lake, easy to walk to Pragser Wildsee.
You can book your parking ticket online in the peak summer season from July 10 to September 10, but you must arrive before 9.30 am. The road is closed from 9.30 am until 4 pm to avoid heavy traffic, but the ticket price is much higher 18€  Booking parking ticket .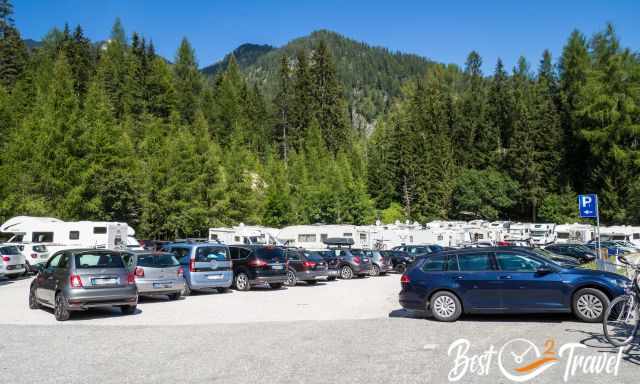 Parking Fee: 6€ for 3 hours and 8€ for the entire day if you do not book in advance.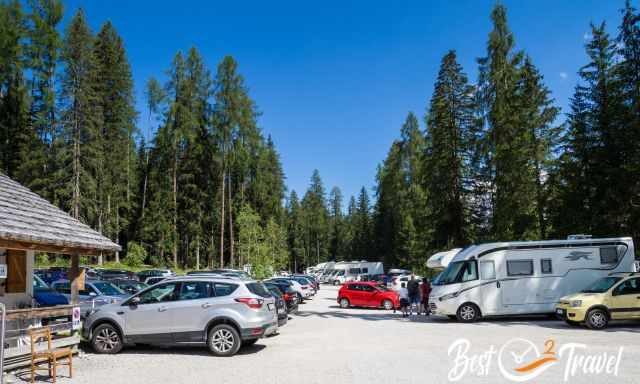 Camper: 11€ for the day and for 24 hours: 20€ but limited space available and can't be booked in advance.
Facilities are available, but a small fee is requested.
Shuttle Bus for the Peak Season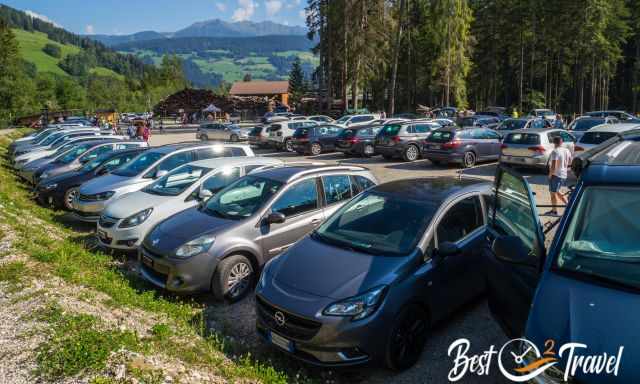 From July 10 to September 10, the road to Lago di Braies is closed from 9.30 to 4 pm. You must park your car roughly 7 km away and take the shuttle bus. Walking from here to the lake is tedious and time-consuming. Taking the bike is an option we did on our first visit, but it is a leg burner always ascending if you are not travelling by e-bike.
Return Fee Adults: 10 €
Return Kids aged 6-14 3€
Kids under age six are free
Dogs return fee: 6 €
Can you Swim in Lago di Braies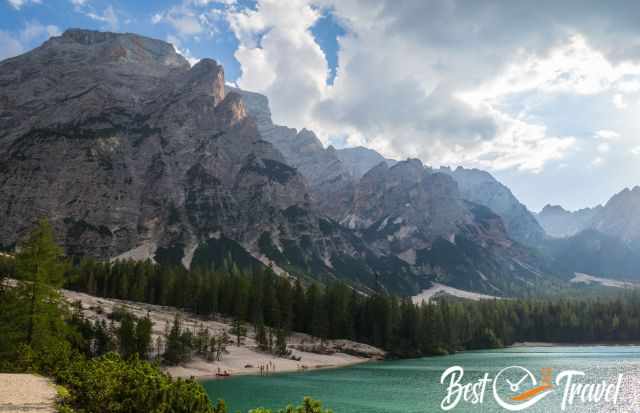 Yes, swimming is permitted and an unforgettable experience with this magnificent scenery around but for the brave ones only. It is a quick refreshing bath after a strenuous hike in 14°C cold water in the summer. For me, it was too cold, and I just put my feet in the lake. However, usually, it is allowed to swim in the mountain lakes in Italy, Austria, and Germany. That's the freedom and sense of summer I love here in the mountains where we live for three years already.
Boat Renting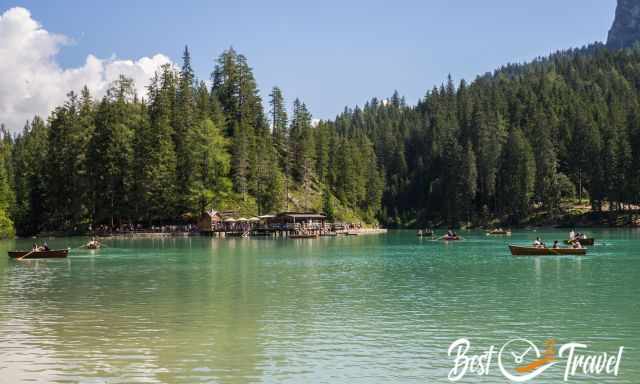 You can rent a wooden rowing boat for half an hour and one hour – 1 Boat for 4 persons. The jetty is accessible for guests only, not for taking pictures of the famous scenery.
3 Hikes at Lago di Braies - Pragser Wildsee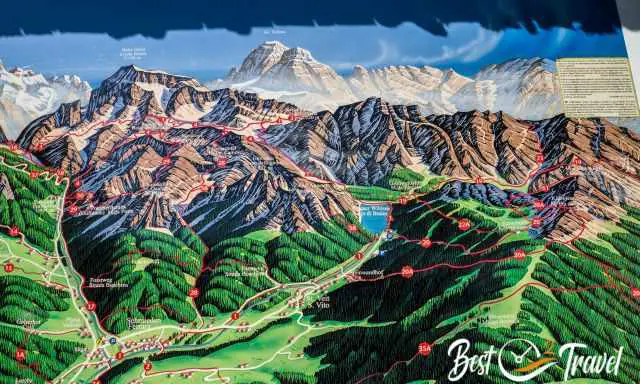 1 Circular Trail Around Lago di Braies – Giro del Lago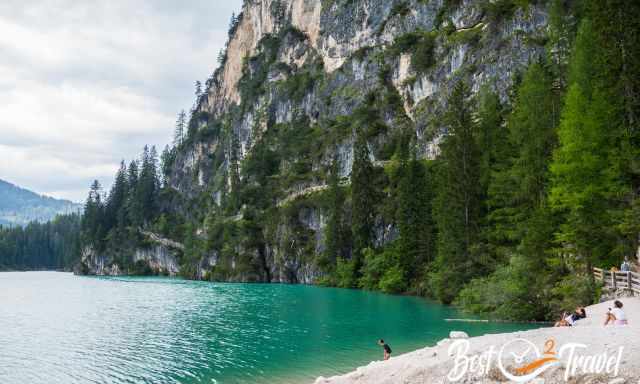 The family-friendly circular route around the Pragser Wildsee takes between 1-1 ½ hours and is 3.6 km - 6 km with a detour to Grünwald Alm long, but it can take much longer because of the many fantastic picture options.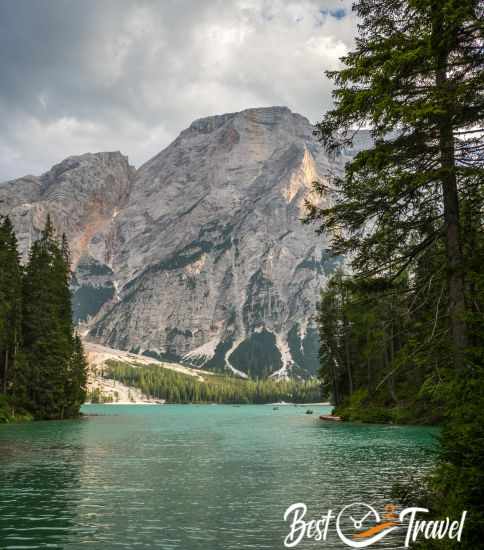 Soak in the beauty and bring a snack and water for the walk. Sneakers or trainers are sufficient on this path. Do you wish to get a typical meal? It is a small detour of 2.4 km return to Grünwald Alm. Locus Map Hiking Trail
2 Grünwald Alm – Malga Grünwald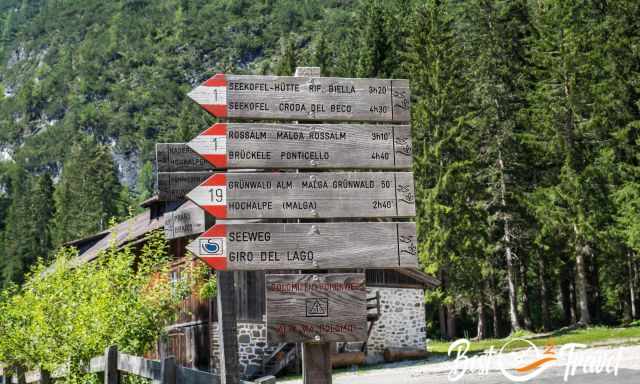 Escaping the crowds, getting spectacular views, and having a delicious meal that's the main focus of this hike. Track number 20 starts at the hotel to the right, leading up to Kaserhütte or Kasera Nuova. From here, the trail forks to climb the mountains Kühwiesenkopf - M. Pra della Vacca, height 2.144 m, Hochalpenkopf – Cima dei Colli Alti, height 2.542 m, or continue to Spitzkofel height 2.280 m and on 22A to Grünwaldalm or Malga Grünwald; a mountain hut offering typical dishes and desserts from the region. From the hut, you are able to walk in either direction along Pragser Wildsee back to the car park or the shuttle bus transfer. Locus Map Hiking Trail
3 Refugio Biella - Seekofelhütte and Croda del Becco - Seekofel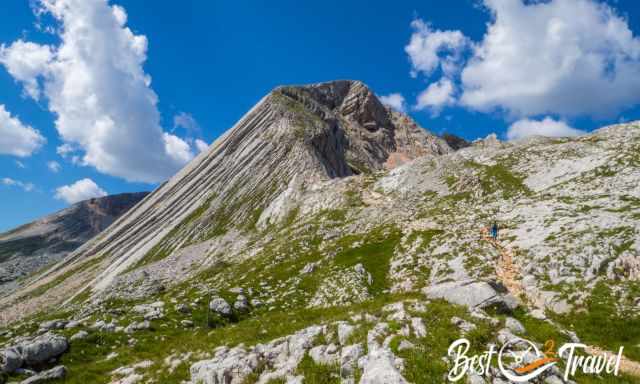 If you fancy a strenuous day hike, this is your track for outstanding views of Pragser Wildsee, a stunning mountain landscape along the path with views to Tre Cime de Lavaredo (Drei Zinnen), outstanding food at Refugio Biella, the mountain hut at the bottom of Seekofel and climbing Seekofel from the back.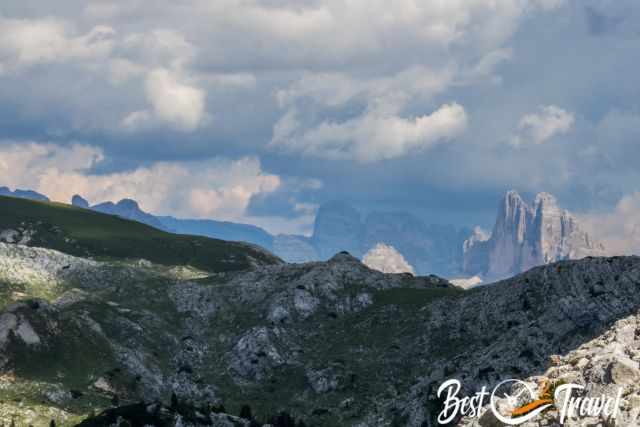 However, this is a strenuous alpine hike on gravel and rocky path. Due to the high elevation of 2.327 m above sea level, the winter starts early and lasts long, and the mountain hut is open from June 20 until September 30 only.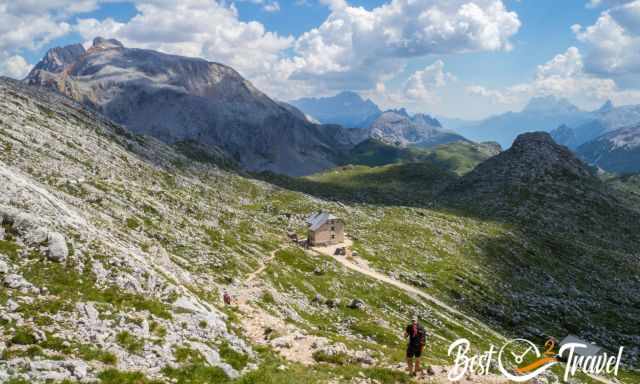 There are 46 beds available if you wish to continue hiking on the Alta Via 1. Bookings can be made by e-mail or give them a call. More information here Refugio Biella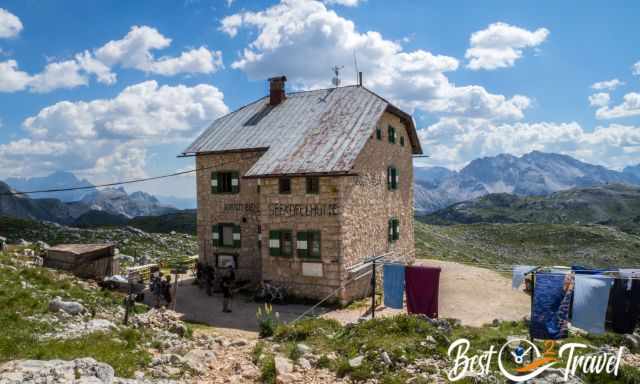 Hiking time to Refugio Biella is roughly 3 ½ hours + 1 up to 1 ½ hour to the summit of Seekofel.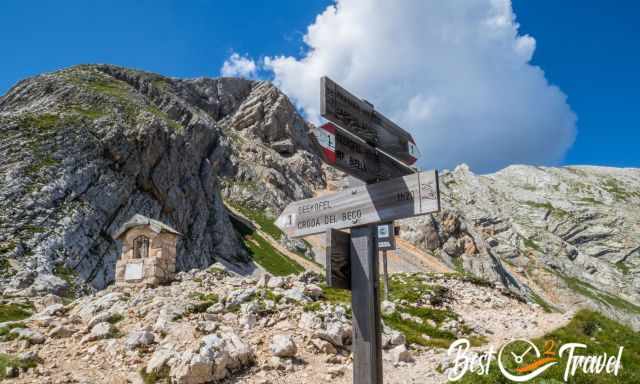 If you wish to hike this track, plan at least 9 hours, so an early start is recommended. Keep in mind in summer, it is scorching on sunny days without any shelter.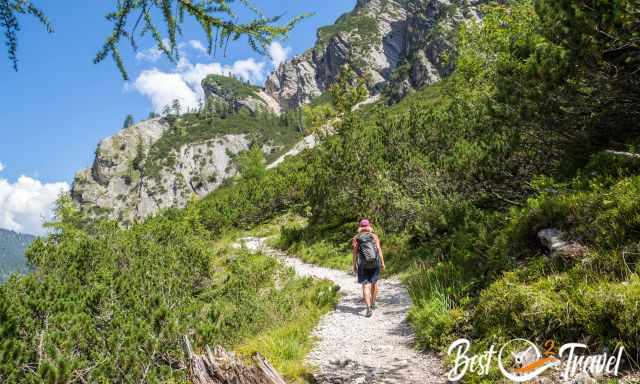 We planned to hike to the summit of Croda del Becco, but Markus was suffering from the heat, and we hiked to Refugio Biella but not to the summit. It was not far to the peak of Seekofel, but it is a narrow and exposed track where you have to be concentrated the reason we skipped it.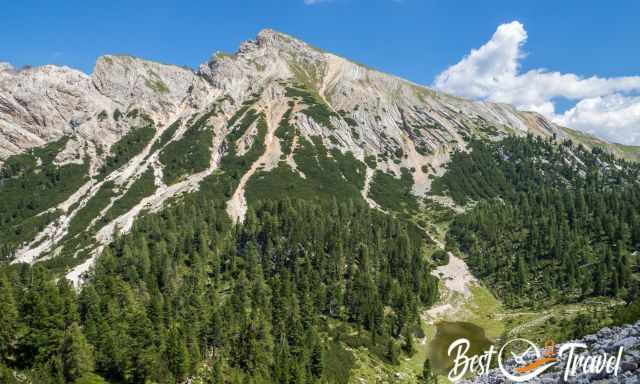 Although we carried plenty of water, we had to buy two bottles at the mountain hut for the way back.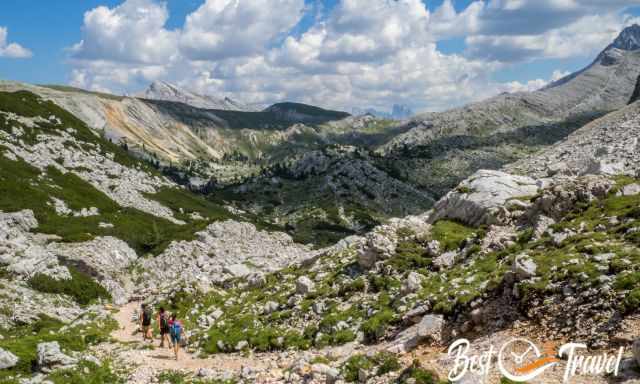 Locus Trail Map to Refugio Biella - 13 km - roughly 6-7 hours - elevation gain 1.300 m
Locus Trail Map to the summit of Seekofel - 16 km - roughly 8-10 hours - elevation gain 1.740 m
Hiking Map high resolution
Lake Braies - Pragser Wildsee Facts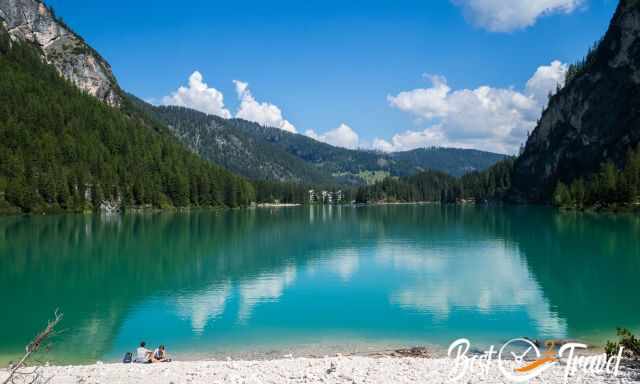 Length 1.2 km
Wide 300-400 m
Maximum depth 36 m
Water temp in summer is 14°C
It is a reservoir developed by a rockslide from Herrstein mountain, 2.419 m high.
Please contact me if you wish to use any of my photos, but I will take action against picture theft.