When Is the Best Time
The cave is open from April to the end of September and closed from October until the end of March to protect the bats. It is advisable to visit the cave in dry weather conditions.
Google Maps Parking for the Cave Adventure
Location and Tips
Bad Urach
Germany

The Gustav Jakob Cave nickname Gustl was discovered in 1936 by Gustav Fetzer and Jakob Kazmaier. The cave is more than 400 meters long and the longest dry cave in the Swabian Alps. It is a steep descent along a small trail through the forest to the entrance of the cave. It is not dangerous to enter the cave if you are prepared and not claustrophobic. The caving trip takes roughly half an hour because of the many stops inside to marvel at the beauty around you.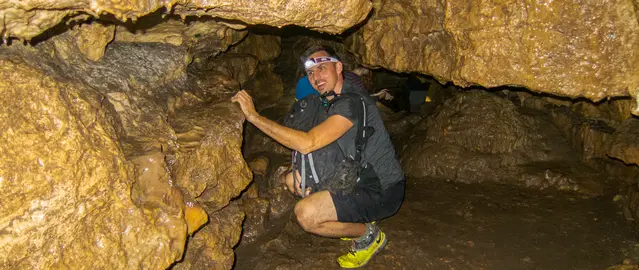 Very important to know; there is one entrance and one exit to avoid burst upon other cavers! It is often too narrow to let people pass, which means one group has to move backwards. In the beginning, you can stay inside, but later depending on your size, you need to crawl. After 200 meters, you reach a hall where a small whole group can stay together. The cave is often very tight, squeeze, narrow, and winding. For smaller people like me, it was very easy for my husband more difficult. In the end, even I had to crawl. A headlamp and a helmet are essential. Don't take too much gear, as you may need to take it off to get through some of the gaps. Fear of small places or the dark will not do you any good hear. You must be fearless! Wear clothes that can get wet and muddy.
The car park is not far away. Don't take a backpack with you; it makes the adventure even more challenging. When you get out of the cave, you walk back uphill and climb up a ladder. Above the cave on the top of the hill is the ruin Hofen. Enjoy the view from here.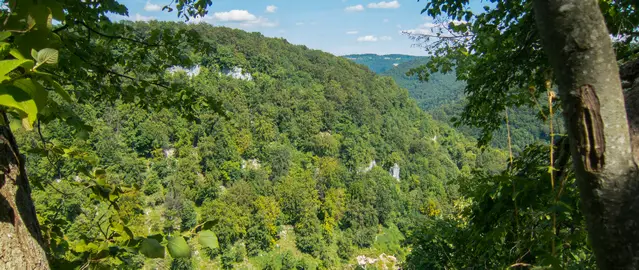 To find the entrance to the cave, we used Locus Map on our mobile. Essential is a headlight and flashlight, just in case. You walk in complete darkness. Unfortunately, we met a group inside of the cave; they took the wrong entrance. They had worn helmets which are recommended. 
Take your time, enjoy, and be careful.
The Swabian Alps are famous for their caves, more information about the different caves.