Eating healthy and delicious is part of our philosophy of life. It starts with a big breakfast or just with cereals if we are in a hurry, but one hot meal a day is essential for us. We got inspired in South Africa from the "potjes". A good stew and some spices, for example, or an Italian risotto; that's easy to prepare just in one pot. Here we like to share what works best for us when travelling.
Stoves
Cooking, boiling water for coffee, and frying some bacon and eggs in the morning are essentials for us. To be independent of any kind of fuel while travelling the only choice was for us to decide on a stove that runs with white gas, kerosene, and unleaded auto fuel.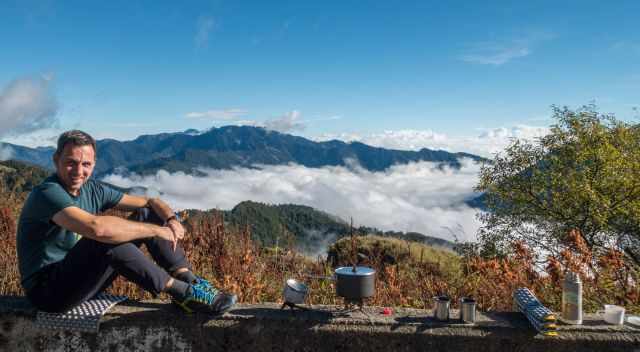 With the lightweight but very stable Whisperlite™ International multi-fuel stove from MSR, we found the perfect and reliable system which accompanied us around the globe. The foldable stainless-steel legs offer excellent stability even for heavy pots. It is easy to maintain in the field and allows fast cleaning with self-cleaning Shaker Jet™technology. Even on a half-day hike, we carry the stove together with a small gas canister to heat up a prepared meal.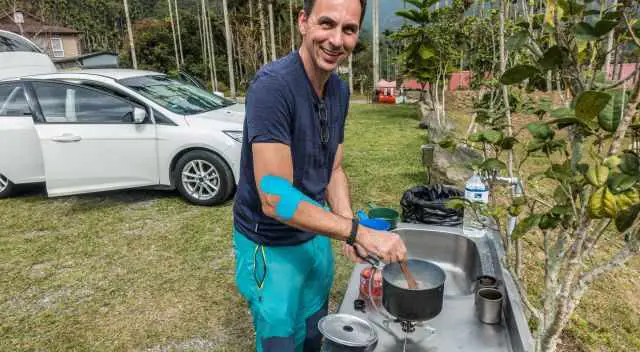 If you plan to travel abroad, you can fly with your stove but need to find the proper fuel at your destination. To avoid any challenges, we decided on the multi-fuel solution in combination with some adapters to allow the usage of gas canisters everywhere. But it had happened too that we couldn't find any gas canister and went for liquid fuel. MSR published a great overview in their blog about fuels around the world.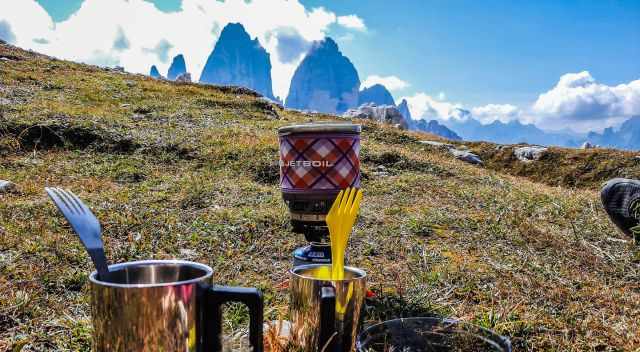 In case we only need to boil some water either for a hot drink or to prepare some dried food, we count on a MiniMo Cooking System from Jetboil. Due to its convenient form factor and because everything, including the small fuel canister, fits into one package, this is the perfect solution. With the FluxRing technology, the MiniMo is extremely fast to boil water, saves energy and is easy to use.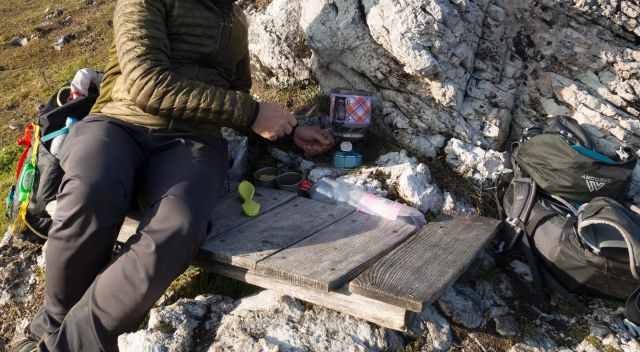 The fuel canister stabilizer, which can be stowed in the lid is a great help if you use the smaller 100g fuel canisters to stabilize the MiniMo. Half a litre is heated up in a bit over 2 minutes. Only the ignition push button is to complain, it is not very durable, and we always have a small lighter in the MiniMo to ignite the flame. 
Pots & Pans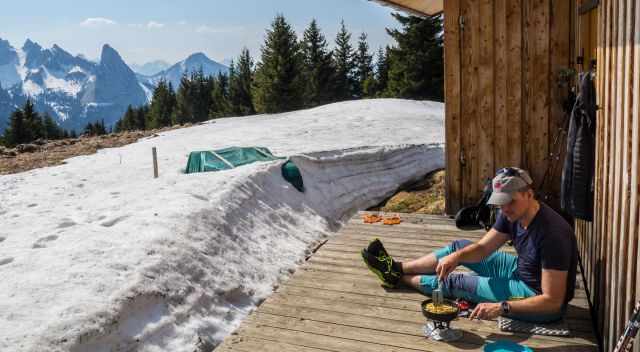 The perfect addition for us was the nonstick pot set from MSR. The pots are very lightweight, and the nonstick ceramic surface simplifies cleaning a lot. The two pots fit easily into each other, and the size of 2,5 litres and 1,5 litres are perfect for all different outdoor cuisine. The pot handle is detachable and can be stored separately, and the aluminium lid fits on both pots. To fry eggs, we choose the ceramic skillet from MSR. Although it is a perfect addition and can reuse the pot handle, it has a slightly larger sizer which doesn't fit perfectly underneath the pots when stowed away. 
Dehydrated Food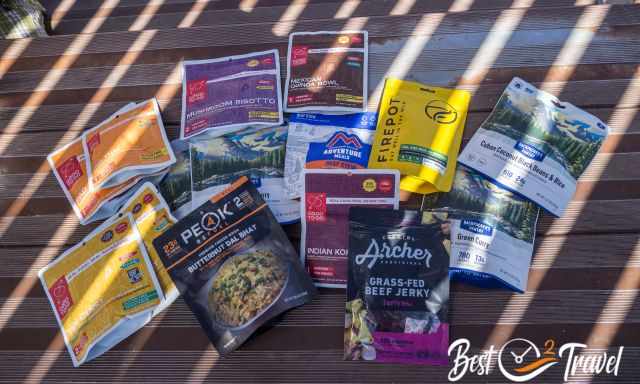 When we travel through the US to remote places, getting a proper meal during the day is usually impossible. We tried out dehydrated meals, which are convenient and time-saving. I have to confess we didn't expect such good quality and taste.
Chef's Tools
Cooking in an outdoor kitchen will not work without the right tools. They need to be highly functional but as well lightweight, easy to pack and stow away. Here we count on the equipment from GSI Outdoors. They offer some great tools which can be folded easily. We are using the Pivot Spatula, Spoon and Tongs plus the Collapsible Whisk to prepare scrambled eggs. In New Zealand, we bought a tiny olive wood spatula in Hokitika which is a perfect extension.
Brewing Coffee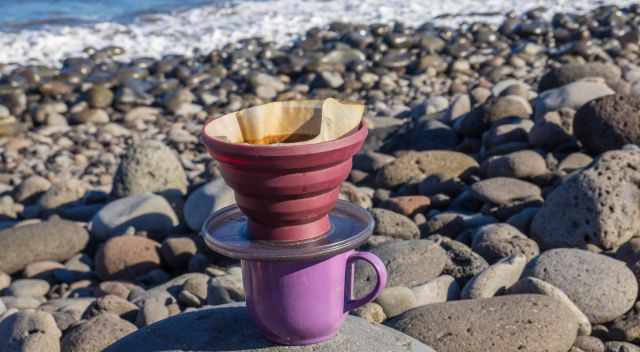 We can't start a morning without coffee. Getting out of the tent, being surrounded by nature, and sipping at your mug; that's how a perfect day should start - it doesn't matter where you are. Markus is addicted to coffee. He tried out a lot over the past years until he found the best solution; the collapsible Java drip. It can be folded away easily and expanded if you want to brew a fresh cup of coffee, and that is not only in the morning. The only things you need to have with you are some filters, hot boiling water, and an excellent coffee.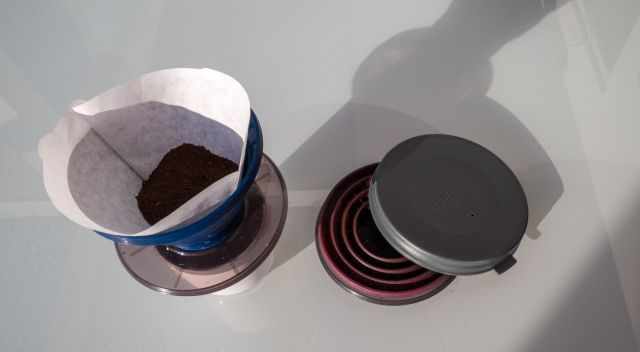 If it is folded, it requires only one inch in height and can be packed everywhere. We have been using the model from GSI Outdoors for years now and bought a second one for our van. Other models which come in plastic are not good to pack.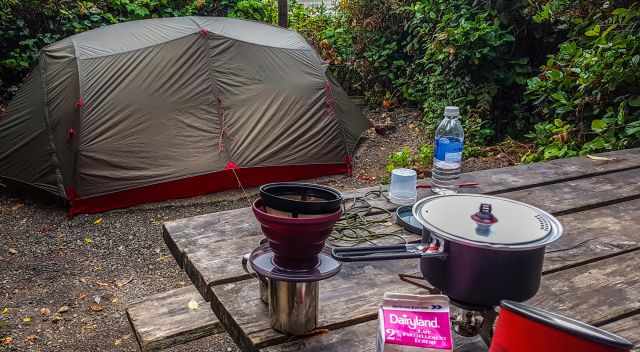 The only alternative is the Ortlieb coffee filter which is even smaller but more difficult to handle. This one we took with us on our world trip where every gram counted. It is made of the Ortlieb waterproof material, but the sealing on the bottom broke during our trip, and I had to sew it.