When Is the Best Time
The season for basking sharks usually starts in May and last until October. Actually, the best time is mid-May until mid-July. However, there is no guarantee to spot these sharks. In 2017 the best time was April until the beginning of May. In 2018 the first sighting of two sharks was at the end of April. In recent years, fewer basking sharks were spotted. In 2019 two basking sharks were already seen on March 12 which is pretty early.
Very important are good weather conditions, a sunny day and calm wind to spot them on the surface of the sea and for snorkeling with them as well. Book your trip at short notice. First, check if basking sharks are already around the coast. 
What Else to Spot
common dolphins and bottlenose dolphins
minke whales (very shy)
pilot whales
leatherback turtles
sometimes sunfish
blue sharks; season starts end of June, more reliable to spot them but not predictable
seals from mid-May until October
Check out the recent sightings for SW England
Accommodations
There are many lovely B&B's in Penzance to choose from. Don't come here in a rush and for the basking sharks only. There is so much more like Kynance Cove, St. Michaels Mount, Minack Theatre and the hanging gardens to mention just a view. Our absolutely favourite B&B is the Marine Lodge. The view alone is worth staying here. The Marine Lodge is spotlessly clean with wonderful owners. You couldn't wish for better.
Location and Tips
Penzance, Cornwall, UK
United Kingdom

Cornwall is a hotspot for basking sharks and they first turn up here. The migration follows the coastline and passes Land's End in spring. They are attracted by high plankton concentration. With a high concentration of plankton, the sear appears green. Several operators organize snorkeling trips with Basking Sharks. The visibility in the sea is between 7-20 meters and much better in Cornwall than in Scotland. However, with the swell, it's difficult to spot them, and the visibility is poor.
We did this trip along the coast twice. It lasted almost 8 hours and was strenuous due to the swell and we are not used spending such a long time on a RIB. Unfortunately, we didn't spot any shark on both days. It can happen that the plankton subsides one or two meters and the sharks are deeper down not on the surface. The first day we tried to snorkel with seals close to the Longships Lighthouse at Land's End together with three experienced freedivers. A current pulled me out into the open sea with waves more than three meters high. Even the free divers perceived the challenging conditions. The next day the swell was even stronger and we refused to snorkel with seals again. IMO it was irresponsible to let us snorkel with such bad conditions. It was a rip-off, therefore, I don't mention this guy here for a tour. Check wisely where you book your tour!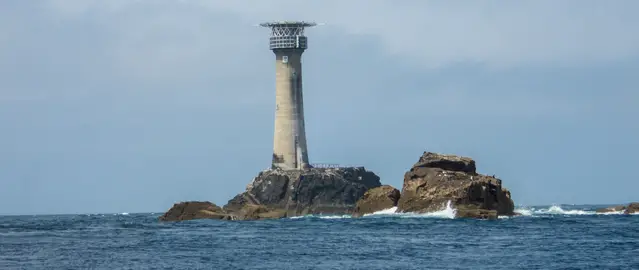 Basking Sharks Facts
They are feeding half a ton of plankton
The liver has the size of a car
They were hunted almost to extinction for their liver to get the valuable oil and the fins
It is the second-largest fish in the world after the whale shark and is not dangerous
Growing up to 12 meters 
There is still a lot to discover about them. No one has ever seen one of these sharks mating or giving birth.
Tour Operators
Booking sea safaris and snorkelling in Newquay.
Booking Atlantic Diving and Basking Sharks snorkel trips located in Newquay.
Nearby Must-Visit Places
Minack Theatre; open March-Oct. 9.30 am - 5 pm and Nov.-Feb. 10 - 3.30 pm

 
Lanyon Quoit; It is believed to be the buried chamber of a mound. Location Google Maps

 
Men-an-Tol; dated back 3000-4000 years ago. Location Google Maps

Photo References below 
1) basking shark underwater by yohancha by CC BY-ND 4.0
2) basking shark underwater by Green Fire Productions by CC BY 4.0
3) basking shark on the surface by rossbeane by CC BY-SA 4.0