When Is the Best Time
Kynance Cove, situated on the Lizard Peninsula, is an unspoilt Cornish gem with lovely beaches at low tide and a brilliant clear turquoise sea. Rocky islands, stacks, and arches attract tourists, artists, and poets as well for hundreds of years. But words will not do justice; it's beauty. The cove and coastal path to Lizard Point are always worth visiting, no matter what kind of weather occurs. Though during summer, it's packed with hundreds of people each day. 
Avoiding Crowds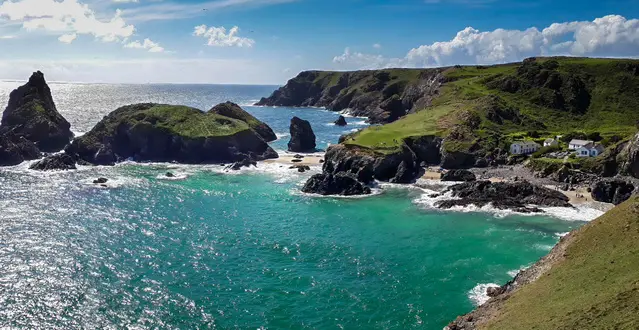 More than 250.000 visitors come to explore this beautiful stretch of coastline each year. Kynance Cove is packed with tourists and locals alike during summer and lovely sunny weekends. To enjoy the truly magnificent cove and the coastal path as well come here either during the week or in the shoulder season. During July and August, it's hard to enjoy this magnificent piece of mother nature and the spectacular views. You are queuing at the car park, the climb down and at the café as well. Hundreds of people try to get a glimpse of this beautiful stretch of beach at the same time. Winter can be nice as well, but colder. There is limited parking. The main car park fills up pretty soon during the busy time of the year. There is overflow parking nowadays, which takes an additional 30 minutes to walk. So, if you like to visit Kynance during the summer or at an awesome weekend, you should come early (before 9 am!!) or late in the day. Parking Location Google Maps - Restrooms are available
Tide Times Kynance Cove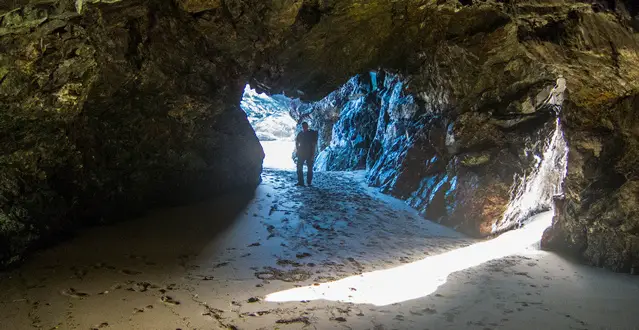 The tides are coming in fast with immense power. So, check out the tides before you visit Kynance Cove. The best time for Kynance Cove to head down is when the tide is going out without any footprints left. Explore the arches and caves around. There are several small tidal islands and rare serpentinite rocks here. Some of them got eroded by the sea. One of the islands is Asparagus Island which is also only accessible at low tide. Tide Times Kynance Cove
Things to Know and Opening Hours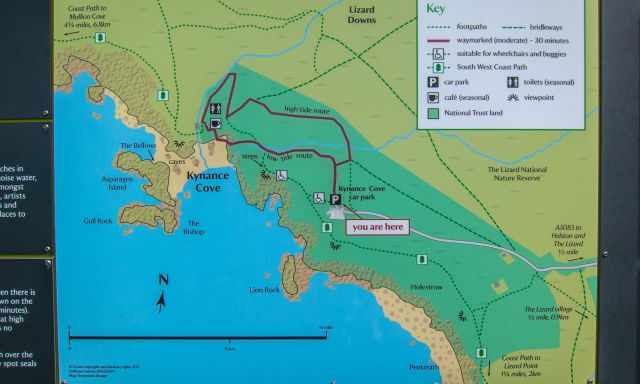 Facilities are available at the car park, open from Easter to the end of October, at Kynance Cove throughout the year.
The Polpeor Cafe is open between Easter and late October.
Dogs are prohibited at the busiest time of the year, from Easter Sunday to the end of September, 7 am to 7 pm, but most people ignore that.
Lizard Point Lighthouse is usually open from Easter to the end of the summer. You can either walk from Kynance Cove to Lizard Point or get here by car. A parking fee is requested if you are not a National Trust member.
If you plan to walk the circular trail, you can also park the car in Lizard village. Facilities are available here.
Top Cornwall Guide
| | |
| --- | --- |
| | St. Michael's Mount is one of the most beautiful and recognizable places in the United Kingdom. But there is more, this guide offers the chance to discover what lies behind the immediate and obvious attractions of Britain's favourite holiday destination. It's more than a guide, it is a history book, an adventure guide with many practical tips. |
Weather and Crowds by Season
The Lizard Peninsula experiences a very mild climate due to the Gulf Stream and mainly warm winds from the west. The water temperature is pretty cold even in summer, usually below 18°C / 64°F. The sea is often quite rough – not safe for swimming - with no lifeguards on duty.
Spring (March-May)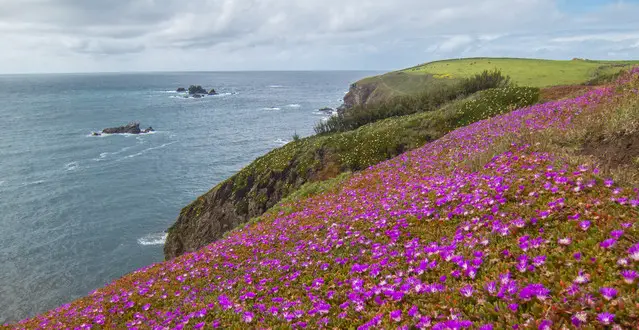 March and April are still pretty chilly, with daily temps around 11°C / 52°F. Rain decreases in May, and daily temps rise up to 15°C / 59°F. March and April are the low season except for Easter. May is already a favourite month for visitors but still a good time for a vacation. Days are often pleasant and sunny. Wildflowers and orchids are in bloom in May and June.
Summer (June-August)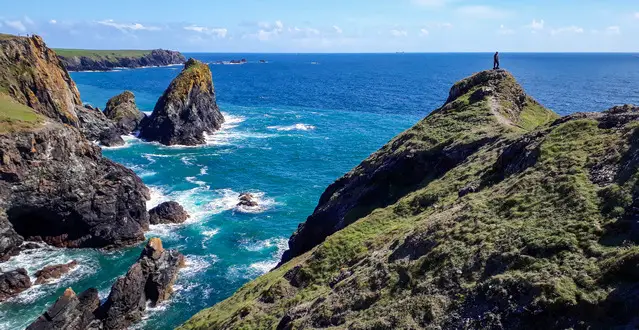 That's the driest time of the year, although be always prepared for a rain shower. Daily temps on average, are almost 20°C / 68°F and can sometimes even reach 30°C / 86°F. Most cottages and hotels are fully booked, and prices are at a high level. If visiting Kynance Cove during the summer holidays in July and August, you won't enjoy this remarkable place. It's utterly overrun, with no space for a towel, just queuing. Too many visitors will spoil your visit to the cove.
Autumn (September-November)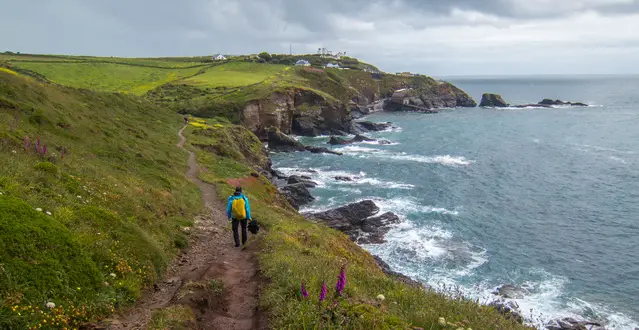 September is one of the most beautiful months for Cornwall and often remains warm. Average daily temps are still around 17°C / 63°F and 14°C / 57°F during the night. Fewer people visit Cornwall in September. October and November are quiet. It's easy to find a beautiful cottage to stay in. Precipitation increases in October. Temps drop to 12°C / 54°F in November. Bring a snack in October and November; the café could be closed.
Winter (December-February)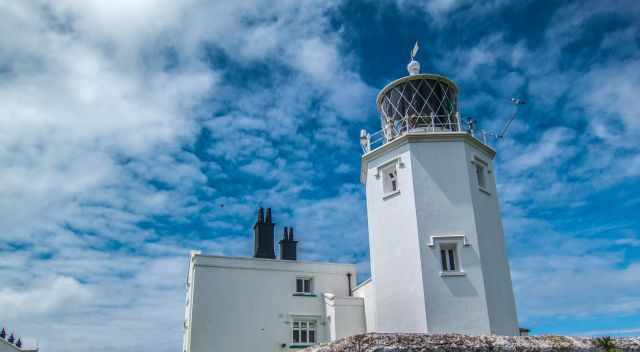 Most rainfall occurs in winter however, beautiful blue skies can occur as well. Winter is mild daily mean temp around 10°C / 50°F. Except for Christmas Holidays, it's peaceful and quiet here. Many cafes and shops are closed. Bring your own picnic to the cove. Plenty of accommodations are available.
Where to Stay on the Lizard Peninsula
The Lizard Peninsula is such a quiet and beautiful part of Cornwall that we decided to stay here for three nights. We explored much of this area on foot. There are some hotels and accommodations around. Hotels Lizard Peninsula 
We'd chosen the lovely Top House Inn with Pub. We spent each evening in the pub enjoying the excellent food and fresh Cornish fish as well while drinking cider. They have eight comfy en-suite rooms in the centre of the village. Take your full English breakfast and walk the 3 km to Kynance Cove.
Location and Tips
Cornwall, Lizard Peninsula
United Kingdom

The Lizard Peninsula is the most southerly point of mainland Britain. The National Trust manages Kynance Cove, the coastal path, and the car park. Therefore, parking is expensive if you are not a National Trust member; £ 5 per day in the peak season. It's a short and steep walk down to the cove at low tide. Actually, there are three beaches within Kynance Cove, all covered by the sea at high tide. Situated before the clifftop is the Polpeor Café with delicious food like crab sandwiches and homemade pastries.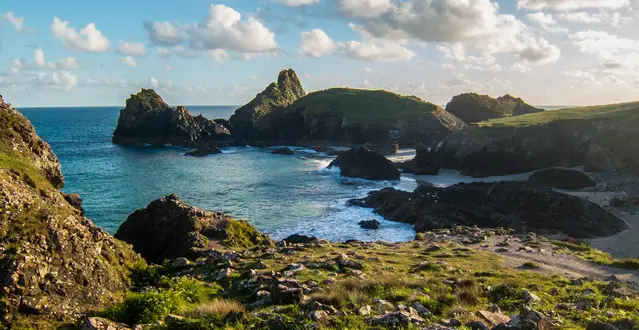 It's a breathtaking view from here while resting in one of the deck chairs and watching the tide. During high tide, you need to walk a detour to approach the café and clifftop for a spectacular view of the cliffs shaped by the Atlantic. This path is accessible throughout the day, and pushchairs can be used as well. Kynance Cove is equally beautiful during high and low tide. This area is also known for different movie productions like "Poldark" and "The Return of Sherlock Holmes".
Hiking Trails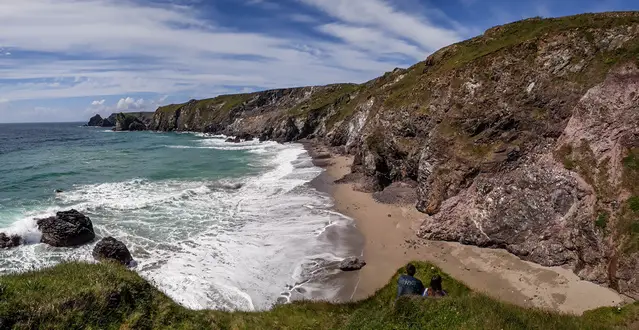 The coastal path from Kynance Cove to Lizard Point in the south is roughly 2.5 mi / 4 km long one way. You can either return on the same trail or take the inland walk. We loved the spectacular views along the coast that we decided to hike the same way back.
The Mullion Cove trail is 4.5 mi /7.2 km long, and Poldhu Cove in the north add another 2 mi / 3.2 km. Make a rest at the beautiful Poldhu Cove, a sheltered beach.
Consider the fast-changing weather and the wind on this rugged coastal trail. There is ocean life to spot from the coastal path. A café at the coastal trail offers light lunch situated shortly before Lizard Point and another at Lizard Point and Lighthouse.