When Is the Best Time
Tugela Falls, also known as Thukela Falls, is the second-highest waterfall in the world. It has its origins at the Drakensberg Amphitheatre, a 5 km long rock wall in the Royal Natal National Park. The Falls are usually at its peak during the summer month from November to February in the rainy season. At this time of the year, the water level in the gorge can be high, and crossing will be more challenging. The best time to visit the Tugela Falls is after the summer rainfall in March and April. For hiking with fewer crowds and lower prices, spring and autumn are the best seasons. Climbing to the top gives you a view down to an epic landscape like sitting on a throne above the entire world.
Banner Photo shared by Michael Whitehead, follow him on Instagram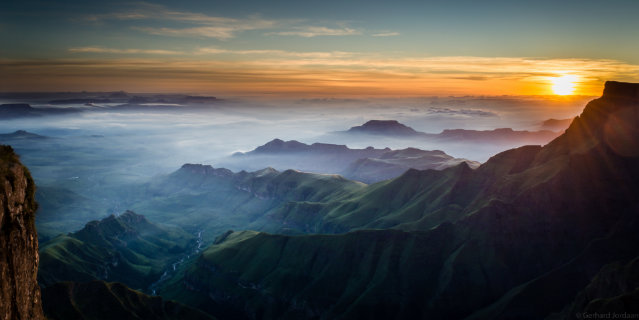 Photo by Gerhard Jordaan, follow him on Instagram
Weather and Hiking Conditions
Summer; November until February can be challenging. Expect hot daytime temperatures, high humidity, high chances of thunderstorms, and heavy rainfall can spoil the whole trip.
Autumn is perfect; weather remains warm and dry from March until April and nights are colder.
Winter; you might get snow with cold night temperatures but often a clear blue sky. Less daylight and depending on the length of the trail an early start is necessary. The falls can be a trickle only or even disappeared. 
Spring; from September to October weather can variable with sunny and warm days, but there is the possibility of snow and rain like we experienced. The temperatures are often pleasant for hiking and nights are cold. 
Crowds
More crowded during summer, especially in December and January. It's advisable to book your accommodation in advance. It's less busy in the winter.
Location and Tips
Drakensberge, Thendele
South Africa

Our stay at Thendele Camp was at the end of September. On our arrival day, it was hot with more than 30°C, the next morning it had snowed heavily. Just to get an idea of the changeable weather. For hiking, we highly recommend booking one of the huts in advance. The self-catering cottages are basic with a spectacular view of the world-famous Amphitheater. If you are looking for more luxury, you would love the Montusi Mountain Lodge; located in beautiful and tranquil surroundings. It's just 20 minutes drive from the lodge to the Royal Natal National Park. You will be welcomed by extremely helpful and friendly staff. The variety of delicious food offered is outstanding, and you can enjoy plenty of different activities (bicycles to rent, relax in the garden, children's playground, swimming pool, tennis court).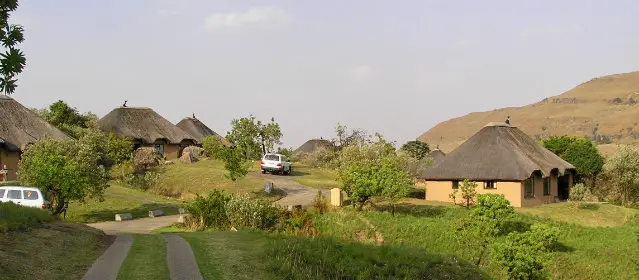 Thendele Camp
Hiking in the Drakensberg is outstanding. There are several marked trails. You can walk to the summit or the foot of the Tugela Falls. The falls are the second highest in the world with 948 m. Due to snowfall, we started at midday and sunset was roughly at 6 p.m. in September. It was quite tough with only six hours left for hiking. We decided to walk to the foot of the falls, in total more or less 15 km. It's a strenuous hike and climb through the Tugela Gorge and to climb a chain ladder. The hike itself offers spectacular views while walking direction Amphitheater. Without any rain before; the waterfall was disappeared. 
Inside the park is a visitor center which provides you with all necessary information for the differently available hikes. Ask for the bushmen paintings trail. An entrance fee is requested in every National Park and Nature Reserve. Often it makes sense to buy the annual wild card. More information about the Wild Card.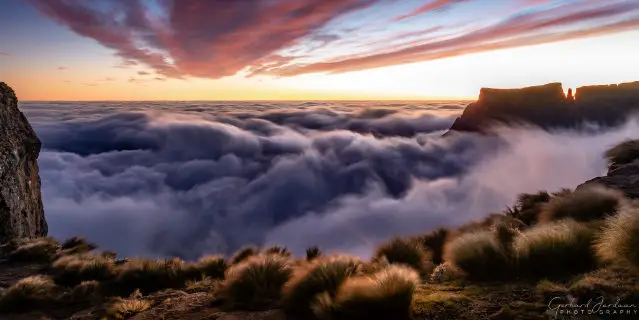 Photo by Gerhard Jordaan, follow him on Instagram
Hiking and Backpacking in the Drakensberg
To go more adventurous the Drakensberg offers plenty of possibilities. You can find several areas where you can start a hike. Each trail is different regarding the difficulty as well as they offer a different experience. Most common are Royal National Park, Mnweni Cultural & Hiking Center, Cathedral Peak, Champagne Valley, Injisuthi Camp, and Giant's Castle.


Accommodation at Giant's Castle
Best developed is the Royal National Park, which we'd chosen for us. Champagne Valley, Cathedral Peak, and Giant's Castle offer many more trails, but the accommodations can be more expensive, especially at Giants Castle. Injisuthi and Mnweni offer only basic accommodations and campgrounds. Excellent located nestled in beautiful surroundings are the Champagne Castle Hotel or the Cathedral Peak Hotel.
If you go for a multi-day hike, you need to decide either carrying a tent or use one of the many caves to overnight. Although carrying a tent is some extra weight, it gives you more flexibility. The distance between the caves could be sometime a stretch, and some even require a reservation. During the busy time, they fill up quickly. List of available caves. Carrying the right sleeping back is essential too. Due to the possibility of getting wet, we would not recommend a down bag although we love our Western Mountaineering gear. As for sleeping mat, we always recommend the Thermarest NeoAir Xlite. Bring your own food; usually, there is not much on offer in the parks.
Top Tips for Backpackers
Besides the regular cautionary measures, you need to be aware of the following unique dangers in the Drakensberg wilderness
Snakes - Although it's very rare you may encounter one of the four venomous snakes in the region (Puff Adder, Berg Adder, Night Adder, and Rinkhals is also known as ring-necked spitting cobra). Take your regular precaution by walking carefully on the trail, avoid high grass areas and always keep an eye on the ground.
Thunderstorms – Lightings are the most dangerous natural event in the Drakensberg Wilderness. This area is one of the most affected sections in the world where flashes of lightning hit the earth. Especially from December to March storms occur regularly mostly in the afternoon. Be prepared and try to find your place to overnight early.
Basotho tribesmen –you may meet local Basotho people during your hike. Don't be scared, usually, they are a herdsman. Be kind and friendly and help them with some water or food. Before you decide for a bivouac reassure that they didn't follow you and secure your belonging during the night. They never treat you for your life but in rare cases, they would try to get some of your gear.