When Is the Best Time
Gericke's Point in Sedgefield is a little gem more known by the locals. Most vacationers come from Wilderness and go to Knysna, pass by Sedgefield and ignore this lovely place.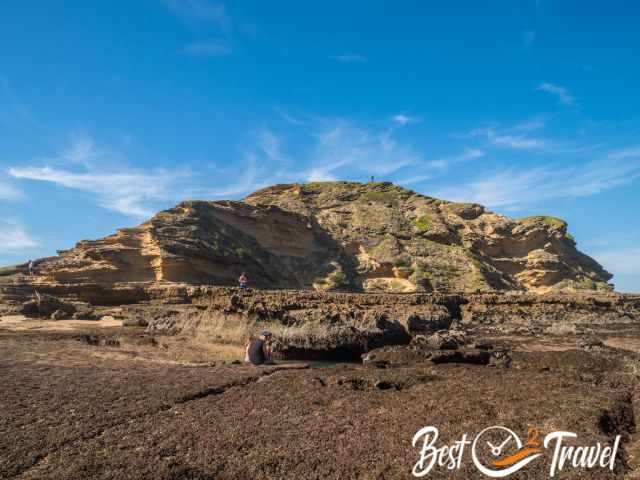 We know Gericke's Point and the beautiful Swartvlei Beach because our friends Paul and Janet live here.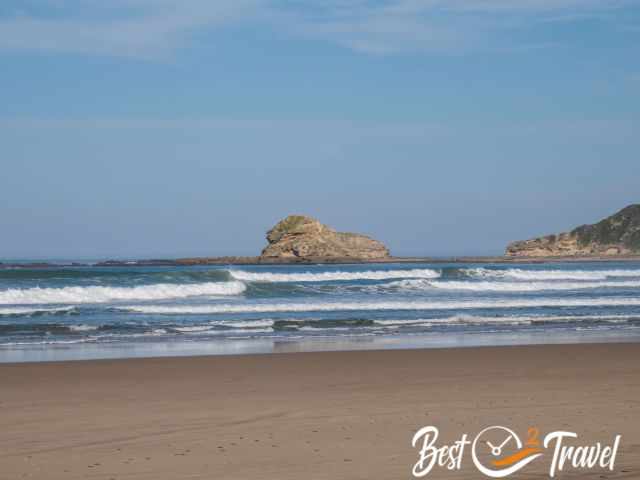 Gericke's Point is a massive rock formation which looks like a lion and is accessible at low tide only. 
How to get to Gericke's Point?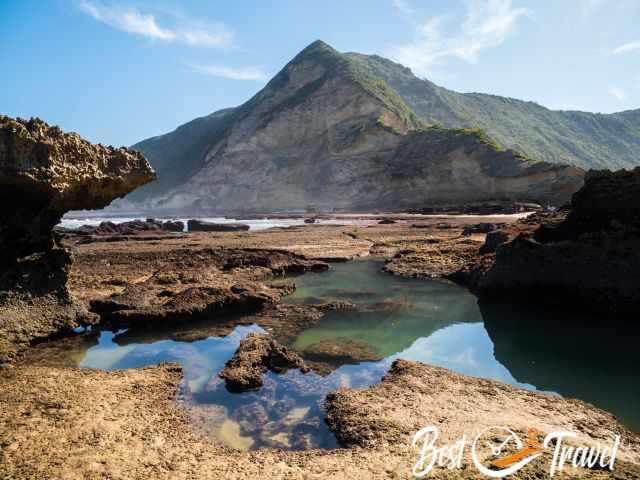 It is a short drive from the town centre with limited parking. This beach is incredible for sunbathing and swimming. Nevertheless, rip currents occur here.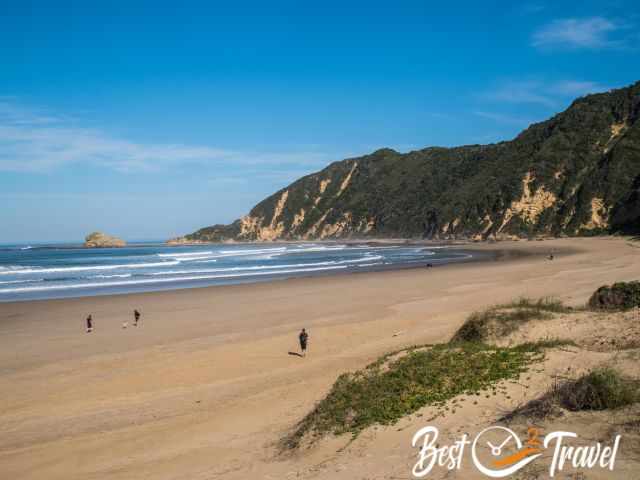 South Africans come to Swartvlei Beach in the summer but very few oversea tourists. However, this beach and rock formation are great places throughout the year.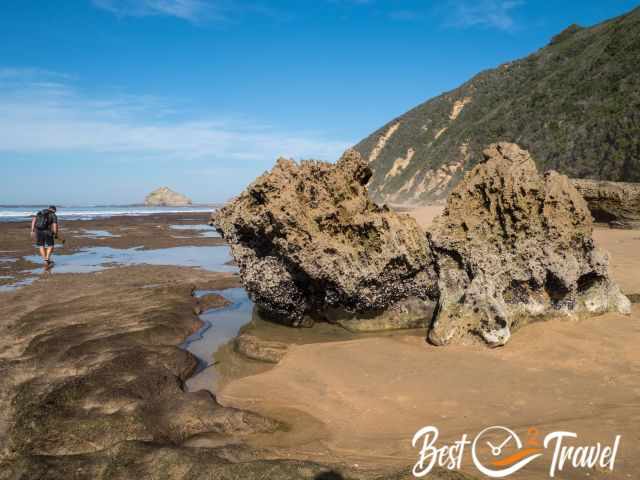 Parking Gerickes's Point and Swartvlei Beach Google Maps - Restrooms are available at the parking.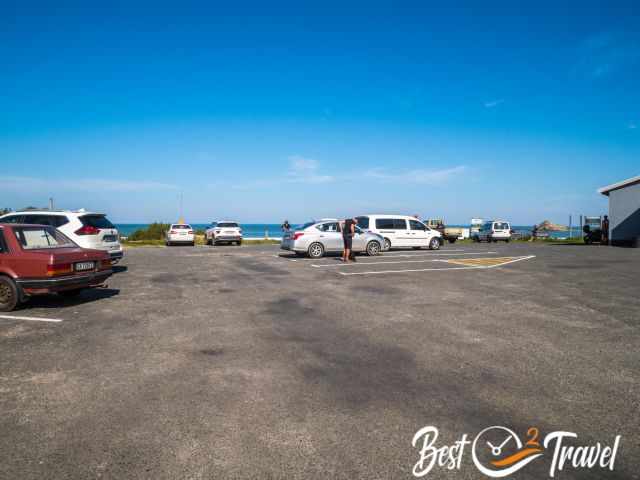 The Swartvlei is accessible on a wooden boardwalk which leads down to the beach. To the right, you can already see Gericke's Point, the laying lion, in the distance.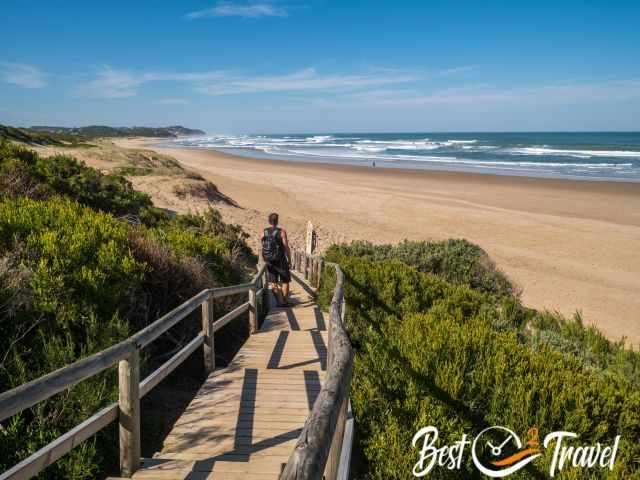 You are able to walk on most of the beach during the tides, but you get trapped on Gericke's Point at high tide. The rock formation is best accessible two hours before and a maximum of two hours after high tide. 
Tide Times Swartvlei Beach-Sedgefield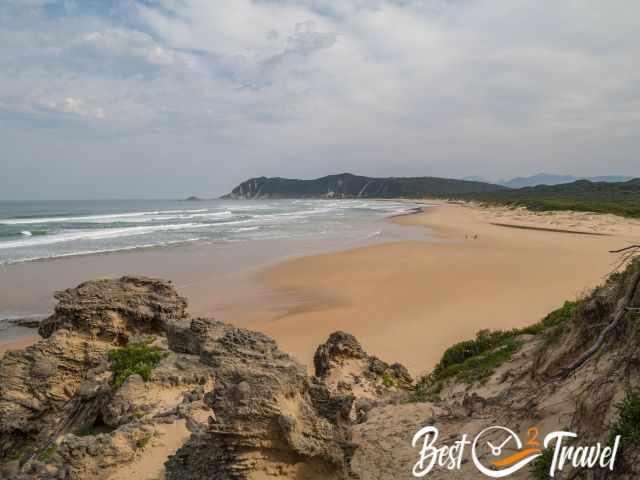 The beach stretches for 1,6 km until you reach Gericke's Point and 2,1 km to the Sedgefield Lagoon Mouth, and another 1,4 km to Myoli Beach, but you can continue walking further.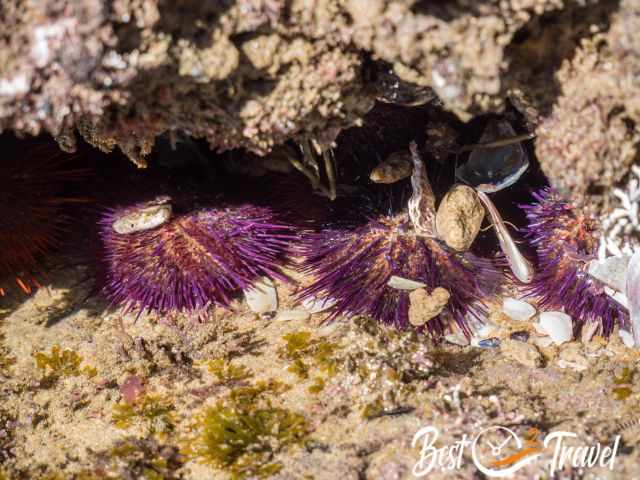 Look into the tide pools along the walk and especially at the rock formations. Several pools are also fabulous for a refreshing bath. In winter, the sea temperature is about 15°C, and in summer, reaching 20°C.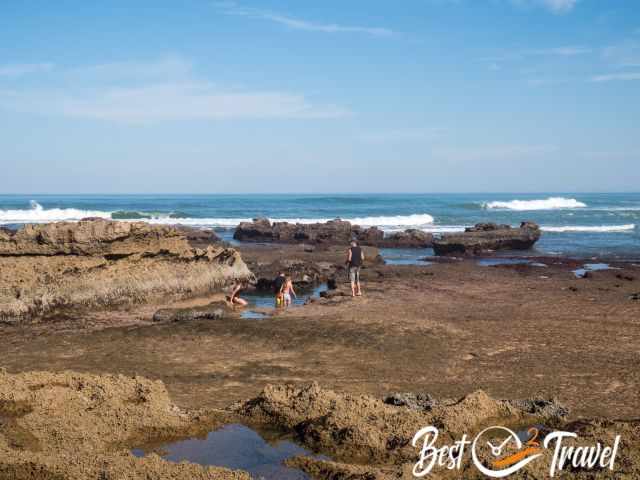 Kids and their parents love these tide pools with plenty of sea life, starfish, sea urchins, anemones, fish, and octopus. We saw several children having fun with their nets. Bring a snorkel and goggles in the summer. These pools are amazing.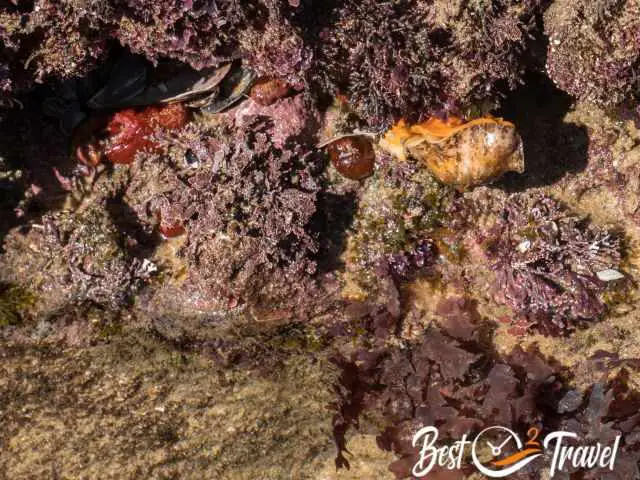 You can also walk around the entire rock and to the top for breathtaking views, "Mother Nature at its Best", and this place is not as crowded as Robberg Nature Reserve or other places along the Garden Route.
What to bring to Gericke's Point?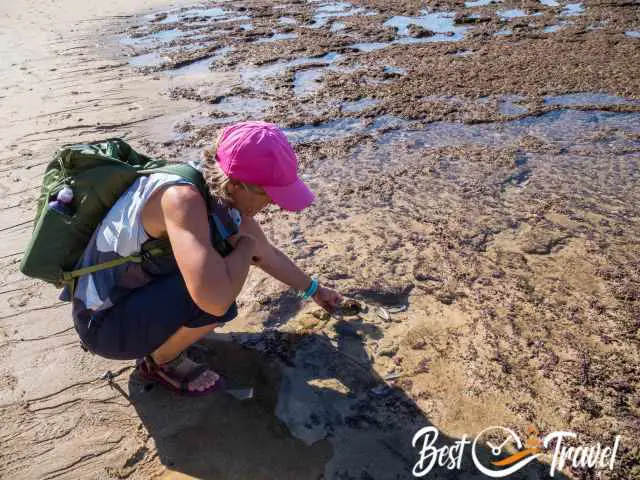 Wear Teva or water shoes to climb the lion rock and for walking around on the sharp rocks, also essential to access the pools safely.
Sun protection is essential; there isn't any shelter, and due to the wind, you may not feel the burning sun on your head and skin—my favourite sunscreen is FotoULTRA 100 ISDIN, with the highest available sun protection factor.
Bring water and a snack; you will easily spend hours at the pools and enjoy the spectacular views.
Bring a towel, your swimsuit in your bag, and maybe a snorkel and goggles to watch the colourful sea life in the pools. Your kiddos will love tide pooling at Gericke's Rock.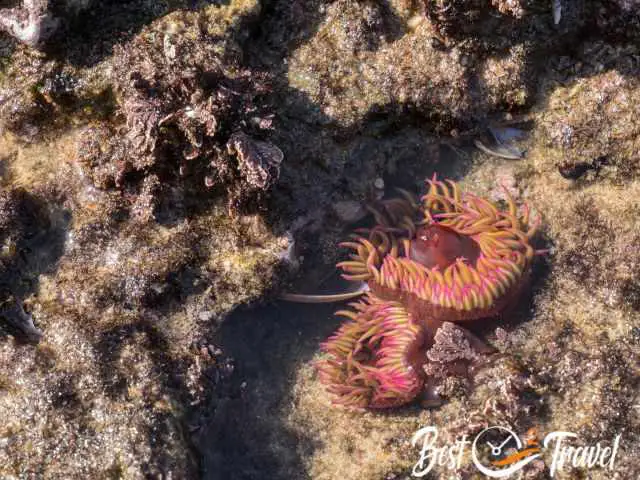 But please only take memories back home and your trash. This beach is well-kept by the locals.
Tip for Swartvlei Beach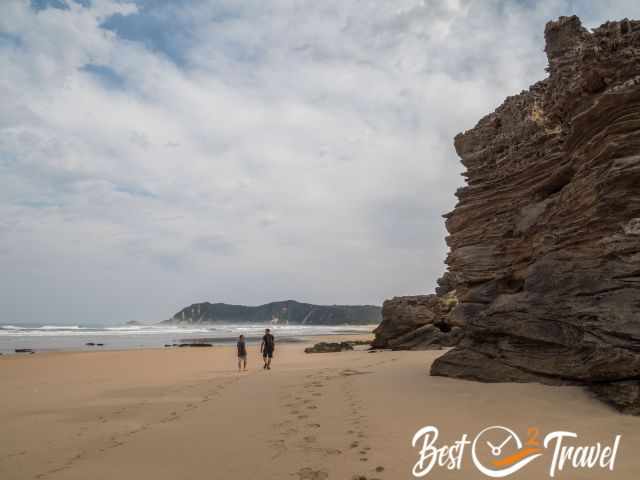 If you can't get enough of beautiful Swartvlei Beach, you can either walk in the other direction and continue further until PiliPili Beach Restaurant, a local restaurant and bar or park your vehicle at Sedgefield Lagoon Mouth and start walking along the creek to Myoli Beach, PiliPili and the beaches stretches for endless more kilometres until Buffelsbaai or Buffalo Bay.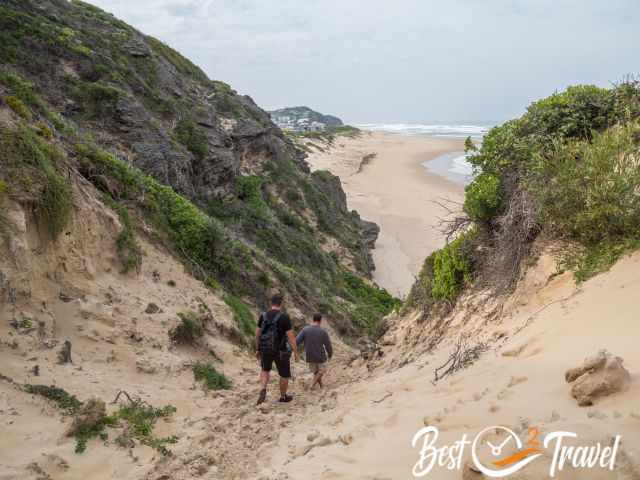 Also, the part from the river mouth to Myoli is accessible at low tide only, but a clifftop walk exists, too. We walked this part the next day with our friend Paul, who showed us this hidden track.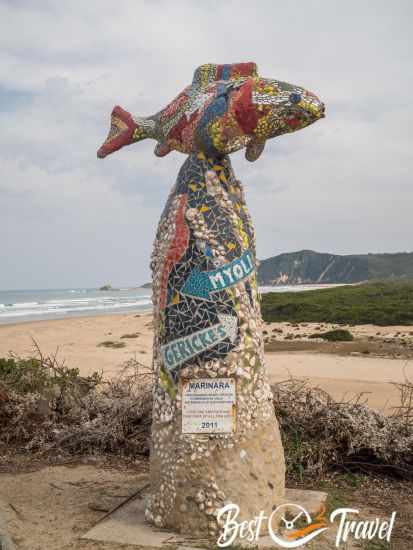 Location and Tips
Sedgefield
South Africa

Sedgefield is located 22 km from Wilderness and 25 km from Knysna and is often overlooked. It is a small town with roughly 8,500 residents, but there is everything you need. A couple of years ago, a huge Spar was built, and Sedgefield is very well known for paragliding.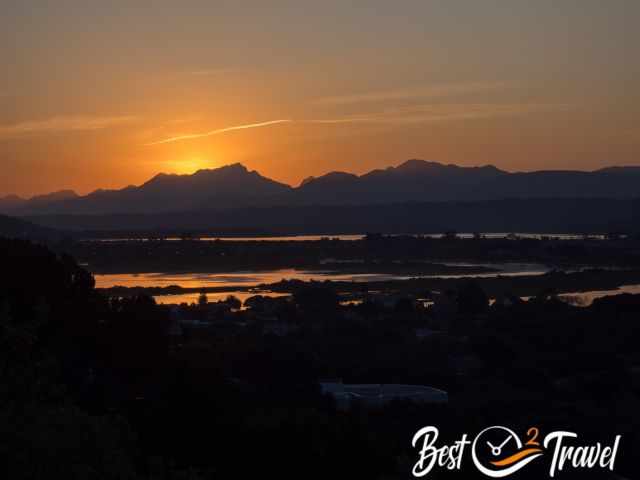 The Sedgefield Lagoon is an excellent spot for bird watching, and we spotted plenty of birds here in the morning and late afternoon.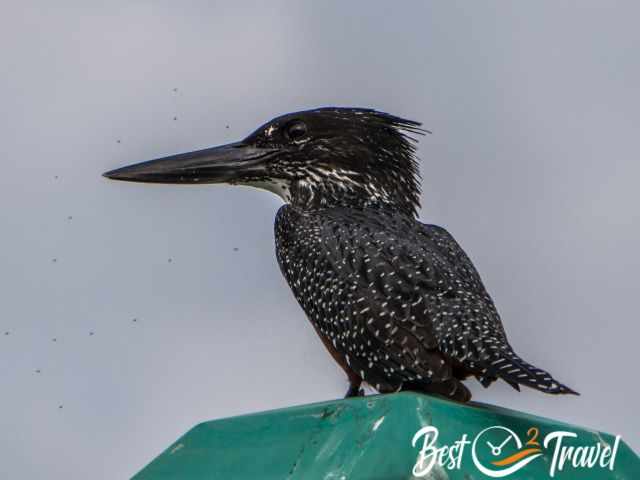 Every Saturday, the famous "Wild Oats" Market (Location Google Maps) takes place from 8 am until 12 pm, and people come here for shopping even from Cape Town, which is more than a five hours drive.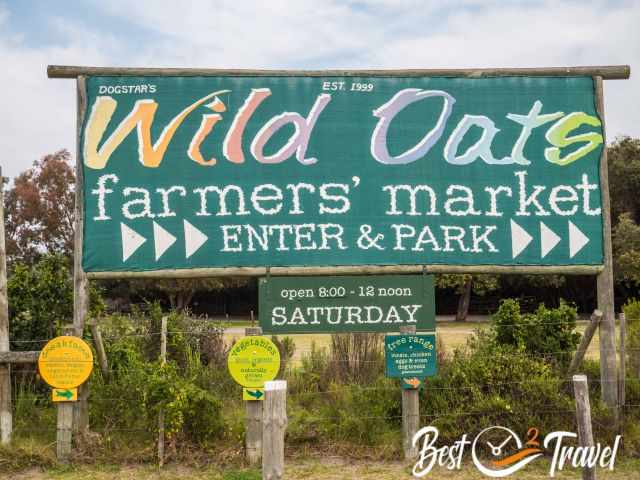 It's always worth visiting these lovely markets. Enjoy your breakfast here, prepared by the locals.
Who We Are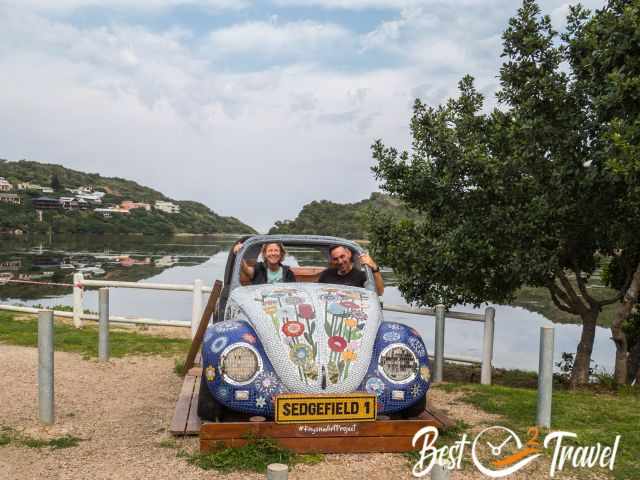 We visited the PNW and all these mentioned Olympic Beaches. I gathered all this information for you. If you like the article, I would be happy if you shared it with friends and on social media. If you want to support me, subscribe to our YouTube Channel, and you may find some ideas for your next vacation.
If you wish to use any of my photos, contact me, but I will take action against picture theft. Why do I write this here? Hundreds of my pictures are used worldwide without any credit, nor did they get my permission. I don't mind giving permission, but I want to get asked for it and to be mentioned. The world wide web changed a lot, and rewriting honest travel content is the new business for many fake travel websites. Do you wish to know more about this topic and how to unmask such websites quickly? Read my article "The Truth About Fake Travel Websites and Picture Theft." 
Does honest travel content from real experiences has a future? I don't know any longer.