When Is the Best Time
The southern right whales migrate to the coast of South Africa from Antarctica during winter and spring. They come to the warmer waters for mating, giving birth in protected lagoons, and feeding. They arrive in June and July and stay until November latest December before migrating back to the colder waters of Antarctica. These whales can be spotted in De Hoop, Hermanus and along the Garden Route like in Mosselbay.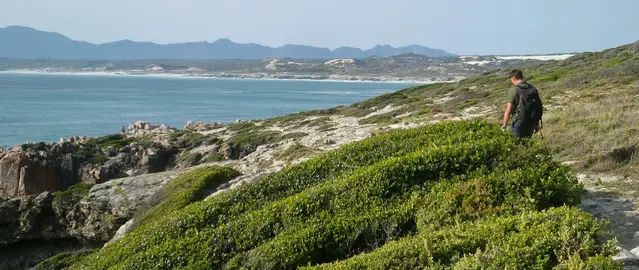 This coastal walk from Gansbaai is not much frequented rather still off the beaten track. Here you are able to spot these majestic giants close to the shore while hiking. The return hike is roughly 10 km long and may take 3-4 hours from Gansbaai to De Kelders and to the Klipgat Caves. The caves are accessible at low tide only. Check the tide times first: Tide Times Gansbaai
Location and Tips
Gansbaai
South Africa

The endangered southern right whales got hunted in the past almost to extinction. Their name comes from their slow-moving behaviour as well as they float on the surface when killed — the reason they became the "right whales" for hunting. They occur close to the shore, and they are often spotted along the beautiful walk from Gansbaai to De Kelders and Klipgat. De Kelders is Afrikaans and means the caves. Some information boards are along the trail. Schools of dolphins are seen as well. The Klipgat Trail leads to the border of the Walker Bay Nature Reserve. It's an easy track without any difficulty for walking. Enjoy the beautiful scenery on this half-day day track. The caves are accessible at low tide only. Whale watching tours are offered from Gansbaai, Kleinbaai, and Hermanus.
Quick Facts of the Southern Right Whales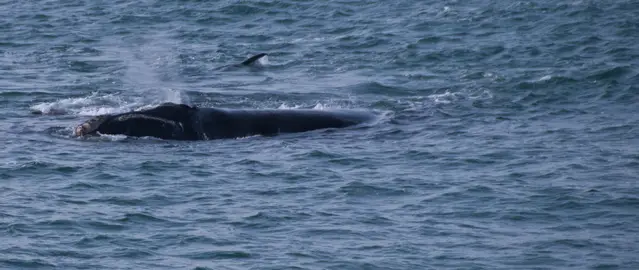 They can grow up to 18 meters and weigh 30-60 tonnes.
A newborn calf is already more than 5 meters long.
Mating in July and August; several males mate with one female.
The gestation period is 11 to 12 months.
The average lifespan of 50-80 years.
Usually, they migrate in small pods. 
These baleen whales are playful and curious. 
 
Where to Stay
Most people stay in Hermanus. If you prefer a quieter village beautifully situated at the coastal shore you will love to spend a couple of days in Gansbaai to explore the area. Book one of the guesthouses next to the cliffs and enjoy whale watching just from your accommodation.