When Is the Best Time
Table Mountain is truly magnificent, and it's a must to get to the top when in Cape Town, South Africa. The iconic landmark offers stunning views of Cape Town and its surroundings. For a spectacular view of Table Mountain, hike to the top of Lion's Head. Table Mountain can be visited year-round. However, I am happy to provide you with the best daytime, tips, and details about the best months.  [This guide was updated in March 2020 after our fifth visit and again in Jan 2021]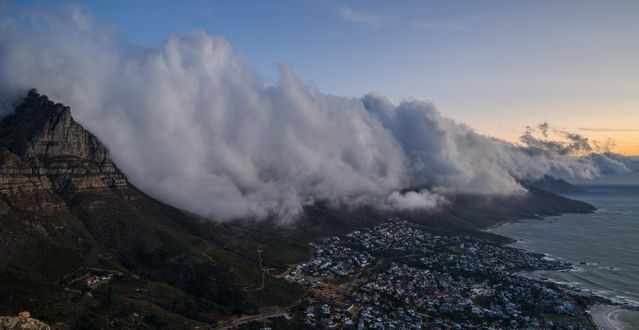 The best time to visit Table Mountain is from October to March, the dry summer. The perfect daytime is in the morning before it gets busy and too hot.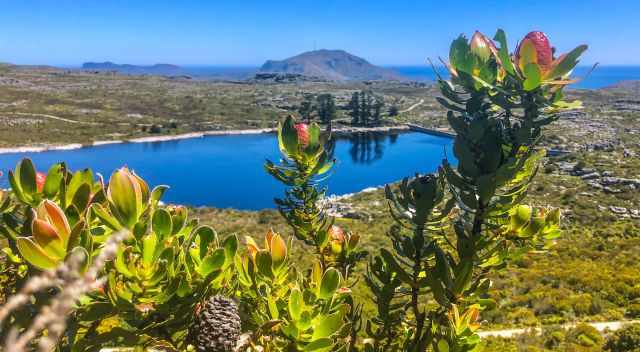 Either take the first cable car (8:00 am / 8:30) or start hiking early. I also love the evening for a stunning sunset from the top. Unfortunately, the cable doesn't operate long just from December 16 until January 15 until 9.30 pm. Read more details below about the cable car operating times, time of day tips, getting to the top, weather, and why the winter in the southern hemisphere is not that bad.

Opening Times - Cable Car Operating Hours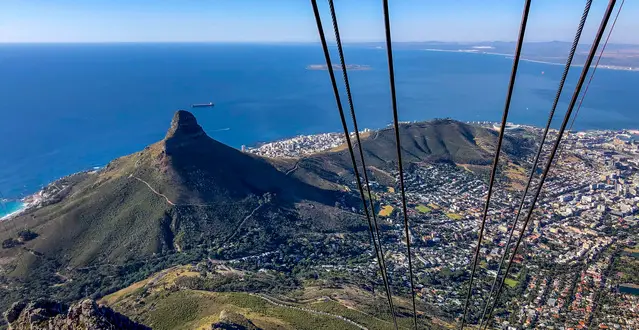 Table Mountain is 'open' and accessible 24 hours each day throughout the year. However, don't hike in darkness - safety first! But you can spend a night on top of the plateau of table mountain—more about it in the description below. The aerial cableway starts to operate after sunrise and currently only one month until sunset - sunset time Either take the cable car up and down or what we prefer; hike up, watch the sunset date mentioned above and take the last ride down at 9.30 pm. Below are the operating hours, but keep in mind that the cable car won't operate during poor weather, extreme wind. If you aren't sure about the weather conditions on a certain day and if the cableway is running call the hotline: +27 21 424 8181
Cable Car Operating Hours Summer 2021/2022 Fall and Winter 2022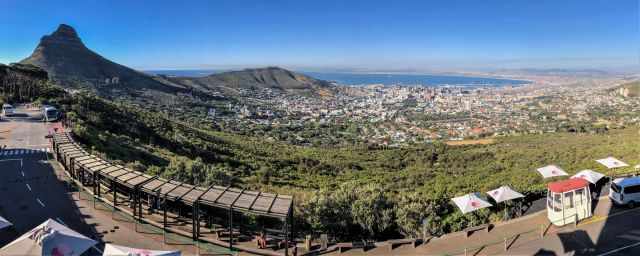 The operating hours are weather permitting, closure during heavy wind and depending on the virus cases.
16.12. to 15.01.22 from 8 am until up 8.30 pm and down 9.30 pm
16.01. to 31.01.22 from 8 am until up 6.30 pm and down 7.30 pm
01.02. to 28.02.22 from 9 am until up 4.00 pm and down 5.00 pm
01.03. to 31.05.22 from 9 am until up 3.30 pm and down 4.30 pm
 
01.06. to 31.08.22 from 8.30 am until 4 pm - winter
 
Detailed Time of Day Tips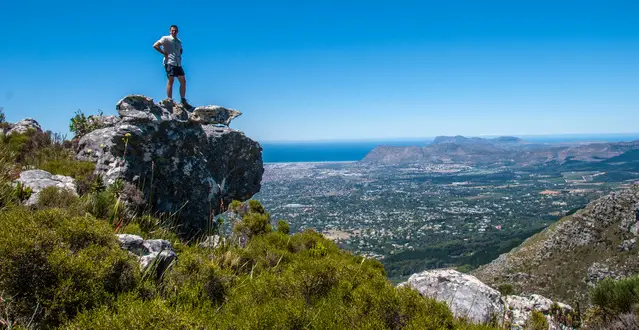 If you plan to hike to the summit via Platteklip Gorge, start early in the morning. That way you'll avoid busy areas and dodge the heat as well in the summer months.
If you use the cable car to get to the top, be there early, and arrive as soon as they start operating in the morning. That way, you'll avoid long waiting lines of 1.5 hours during midday. The alternative you can purchase an expensive, more than twice the price "fast track" ticket.
Table Mountain Cable Car Ticket Prices 2021/2022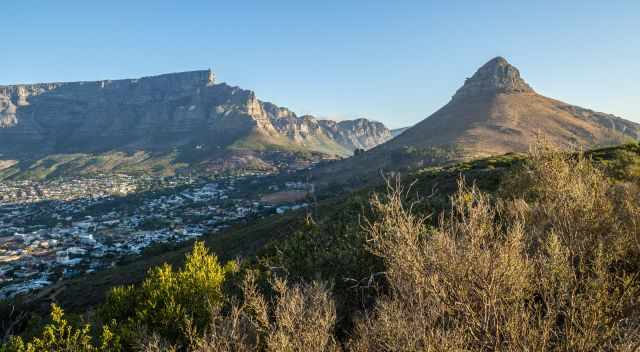 There are slight differences in the price if booking for the morning (8 am-1 pm) or afternoon. (from 1 pm until closure). Prices updated mid-December 2021. Children are half price from the age of 5.
Morning Return R 390
Afternoon Return R 320
One Way R 210
Fast Track - Skip the Queue R 800
Getting to the Top | Hiking Trails and Cable Car
Cable Car (Cable Way): You can get up and down via cableway. Please keep in mind that it doesn't operate when the weather is bad, poor visibility, or the wind is too strong. Getting to the cable car itself is not difficult: The easiest way is to book the combo tour (see the tours section below). 
Hiking:  An even better experience is hiking. There are many different routes to get to the plateau of Table Mountain. However, most visitors choose to hike up and then take the cable car down or vice versa. Check the wind forecast first if you plan to hike up and take the gondola down. You can find a detailed description of my 5 favourite hiking trails around the Table below. There are two alternative routes for hiking if the cable car is closed;  Platteklip Gorge and India Venster. Both hiking trails are spectacular, taking 1.5 up to 2 hours. The first one is more challenging and well maintained, the second one more strenuous and not marked. The best choice is to hike one way up and the other down. Never walk alone due to safety reasons!! During quieter times, security is lacking.
Weather and Seasons in Cape Town
Summer (November-March)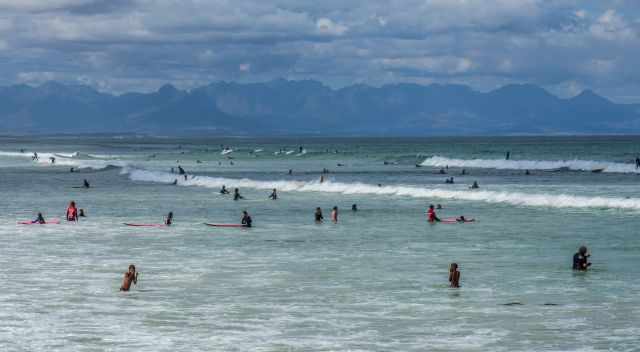 November feels already like summer, reaching 25°C. January and February are the hottest months with almost 30°C. March is still warm and dry. Nights are refreshing cool ranging between 15°C to 17°C. The summertime is the driest time of the year with 9-11 sunshine hours daily. The sea is refreshing at 20°C from January to March. The southeaster, often called "Cape Doctor" by the locals, can blow for days on end during summer. Always bring a suitable jacket or layer of clothes. However, showers occur even during this season.
The Table is also famous for endemic flowers and plants like the pride of Table Mountain. The "disa uniflora" is an orchid that blooms from January to March at waterfalls and streams of the plateau and the Twelve Apostles. December to February is the busiest season; accommodation prices are the highest, especially during Christmas. Advanced booking is recommended.
Autumn (April-May)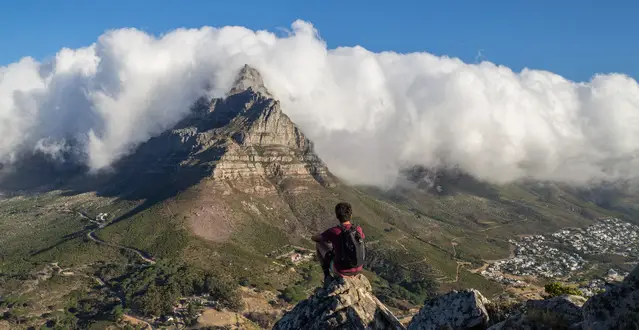 Decreasing rainfall in April but still warm during the day around 25°C. May though a bit cooler but pleasant above 20°C. Nights are colder, on average 15°C and below. May experience already rain on nine days on average. Therefore, it's less busy in Cape Town; more accommodations are available.
Winter (June-August)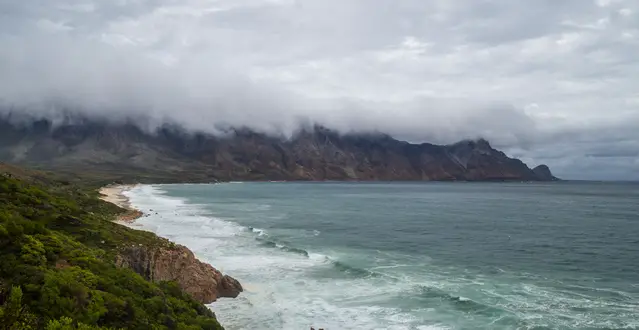 You won't experience any extremes, which results in a mild winter. That means winter isn't a bad time to visit Cape Town! However, not all accommodations have electric heating or blanket. Nichts can be chilly. BAnd ut keep in mind that it's colder at the top of the Table and windier. Day temps are still around 20°C and nights, on average above 10°C. Most rainfall (almost 80%) throughout the year from May until September though June to August are the wettest; expect precipitation on average on ten days. However, climate change is present in Cape Town. The city suffered from drought in 2019, but it looks like it's improving.  A little snow can occur on the Table but already melts away during the day. Usually, winter is the low season, but it's a little busier during the summer holidays in Europe. Plenty of accommodations are available, and some are closed for maintenance.
Spring (September-October)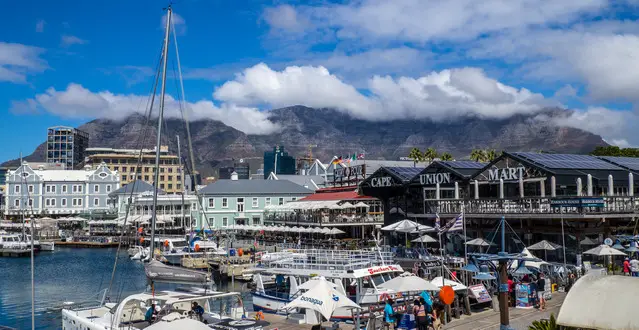 Rainfall decreases in September; temps are pleasant above 20°C; for me, the best time of the year. Roughly mid-August starts the flowering season along the coast and in the desert. Southern Right Whales are here with its peak from July to October. October is already warm, and rain is still decreasing. It's not too crowded in Cape Town; hikes around the Table and the cable car are still not super busy.
Accommodations (Hotels, Lodges, B&Bs) - Our Top Tip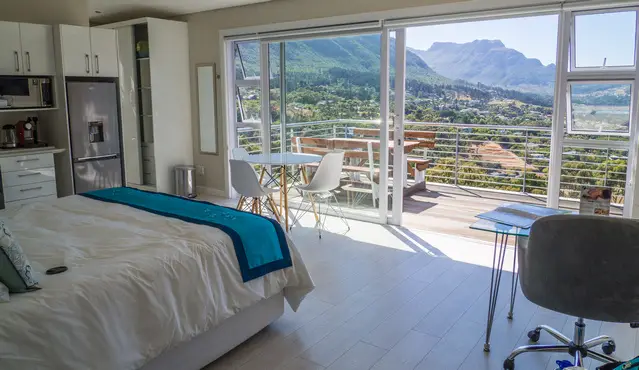 There are tons of lodges, cottages, private houses, B&Bs, and hotels in Cape Town. Cape Town is rarely fully booked. However, we always book these accommodations in advance. First, rates are lower, and we only choose the safe and better rated self-catering cottages or B&Bs. Usually, 80% of the accommodations are already booked a couple of weeks before the peak season. Check out booking.com for the best rates and read the recommendations first. Bookmark the link for the lowest prices. If you click on the picture above, you get to our last accommodation close to Cape Town in Hout Bay on Mount Bay in summer 2020. The view was fantastic, the sunrise spectacular, and even a gas BBQ was available.
The Best Guided Hikes Table Mountain
Never hike up there alone. Always go in a group! That's why a tour is the best option. Sure, you could go on your own. However, besides the safety aspect (crimes and dangerous conditions) you'll make the most out of the mountain if you join a tour with great guides. I selected the most popular hiking tours with the best views by the most reliable operator. I also added a combo that includes a cable car ticket and a great city tour + hop on-off bus. That's the easiest way if you don't want to hike.
Location and Tips
Cape Town
South Africa

The awe-inspiring Table Mountain, one of the new Seven Wonders of Nature, is estimated to be 240 million years old, the rocks even 600 million years. The first cable car operated in October 1929, with a capacity of 20. Nowadays, the capacity is 65 people in a 360° rotating cable car. The journey up or down takes just 5 minutes, departing every 10-15 minutes.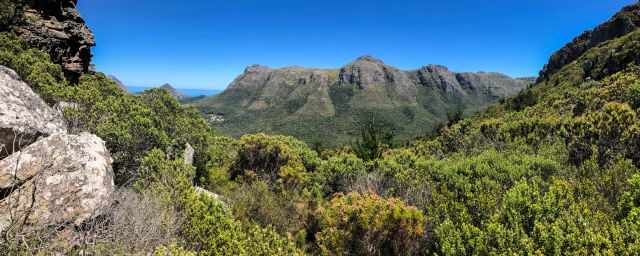 Nevertheless, in the summer, you may line up for quite a while. The Table's popularity is always increasing, with more than 1 million visitors each year. The name comes obviously from the resemblance to a table. The highest point is Maclear's Beacon at 1.086 m elevation. Table Mountain National Park has an outstanding array of plants, first of all, fynbos and wildlife.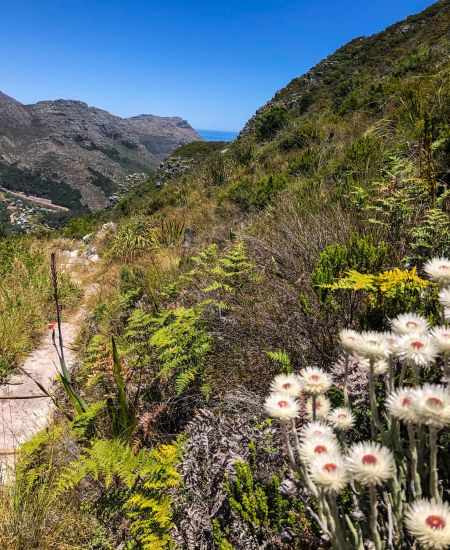 Many activities are possible, from hiking, mountain biking, abseiling, free guided walks, and watching the spectacular sunset here. We planned to watch the sunset in March but just one day before, they stopped operating for an indefinite time because of Covid 19.
5 Top Hikes at Table Mountain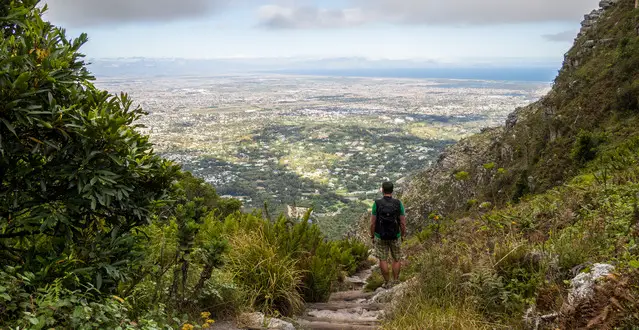 There are plenty of hiking trails to the plateau of Table Mountain at least 11. We like to describe our 5 most favourite hikes around TM. These hikes are more trafficked, which makes hiking safer here. Nevertheless, never hike alone and not in darkness. Robberies occur around the Table hiking trails. Next to the cable car are two spectacular routes to the top of Table Mountain and one short hike for great views if you can't make it to the top or for a brilliant sunset. When climbing to the top of Table, always have in mind you may end up in the tablecloth - a mist of clouds. Also, don't count on the cable car; always expect to hike back. The indicated hiking time is always the way up, not down. At the end of the article, you can find our personal packing list.
Kloof Nek is one of the best short hikes in Cape Town.



The Kloof Nek Trail takes max half an hour one way for spectacular views to the cliffs of Table Mountain, Lion's Head, and the beautiful city. Trailhead and Parking before the cable car but fills up early in the morning. It's also popular for an awesome sunset.
 
India Venster starts next to the cable car.


This incredible hike takes roughly 2 – 2.5 hours. It is steep but manageable and has a bit of everything; smooth walking, climbing, staples, and chains. However, you shouldn't have any fear of heights.
 
Platteklip Gorge starts 1.5 km after the cable car.


It is one of the most popular routes, therefore well-maintained. Go early to avoid the midday heat. The trail starts roughly on 390 m elevation with steep steps on rocks, then leads zigzagging to an altitude of 1050 m. The gorge path narrows the higher you get. You may need 2 – 3 hours to get up, depending on your fitness level. It took us less than 2 hours, but we live in a mountainous area with steep and exposed trails.
 
Skeleton Gorge starts in the Kirstenbosch Botanical Garden on the Eastern Slopes of TM.



We did this route to the top of TM already twice. The advantage of this route to the summit it leads through shaded, native forest, which is well needed during the hot summer so you can also start a little later. First, you hike through the beautiful Botanical Garden direction Fragrance Garden until you find the first signs "Smuts Track". This track leads to the challenging gorge up to the top of the plateau. In the beginning, an easy walk winding up through the forest. Then you have to climb a couple of wooden ladders to overcome some very steep, huge boulders.



Afterwards, it's a tricky climb and scrambles up on huge rocks. This part is not marked; you have to find your own way out. After heavy rain and winter, the trail might be inaccessible or slippery and slightly flooded. After this strenuous part of climbing, the trail winds up on a small path for roughly half an hour before reaching the dams on the Table Mountain plateau. This route is quite strenuous and took us 2 hours.
Essential to know is the opening hours of Kirstenbosch if you plan to hike down from the summit.
Opening Hours Kirstenbosch Botanical Garden
September to March     8 - 19 
April to August              8 - 18
 
Constantia Nek starts in the south on 200 m elevations, the longest track of all roughly 9 km, which takes 5 h to get to Table Mountain Cable Car.



You need roughly 2 hours from Constantia Nek to the dams. This trail is also pretty popular; some hike to the top while others walk from here to the Kirstenbosch Botanical Garden. Though this makes the path safer, however, there is never a guarantee. There is plenty of space to park your car but choose the right trailhead. There are two different ones at Constantia Nek, one to the right, which is the hike to the top, and one to the left. A sign indicates a "restricted access area" where a permit is needed at the trail to the left.


When you start hiking, you can either walk the Jeep Track the entire time or take a left shortly after the beginning direction Eagle's Nest. This trail makes more fun and passes by the Camel Rock, which is worth a photo stop. The Constantia Nek Track is rich in variety, offering spectacular views. During spring, many fynbos and proteas are in bloom. The track is pretty long but less challenging. You only have to cope with the heat during the day; therefore, start early. Usually, people start the hike already shortly before sunrise.
Top Tip
I would like to mention one more trail, but we haven't done it yet. Kasteelspoort is the easiest route to get up. Parking on Theresa Road or start at Pipe Track. Hike this track in the morning and enjoy the shade. It gets hot from midday onwards on this trail. Social media's most picturesque and known is the "Diving Board" close to the old cableway.
Packing List - Essential to Know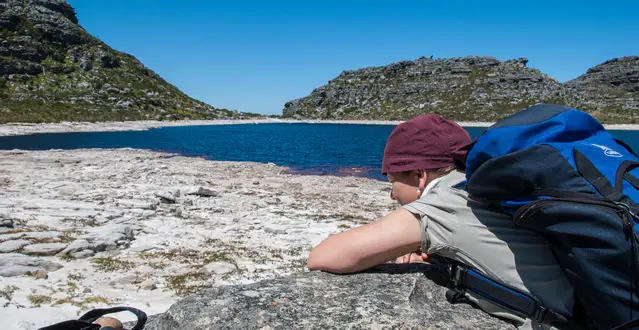 Windproof jacket – Usually, it's windy up on the top, and you may end up in the famous tablecloth, misty clouds. So if your jacket protects you also from drizzle, even better.
Midlayer – Typically, it is hot at the bottom of the Table. When climbing up, you will sweat, and with the cold wind on top, it'll be necessary.
Sunscreen and hat – Most of the hikes are exposed except Skeleton Gorge, but latest on the plateau, you may need sunblock.
Proper hiking shoes – Comfortable shoes with a good grip are essential. It depends on what you are used to wearing. I only hike with barefoot shoes, which are best for me.
Plenty of water and energy food – It doesn't matter which hike you plan to do, except the short one they are all sudatory. The food on top in the restaurant is a little pricey. Depending on where you start, it's a long walk to get there.
Don't carry your valuables with you – We always leave our passports, credit cards, and valuables in our accommodation. We always have pocket money and our debit card (transfer wise) with a small amount on it. You need money for the cable car, the Kirstenbosch Botanical Garden, and additional beverages.
Hiking App on your mobile – We constantly check our route with Locus Pro and never get lost. Just a map is not enough, and the trails are not sufficiently marked.
 
Accommodations on Table Mountain Plateau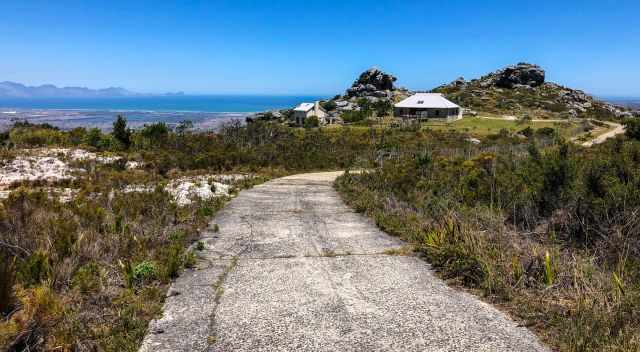 If you like to stay on top of Table Mountain in a group, you can book the Overseers Cottage via SanParks. The price is more than 3.000 ZAR for six or fewer people but can accommodate up to 16.
Another alternative is the basic Table Mountain Hut close to the Kasteelpoort Hiking Trail managed by MCSA.
Leaflet with more information about the Table Mountain National Park
Some pictures are provided by our friends Umamisky