When Is the Best Time
Paarl Rock Nature Reserve is an excellent destination throughout the year, but it should be sunny or at least dry. The rocks are utterly exposed, it can be windy, and it's not pleasant in the rain. During spring, in September and October, beautiful proteas and wildflowers are in bloom.
Avoiding Crowds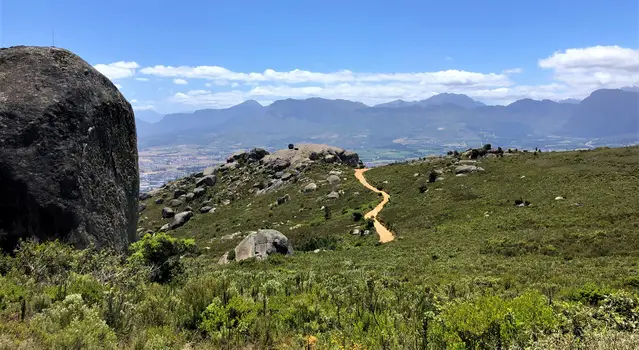 Paarl Rock is still a "hidden" gem and is more known by the South Africans. Therefore, it's a little busy on weekends and public holidays, especially the braai (BBQ) areas but far away from crowded. On weekdays enjoy the tranquillity on top of the rocks.
Weather Tips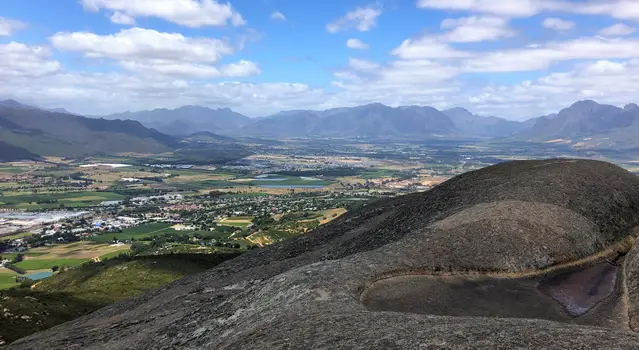 The so-called dry season lasts from November to March. In summer, it can get hot around midday. Bring a hat, sunglasses, and sunscreen. Most precipitation from May to September with its peak in June but overall not much. In winter, temperatures range from 8 to about 20°C during summer, frequently temps top 30°C.
Opening Hours of the Paarl Rock Nature Reserve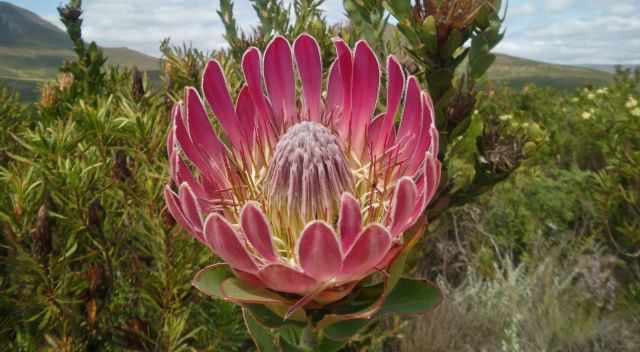 Summer: 7 a.m. – 7 p.m. (1 Oct – 31 March)
Winter: 7 a.m. – 6 p.m. (1 April – 30 Sept) 
Last entry 1 hour before closure times.
Location and Tips
Paarl
South Africa

Paarl Rock are three granite outcrops, the second biggest on earth, more than 500 million years old. It was declared a Nature Reserve in 1977. The three rocks are Paarl Rock, Bretagne Rock, and Gordon's Rock; the formerly names were Diamond and Pearl Mountain. After heavy rainfall, the rocks sparkle like diamonds and pearls. That is the reason for the town's name Paarl, which is the Dutch word for pearl.
Directions and Road Conditions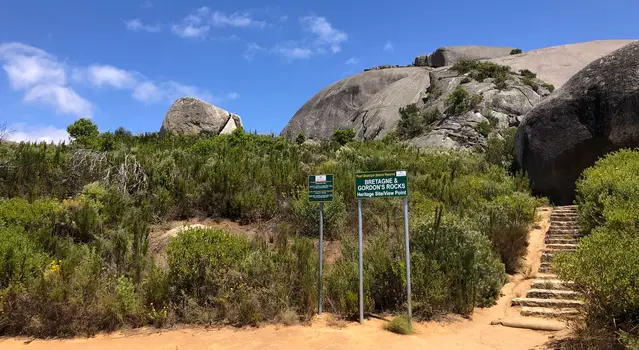 The huge boulders are high above the town, with a 360 degrees view around the valley and the vineyards. Turn off the R45 into the Jan Phillips Mountain Drive to get to the reserve. The gravel roads within the reserve are in good condition, but the one leading to the rocks needs some attention, especially after rain. There is ample of parking Google Maps Location
Several hiking trails ranging from 2.5 km to 10 km exist. The most popular one takes about two hours to Paarl Rock and Bretagne Rock, where chains have been added for safety. The trailhead starts at the reserve's top at the well-maintained picnic and braai areas. Bring your own water and a picnic. An entrance fee for the car and each visitor is requested. The indigenous garden at Meulwater is worth a visit. Nearby is the Afrikaans Language Monument.
Some of the pictures are provided by our friends Umamisky