When Is the Best Time
The Boulders Penguin Colony is a stunning year-round destination, not only during the breeding/feeding season. It is one of the best spots in the world to get close to penguins in the wild. Although it is called Boulders Beach, most African Penguins nest at Foxy Beach.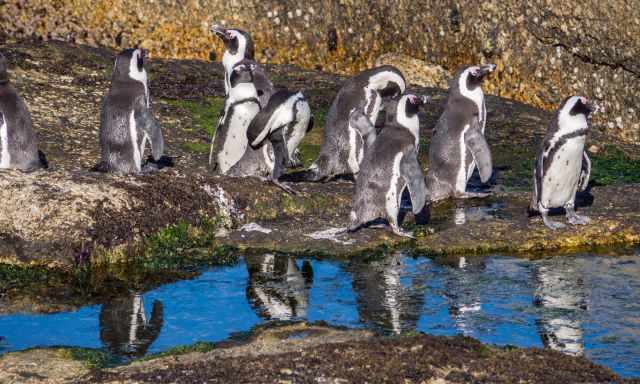 The beaches are often busy; however, it is usually quieter during the best time of the day. Continue reading for an exceptional visit to Cape Town.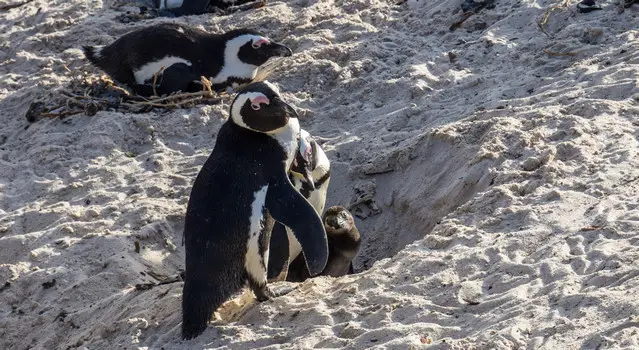 The best times to spot plenty of penguins at Boulders Beach are from November to August, especially in the late afternoon when they return from foraging.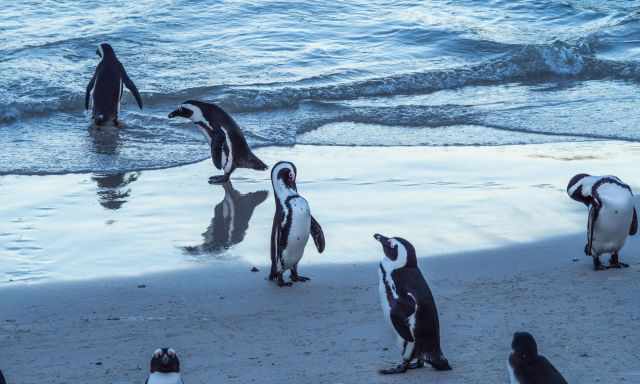 November and  April until June are less busy, except Holy Week if you want to dodge the crowds. In the late afternoon, crowds thin out as well throughout the year.
Avoiding Tourist Crowds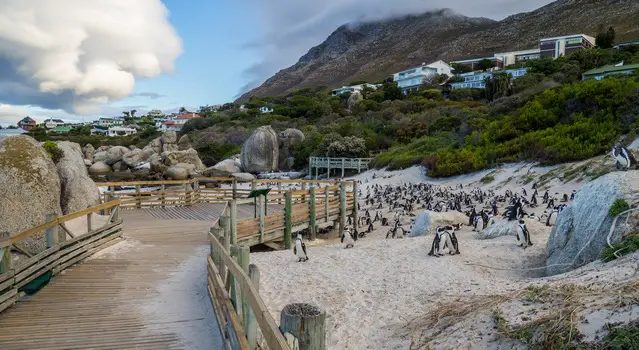 The busiest months are December until February, when Europeans escape from their cold winter. However, it can be a little busy on the shoulder and off-season, especially on the weekends during midday. To beat the crowds and increase the chance of a parking lot, be there very early in the morning as soon as they open, but fewer penguins are around.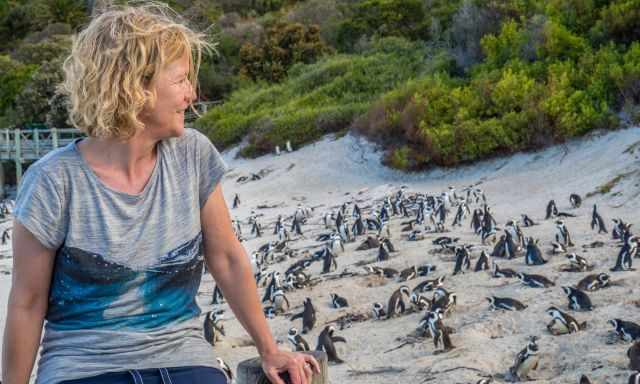 An alternative and our favourite time is late afternoon: roughly 2-3 hours before they close, depending on the season. You'll see many more penguins compared to the morning. We spent here multiple afternoons until closure for 15 years already. During the last hour, we mainly were almost alone. What a wonderful experience to watch hundreds of penguins arriving from their daily search for food.
Highlights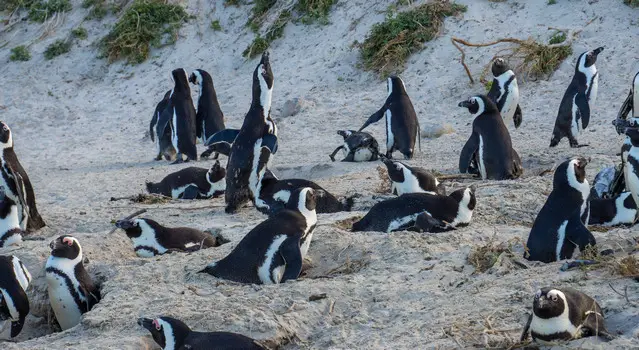 In general, you'll spot more penguins in the breeding season than at other times. The breeding season starts roughly in February and lasts until August: It peaks from March to May. It's fascinating when the penguins return from foraging. We watched this spectacle a couple of times.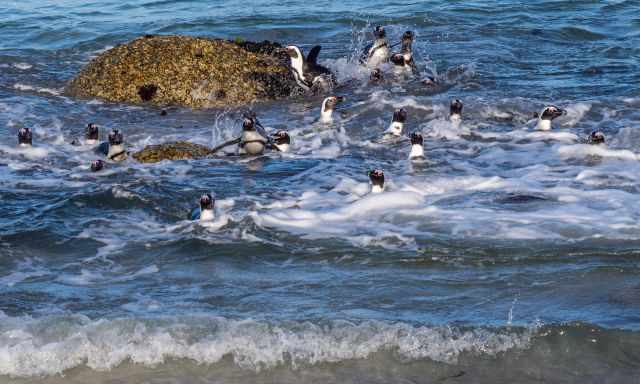 First, you see them in the far distance, jumping and swimming. When penguins reach the beach, they waddle up to the nests to feed their chicks. The babies get fed for about two months in the late afternoon.
In March and April, you see already chicks; some are already in juvenile plumage, penguins breeding with one or two eggs, and mating ones as well. They are so graceful when swimming in the water. Seeing them ungainly waddle on land is always funny.
Opening Hours and Map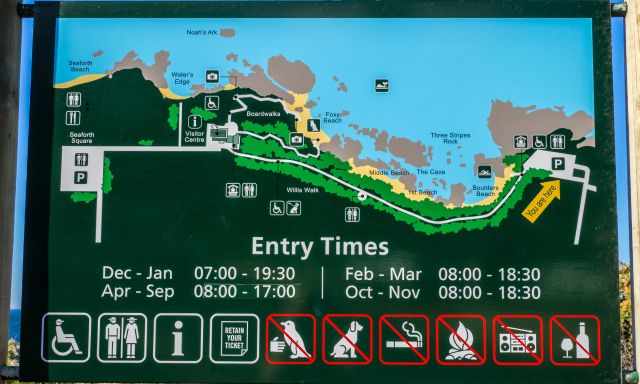 The closure time depends on the available daylight. The shop, the visitor centre, Boulders Beach, and Foxy Beach get closed at the mentioned time below.
Summer: December - January 07:00 - 19:30
February - March 08:00 - 18:30
October - November 08:00 - 18:30
Winter: April - September 08:00 - 17:00
Accommodation Tip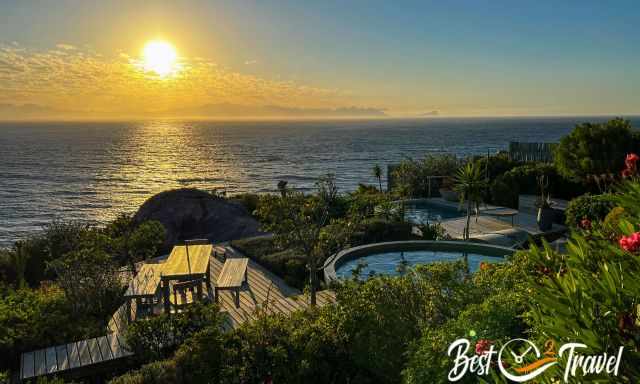 Recently, my friends Marc and Andrea visited Boulders Beach, and they showed me pictures from their exceptional studio and the property of the Watercolours Studios. The owners walk an extra mile, and the pool and garden are magnificent.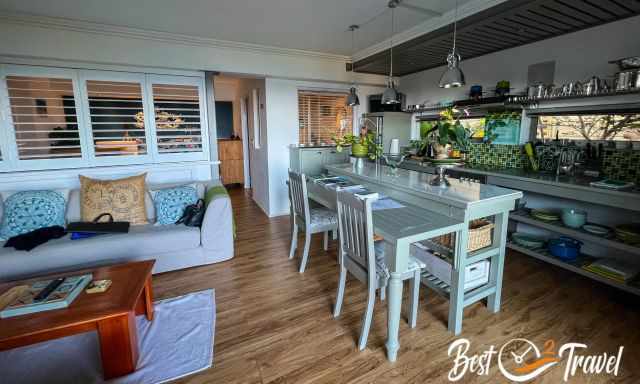 The breakfast is delicious and a great start to your day. The location is perfect for an early or late visit to Boulders Beach, just 3 km south of the penguins.
Penguin Life Cycle
Penguins are perfectly made for a life out in the sea, but they must come ashore in order to breed.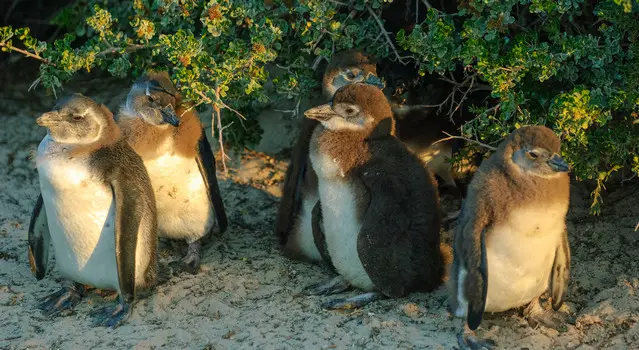 January: Juveniles are moulting, after their first 1.5 years out in the sea. Adults feeding up for the breeding season.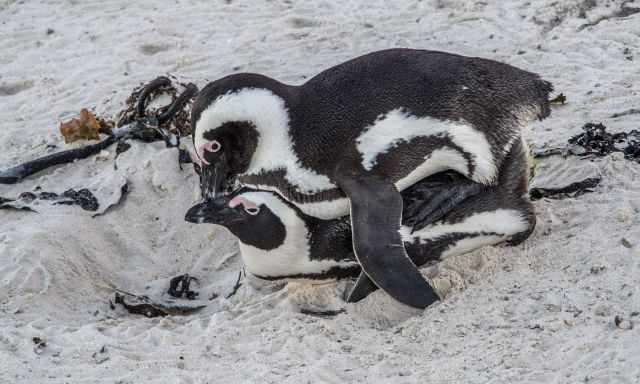 Usually, penguins mate for life returning to their previous year's nest. You may spot them mating from November until April or even May.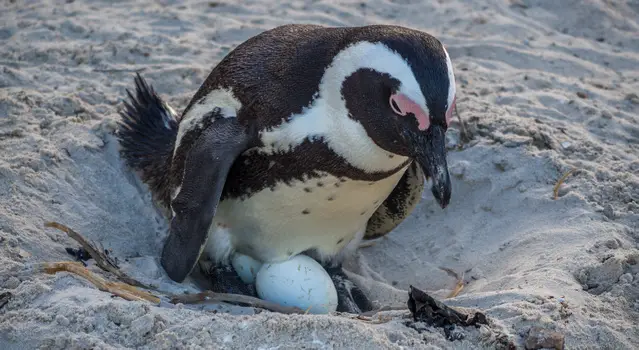 They can breed throughout the year, but most common from February - August with its peak from March-May. Usually, penguins lay two eggs - incubation between 38-42 days. Mating and breeding season most of the penguins are at the beach.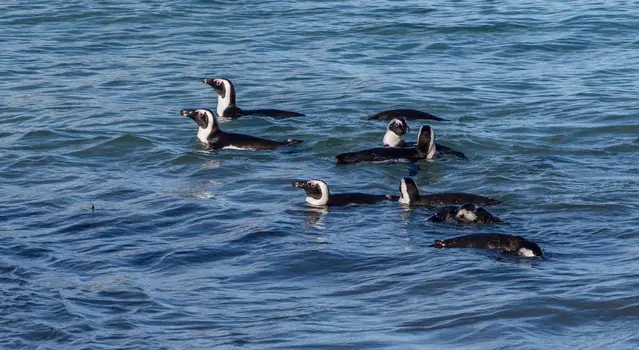 September - October: Penguins foraging at sea for the moulting season. Fewer penguins are at the beach.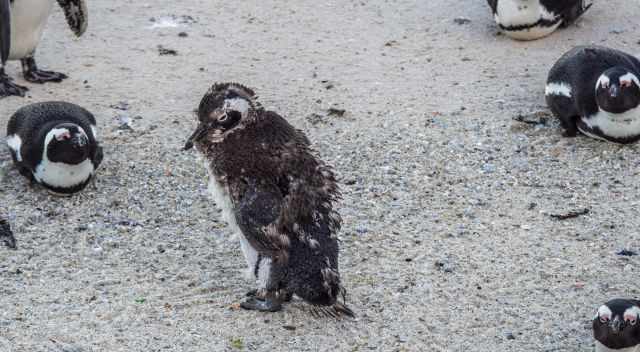 November - December: Moulting season occurs annually means losing their waterproof plumage -getting new feathers. It lasts for roughly three weeks. At this time, penguins are unable to stay warm in the cold sea. They can't forage for food during this period. They stay either at the beach or hide in the bush. 
5 Top Tips for an Exceptional Visit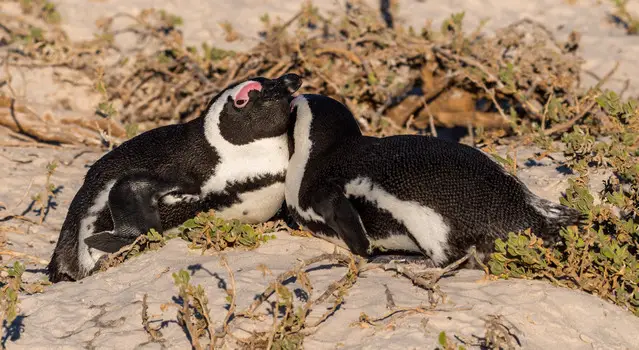 There are two parking lots; one at Seaforth Square and one at Bellevue Road: Seaforth Square is bigger and open 24 hours while Bellevue Road is smaller and closes earlier. Ask the car-park attendant when the gate gets closed! To dodge the crowds come either in the morning or late afternoon what I recommend. Expect to pay a tip when leaving the car park.


 
The best spot to watch a high number of penguins is Foxy Beach, where boardwalks lead to. There is the main boardwalk and a smaller one. To get to the smaller one, turn immediately right after the entry. It's a little quieter, but the view is best from the main boardwalk.


 
The entrance fee for foreign visitors is high, ZAR 160 per adult and 80 per child, but it's also used for the conservation of penguins. In my opinion, it's utterly worth it. Price: ZAR 160 is less than 10€/10$/16AUD/8GBP


 
Boulders Beach itself is a 7-8 minutes walk from the main entrance. During the peak season, you can enter the beach with your ticket only. It's a sheltered bay and beach and ideal for swimming. Here are only a few penguins. If it gets too crowded, the rangers close the beach for additional visitors. More space on the beach during low tide. Tide Times Boulders Beach


 
Usually, you can also see penguins at Water's Edge Beach and Seaforth but in smaller numbers. The beaches are within walking distance. From Bellevue parking, you get to another spot called Burgers' Walk to watch penguins. This path leads along the neighbourhood houses. You don't have to pay a fee for these spots, but none is as fantastic as Foxy Beach.


 
Please, respect the requested 3 meters distance to the penguins. If they get disturbed, they may disappear. Please don't touch them. My pictures were taken with Olympus zoom camera.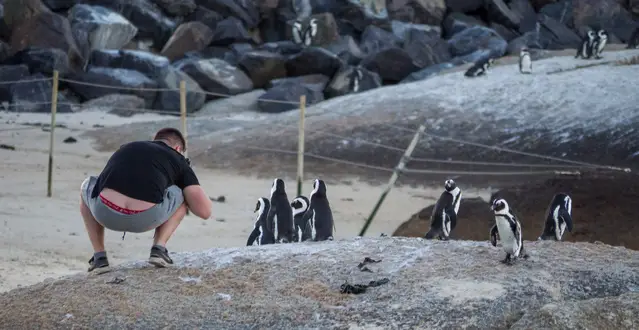 How to Get to Boulders Beach
Boulders Beach is located in the False Bay on the Cape Peninsula, close to Cape Town. It's half an hour drive from Muizenberg and 40 minutes from Hout Bay. Boulders Beach can be perfectly combined with the Cape of Good Hope on a day trip, which is also just half an hour's distance located - 23km.
By rental car, uber, or Taxi roughly one hour from W&A Waterfront in Cape Town.
Take the train to station Simons Town. It's a 3 km walk from here, or you can take a taxi or Uber.
Book a guided tour, most convenient if travelling without a car.
Thx for booking via my website at no extra cost. With your support, I am able to provide all the information first-hand.
Weather Boulders Beach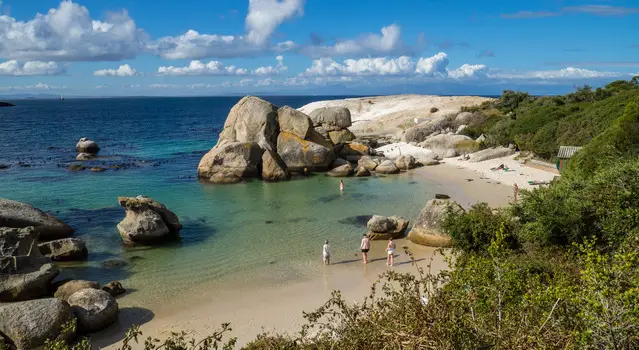 This is the real Boulders Beach where swimming is permitted.
Most pleasant weather from October-March. Day temps are always above 20°C. Rain showers can occur but on a couple of days only. During winter it's much quieter but also colder. There is often a light breeze or even strong wind. Be prepared and bring a windbreaker.
Spring (September-November)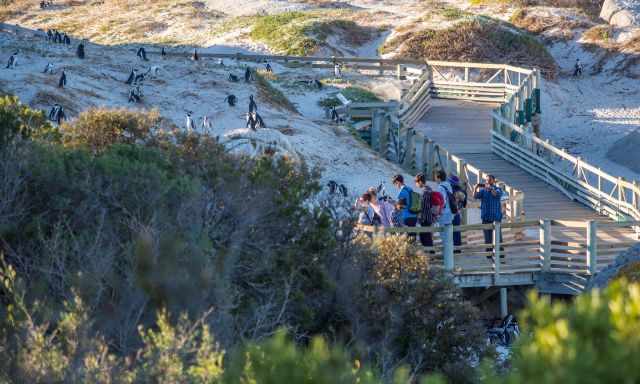 Decreasing rainfall from September onwards. Day temps are on average around 20°C and nights around 13°C. It's often partly cloudy and occasionally overcast.
Summer (December-February)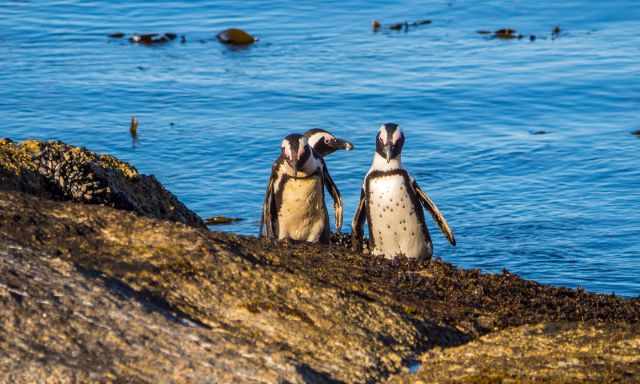 January and February are the driest months of the year. Day temps are on average around 24°C and can climb up to 30°C. Night temps are, on average, around 15°C. Usually, it's often sunny and partly cloudy. Due to the light breeze, it doesn't get too hot. Also, the southeaster, often called "Cape Doctor" by the locals, can blow for days on end during summer. On our first visit, I got a cold due to the strong wind. The water temperature is around 18°C cold.
Autumn (March-May)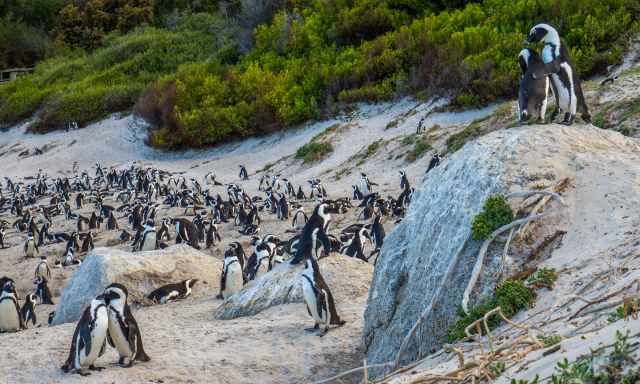 March is still dry, increasing rainfall from April onwards. It is still pleasant on average above 20°C. It's often sunny and partly cloudy. Mist can occur in the morning. Nights are cool around 13°C.
Winter (June-August)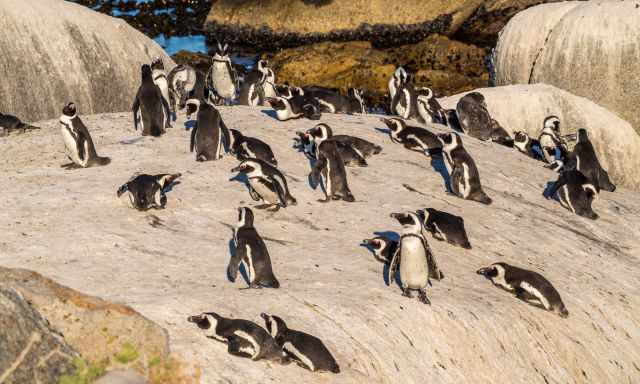 During winter, it is a mixture of sunny, partly cloudy, and overcast days—more precipitation in winter around 90 mm each month. Usually, June is the wettest month of the year. Day temps are, on average, about 18°C and 10°C during the night.
 
Nearby Tip: Visit the breathtaking Table Mountain at Cape Town. I just updated my Table Mountain Guide (the link takes you to my article) with tips and hikes you should know.
Accommodations (Hotels, Lodges, B&Bs)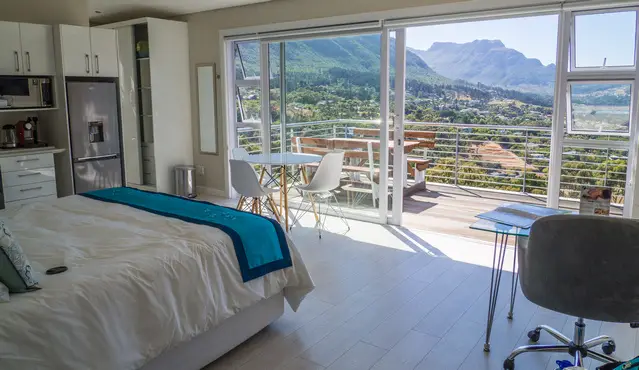 There are tons of lodges, cottages, private houses, B&Bs, and hotels in Cape Town. It's rare that Cape Town is fully booked. However, I always book these accommodations in advance during the peak season. First, rates are lower, and I only choose the safe and better-rated self-catering cottages or B&Bs. Usually, 80% of the accommodations are already booked a couple of weeks before during the busy season. Check out booking.com for the best rates, and read the recommendations first. The following three are some of our favourite ones. If you click on the picture above, you get to our last accommodation close to Cape Town in Hout Bay on Mount Bay in the summer of 2021. The view was fantastic, the sunrise spectacular, and even a gas BBQ was available.
A Boat House (8-minute walk from the beach): Incredible staff and host, stunning view, great breakfast, great pool, spacious room with detailed touches, beautiful location. Amazing value! 
Rocklands Seaside Bed and Breakfast (excellent location-Link Google Maps): Lovely and accommodating hosts. Comfortable and of top class. Delicious breakfast and a view to die for! One of the best places you can stay in the Cape.
Location and Tips
Simon's Town
South Africa

Simon's Town is home to the South African Navy's Naval Base. The harbour comes with an interesting history, established in the 19th century by the Brits as an alternative when powerful storms prevent landings in Cape Town. In 1982 the first pair of African penguins settled at Boulders Beach, and more followed. This is the closest penguin colony to Cape Town.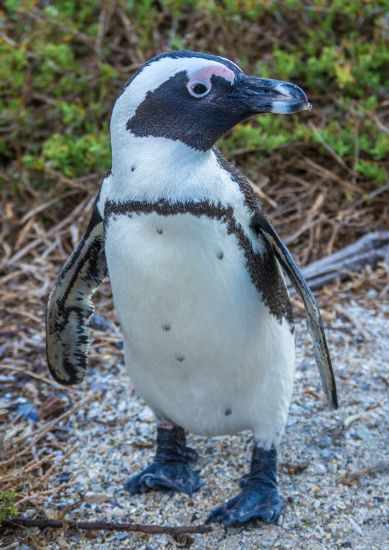 Nowadays, there are roughly 2.500 around the area of Boulders. Most of them nest at Foxy Beach. Unfortunately, the numbers are decreasing in Southern Africa (Namibia and South Africa) due to domestic pets, seals, kelp gulls (I even saw a gull with an egg in the beak), overfishing, climate change, even cars, and first of all because of us! This is the only stable colony because it is a marine protected area.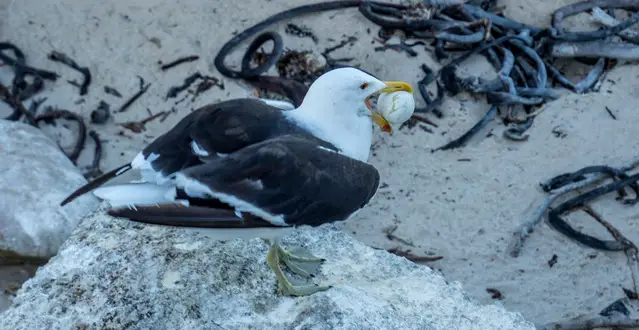 The seagull took a penguin egg out of the nest.
In former times the eggs were harvested uncontrolled, and guano was scraped. Meanwhile, the species has been classified as endangered since 2010. The African Penguins are native to South Africa and Namibia. Boulders is just one of two land-based colonies in SA where you get pretty close to penguins in the wild. Please let them stay wild; don't pet or frighten them.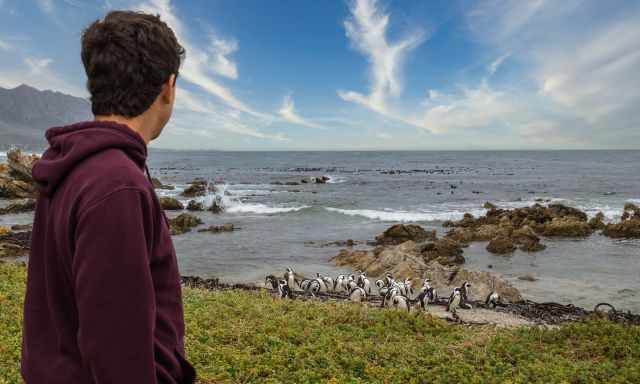 Betty's Bay is the other exceptional place less known to watch these cute guys close. It is 1.5 hours drive around False Bay to the east to the Garden Route.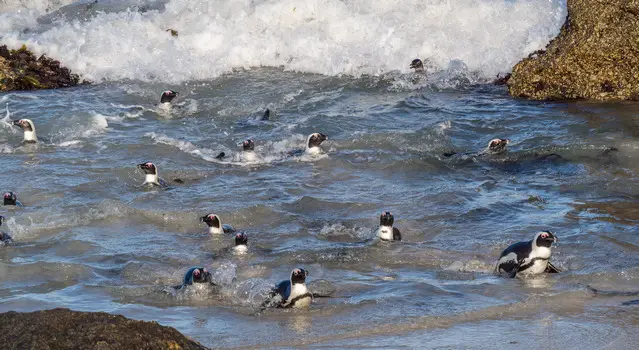 Boulders Beach is a section of Table Mountain National Park and is managed by SANParks; several beaches, three boardwalks, and two penguin viewing areas belong to it. The main beach with a viewing area is Foxy Beach. The other one where you can swim in summer is Boulders Beach.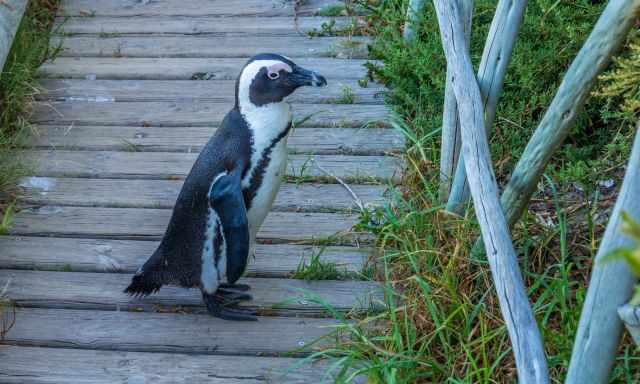 This beach is usually not crowded due to the entrance fee. Most visitors come here just for half an hour or less and don't visit Boulders or the other spots.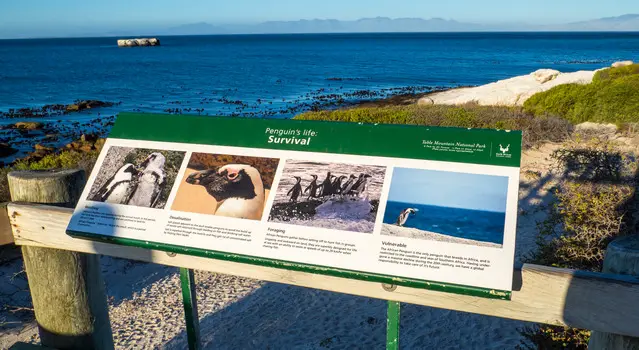 For the increasing number of visitors peaking at 5.000 each day in December/January and for the rest of the year, around 2.000 visitors daily, the access is via wheelchair-friendly boardwalks nowadays. The boardwalk gives you the perfect position to spot penguins just in front of you without disturbing them too much. It is all very well constructed; penguins get protected, and visitors have a memorable time and stunning pictures. It's a protected area, fishing, smoking, and alcohol are prohibited! Before you can enter, the requested conservation fee has to be paid.
Entrance Fee Boulders Beach 2022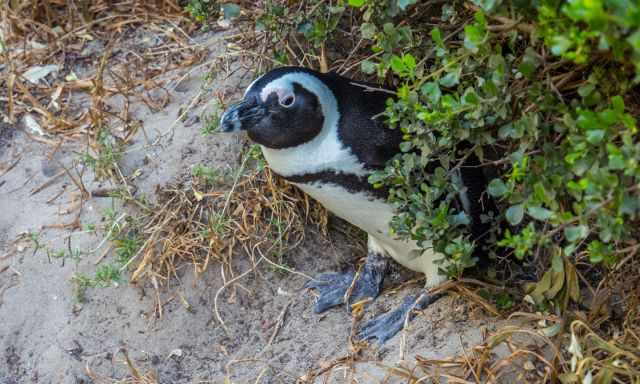 Due to Covid 19, no cash is accepted, just credit or debit cards.
Residents: Adults R 42 - Children (age2-11) half R 21
SADC (visitors from Southern Africa): Adults R 85 - Children R 42
Foreign Visitors: Adults R170 roughly 10€/$11/15AUD/8GBP - Children (age 2-11) R85 half the price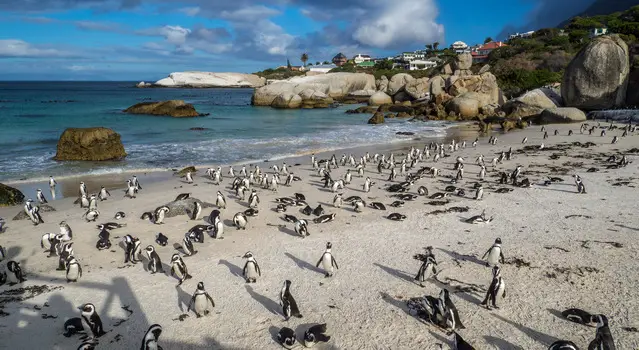 The boardwalks not only protect the environment and the penguins' habitat but also provide great viewing spots for capturing outstanding pictures of nesting penguins and their chicks. The area is a Marine Protected Area, you must follow the rules of Cape Peninsula National Park and never remove any marine life from the area. Respect the recommended 3 meters distance to these majestic birds, they have a strong beak and bite. However, the area around Boulders might be the only place in the world where people can swim amongst penguins. The water temp is around 20°C in summer and 14°C in winter. You could also check for low tide, as there is more space at the beach during crowded times. 
13 African Penguin Facts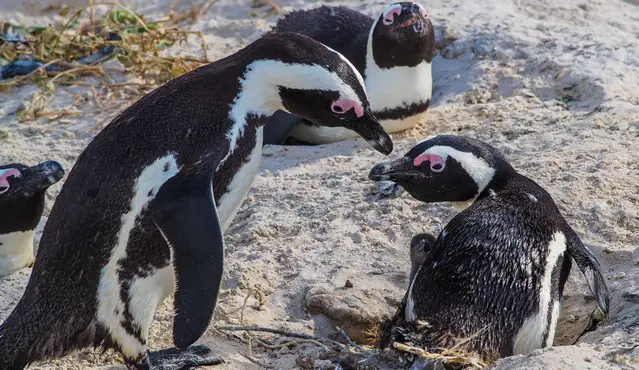 The pinker the glands get the hotter it is - cooling down the blood
Former called jackass penguins because of the donkey-like call, but other species have a similar call. So now they are only called African Penguins.
They are social breeders the reason for huge colonies.
Usually, they mate forever and return to the same nesting site each year.
Weight 2-4 kg and Size 60-70 cm
Lifespan in the wild roughly 15 years
Diving into depths of up to 130 m for small fish, sardines, anchovies, squid and holding the breath for around 2.5 minutes.
Their white belly and black back is their camouflage for predators below and above.
Laying two eggs – both parents breed and feed
Roughly 60 days after hatching, some chicks have already the juvenile plumage and are called "baby blues" due to their new colour.
Mature after 2-4 years.
Excellent eyes underwater but on land nearsighted.
They can be identified by their unique pattern on the chest.
Penguins drink seawater which gets purified in their salt-water glands. They sneeze out the salt crystals.
More information about the whole region: Table Mountain National Park.
If you wish to use any of my photos, contact me, but I will take action against picture theft. Why do I write this here? Hundreds of my pictures are used worldwide without any credit, nor did they get my permission. I don't mind giving permission, but I want to get asked for it and to be mentioned. The world wide web changed a lot, and rewriting honest travel content is the new business for many fake travel websites. Do you wish to know more about this topic and how to unmask such websites quickly? Read my article "The Truth About Fake Travel Websites and Picture Theft."