When Is the Best Time
Alice Lake Provincial Park Squamish is pretty busy during summer and popular for camping. The Four Lakes Trail can be done all year and is beautiful with sunshine and during fall. It's permitted to swim in these lakes therefore in summer bring your swimming clothes and a towel in your backpack.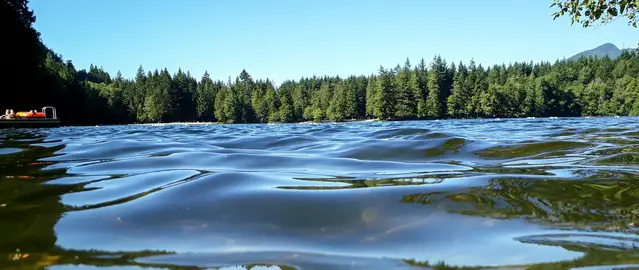 Avoiding Crowds
Arrive early during summer; the car parks fill up quickly due to the many activity options and the beautiful location. There are several parking areas in the Provincial Park. The last one at Alice Lake is the quietest, less busy, and located close to the trailhead with a lovely picnic area. The best choice is camping at Alice Lake, but reservations have to be done in advance for summer. May, June, and September are still crowded but mostly not fully booked.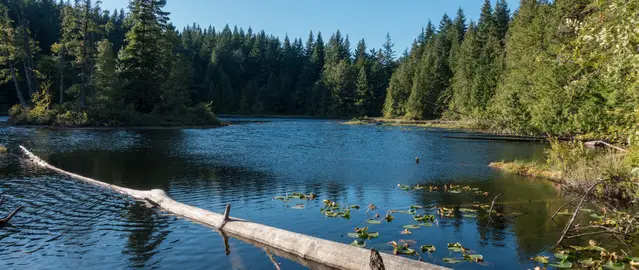 The trail is popular for hiking, biking, and running among tourists and residents. Mid-week fewer people are on the dog-friendly trail. Around 40.000 people hike this trail each year.
Weather Squamish
Squamish has a high amount of rainfall throughout the year with its peak from October to April. Summer is the driest season of the year, but rain can occur so be prepared while hiking. From May to September the temperatures are pleasant, in summer around 20°C/68°F but can be hot as well topping 30°C/86°F. Nights are cool even in the summer ranging between 13-10°C /55-50°F. Due to the Howe Sound, it's freezing during the winter.
August
Stump Lake is covered with yellow pond-lilies which looks gorgeous.
Between mid-and late August swarms of toadlets (frogs) move from their birth lake to their home in the forest. They are tiny, and it isn't easy to see them. Be careful while hiking.
Good to Know for Biker
The bike trail is closed to cyclist from May to mid-September.
Location and Tips
British Columbia, Squamish
Canada

The Alice Lake Provincial Park was established in 1956 located 5 km north of Squamish close to the Sea to Sky HW 99. The park offers picnic areas and hikes in beautiful scenery. The Four Lakes Trail is a well-marked 6.5 km / 4 miles loop trail through the secondary forest to four picturesque mountain lakes, along creeks, and groves of cedar, douglas fir, and hemlock trees.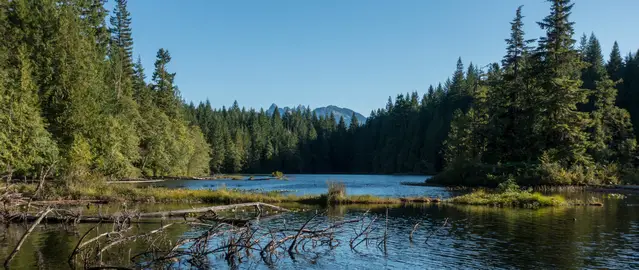 The trees are covered with moss and lichen. The trail starts at Alice Lake, and counterclockwise you get to Edith Lake, Fawn Lake, and Stump Lake. If you like to walk furthermore hike around each lake except Fawn Lake. A huge tree trunk lays inside Stump Lake, and it's possible to walk carefully almost to the middle of the lake. You get a stunning view of the Garibaldi Mountains especially with sunlight in the afternoon.
Activities at Alice Lake Provincial Park
picnic
swimming
kayaking
stand up paddleboarding (boats are prohibited)
hiking
biking
fishing
Inside the park is a rental shop for kayaks and boards.
Camping at Alice Lake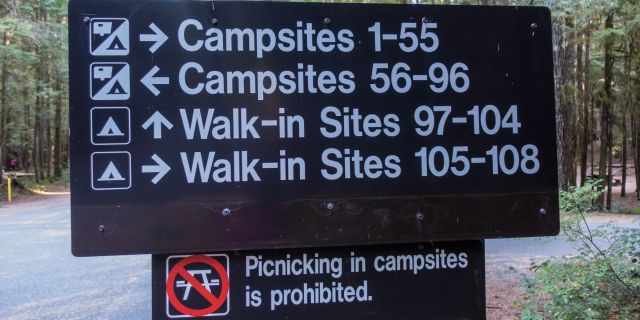 There are 108 campsites, all spacious and clean with hot showers. It gets a bit windy though in the evening. Look where you pitch your tent. It's quite popular during summer and reservations are advisable. Price $35 for each site for up to 4 adults and four kids age 15 and younger. Number 97-108 are walk-in sites for §23.
If camping is not your favourite type of accommodation check out the low budget Squamish Hotel which we prefer during colder night temps. It's clean, quiet, washing and ice for free, and the most attentive staff.
Other Hikes in the Squamish Area
Sea to Summit hike; elevation gain 918 m / 3.012 feet, distance 7.5 km / 4.7 miles and takes 3.5 up to 5 hours climbing up - back via gondola for 10 $ only!
Tip: Usually, the gondola is operating from 10 a.m. until 6 p.m. (last ride down), but on Fridays and Saturdays the last gondola is returning at 9 p.m. from mid-May to mid-September. Enjoy the sunset at the top! 


 
Take the Sea to Sky Gondola 885 m / 2900 feet above sea level for hiking
There are several short trails and day hikes from easy to difficult. The view to Howe Sound, Sky Pilot-, Co-Pilot- and Ledge Mountain and the Stadium Glacier is spectacular. Snowshoeing is possible in the winter time. One outstanding day hike is the Garibaldi Lake Trail; elevation gains more than 900 m, distance 18 km / 11.2 miles which take about 5-6 hours.


 
Stawamus Chief Hike; three peaks from 3-7 hours hike (follow the link for hiking details)


 
The Shannon Falls and Upper Shannon Falls hike; It's a short stroll to the bottom of the Shannon Falls. The Upper Shannon Falls are a half day return hike of 7 km / 4.3 miles which takes 4-5 hours and an elevation gain of 450 m / 1.476 feet


 
Backcountry hiking from Diamond Head inside the Garibaldi Provincial Park.
Squamish is a lovely town with a population of around 20.000. The Canadians are very kind and attentive, but in Squamish, everybody walks an extra mile for you. If you need any assistant get in contact with the Information Center. They made our stay memorable due to all the information we got provided with. Information Center Squamish