When Is the Best Time
Vancouver Island, where you experience the sheer beauty and wilderness of mother nature. Besides, it is one of the top locations in the world to spot orcas close, either on a whale-watching cruise or even in a kayak. Due to the high number of orcas around Vancouver Island, it's almost guaranteed to spot them when you come in the right season.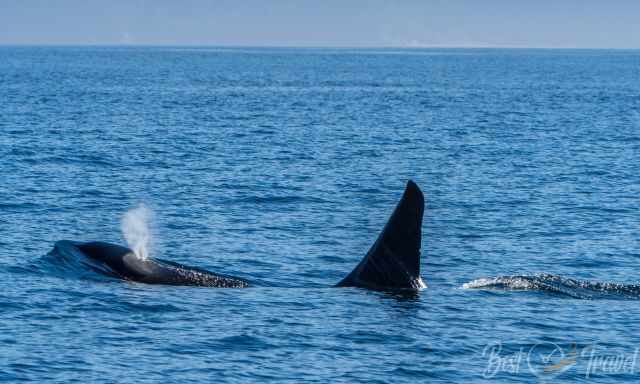 Good News: A record number of transient orcas and humpbacks sightings last year, and also a baby boom was reported. More whales than ever before are visiting the south of Vancouver Island.
Whale Watching Season | Monthly Overview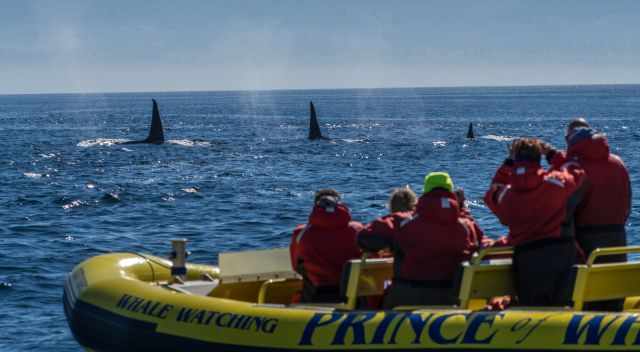 The best time for whale watching around Vancouver Island runs from May to October. You can watch orcas, humpbacks, gray whales, and minkes around the island. Tours from Victoria and Tofino in the south are usually offered from March until October.
March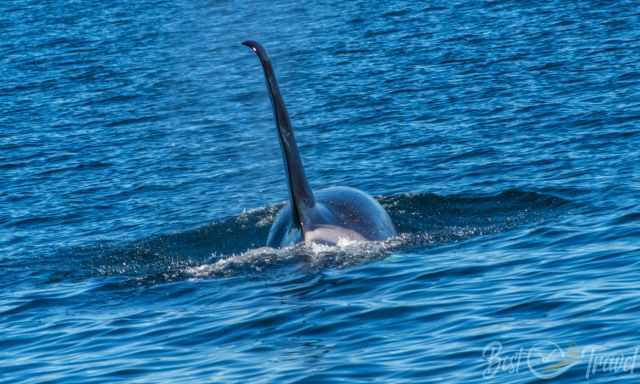 The whale watching season starts in Victoria, Tofino, and Nanaimo. First, orcas and migrating gray whale sightings are possible. Around 20.000 gray whales pass Vancouver Island annually.
April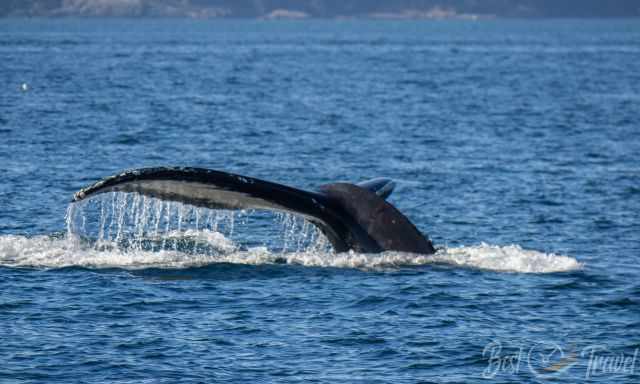 The first migrating humpbacks, often with a calf, appear close to the shore of Vancouver Island. Gray whales are still around, and orca sightings have increased.
May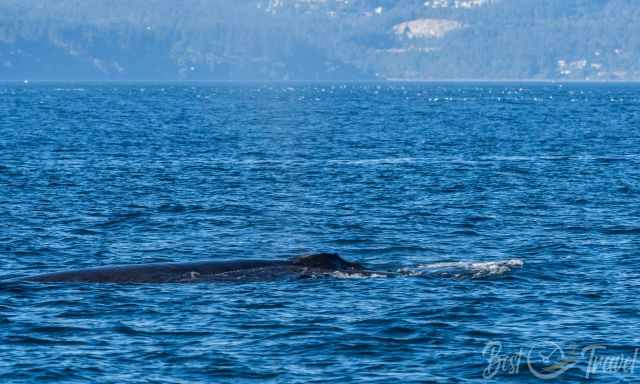 In May is the best time of the year for orca and humpback whale sightings. Migrating grey whales continue feeding to the Bering Sea.
June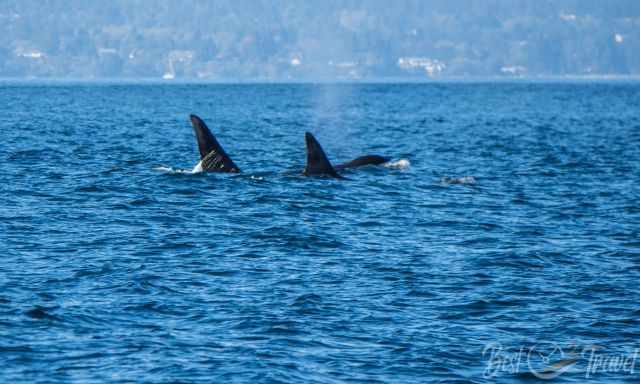 It is an excellent time to spot huge pods of resident orcas and transient orcas, and also individual humpbacks. Temperatures increase, and tours are more pleasant on the boats.
July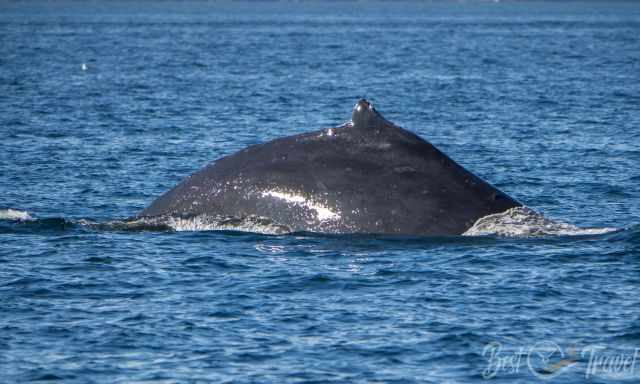 It is common to spot orcas and humpbacks in abundance. Minke whales are around too, but from my experience too small and shy to see much of them. The weather is also excellent, perfect for a whale watching trip. However, the summer is the busiest season. I recommend booking your trip in advance to secure a space on a boat.
August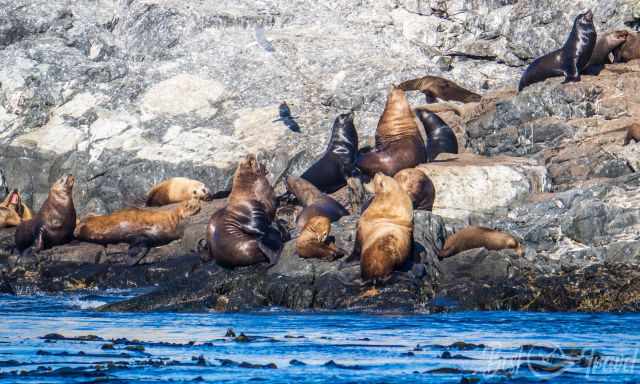 It is an excellent time to watch orcas and humpbacks from the whale watch tour boat. Especially transient orcas, the real killer whales are attracted by the newborn seal pups. However, August is the worst month regarding crowds. Book your whale watch tour in advance.
September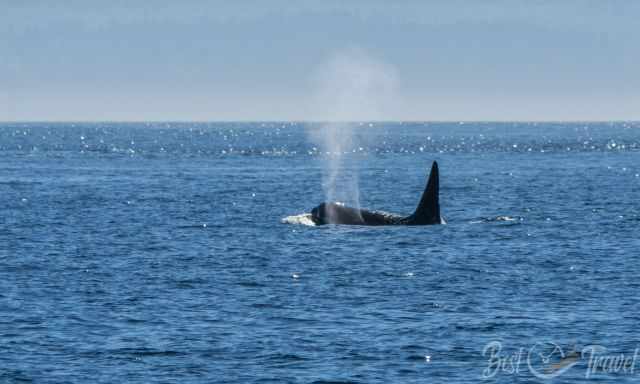 This is my favourite month; after the summer school holidays, tours are quieter. There are still plenty of resident orcas and transient orcas sightings and humpback whales.
October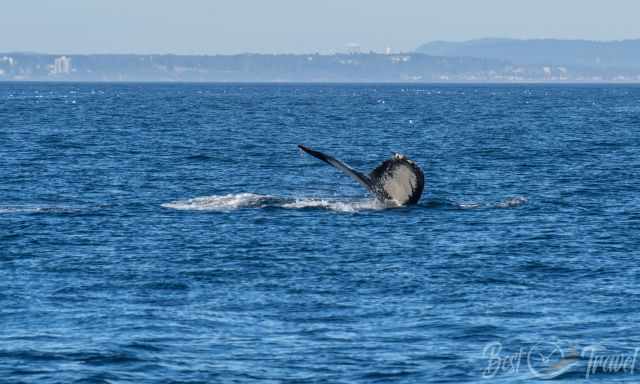 Resident orcas are frequently spotted; transient orcas migrate to the north and south. Humpback whale sightings are still great though some have already started migrating to the warmer regions like Mexico and Hawaii for their winter feeding grounds.
| | |
| --- | --- |
| | If you are looking to explore more, I highly recommend the new 2022 release of the Lonely Planet Vancouver & Victoria Travel Guide. This comprehensive guide covers all the region has to offer, with recommendations for both popular and lesser-known experiences. |
Why Isn't Any Whale Watch Tour Offered From November Until March?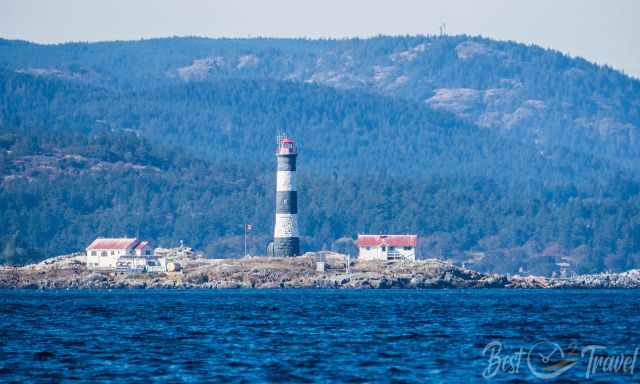 The winter lasts pretty long, from November to March. This season is notorious for rain and fog too uncomfortable to watch resident orcas from the boat. Resident orcas are always present, but all others migrate to other feeding grounds. And no one wants to stand outside of the boat for hours in the cold.
These are my recommended tours via GetYourGuide. Thx for booking via my website! With your support, I am able to provide all information first-hand. Tour prices are at no extra cost!
| | |
| --- | --- |
| | If you want to know more details about the orcas, I recommend the Handbook of Whales, Dolphins, and Porpoises of the World. It is the most comprehensive and up-to-date guide to these fascinating mammals. I personally love the facts about behaviour, life history, and conservation. |
Transient Orcas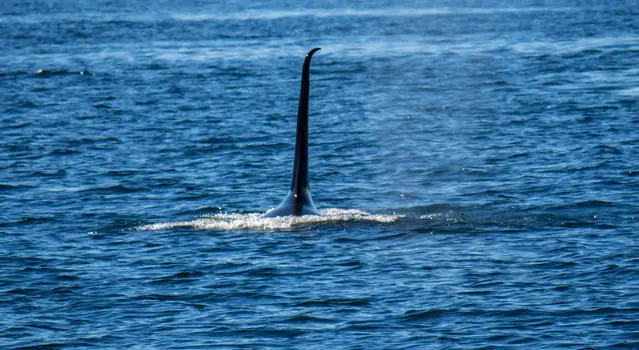 Transients feed on marine mammals like seals, dolphins, and even whale calves. Around 30 pods of the transient orcas, also known as Bigg's killer whales, occur here, but they are smaller in number. Roughly 160 orcas altogether; usually spotted from May to October.
Transient Orcas Classification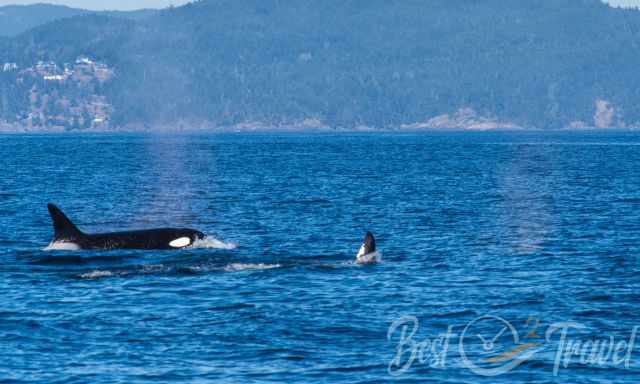 It is most likely to spot type A and B around Vancouver Island.
Type A: These are the largest killer whales with a seize of almost 10 meters because of their diet of large prey like minke whales.
Type B: There are two types of B killer whales - bigger feeding on prey like seals - smaller feeding on penguins and fish.
Type C: Also called Ross Sea Orcas; mainly found in Antartica in the Ross Sea - smaller in seize up to 6 meter.
Resident Orcas (Southern and Northern)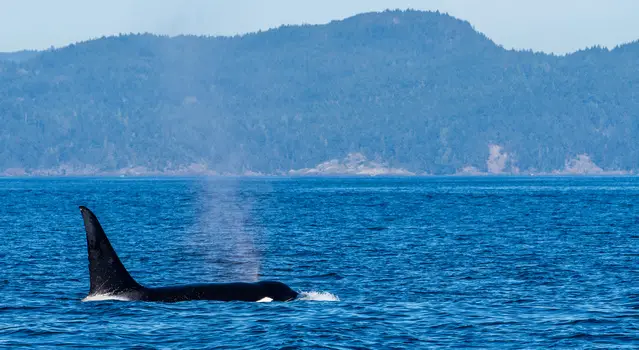 Southerns are best seen from May to September/October. They feed mainly on fi, and it's a feast when the migrating salmon arrive in the Strait of Georgia to the Gulf Islands. These islands are located between Vancouver and Victoria. Three pods occur around Victoria, with roughly 100 whales.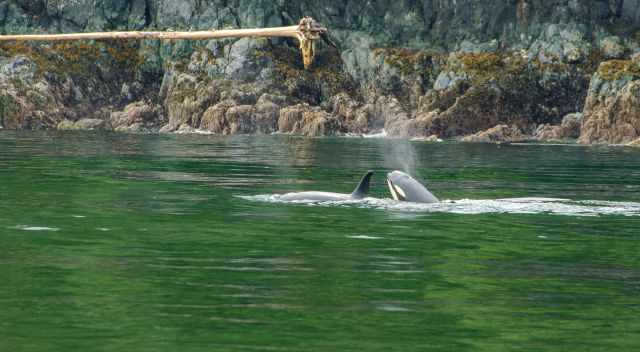 Northern residents are often easier to spot in the later summer months of July, August, and the beginning of September when they feed in the Johnstone Strait. The pods are smaller than in the south, but a higher number of orcas; more than 200 whale overalls.
All orcas are identified by their dorsal fin and the markings - saddle patches - behind the dorsal fin.
Humpback Whales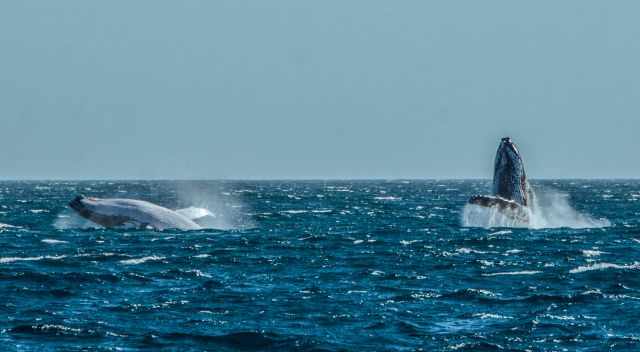 They are most common from April to November in the Strait of Georgia. North of Vancouver Island, but we also spotted them on a whale watching trip from Victoria. Humpbacks are easier to see because of their white flukes and belly. It's a memorable experience to see these whales breaching.
Gray Whales
Over 20k Gray Whales migrate from Mexico to the Bering Sea in Alaska to their summer feeding grounds in March and April, fewer already in May. Some stay around Vancouver Island. They can be seen best in November when they migrate back to Mexico. Mostly they are spotted along the west coast, seldom in the east. They feed in shallow waters. These whales look utterly prehistoric if you get the rare chance of seeing them breaching. Difficult to spot due to their colour. Unfortunately, I hadn't spotted any gray whales yet.
Other Marine Mammal Sightings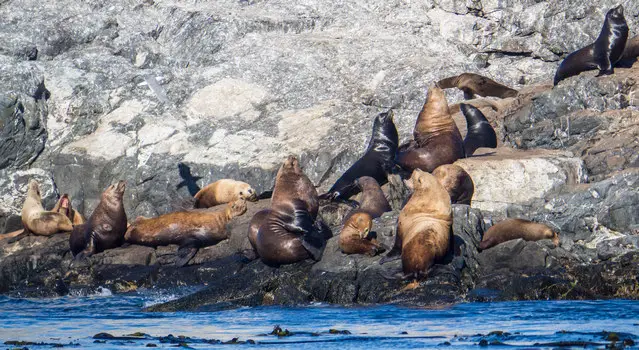 Dolphins, seals and sea lions are spotted around Vancouver Island often. However, minke, beluga, fin whale, and porpoises occur but are rare to spot—the highest chance to spot a minke whale is around Victoria. The Minke whales prefer the tropical waters, the reason you may spot them in the warmer summer months around Vancouver Island only. Though I went on many whale watching trips around the globe, I only spotted a small part of these whales, too small to recognise as minke whales.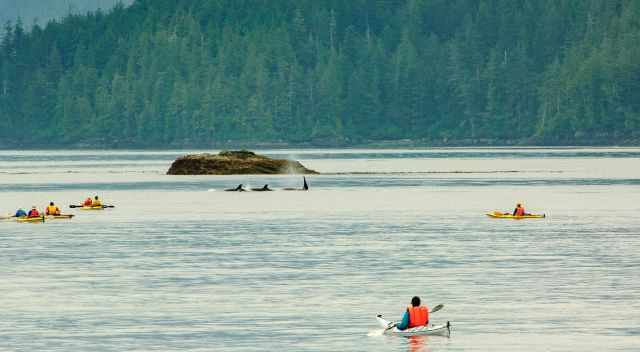 Weather Vancouver Island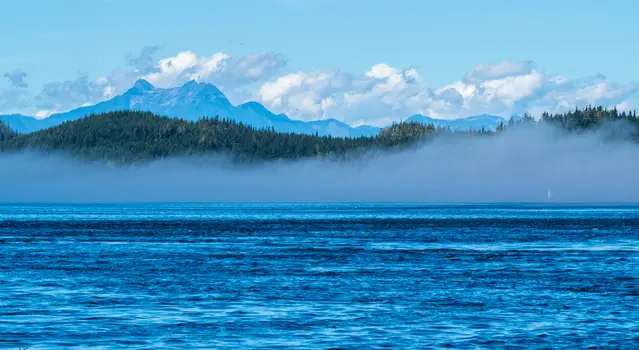 The weather has a huge impact if whales can be spotted well. It is much easier on a calm day without high waves and a clear sky. Vancouver Island experiences much rainfall in the west in autumn and winter. At the same time, the east and especially the area of Victoria is drier. The climate is mild in comparison to the rest of Canada. Continue reading for my climate details and the amount of precipitation you have to expect otherwise, rain may spoil your whale watching trip.
Spring (April-June)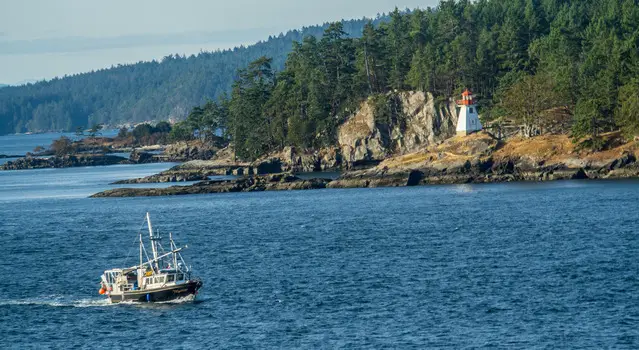 Days can be pleasant in April, around 15°C/59°F, May and June already above 20°C/68°F but also around 10°C/50°F. Usually, it's partly cloudy or overcast. In April, nights are cold, on average around 7°C/45°F, May and June roughly 10°C/. June is a lovely month for Vancouver Island before the peak season starts. Decreasing rainfall in spring, nevertheless, be prepared for all weather types.
Summer (July-September)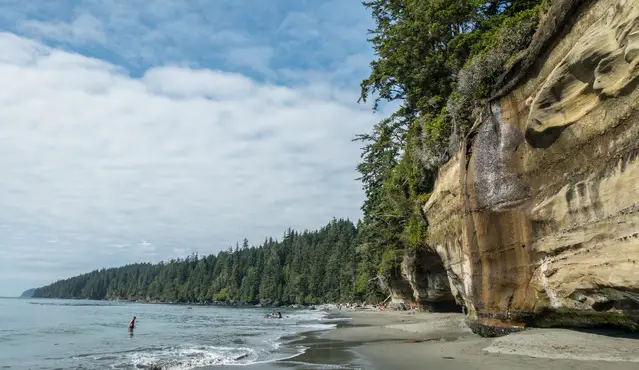 Summer is a beautiful time, the driest and sunniest of the year. However, July and August are the busiest due to the school holidays. It's still pleasant until mid-September and quieter. Day temperatures are, on average, around 20°C/68°F, frequently topping 25°C/77°F. Nights are colder, around 12°C/54°F usually.
Autumn (late September-October)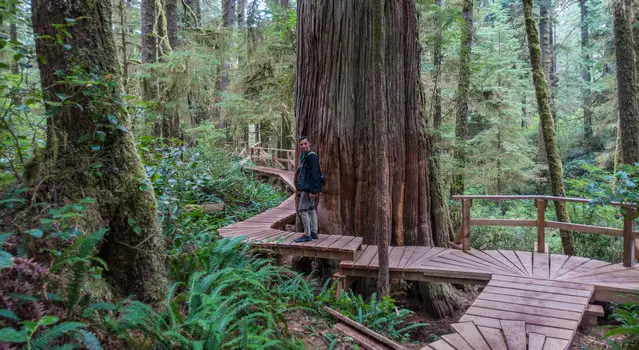 It's a quick transition from summer to winter. However, the fall foliage is spectacular on Vancouver Island. Mean day temperatures in October are above 10°C/50°F but can reach almost 20°C/68°F at the beginning. Nights are cool below 10°C/50°F.
Winter (November-March)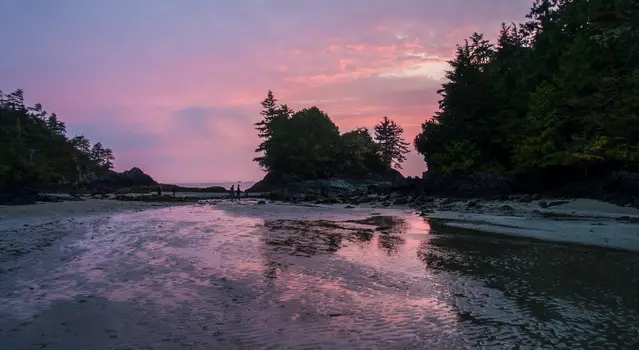 From November to March, day temperatures range between 10-8°C to 50-46°F. It's rather wet during winter, and November experiences most of the precipitation. Nights are chilly but usually above freezing. Clear or cloudy skies occur, but it's often overcast at this time of the year. It is snowing at a higher elevation on the mountain range.
Which Camera Do I Use?
Most of my shots were taken with my Olympus OM-D EM 10 Mirrorless Micro-Four-Thirds camera. I love it so much because it's not too big for my hands and I can carry it easily everywhere. The wonderful EVF is extremely bright and works perfect outdoors. I never go without my camera.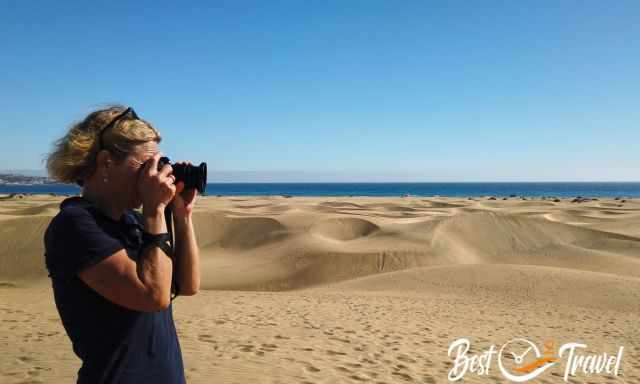 I use a Mark II and Mark III but my next one will be the OM-D E-M5 because the body is splashproof, dustproof, and freezeproof and provides a better image stabilization. Especially during rain, in the rain forest or close to a waterfall it is sometimes impossible to use the camera. During our road Trip through Utah and Arizona I had issues with the strong wind and the sand. I had to cleaning my camera daily.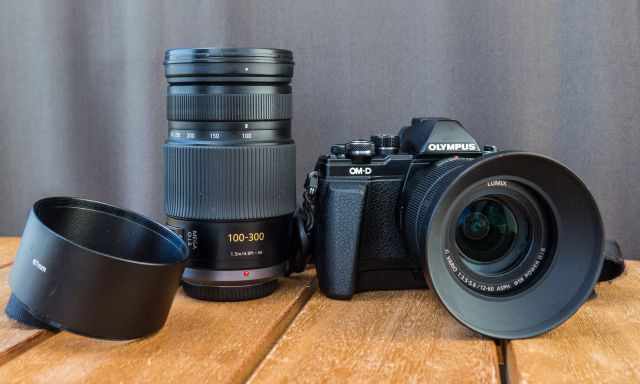 My day-to-day lens is a Panasonic Lumix G Vario 12-60 mm. The Micro-Four-Thirds Sensor makes it easy to use Panasonic Lumix G Vario 100-300 mm which is equal to a 200-600mm lens for an APS-C Camera for shooting long range.
Location and Tips
Vancouver Island, Victoria
Canada

Vancouver Island, part of British Colombia, is 469 km (291 mi) long and wide maximum of 100 km (62 mi). Whale Watching tours are operated from Victoria, the towns of Ucluelet, Tofino on the west coast, and the east coast from Nanaimo, Campbell River, and Telegraph Cove. Most tour operators are located in Victoria.
Ferry Details for Vancouver Island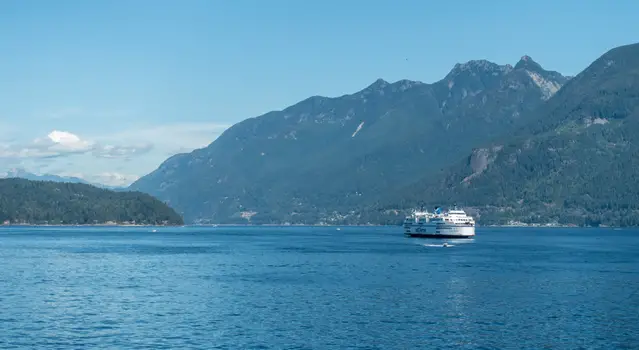 The ferry crossing from Vancouver to Victoria takes 1.5 hours, to Nanaimo 2 hours. You can also get to Victoria from the US from Port Angeles in the Olympic National Park in Washington, which takes a little more than 1.5 h. You may think it is unnecessary to book the ferry in advance, but even after the busy peak season in July and August, ferries can still be fully booked.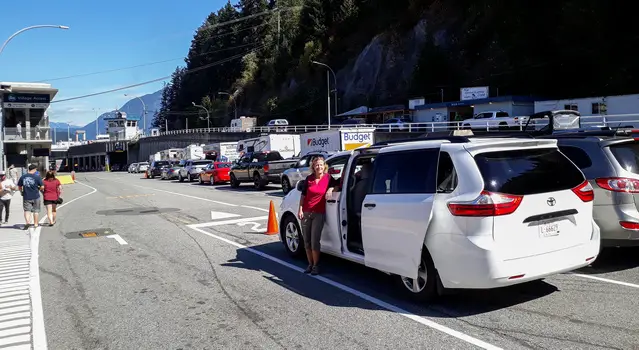 It's already time-consuming arriving an hour before departure at the ferry terminal and waiting for boarding with your rental or own car. It's your only guarantee to get space on it at your wished time of day. If booking in advance, you get the lowest fares, and weekdays are cheaper than weekends. When we travelled to Vancouver Island to the port of Nanaimo, it was still super busy in September.
| | |
| --- | --- |
| | For wildlife spotting we count on the Canon 10 x 30 IS. An Ultra-compact lightweight 10x binocular. The built-in Image Stabilizer (IS) is a must have for whale watching if you travel on a smaller boat. With its Water-resistant rubber coating it's secure to hold and the Canon's super spectra multi-coating provides superior contrast. |
Facts About the Orcas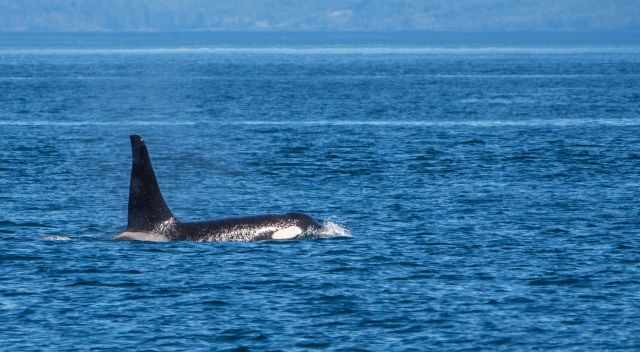 The estimated world orca population is 40-60k. Orcas are toothed whales belonging to the dolphin family. Except for the killer whales, orcas live in strong social groups/pods their entire life. Males are, on average, 5.8-6.7 meters (19-22 ft.) long and females 4.9-5.8 meters  (16-19 ft.). The male dorsal fins are larger than the female fins. There are four different types of orcas around Vancouver Island:
Northern Residents
These types of orcas are famous for their rubbing behaviour on pebbles. They are fish, especially salmon eaters. These orcas are found from Alaska to the coast of BC.
Southern Residents
They occur from Central Vancouver Island to Puget Sound in the US (Washington State). They are also fish eaters.
Offshore Orcas
These orcas occur off the west coast, and they are closely related to the resident populations. Usually, they travel in huge groups of up to 60 individuals. Also, the offshore orcas are fish eaters.
Transient Orcas – Killer Whales
These orcas occur in small groups from California to Alaska. Their preferred prey are marine mammals like seals, sea lions, dolphins, and even calves or young whales.
My friend and photographer Chris provided some pictures, and I took all the other images. If you like to use one of them, contact me.